Before I get started on today post, I just wanted to mention: I've received a number of emails lately from readers saying that they are enjoying my blog. I'm very glad to hear it! I'm really enjoying this comments from everyone, so thank you very much! Please keep up the good work and let me know if you like what you see here, and especially let me know if you would like to see any specific topics addressed or have any questions you'd like answered. After all, what's a blog without the readers?
Again, thank you all for taking the time to email me and comment! Now onto todays post:
—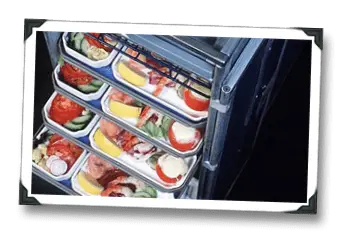 Instead of meeting up at our normal training facility, today we had our class at our airline's caterer's YVR location. For the first half of the day we practiced our service flows. We were assigned to specific duties such as bar service and meal service. We'd load up the trolleys with everything needed for the service and then practice with the "passengers". When I say passengers I mean my classmates who weren't participating in that particular exercise. For added fun we'd play the role of difficult passengers. During bar service for example we asked "I'd like a rum and coke, but with a lime. And only one ice cube!". Five minutes later someone would add "My ice cube melted. I want another one."
For the meal service, the caterer supplied us with freshly cooked meals. The flight attendants who were practicing the meal service loaded the hot food into the trolley and distributed the meals just as they would on the aircraft. Once everyone was served we enjoyed our meals. Because we wanted to sample all the meals our airline offered, this "meal service" included 6 options, including 2 breakfasts. Although we only had one meal each specifically, everyone was open to sharing so we'd know exactly what all the options were like. I've always been a huge fan of airline meals, (Yes, I know… I'm that one person who thoroughly enjoys airline food.) and my airline is no exception. I thought the food was delicious! Granted its not fancy restaurant quality, but its very good. No complaints at all. …well the portions were a little on the small side, but that's true of most airlines. Isn't it?
After lunch we took a tour of the facility. We saw how the company demonstrated strict cleanliness policies, how they prepared their meals, how it was packaged, shipped, and I'm sure there was more that I'm missing. It was all so efficient! So impressive! The company caters to a lot of airlines, so there was a lot going on! The best part is that in seeing how the food was made I can be confident in it's quality. At my airline our passengers are getting some serious quality stuff.
The end of the tour was the end of the day. It was a short and easy day, but very hands on and helpful. It got me all wound up and ready to provide great service when I get on my first flight!