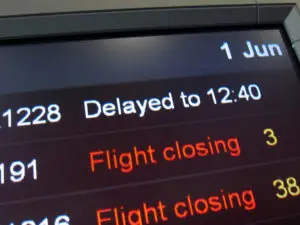 Recently, I was on day 4 of a 5 day pairing. I was supposed to operate a flight from Saskatoon that had picked up some of its passengers in Regina and would continue to Puerto Vallarta, and then back to Saskatoon. On day 5, I would just deadhead home. Easy right? Nope! Because we got to the aircraft, we did our checks, all our passengers got on board. In the cabin, we were ready to go and it was only a few minutes until our scheduled departure time when the captain called me into the flight deck.
From experience I know this isn't a good sign. My stomach is already sinking.
The master caution light has burnt out. And Saskatoon is not a maintenance base. If a compatible part could be located at YXE airport, we could have this solved probably within 30 minutes and be on our way. If not, we had to have a spare part flown in on whatever airline had the soonest flight arriving from Calgary. They were still trying to work out the details.
I made an announcement to the passengers, something along the lines of, "Ladies and gentlemen, the captain has just informed me that an indicator light in the flight deck had burnt out. It so happens that this is a major indicator light which tells them is something is seriously wrong with the plane. So, as I'm sure you can imagine, it is required that be working before we take off." (Not my exact words, but something like that. A little humour usually helps in these situations.) "Right now, we're trying to see if this part is available here in Saskatoon. So unfortunately I don't have a time estimate right now. I'll let you know when I have more details."
I called the back galley and I asked them to prepare a juice service by tray (We're not allowed to do trolley service on the ground, as it would take too long to pack up if we were suddenly able to depart)