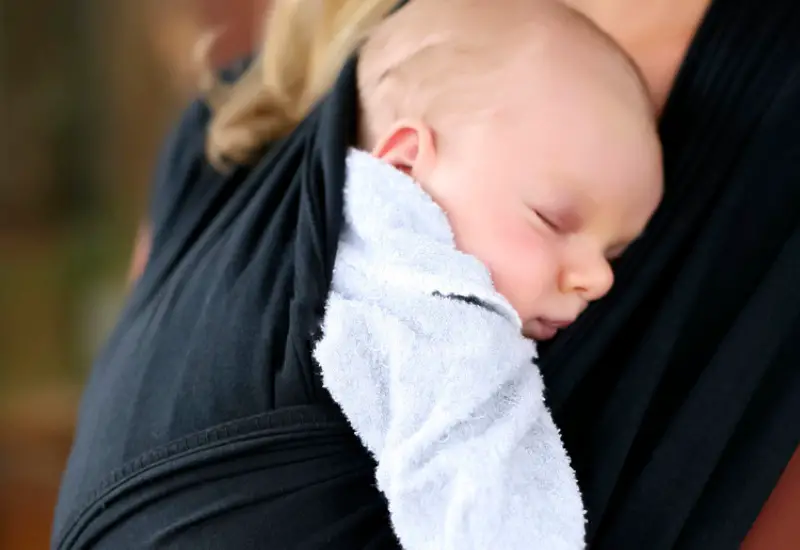 Ever wondered if you need a baby carrier for air travel?
Well, baby carriers are highly recommended for air travel because they make carrying the baby easier and they also give the baby some needed support.
There are so many things to consider before getting a baby carrier and that we've come up with a selection of the best baby carriers for air travel to make the task of finding what you want easy for you.
We usually recommend the Ergobaby Omni 360 Baby carrier but check out our selection, it's filled with high-quality products at affordable prices.
Best Baby Carriers for Newborns
When choosing a baby carrier for air travel, you have two options: You can either choose a soft structured baby carrier or a wrap baby carrier.
Whichever one you decide to go for, make sure it can support the baby's neck very well. Good neck support is important because babies are unable to hold their heads upright without help in the first few months.
A baby carrier also helps the baby to rest in a natural position.
We have come up with a list of top-rated baby carriers that will also give your baby the needed support.
Wrap carriers
I've seen many parents using the one we recommend onboard.
Wrap carriers are generally more affordable and they adjust easily to you and your baby's body supporting them in their natural frog position.
You may take a while to get used to using one but the one we recommend is quite easy to use.
K'tan Baby Wrap Carrier
Our Rate: 4.2/5
Baby K'tan Original Baby Wrap Carrier, Infant and Child Sling - Simple Wrap Holder for Babywearing - No Rings or Buckles - Carry Newborn up to 35 lbs, Heather Grey, Women 6-8 (Small), Men 37-38
HANDS FREE BABYWEARING: Keep newborn babies, preemies and infants close while you go about your day. Our unique baby wrap design also supports your best position for easy breastfeeding on the go.
SIMPLE DESIGN: The Baby K'tan baby wrap is quick and easy to wear - no rings, belts, buckles or excess fabric. This infant carrier is the no-wrap wrap! Just slip the sling over your head like a t-shirt.
COMPLETE COMFORT: Made from 100% cotton, our baby carrier allows even weight distribution, and the breathable fabric is soft against baby skin. Not bulky or frilly - ideal for both moms and dads.
SAFE AND SECURE: Our infant holder's unique double loop design and one way stretch hold your baby securely in place, and the wrap carrier's natural seated position is Approved Hip Healthy by the International Hip Dysplasia Institute.
5 POSITIONS: Our infant carrier wrap grows with your child – choose the best position from sling wrap for newborn babies & preemies to an upright seated carrier for infants up to 35lbs.
This baby wrap carrier doesn't come with the frustration of using a traditional baby wrap.
It is completely made of light-weight and soft natural cotton, it is buckle free and it comes with a double-loop design for security.
It is available in various sizes and it lets you wear your baby in 5 different ways.
You can keep it in a carry bag when not in use and it is also washing machine and dryer safe.
Pros
Buckle-free
Made with light-weight cotton
Double-loop design for security
Lets you wear baby in five different ways
Washing machine and dryer safe
Comes with a carry bag
Cons
It can be too warm during the hot season
No back carry position
Soft-structured carriers
Compared to wrap carriers, they are easier to wear.
This is the main reason why it is popular with beginners or people who might have issues with knowing how to wear and adjust a wrap carrier.
Tula Free to Grow Baby Carrier
Our Rate: 4.6/5
The Tula Free to Grow Baby Carrier baby carrier is made from cotton and it is cool all seasons.
It grows with the baby due to its adjustable panel that lets you alter its height and width.
It has a waistband which allows even distribution of weight.
At the front, there is a large pocket for keeping things you or your baby might need.
It comes with a removable hood with snaps that gives the baby good neck support and sun protection.
Multiple positions that promote hip and spine development are allowed.
Pros
Grows with baby
Machine washable
Removable hood for support, sun protection and privacy when breastfeeding.
Multiple carry positions for healthy hip and spine development
Easily adjustable
Machine washable
Large front pocket
Cons
Best Multi-Position Baby Carrier
Babies tend to have preferences when it comes to carrying options.
Some babies prefer the front-facing option because they have more fun being able to see everything while some prefer the comfort of the backpack position.
The backpack position is also practical for performing other tasks while carrying the baby.
Ergobaby Multi Position, 360 baby carrier
Our Rate: 4.5/5
Sale
Ergobaby 360 All-Position Baby Carrier with Lumbar Support (12-45 Pounds), Carbon Grey, Cool Air Mesh
Explore with baby: For curious, developing baby who starts exploring beyond her caregiver to see the world (12-45 lbs./ 5.5-20 kg)
All Carry Position: Inward, Front Outward, Hip & Back Carry
Cool and breathable: Cooler for you and baby with soft, lightweight & durable mesh
Comfort: Padded lumbar back support and shoulder straps
Premium Features: UPF baby hood for sun protection and privacy for easy breastfeeding: Machine Washable
The Ergobaby Multi Position, 360 baby carrier is an award-winning baby carrier with an adjustable carrier seat which lets you carry your baby on the front, on your back or on the hip.
The shoulder straps are padded and this helps with distributing the baby's weight evenly, and there is a waist belt for lumbar support.
It's machine washable and it comes with a UPF 50+ babyhood for privacy when breastfeeding and for sun protection.
Pros
Award-winning
All position baby carrier
Padded shoulder straps
Waist Belt for lumbar support
UPF50+ tuck away baby hood for breastfeeding and protection from sun and wind
Machine washable
Cons
Best Baby Carrier on a Budget
Just because you are not willing to spend much on a baby carrier doesn't mean you can't get something good.
For a very reasonable price, our selection will do a very good job.
Infantino 4 in 1 baby carrier
Our Rate: 4.5/5
Sale
Infantino Flip Advanced 4-in-1 Carrier - Ergonomic, convertible, face-in and face-out front and back carry for newborns and older babies 8-32 lbs
Design: 4-in-1 convertible carrier with adjustable ergonomic seat with adjustable shoulder straps and waist belt to shift weight to the wearers hips for a more comfortable fit
Wearing positions: Convertible facing-in and facing-out design for newborns and older babies, weighing between 8-32 pounds
Benefits and use: Experience hands-free convenience with opportunities for bonding and developmental benefits, whether it's running errands or exploring parks, there's no place like close
Adjustability: Adjustable 2-position seat, padded shoulder straps and supportive waist belt, designed to fit a wide range of body types and lifestyles
Infantino, smartly designed products for happy parenting: We design smartly, we have fun and we're overjoyed when an idea evolves full circle into a product loved and used daily by parents everywhere
This has 3 front carry positions and 1 back carry position.
The Flip Advanced Carrier lets you narrow the seat for little infants, which increases comfort.
It has a padded head support for making your baby comfortable and a fashionable Wonder Cover Bib for protecting your clothing and carrier.
The shoulder pads are adjustable for comfort when carrying.
It is also machine washable.
This baby carrier is definitely worth its price if not more.
Pros
Padded head support
4 carry positions
The Wonder Cover Bib protects you and the carrier from spit-up and drool
Padded and adjustable shoulder straps
Flip Advanced Carrier for adjusting seat and leg openings
Machine washable
Great price
Cons
No hood for breastfeeding and protection
Best Baby Carrier for Toddlers
For rapidly growing babies, a sturdier carrier is more suitable because of its ability to support a larger body and weight.
Lilliebaby Carry on Airflow 3 in 1 baby carrier
Our Rate: 4.4/5
Sale
LÍLLÉbaby 3-in-1 Ergonomic CarryOn Airflow - Toddler Carrier - with Lumbar Support & Breathable Mesh - for Children 25-60 lbs - Perfect for Hiking, Travel and Everyday Family Events - Charcoal/Silver
Toddler Carrier: The LÍLLÉbaby CarryOn is made specifically to be roomy for growing toddlers; Features a wider and taller torso than most carriers, providing you an ergonomic way to carry your child
Stroller Free: Caretakers can comfortably carry little ones up to 60 lbs. for easy, hands free access to spaces where strollers aren't permitted; Ideal for babies who have outgrown the LÍLLÉbaby Complete carrier
Hands Free Comfort: When on the go, LÍLLÉbaby's baby carriers and toddler carriers let you hold your child in comfort and style; Adjustable side panels widen and narrow the seat for comfortable hip positioning
Natural Bond: LÍLLÉbaby makes baby products that bring functional style to parents; We want parents to be able to keep baby close while building a natural bond with comfortable baby carriers and slings
For LÍLLÉBABY: Innovation is always top of mind; We won't rest until every caretaker has access to the best babywearing solutions, allowing families to keep comfort, closeness, and independence in balance
It is specifically designed for growing toddlers and it also has a lumbar support accessory for the baby.
It is made with a breathable 3D mesh and also equipped with 3-way adjustable straps.
It has three carry positions and it is machine washable.
It comes with a removable hood and two pockets.
These characteristics of the Lilliebaby makes it a suitable and healthy option for babies.
Pros
Min weight is 20 lbs
Maximum weight is 60lbs
Removable hood
Lumbar support
Breathable 3D mesh
3-way adjustable straps
Two zippered pockets
Machine washable
Three carry positions (backpack, hip, and front)
Cons
Best Carrier for Plus Size or Tall Moms & Dads
There are a lot of baby strollers with good qualities but most of the time, the makers don't consider the height of the caregiver.
For tall people, adjusting the straps to get that perfect fit could be a bit difficult.
Ergobaby Omni 360 Baby carrier
Our Rate: 4.6/5
Ergobaby Omni 360 All-Position Baby Carrier for Newborn to Toddler with Lumbar Support & Cool Air Mesh (7-45 Lb), Classic Weave
All-in-one baby carrier: Adapts to your growing baby from newborn to toddler (7-45lbs and fits babies from 0-48 months): No separate infant insert required: All carry positions included: Face baby in or out: Wear on the hip or back
Cool and breathable: Our cool Air Mesh collection baby carriers are made with soft and durable mesh fabric that provides our renowned ergonomic support for baby
Comfort: Exceptional lower back comfort with padded lumbar support waist belt and extra padded shoulder straps with the option to wear 2 ways: Crossed or "backpack style": Waist belt can be worn high or low to maximize comfort, especially post C-section
Ergonomic as baby grows: Acknowledged as hip Healthy by the International Hip Dysplasia Institute: Adjustable bucket seat supports baby in an ergonomic natural "M": Position in all carry positions
Easy to use: Easy, one-handed slider adjustment allows you to quickly switch baby to face in or out on the fly
As its name indicates, this baby carrier has all carry positions and it is also suitable for different body types.
You can use it from birth and continue to use it as your child grows.
It is made from lightweight and breathable mesh and it has a crossable and padded shoulder strap.
The waist belt is padded and it also provides lumbar support. It comes with a detachable pouch for safekeeping and a UPF 50+ tuck away babyhood.
Pros
Suitable for different body types
Adapts from newborn to toddler
Has all carry positions (front, inward, hip and back)
Padded and crossable shoulder strap
Padded waist belt for lumbar support
Made with lightweight and breathable mesh.
UPF 50+ hood for breastfeeding and protection from harsh weather
Removable pouch
Awarded as hip healthy by the International Hip Dysplasia Institute
Cons
A bit pricey
Not machine washable
Best Sling Ring Baby Carrier
A sling ring is a fabric that is looped over one shoulder and tightened with rings.
It is very easy to use and great for newborn cuddles.
VLOKUP Sling Ring Baby Carrier
Our Rate: 4.3/5
Vlokup Baby Water Ring Sling Carrier | Lightweight Breathable Mesh Baby Wrap for Infant, Newborn, Kids and Toddlers | Perfect for Summer, Swimming, Pool, Beach | Great for Dad Too Grey
Excellent warm weather baby ring sling. Perfect for everyday use, in the shower, and at the pool, beach, or water park. 15 colors available, choose the one you appreciate with. Babywearing has never been easier and looked so good!
Dry quickly. 100% polyester jersey mesh lends breathability, keeps it light in the water. Enjoy the bond with your baby in the water
Vlokup Baby carriers place baby in the optimal position - high on the mommy's chest and close enough to kiss. This is extremely important in any water environment or daily use
Metal Aluminum Rings, most moms and dads' choice, easier to adjust than plastic rings. Portable packing pocket can be put in your diaper bag easily. For babies 8-30 lbs. Machine washable
Designed by a mom, made by professional seamstresses, most of whom are mothers, we make the baby carrier with love. We honor a Hassle-Free Return Policy & Lifetime Guarantee so you can Add to Cart with confidence knowing your purchase is always protected!
It is great for hot or warm weather and vacations.
It is made with polyester jersey, which makes it dry quickly and very light in water.
Instead of plastic rings, it has metal aluminum rings for easy adjustment.
It has a portable packing pocket and there are it is machine washable.
You also have the option of choosing from 15 different colors.
Pros
Suitable for warm weather and vacations
Made with polyester jersey
Light in water and dries quickly
15 colors to choose from
Metal aluminum rings for easy adjustment
Machine washable
Portable packing pocket
Cons
Not suitable for cold weather
Doesn't come with a hood for breastfeeding and sun protection
Best Baby Carrier With Hip Seat
Some baby carriers have the option of using either the carrier or the hip seat.
You can go for whichever one is more comfortable and suitable for you and your baby.
Bebamour foldable baby carrier with hip seat
Our Rate: 4.5/5
No products found.
This baby carrier gives you 6 different ways to carry your baby but it all depends on your baby's growth.
It comes with an adjustable shoulder strap and a waist strap that is well padded with cotton.
There is a zipper pocket on the belt. Also, it comes with a hood and 2 baby bibs.
The hip seat has a foam wedge pad for comfort.
Pros
6 carry positions
Adjustable and cotton-padded shoulder strap
Adjustable and cotton-padded waist strap
Zipper pocket
Hood
2 baby bibs
A piece of foam wedge pad in the hip seat
Can be washed (hand washed)
Cons
Not machine washable
Doesn't support breastfeeding
Best Hybrid Baby Carrier
This type combines the qualities of a wrap baby carrier (closeness, comfort) with the ease of a buckle carrier.
Boppy Comfylit baby carrier hybrid
Our Rate: 4.5/5
Boppy Baby Carrier - ComfyFit, Heathered Gray, Hybrid Wrap, 3 Carrying Positions, 0m+ 8-35lbs, Soft Yoga-Inspired Fabric with Integrated Storage Pouch
3 CARRYING POSITIONS: Newborn front face-in (legs in frog position), baby front face-in (legs out), and front face-out. Recommended weight: 0m+, 8-35 lbs (3.6-15.8 kg)
COMFORTABLE FIT WITH ERGONOMIC POSITIONING: Padded waist belt and comfortable wide shoulder straps help evenly distribute baby's weight. No infant insert required
UPF 50+ YOGA-INSPIRED FABRIC: Made of soft, stretchy material and comes in one size, making it quick and easy to share among caregivers
EASY CARE, MACHINE WASHABLE: The Boppy Carrier is machine washable because messes happen
EASY TO STORE: Packs small and comes with a storage pouch to toss in your car or diaper bag
This carrier evenly blends the good characteristics of a structured baby carrier and baby wrap.
It's also easy to use in just three steps.
It has a 4-way stretch which makes movement for you and your baby easy.
There two carrying positions and it easily fits, no matter the height or weight of parent.
It has comfortable shoulder straps that help in even distribution of baby weight and it comes with a zippered pocket for storing things you may need.
It is machine washable and it comes with a pouch for keeping the carrier.
Pros
Award-winning product
Acknowledged as hip healthy by the International Hip Dysplasia Institute
4-way stretch for ease of movement
Easy to use
2 carrying positions
It fits most body sizes
Comfortable shoulders straps for easy distribution of weight
Zippered pocket
Machine washable
It comes with a pouch for storing the carrier
Cons
No hood for breastfeeding and sun protection
No back or carrying option
Buying Guide
Can you wear a baby carrier on a plane?
Yes, you can.
People are allowed to wear their baby through the airport and on the plane.
But during TAKE OFF and LANDING, you are required to use the loop seat belt attachment provided by the airline for any child sitting on your lap.
You are free to use your carrier during the whole flight, even while walking up and down the aisles or while sitting.
But do not use a baby carrier during take-off and landing because using the baby carrier and the seat belt could cause more injury to the child in case of an accident.
This is why flight attendants ask that you remove your baby carrier during take-off and landing.
Can you wear a baby carrier through airport security?
It depends.
According to the official TSA procedure, you are allowed to walk through the security checkpoint if your baby is in a sling but may have to go through additional screening.
If your baby carrier has a metal frame, you'll have to take your baby out so that the carrier can be put through metal screening.
Why buy a baby carrier for flying?
During a flight, any baby with you must sit on your lap which can be quite tiring on a long flight. Having to carry a baby throughout a flight without any form of help can be quite a task, especially if the baby isn't calm. You may even end up disturbing other passengers. A carrier will make your flight less stressful and will also keep your baby calm while being close to you.
When traveling, there is usually a lot to carry and do at once. By using a carrier, your hands are free to carry other stuff or do other things while your baby is also being taken care of.
Parents feel better when they know that there little precious ones are close to them, where they are comfortable and protected. Knowing that your baby is wrapped up to you and so close to you will make you feel safer
When you're flying with a baby, you may have to stand up every now during the flight so that you can keep your baby calm. Using a baby carrier makes it easier and takes the stress off when you have to stand up and walk during the flight in order to put your baby to sleep.
For most people, it's either a stroller or a baby carrier. Why go for a stroller when you can easily go for a baby carrier? With a baby carrier, you may not need to carry a stroller to the airport with all your luggage and by doing that, you'll be able to avoid the stress of checking-in your stroller and the worries. If you really need a stroller, rent one at your destination.
Some parents would agree that walking with toddlers could qualify as a sports activity that requires a lot of patience and tolerance. As funny as this may sound, it's not usually as funny in reality. If they are not running around doing what they shouldn't be doing, they are probably walking too slow. With no toddler walking with you to slow you down, you'll be able to walk faster and control them better.
How to choose the right baby carrier for flying?
When purchasing a baby carrier, you should consider the following in order to make sure you are making the best choice for you and your child:
1) The age of your kid
Each baby carrier has a minimum and maximum weight limit.
Some are also designed for a particular age group.
Do some research first to know if a baby carrier is appropriate for your child's age.
2) Safety
Choose a carrier that allows ergonomic positions so that your child can have a correct and healthy development.
A good carrier should give the baby the needed support without causing any discomfort.
Choosing a wrong baby carrier could be detrimental to your child's health and cause discomfort, especially if your child has a medical problem relating to the bones.
3) Durable non-toxic materials
Make sure the fabric the carrier is made from is durable and not toxic.
Babies have the tendency to suck or chew the fabric of the carrier and this could ruin the fabric or harm them if the fabric is toxic.
4) Depends on your preferred carry position
There are various carry positions for baby carriers.
After considering what you think is best for you and your little one, go for a product that has that right position and support for that position.
Make sure it's something that you are comfortable with and works for you.
5) Easy to wear
Go for something that doesn't have a complicated design so that you can wear it as quickly as possible, especially if a situation demands it.
Complicated designs are unnecessary anyway and most of the time, they are not worth it.
You can always get a different product with the same design and lesser complexity.
6) Cleaning
Machine washable or dryer safe baby carriers are easier to clean and this makes them last longer while keeping your baby away from germs.
You should also consider purchasing a drool pad, which is great for keeping drool and spit away from the baby carrier.
Generally, the easier it is to clean, the longer your carrier is likely to last.
So, make sure it can be cleaned easily.
7) Budget
Consider how much you are able to afford and then, make some research. You'll be surprised that there are baby carriers that will get the job done and you won't have to spend above your budget.
Instead of going for the big brands that cost a lot, try some generic brands.
What you'll discover may surprise you in a good way.
8) Lightweight and easy to store
Lightweight baby carriers put less pressure on the caregiver using it.
Also, some carriers come with a pouch for easy storage when they are not being used.
Conclusion
Traveling itself is stressful enough on its own which is why you should really consider buying a baby carrier.
Handling a baby and a million other things that need to get done during an air journey is not as easy as most parents make it look like and that is why a baby carrier can come in really handy.
They are also a great substitute for strollers.
They are generally easy to use and they also help to take away the stress that comes with traveling by leaving your hands free so that that you can accomplish tasks quickly.
When choosing a baby carrier, there are a couple of things you need to consider and considering our selections, the Ergobaby Omni 360 Baby carrier is the obvious winner.
Even though it is a bit pricey, it has all the qualities a good baby carrier should have, which makes it totally worth it.
The amazing design, which provides comfort for the baby and caregiver, and other additional accessories, such as the UPF 50+ hood and the pouch, are one of the many qualities that make it stand out.
This baby carrier is also great for almost all body types.
The breathable mesh is made of also keeps your baby cool especially when it is warm.
It also provides lumbar support for the caregiver so that you don't ruin your back after using it for a long time.
As a parent, you need to take care of your little one but there is nothing bad in getting some help. For a reasonable price, you can get yourself the help you need in the form of a baby carrier.
Parents are like superheroes but even superheroes need cool gadgets.