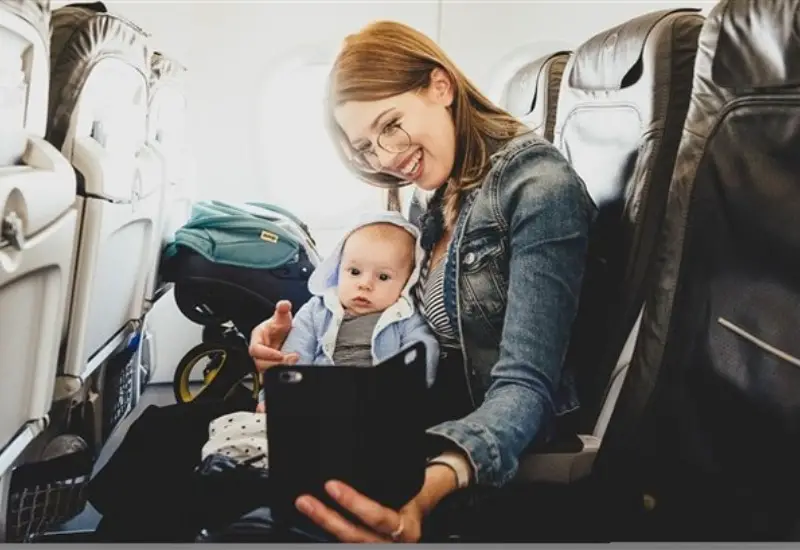 How do you choose the right car seat for air travel? For parents, this can be quite a task.
It's so easy for parents to get tricked.
This is because some child-restraint systems are only meant to be used in motor vehicles and not for airplanes.
Also, some that are approved in your country may not be approved in other countries.
So, how do you make a choice especially with so much misinformation out there?
As a flight attendant, I get asked a lot of questions about airline approved car seats and that's why I've made this complete guide to car seats on airplanes.
I'll do my best to answer all the questions you've ever had about traveling on planes with kids and car seats and tell you which car seats are best for planes.
Should you bring a car seat when you travel by plane with kids? Is it safer?
As a parent, the decision is yours to make.
When traveling with your kids in an airplane, you can choose to bring a car seat or not because you are not required by the Federal Aviation Administration (FFA) to use a car seat for your child no matter the age.
But they do recommend it.
Also, other airlines and the American Academy of Pediatrics (APP) experts agree that a young child is safest when restrained in their own seat in an approved child restraint system.
Your child will be safer when you use a car seat but using one is not mandatory.
Whether to use one or not is up to the parent.
Let's take a look at the options you have.
How do I travel on a plane with my baby or child? Is a car seat a good idea?
If you are traveling by plane with children under 2 years old, there are two options:

Your baby can have his own seat but he must be in a secured car seat. To do this, you'll have to book a seat for your child and make sure your car seat is approved for use in aircraft by the FAA.
You can also put your baby on your lap. It's cheaper to do this because you'll only have to pay 10% of the adult fare for your child and sometimes, you may not even need to pay at all.
If your child is older than 2 years or your child turns 2 while you are traveling, then, you must book a seat for your child by booking the children fare which is for kids between the age of 2 – 11 years. The children fare is only 20 – 33 % of the regular fare. The cost depends on the destination and airline. As mentioned earlier, a car seat is only recommended but not mandatory. You can choose to use a car seat or not.
I must say that most passengers traveling with a baby prefer to fly their baby on their lap. If you are the type who travels a lot, you must have noticed this.
Now, between both options, which is better?
Most parents prefer to travel without a car seat because it costs less and they'd rather not add to the load they are already traveling with.
On the other hand, some parents prefer to travel with a car seat for their child but this doesn't make them better or worse than those who don't.
Pros & Cons of using a car seat on a plane
Pros:
It's the safest choice
Your child will sleep better or be more comfortable in his own car seat. And you'll avoid tantrums on the plane.
You will not need to rent or buy a car seat at your destination
You don't need to worry about whether it will get lost en route.
Cons:
It can be heavy. Lugging your car seat through a crowded airport, especially if you're traveling alone with your infant and you already have half a dozen bags to carry around the airport. Almost impossible.
As all airlines have different seat sizes and rules about flying with a car seat, it can be challenging to find out all the specifications: how large your seat should be, what labels does it need to have, etc.
If you're flying with an airline that doesn't offer a cheap infant fare; if you're on a tight budget, and you can't afford it, carrying your child as a lap infant is a way to save money on your trip.
How to choose the right car seat for air travel?
You should make sure your CRS (Child Restraining System or in other words car seat) or device is approved for airplane use by any of these Authorities:
FAA approved (USA Certification), which will display one of the following labels:
"This restraint is certified for use in motor vehicles and aircraft"
"This child restraint system conforms to all applicable Federal Motor Vehicle Safety Standards"
"Approved for Aircraft use Only"
European Community, or UN standards
CRSs manufactured in other countries/regions will display a label indicating compliance with the country/region's national safety standards or with UN standards.
These are the Certification labels that you'll find depending on the manufacturing country:


Source : https://www.china-airlines.com/us/en/fly/prepare-for-the-fly/special-assistance/other-special-needs

Almost all seats from major manufacturers like Graco, Britax, Chicco, and others are FAA approved but look for the sticker and show it to the crew if needed.Otherwise, you may be asked to check the Car Seat as baggage.

You should also make sure that your car seat will fit in an airplane seat. It's important to measure the size of the seat you're carrying along. The FAA suggests that if your car seat is no wider than 16 inches, it should fit the typical coach seat. However,  most of the seats are not that narrow.
The majority of airline seats in Economy are around 17-18" wide. That's why most faa approved car seats are less than 19". But if you are not sure if your car seat will fit,  here you can find a table comparing all the airline's economy seats.
Other things to consider
It should be lightweight, under (15 lbs). Since so many car seats are heavy and bulky, it makes sense in some cases to invest in a lightweight car seat just for traveling.
Easy to install with the lap belt on an airplane seat.
Age and weight range: depending on the age and weight of your child, you should use a certain type of car seat.
Note:

Even if your car seat has an airline approved sticker on it, and meets all the requirements, you should check if there are any other specifications on your airline's website before bringing it.

As I always say, airline rules vary from airline to airline and from country to country.

E.g Some airlines only allow forward-facing car seats.
How to install a car seat on a plane?
Here is an official video provided by the FAA on how to install a car seat on a plane.
Steps:
Raise the armrests
Put the car seat in the plane
Thread the lap belt through the belt path
Latch the buckle
Tighten the belt buckle to get the seat in as tight as you can
Try to move it back and forth to see if it moves. It should not move an inch
Place your child in the car seat
Buckle him/her up
Should I install the car seat forward-facing or rear-facing?
It depends.
The CRS should be secured in a rear-facing direction if the traveler using the CRS weighs less than 9 kg (20 lb), and in a forward-facing direction if the traveler using the CRS weighs 9 – 18 kg ( 20-40 lb).
Best FAA-approved rear-facing car seats
Graco Snugride Snuglock 35 Infant Seat
Graco SnugRide SnugLock 35 Elite Infant Car Seat, Baby Car Seat, Oakley
Snug Lock Technology features a hassle free 3 step installation rear facing car seat helps protect infants from 4 to 35 pounds and up to 32 Inches quick and easy clean up with the Rapid Remove cover; Head must be more than 1 inch from the top of the headrest Infant car seats made 2011 or after
Simply Safe Adjust Harness System adjusts headrest and harness together to prevent rethreading Safety Core absorbs frontal crash forces
Adjustable base with 4 recline positions and easy to read bubble level indicator InRight Latch system for a one second Latch attachment.Do not use bleach
Rotating canopy with window and visor provides shade and sun; Protection for baby removable newborn head and body; Support cushions baby
Check your local and state laws, as well as AAP and NHTSA recommendations, for car seat usage Engineered & rigorously crash tested to meet or exceed US Standard FMVSS 213; Machine washable seat cushion and canopy; Metal and plastic parts may be cleaned with mild soap and cool water; Buckle may be cleaned with a damp cloth; Harness straps may be cleaned with a damp cloth
Graco Snugride is a rear-facing infant car seat with easy installation and it has an adjustable base that offers four positions recline. Just three steps are required to install this hassle-free car seat. Due to the Simply Safe Harness System lets you adjust the harness and headrest height together, so it's as easy as it is safe. Also, there is a Safety Core, which absorbs crash forces in case there is a frontal crash. Parents love its safety features and click connect system.
Features
Rear-facing
Height Limit: 32″
Weight Limits: 4 – 35 pounds
Width: 18.6″
Weights to carry: 18.8 pounds
Pros
Rapid Remove cover, makes it easy to clean (machine washable)
It can be easily installed in just three steps
The Simply Safe Harness System lets you adjust the harness and headrest height
SafetyCore absorbs frontal crash forces
Adjustable base
the Click Connect System allows for a one-step attachment to all Graco Click Connect bases and strollers.
Budget-friendly
A lot of extra cushions to secure your baby inside
Cons
A bit heavy
Canopy difficult to open and close
Chicco Key Fit Infant Seat
Chicco KeyFit 30 Infant Car Seat and Base | Rear-Facing Seat for Infants 4-30 lbs.| Infant Head and Body Support | Compatible with Chicco Strollers | Baby Travel Gear
EASIEST INFANT CAR SEAT TO INSTALL – Simple, accurate and secure installation – every time – with two bubble-level indicators and spring-loaded leveling foot for proper base angle in vehicle seat and premium LATCH connectors for easy attachment.
COMPATIBLE WITH CHICCO STROLLERS – Infant car seat clicks securely into the stay-in-car base and compatible Chicco strollers for a convenient car seat and stroller combo. A two-position carry-handle and one-hand release make it easy to remove.
TOP-RATED INFANT CAR SEAT – Innovative SuperCinch Force-Multiplying LATCH Tightener helps achieve a secure fit in the vehicle and the carrier shell is lined with EPS energy-absorbing foam for improved impact protection
FROM DAY ONE – Car seat includes a removable infant head and body support insert to accommodate newborns and smaller infants on their first rides. The Chicco KeyFit 30 Infant Car Seat is designed for babies between 4-30 lbs. and up to 30" tall.
ADJUSTABLE CANOPY AND WASHABLE SEAT PAD – Features include large, removable canopy that provides shade from the sun and machine washable seat pad for easy cleanup, ideal for baby travel.
This car seat is one of the only car seats on the market that NICU nurses and other safety experts recommend for premature infants. This is because it has a newborn positioner with a removable head and body support that is suitable for newborns as small as 4 pounds. It has a spring-loaded leveling for a proper base angle to ensure parents get a proper installation angle that helps keep baby's head from slumping over.
Features
Rear-facing
Height: 30″ tall
Weight Limits: 4 – 30 pounds
Width: 17″
Weights to carry: 17 pounds
Pros
It is equipped technologies that make it very easy to install
The car base can be easily attached or removed
The KeyFit is one of the best car seats for small infants and premature infants(It is recommended by many neonatal intensive care unit (NICU) nurses)
#1-rated infant car seat in America
Adjustable base and harness to fit your growing child
Cons
Not made from very breathable material
Require two hands to carry
Doona Infant Car Seat and Stroller
Doona Infant Car Seat & Latch Base - Rear Facing, Car Seat to Stroller in Seconds - US Version, Nitro Black
Doona Car Seat - From car seat to stroller in seconds! One simple motion operation. Features a 5-point harness, adjustable handlebar (also acts as an anti-rebound bar inside the car) and 3 Layer Side Impact Protection.
Washable Car Seat - The Doona car seat fabric is removable and washable. Features baby safe materials and breathable textiles, including bamboo and memory foam.
Travel Safe Baby Essentials - This car seat and Latch base is FAA Aircraft Approved for travel. Combine with the Doona Travel Bag (sold separately) for a seamless travel experience.
Included in the Box - Doona Infant Car Seat, Doona Bamboo Infant Insert, Doona Bamboo Head Support, Doona Vehicle Seat Protector, Doona Car Seat Base. 2-year manufacturer's warranty.
Rear Facing Car Seat and Base - Suitable from 4 lbs. to 35 lbs., Max. 32in height, this is a rear facing car seat only. Car seat weighs 16.5 lbs., base weighs 10.3 lbs. Product Dimensions: Folded: 23.6x17.3x26 inches; Unfolded: 39x17.3x32.2 inches; Weight: 16.5 lbs.
Doona is a car seat that converts to a stroller.  Instead of having a travel system where you attach the infant seat into a stroller with an attachment, this is all one piece. The sleek and compact design allows you to navigate and fit through tight spaces really well, so it's perfect for the airport and the plane.  Doona is the only car seat to have been tested and certified as an Infant Car Seat, a Stroller and an infant carrier providing overarching safety for your child in all circumstances
Features
Rear-facing
Height Limit: 32″
Weight Limits: 4 – 35 pounds
Width: 17″
Weights to carry: 35 pounds
Pros
Compact
Easy to maneuver
Simple to use: minimal effort and steps.
Breathable and washable fabric
Three layers of side impact protection, and the handlebar doubles as an anti-rebound bar
Cons
Your child is more likely outgrow the seat in the first year
A bit expensive
Baby Trend Flex Infant Car Seat
The Baby Trend Flex Loc infant seat is named so because of the style of its LATCH anchor connectors. It has flexible connectors that can be more easily connected than fixed connectors.  It's one of the narrowest infant car seats in the market,  at only 16″ wide and with a very competitive price.
Features
Rear-facing
Height Limit: 30″
Weight Limits: 5 – 30 pounds
Width: 16″
Weight to carry: 16.87 pounds
Pros
Comfortable carrying handle
One hand-harness and push-button for adjusting the5 point harness
EPS energy absorbing foam helps with side impact
Fits small babies
Soft head support
Four-position reclining system
Easy to install and remove
Affordable price
Cons
The carrying handle is difficult to move
Tough to get the base tightly latched
Uppababy Mesa Infant Car Seat
MESA Infant Car Seat - Jake (Black) + MESA Base
Includes: 1 MESA Infant Car seat and 1 MESA base
Suitable for infants 4–35 lbs and up to 32" in height
SMARTSecure system installs in seconds, Adjustable headrest with Side Impact Protection
Attaches directly to VISTA, CRUZ, VISTA V2, and CRUZ V2 strollers without adapters
UPF hideaway canopy, Easily removable and washable seat fabric
The UppaBaby Mesa is a great option for the family who wants to travel safely with a baby. With innovative features such as self-retracting LATCH connectors and an indicator window to ensure correct installation, the UPPAbaby MESA is one of the safest seats on the market
Features
Rear-facing
Height Limit: 32″
Weight Limits: 4 – 35 pounds
Width: 17.5
Weight to Carry:
Pros
SPF canopy for sun protection
Easy to install
Infant insert
self-retracting LATCH connectors
SmartSecure system with a tightness indicator
One-handed release
Side impact protection
Removable and washable seat fabric
4-position adjustable foot for leveling
Cons
The carrier is a bit heavier than most car seats
Best FAA-approved convertible car seats
Evenflo Tribute LX Convertible Car Seat
Evenflo Tribute LX 2-in-1 Lightweight Convertible Car Seat, Travel Friendly (Saturn Gray)
Side Impact Tested, Meets or Exceeds All Applicable Federal Safety Standards and Evenflo's Side Impact Test Standard
Designed and Tested for Structural Integrity at Energy Levels Approximately 2x the Federal Crash Test Standard. Rear Facing Fit Tip is Top of Child Head is at Least 1 Inch Below the Top of the Child Restraint Seat Back
Multiple Shoulder Harness Positions for Better Fit and Longer Use. Age at Least Two Years of Age
Upfront Harness Adjustment and Buckle Release Allows Easy and Convenient Adjusting
Integrated Body Cushion Gives Added Comfort to Baby and an Easily Removable Head Pillow for Older Children
Evenflo Tribute Convertible Car seat is one of the safest car seats that can be purchased on a tight budget. It's especially for those looking to spend less on a car seat or purchase one for occasional use while traveling.
Features
Convertible
Height Limit: 40″
Weight Limits: 5 – 40 pounds
Width: 17″
Weight to Carry: 9.29 pounds
Pros
Easy to install and remove
Super Lightweight
Side impact protection
Great price
Pillow for baby's comfort
Easy to clean
Cons
Low upper weight limit,a toddler will quickly outgrow this car seat
Cosco Scenera Next Convertible Car Seat
No products found.
The Cosco Scenera Next Convertible Car Seat is a very affordable car seat. If you are looking for affordability and effectiveness, this is for you. It's perfect for traveling because its price and weight and it's also easy to clean and the pads are machine washable.
Features
Convertible
Recommended age: Minimum weight of 2
Weight Limit: 5 – 40 lbs
Width: 17″
Weight to carry: 6.8 pounds
Pros
Very affordable
Super Lightweight
Easy cleaning
Excellent safety ratings
Cupholder
Machine-washable seat pad
Cons
No so easy to install
Wears quickly
Safety First Guide Convertible Seat
Safety 1st Guide 65 Convertible Car Seat (Seaport)
Perfect for smaller cars or for extra space in your larger vehicle, this LATCH equipped Safety 1st car seat accommodates children from 5 to 40 pounds in rear facing mode and from 22 to 65 pounds in forward facing mode
Adjust the 5 point harness from the front of the seat
Side impact protection built into this infant car seat keeps your little one extra secure
Three of these seats can fit side by side in the back seat of most cars, perfect for growing families and carpools
Removable body pillows ensure that your little one sits comfortably in the seat, while a removable cup holder keeps a drink close by
The Safety First Guide 65 Convertible seat is as the name suggests a car seat can last until your child is 65 lbs. This means that you can use this car seat for years, and you won't likely have to buy a new one for several years.
Features
Convertible
Height Limit: 52″
Weight Limit: 5 – 65 lbs
Width: 18.6″
Weight to carry: 15 pounds
Pros
Super compact
Affordable
Easy to install
Side impact protection
5-point harness with up-front adjustment
You'll be able to use it for years before they grow out of it
Cons
The seat does not recline
Evenflo Sonus Convertible Car Seat
Evenflo Sonus Convertible Car Seat, Charcoal Sky
VERSATILE: The Sonus Convertible Car Seat helps protect rear facing infants from 5-40 pounds, and forward facing toddlers from 22-50 pounds, extending the life and use of this full-featured car seat. Rear facing height is 19-40 inches and forward facing height is 28-50 inches
TESTED AND TRUSTED: In addition to meeting or exceeding all applicable federal safety standards, this car seat also passes Evenflo's comprehensive Side Impact and industry leading Rollover Test Standards
ALL-SEASON COMFORT: The Sonus features a revolutionary air flow ventilation system that provides a temperature-regulated, comfortable traveling experience regardless of the season or your climate. Rear facing fit tip- Top of head is at 1 inch below the top of the child restraint seat back
TRAVEL WITH FREEDOM: This restraint meets FAA Inversion requirements for airplane use allowing it to serve as a seat that can travel with you during family vacations or holidays around the world
OTHER VALUABLE FEATURES: Up-front adjustment for easy access to harness, 5 shoulder strap positions for proper fit, removable pads for easy machine washing, 2 cup holders, and head pillow for support
This car seat is designed with a wider seating area for your child's comfort while remaining compact in overall size. With a rear-facing weight rating up to 40 pounds and a forward-facing weight rating up to 50 pounds, it's a car seat that grows with your child.
Features
Convertible
Height Limit: 19″ – 40″
Weight Limit: 5 – 50 pounds
Width: 19″
Weight to carry: 12.6 pounds
Pros
Removable and machine washable pads
Accommodates your growing child longer with the broadest range of harness adjustments
5 shoulder strap positions ensure proper fit
Air flow system which regulates temperature
Compact size
Inexpensive
Cons
The rear-facing installation has only one recline angle
Diono Radian 3RX Convertible Car Seat
Diono 2019 Radian 3RXT All-in-One Convertible Car Seat (Discontinued by manufacturer)
JOY OF THE JOURNEY: From birth, keep your little one rear-facing longer to 40 lbs., and as they grow to 100 lbs. (10 years approx.) our long-range lifespan protects your child facing-forward.
THREES NOT A CROWD: For safety that fits 3 across the Radian 3RXT packs all our innovative safety features into a sleek and slim design that allows you to fit three across (in most mid-size vehicles). Now the whole family can travel, together.Care & Cleaning: Spot or Wipe Clean, Machine Wash
LOVINGLY ENGINEERED: The Radian 3RXT is built with automotive-strength steel, engineered into a dual spine, which manages and dissipates energy with an unyielding structure to protect your baby. Our audible click SuperLATCH system makes installation easy
BUSINESS CLASS COMFORT: Inspired by the best in European style, our Radian 3RXT has bright soft fabric covers, and a memory foam seat bottom. Lined with energy absorbing foam, comfort and safety go hand in hand
MADE OF SEATTLE: We are from Seattle, a city where being different is the norm and so is the Radian 3RXT. It folds flat, so you can travel the world and is FAA approved for use on an aircraft, so you can take safety with you wherever you go.
The Diono Radian 3RX Convertible Car Seat is a 4-in-1 car seat designed to leave your baby cozy, comfortable and happy. This isn't an exaggeration because the main focus of the design is comfort. When it comes to safety, it's also well equipped to protect your child. Thanks to the side impact protection, a steel frame and energy-absorbing foam, your kid will be protected in case of an accident. The machine washable cover also makes it easy to clean, so that your baby is protected from germs and dirt.
Features
Convertible
Height Limit: 4'9″
Weight Limit: 5 – 120 pounds
Width: 16.93″
Weight to carry: 28.1 pounds
Pros
Great safety specifications: side impact protection, energy-absorbing frame
Good quality built (steel core)
Adjust as your child grows: rear-facing (5-45lbs), Fwd facing(20-65lbs), and booster mode, although booster mode it's not allowed in the plane (50-120lbs)
Can be folded flat easily for easy travel
Cons
Head wings are not very adjustable.
Heavy
Peg Perego Viaggio Convertible Car Seat
Peg Perego Primo Viaggio Convertible - Reversible Car Seat - Rear Facing for Children 5 to 45 lbs and Forward Facing for Children 22 to 65 lbs - Made in Italy - Atmosphere (Grey)
Made In Italy. Reversible-can be used rear facing for children 5 to 45 pound and forward facing for children 22 to 65 pound. Only the lower seven positions can be used in rear-facing mode
Side impact protection protects child's head, neck and spine, easily adjusts to 10 different positions, even with child in the seat, ensuring the best and safest fit
Energy-absorbing foam, EPS throughout the seat protects child's head and torso from impact forces, a shock absorbing foam element device located below the shell crumples upon impact, reducing stress on child's neck and shoulders in the event of a crash
Contoured steel back plate minimizes flexing and reduces forward movement, contoured base provides extra stability in any seating position
Top tether hook increases stability in forward-facing mode and limits forward movement, adjustable latch connectors add stability and are easy to reposition for rear-facing or forward-facing installation
Peg Perego is a family-owned company that has been making high-quality children's products for over 60 years. Every product is designed, engineered, and manufactured in Italy by the company, for complete control and quality in every component. This Peg Perego car seat is known to combine safety and luxury, it's a high-end seat that was designed to provide the utmost in safety and style. For such a product, the price is pretty reasonable.
Features
Convertible
Height Limit: 48″
Weight Limits: 5 – 60 pounds
Width: 18.7″
Weight to carry: 21 pounds
Pros
Extremely safe: side impact protection, energy-absorbing foam and contour steel back stabilizes movement and provides balance
Quality construction
Infant support cushion
Well padded
Recline adjustments
Breathable fabric
Easy to use and install
Cons
Clek Fllo Convertible Car Seat
No products found.
Clek Fllo is one of the safest and narrowest convertible seats in the market. Its leading safety features include extended rear-facing use up to 50 lbs, a steel anti-rebound bar and Clek's patented Energy-Absorbing Crumple Technology, Advanced Side Impact protection with deep side wings, and energy-absorbing foam layers. This car seat is the definition of comfort and safety when it comes to car seats.
Features
Convertible
Height limit: 44″
Weight limit: Maximum weight limit of 50 lbs
Width: 17″
Weight to carry:25lbs
Pros
Many great safety features: Anti rebound bar, energy-absorbing side layers, EACT technology(safety technology reduces the forces transmitted to a child in a collision)
Narrow car seat
Weight limit for rear-facing extends to 50lbs
Easy to install
Adjustable headrest
Excellent quality and durability
Cons
Not machine washable
Heavy
FAQ
If flying with my child on my lap is not safe, can I use my baby carrier instead of bringing the car seat or using the infant seat belt?
While onboard, using a baby carrier is highly unrecommended because it's not safe. In case of an accident, baby carriers are not designed to restrain your child.
Plus, you are not allowed to wear your child during take-offs or landings when the risks are highest.
Can I use a booster seat?
No, you can't. Airplanes only have lap belts and booster seats require a lap and shoulder belt.
If you want to bring in a booster seat with you, you can gate check it or bring it on the plane and put it in the overhead bin.
Do car seats travel for free? Does a car seat count as a checked bag?
Yes, car seats are not counted as standard baggage. So when traveling with a child you are allowed to bring a stroller or a child car seat free of charge as checked baggage. This even applies to low-cost carriers like Spirit, Frontier, Ryanair, Easyjet.
But if you want to take it on board the aircraft, you will need to purchase an extra seat. Flight tickets for children aged up to 12 years are usually 25-30% cheaper than tickets for adults. If you have not purchased a seat for your child, the car seat must be checked at the gate by an airline representative.
Are there any products that can help you transport your car seat through the airport and onto the plane?
Yes. There are many options.
Are there any alternatives to car seats to keep your baby safe on a flight?
Yes, you can use Cares Child Airplane Travel Harness (child aviation restraint system), which is the first and only FAA-approved harness type child safety device. It's been designed specifically for aviation travel for children age 1 and older who weigh between 22 and 44 pounds.
Can I take my stroller on the plane too?
Two things determine this and they are your stroller size and the dimension of your bag.
If your stroller is a compact one and is small enough to fit in the overall compartment when folded, that's okay.
If the carry bag also meets the standard cabin bag dimension, you can take your stroller with you on the plane as a carry-on.
You can take it on the plane as a carry-on.
If it's a big stroller, it won't fit into the overhead compartment and because of that, it will have to be checked in at the hold.
On this topic: Best Strollers That Fit in an Airplane Overhead Compartment
Conclusion
If you do decide to use a car seat for air travel, it would be better that you put certain things into consideration. That way, you will be able to make a satisfactory purchase. Also, make sure you do some research on the airline you are using first to know the type of car seats allowed.
One other thing you have to consider is how safe a car seat is. Make sure the fabric is safe and the structure is designed to give protection, especially in case of an accident. Your child's weight and height are also very important.
Out of all car seats mentioned, after much consideration, our top pick infant car seat is: Doona Infant car seat.  It's a car seat that transforms into a stroller within seconds so it saves you time and hassle for traveling. Doona's integrated wheels make the whole airport experience easy and less stressful, as you don't have to carry it. You will be able to push your car seat through check in to the plane.
It is undoubtedly a great choice if you are traveling by plane because it can even fit inside the overhead locker if you don't want to use it during the flight and you can even wheel it down the aisle to your seat. Once there, just unfold the wheels and install on the seat next to you.
If you can afford it and are looking for something safe, innovative and convenient, the Donna car seat is well worth the investment. With this car seat, you can be at peace knowing that your child is protected and you will save yourself room by not having to pack or check a stroller.