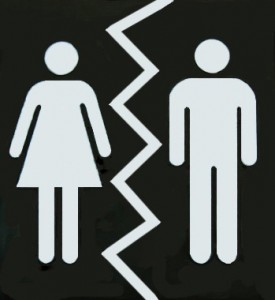 I just got back from my lovely paradise layover, and a few events that happened on my flights has me asking the question: Does the gender your the flight attendant make a difference in the way passengers behave?
I've had the great fortune of flying to of my recent pairings with a flight attendant who was in my training class. Let's call her Kay. Kay is similar to me in how we interact with passengers, our service styles are more or less the same, and we both take Safety and Security very seriously.
That being said; it seems she and I are having differing experiences while working with the same passengers on the same flights. Here are my examples:
1) On our flight down south, we'd just finished our safety demo. At this point we need to ensure all seatbelts are fastened. In my section all of my passengers had their seatbelts done up, and most people kept their laps clear so I could inspect. Those who didn't have their laps clear promptly complied when I asked to see their seatbelts.
Apparently Kay had passengers rolling their eyes at her when she asked. She also had a number of passengers who hadn't done up their seatbelts at all, until she told them too.
2) On the subject of seatbelts: During the flight we experienced some turbulence so the seatbelt sign was turned on. In Kay's section there was a passenger who wouldn't put his seatbelt on until she directly told him to. Even then as soon as she walked away he released it again. 3 times she requested he put the seatbelt on, and 3 times he removed it when she walked away. Finally she asked me to do it. I said to him, "Sir, I need you to fasten your seatbelt please." *click* It was fastened, and fastened it stayed.
3) 30 Minutes to landing, a passenger asked Kay for another rum and coke. Kay politely informed her that the bar was closed as we were landing soon. That passenger replied with "Are you %#*#@ kidding me?" and ranted to Kay for a while until she replied "I'm sorry, It's 30 minutes to landing. I don't make the rules." and walked away.
On a flight last week we had to cut off the whole cabin when a wine bottle was stolen from my cart. Between that point and landing I had to decline alcoholic beverage service to a number of people. They were all clearly upset, but they never took it out on me like that.
4) On the flight home, we were delayed and our passengers were not happy. In Kay's section she had passengers in every direction telling her off and complaining about the airline. Not once did I receive such a complaint… just a few eye rolls here and there.
Like I said before, Kay's service skills are very similar to mine… in fact I think she's faster and more efficient than me in completing service! So why does she always get the difficult passengers? This seems to be true of many of our female flight attendants. I even once had a cabin manager tell me that she thinks when men make the announcements people wake up and pay attention more.
Does the fact that I'm male really make the difference? Am I perceived as more authoritative? I am very tall, maybe that alone is enough to discourage people from being difficult with me. In the end I really have no idea what the difference is. Although if anyone out there has an opinion on this, I'd be very interested to hear it.
More on this topic: 11 Reasons Why Men Should Be Flight Attendants