As a flight attendant and former dog owner, I know very well the hassle of flying with a dog. That's why I've selected the best IATA approved traveling crates for you and your pet so that your next journey will be less stressful for both of you.
All these pet carriers and crates have been selected with the comfort and safety of your dog in mind.
If you are a responsible pet owner that loves to travel, you need to learn what kind of crate is appropriate for your dog and fulfills airline regulations.
In-cabin dog carrier or in-hold?
Depending on the size of the dog and the airline's policies, this may not be your choice to make.
But if you are deciding which one is best for you and your dog, here's what to keep in mind:
Will your dog be the right size for the cabin?
Does your dog suffer from separation anxiety to any degree?
Is your dog comfortable and at ease with their own company if they have to spend hours alone in the hold?
Note: Remember to go to your airline's website or contact their customer service department to find out exactly what their requirements are.

Do this well before your intended date of travel and, to check that you have all the legal documentation and permits to travel with your dog, and check again a day or so before your journey to confirm everything is ok because aviation or airline rules can change fast.
Dogs traveling in the cabin
In general, your dog should not weigh more than 18 lbs,  and its container must be able to slide under the seat in front of you, leaving space for yourself and without blocking the aisle.
During the flight, your furry friend must remain inside the kennel (with the door closed) at all times while in the cabin, whether the plane is in motion or not.
That is why we have only selected soft-sided pet carriers for these reviews. They fit comfortably under most airline seats, and they are easier for you to carry compared to hard-sided carriers.
You can find out more about flying with dogs if you read my article How to fly with your dog, cat, or other pet.
It's important to understand that each airline has its own policy.
So don't assume that 18 lbs is a totally hard and fast rule.
Each airline has its own guidelines, so whether or not you have flown before with your pet, you should call the airline before traveling and as soon as possible to make the reservation, check the crate dimensions, confirm that they can travel in your same flight, or find out any additional information.
Let's take two examples:
United Airlines: maximum dimensions for soft-sided kennels are 18″ long x 11″ wide x 11″ high (46 cm x 28 cm x 28 cm). Soft-sided pet carriers may exceed these dimensions slightly. On Boeing 737 MAX 9 aircraft, soft-sided kennels must be no higher than 10 inches.
Frontier Airlines: on the Airbus A318 / A319 / A320, maximum dimensions of 24″ x 15. 5″ x 9.5″ and on the Embraer E190, the carrier dimensions shouldn't exceed 18″ x 13.5″ x 10″.
As you can see, there may even be different cage size requirements on different model planes within the same company.
When thinking about your choice, focus on what your pet's needs are.
Tip: Don't start with your comparisons based on price. Yes, this has to be a factor, but weigh up all the other considerations first and then look at costs. It's your dogs safety and comfort that should be your primary concern.

So think about the material: is it safe enough? The size: is it big enough? The design: is it easy to move or clean?
Okay, let's start with the in-cabin soft-sided travel containers. All of the reviewed products are airline compliant and are fit for purpose.
Pick the right crate size for your dog by always checking the airline requirements first. And don't forget to add space for your dog's bed or loved blanket.
No products found.
Pros
I like the mesh sides and front, meaning that your dog gets to see the world go swirling by.
Good quality zippers, shoulder strap, and the carrier is sturdy.
Can be collapsed flat for storage and packing
Cons
The carrying handles could do with something like a velcro joiner just to make them just that little easier to grip.
There is limited side pocket storage.
This carrier has two entrances, one in the front and one on the top. Both the carrying handles and the shoulder straps are soft for pain-free carrying and are adjustable. There is a fleece liner for the floor.
Verdict
This carrier may not have all the bells and whistles, but it is a very popular no-frills, no fuss product. It is perfect for car rides, adventure trips, and shorter haul flights.
No products found.
Pros
A well thought out design that can act as a mini in-house dog kennel if your dog is unwell or likes his home comforts when traveling.
Spacious enough to give your beloved pet room to turn around, stretch out, and sleep well.
It can be collapsed into a flat storage package measuring only 1.5 inches high.
Cons
Not as much side pocket storage as some, and with all those zips, it pays to get into the habit of closing one before opening another. But that could be said of all expanding pet carriers.
This carrier has a thick wire frame around the top, which means you don't get sagging corners or any bunching. The down fold sides create a lot of extra room, creating a lot of space for your small dog.
Verdict
This is a very stylish and well thought out design.
No products found.
Pros
Your dog will really appreciate the expandable space to get to splay out.
And you will find it very comfortable to carry using the luggage strap to attach it to a suitcase handle. It's great for a four-wheel suitcase.
I like this product's stylish color (twilight gray), and I'm also a fan of it's attractive, dry cleanable flooring. This product has been tested to 40 lbs of swing stress, which is not something other manufacturers include in their specs.
Cons
Expandable on only one side. However, there is a double-sided version available. Only one storage pocket.
Only appropriate for tiny dogs or small pets (up to 15lbs).
This very stylish two-tone carrier has a wipeable, waterproof exterior (excluding the mesh areas, of course). It is expandable on one side to give your little buddy a chance to spread out a bit, and it has the plushest floor lining of all our reviewed carriers. There is a handy interior lead attachment and has a storage compartment for all your extra bits and pieces.
Verdict
This is my personal pick, particularly as from every purchased carrier, a percentage of the profit is donated to animal welfare organizations such as dog shelters, rescue centers, and the like.
A top quality, very well made product that also has a stylish appearance.
No products found.
Medium 17" x 9" x 12" or Large 19"x 10"x 13"
Pros
3 years warranty.
When toting the pet carrier, the carrying handles are held together by a soft sleeve to ensure comfort and ease of pick up. It also has a very helpful pass-through pocket to slide it over your wheeled luggage when transiting through the airport.
Cons
Having a side zipper for petting and comforting your dog is good, but be careful not to make an inadvertent escape route when you put your hand inside.
The floor fleece could perhaps be a bit thicker.
Only suitable for small dogs: corgi, pug …
This pet carrier is well endowed with external pockets for all those bits and pieces and treats that help make your dogs trip just that little more comfortable. It also has a handy internal strap for attaching to the pet's lead, and so prevent any mischievous attempts at escape.
Verdict
Although it may not be a fashion accessory, The EliteField pet carrier does come in a lovely range of colors and is a very light but sturdy carrier, well suited for airline or car travel.
No products found.
Medium: 15"x13"x10" Large: 17"x 15"x12"
Pros
This pet carrier has so many uses: you can carry it as a backpack, turn it into a roller carrier or use it as your pet's bed. Very versatile.
Convenient for small dogs and cats, there is plenty of room for them to lay down and sit up.
The sides and top are mostly mesh, so ventilation is good.
Cons
The wheels are not of the highest quality, which kind of defeats the purpose a little.
Caution: This has a sloping top, so the actual internal measurements are less than appearances would suggest.
Built like a suitcase on wheels, this is an interesting take on toting your pet around.
And to fit it under the seat easily, you can collapse it by removing the bottom plate.
Verdict
But you will love the convenience of wheeling your dog through the airport, and it could be fun for Fidos of the smaller variety.
No products found.
Small 17"x 10.2"x 11.2" Large: 19.5" x 10.2" x 12"
Pros
This is a no frills, well built, sturdy carrier yet lightweight carrier with both a small and large version.
It's collapsible for storage.
Cons
Limited side pocket storage and not as much see-through mesh area as some of the others.
At 12 inches tall, the larger version fits under an airline's seat, but it's a bit tall, so the top can get a bit mushed down.
This carrier comes with a soft and cozy little fleece bed for your dog to travel comfortably. It's suitable for smaller to medium size dogs.
It is very well ventilated and comes with a detachable, collapsible bowl for food or drink. Access can be from both sides, and both ends have double zippers that clip together so your dog can't get out.
Tip: When buying any soft-sided carrier, always remember to check the zippers to make sure that your dog will not escape or fall out.
In-Hold Dog Crates
Remember, only IATA compliant dog cages will be allowed in the hold.
IATA (International Air Transport Association) has strict guidelines for the transporting of animals on planes.
Read them carefully here :
IATA Container requirements for pet animals (PDF)
Summary of the IATA regulations
This is a quick summary on the IATA regulations, but I would read the previous document anyway:
Adequate ventilation on three sides, the majority of the ventilation coming via the top of the container.
Correct labeling of the container (live animal stickers)
The floor must be clean and leakproof.  But don't worry because most of the crates incorporate an absorbent bedding.
The crate must be easy for pet handlers to move (providing handles or a spacer rim protruding at least 3/4 on all sides).
The crate must be constructed with fiberglass, metal, rigid plastics, weld metal mesh, solid wood, or plywood: no soft-sided or collapsible crates for cargo travel.
Separate water and food bowls must be provided, either fixed inside the crate or attached to it.
For your pet's comfort, the crate should be big enough for your pet to stand, turn, and lie down comfortably. There are formulae for establishing the internal dimensions of the crate related to the size of the animal. It will be explained below.
No wheels. If the container has wheels, they must be removed.
Important note: IATA does not certify, approve or sell any pet container manufacturer, brand, make, or model. Equally so, IATA does not offer, solicit, endorse, or approve any particular pet or puppy transport or relocation services, regardless of whether these be offered via email or the internet.
All of the crates reviewed below meet IATA specifications.
No products found.
Pros
The SportPet has a waterproof pet bed that is designed to fit the extra large kennel. The metal reinforced windows are a godsend for those dogs who love to chew and bite the crate.
Very easy assembly. Wheels are removable, and it has two handles on the top.
Cons
The wheels are perhaps a little flimsy for sustained use, but you won't need them for air travel, so no biggie.
These crates range from small to 3extra large. Be aware that the smallest crate has no wheels and that your dog's measurements for the Xtra large crate should be under 32 L x 24. The crate comes with two attached dishes, four live animal stickers, all-metal bolts and nuts needed and it has tie-down holes for bungees.
Verdict
A great utilitarian dog crate that has a couple of welcome extras.
No products found.
Pros
The door opening from both sides using only one hand has a lot of appeal for those of us with wrigglers for pets.
The door can also be removed without disassembling the kennel.
Cons
Aligning the top to the bottom during assembly can be fiddly and frustrating.
The door on this carrier can be opened with one hand and from either the left or right side. Very handy, if you'll excuse the pun. And if you need to remove the door, you'll simply twist both latches, and the door pulls off. Easy peasy.
There are various sizes in this range that cater to dogs between 10lbs to 70 – 90 lbs.
No products found.
Pros
Aside from the smallest model, the 18 inch long, the front door can be opened from either side.
Solid plastic used in the construction, and the nuts and the screws are all metal.
It comes with all the accessories you need for air travel: live animal stickers and plastic water or food bowl that clips on the door of the crate.
Cons
The heavy plastic used means that the shipping weight is above 11 lbs. But this is a fair trade-off to many pet owners.
The crates in this line range from 18 inches long to 34 inches, catering for weights between 11 and 75 pounds. They have a one-handed door latching mechanism and a  removable food or water tray attached to the front entrance. All crates have a sturdy top-mounted central carrying handles and the largest size – the 34 inches long – has these handles placed at each end of the top.
Verdict
A range of 4 sizes to choose from means that you can select a model to exactly suit your dog's needs. There are only two colors, blue and red, but that's not something that isn't an issue for me or something that is going to keep me awake at night.
Overall, it's an excellent product for airline flights with your dogs.
No products found.
Pros
Very sturdy, no fuss  construction, secure door assembly.
Strong and secure for your 30 to 50-lb dog's flight.
Cons
The bolts provided for assembly are plastic, not metal, as per requirements. You will have to purchase metal screws.
This carrier comes in a range of 6 sizes, from 21 inches long to 48 inches long. All models come with clip-on bowls, and 2 'Live Animal' stickers.
Verdict
No kennel is "airline approved," but this one comes the closest. With this one, you don't have to worry about your dog to escape.
Tips for flying with your dog
Before traveling with your dog, take it to your vet for a check-up, especially if it's very young or fragile. Some airlines will require a veterinary Health certificate
If you decide to take your dog abroad, check with the airline for any specific requirements they may have.
Make sure you have the right size kennel for your animal.
Make sure that your pet is correctly identified with a microchip and a tag on the collar with your name, home address, and telephone number.
Complete the following dog air travel checklist to help you prepare for your trip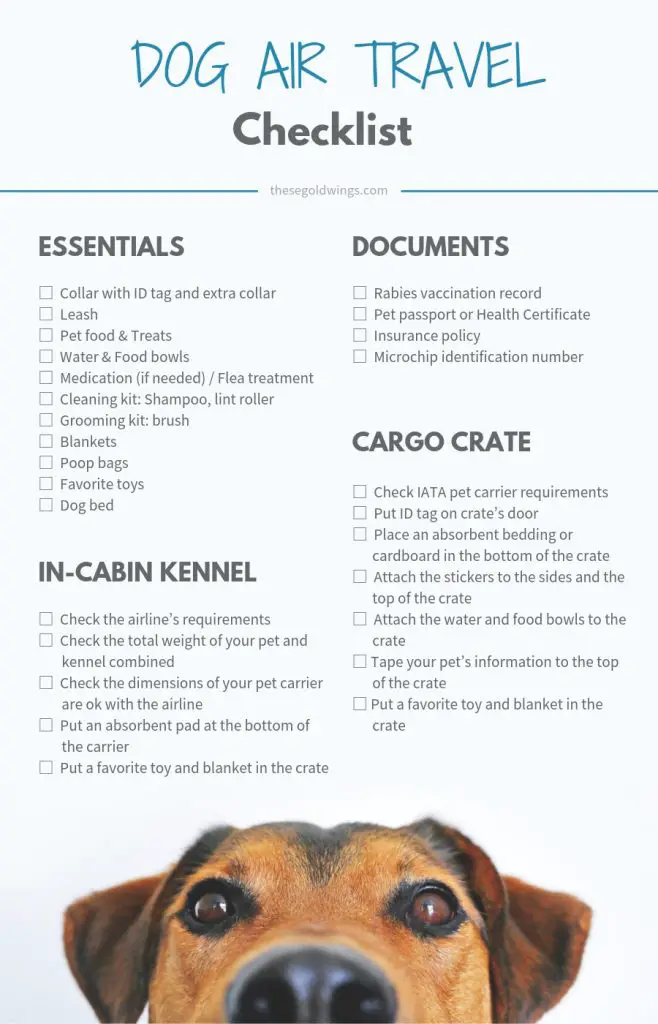 FAQ
What size pet carrier will fit under an airline seat?
The mantra of, 'check with your airline first' applies, but here are some guidelines:
Aim for less than 11 H x 17 W wide x 18-20L if it's a hard-sided cage, if it's soft-sided, airlines are usually a bit more flexible.
What size crate will I need for a 50 lb dog?
Aim for 36 L x 24 or 30W
What size cage does a Labrador need?
An adult male Labrador can weigh between 65 – 80 lbs., so a cage of at least 42″x30″ or 42″x36″ would be needed.
How to prepare your dog for air travel?
Crate train your dog for travel. Do it gradually. It can take days.
But once your dog is comfortable with the crate, it will help the dog feel safer and happier while traveling.
How to choose the right size dog carrier for air travel?
First, make sure your crate meets the minimum dimensions specified by IATA for your dog size.
There are four things you will need to measure.
 The length of your pet from the nose to the base of the tail.
Height from ground elbow to joint.
The width across shoulders
The height from the top of the head to the floor in natural standing position.
Now use the following formula to determine which crate is the appropriate size.
How to prepare my dog's crate for air travel?
Label your dog's crate. Attach the "live animal" label with the arrows pointing up on the sides of the crate and one more on the top of the crate above the door.
Fill in a tag with your dog's name and your contact information and attach it to the door. Also, write your name and telephone number on the dog's collar.
Make sure the crate is secured with all-metal locks and latches. Many airlines require steel latches, so change the plastic ones if needed.
Attach two metal bowls to the door for food and water. And your dog's food to the top of the crate in case of delay. Note that during the flight, they will not give your dog any food or water.
Place a blanket, newspaper, or cardboard in the bottom or other absorbent material on the floor.
Attach your pet's information to the outside of the crate with tape.
Put your dog's favorite toy or blanket to ease some of the anxiety.
Are all breeds accepted on an airplane?
No, snub nose breeds of cats and dogs, such as boxers, bulldogs, Persian cats may have trouble to breathe and may not be accepted or only accepted in the cabin. Check your airline policy first.
Final thoughts
Think about your dog's needs and focus on that when making your product selection.
This can't be said enough: contact your airline to find out exactly what their pet carrying policies are.
With a little planning, you can make sure your little buddy is flying safe and happy with you.
Happy traveling!