El Nido in Palawan is a destination that I highly recommend;  it has the most beautiful beaches, diving spots, breath-taking nature, and it's incredibly cheap. Perfect for solo travelers or for couples, adventure enthusiasts or beach lovers, it has everything to make you fall in love.
White sand beaches, wooden cabanas, fantastic waterfalls, turquoise water, and palm trees. Seriously, it's one of the most beautiful places I've ever seen.
How to Get to El Nido Palawan?
By plane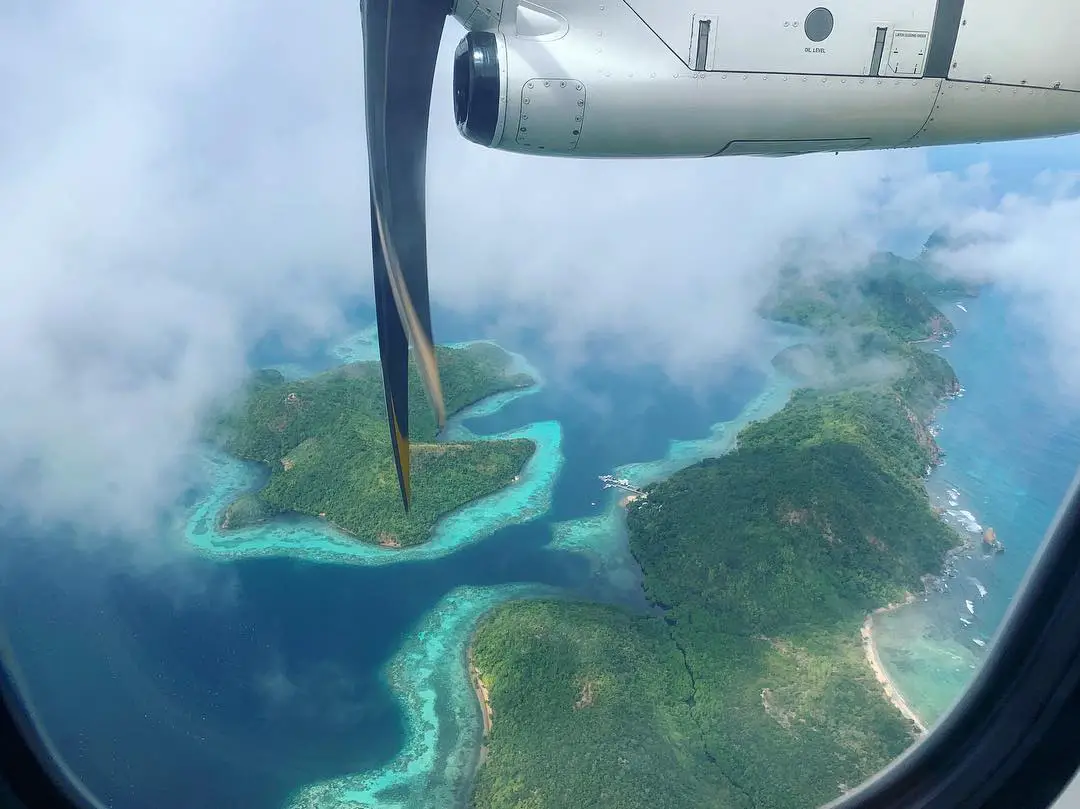 The fastest way from Manila or Cebu is to go by plane. There is a local company called Air Swift, that offers direct flights to El Nido.
But be sure to book your tickets in advance because they can be sold out fast, and the more you wait the more expensive it becomes – and they are not necessarily cheap.
The flight lasts just 1 hour and 20 minutes and it costs around PHP6000-12000 ($110-220) return, but it depends on the dates you're traveling.
The schedules change depending on the season, and if it's peak season or not.
Warning: Watch out for the baggage allowance! You have 10kg for your check-in luggage only and 7kg for your hand luggage. So it's easy to go over –     if this is the case then contact the airline to purchase 10kg of extra luggage allowance.
By van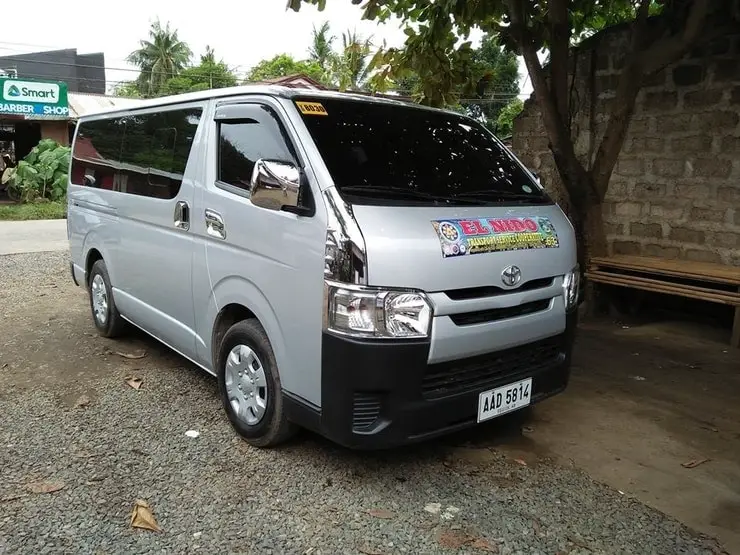 Another option, if you want to save money or visit Palawan, is to fly to Puerto Princesa International airport. The main companies are Cebu Pacific, Philippine Airlines and Air Asia and the prices vary from PHP1500-2000/$28-38 one way.
The flight will take 1 hour and 25 minutes.
From there you need to take a minivan to El Nido Bus Terminal; that will take about 5 hours and it will cost you about PHP600-700 ($11-13).
Be aware that the vans normally don't leave until they are full, so sometimes you'll need to wait a bit.
There will be a stop halfway where the van will stop for a snack/restroom break – you can use this opportunity to enjoy some Filipino food.
By bus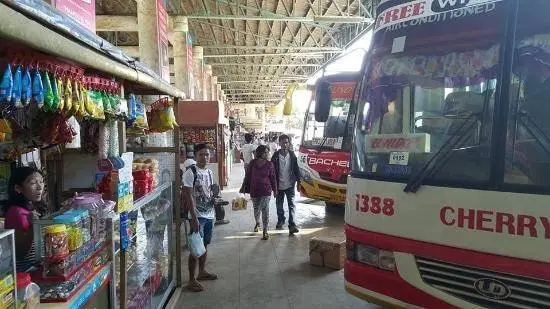 You can also take a bus – it's more comfortable than the van, and the price is lower: PHP400 ($7.63) without AC or PHP480($9.16) with AC.
But it will take a bit longer (about 6 to 8 hours) and you'll need to go from Puerto Princesa airport to San Jose bus terminal by tricycle first(5km for PHP120/$2.29).
Both the bus and the van will terminate at the station in El Nido.
From here you can take a tricycle to your hotel or guesthouse. The fare is normally from PHP15-50( $0.30-0.95).
In conclusion, in my experience, the best option to get to El Nido would be to fly there directly, but if you are on a budget you can try a van or a bus from Puerto Princesa airport.
What Things to Do in El Nido?
Now, let's talk about things to do in El Nido.
If you want to enjoy places at leisure and slow pace you should stay from 3 to 5 days in El Nido and its surroundings. That's my advice.
Island Hopping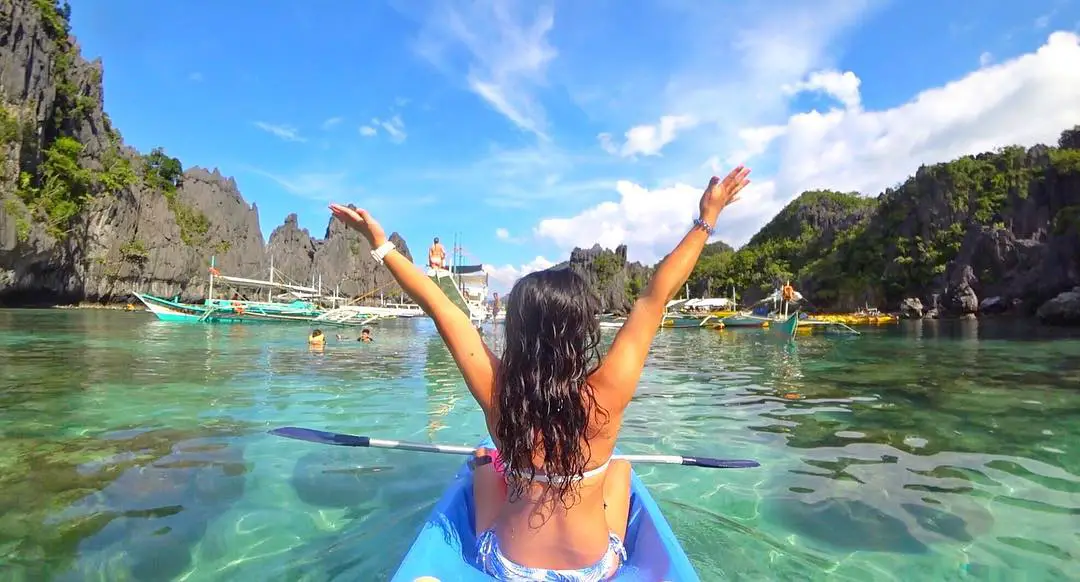 The most popular thing to do in El Nido is Island Hopping.
Every tour takes you on a Bangka (typical boat) along the different islands and lagoons surrounding El Nido.
In my opinion, it's a "must do" if you are going on vacation to the Philippines.
In El Nido town you'll find many little agencies organizing the same tours, which normally include a lunch buffet, water, equipment (a mask and snorkel) and the environmental tax. But before booking the tour make sure everything is included, some agencies will offer lower-priced tours and will not include the environmental tax.
There's no need to book the tours in advance as there are always boats available. You can just book the previous night so that you can check the weather forecast first. If it's a rainy day you've pretty much wasted your money.
I'm saying this because I was there in the rainy season, and since the weather condition was not that good, I didn't want to pre-book any tour. So I waited for a sunny day and I bought the ticket the night before at my hotel front desk.
*Note: I was there in 2017. Since November 2018,  the Ministry of Tourism has implemented a new policy to help preserve the area, and now there's a limited number of tourists per day allowed to visit the main attractions of El Nido: Big Lagoon, Small Lagoon and Secret Beach. So it's now recommended to book your slot at least 2 or 3 days in advance to make sure that the "Premium spots" are not sold out. So it requires a bit more planning than it used to.
You can book your tour online here or book it in El Nido town at ArtCafe
These are the 4 main tours you can find in El Nido:
Tour A (Big Lagoon, Secret Lagoon, Shimizu Island, Commandos Beach)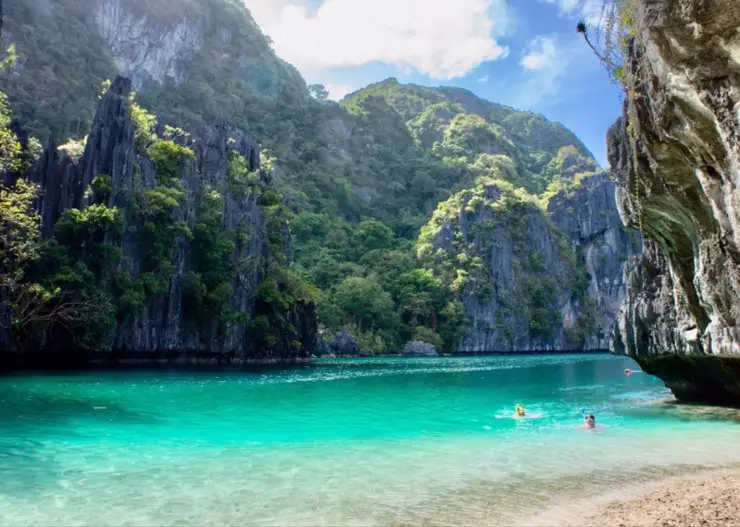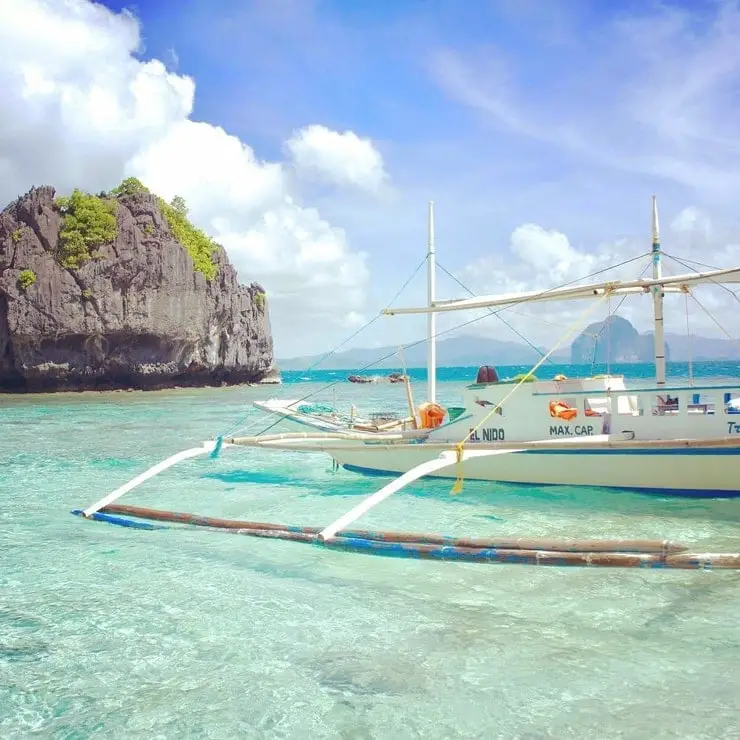 You will visit the best lagoons around Miniloc island, swim and snorkel on a white sand beach on Shimizu island surrounded by great limestone cliffs, and relax in a long paradisiac beach called Commando Beach, where you may spot sea turtles.
Price: 1200 PHP ($23)
Tour B (Caves and Coves: Snake Island, Pangalusian Island, Pinagbuyutan Island, Cathedral Cave, Cadugnon Cave)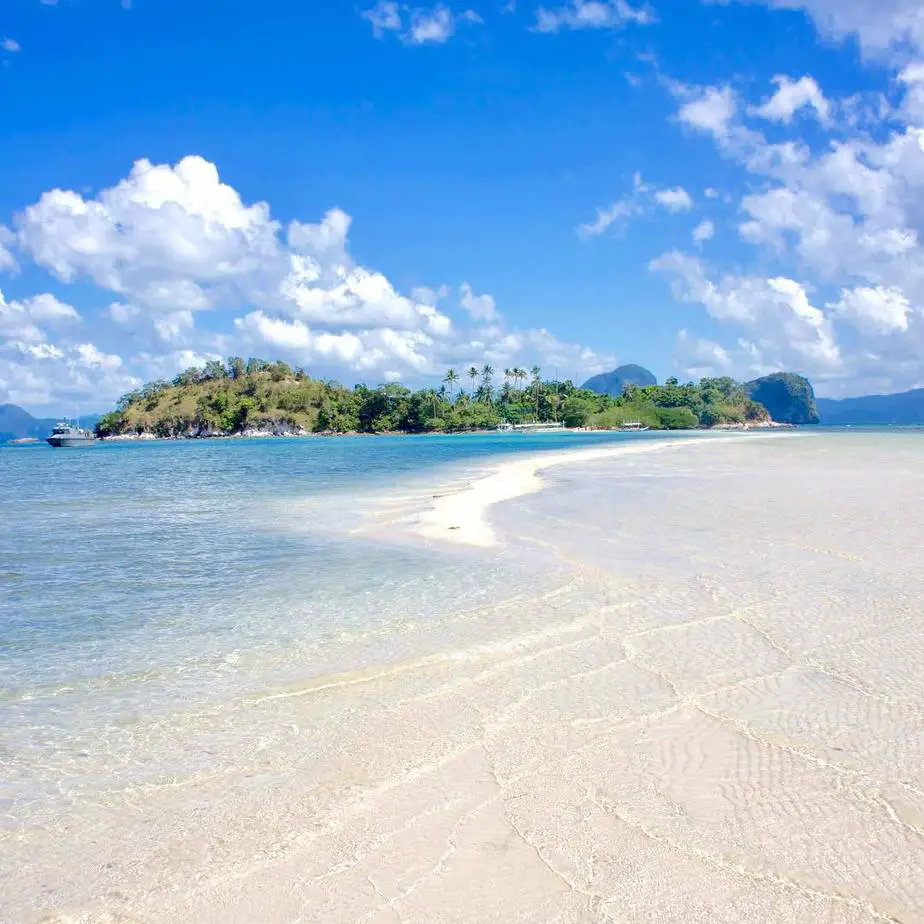 You will enjoy white sand beaches and discover Snake Island, a very special sandbank in the middle of the sea.
It's a pretty unique place.
Tour B will also bring you to Cudugnon caves, a site used by the locals during World War II to hide from the Japanese, and to amazing snorkeling sites.
Price: 1300 PHP ($25)
Tour C (Matinloc Island, Matinloc Shrine and Dilumacad and Helicopter Island)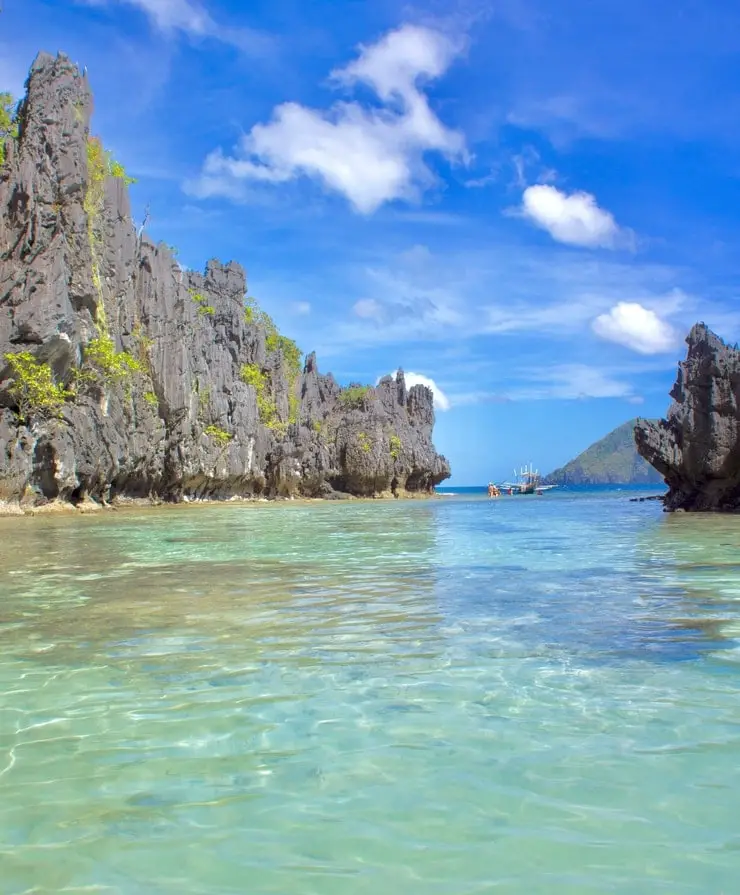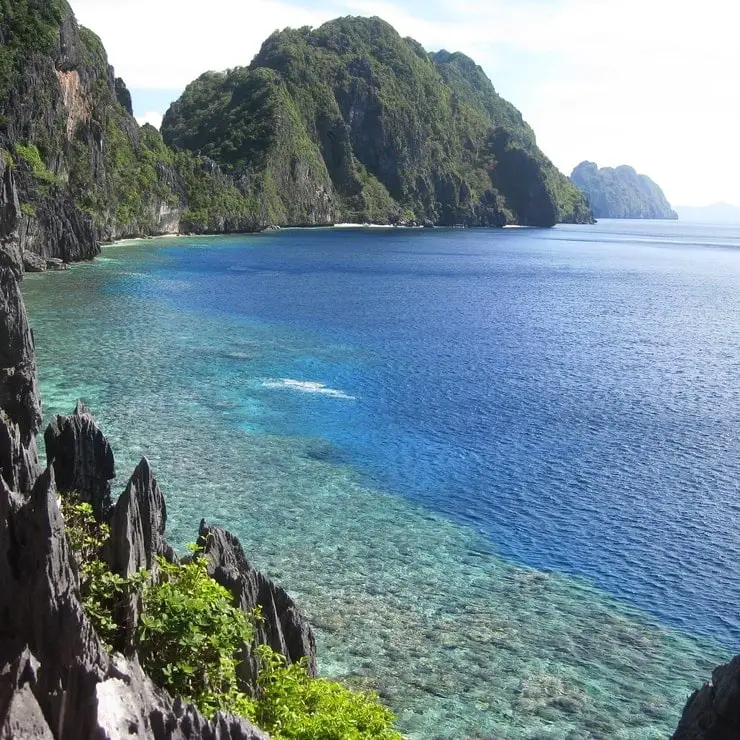 A perfect tour to do snorkeling – complementary to tour A, but with different views and more marine life to see.
It's the most expensive tour because it goes further than the others.
Price: 1400 PHP ($27)
Tour D (Small Lagoon, Nat Nat Beach, Pasandigan Beach, Paradise Beach and Bukal Island)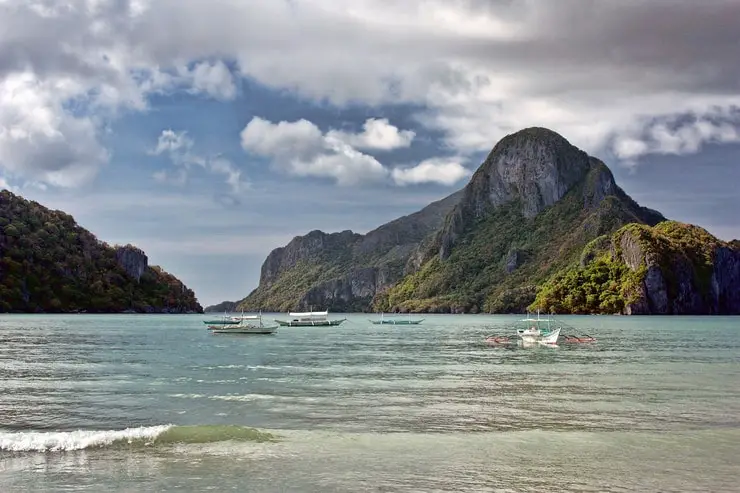 This tour is the closest to El Nido and it usually finishes at 2pm, but if the weather is bad it's a very good option.
It's also the cheapest and maybe the most underrated; Cadlao Lagoon is one of the best highlights of the tour but also Small Lagoon, Paradise Beach and Bukal Island are super nice.
Price: 1200 PHP ($23)
You can rent snorkeling equipment from them prior to departure
Mask and snorkel- 100 PHP set
Booties- 100 PHP set
Fins- 100 PHP set
Which Tour to pick?
If you still have doubts about which one to choose, you can ask the locals. Probably most of the people will recommend you do Tour A and C. They are both great, so if you have time, do them both.
Before November 2018 it was possible to do a combination tour (both A and C) or to book a private tour to do Big Lagoon, Small Lagoon and Secret Beach on the same day. But now, due to the new regulation to protect marine wildlife and its ecosystem, these spots are considered premium spots and they limit the people that can go there. 400 people a day are allowed at different time slots (which last an hour and a half). So you need to book in advance with a tour operator. If the slots are sold out, you will be forced to pick another tour that doesn't have a premium stop.
When we went, it was easier to book your private tour and combine all the best spots in one day. But it was before this new regulation, in September 2018.
Since all the tours follow exactly the same route and arrive at the same places at the same time, we didn't want to be herded around with a lot of tourists in small places.
So we spoke to my local friend who called a fisherman or boat operator, I don't know,  and he offered to do our own private Tour A, leaving at the time we wanted and going the other way around (I mean, starting with the places where the rest of the boats were going to in the end).
This way we had the freedom to pick where and for how long to stop, and we had all those amazing places to ourselves. We left very early in the morning before all the tours and we were the only ones in many spots.
And we paid 4500PHP ($86), which is expensive but it was absolutely worth it.
Now, I heard that they are asking for 7000PHP and the prices are going up, so I advise you to go as soon as possible before it gets super pricey and touristy and negotiate the lowest price possible. If you don't mind where to island-hop you can also go to Coron and get a much cheaper price.
Sunset at the Republica Sunset Bar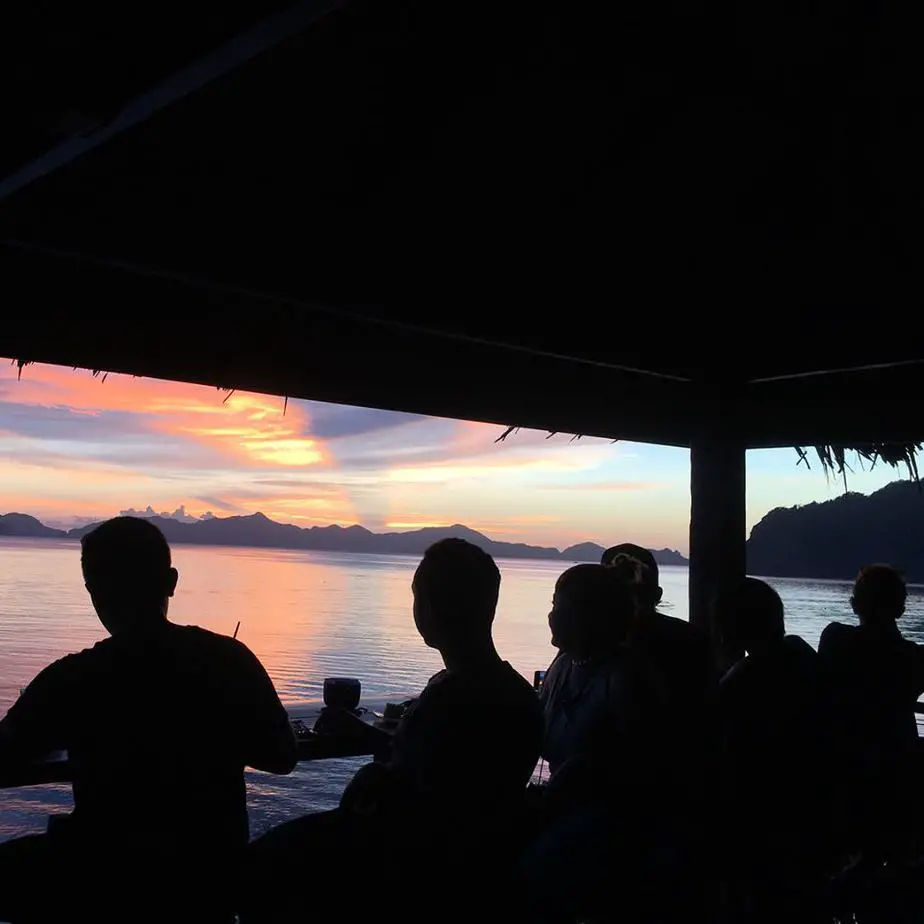 This bar is the best spot to watch the sunset in El Nido and has a great view of the bay. It's located in Corong Corong, settled on a cliff and it's only 10 minutes by tricycle from El Nido town. The ride costs around 100PHP ($1.91).
We went by scooter on our first day in El Nido because a friend of ours recommended us to go and we kept going back while we were there.
It's an awesome little place to enjoy sunset drinks and snacks.
I would recommend you arrive early enough, around 4 or 5 pm, to get a good seat because the place is small and it gets packed later. The best would be to sit at the counter facing the ocean. If you sit at one of the tables, you'll be stuck trying to take photos over the shoulders of the other people.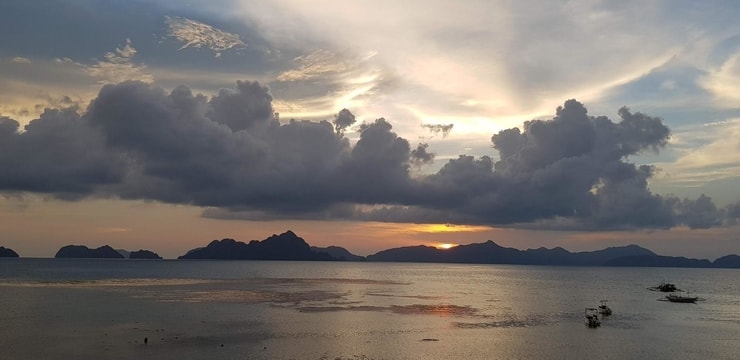 Republica Sunset bar is an absolute must-do if you are in El Nido,  and the place to be if you want to enjoy the best sunsets with a cold beer, Spanish tapas, and good music.
Lio Beach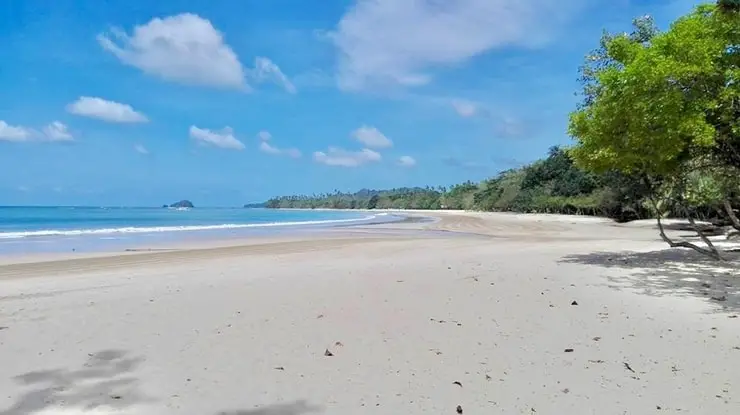 Lio Beach is one of the best beaches in El Nido; it has a long stretch of white sand and it's a perfect place to bask in the sun while reading a book and listening to the waves. This exclusive spot, away from crowds, feels like paradise.
You will see virgin beaches with turquoise water on one side and mountains with breath-taking views on the other.
If I were you I would visit this place now that it's not very popular, because I'm sure that in a few years it will become very famous and crowded. It's not been open to tourists for very long, so for the moment, it's still clean and quiet.
It is located about 15 minutes from El Nido (next to the airport) and you can get there by tricycle (PHP300/$6 one way) or by free shuttle from the central office TKDC Central Office "White House" – Calle Real, Brgy. Masagana to Lio Tourism Estate.
If you wish to stay here for a fancy and ecological getaway, you can pick between five cool hotels:
Casa Kalaw: Inspired by the traditional Philippine architecture, ideal for families.
Hotel Covo: Modern and chic, perfect for younger people.
Balai Adlao: Perfect for couples and independent travelers who are looking for peace and tranquillity, and are environmentally conscious.
Huni Lio: New luxury hotel inaugurated in June 2019! Contemporary and spacious rooms(35m2), perfect if you want to escape from the madness of El Nido town. Located in a private beautiful beach.
El Nido Cove: 10 minutes from Lio, it guarantees a more private environment; you can stay in the romantic beachfront lofts that are directly facing the ocean or in the forest rooms.
Although we didn't stay there, we will surely do it next time. It must be a memorable and unique experience.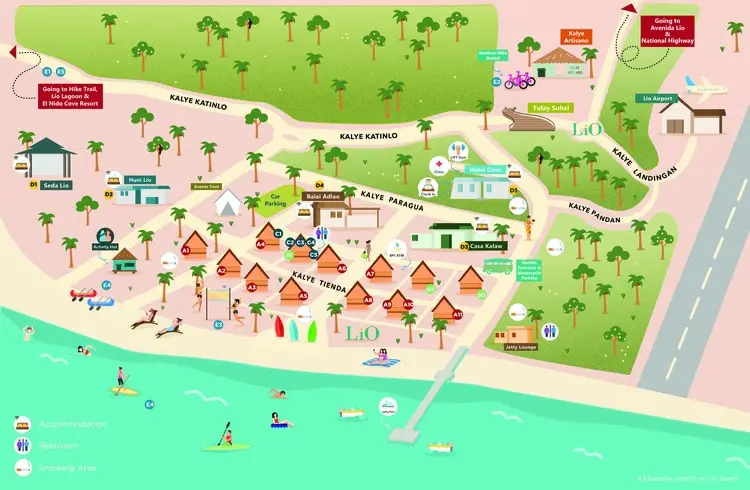 For those of you who want to spend the day at Lio beach, you can choose between many activities:
Renting a kayak or a paddleboard
Enjoying the beach: relaxing and sunbathing, having a fresh coconut, a swim, taking some good photos
Eating something at the Shaka restaurant. Who said that there are no healthy options in El Nido? I recommend their vegan hamburgers, mango smoothie and the super bowls of fruits and seeds. What a nice discovery!

Shaka's yummy smoothie bowl

Then, you can take a long walk on the pier and the beach
And, of course, watch another great sunset at El Nido (even better than at Republica Sunset Bar)

Incredible sunset at Lio beach!
Las Cabañas Beach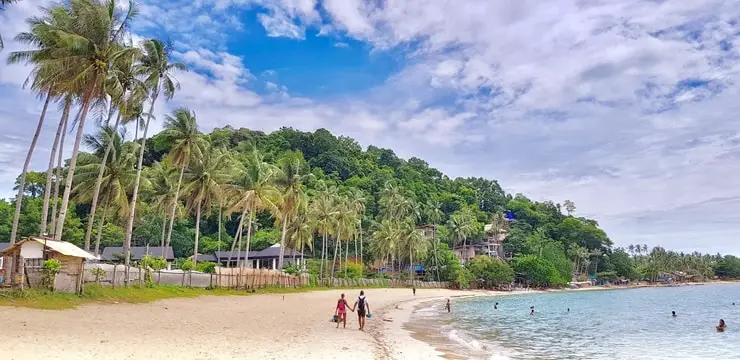 If you still want to discover more famous sunset spots, go to Las Cabañas Beach. It's also very close to El Nido, about 10 minutes by tricycle (150PHP /$3).
MY TIP: If you come using your own transport, don't miss the stairs going down to the beach – they are not that easy to spot from the main road.
This beach is perfect to spend the day or the afternoon, eat something and have a few beers if you don't really have big plans since it's full of very nice beachfront restaurants offering hammocks and poufs to chill. Much nicer than El Nido town.
And that's exactly what we did!
We ended up there because we couldn't do our tour C due to bad weather. So we spent there the whole day just chilling and relaxing and had lunch and a shake lounging on one of the bean bags.
We first stayed at the beginning of the beach, which has more of a party or backpacker vibe, with quite a few bars and restaurants, and after walking a bit we ended up in a quieter area.
You can hire stand-up paddleboards and also kayaks along the beach, but the best is the zip line that goes across the beach.  The view is amazing! To do it, you just follow the directions uphill through a dirt road to the starting point. Make sure you have good comfy shoes because it will be a steep climb up a dirt road. Even the motorbikes can't climb up there, so it's hard.
The zipline is 750m long and the longest zip line in El Nido.
The views are impressive as you glide across the water between the beach and a small island.  It's PHP500 ($10) seated and PHP700 ($13.50) for superman position or lying down, just one way.
Return PHP900 sitting, PHP1100 Superman.
The zipline is open from 9am to 5:30pm.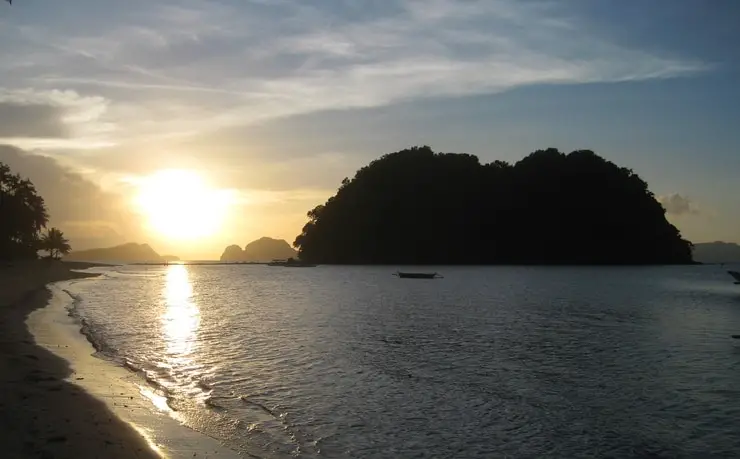 Then, yet enjoy another sunset in the Philippines.
I never get tired of those!
Scuba Diving in El Nido Palawan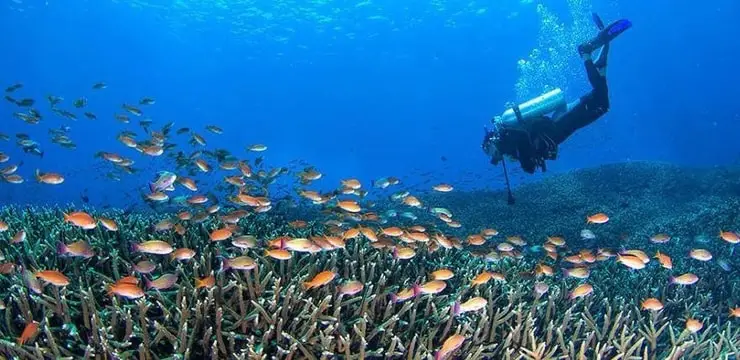 The Philippines is also a great destination to dive, and El Nido especially because it has a great variety of marine life, vertical walls descending to 40 meters and colorful corals.
Whether you're a certified diver or it's your first time, it's the perfect place – the water is pleasantly warm. There's excellent visibility, especially between December and March (up to plus 30 meters) and due to its location protected by the small limestone islands, it doesn't usually have strong currents or wind.
Actually, a lot of people do the open water diver course here because you can do it in only two days and it's cheaper and easier than in most other countries.
Do not miss these places to dive:
South Miniloc: This is the most popular dive site in El Nido. The reef has a 40-meter wall all covered in corals and colorful mollusks. Located near Small and Big Lagoons. You can encounter an amazing lettuce coral garden and a big variety of sponges and schools of fish. The maximum depth is 21 meters and it's suitable for all divers.
Dimulacad Island: It's also called Helicopter island – it's 6 km from El Nido and it has a 35-meter underwater cave named The Tunnel. There's no mooring line and the end of the cave can be very narrow, so it's only for advanced divers.
Tagbao Island: Known also as the Three Marias, in reference to 3 coral reefs that lie between two islands, its shallowness makes it a good place for beginners and you can see lots of reef fish, colorful corals and painted crayfish.
Twin Rocks: It's called Twin Rocks because the rock formation looks like 2 small islands. This site again ranges from 13 to 21 meters deep, and you will see numerous stingrays and angelfishes here.
We did 2 dives with Palawan Divers, and they were great, very attentive and made us feel very comfortable when we were nervous. Our guides and the equipment were perfect and they took us with 3 other divers to Miniloc.
They say they normally allow a maximum of 8 divers on the boat, so it's not too many people.
The dive was awesome – we absolutely loved it! The site was very well protected and there was a lot to see at 18 meters: great corals, jackfish, stingrays barracudas and more tropical fish.
A full day trip including 2 dives, equipment, lunch and drinks is PHP4300 ($82), which is a lot cheaper than in many other countries. So you should definitely go with Palawan Divers.
Nacpan Beach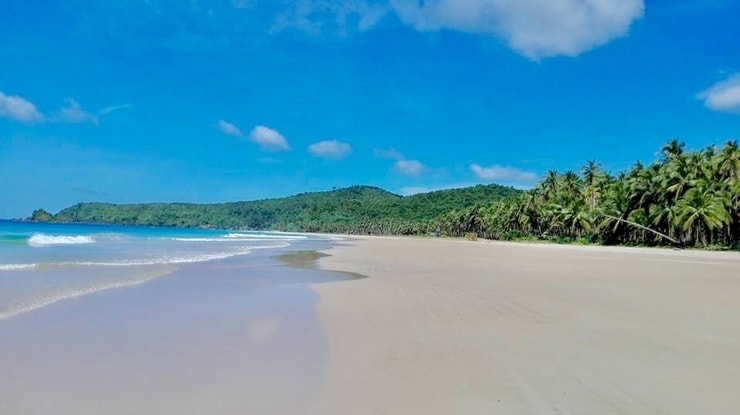 Another beach that we fell in love with is Nacpan beach. It's an immense beach, great for long walks, and it has a fantastic natural environment, and a bit wild and exotic landscape.
It's a little bit far from El Nido town, about 45 minutes, and the road to get there is full of potholes, mud and big rocks. So drive carefully and slowly because it's going to be bumpy.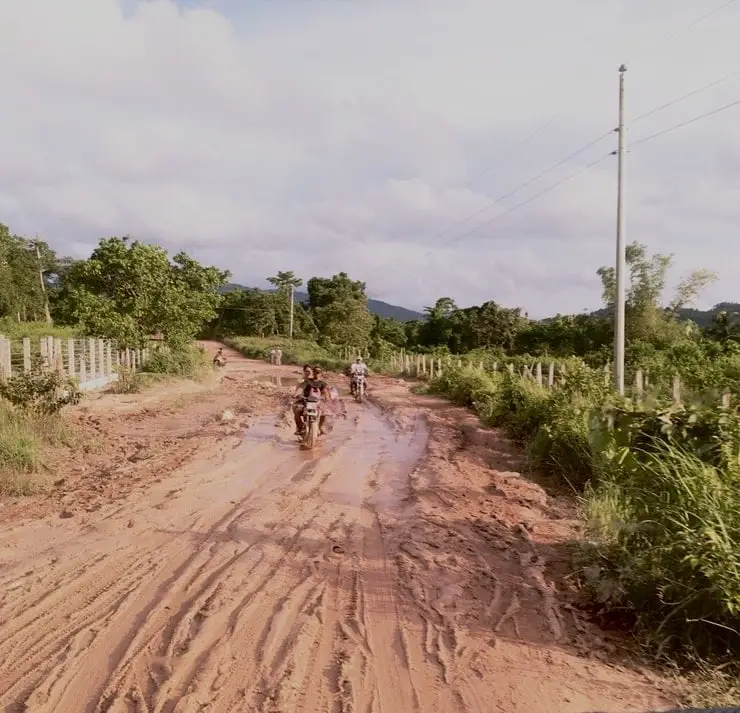 If you don't want to rent a scooter you can always hire a tricycle for PHP800 ($15.50) return or take a shuttle for PHP600 ($11.50) return.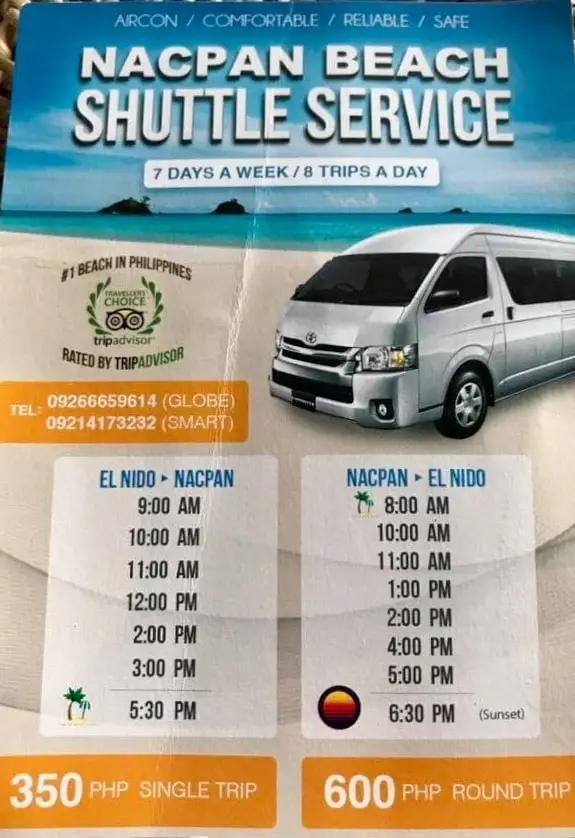 But you should definitely come before it's too late because it's developing fast and it's worth a visit.
Go for a walk to the far end of the beach if you want to feel isolated and away from everyone. It's 4 km long. On the way, you'll find a little path that will take you up to the viewing point, where you will able to see the views of Nacpan beach and Calitang beach from above.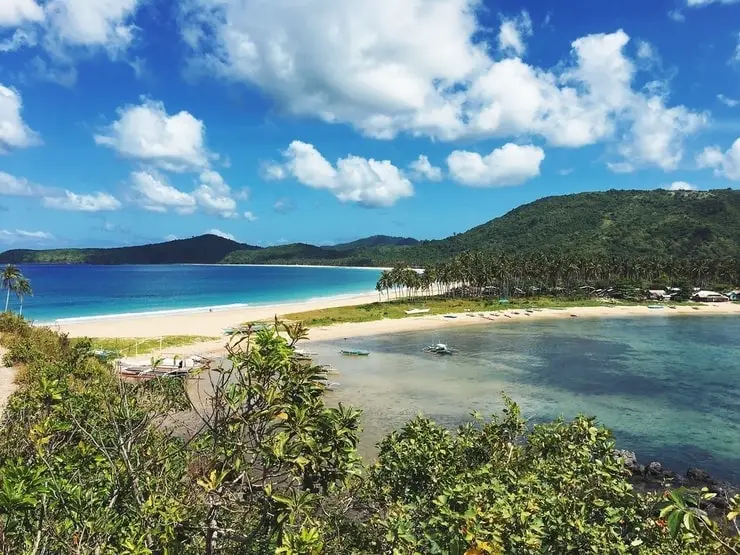 The truth is we had a great day on the gorgeous and deserted beach of Nacpan. No seaweed, no rocks, and just coconut trees and clear water. Just perfect.
The only downside is that it's full of sandflies. My boyfriend and I woke up the next morning with madly itchy bites everywhere. We had at least 50 bites each – crazy!
If you have never heard of sandflies before, sandflies are also called biting midges. They live in aquatic habitats and they normally attack in the very early hours and at dusk. Their bites can cause different reactions in people and in my case I had an allergic reaction that lasted more than 6 months. I had red bumpy spots, hives and intense itchiness. I've been to many doctors and I've used hydrocortisone creams, antihistamines and corticoid pills and there's not really a cure. It's been a real pain!
So watch out, make sure you use DEET and don't expose your skin too long or too much.
In my boyfriend's case, the bites disappeared quite fast. So, it depends. I'm just warning you because nobody told us about the existence of sandflies and we made a big mistake not to use repellent.
Where to Stay in El Nido?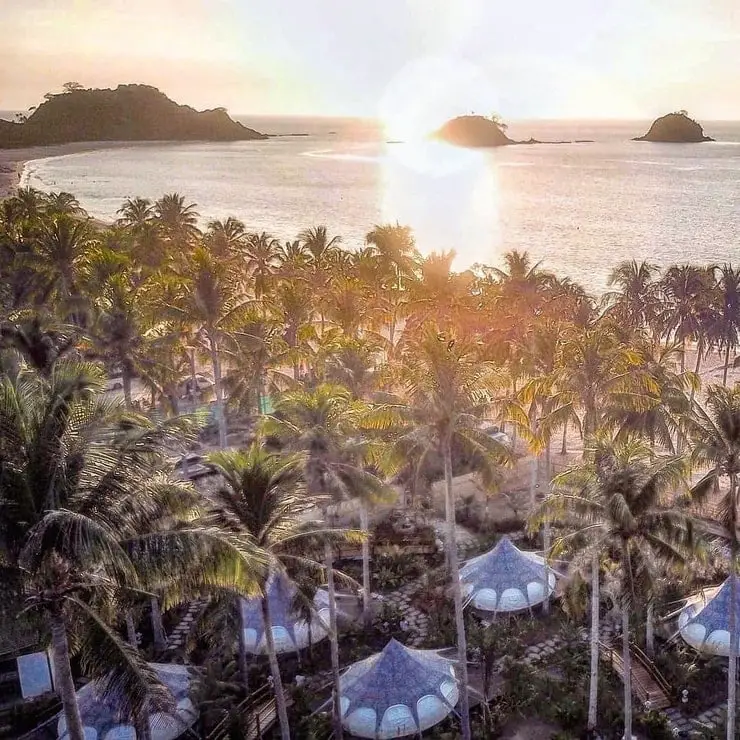 You have a lot of options. From more economical hostels from $7 a night per person to luxurious resorts with over-the-water bungalows on a private island for $500 per night.
The Miniloc Island resort is located on Miniloc Island, an hour's boat transfer from the main port of El Nido town.The resort has seven lovely water cottages fantastic for honeymooners. They are small but cozy, rustic-style bungalows with typical straw roofs and have little balconies with amazing views.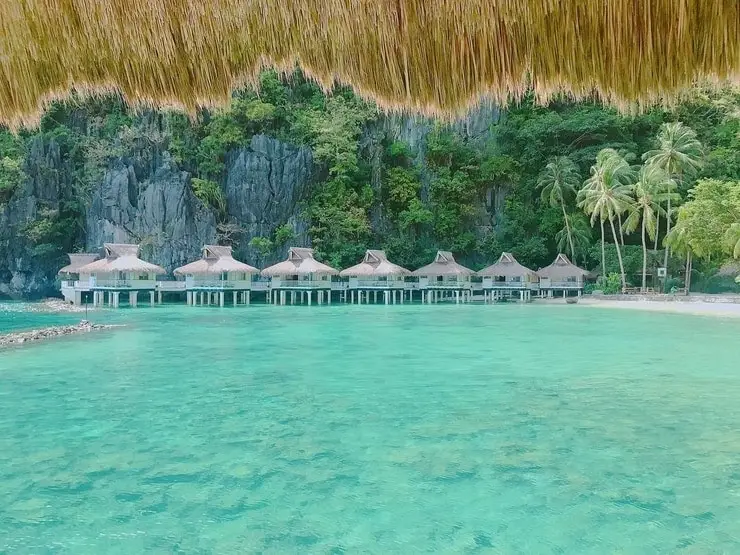 Miniloc is definitely a place for couples and for those seeking relaxation in quiet and beautiful surroundings. You can spend the day lounging around the pool or do a snorkel trip or activities like kayak or spa treatments. Great for those who can afford it. We left it pending for when we become rich!
We stayed at Amakan bed & breakfast, a super clean, comfortable hotel-style guesthouse in the center of El Nido. It's perfectly located close to the restaurants and the beach, but in a quiet area away from the noise.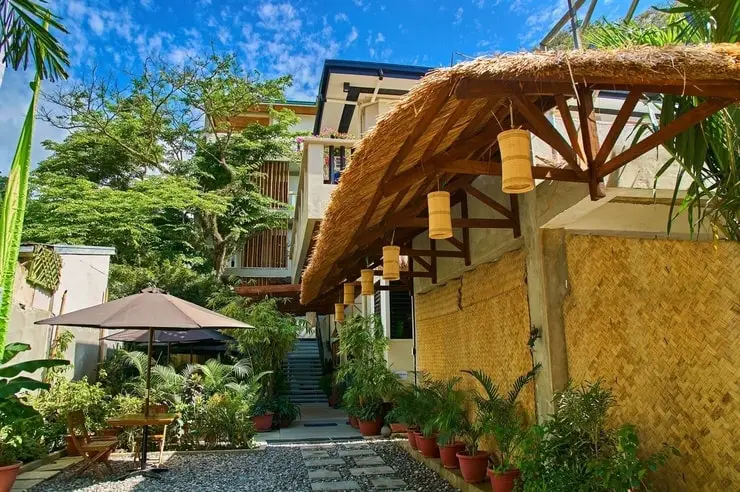 We were greeted with welcome drinks (Calamansi cocktail) and fresh towels when we arrived. And they've got free ginger tea available during the day. The rooms are small, quite new and comfortable, with both AC and fan installed. The breakfast is included and nice. There's good working WIFI but only from the garden or restaurant area. So a good solution to this if you desperately need WIFI is to buy a Filipino SIM card.
For those who want to stay in a more quiet or remote area:
You can go to Corong Corong Beach, which is about 20 minutes walking distance from the center of El Nido or 5 minutes by tricycle.
Corong Corong has a relaxed vibe, away from El Nido hustle and bustle. Good views and incredible sunset. You'll find many restaurants and hotels on the beachfront. But in my opinion, the location is not so convenient and the beach is just OK – it's very shallow with lots of rocks and corals on the bottom, so not the best for swimming, especially during the rainy season because there is a lot of seaweed.
Another quiet place that my friend recommended to me is Caalan Beach.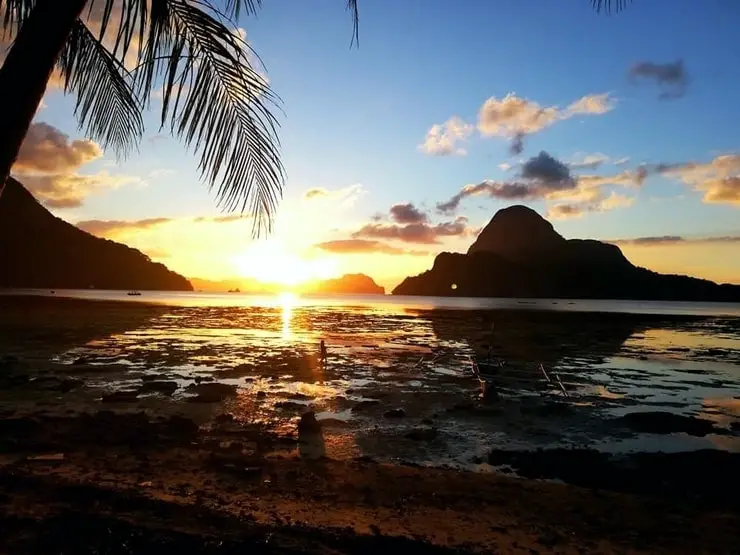 It's also about 20-25 minutes walking distance, but most of the hotels offer a free tricycle service from El Nido. It's not the best beach either because it has a lot of corals at the bottom, but it has beautiful bay views as well.
At Caalan Beach I recommend the Caalan Beach Resort, which is popular for its typical beachfront bungalows, its pool and good customer care. The rooms are basic but clean and there is a shuttle service to the center of El Nido for free until 10 pm.
If you are only doing tours and you want good scenery, Corong Corong and Calaan Beach are good options, but if you ask me I would stay in El Nido town to enjoy a little nightlife.
The other alternative is to stay at Lio Beach. As I said before, this area is very new, with high-class hotels and international restaurants.
And if you would like something totally different, I propose a unique and original experience at The BirdHouse ; it's a hidden gem on Las Cabañas beach, located at the top of a mountain but close to the beach.
You need to climb 150 steps to get here, but the view over the bay is breath-taking.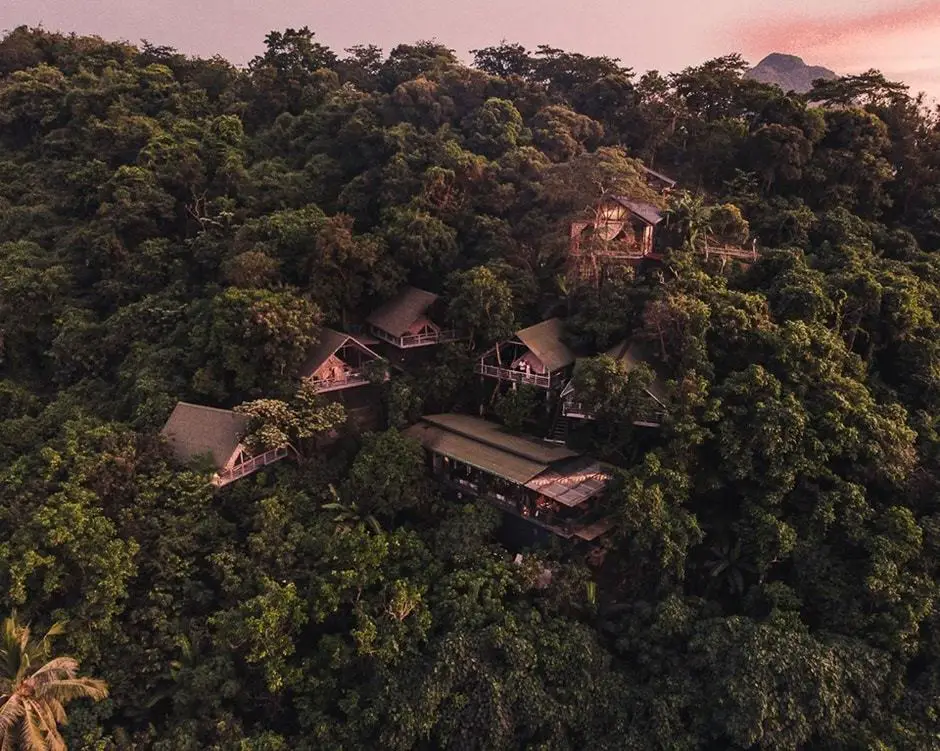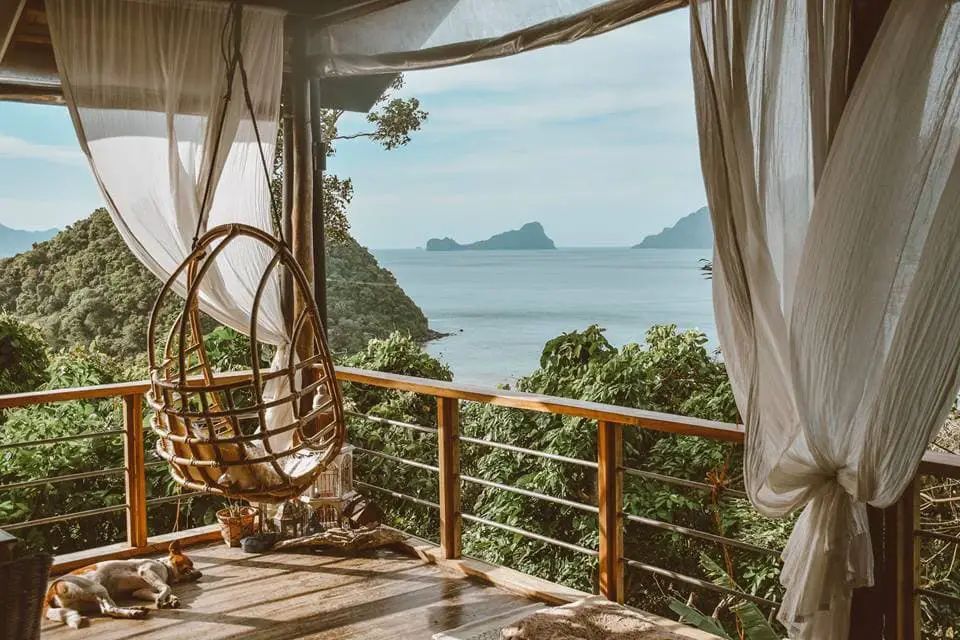 The highlight of this glamping hotel is that the rooms are luxury tents prettily decorated in the middle of nature on large stilt platforms.
It seems to come straight out of the movie Jungle Book.
You can practice yoga in the yoga studio (open from 4:30PM to 6:00PM), or enjoy an unbeatable panoramic view from your hammock outside the room.
Perfect for couples that love nature and want to disconnect and relax!
Where to Eat at El Nido?
I made a list of our favorite restaurants:
My very first choices are the BirdNest hotel restaurant and the Shaka restaurant in Lio Beach. Healthy food, good vibe and nice views.
Art Cafe:  it's a very popular restaurant in the center of El Nido. It opens all day long for breakfast, lunch or dinner.  They have live music at night and at reasonable prices. By the way, if you need to connect to the Internet, their WIFI works pretty well.

Art Cafe in the center of El Nido

Happiness beach bar: This bar-restaurant is also in the center of El Nido and if you are vegan or vegetarian, you should go here. They serve Middle Eastern food choices: falafel, hummus, salads and pitas.  We liked it because it has a good atmosphere, good food and friendly staff. But I'm not going to lie – I was attracted by the swing seats at the bar. Quite original and fun!

Happiness Beach Bar in the center of El Nido

La Salangane at Lio Beach: It is a French cuisine restaurant located right on Lio Beach, with a great terrace facing the sea. Before this restaurant was located in the center of El Nido but they have now moved here.
Try Croque monsieur, calamansi juice and the homemade spiced rums. They have a lot of flavors and they are very tasty. My favorite? Honey rum!

La Salangane at Lio beach
That's all for now! If you want to know more about El Nido, just ask me down below in the comment section, I'll try to answer you the best I can.
I wish you a great stay in El Nido and a happy holiday!
Similar Posts: