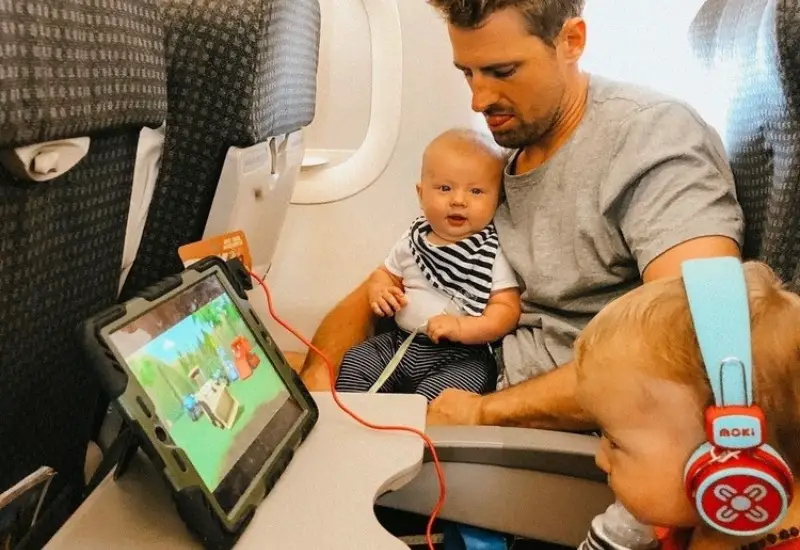 You are dying to do more international travel with your kids, but you are not entirely convinced if you can make it and survive the trip.
Traveling with kids can be tough and tricky. However, if you're well prepared, you can save yourself a lot of trouble by keeping the kids occupied on the airplane.
Here are some of my travel tips for keeping your kids entertained on a (long) flight.
Airplane Activities and Games for Toddlers/Ages 1-3
Little ones under 3 have the attention span of a gnat, but the upshot is that they are entertained by the simplest of things.
Get creative and know that anything can be a toy if you make it seem fun.
Touch and Feel Books
There are dozens of touch and feel books you can find.
Think of things like books with flaps, folds, textures, and anything you can interact with.
My pro tip : get at least two new books that way they are more exciting and save the second one for the return flight home.
Lift the flap book: Toes, ears, and nose
No products found.
Excellent learning book for toddlers, to teach them the body parts and clothing items.
Lift the flap book: Peek a who?
No products found.
A great and simple book with many cutouts and very few words that toddlers can easily learn to repeat back.
No products found.
A small book for little hands perfect for babies interested in touching and feeling objects.
Finger Puppets
These are great because they are small and easy to bring with on the flight.
They are cute, easy to do little stories with, and versatile so you can use them however your little one wants.
No products found.
Cute little puppets, great for creative play.
Play-Doh
It's a fun way for your toddler to learn shapes and colors and an easy way to entertain them for hours.
They love it, and it will help them develop their creativity and fine motor skills through play.
Ask them to make a shape with the dough and compare big and small shapes, or make roads, use shape cutters to make animals…
There is so much you can do with Play-Doh!
Play-Doh starter set
No products found.
The set includes 4 jars of clay and a lot of tools to play as well. It doesn't take too much space, so it's a great set to bring when traveling.
It's the perfect toy for helping toddlers to sharpen their motor skills.
Fidget Cubes
These little fidget toys are made to relieve stress or anxiety in kids and adults.
However, for a toddler, they are a nifty little toy.
There are buttons, spinners, switches, and clicky-clack sounds that can keep them mesmerized.
Be careful though, if your little one is still putting everything in their mouth, consider a larger fidget cube. Some of the fidget cubes out there are pretty small.
Fidget cube for adults and kids
No products found.
Not meant for little kids, but it will keep your restless kids busy for a while. Lots of things to fidget with.
Color Sorting
Babies between 12-18 months are starting to develop color sorting skills and can be entertained by color sorting by age 2 and into 3.
I would recommend bringing a zip lock bag full of colorful pom-poms and have them create color piles.
If you have a 3-year-old, make it a little more challenging and have a zip lock bag full of colorful paper clips. This way, they have to untangle the paper clips, and it will keep them occupied for longer.
Teethers
These have a two-fold use.
First, they are often great little toys. You can get them shaped like keys, bananas, giraffes, and sometimes they squeak which can be fun.
The second use is for teething relief which they will definitely need on the plane.
Take off, and landing can hurt their ears and sucking/teething motions can help relieve the pressure in their ears.
Baby bandana drool bib and teething toy
No products found.
The Baby bandanas come with a removable silicone teething toy.
They protect the clothes from getting dirty plus the teething toys are great for babies to chew. If you don't like the teether, you can replace it with a pacifier.
No products found.
Very easy for little babies to hold and perfect for those tiny mouths. Great teether and toy!
Cups
Don't underestimate the power of a really basic object when it comes to little ones.
My 2 year old loved playing with basic plastic cups that we got on the plane.
Our flight attendant gave us 5 or so plastic cups, and we stacked them.
She loved it. It'll cost you $0 to do.
Airplane Activities and Games for Preschoolers/Ages 3-6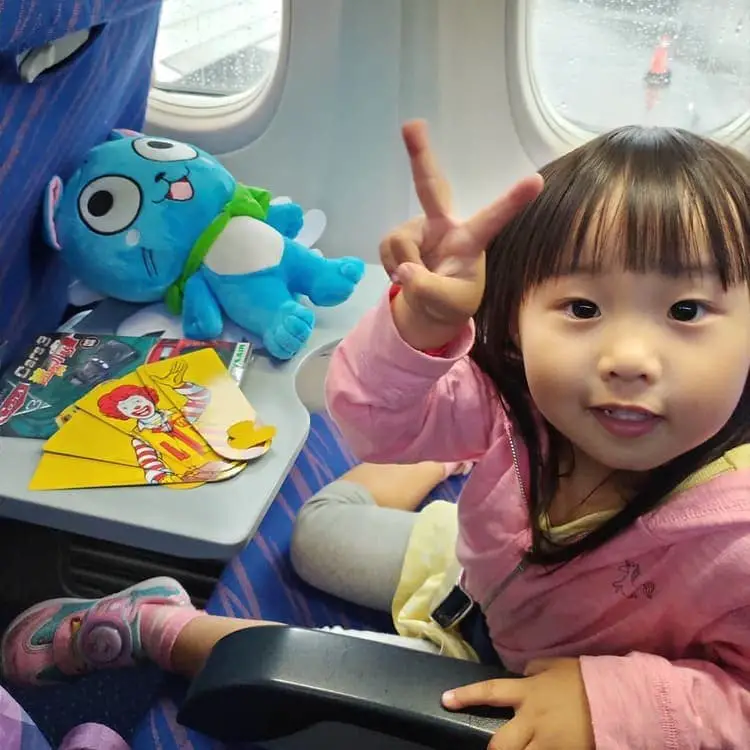 Kids at this age can hold their attention span a bit longer than the little ones, their ability to stay focused on a task could vary from 10 to 25 minutes and it will get longer with age.
So more complex activities are more likely to hold them over during the flight.
Books
When it comes to books, bring some classic ones from home and a new one that will be exciting and special.
For kids this age, If they can read (not all kids at this age can read) try to bring some books they can read independently. Or find some "wordless books."
Have them read a book to you or describe the story happening in the picture book.
This will be more engaging of an activity.
What should Danny do? Interactive book
No products found.
Children will have so much fun choosing what Danny should do and seeing how the story can change depending on what they decide.
No products found.
A touching story about a Giraffe named Gerald who wants to dance but is not very talented.
Bullied by other animals until he finds his own style. It's a great book to teach them self confidence.
Crafts
Think crayons, stickers, and stamps.
Also, paper so the kids can draw and cover their art in stickers and stamps.
My recommendation is to get a big sticker book with 500+ stickers and let the kids go to town on whatever paper you brought with you.
No products found.
Cute reusable stickers to learn their ABCs
Crayola Baby Shark coloring pages
No products found.
18 baby coloring pages and 5 Wonder markers.
Mess-free coloring: you will not have to worry about marker being all over clothes, skin, or tray table.
Doodle Boards
These are great because they are mess-free.
Like the crafty activities (crayons, stickers, stamps) your kid can draw on a surface that is easy to bring around.
Also, the pen is tied to the board so it won't get lost.
No products found.
Multiple colors and magnet designs. Perfect size and easy to transport.
Window Clings
If you have a window seat, consider getting some window clings that your kid can use to stick to their window.
It's mess-free and easy.
It also keeps them looking out the window so if anything interesting is happening outside the plane, they will notice and stay engaged.
No products found.
Great activity for flying, easy to stick, and a fun way to teach them about flowers, colors…
Mighty Mind Puzzles
These are a great puzzle activity for kids of this age. The geometric shapes allow kids to make up their own pictures or patterns or recreate the image to solve the puzzle.
Mighty Mind aquarium adventure
No products found.
For kids to learn how to build and solve puzzles. Age 3 to 5.
Matching Card Games
What I like about these is that they are easy to set up and can be a nice two-player or one play card game.
They have these in a variety of different themes (Disney Princess, Avengers, Daniel Tiger) so find a set with your kid's favorite characters, and you'll be set.
Disney Pixar Cars Matching Game
No products found.
No products found.
Helps preschoolers practice their focus, memory, and matching skills.
Digital Toy Camera
I've always had better use for this on the return flight. A digital toy camera is a great way for your kid to take pictures and be amused while also allowing them to click through all the photos they took on their trip.
In my opinion, it's a precious way to reflect on all the things they just did and think/talk about what was important to them.
No products found.
Perfect for little photographers! Easy to use, light, durable, and it has a colorful child-friendly design.
Airplane Activities and Games for Kids Ages 6-10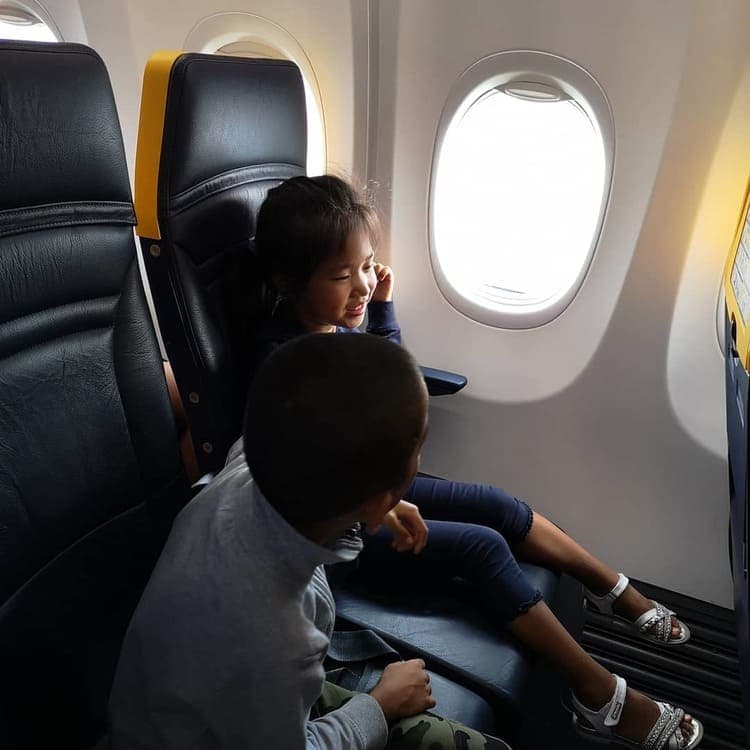 By this age, kids are getting better at keeping themselves entertained but very much still need their attention directed and redirected.
Books
I'm pretty much always going to suggest books.
For kids, at this age, you'll want to be sure to bring books they are reading either for school or fun.
You also might want to consider comic books like Calvin and Hobbes, Peanuts, Garfield, or anything else they might be interested in.
Also, books with a lot of pictures, like National Geographic, are a huge win for kids at this age.
Diary of a wimpy kid: the long haul
No products found.
Your kid will love all the Wimpy kid books. They work with reluctant young readers too!
No products found.
It sends a great message about kindness and seeing beyond the outside looking of a person.
Activity Books
These can be a great way to keep kids entertained; things like word searches, crosswords, simple sudoku, or basic logic puzzles can keep their minds whirring and thinking.
I also love doing these with my kids too so it's a benefit for the both of us.
No products found.
For kids 7 to 12 years old. Great for travel and quiet time.
No products found.
Word search book for kids ages 6 to 8, great for learning new vocabulary.
Magnetic Games
There are dozens of magnetic games out there (chess, checkers, tic tac toe).
There are even magnetic picture games that let your kid create a scene or dress a character.
The reason I highly suggest magnetic is because the pieces will stay in place.
It's very annoying when your kid keeps on dropping toys between the seats repeatedly.
While magnetic toys are not drop-proof, they at least stay in place a bit better.
No products found.
Take 'n Play anywhere-Tic Tac Toe
No products found.
No products found.
They all come with a good portable case, shut easily, and they are sturdy.
Perfect for travel as the magnetic pieces stick well and therefore they don't get lost too easily.
For 2 players, age 4 and up.
Origami
I have friends who swear that origami activities are the easiest way to keep kids entertained; especially if they are crafty.
No scissors, no glue, just paper folding.
There are origami kits you can get that have all the instructions on how to fold and come with a variety of colorful paper.
Not gonna lie, as an adult, I found this pretty entertaining as well.
No products found.
Great kit for beginners, instructions are very easy to follow, and the whole kit is very cute.
It comes with stickers and cool pattern papers.
Rubik's Cube
It's a simple puzzle that is tricky to figure out.
I love these because they are classic and easy to pack.
They also have a way of getting stuck in your head, so you keep at it for longer than you expected.
It's great for kids at this age.
The Cube: turns quicker and more precisely than original
No products found.
One of the best things to entertain your kids without electronics.
Electronic Games
I am not above using an iPad or game system to keep kids entertained on a plane.
If you're a screen-free household and plan to do a screen-free flight, more power to you!
For anyone who is thinking of using an iPad or game system, I recommend free apps for the iPad that don't require a lot of supervision.
The Nintendo DS and all of its versions (3DS, DS lite, 2DS and so on) are generally kid-friendly. Nintendo prides itself on being a family-friendly company. Just pay attention to the rating system on the games (E for Everyone is the recommendation).
No products found.
Children's favorite travel tech toy!
If you don't like the idea of your kids playing with this, you can tell them upfront that they can play with it whenever they are on holidays or if they have a long flight journey.
By limiting the use, it shouldn't be a problem.
There are even many games that can be good for kids and help them with coordination, reading skills, and memory.
No products found.
This is the newest Nintendo console.
It's dedicated to handheld play so it's compact and lightweight and it comes in 3 bright colors: turquoise, yellow and grey.
In-Flight Entertainment
Some flights offer in-flight entertainment, especially the longer trips.
My recommendation is to utilize what is offered.
Sometimes they offer games or full-length movies that you can watch from your seat.
Bring some earbuds and let your kid explore some of the available options.
Airplane Activities and Games for Teenagers
For the most part, teenagers can be expected to entertain themselves.
However, that doesn't mean you should ignore their boredom completely.
You can offset their moody tendencies by having some entertainment lined up for them, too.
Books
As always, I think that books are a huge win.
For teenagers, you could have them pack books they both enjoy reading and books for school.
I would also recommend bringing some travel books that have information about where you are traveling to, especially if it is somewhere new.
This way, your teen can learn more about the destination themselves rather than hearing it come from us, the parents.
No products found.
Great books for teenagers and young adults, very thought-provoking. If you have already seen the movies, I highly recommend reading the books. There's so much more to discover.
No products found.
It's a book about a girl venturing to College for the first time. She undergoes many changes, fitting in, being left out even a little heartbreak. It's definitely a good book for a teenage girl.
No products found.
Gripping, captivating, and enjoyable series for teens, the suspenseful stories will keep them reading.
Deck of Cards
These are great because they are easy to pack and you can play a lot of games with them.
From partner games like Go Fish or Crazy Eights to single-player games like Solitaire a standard deck of cards is worth packing.
Deck of cards-poker size
No products found.
No products found.
Award-winning game. Be the fastest at spotting the matching symbols between two cards. There's always one.
No products found.
Loads of fun for all ages! Great classic card game.
Adult Coloring Books
I actually love these for myself.
Adult coloring books are beautiful, complex images that work exactly like kid coloring books but the images are much more advanced to color.
The adult coloring books, plus a set of nice colored pencils and a travel sharpener, are a great way to bide the time.
Coloring book: Secret Garden by Johanna Basford
No products found.
This is THE BOOK that started the trend in "Adult coloring books" and no other book can compare to Johanna Basford's coloring books. You can upload your work and see everyone else's too on the artist's personal website.
Coloring book: Lost Ocean by Johanna Basford
No products found.
You will be blown away by the artwork in this book, so many fantastic designs, including ships, mermaids, fishes, and super detailed sea animals.
Cash
Let your teen exercise a little bit of independence and let them have some money to buy something at one of the stands inside the airport.
There is a lot to be said for letting your teen pick out what they want and paying for it without you there nearby.
They may choose a magazine or a book, who knows; but make sure the money is earmarked for something they can do on the flight and not just snacks.
Music and Movies
If your teen has their own device, I would recommend pre-downloading any music or movies they would want to listen to or watch that way they have access to their stuff without a Wi-Fi connection.
Be sure to pack charging cords! Nothing is worse than a low battery device and a moody teen.
In-Flight Wi-Fi
For really long flights, I recommend paying for the In-Flight Wi-Fi, especially if you have a teen. I'm talking about those 10+ hour-long flights where everyone gets moody eventually (parents included). This way, your teen can connect with their friends on social media during the flight, and chatting with friends will keep them entertained pretty well.
I know the logistics of traveling can be tricky and that managing your kids on a flight can feel overwhelming.
The truth is that it is hard. However, it's worth it.
If you want to know more and check a complete guide on how to fly with kids, check these articles :
Everything you need to know to fly with a baby
Everything you need to know to fly with kids
I've always been a big believer that traveling with your family is one of the best things you can do.
Once you can master the art of entertaining your kids on a flight, there is no stopping you and your family from hitting every travel destination on your bucket list.