As a flight attendant, I spend a large amount of time at the airport before or between flights and I get to see a lot of people stressed about the airport process. I know, for the first time flyer airports can be daunting and bewildering places.
So, to help ease your nerves, I'm going to take you through the whole process, from arrival at the airport terminal to landing at your destination, with some convenient tips along the way.
Before going to the airport: what to prepare
Two very important things will ensure that you will have a stress free and enjoyable flight: preparation and time.
You will need plenty of both of these, so let's start with your preparation.
Check luggage size and weight limits
If you are booking your ticket online, check to see what the limits are on allowable luggage weight.
Do this for both your check-in bags and your carry-on bags. There may also be size limits, particularly for carry-on luggage.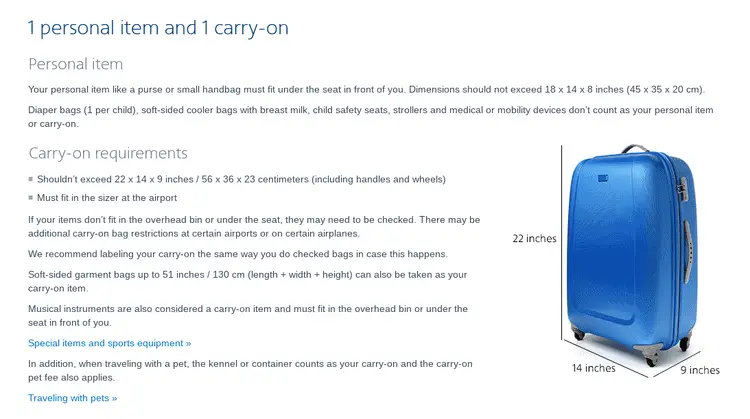 If you are going through a travel agent, make sure to check with them. It could save you a lot of extra costs at the airport.
After you finish packing, weight your luggage to make sure it's under the limits. You can use a normal scale at home or a luggage scale like this one (it's sooo convenient and is small enough to put in your bag).
Luggage Scale, LEOKOR Hand Scales with Tape Measure for Travel Baggage Weight
High Precision: Capacity is 110 LB/50 KG with graduation 0.1lb / 50 g, it is also built in a tape measure for your luggage volume measurement.
Overload Warning Light: The only luggage scale that built-in overweight light.When the luggage beyond 20KG / 50 lbs,the light will turn red from green.
Multi-Features: LEOKOR luggage scale with many useful features, such as auto holding display locks once weight is stable, auto-off functions, low battery indicator, a larger backlight LCD display.
High Quality: The Luggage scale is made of stainless steel and plastic baseboard, which make it a popular and high-grade design. Reliable material make itself a long time usage.
Lightweight Hanging Postal Scale: This scale weighs 4.8oz,that is easy to carry and store.Good idea for both home and grocery shopping use as it's time-saving.
Prepare your documents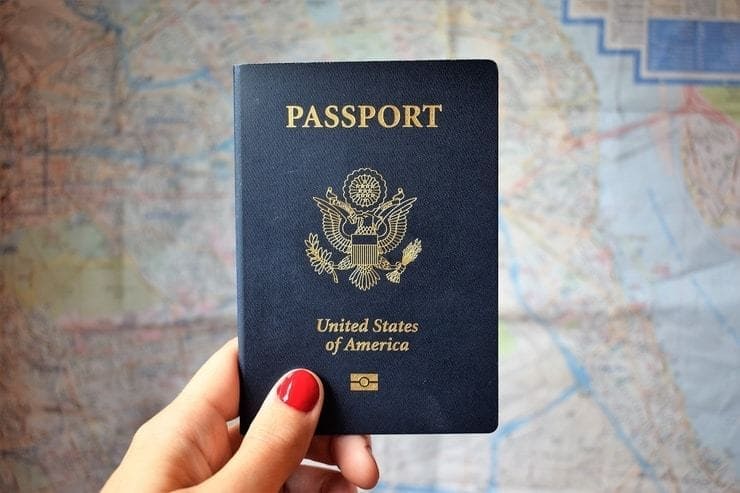 Check that you have all the documents you need in one secure and handy place.
Write yourself a checklist and methodically go through it. Visa? Tickets? Reservation documents? Passport?
When you have done this, get on with the rest of your packing and then come back to it and check it once again.
A word on passports: airports are borders, and as such, your passport is incredibly essential. Most other document problems can be fixed, but the lack of a passport is a major, major issue. You may wish to keep it in a separate place from your other documents so that if you do lose that folder, your passport is still safely in your possession. That's your call. You must keep your passport secure and available at all times.
Allow enough time for your connecting flight
Make sure you fully understand what number your flight is, what airline it is with, and what terminal it departs from.
If you have to catch a connecting flight, make sure that you are very clear about exactly where and when you need to be to make it.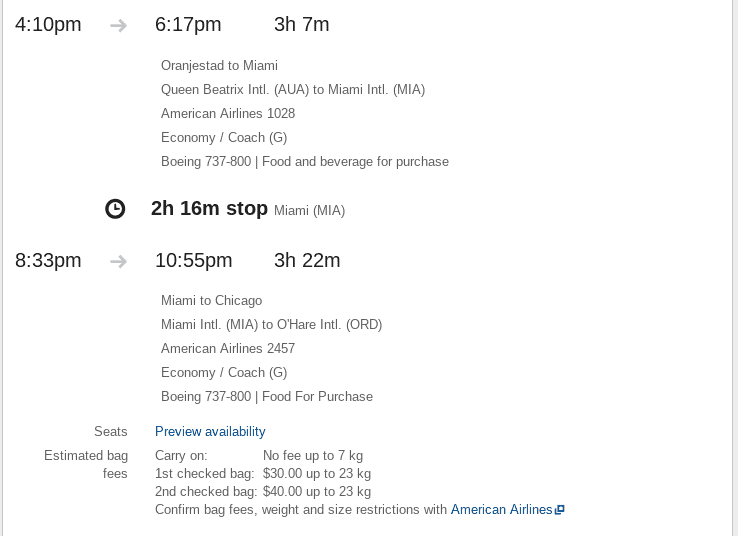 Running from gate to gate in order to make a connection is no airport fun.
It's always best to know the minimum connection time required at that airport.
Check first if you need to change terminal or airport (London has 6 airports!), if you will have to go through security again, or through immigration and customs between flights or if you need to pick up and check-in your luggage again.
Tips:

I would consider allowing at least one and a half or two hours minimum for a flight connection depending on the airport.
I also recommend to book your tickets with the same airline and on the same ticket. This way, if you miss your flight, the airline will book you on the next available flight. And also, they would usually send your check-in luggage directly at the final destination.
Prepare some snacks
Find out what sort of food and drink you can take on the plane.
There are many restrictions on liquids and food items.
Some people like to have access to their food, and some have special dietary needs.
Check-in bags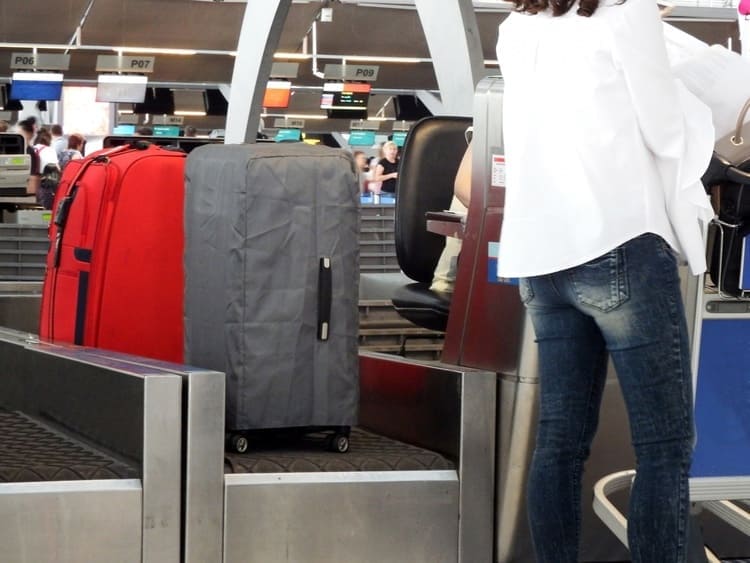 These are the suitcases and major luggage items that you will be taking on your trip.
They will be checked in at the airline's counter, labeled and sent to be put into the plane's cargo hold.
If you have a connecting flight, it's always good to ask if your bags are sent to the destination or not.
Tips:

Always put the heavy items and liquids in your checked-in luggage for your comfort and safety and keep your valuables with you.
Make your luggage easier to identify using stickers, a ribbon, or a tag with your contact details. It will be beneficial when waiting for your bag to come out on the luggage carousel. Keep in mind that 80% of the suitcases are a black or dark color and look alike!
Carry-on bags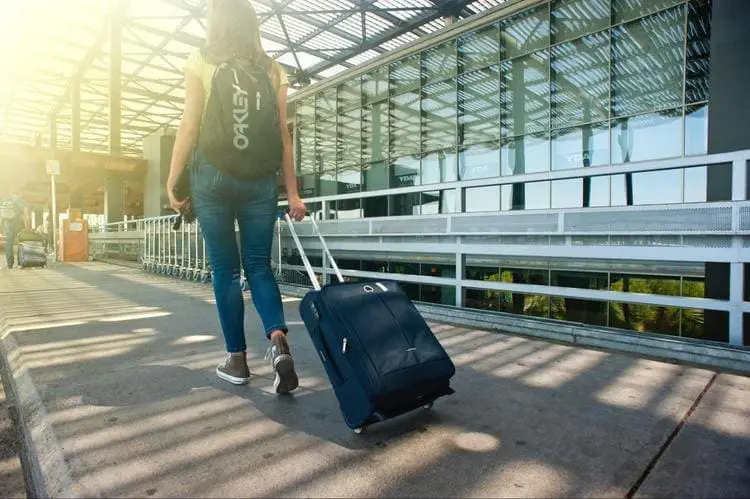 Each airline will have its own weight and size limit on any bag that you wish to take on the plane with you. But you've already checked this it beforehand, right?
So, what to put in your carry-on bag?
All the small things that you think you'll need on the flight.
Books, snacks, earphones, iPod, kindle… and everything that will make the trip more relaxing. And don't forget things like tissues and hand wipes or the other bits and pieces that you think you might need.
Make sure that you haven't inadvertently got knives or scissors or box cutters or anything of that nature in your carry-on bags.
Tips:

In the case of my check-in luggage getting lost or delayed at destination (those things happen more than you think), I always put clothes for 1 or 2 days in my carry-on bag.
As well your hand luggage, why not create a 'comfort' bag? A simple, sturdy plastic bag will do. Put all the things in it that you will add to your comfort during the flight: eye mask, neck pillow, lip balm, aspirin, chocolate treats, trashy magazines, small but helpful things in a bag that easily fits under your seat.
How to dress for the flight
That, of course, is entirely up to you, but go for comfort and practicality and the possibility that you may need to have something warm handy (it can get quite cold in some airports/airplanes, even in summer).
Tip: At some airports, particularly in the US, you will be required to remove your shoes and belt before going through security. So to make life easier, wear shoes that you can easily slip on and off. And if you don't need a belt, don't wear one.
More about this topic: What to Wear on a Long Haul Flight?
At the airport: what to do and where to go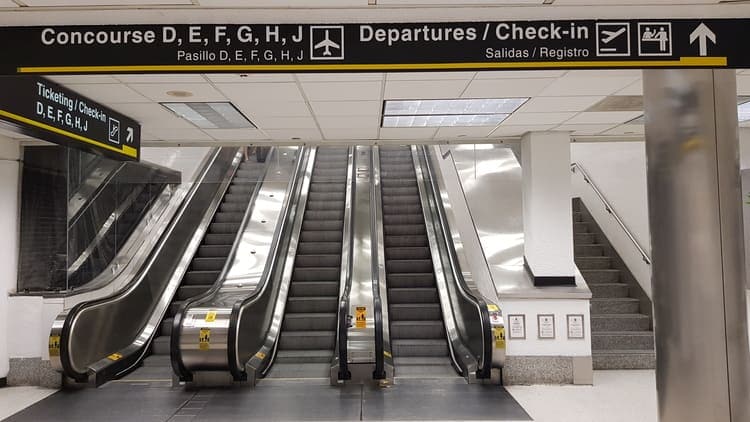 This is where time is crucial, and I can't stress this next point enough:
Get to the airport with as much time as you can spare in the day.
Don't look at this as a waste of, well, time, think of it as stress management.
When you arrive at the terminal, find out where your airline counters are situated and check-in immediately or as soon as the desks open.
When you've checked in, you are free from having to wheel your suitcases around, you are secure in the knowledge that you are booked on the plane and now all you have to do is wait for your flight.
Note: International flight counters usually open 3 hours before departure time — domestic flights 2 hours.
How and where to check-in?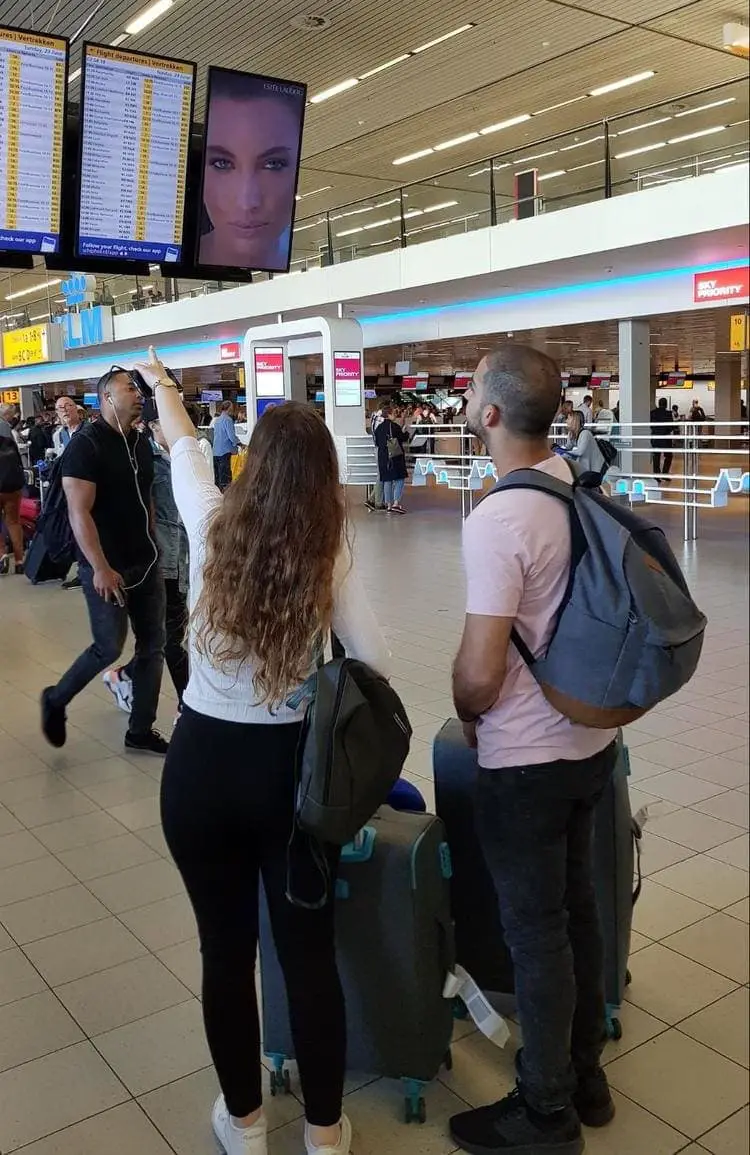 If there is one thing that airports do very well, it's signage.
There are large screens and information boards everywhere.
First, go to the terminal area that is marked Departures, then find the airline you are flying with and go to the corresponding area or counter.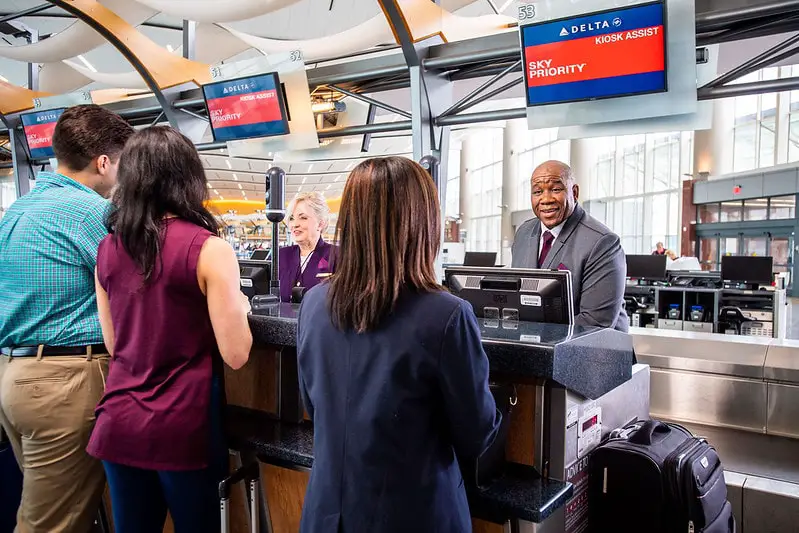 Their branding and logos will be on large screens along the wall behind their counters.
Have your documents ready: tickets, passport, visa documents, etc. and present them to the staff member who is on the desk.
They will check these over, make sure that they are all in order, then they will label your bags so that they are related to your ticket, then put them on the conveyor belt to be taken to the plane's cargo hold.
Then your boarding pass with an affected seat number will be handed to you.
It's that easy.
Note: You have other check-in options like online check-in (commonly available 24 hours before departure) and check-in machines at the airport (not always). But if you are not familiar with any of these yet, just go to the standard check-in counter.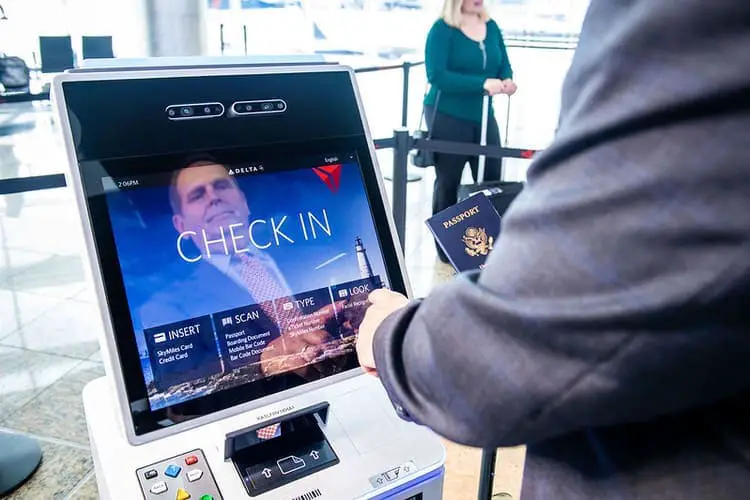 Warning: Always arrive before the check-in deadline, depending on the airline or destination it can be from 30 minutes before departure to 1 hour.
Once they close the counter, you will not be able to check-in anymore. Even if your plane hasn't departed yet. Don't forget to take into account that other people might be queueing for those airline counters, so again, don't show up at the last minute.
Tip: There will be luggage address labels in places around the Departure area. Do use them as they are helpful at every stage of the trip. Get as many of these as you need, fill them out, and put them on your suitcase handles. It's far easier to do this before you get to the check-in counter.
Security checks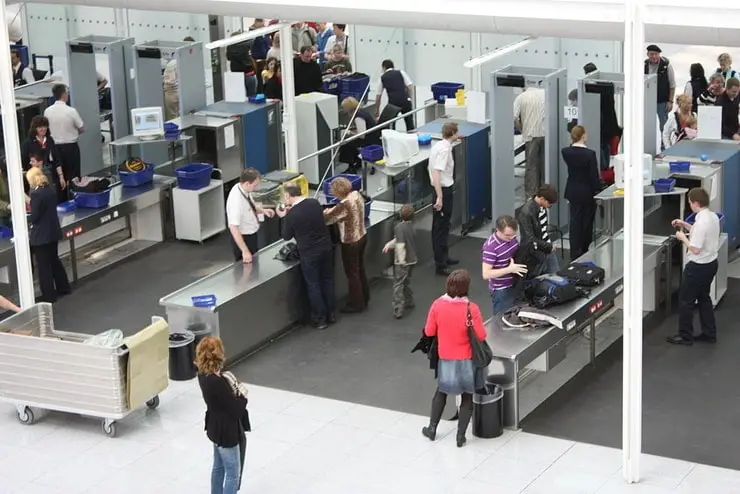 Once you have checked in and have your boarding pass, you are free to move into the departure gates area.
But before you do this, you will have to go through the security system.
I find that this can be the most stressful part of the whole boarding process. It's very functional and can be impersonal, so just go with the flow, do as you're instructed, and remember that this small inconvenience is for everyone's safety.
You will have to take your laptop out of your carry-on bag, and you will have put your mobile phone, watch, belt, shoes (depending on the airport), and the entire content of your pockets in the plastic trays provided for screening.
But if you're wearing those slip-on shoes that I mentioned and you're not wearing a belt, then you're ahead of the game.
Try not to wear too much metal (jewelry in particular) and be also prepared to take off your jacket.
Warning: You cannot have a container containing more than 3.4 ounces of fluid.
Once a friend had a bottle of Chanel No 5 confiscated because she forgot that it was in her carry-on bag. Ouch.
Passport control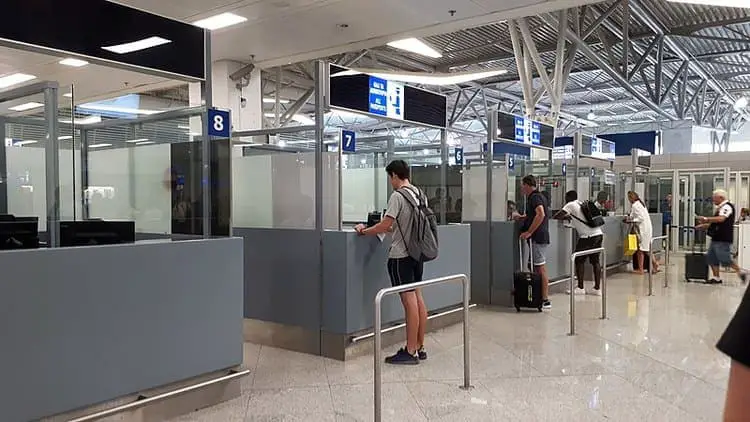 If you are traveling internationally, you probably will need to
go through passport control
.
There are now automatic passport scanners in many airports, but if you're unsure how to use these, simply move to one of the manual desks and present your passport there.
An airport is a border, remember, so the passport control process is very important. But it usually takes little more than a minute or two to get through, and then you are now ready to board your flight.
In the Departure Area proper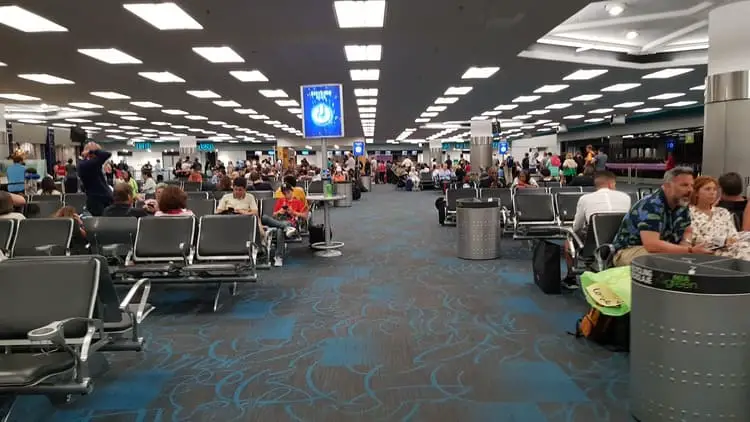 The very first thing you should do is check the overhead screens for the departure gate of your flight, and what time it is boarding.
Don't panic if you are early and you can't see your flight number, it may not be listed as yet. Keep checking and when you do see your flight number, get your bearings, and work out which way the boarding gate is.
It's a good idea to get as near to the gate as you can, even if you are so early that you want a bite to eat or a cup of coffee.
All gate areas have cafes and bars and shops etc. in close proximity, so take advantage of this and save yourself the hassle of having to rush when your flight is called.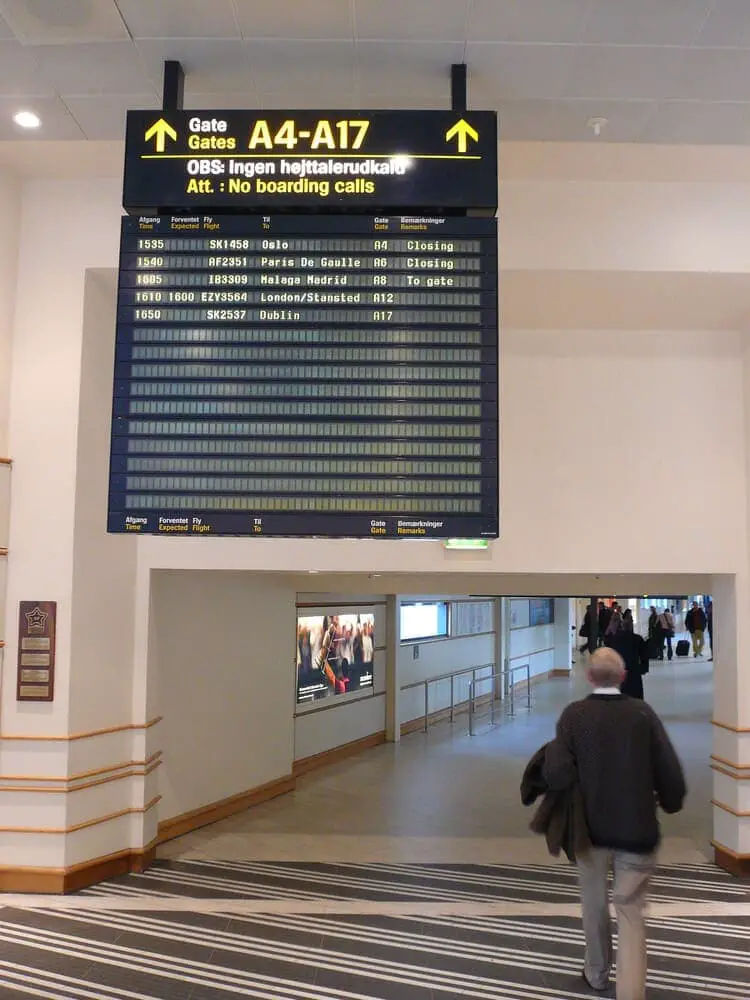 In some large airports, it can take up to 20 minutes or more to get to your gate. So make sure you make it on time because if you arrive late at the boarding gate, you will not be accepted for travel. The boarding gate will be closed sometimes 15-20 minutes prior to departure, depending on the airline.
At the gate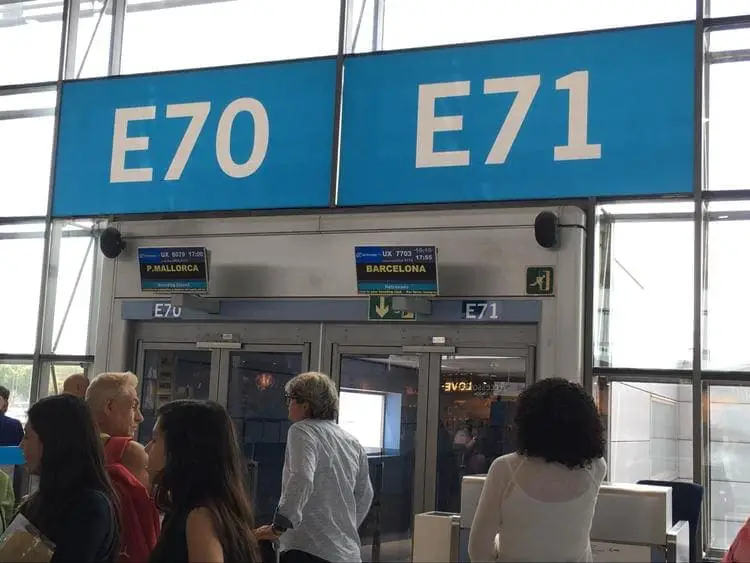 The gate area is where you will board the plane. It usually has plenty of seating, but the time element comes into play again here. If you get to the gate early, you can choose the seat of your liking and relax.
Tips

It may be some time after boarding the plane and being seated that you can go to the bathroom. There will be toilets near your gate, so take advantage of them just before your plane is boarding.
Gate agents will check that your carry-on bag is within the size limits at the gate if they didn't do it before at check in. And if you bag exceeds the limits you will not be able to take it onboard.  And it will be checked into the hold. Don't worry, your bag will come out among the first ones onto the baggage carousel.
Lanes are usually boarded by groups. For example, you will hear the staff announce that your flight is boarding now and will passengers with tickets from seat number B1 to seat number G12 please come to the gate. Be patient and only approach when your ticket group is called.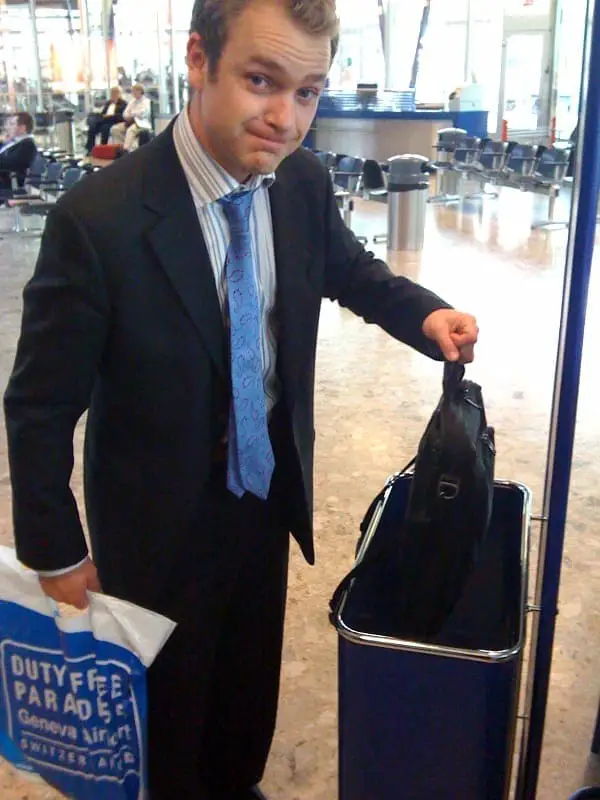 On the aircraft: what to expect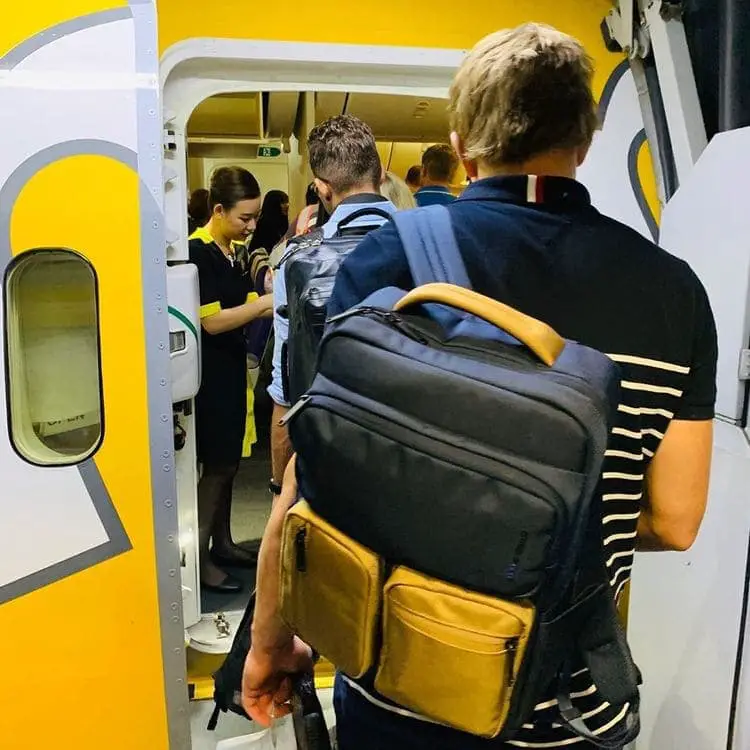 Onboard the plane, make your way to your seat (if you are in any doubt, the cabin crew will help you with this) and place your hand luggage in the overhead locker above.
But before you do this, take a moment to think about what you need from it.
Got that book? The tissues and hand lotion? It can be really annoying for fellow passengers if someone in their row has to keep getting up and down to fish around in their luggage.
Why not have a little checklist for this too? Checklists aren't a sign of forgetfulness. They are an essential tool for getting things right.
If you are doing a long haul flight, on the back the seat in front of you, you will find your entertainment screen. You can view movies, listen to music, watch television, and even listen to radio stations.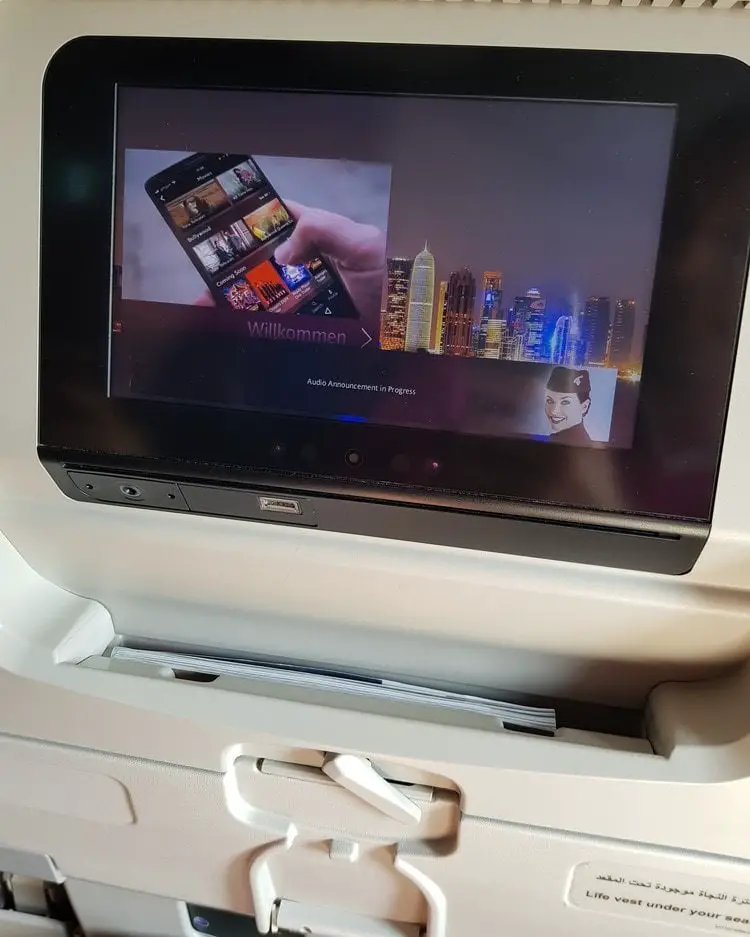 While everyone is getting settled, have a play with this and become familiar with it. Earphones are provided.
If you are doing a short-haul flight, all you will find is the airline magazine, a sick bag, and the safety information card. So, you will have to distract yourself with your own devices, books, and snacks.
Flight attendants
The flight attendants are there for both your safety and your comfort.
They are an incredibly important part of your flight experience and are there to help in any way they can.
If you are a nervous flyer or a first-time flyer, don't be afraid to mention this. The cabin crews are trained to understand and empathize with you and will do all they can to set you at ease.
Plus, sharing your fears will help you relieve part of that stress. There's nothing wrong with being afraid, many people are. Even a lot of famous people like Jennifer Aniston or Ben Affleck are.
They might not be able to be there next to you the whole flight, but I'm sure they will comfort and reassure you.
Ready for take-off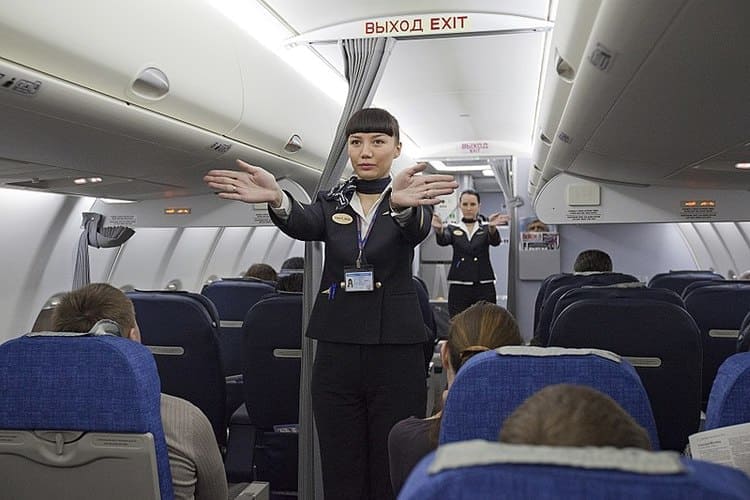 Just prior to take-off, two things will happen.
There will be a safety demonstration message from the airline, which will appear on the screen in front of you and may also involve the flight attendants demonstrating what needs to be done in case of an emergency.
The captain will instruct everyone to turn off their electronic devices or put them into airplane mode so that there is no interference with the control systems.
When this is done, flight attendants will secure the cabin, ensuring that passengers are buckled up, seats are in the upright position, window blinds open, luggage correctly stowed, and tray tables stowed. They will then take their seats, and the plane will start taxiing to the runway.
Taking off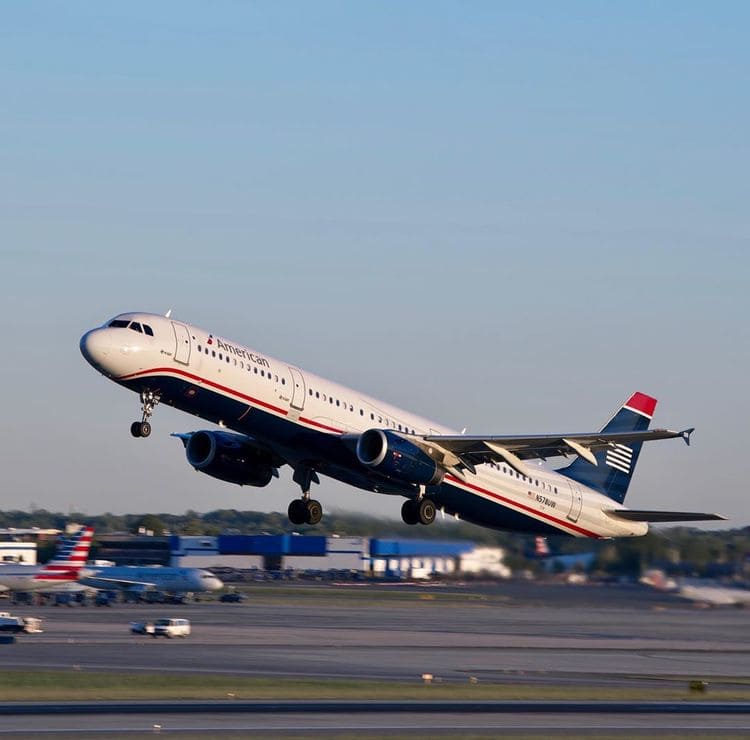 If you are a first-time flyer, taking off can be a strange feeling.
Firstly, the plane needs to have a fast speed to become airborne, and that means opening the throttle until the engines are roaring.
Then the plane begins to move forward, gaining speed very quickly, there are strange rumbling noises, and the engines are still roaring until, suddenly, you're off the ground and flying!
The first few thousand feet after take-off are in a quite steep climb, nothing alarming or at all dangerous, but something that you need to be aware will happen.
Then, after a gentle turn away from the airport circuit, the pilot will soften the climb, eventually, the seat belt lights will go off, and you are on your way.
Nervous or first-time flyers
It is quite normal to be nervous on your first flight.
Some people are still nervous every time they fly, even after years.
It's not easy to overcome a fear of flying. So, here are some tips on helping you keep relaxed:
If possible, book an aisle seat. It will give you more legroom and also the ability to get up and down without disturbing anyone. Which means less stress.
Use the entertainment system to listen to relaxing music. Do this for the first part of the flight, or until you feel relaxed.
Never, ever, watch an action movie. You want your heartbeat to stay steady, not race around in time with the action.
Make the most of the in-flight meals. I don't mean that in a greedy way, but in a social way. Having a meal on a plane is a very 'normalizing' thing to do, and it can make you feel that all is well with the world.
Turbulence
One of the things that the first-time flyer will never have experienced is turbulence.
When you first encounter it, it can be a bit alarming.
The 'fasten seatbelt' lights may go on from time to time because of turbulence, but this is standard procedure and nothing at all to worry about. Just buckle up until the light goes off and take it easy.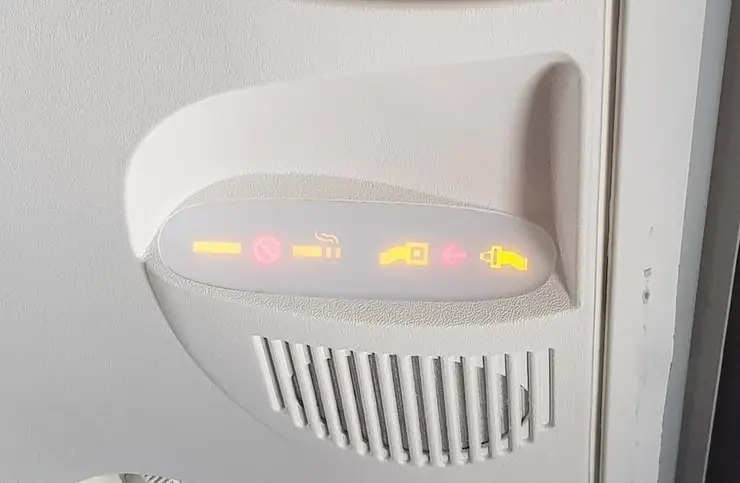 Think of turbulence as just uneven parts of the road that you're on – it may be a bit uncomfortable at times, but it certainly isn't dangerous.
Sleeping on a plane is always a good idea if you can manage it. My doctor takes sleeping pills before long flights, and he always sleeps like a baby. But if this isn't for you, a neck pillow and an eye mask will be a great help. You will be able to buy these at the airport, along with earplugs if you want them.
Landing cards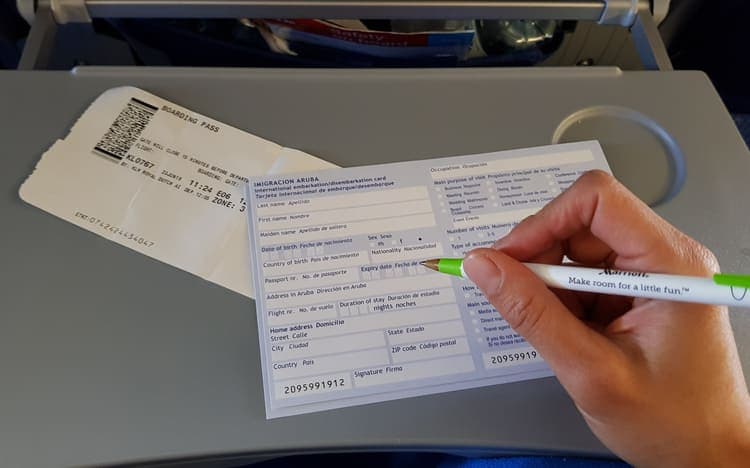 At some stage during the flight, depending on what country you are going to, you may be handed a landing card.
It's usually just a list of questions about what sort of accommodation you will be using, how long you will be staying, are you arriving for business or pleasure, that sort of thing.
You will have to present this card at the Immigration desk at the airport.
Are we there yet?
As the plane gets close to your destination, people will begin to stir and move about in preparation for landing.
There will be a bit of fussing, bags pulled from the overhead lockers and repacked, a queue forming for the toilet, that sort of thing.
It's a good idea not to wait for that toilet queue. Figure out roughly how long it is till landing and time your visit to the bathroom before other people feel the need. You also don't want to get the urge to use the toilet when preparing for landing because the captain will turn on the seatbelt sign 10 to 20 minutes before landing, you will not be allowed to go anymore.
On Landing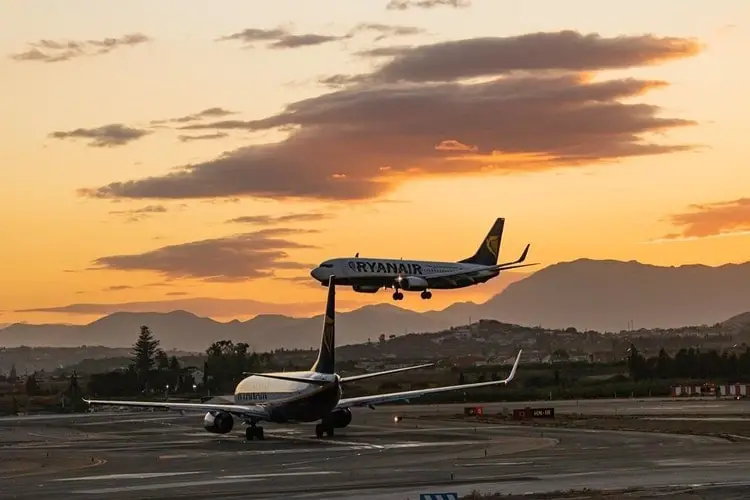 I find it easier not to leap from my seat as soon as the seat belt lights go off after the plane has landed and parked. It really is a case of hurry up and wait if you do that.
Take your time, stand up when you feel there is room enough in the aisle, and you can get your carry-on bag down easily.
Passport? Have you still got it handy and safe? Document folder? Wallet or purse? Nothing left in the pocket of the seat in front of you? Nothing left under your seat?
When you get off the plane, you want to have with you all the things that you got on with. Except maybe that trashy magazine. People forget suitcases, phones, laptops every day, so it can happen to you too.
Thank the flight attendants as you disembark and make your way outside the plane.
Once at destination: what to do and where to go?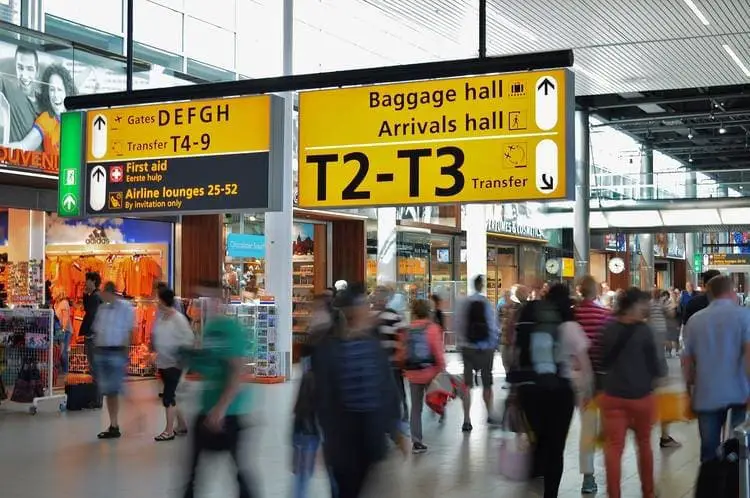 Connecting flight
If you have a connecting flight, check the screens to know your boarding gate and follow the transfer signs. Then find your gate once again (there might be another security control).
One final passport check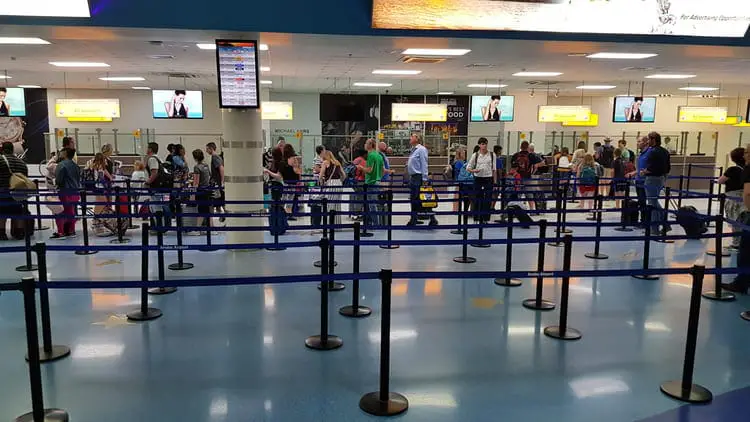 Before collecting your luggage, there will be one final passport check at immigration for international flights.
Baggage claim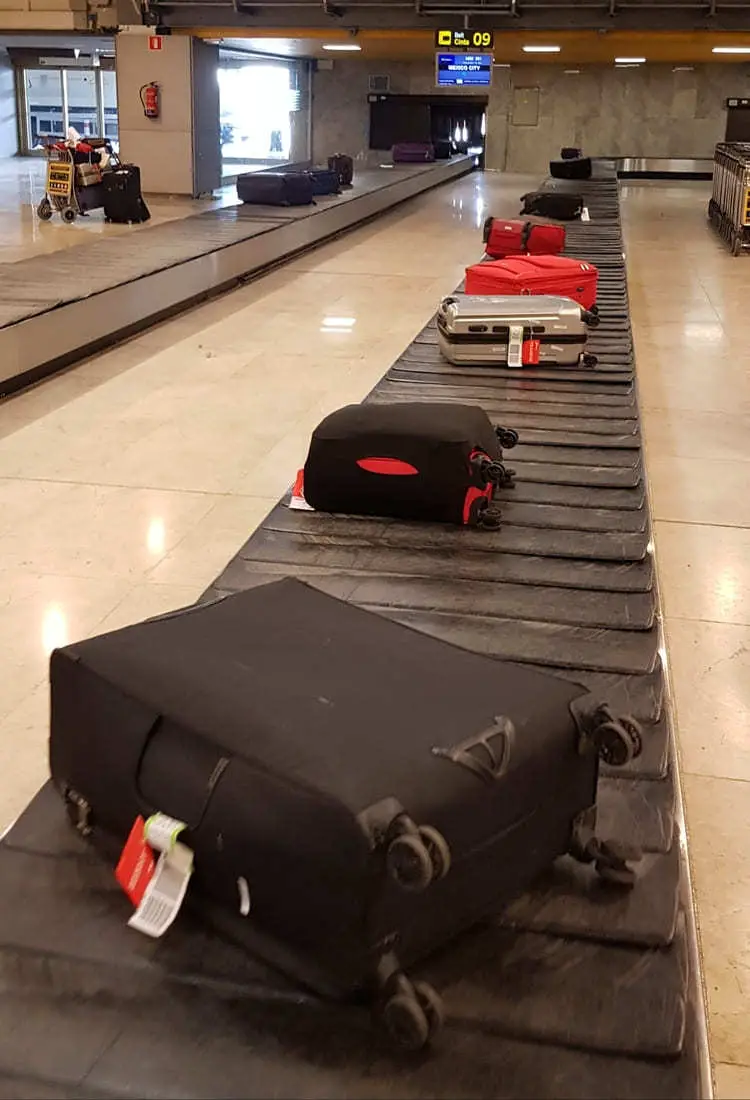 If you have arrived at your final destination, follow the signs to baggage claim and check the screens to know which carrousel will deliver your checked luggage.
Depending on the airport (and other factors that I ignore), it could be fast or not.
That's it! You did it! Trip over and successful!
Taxis outside the airport
If you do need a taxi, get one via one of the airport's information desks. There are a lot of scammers who can make your life a misery if you aren't careful.
Mistakes to avoid for first-time flyers
Forgetting to book a seat at all, because you will be assigned one randomly. And it might be a middle seat or a seat down the back.
Not checking how much weight you're allowed to bring and having to pay the penalty.
Packing a heavy carry-on bag, lugging that baggage around the airport can be annoying and tiring.
Forgetting knives, scissors, or liquids in your carry-on, they will take them away from you.
Drinking too much alcohol before or during the flight. If a passenger appears very drunk at the boarding gate, he might not be accepted on board, even if he has checked in earlier. Because he might misbehave, disturb, or become aggressive during the flight, and airlines prefer to prevent these types of situations before they happen in the air.
Carry-on luggage packing list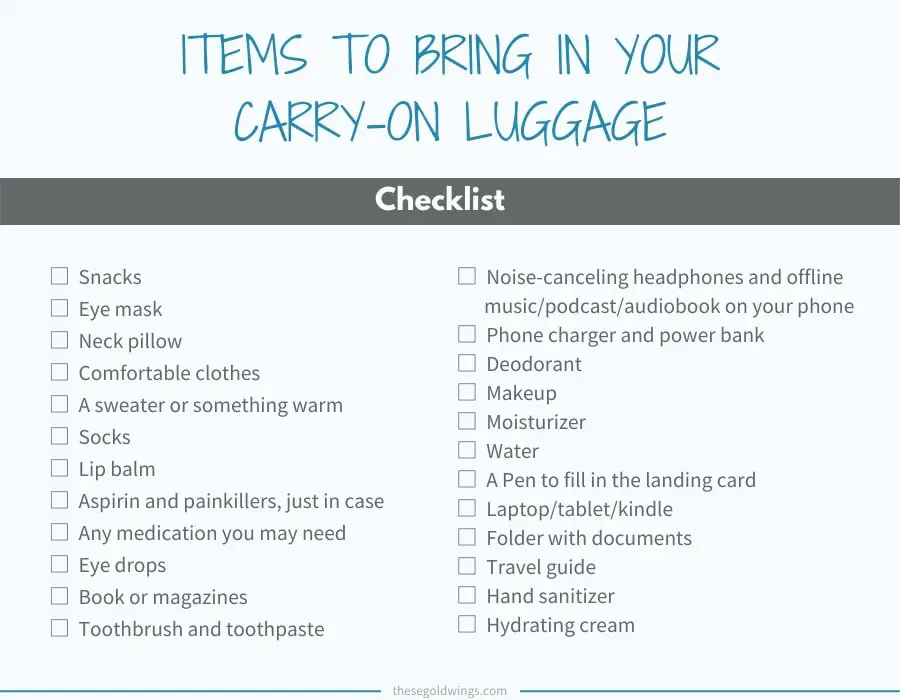 Snacks
Eye mask
Neck pillow
Comfortable clothes
A sweater or something warm
Socks
Lip balm
Aspirin and painkillers, just in case
Any medication you may need
Eye drops
Book or magazines
Toothbrush and toothpaste
Noise-canceling headphones and offline music/podcast/audiobook on your phone
Phone charger and power bank
Deodorant
Makeup
Moisturizer
Water
A Pen to fill in the landing card
Laptop/tablet/kindle
Folder with documents
Travel guide
Hand sanitizer
Hydrating cream