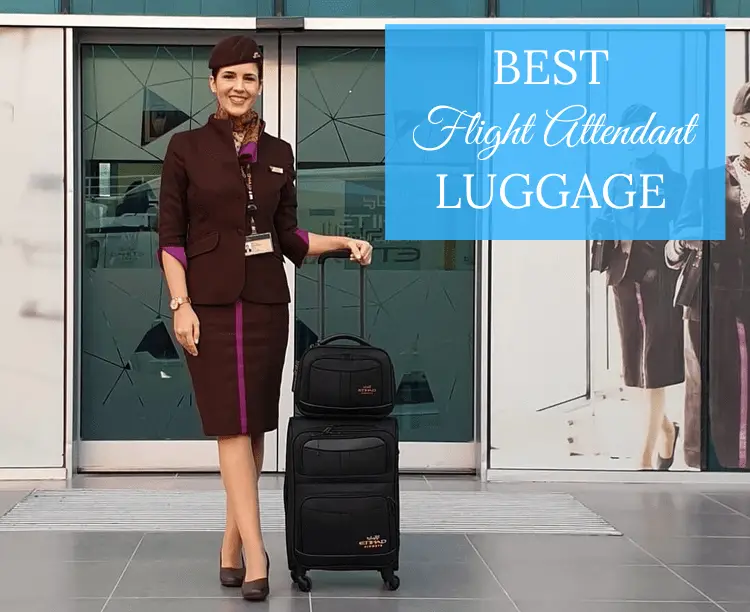 If you're wondering what sort of luggage professional flight attendants use – because whatever choices we make, they've got to be good ones  – then look no further. I'm a flight attendant and I will give you my best recommendations.
No time to read everything? Here are my top picks:
Best Carry-on Overall
TravelPro Maxlite 5 expandable luggage
No products found.
This puts the word light into the term lightweight. Travelpro has come up with a carry-on in their Maxlite range that features several improvements on previous models. With two exterior compartments and a side accessory pocket, this case has easy accessibility to those inflight things that you can't survive the journey without.
Ranging from burgundy to sapphire blue, you are spoilt for color choices with this product.
Features
Weight: 6.25 lbs
Interior dimension: 21 inches x 14 inches x 9 inches
Rubberized contour grip on the telescopic handle
High tensile zipper pulls
Side carry handle for easy lifting
Slanted top to prevent the 'top heavy' syndrome
The expandable function can give you up to seven liters more packing space.
Pros
Lifetime warranty
Light
Made of water and stain-resistant material
Good storage capacity
Patterned interior lining
Side handles
Expandable 2"
Compact size
Cons
Best Hard Side Carry-on
Samsonite Winfield 2 Hardside Luggage
No products found.
Samsonite has been in the luggage game for a very long time. They have a huge range of products and all of them have been designed with style and elegance as a core values.
The Samsonite Winfield 2 is a very stylish piece of kit that combines basic functionality with a  very sleek design. The clamshell design means that you get full access to your packing without fuss and struggle.
Features:
Colors: Charcoal,  Deep Blue, Orange, Purple,  Brushed Anthracite
Case Dimensions:
20" Spinner 20 x 13.5 x 9, 6.7 lbs.
24" Spinner 24 x 16.5 x 11, 9.3 lbs.
28" Spinner 28 x 19 x 12, 11.5 lbs. Weight: 7.2 lbs.
Fully lined interior with cross straps for more secure packing
Built-in combination lock ensures that the external zips can't be undone
Handle: telescopic with stops at 38", 40" and 42.5" to prevent wobble or slippage.
Pros
Clamshell design
10-year warranty
Lightweight
TSA lock
Sharp look and great construction
Many organizational pockets
Easy to spot at baggage claim
Lightweight
Cons
Best Affordable Carry-on
American Tourister 4 kix spinner suitcase
No products found.
With over 75 years in the business, American Tourister is now one of the largest luggage brands in the world, with a huge range of stylish, practical, and well-thought-out products. They pride themselves on being not just for the business traveler, but for the family and for fun. Can't argue with that.
This carry-on bag is all about lightness and internal packing space, and on those two criteria, it works very well. Perfect for that getaway trip of 2-3 days.
Features:
Colors: teal, purple/pink, black/Grey
Dimensions: 3 different sizes, 21", 25" or 28"
Weight: 7.1 pounds
Push-button locking handle
Internal compression straps to secure your packing
1.5" expansion to nudge out that extra bit of space
Pros
Price
10-year warranty
Lightweight
Convenient large exterior pockets for quick access
Corner protector guards
Expandable 1.5"
Top and side carry handles
Cons
Single Spinner wheels are not the best
Most Durable Carry-on
Briggs & Riley Uprights
No products found.
Selling in more than 75 countries worldwide, Briggs & Riley takes enormous pride in their dedication to innovation. Their splendid lifetime warranty is a good testament to this winning approach.
The Baseline-Softside CX Expandable case has been designed with the belief that all of the insides of a suitcase should be packing space. It is lightweight, yet tough with a water-resistant nylon outer fabric. The compression packing system allows you to expand your bag up to 34 percent and then compress it back down to its original size.
Features:
Colors: navy, olive and black
Dimensions: 22" H x 14" W x 9" D
CX technology provides the bag with up 25% increased packing space
No internal bars for the carrier handle, meaning the interior is all suitcase
Dual spinner wheels for ease of airport navigation
Pros
Lifetime warranty
CX Compression technology: Expandable but also compressible
Rugged construction
TSA lock included
Built-in garment carrier to keep your suits wrinkle-free
Flat packing surface on the inside: no bars
Reinforced corner guards
Cons
Expensive
Can be a bit unstable
Best Luxury Carry-on
TUMI Voyageur rolling suitcase
No products found.
TUMI anchors itself on five strong guiding principles, from design excellence to excellence in customer service. The name? It comes from Peru where the creator of the company was working with the Peace Corp in the '70s.
The TUMI  Voyageur is a lightweight carrier bag that is designed as a no-fuss,  easy to get into bag.
Features:
TUMI Tracker – this complimentary system helps to locate the bag if it goes missing
The zipper is puller is designed to break away if it gets snagged, saving the entire zip from being damaged
Telescopic handle has a protective barrier to prevent damage
Laptop pocket will take laptops up to 14"
Colors: black or silver
Dimensions: 21″ x 14″ x 8.5″
Weight: 7.6 lbs.
Pros
Innovative front lid to separate and easy access your items
Multiple practical compartments
Side and top handles
TUMI tracer ID plate to help find if it gets lost or stolen
Lightweight
Practical design
Cons
Will not take larger laptops (14")
Limited color range
No bracing so can't be stacked on top of
Best Underseat Carry-on
Samsonite Underseat Spinner II USB port
No products found.
This is a part of the Samsonite range and is as stylish as you would expect from this company. I guess with over a hundred years of doing what they do; Samsonite knows both what their customers want and how to give it to them.
Compact, nicely designed (the purple color is very fetching), this carry-on will fit easily in the overhead locker or under the seat. But its style has in no way been compromised by its small size.
Features:
Colors: black, ocean, and purple
Small enough to fit under the seat or in the overhead locker
External USB port
Packing dimensions:  15"x 13"x 8"
Padded laptop compartment will take laptops up to 13.3 "
Front and side external pockets
Exterior Dimensions: 16.5″ x 13.5″ x 9″
Pros
Small size and light
USB port
Good exterior zippered pockets
Small laptop sleeve (14") and tablet sleeve
Roomy with multiple compartments
3-year warranty
Cons
Can't take larger laptops
Best Underseat Carry-on Tote Bag
TravelPro Luggage Maxlite 5 Tote
No products found.
This tote comes in a range of colors that really compliment the stylishness of the bag. It is very lightweight and is designed to fit under the seat of most of the major airlines. The soft but durable fabric means it is flexible and will take all manner of reasonable handling.
This works very well as a one-case -carries- all for those short business trips or as an addition to your carry-on luggage for your inflight needs.
It's also an attractive piece of kit to be carrying on your shoulder.
Features:
Colors: black, dusty rose, azure blue, imperial purple, sapphire blue, and slate green
Dimensions: 11"x18"x8"
Weight: 1.6 lbs
Rear strap for securing luggage stacking to your suitcase
Padded shoulder strap
Stain-resistant and water-repellant coating
Pros
Good lifetime warranty
Ultralightweight
Quick access front flap
Rear strap to fit it on top of other luggage
Good side pockets
Fashionable range of colors
Water and stain-resistant coating
Cons
Shoulder strap padding a bit light
Best 2-piece Carry-on Set
World traveler embarque Lightweight
No products found.
World Traveller was founded in 1989 during the explosion in the growth of international business and leisure travel. They started out making men's travel accessories, but now boast a truly comprehensive range of luggage for those who share their enthusiasm for the pleasures of traveling.
When you have that extra packing that no amount of kneeling on will squash into your bag, here's the solution. The separate tote bag gives you flexibility for your in-flight travel needs that other carry-ons don't have.
Features:
16-inch flight tote to stow your laptop or other inflight needs
Colors: black, navy and burgundy
 Dimensions: Suitcase: 20″ high x 15″ wide x 10″
Flight Tote: 16″ wide x 13″ high x 8″ deep
Weights: The suitcase weighs 7.2 lbs and the tote bag weighs 1.2. lbs
Fully  lined with large mesh lid pocket
Tote bag easily attaches to the telescopic handle for easy handling
Pros
Well designed
Spinner works well
Super lightweight
Takes larger laptops
Plenty of pockets
17" laptop compartment in the suitcase
Expandable
Cons
No USB port
No extra padding for the laptop
Buying Guide
What to look for in a carry-on bag?
Lightweight
This is a no-brainer. Airports can be stressful enough without having to wrestle with a bag that is even the slightest bit heavier than it needs to be. You'll be lifting this bag above your head at least twice on your journey.
A good example of a good lightweight bag is the Travelpro Maxlite 5.
Size
Your carry-on luggage is going to have to fit into the overhead locker. This is non-negotiable, so make sure that the one you choose will fit easily into where it's supposed to go.
Durability
The luggage of a flight attendant has a pretty hard life, so what we look for first and foremost is something that will have a long life and is strong enough to stand up to the demands of our job. A warranty is also a must because quality doesn't come cheap.
Travelpro Crew 11 and TravelPro Maxlite 5 and Briggs & Riley Baseline all offer a lifetime warranty, and Samsonite Winfield 2 and American Tourister 4 kix a 10-year warranty. Those are real signs of durability!
Some other aspects to look for:
Maneuverability
Make sure that your carry-on suitcase has four wheels. Two simply aren't enough to easily handle the weight of your case, and, importantly, four wheels makes it so much easier to maneuver when you're in the hurly-burly of an airport. An excellent example of this is.
Quality & design
Always go for quality. There is a real false economy in going for the cheaper end of the market when buying luggage, especially if you are a frequent flyer.
The design is very important. Does it suit your needs? Is there room for your product samples, your large laptop, the tube for your architectural plans? Think about the things that you travel mostly with and choose your luggage accordingly.
External access
Super important. Are there any among us who have not discovered that they badly need something during the flight and it's packed at the bottom of the suitcase? So choose one that has enough pockets to easily access what you need from the outside. This means, of course, that you will need to make sure that you pack those things in those pockets before the flight.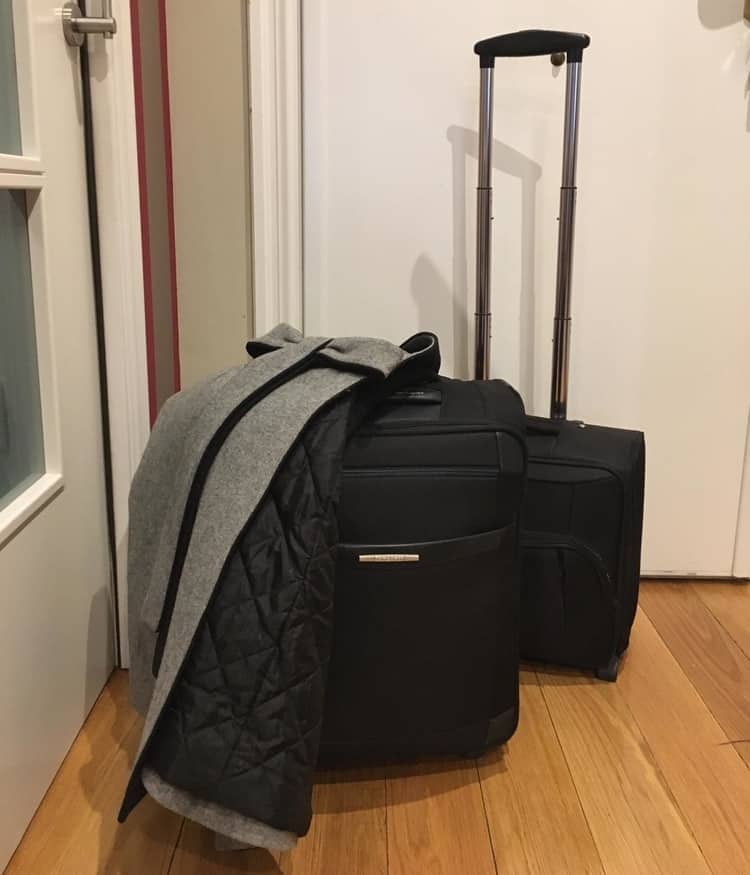 What type of luggage do flight attendants use?
We normally carry two bags.
The overnight carry-on suitcase, which is a suitcase to put all the stuff you will need at destination (like the ones we reviewed above)
A crew bag, which is a smaller bag with the things we need during the flight so that they are handy.
What type of crew bag do flight attendants use?
Here is a list of some of the proven quality and 'fit for purpose' crew bags that we flight attendants use.
TOTE BAGS:
Travelpro Maxlite 5 Tote bag
No products found.
Guess Avila Tote Bag
No products found.
Bagallini Avenue Tote Bag
No products found.
DUFFLE BAGS:
TravelPro Crew Versapack Duffle Bag
No products found.
Samsonite Silhouette Duffle Bag
No products found.
Victorinox Unisex Traveler 6.0 Weekender bag
No products found.
Brands Flight Attendants Prefer
Normally the companies will provide bags of trusted brands like Travelpro, Samsonite, or World Traveler.
But Delsey, American Tourister, and Briggs & Riley are also very popular with flight attendants and pilots.
What things do flight attendants bring in their crew bags?
If you are about to start in this profession or you are curious about what's in our bags, here is the list of the things we carry. Be prepared to be amazed.
Little notebook: to keep track of all our flights, write down the flight info (flight times, estimated passengers, flight numbers, etc., or your colleague's names)
PA announcements booklet
Clicker-Handheld counter: to count our section's passengers
Pens: Trust me, you'll need more than one
Makeup pouch: lipstick, concealer, lip balm, blush, and mascara, hair elastics
Toiletry bag: toothbrush, hairbrush, hand lotion, hand sanitizer, earplugs, 8-hour cream skin protectant, facial mist…
 Passport cover: you can put your license, medical certificate and Passport inside
FAK (first aid kit): Band-Aids and basic medicines
Uniform clothes: Service apron, Hi-vis vest, extra tights, extra scarf, gloves
Emergency sewing kit
Drawstring bag: with our service shoes
Wallet and keys
Umbrella
Company tablet, charger, Powerbank
Magazines for when you get bored
Crew bag tags and crew badge
Some also use a carry a cooler bag for the snacks or food they want during a flight, but I use a zipper bag to save space.
So, that's the deep mystery of a flight attendant's crew bag unraveled for you.
Tips for Buying Your Luggage
4 wheels so that it easily moves around the airport using less strength.
Well-made and durable from a reputable company
A good warranty. Some brands offer a lifetime warranty to repair or replace the case.
Conclusion
To us, flight attendants who move our luggage in a hectic and demanding environment, our choices are very important, and they are made with all the above points in mind.
Perhaps you should do the same?
So, my picks from the products I reviewed are TravelPro Maxlite 5 and Briggs & Riley Uprights.
Why? Because it ticks these very important boxes:
Durability
Lifetime warranty
An understanding of what the busy traveler needs from a carry-on bag
Easy to maneuver in the madness of a busy airport
Appearance/style
Similar Posts: