I have to confess: I'm in love with the Philippines. I've been there twice and I would go back a hundred times if I could.
It has a spectacular tropical climate, the most beautiful landscapes I've ever seen, lovely paradise beaches, thousands of outdoor adventures to enjoy and the best, most incredible people. Out of all the Asians, I think Filipino people are the most friendly, outgoing and happy. They have an extraordinary sense of humor –  it's not surprising that the country's tourism slogan is: "It's more fun in the Philippines"!
It's a bit of a mess to organize your trip to the country in the beginning, because you don't know which itinerary to do, which places to visit, and how to get around in the Philippines. So I want to explain a little bit based on my experience and what I liked the most, and also give you some advice to prepare for your trip. I hope it'll be useful to you.
1) Make sure to allow plenty of time to travel from one place to another in the Philippines
The first thing you should know before going to the Philippines is that the traffic is horrible and the transportation system is slow and often complicated – plus the roads can be just dirt tracks, impassable mountain roads or challenging, narrow and curvy paths.
So you'll have to spend a lot of time to get from one place to another.
Normally you need to estimate one full day to travel from island to island, whether it's by plane, bus or boat.
The Philippines is an archipelago of 7000 islands, so it depends on how much time you have and your style of traveling.
To travel to El Nido, for instance, you have two options:
You can fly to Puerto Princesa and take a van or a bus from Puerto Princesa Airport to El Nido Bus terminal, which is approximately 5 hours (by van) or 6 to 8 hours (by bus), and at Corong Corong bus terminal ride a tricycle to get to your accommodation in El Nido. It will take you one full day, but it's a cheap option.
If you want a faster way, you can fly to El Nido directly from Manila airport with AirSwift. This is a good option if you don't have too much time because the flight is just an hour and a half, but it's also more expensive: a €200-€300 (PHP11,700 – PHP17,595) round-trip depending on the dates. From El Nido airport, just get a taxi or a tricycle (PHP 300) to your hotel.
If you are arriving at Manila airport and you have to transit between terminals, watch out because it can go very slow.  I recommend you allow a minimum of 3 or 4 hours between flights.
You'll need an hour or so to collect your luggage, go through customs and exit. And once you're outside you won't be able to walk to all the terminals, only between terminal 1 and 2. So if you are going to El Nido (terminal 4) you'll need to wait for a shuttle that runs every 20 minutes.  Technically it comes every 20 minutes, but don't trust this too much. It's "Filipino time", so just think of it as an approximate schedule; it can come in 30 minutes or more, depending on the driver or the traffic jam. In my case, the bus waited until it was full before it went. In some other cases, I heard that they also take bribes to leave sooner.
So get there early enough to be safe, and remember that you also need to arrive at least an hour in advance to check-in for your next flight.
2) Avoid the rainy season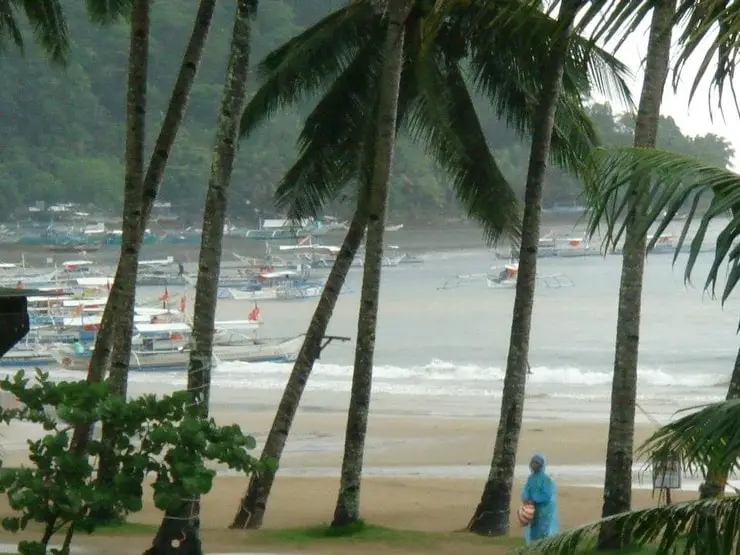 The rainy season starts in June and lasts until November.
You are better to avoid these dates if you can, as there could be heavy rain all over the Philippines, and even typhoons.
The weather is very unpredictable in this season – and even if the forecast says it will be sunny, it doesn't mean it will be sunny. You can't really trust it, because it can still rain. And if it gets bad, flights, ferries, and tours can get canceled without previous notice and you'll waste many days trying to reach your destination.
But if you have no choice and you have to go on these dates, don't worry. It's not the end of the world. Just plan your trip very carefully, avoiding places where the rainy season is at its peak, and prepare different itineraries to be ready to improvise or change your initial plans.
It's not going to be raining everywhere, so you can almost always find a dry spot somewhere. It will all depend on your luck.
When I went, it was the rainy season at the end of August and the beginning of September, and I was stuck in El Nido for a week due to the bad weather, but I have a friend that went there a week earlier and told us that he had brilliant weather. So, as I said, it depends on the luck you have.
Anyway, you should start by checking climate maps of the places you're interested in, and create an itinerary that suits you, and somehow match that itinerary with avoiding the worst weather places.
To check the weather forecast, the most accurate website is Pagasa. It's the Philippines Atmospheric Services Administration website, and it provides regional weather forecasts hour by hour.  It's a lot more accurate than other foreign international agencies.
Anyway, I recommend you to go to travel to the Philippines between December and May, during the dry season. It's the best time to visit the Philippines.
3) Carrying cash is a must in the Philippines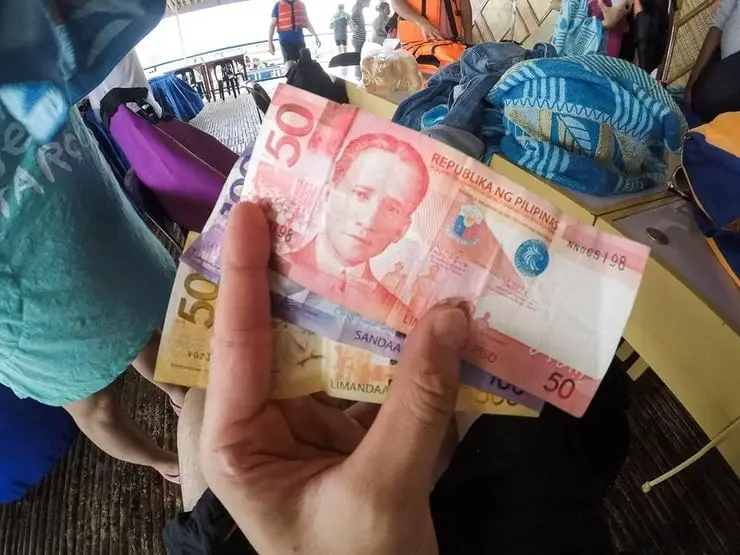 When you travel outside of larger cities, most small businesses will not accept credit cards, and ATMs can be very hard to find, so you're going to need some cash to pay meals, tours, buses or taxis.
But wait until you arrive in the Philippines to exchange or withdraw your money. The exchange rates that you will get there are normally better than the ones we get in Europe or the US.
You might think that the airport rates are not as good as in town but it's still a good deal depending on your country's currency.
When using an ATM, try to always use ATMs that are next to a bank, in case any problem occurs (like your card being captured in an ATM or a skimming scam) and remember to inform your bank that you are traveling to the Philippines, otherwise they may block your card.
Based on my experience, it's safe to carry cash while traveling – I've never had any issues with money getting stolen. At least that's the case in the main tourist places like Boracay, El Nido, Cebu or Bohol. As for Manilla, you should be extra careful or attentive, but you should also be fine there.
In most of the ATMs, you will only be able to withdraw 10k pesos (about $200) at a time; really, that's better for you because you won't have to worry too much about carrying a lot of cash on you.
I would carry maybe 5k($97/€86) in small bills for food and transportation and use a debit or credit card for everything else (hotels, flights) – it's enough to survive there for a few days, especially if you pay for your accommodation online. For Jesus' sake, don't carry 100k PHP with you – use your common sense, please!
MY PERSONAL TIP:
You should have a back-up credit card in case the one you have doesn't work.
I almost got in trouble in the Philippines because my credit card was blocked for security reasons, as I didn't warn the issuer that I was traveling. I had to ask a friend for money for a few days – a bit embarrassing…
I would recommend getting a  N26 card. This is provided by an online bank, and perfect for travelers. Fees are practically non-existent, and any fees that are charged are lower than your average bank. This means that you can pay anywhere in the world with 0% commission and withdraw at any ATM in the world with only 1.7% commission (normally around 4.5%).
4) Rent a scooter to explore the islands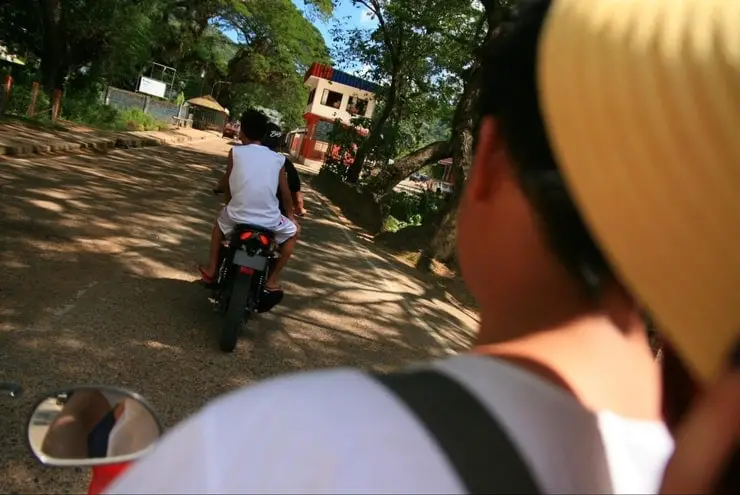 No matter if you plan to visit El Nido, Bohol or Boracay, renting a scooter is the best way to explore the tourist areas.
It's fun, cheap, and it gives you a lot of freedom.
Bike rentals are very easy to find in the Philippines, even though they are normally not advertised online.
Even in little villages where there are not renting businesses, it's easy to arrange for a rental with the locals.
Just ask in your accommodation and they will probably find you a bike.
They don't usually ask for a driving license, just an ID or a passport and it usually costs about PHP 500 ($9.50) per day. If you are renting for more than a few days you can ask for a discount, but even the normal price is pretty cheap for us.
Always ask for a helmet, as sometimes they forget to give you one. And don't forget to check the scooter before and take some pictures from different angles. You don't want them to keep your passport claiming that you damaged their bike. Those pictures can prove your innocence and save your life.
5) Buy a SIM card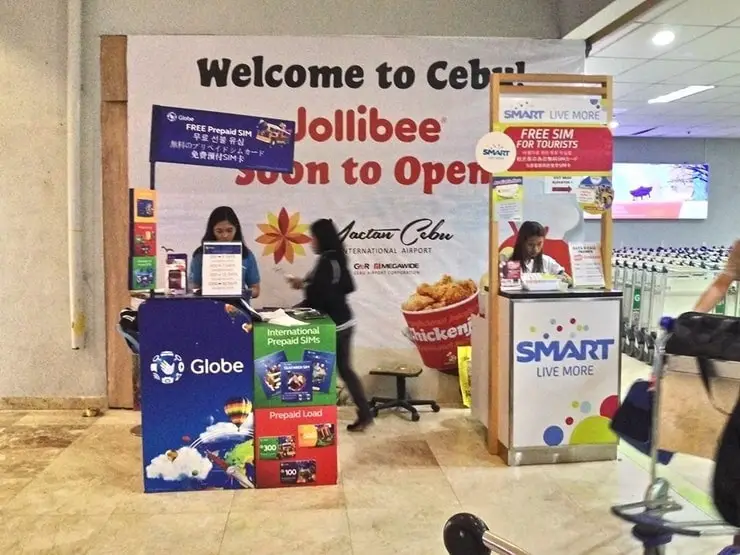 Don't get me wrong, it's not to check your Instagram or Facebook wall every 5 minutes, but to be able to orientate yourself by using Google Maps and to book your accommodations on the go.
It can be useful too to look for information about the place, check the way the taxi is taking, check schedules, telephone numbers, send SMS or WhatsApp.
The 2 main companies in the Philippines are Globe and Smart. They both have a prepaid package for tourists.
I bought a Smart SIM card at Cebu airport the first time and at Manilla airport the second time.
Buying it at the airport makes it very convenient and easy. They just need to make a copy of your passport and they will even install the SIM card in your cell phone.
So even though it's a bit more expensive at the airport, you will not have to worry anymore about it, and you'll be good to go from the very first moment.
It costs about PHP1000 ($20) and for about 5 Gb of data to use over 30 days, but it depends on the offers they have at the time. Anyway, you'll see their shops in the arrival halls and they will give you more info about the best deal for you.
If you are wondering which of the two companies to use, for me, Smart worked well, quite fast and they had a very good offer. But Globe is almost the same; I heard that Globe has better signal strength but it's slower. But both of them have good performance, and there's not much difference – so whatever you pick will be fine.
6) Get yourself covered, purchase travel insurance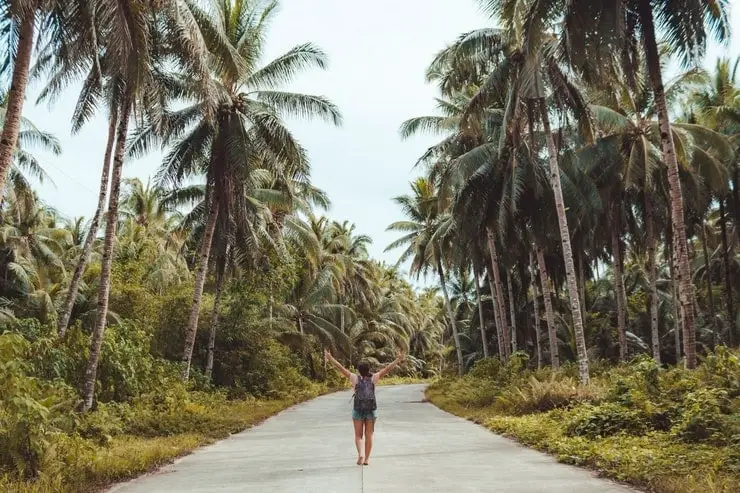 If you are going to travel independently, I recommend you get travel insurance, especially if you don't have medical coverage abroad. I am guessing that you would prefer to be treated in a private hospital with international standards in the Philippines – but it's crazy expensive without insurance.
Even if you want to save some money, you need to think that if you have an accident or if something happens to you like a dental problem, an allergy or food poisoning… it's better to be covered. Enjoy your trips but stay safe. Since you are traveling independently and you will be involved in a lot of adventures, travel insurance makes sense, doesn't it?
I can recommend World Nomads, which is also trusted by Lonely Planet, Tour Radar, and Intrepid Travel.
Their website is super easy to use and you can buy your insurance online, even if you've already left home.
They cover overseas medical assistance, evacuation, baggage problems and a range of adventure sports and activities. It's perfect for backpackers, adventure travelers and long term travelers. And one of the most affordable companies.  You can process your claim online and you have 24/7 customer assistance during your trip and every day of the year, so there's no excuse not to get it. Just make sure you read your policy to have no surprises!
7) How to get around in the Philippines
Before telling you how to get around, it's important for you to know that public transportation in the Philippines is a mess, not very organized,  and there's a big problem of traffic congestion.
So, as I recommended before, be patient and always allow one day to travel from one place to another.
Now, I will explain you the most common modes of public transport:
Jeepney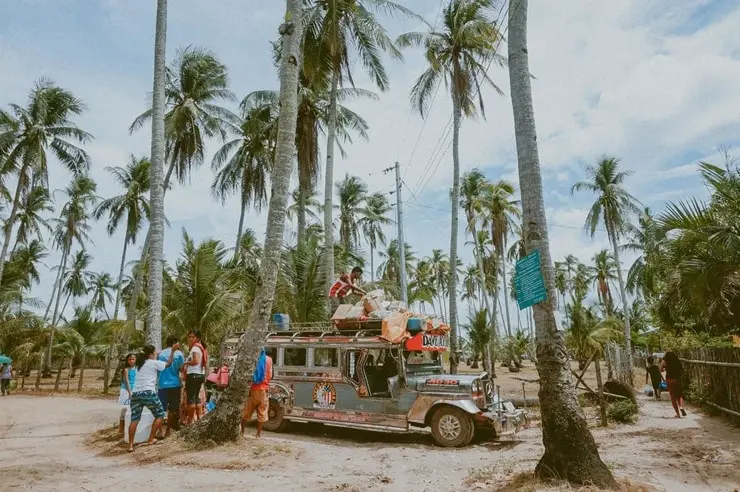 This is the most popular and cheapest public transport in the Philippines.
They are like buses that do fixed routes picking up and dropping off passengers along the way, and everywhere. They first came from the American military Jeep but now it has evolved and they have two benches on both sides where people sit across each other.
It can normally fit 20 to 40 passengers. It's a good opportunity for meeting local people, but if it's overloaded you'll end up sitting very close to each other, knee to knee with no personal space.
It's definitely something you should try!
Just make sure it's not raining because you have no protection as the rear door is normally open, or without a door.
Tricycle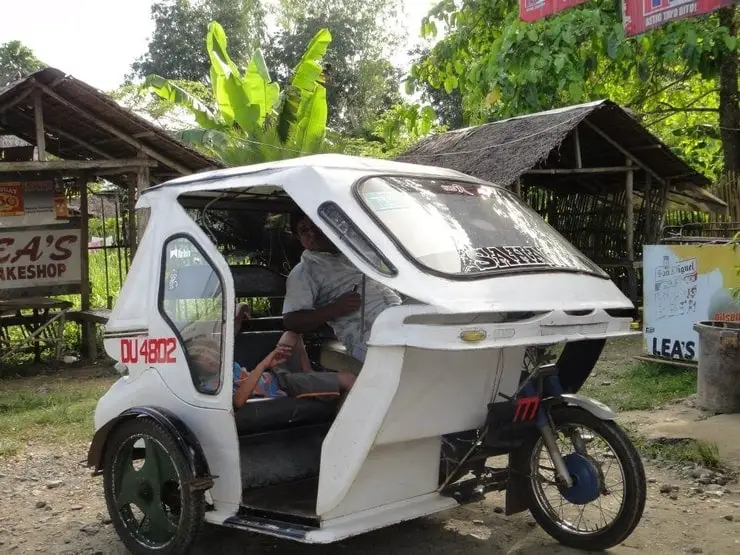 It's like a Filipino rickshaw – you can find it in all the cities, towns and villages. It's also a very popular way to get around.
It consists of a motorcycle and an attached passengers' sidecar.
You can do any short trip in it but make sure you always negotiate the price before you start.
If you go to the Philippines, you simply have to try a trike!
Habal-habal
Credits : filipinna
These are the Filipino motorcycles that are turned into taxis; they work like the tricycles but they are cheaper.
A normal motorbike is for a driver and a passenger, but here, they can carry up to 4 passengers or more, plus the driver. Unbelievable!
Motorbike or scooter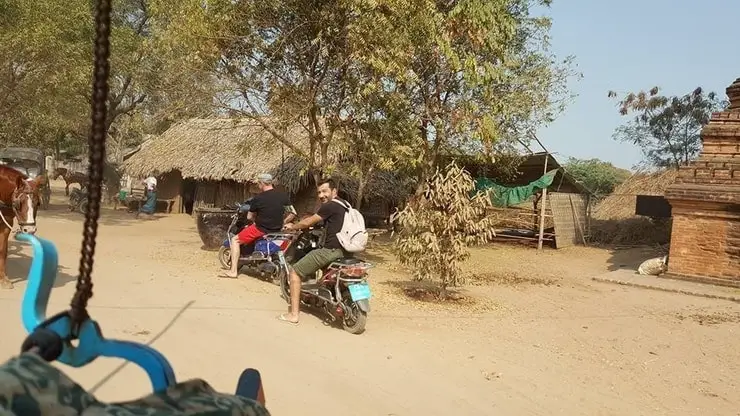 Small islands like El Nido, Siargao or Bohol are perfect for renting a scooter like I said.
It will provide you with more freedom to go wherever you like than relying on public transportation.
Hitchhike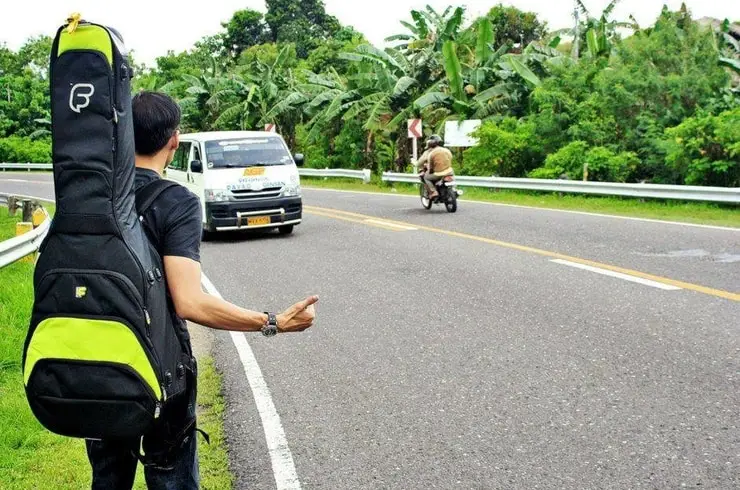 It's a great way to meet the locals and save money.
If you are this type of traveler, try hitchhiking in the Philippines; it's safe enough and a fun adventure.
Ferry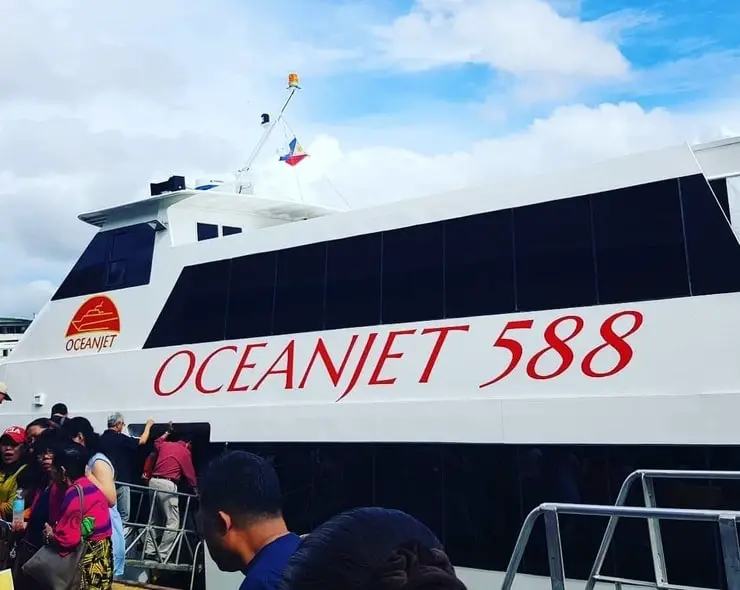 It's sometimes the only option to reach some destinations as air travel is not always possible.
But before buying anything online you should do a little research to know which is the best ferry company and the best way to get to your destination.
The prices are normally quite cheap and you are expected to pay for the ticket itself and for the ferry terminal fee, which is around 50 pesos.
To buy your ticket, first, find out the schedule of your ferry and make sure you arrive early and find a ticket sales office.
There's no need to book the ticket beforehand, but if you want, you can do it online with most of the companies.
If you are the type of person that feels motion sickness, bring some medicines like Scopolamine patches or Dramamine pills and try to sit at the front or the middle of the boat. Also better if you can seat next to a window, and look out at the horizon.
Flights
There are many airlines that operate Philippines domestic flights, such as Cebu Pacific, Air Asia Philippines, AirSwift, Philippine Airlines, PAL…
Manila and Cebu are the major hubs so you'll probably need to do a stopover in any of these to reach your final destination.
But, if you can, try to avoid connections – flights are often delayed or cancelled so the fewer flights you have to take the better.
8) Check your consulate to see if you need a VISA
It depends on your country of origin – you can check your own embassy of the Philippines in your country.
UK: https://www.gov.uk/foreign-travel-advice/philippines/entry-requirements
But most of the European countries, US, Canada and Australia can enter without a visa for a period of 30 days. Just make sure your passport expiry date is more than 6 months after your arrival date.
9) Check what Vaccines are recommended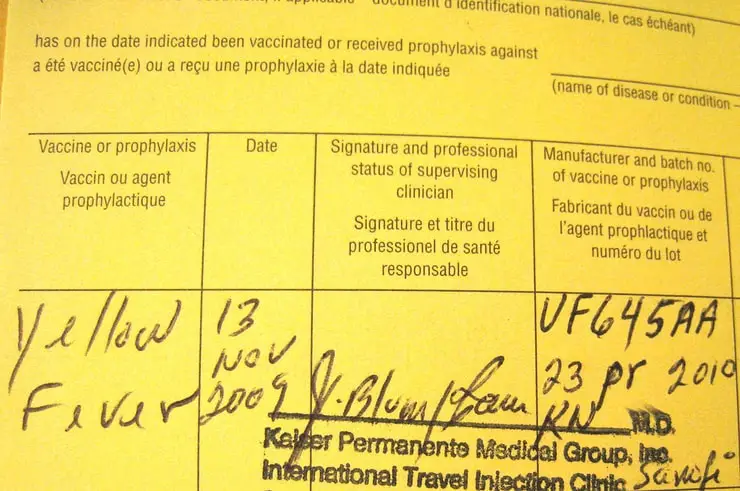 The only mandatory immunization is for the yellow fever, but only if you are arriving from a country with at risk of yellow fever.
Countries with risk of yellow fever virus transmission
You should get vaccinated 10 days before you travel, to give the vaccines time to be effective.
So find your specialized travel clinic and schedule your appointment as soon as possible.
And always be sure to bring and use insect repellent and practice good food hygiene and hand washing.
Don't drink water from the tap.
It's recommended to get Typhoid, Hepatitis A, MMR (Measles, Mumps and Rubella), Tdap (Tetanus, Diphtheria and Pertussis) injections also.
Special circumstances:
Hepatitis B – if you are traveling with kids or babies because they are most at risk, or for you if you are having sexual contact or getting a tattoo or piercing.
Japanese encephalitis – if you are traveling to rural areas or going hiking – it is passed from animals to humans via mosquitoes.
Rabies – depends on your trip too, a bite or a scratch from an infected animal can put you at risk.
Cholera – you can get it from food & water, so it is recommended for rural areas
Malaria – transmitted by mosquitoes.
10) Your packing list you'll need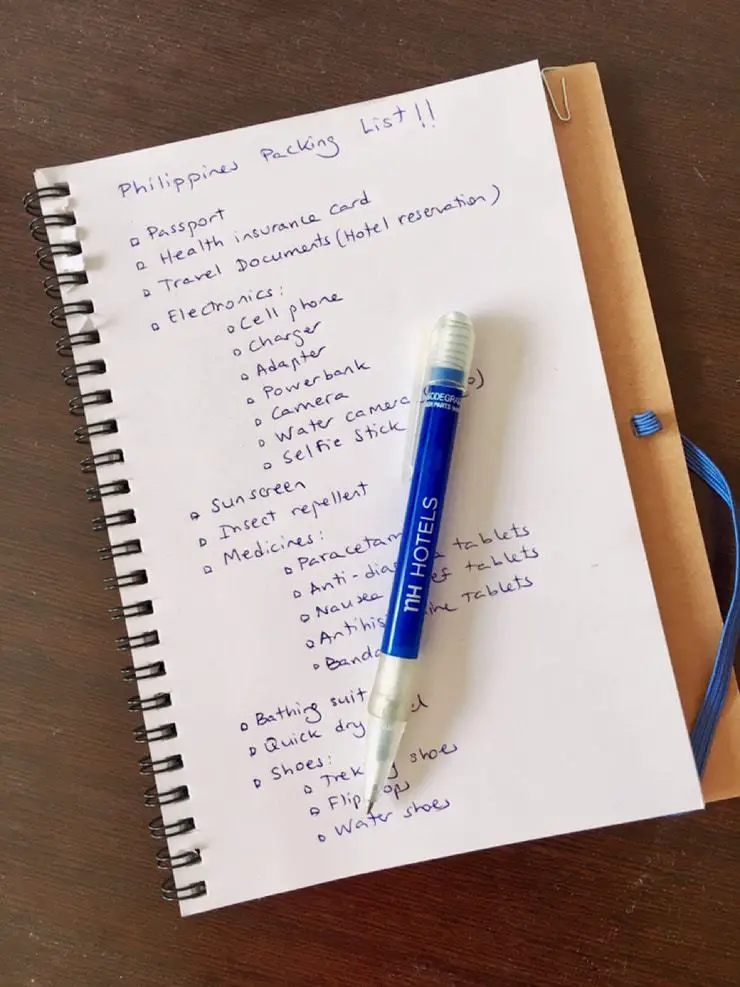 Summer clothes, underwear and sunglasses (don't bring too many clothes, Philippines is full of cheap laundry places)
Bathing suit
Quick-dry towel
Shoes: trekking shoes, flip-flops, water shoes (very important for rocky beaches and waterfalls)
Snorkel equipment
Toiletries
Light rain jacket
Sunscreen FPS 50
Travel adaptor
Insect repellent
Waterproof bag (for a boat trip or waterfall adventure trip)
Medicines (diarrhea tablets, ibuprofen or paracetamol, bandaids, antihistaminic, motion sickness tablets etc.)
For women, if you use tampons bring them because they are hard to find
Powerbank, charger, selfie stick
GoPro or water camera
Little backpack for trips (10/20L)
OTHER PACKING TIPS:
Put all your toiletries in zip bags to prevent spills and leaks in your luggage
Don't overpack – you can buy everything you need in Philippines
Be sure to pack a lightweight jacket for the plane or to help fight off blasting A/C at the airport or in the boat.
If you are having many connecting flights, try not to check luggage to avoid the risk of lost or delayed luggage.
But if your backpack or luggage is too big you'll have to check it. In this case, you can also bring hand luggage or a bag to take it on the plane. And put inside it everything you need to survive a few days, and whatever you feel is most important to you. At least, if they lose your luggage you won't lose everything.
For more recommendations, check out my post: El Nido: What to do, Where to Stay and What to eat. Have fun!
Similar Posts: