If you want to make traveling less stressful and more fun for you and your family, you should consider buying a suitcase for your child. A wheeled bag will be fun and practical for little ones and it will make flying with children easier for everyone.
But which one is the best?
As flight attendants, we know best which is the right travel bag for your children. And we want to share with you our experience as flight attendants and help you choose the best rolling luggage for your family to buy.
To help you decide, we have selected the best children's roller bags: including ride-on suitcases for toddlers, sleep on suitcases and rolling backpacks.
Trunki
No products found.
This is a must-have for traveling kids. Trunki is a very robust brand and it has been designed for your kid to ride on, sit or pull along with its multifunctional strap.
If you are looking for something to make traveling through airports easier and you want to travel tension-free, this is your solution.
Your kids will never get bored again while traveling and they will be happy to ride, push, pull and sometimes just drag the suitcases.
Pros
Very sturdy and well made
For kids from 2 to 5 years old
5 years warranty
sit-on, ride-on, carry-on; keep toddlers entertained before and after a long flight
Cons
Little storage
Designed to move in a straight line only, tips over easily
American Tourister Disney
No products found.
This is one of the most popular brands among American youngest travelers. They are known to have a high level of quality and durability and their prices are not over the board.
This is a line of luggage for Disney and cartoon fans, travel with Dory, Paw Patrol, Disney princesses,  and other Disney stars, perfect for boys and girls on the go.
Your kids will love it!
Pros
The 10-year warranty provides great value.
Lightweight
Suitable for kids from 2-3 years old
Good value for the price
It has criss-cross internal straps for keeping all items in place
Cons
Rockland First Luggage
No products found.
The Rockland My First Luggage is the best travel companion for any tiny traveler.
Rockland combines quality and style in one luggage. If you are looking for something durable and long-lasting. Rockland first luggage is the option you should go for.
It comes in 8 different animal characters: Dinosaur, Ladybug, Monkey, Puppy, Shark, Turtle, and Owl and many colors.
Pros
Adjustable height pull handle for parents and kids
Sturdy
Rolls easily: 360-degree spin wheels
Cute design
Suitable from 2-3 years old
Cons
Materials are susceptible to scuffs
No pockets
Hey America Kids Travel Tots Elephants
No products found.
Children's adventures during trips need tough and sturdy companions. The Hey America Kids Travel Tots Elephant luggage has emphasized this.
The design is created by Heys specifically for kids. With the unique characteristics of children in mind, it incorporates several design features that benefit children.
Features
It has a lightweight push-button.
The handle is a telescopic handle system with multi-stage locking heights.
The roller luggage comes in adorable animal characters with a matching pack.
The pack has a polyester lining and is very easy to carry. It also comes with a grab handle at the top.
Pros
Sturdy and Durable
Fit for any kind of travel
Has a detachable bag for kids essentials
Composite material allows kids to use the bags as toys.
Cons
The zipper is not tightly attached to the bag
There are no built-in security measures or locks
It lacks organization options
Yodo Zoo Toddler Backpack and rolling luggage
No products found.
Yodi Zoo toddler backpack and rolling luggage is a 3-Way Playful Luggage for Kids it has a Handbag, a Luggage, and a backpack.
The bag is adjustable according to the child's growth. This is because it has a multifunctional design. It can be used as a little diaper bag, travel luggage or school bag.
Features
Spacious Compartment with Zip Pocket inside
It is large enough for Daycare or weekend or longer trip
Two zips allow kids to Open by Two Directions
It has a padded Front Pouch for Quick Access to snack, toys or other favorites.
Pros
The height is perfect for kids
Can be converted to backpacks
They pack all their on-board entertainment and travel necessities
No need for extra small bags.
Fits under the seat in front of them
Two side pockets for drinks.
Cons
Wheel covers wear out too fast.
The design makes the wheel covers difficult to wash
Skip Hop Skip Hop Kids luggage with wheels
No products found.
The Skip Hop Zoo Little Kid Luggage is a popular choice for the youngest kids. It is small but packed with fun details.
Each luggage has floppy animal ears and a cute design.
Little kids will love rolling through the airport with their own Zoo character luggage.
The lightweight material makes these kids trolley cases easy for little ones to pull along.
Pros
Creative and fun design
Shoulder strap for parents
Easy access front zip pockets
Perfect size for little ones and lightweight
Easily cleanable with mild detergent
Good value for the money spent
Cons
No inner pocket or slots in the larger compartment.
when loaded does not stand alone well, tips forward.
iPlay, ILearn Kids Durable Luggage set
No products found.
This luggage set is just like an adult's wheeled suitcase but sized just right for little kids.
Both the suitcase and backpack are made of a scratch-resistant & water-proof polycarbonate, perfect for air trips.
Buying this fun, durable and easy to pull around the airport luggage will help your kids get excited about upcoming trips.
Pros
Comes with hard-shell protection
Great quality
Lightweight
Easy to pull: multidirectional wheels
It is scratch-proof
Cons
Can get scratched easily
Small
Zinc Flyte Scooter Luggage
No products found.
Flyte Scooter Luggage was created to move, just like little kids. Your kids will love this luggage because it's attached to a scooter to make traveling more fun.
It's a fun, safe and practical design.
A cross between a suitcase and a scooter, it's an excellent way for kids to carry their own belongings when traveling, ideal for children not to get bored and it fits perfectly in the overhead compartment.
It's suitable for ages 4 – 8 years old and up to 110 pounds in weight.
But there's also a mini version for kids 2- 4 years old.
Pros
Scooter folds away and locks in place
An excellent way for the kids to enjoy before a long flight
Rolls smooth
Sturdy but squishy
Cons
Size may be smaller than expected.
Not easy to fold up and down
JetKids BedBox
No products found.
For long flights or train journeys, this is your luggage. The BedBox can look like a ride-along luggage at first sight. And yes, it can perform that function.
Kids can either pull or sit on before boarding the plane.
But it's also a travel bed for babies and toddlers, or a leg-rest for children up to six or seven years old during flights.
Pros
Lightweight
Fits under the airline seat
Easy setup
3 ways to move: pulling the suitcase, carrying the suitcase with an adjustable over-the-shoulder strap, or riding the suitcase.
Comfortable travel for the kids: use it as a travel bed or a footrest
Cons
Limited use during flight: not for take-off and landing, turbulence or emergencies
Accepted to use in most airlines, but not all
Expensive
Buyer's Guide

First, let's explain why you should invest in a trolley for children.
Why should you buy a rolling bag for your kids? What are the advantages of kids having their own bag?
Kids like to do what they see. It's fun for them to manage their own luggage as adults do, plus they love to pull it around themselves.
Your child will become increasingly independent, taking charge of their own bag. Having their own bag is so important in terms of their development.
When kids have their own luggage, organization is better as you can load up their bags with all their things: snacks, change of clothes, wet wipes, toys, books, etc, and this way everyone will have their own items easily accessible.
You'll create more room in your bags or you'll have room in their luggage for toys and souvenirs you'll buy along the trip.
Finally, getting kids to carry their own luggage is one of the best ways to teach them about responsibility and organizational skills. Kids will get used to the concept of being in charge of their own stuff on trips.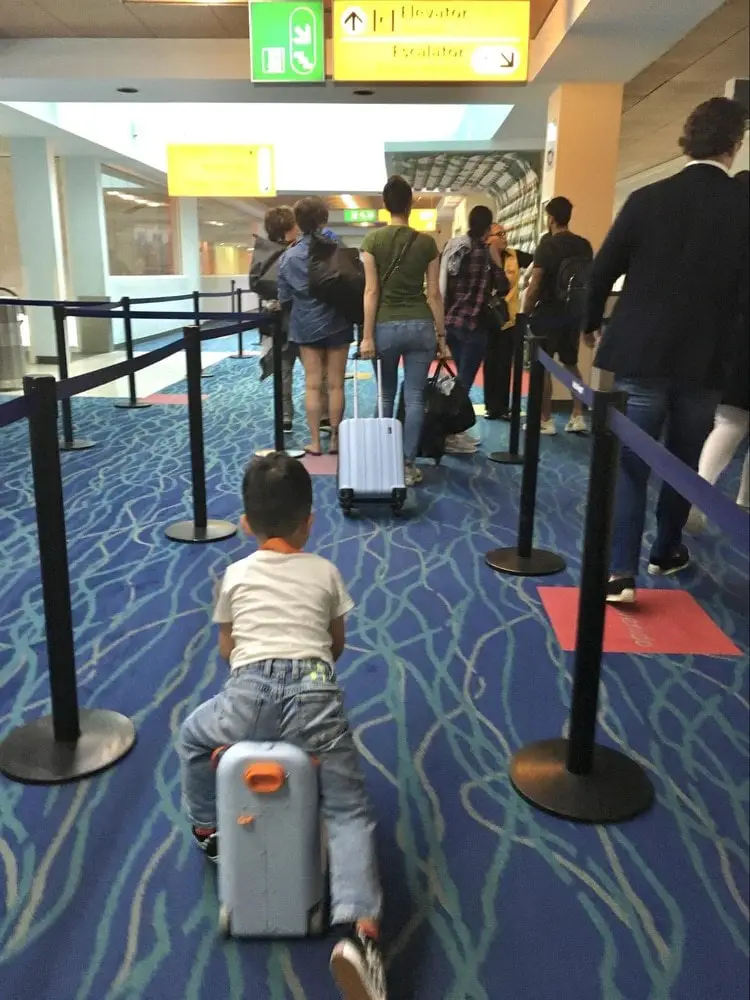 What to Consider When Buying Luggage for Kids?
You should ask yourself a few questions to know what it's more important to you when buying a rolling suitcase for your kids.
Lightweight: Is the suitcase light enough for your child to pull it?
Functionality: Does it have enough pockets, zippers or enough storage for your kid's things?
Age: Is it age-appropriate in size and design?
Easy to carry: Are the straps or handles convenient for your kid and for you when your kid gets tired of carrying their own luggage?
Durability: Is it sturdy enough? You don't want a luggage disaster halfway into your journey.
Overall Quality: Does it tip over when packed? Do the wheels roll nice and smooth?
Design: Do your kids like the design? A piece of luggage that looks attractive will allow your kids to show it off. That means they would want to carry or ride it.
Hardshell or softshell: what is better? A Hardshell case can be sturdier, for when your kid will drop the luggage down the stairs or more protective with the inside content, and if it's a Trunki travel suitcase when they get tired they can jump on and have a ride. A softshell can have more room, more usable internal space and pockets and can be more flexible when it's super full. Plus they are far lighter to carry and therefore easier to maneuver.
So think before buying.
The best type of luggage is the one that matches your needs, so buy to suit your needs.
Should you check it in or keep it with you on the plane?
In my opinion, for short-haul flights, it's always better to keep your hand luggage with you if you want to save time at destination and avoid waiting at baggage claim.
You'll make sure it doesn't get lost and you'll get out of the airport quickly to begin your vacation immediately.
But it's your choice, you can do whatever suits you.
For longer flights or connecting flights, it can be more troublesome and tiring for the kids and for you to keep it.
Plus you won't need to worry about bin space, all the bin space may be filled by the time you get to your seat.
Plus navigating an airport with carry-ons can be difficult and more so with kids to handle.
Conclusion
Our top pick for the best rolling luggage for kids is Trunki Original Suitcase. It's the trendiest children's suitcase, and all kids love riding their Trunki.
It's also an easy solution to get through the airport with kids, as they can easily ride on it, pull it and it gives them something to do while you're in queues waiting at the airport. They can also easily pack them themselves and have a spare seat and toy whenever they want it.
Therefore, if you are planning a family holiday and want your kids to be comfortable and independent, then this is the best suitcase for you.
Last update on 2023-11-29 / Affiliate links / Images from Amazon Product Advertising API