Stroller bags are overlooked by many but they are essential for air travel because they keep your stroller safe from damage and all the grime and dirt of the hold section.
This means your baby won't get exposed to all that dirt while you get to travel more conveniently.
Universal Fit Stroller Bags
Universal fit stroller bags are cheap and they are made to fit different types of strollers.
But always check first if it will fit with your brand.
Angel Baby stroller travel bag
OUR RATING: 4.3/5
The Angel baby stroller bag is one of the best and affordable stroller bags out there.
This is because it is made with water-resistant durable double strength polyester.
It is also a great choice for umbrella strollers because of the drawstring adjustable lock which makes opening and closing easy.
There is a padded shoulder strap that lets you carry it as a backpack and an ID identification.
The bag also comes with a zip-up pouch for keeping the bag when it's not being used.
COMPONO Stroller travel bag
OUR RATING: 5/5
The bag is made with polyester hybrid and sturdy nylon and an extra layer of water-resistant material.
It's great for both single strollers and umbrella strollers but make sure you follow the recommended dimension for folding.
It has an adjustable padded shoulder strap which lets you carry it as a backpack.
On the sides, there are dual lift handles that let you pick up the bag easily.
You can also use the single Quick Carry Handle which is located at the top rear end of the bag.
Dimensions: 48"x25"x19"
Fits even the largest strollers.
Below is an abbreviated list of compatible strollers; please ask me a question in the comments if you have any specific concerns:
4Moms – Origami
Aprica – Cadence, Presto, etc.
Baby Jogger – City Elite, City Mini, City Mini GT, City Select, City Versa, F.I.T., etc.
Baby Trend – Encore, Euroride, Euro Buggy, Expedition, Passport, Snap N' Go, etc.
BOB – Ironman, Revolution, etc.
Britax – B- Agile, B-Nimble, etc.
Bugaboo – Bee, Cameleon, Donkey, etc.
Chicco – Cortina, KeyFit, Trevi, etc.
Combi – Cabria, Cosmo, Flare, Helio, Torino, Twin, etc.
Cybex – Callisto, Onyx, Ruby, Twinyx, etc.
Combi – Coccoro, Kobuk, Shuttle, etc.
Cosco – Commuter, etc.
Evenflo – Aura, Journey, Zing, etc.
Graco – Alano, Duo Glider, Dynamo, Ipo – Twin, Mosaic, etc.
InStep – Arrow, Flash, Grand Safari, etc.
Jeep – Cherokee Sport, Universal Cruiser, Wrangler, etc.
Joovy – Caboose, Groove, Kooper, Scooter, etc.
Maclaren – Easy Traveler, Quest, Triumph, etc.
Mamas & Papas – Cruise, Mylo, Sola, Tour, Trip, Urbo, etc.
Maxi Cosi – Foray, Mila, etc.
Mountain Buggy – Duo, Plus One, Swift, etc.
Mutsy – 4Rider, Easyrider, Spider, etc. to s
Peg Perego – Pliko, Skate, Switch Four, etc.
Phil & Ted's – Classic, Dot, Explorer, Navigator, Smart, Verve, Vibe, etc.
Quinny – Buzz, Senzz, Zapp, etc.
Safety 1st – Acella, Clic It!, Jaunt, Two Ways Tandem etc.
Stokke – Xplory, etc.
UPPAbaby – Cruz, G-Luxe, G-Lite, Vista, etc.
OnGuard stroller bag for double strollers
OUR RATING: 4.0/5
The Onguard stroller bag is bright gray with a yellow lining and it is has a secured lock and closure system for keeping your stroller safe.
It supports double strollers and is also a universal fit for most strollers but you should make sure your stroller dimension is compatible.
It has a shoulder side strap for easy carrying and there is an area where you can indicate your name and phone number.
There is also a storage pouch for keeping the bag.
This stroller bag also doubles as a picnic mat and it has a 100% 90 days guarantee.
Dimensions: 46"x21"x13"
Volkgo stroller bag
OUR RATING: 4.3/5
The Volkgo stroller bag is suitable for standard and double strollers.
It is water-resistant, adequately padded and made with nylon for durability and also protection.
It has padded back straps, 2 side straps and a front strap which makes carrying very convenient.
It is also large enough to accommodate most stroller brands but if you are unsure if it's compatible with your stroller, you can always give them a call to ask.
It comes with a carry pouch for safe-keeping.
Dimensions: 47"x24"x18"
Emmzoe Wheelie padded stroller bag
OUR RATING: 4.7/5
It has a universal fit and is perfect for foldable umbrella strollers.
The fabric is nylon, which makes it sturdy and water-resistant.
At the bottom, there are wheels for convenient moving.
If the wheels are not practical in some situations, you can always use the strap to lift it.
The bag is labeled at the front and there is a space where you can write your name for easy identification.
The zipper also has lock holes for additional security.
Dimensions: 44"x12"x13"
Emmzoe XL padded stroller bag
OUR RATING: 4.0/5
Unlike the Emmzoe Wheelie Padded stroller, it accommodates strollers with larger dimensions.
It is adequately padded and it is made with waterproof nylon material.
It has double reinforced stitching which makes it more durable.
It also has lockable dual zippers for extra security.
Before buying, make sure the size of your stroller conforms with the size of the bag.
Dimensions: 36"x26"x18"
Luvdbaby Premium stroller bag
OUR RATING: 4.5/5
The stroller is made with a denim style material that has an industrial zipper attached to it.
The easy-to-spot denim stroller travel bag is equipped with padded handles for easy and comfortable carrying.
It can be folded and it comes with a carry bag for safe-keeping.
It is also designed in such a way that it can be used as a travel bag, a picnic mat or a motor liner.
Dimensions: 55"x19"
ZOHZO stroller bag
OUR RATING: 4.5/5
The stroller is tear and water-resistant and also durable due to the 600 denier polyester it's made of.
The wide-opening design makes loading and unloading easy and it is compatible with most brands.
Straps are padded and they can be adjusted or removed.
There are also double adjustable buckles for securing the stroller.
The exterior has pockets for securing the shoulder strap and other accessories.
It comes with an identification card pocket and card.
Dimensions: 41"x21"x13.5"
The ZOHZO stroller travel bag offers plenty of space (41 x 21 x 13.5 in) for almost all brand strollers, even double strollers!
Here the list of compatible strollers:
Baby Jogger City Mini
Baby Jogger City Select
Baby Trend Expedition
Baby Trend Tri-Flex
BOB Revolution
Britax B-Agile
Bugaboo Bee3
Evenflo Pivot
Graco Aire3
Graco Click Connect
Graco LiteRider
Graco Modes Jogger
Joovy Caboose
Maxi-Cosi Adorra
UPPAbaby CRUZ
and MORE!
J.L Childress stroller bag
OUR RATING: 4.7/5
It is a durable and lightweight stroller bag which is suitable for standard and double strollers.
It has a drawstring closure and an adjustable lock and it fits easily into its stretch pouch.
The handles are not padded but they are webbed for easy lifting.
Dimensions: 46"x21"x13"
List of compatible strollers:
Baby trend sit 'n stand, peg perego, phil and Ted's, Quinny buzz, bob single Jogging strollers, Graco meteorite, Snug rider and duo glider, Bugaboo, Joovy, Chicco, Combi and Combi twin, Malaren and Malaren twin, baby planet and more.
Branded Stroller Bags
If you have a branded stroller (compact, umbrella or any other kind) and you are looking for the safest and perfect fit bag go for your brand's custom made stroller bag, here's a list.
Baby Jogger city bag
UPPABaby VISTA stroller bag
BRITAX stroller bag
Maclaren stroller bag
Ergobaby Metro stroller bag
GB Pockit Stroller bag
YOYO ZEN stroller bag
UPPAbaby MINU stroller bag
Buying Guide
Why buy a stroller bag for air travel?
Generally, stroller bags are not considered a necessity but they do have their advantages and you could gain a lot from using one.
Although it's not mandatory, stroller bags are good for protecting your precious buggy from damage, wetness or dirt.
These qualities are very important for maintaining a stroller, especially during air travel.
As a flight attendant, I've seen a lot of baby strollers, musical instruments and other delicate belongings sent to the hold of the plane and the ways some of them are handled are quite concerning.
Most baggage handlers handle people's luggage with little care.
Because they don't have a lot of time and resources are limited, your belongings held in the hold section could get damaged easily.
Considering all this, you must protect your belongings.
What to consider before buying a stroller bag

Size: Stroller bags come in different sizes. Before buying a stroller bag, check for size compatibility with your stroller. Some stroller brands have custom stroller travel bags that you can get or you could go for a universal fit bag. Also, if you are unsure of what size to choose, you can rarely go wrong with a bigger bag.
Waterproof and rip-resistant material: When it comes to buying stroller bags for air travel, the sturdier the better. Check the stitches, the quality of the fabric and find out how well it can resist water.
Closure system: A good stroller bag should have a good closure system such as a zipper or a clamp. This will protect the stroller from dirt and also prevent things from getting in and out of the bag.
Easy to carry: There are stroller bags with handles or straps for easy carrying. Some of those we recommend can also be carried like a backpack.
Storage pouch: A lot of stroller bags come with a storage pouch for putting them away.
Price: The difference in the prices vary largely. You should consider your budget, the quality, brand-name and other important characteristics of the stroller bag you want to buy. Naturally, anything with high quality is usually a bit expensive but if you are not willing to spend that much, don't worry. There are great brands that don't require that you break the bank or add a load of money to your budget in order to get quality. Our selection has great options that can cater to your wants.
Special features that you may need: Are you getting your money's worth if you end up buying something that doesn't have that special feature you need? When buying a stroller bag, keep in mind those special features that you need or want. It could be that you don't want to take off the stroller's wheels or maybe you want an expandable stroller bag or one with a safety lock. Doing this will help you make a more satisfactory purchase.
Flying with a stroller: How to gate check your stroller
Usually, you can either check the stroller at the ticket counter or at the gate. Make sure it's tagged and remember to place it in a stroller bag before it's taken.
If you gate-check your stroller, you will have to go through security with it. You will then fold it and put it through the x-Ray machine. And you can pass carrying the baby or toddler on your arms.
Once at the boarding gate, you can take the stroller to the plane door but at the point, you fold it and leave it and the airline staff will put it on hold.
Before leaving. "strip" your stroller down. Remove any cup holders, toys, padding and even the sunshade (depending on the design). Keep whatever you will need in the plane (diapers, water bottle, cuddly toy, etc) and leave the rest of the stuff in the stroller bag (padding, cup holder, accessories, etc). Be sure to have your name and your address on it somewhere and make sure the gate-check tag can still be seen.
Then, depending on the airline, you will collect it on the jetway (plane's door) or at the baggage claim. Ask about this!
If you want to avoid all the gate check-in process you can just buy a compact stroller for air travel and take it with you on board in the overhead compartment.
FAQ
Do you need a bag for a stroller on a plane?
Most airlines don't make it compulsory but some European airlines such as Air France and KLM do. Anyway, it's recommended to have a stroller bag because it will protect your buggy from getting damaged, stained or wet during the entire process of taking it to the hold, keeping it in the cargo compartment and taking it to the baggage claim for delivery.
Do airlines provide stroller bags?
Some do. Airlines like United provide big plastic bags but they are limited, so you can't really count on it that you'll get one. Other airlines like Southwest sell them (for $17) while some others don't provide at all.
How do I protect my stroller bags while traveling?
Use a stroller bag. It will protect it from the dirt and filthiness of the airplane hold. A padded stroller bag is the best choice but if that is not available, you can use a big plastic bag or a big laundry bag that is well secured with a bungee cord.
What to do if my stroller is damaged?
Report the damage immediately. Check your stroller thoroughly at the baggage carousel before you leave and report the damage immediately if you see any to prove that the damage was made during the flight. After reporting, you will be required to fill in a damage report.
After filling the damage report, send an email to the claims department with all the details of the break, photos, the stroller tag (the one they put at the gate), and a receipt of the stroller cost. Wait for their response and if you are lucky, you may be reimbursed. The amount paid varies from airline to airline.
Does the airline reimburse you for the damaged stroller?
Most do but some don't. For example, Southwest Airlines doesn't take responsibility for any damages.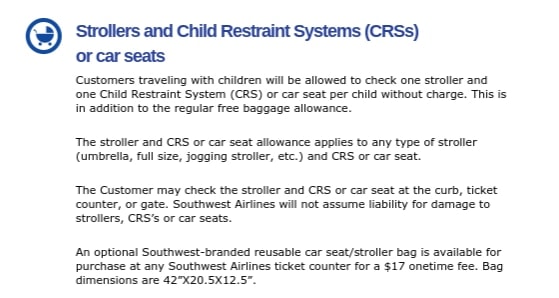 What is the best stroller bag?
Custom stroller bags are the best. If the stroller doesn't have one, go for a universal fit bag like the one we recommend. A good stroller bag should also be inexpensive, waterproof, well-padded and have straps.
Do I need a stroller bag for a compact stroller that I'm taking inside the cabin?
It's best to have one. Even though it can be taken on board, the overhead compartment could be filled up. If there is no space for it in the cabin, it will be taken as checked luggage in the hold.
The verdict
A stroller bag may not be mandatory but it is always good to have one for air travel because it's going to protect your stroller from getting damaged or dirty.
There is no logic to compromising your investment in a very expensive stroller.
Before getting a stroller bag, you need to put some things into consideration so that you can make a satisfactory purchase.
Considering all the factors that go into purchasing a stroller bag, the Compono stroller bag is highly recommended because of its overall quality. It's large enough to fit almost all strollers, it's designed to protect your stroller from dust, dirt, and rain (100% water resistant) and its closure system has a velcro cover flap to keep water and grime from coming in.
Now choose which suits you the most.