We all know how flying with toddlers can be a really challenging experience for parents: navigating the airport with kids and dealing with the stroller and your bags through security is not easy. So we interviewed several flight attendant moms and asked them what stroller they would recommend for air travel and the reasons why. This article is a condensed summary of what they recommended.
Note: all the models listed below are compact and small enough to fit into an overhead compartment. These strollers can be really helpful when having a layover or long tiring walk to baggage claim.
Below you'll find strollers for every need and every budget. From those that you can pull behind like a suitcase to the ones that you can fold up easily with one hand.
The winner and best overall is the BabyZen Yoyo.
The best overall
BabyZen Yoyo
Babyzen YOYO+ Stroller - Black
Includes frame and 6+ color pack
Extremely compact when folded (52 x 44 x 18 cm).
Fits in the smallest spaces and in the overhead compartment of an airplane
One-hand folding, unfolding, and driving
Exclusive "soft-drive" system: no need to lock the front swivel wheel
Known as the YOYO, this was the first luxury compact stroller and a best-seller for parents that like to travel.
It is one of the most compact, lightest and most easily maneuvered strollers you can find.
Its construction makes it easy to use and efficient when traveling not only with a toddler, also with an infant.
The BabyZen Yoyo comes with a reversible backrest to make babies comfortable especially for sleeping.
It has a carrying strap which makes it easier to carry with other things while traveling.
It also comes with a rain cover, an under-seat storage basket and a travel bag an airline certified size.
It is also designed in such a way that it can be folded, unfolded and used with just one hand.
Dimensions when folded: 20.47"x17.32"x7.08"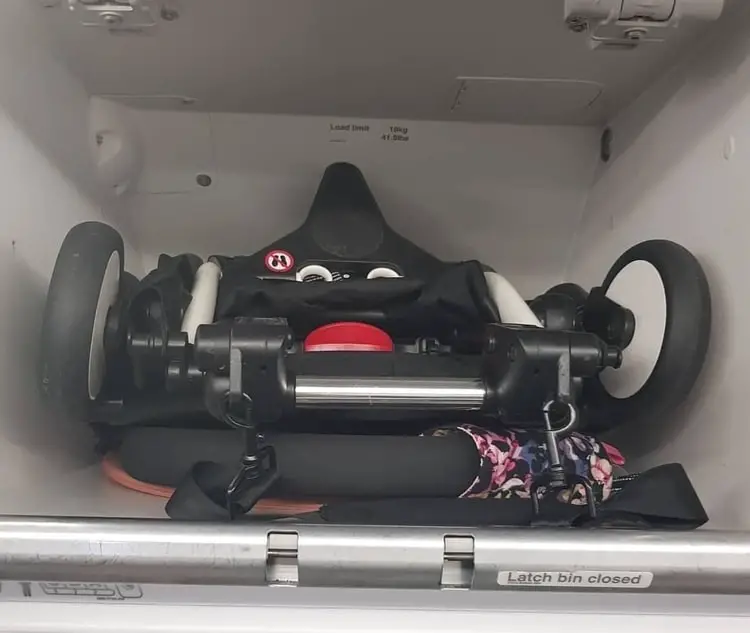 Pros
It has a very lightweight (less than 7 kg/13lbs) and small, perfect for tight places
One-hand folding, unfolding and driving
Deep Reclining backrest
Built-in carrying strap
Smooth ride over flat terrain
Under-seat storage basket
Airline certified size travel bag included
Compatible with most infant car seat
Fabrics are washable
Good canopy
Cons
It's on the pricey side
The handlebar is not adjustable
Budget alternative to BabyZen Yoyo
The clutch stroller by Delta children
The Clutch Stroller by Delta Children - Lightweight Compact Folding Stroller - Fits Airplane Overhead Storage - Aqua
RECOMMENDED USE: For children up to 50 lbs. | Meets Disney size requirements
LIGHT AS A FEATHER: This extremely lightweight stroller weighs 11.7 lbs. easy to take on day trips or vacations
FOLDS UP SMALL: Folded dimensions: 15"L x 5.9"W x 19.7"H | Folded stroller fits in overhead compartments on planes, on subways, in cars, and takes up little space in city apartments
THE SAFEST CHOICE FOR YOUR CHILD: Stroller features a 5 point safety harness | Reflective should pads ensure you and your child can be seen at night | JPMA certified; meets or exceeds and ASTM and applicable CPSC standards
ADDITIONAL FEATURES: Spacious undercarriage storage provides room for all of you child's essentials | 5.5" wheels | Swivel front wheels with suspension (for easy maneuverability and a smooth ride) | Fully assembled dimensions: 29.5" L x 18.5" W x 39.8.1" H
It's lightweight, folds easily and easily maneuvered.
It also has a reflective shoulder pad and a spacious undercarriage storage suitable for keeping essentials.
The maximum child weight capacity is 50 lbs.
Dimensions folded: 15"x5.9"x19.7"
The lightest travel stroller
Graco Jetsetter Stroller
Graco Jetsetter Stroller, Balancing Act, 1 Count (Pack of 1)
One-hand, ultra-compact fold is convenient and fast for days on-the-go. The stroller depth is 33.5 inches and the stroller seat width is 11.5 inches
Compatible with any Graco Click Connect Infant Car Seat
Ultra-lightweight stroller weighs less than 14 lb. Stroller Width-20.38 inch. Stroller Height-41.75 inch
Included tote-style carry bag transports stroller when not in use
Canopy and visor extension shades your child
The Graco Jetsetter is ultra-lightweight (14lbs),which makes it easy to carry, lift and push.
It comes with a carry handle, a strap, and has a one-hand fold.
It is capable of supporting a child up to 50 lbs and it has a multi-positioning reclining seat to make the child comfortable.
The stroller comes with a carry bag to keep the stroller safe when transporting or storing away.
It has a canopy and visor extension which protects the child from the sun.
This stroller is also compatible with the All Graco Click Connect infant car seats
Dimensions when folded: 20.5"x9.5"x21.8"
Pros
One-hand fold
Canopy and visor
Easily accessible storage basket
Zippered carry bag included
Removable padded armbar
Car seat compatibility
Shoulder strap for transporting the stroller easily
Low price
Easy to set up
Easy to use
Cons
It is a bit hard to maneuver (hard to push)
There has been some durability complaints.
Alternative to Graco Jetsetter Stroller
Gb Pockit all-terrain compact stroller
Sale
gb Pockit Air All Terrain Ultra Compact Lightweight Travel Stroller with Breathable Fabric in Velvet Black
The revolutionary ultra-compact folding mechanism of the Pocket Air All-Terrain reduces the stroller into a handbag-shaped package in seconds and is airplane hand luggage compliant.
Take to the skies with confidence. The ultra-compact folding mechanism of the Pocket Air All-Terrain is airplane hand luggage compliant, freeing you to travel with your stroller without hassle
Weighing only 4.6 kg, the Pocket Air All-Terrain is the perfect travel companion. Its super-lightweight frame is easy to man oeuvre, lift and carry. Perfect for the city, on vacation, or just being on the go.
The backrest of the Pocket Air All-Terrain is designed with a breathable mesh fabric that provides comfort for your child even on hot days. Available as an accessory, a snug padded inlay can be added to the seat unit for additional warmth on cooler days.
The double wheels of the Pocket Air All-Terrain increase both comfort and usability, allowing parents to confidently man oeuvre on different surfaces and ensuring you'll never get stuck in between cobblestones.
It is a good traveling stroller designed to withstand a variety of terrains, you'll never get stuck in cobblestones with this all-terrain stroller.
It comes with a carrying bag and it's easy to maneuver, lift and fit under airplane seats or overhead compartments.
The biggest complain is that there's no reclining option on this stroller.
Weight: 10.6lbs
Dimensions when folded: 11.8"x7.1"x15"
Best strollers for big or tall toddlers
Maxi-Cosi Lara Stroller
Maxi-Cosi Lara Lightweight Ultra Compact Stroller, Nomad Black, One Size (CV364ETK)
Travel with your little one and enjoy your day out and about with this ultra-lightweight and compact stroller, designed for families on-the-go.
Weighing only 14 pounds, the stroller maneuvers easily with one hand, even into small spaces, and folds up compactly to carry inside or upstairs with a built-in carry strap.
Double-decker easy-to-access storage baskets, accessible from the rear, provide plenty of space to store extra diapers, spare clothes, snacks, and even a few of your own items.
Upright and reclined riding positions allow your child to explore or nap. Breathable seat pads keep your baby comfortable and cool, the Maxi-Cosi Lara stroller sun canopy is UV proof (SPF 50)
This stroller is designed for children up to 50 pounds that can sit upright on their own.
The Maxi-Cosi Lara stroller is ultra-compact and very light, which is why it is easy to use, maneuver and travel with on planes.
One of the things this brand is well known for is the comfortable seat.
The seat is designed to give the baby ultimate comfort, and make sleeping easier, comfortable and enjoyable.
It can be maneuvered with just one hand and it is also foldable.
The stroller comes with a double-decker storage basket which is placed at the back for easy accessibility.
It has a multi-recline function which adds to the child's comfort.
The peek-a-boo window is also great for checking up on the child.
The maximum weight limit for this stroller is 50 pounds and it has an extended canopy which protects the baby from harmful ultraviolet rays.
Dimensions folded: 19.7"x19.7"x9.8"
Pros
Lightweight
Foldable
Can be maneuvered with one hand
Extended canopy
Maximum weight of 50 pounds
Double-decker baskets that are easy to access
Upright and reclined positions
Peek-a-boo window
Great price
Comfortable seat
Cons
It's only meant for children that can sit right on their own
Doesn't come with a strapping bag
The small wheels are not great for rough surfaces
It requires setting up
Best Stroller to Carry Around
Bugaboo Ant Stroller
The stroller is designed to be rolled around like a suitcase, it's very light and it is easy to maneuver with just one hand.
It is capable of supporting a child's weight of up to 50 lbs.
There is a spacious storage basket that is placed at the rear for easy accessibility and another under-seat basket.
The seat is reversible and reclinable.
Dimensions folded: 9.03"x14.96"x21.65"
Pros
Reversible and reclinable seat(upright and gentle recline and almost flat)
A rear basket and an under-the-seat basket that you can even use when the stroller is folded
Peek-a-boo window
Big canopy
Adjustable handle bar that rotates
Easy to carry
One-hand fold
It can be pulled behind like a suitcase when folded
Cons
Learning how to fold it might take a while
The almost flat position is only possible when the seat is facing the parent
It is a bit pricey
The hood is a little low to accommodate tall toddlers
Budget Alternative to Bugaboo Ant Stroller
Amzdeal travel stroller
No products found.
This stroller is sold at a reasonable price and it comes with a lot of features.
These features include an adjustable seat, a large basket, a removable bumper, a comfortable foot rest, brakes and a peek-a-boo window.
Best compact stroller for naps on the go
Baby Jogger city Tour 2
Baby Jogger City Tour 2 Single Stroller, Slate
Newly redesigned, with infant car seat compatibility
Ultra compact one hand fold and auto lock.Care & Cleaning: Spot or Wipe Clean
Three ways to ride for infants and toddlers
Lightweight rubber tires; locking front swivel wheels
Adjustable calf support provides comfort for your growing child
It can be folded fast and it is great for small spaces.
The weight is light and the maximum child weight is 45 lbs.
It is also compatible with infant car seats and a new Baby Jogger City Tour 2 Carry Cot.
It comes with an adjustable calf support which gives the child's leg comfort.
The canopy is a UV 50+ canopy, with an extension panel, which has a peek-a-boo window.
The front swivel wheels and suspension system give your baby a smooth ride for any city surface (pavement, cobblestone, grass, etc)
Dimensions folded: 21.6"x16.9"x6.8"
Pros
Ultra-compact, fits well in small spaces
One-hand fold
Suitable for newborn babies (compatible with infant car seats and Baby jogger City Tour Carry Cot)
Deep, comfortable seat with adjustable leg rest
One-handed recline with nearly flat position, good for naps
Compatible with infant car seats
UV 50+ canopy with an extension panel and a peek-a-boo window
Lightweight
Two decent size storage baskets (one at the front, one at the rear)
Comes with a travel bag
Cons
No self-standing fold
5 points safety harness, not so convenient to use
Most Versatile stroller
Mountain Buggy Nano Stroller
Mountain Buggy Nano Stroller, Black
Infant car seat ready ; no need to purchase additional adapters and now has a soft shell cocoon carrycot available (sold separately) for newborns
New, narrower compact size at just Dimension - 12 x 22 x 20 inches (Folded) with 44 lb. weight capacity and suitable for children up to 4 years
Easy two-step, compact fold meets regulations for airline carryon luggage. Travel bag and shoulder strap included
NOTE FROM THE MANUFACTURER: Please know that by design - there are no screws on one side. This makes for easy replacement of the hood if necessary. Screws are not needed to connect the canopy to car seat
New features for 2016 model include: 30% deeper recline, 1"narrower width, greater sunhood coverage, solid flip-out visor, ultra slim line wheels and sun mesh extension with a fabric overlay (for winter coverage) when seat is reclined
The Mountain Buggy Nano Stroller is lightweight and reasonably priced.
It is an ultra-compact baggage stroller that fits easily into overhead compartments.
It is equipped with a universal car seat adaptor which can be used with many common car seat brands.
The hood is 3 paneled and there is a curb pop which makes curb hopping easy during travels.
It also comes with a shoulder strap and a travel bag for easy carrying and safe-keeping.
It has a maximum child weight capacity of 19 lbs.
Dimensions folded: 22"x20"x12".
Pros
Universal car seat adaptor
Ultra-compact
Shoulder strap
It can be used with a cocoon for babies
3 paneled hood
Easily maneuvered
Rear-wheel suspension
Ultra-compact fold
The storage space doesn't sag
Wheels are good for sidewalks, gravel, paths and cobblestone
Comes with a travel bag
Not expensive
Cons
Small storage space
The canopy is small
No cop holder
No parent and child tray
No one-hand hold
Easiest to fold stroller
UPPAbaby MINU Stroller
MINU Stroller - Jordan (Charcoal Melange/Silver/Black Leather)
Suitable for children 3 months up to 50lbs
One-hand action fold with shoulder carry strap, Stands when folded.Do not use abrasives
Hand-sewn, leather handlebars with perforated pattern for extra grip
Multi-position reclining seat with 5-point harness
Easy access, large basket & Storage pocket to keep essentials (e.g. keys, phone) within reach
The UPPAbaby MINU stroller has a maximum child capacity weight of 20 lbs and it is suitable for children up to three months old.
The handlebars are perforated hand-sewn leather (for getting a good grip) and the seat is multi-position reclining.
It stands when folded and it comes with a shoulder strap so that it can be carried with ease.
The basket is large and there is also a storage pocket, which is easily accessible.
The canopy is also big enough to protect the baby from harmful rays and it is equipped with a magnetic peek-a-boo window for checking up on the baby.
The wheels are not designed for rough terrains which is why it is more suitable for city life.
Its brake is also very easy to use and it has two pedals which le you lock and release the stroller.
Dimensions folded: 20.5"x23"x11.5"
Pros
Compact fold
The peek-a-boo window is magnetic
Canopy and sun visor
Easily accessible large basket and storage pocket
All-wheel suspension
Cons
No one-hand hold
The wheels are not suitable for very rough surfaces
The handlebar cannot be adjusted
Budget alternative to UPPAbaby MINU Stroller
Besrey stroller
No products found.
It is a compact and affordable stroller that comes with a foldable backrest cover, a footrest, a very large storage basket and a removable cloth cover for easy cleaning and maintenance. It's also equipped with a peek-a-boo window, a reflector, wheels and a one-step brake.
Dimensions folded: 18.6"x9.5×22.9"
Most comfortable padded seat
Ergobaby Metro lightweight stroller
No products found.
It is a compact one-hand fold stroller.
One of the distinguishing features of this stroller is the very cushy and comfortable padding.
An additional bonus is that it is well padded with plushy and cushy padding which makes it very comfortable; the seat pads are also designed to support the baby's head back, bottom and legs.
The tires are large enough to withstand rough surfaces and it has a UV 50 sun canopy for shading the baby.
The comfort and the ease with which this stroller can be maneuvered makes it very comfy for babies.
It is also equipped with an under-seat storage basket and a back pocket for keeping essentials.
Dimensions folded: 20.8"x16.9"x9"
Pros
One-hand fold
Super comfortable padding
Good for rough surfaces
UV 50 sun canopy
Removable and washable seat pads
Compact
Easily maneuvered
Supports the baby's head, back, bottom and legs
Cons
Just a little bit expensive
Not easily set up
Best value stroller
Born Free LIVA stroller
born free LIVA Compact Fold Stroller - Lightweight Stroller with Compact Fold and Lightweight Frame - Oversized Canopy and Large Storage Basket
COMPACT FOLD – The born free LIVA compact stroller has a one-hand, self-standing compact fold with a small footprint and lightweight frame (16 pounds).
ALL-IN-ONE SOLUTION – This portable stroller can be used from birth with Graco SnugRide Click Connect, Chicco KeyFit 30, and Chicco Fit 2 car seats - no adapters needed!
OVERSIZED CANOPY – Great to use as an umbrella stroller, the LIVA has an oversized canopy with pop out sun visor and peek-a-boo window.
LARGE STORAGE BASKET – The born free LIVA includes a large storage basket for your on-the-go needs, making it the perfect option for a travel stroller.
ADDITIONAL FEATURES - multi-position recline, storage pocket, parent cup holder, cell phone holder, sippy cup holder, adjustable leg rest, bumper bar, smooth glide wheels, flip-flop brake, auto lock, padded carry strap, 5-point safety harness, carry bag
This lightweight stroller is compact and great for traveling.
The cost is also pretty great considering the quality.
It has the one-hand function and is easily maneuvered, which makes it very easy and efficient to use.
The fabric of the Born LIVA stroller is of high quality and the stroller is also equipped with a parent cup holder, a child cup holder, a brake that is easy to use and effortlessly gliding wheels.
It is also compatible with the Graco SnugRide Click Connect, Chicco KeyFit 30, and ChiccoFit 2 car seats.
The oversized canopy is perfect for shielding the baby and it is equipped with a sun visor and a peek-a-boo which is useful for checking up on toddlers.
Also, thanks to the 5-position safety harness, it can be reclined in multiple positions.
For storing essentials, there is a storage basket (capable of holding up to 25 pounds weight) and a parent pocket.
It also has a cup holder and a cell phone holder that can be switched and removed.
It comes with a carry strap and a carry bag which makes traveling easier.
Dimensions folded: 21.5"x20.5"x14.5"
Pros
Easy to use
Big canopy and sun visor
Multi-position recline
Big storage basket
Parent pocket
Removable cup holder
Removable cell phone holder
Peek-a-boo window
Carry strap
Carry bag
Smoothly glide wheels
Durable
One-step brake
Affordable price
Good quality
Easy to maneuver
Easy one-hand fold button
Cons
Only compatible with 3 specific car seats.
Not as light as other strollers 16lbs
The verdict
Being a parent, especially a mom, is not all that easy and buying a compact stroller is like giving yourself a gift to help cope when you have to travel.
Now, after thoroughly examining all the qualities of the listed compact strollers, the BabyZen Yoyo stroller is our top pick for traveling on an airplane.
The Yoyo stroller is an ultra-compact stroller that becomes really small when folded, which is a quality that makes it perfect.
If you think of travel, this is your stroller. In fact, it compacts so well that it is hard to find any other stroller that reduces to that size when compacted.
It's been awarded as the stroller of the year and it's worldwide famous for its compactness, magic folding, and sleek design.
Buyer's Guide
What to consider before buying a stroller for flying?
1) Go for a compact stroller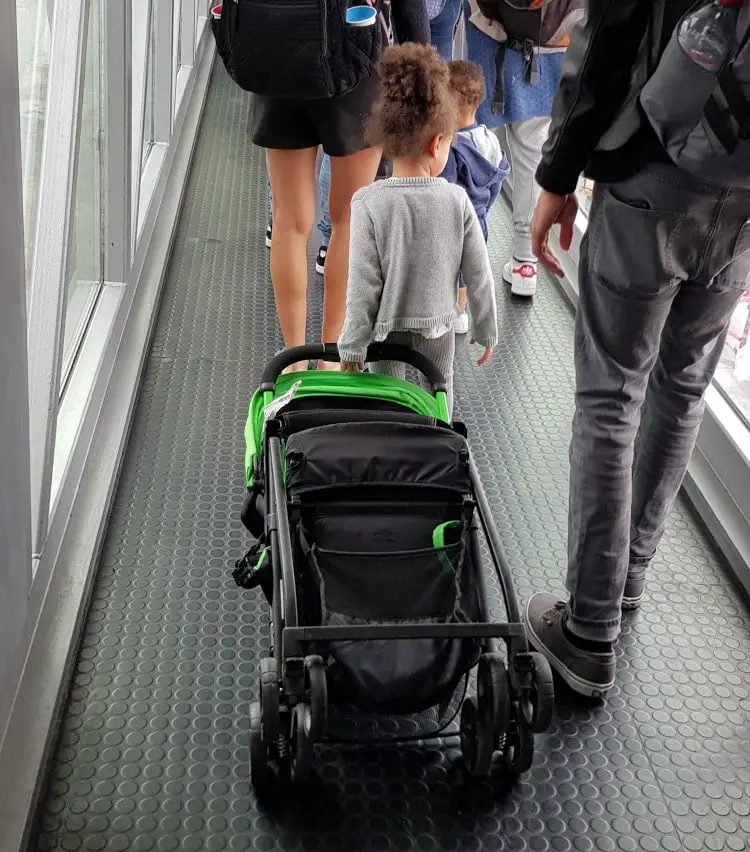 All types of strollers are allowed on planes but a compact stroller is the best option for air travel.
This is because it can easily go into an overhead compartment when it's folded.
That way, you are able to avoid wasting precious time and get going immediately instead of waiting at the baggage claim to pick it up at the carousel after you land.
Other kinds of strollers will have to be checked at the gate and are not permitted as carry-on baggage.
Note: Most airlines will deliver strollers down very few airlines bring back your stroller to the aircraft door.
2) The smaller, the better
It's best to go for a compact stroller that is not bigger than the size of a carry-on bag after it has been folded.
You should check what luggage dimensions the airline you plan to use allows, because airline allowances on cabin baggage may be different.
For example, in order to fit it in the overhead compartment, British Airways require these maximum dimensions to their customers: 117cm x 38cm x 38cm /46in x 15in x 15in (when the stroller is collapsed). Like us, they even recommend the YOYO stroller!
3) Easily foldable
Parents usually have a lot going on when traveling with a baby. It could even be more stressful when it's just one person traveling with a baby.
Handling everything and a baby could be quite a task, so, go for a one-hand foldable stroller and a baby carrier to make things easier. That way, your hands are free to do other things.
4) Lightweight
Look for a lightweight stroller. When traveling with a baby, there is usually so much to carry at once.
Choosing a light baby stroller will make a difference and reduce the weight of all you have to carry.
5) Easy to carry
Some baby strollers come with a strap and there are those that can be pulled like a luggage too.
These make it possible to exert lesser force in moving the strollers.
6) Strong and durable
Strollers that are made with good materials and well made are usually strong and durable.
Make sure you do some research before buying any stroller.
Read reviews and ask for people's opinions.
You should also check the types of materials used to make them so that you can assess how durable it will be.
Those made with good materials may cost a bit much but they usually last longer.
It would be sad to have a stroller fall apart after only using it for a while.
7) Washable covers
Some strollers come with washable covers.
Those types are better because they make it easier to clean and maintain.
It's also better for the health of the baby.
Tips for flying with a stroller
Use a stroller bag. A stroller bag will protect it from dirt and getting damaged.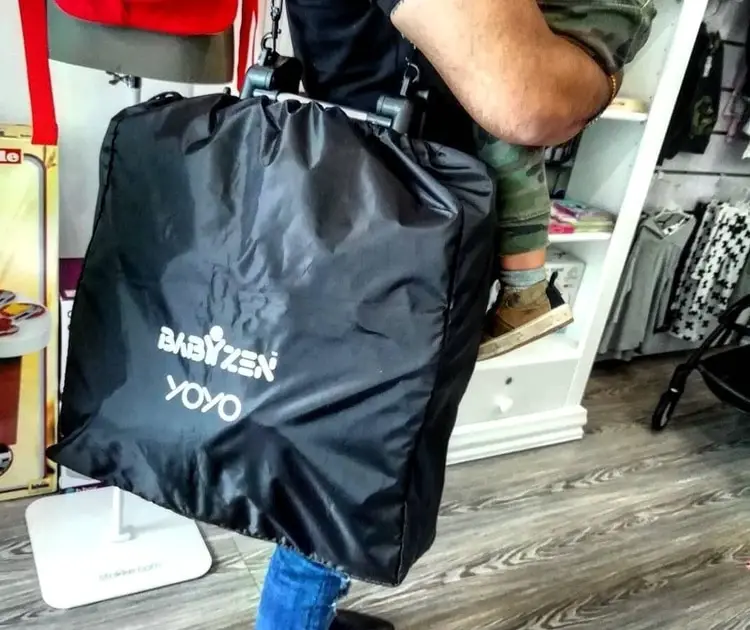 When you are traveling with kids, you have priority boarding. Make sure you are one of the first people to board. If you don't do this, you might not be able to find any space in the overhead compartments for your things. You could end up having to separate your things or everything, including your compact stroller, could end up in the hold compartment.
If things don't go as planned and your stroller ends up in the hold compartment, you'll have to wait for it at the belt. If something goes wrong and it doesn't arrive at the carousel, check the oversized baggage claim area – that is were some airports put it.
FAQ
What are the best advantages of buying a compact stroller?
It's light. You can have it on the plane with you and you can easily put it anywhere.
I already have a stroller, do I need more than one stroller?
It depends on what you want, although, a compact stroller is recommended if you travel a lot.
Should you buy a second-hand stroller?
No, there is no need. There are brands that are good and inexpensive. Baby Trend Trifold Mini Stroller is one of them.
How to protect your stroller when flying?
Get a stroller bag to keep your stroller clean and protected. It's also a good way to keep all the parts or accessories together and to store some extra baggage if you need more space.  Try Anikaio stroller bag for airplane
Do airlines charge for a stroller?
Not usually. It's normally included in the ticket fare but always check before with your airline.
Can you bring double strollers to the plane?
You can bring any stroller to the airplane door but it will be taken to the hold compartment unless it's a compact stroller.
Last update on 2023-09-19 / Affiliate links / Images from Amazon Product Advertising API