If you are looking for some guidance on buying your pilot sunglasses and you are not sure where to start, we can help you find the right pair of sunglasses to meet your individual needs.
Don't stint on the money when it comes to your pilot sunglasses. They are a very important tool for pilots when it comes to flying, and cheap ones will always let you down. Always. The following is a list of glasses that are all of high quality and are designed to fit a pilot's needs.
Best overall:
Randolph Aviator Sunglasses
Our rating:
Randolph sunglasses have been handmade in Boston, Massachusetts, since 1973. Their quality is built in such high standards that Randolph is actually a contractor for the US military pilots and produces thousands of frames just for pilots WorldWide.
A single pair of Randolph sunglasses takes six weeks to build, and it is designed to last a lifetime. That's why the brand has enough confidence to be able to offer a life-time warranty on the frames.
What we like most is the unique and iconic bayonet temples, designed for the perfect fit and comfort.
Main Features:
Handmade in America
Size: 55 mm (medium size)
20mm bridge
Bayonet temples
Grey lens to provide true color perception (but many other colors available)
100% UVA and UVB
Lifetime warranty on the frames
Runner-up, best overall:
Randolph Concorde Sunglasses
Our rating:
These sunglasses are named after the famed Concorde supersonic airliner.  They are built to meet the same military standards as Randolph Aviator sunglasses.
Each pair is handcrafted in the US using more than 200 steps.
They have the classic tear-drop shape made famous in World War II and probably have the most technological specs of any glasses in this list.
Often compared to Ray-Ban sunglasses, these sunglasses are on a bit of a wave right now and have eclipsed their competitor. In terms of price and visibility, they are both equal, but in terms of frame, the Randolph is definitely thicker and feels more solid.
With luxury finished frames and great attention to detail, these glasses are well worth the investment and top our list.
Main Features:
Size: 57mm
15 mm bridge
Skull temples
Lifetime warranty
100% UVA AND UVB protection
Best Aviator sunglasses:
Ray-Ban RB3025 Aviator Classic Sunglasses
Our rating:
The original Aviator style sunglasses and one of the most iconic sunglasses in the World.
Their popularity mushroomed when movie celebrities like Marlon Brando or Tom Cruise started wearing them.
Since then, they have become one of the most emulated sunglass styles with all manufacturers launching an aviator style model.
They come in a wide range of colors and sizes and look very stylish on both male and female pilots.
I guess being an Italian product helps.
Main Features:
Size chart:
55mm: Small to Medium fit
58mm: Medium to Large fit (The 58 mm seems to be the best fit for the average male face)
60mm: X-Large fit
Frame: Metal
Lens: Non-Polarized
U.V. protection: 100%
Best pilot sunglasses for small faces or women:
Ray-Ban Classic Aviator Women's Sunglasses (small)
Our rating:
These smaller glasses are suitable for both men and women. They are a perfect fit, comfortable, and the right size for a small or narrow face.
Main Features:
Size:  52 mm: X-Small fit
Frame: metal
Lens: glass, non-polarized.
Best Aviator alternative:
Ray-Ban Cockpit Aviator Sunglasses
Our rating:
This is another Unisex range from Ray-Ban. A modernized version of the Aviator style with an updated lens size and color options. They are slightly smaller, slightly less teardrop shape, and way more flattering if the classic aviator style doesn't look right on your face.
Main Features:
Size: 56mm
Frame: Metal
Lens: Non-polarized and fully U.V treated. Note that there are different treatment options available, including a gradient lens.
Best sunglasses for driving, working and everyday use:
Serengeti Velocity Sunglasses
Our rating:
These are the most popular sunglasses that Serengeti sells.
They make no secret of the fact that they were designed for driving, but there are plenty of people in the aviation game who are more than happy with them for flying.
Highly recommended if you are a pilot. The gradient lenses work well in providing optimal viewing under a variety of lighting conditions and they make it easier to read the flight instruments.
These glasses have a loyal following, which is never a bad thing when you're talking about product quality.
Main Features:
Frame: Titanium
Lens: Glass. Non-polarized. Note: some of the Serengeti Velocity range are polarized, so make sure which one you're purchasing.
These are also photochromic, so they lighten or darken according to the conditions.
Temple: 130 mm long with spring hinges
Silicon gel nose-pads for comfort.
Best affordable pilot sunglasses:
AO Original Pilot
Our rating:
No products found.
American Optical has a pedigree second to none in the world of aviation glasses. They go back 50 years and many a military pilot has fond memories of them. With its contract for the armed forces heritage, these glasses are specially designed to be easily put on and taken off if you are wearing a helmet.
They are comparable in quality, comfort, and aesthetics to Randolph Aviators. But they are much cheaper.
Main Features:
Size: 55 mm
Frame: Metal
Lens: Glass, non-polarized
Self-adjusting nose pads
Bayonet temples
They come in just the one color – grey, which is the best for bright overhead sunlight
1-year warranty
Best lens technology:
Bigatmo Tropo aviator sunglasses
Our rating: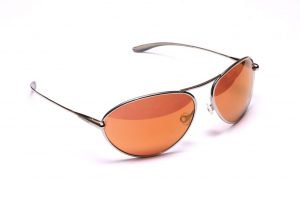 >> Check on their website <<
Bigatmo is a British company that has developed a unique range of technically superior sunglasses now chosen by a wide array of pilots from around the globe.
These have been designed to be worn easily and comfortably with your headset. With their bayonet temples, they are lightweight but very robust.
Bigatmo takes their relationship with the aviation industry very seriously and regularly consult and work with those at the sharp end. They have married style to practicality very, very well.
Main Features:
Frame: Polished titanium
Lens: Non-polarized, photochromic, unmarried
Silicone nose pads
Best sports sunglasses:
Oakley Men's Crosshair Aviator Sunglasses
Our rating:
These have Oakley's patented scratch-resistant Plutonite lenses, which filters out 100% UVA, UVB, and UVC. These too are non-polarized with polarized options available.
Very sporty "Aviator" style frames, with a slightly "squarish" shape.
These glasses are more sports glasses than specialist aviation sunglasses, but they serve the purpose very well.
They are extremely comfortable, they sit firmly on your head and go under your headset easily.
Main Features:
Size: 61mm
Frame: Metal alloy
Lens: Synthetic
100% filtering of UVA, UVB and UVC rays
Best Bifocal sunglasses for pilots:
Dual Eyewear SL2 Sunglasses with Readers
Our rating:
These reading sunglasses were born of necessity and this Colorado firm is the leader in this field. Their suggestion is to select a magnification that is slightly less than the one you use for reading because the distance to your instruments is, of course, further.
They are designed for people who engage in physical activities such as biking, but they are also used by pilots who a combination of sunglasses and instrument reading glasses.
Main Features:
Lens: Polycarbonate. Colors come in grey, yellow and clear
Magnifications: x1.5, x2.00, x2.5
BUYING GUIDE: What to look for in Pilot Sunglasses?

I know, even choosing your pilot sunglasses from the list above is not easy, with so many brands and features available. Check out our guide to learn how to buy the perfect pair for you. 
Here are some pointers about what to look for when making your choice.
Polarized or non-polarized?
Non-polarized, every time.
FAA Recommendations for buying Sunglasses for pilots
This Federal Aviation Administration brochure is all about giving you advice on what to look for when buying sunglasses and non-polarized glasses are not recommended for flying.
Here is why they don't recommend you to use polarized lenses for use in the aviation environment:
Most LCD displays in your cockpit already emit polarized light and incorporate anti-glare filters. So using polarized lenses can reduce or eliminate the visibility of those LCD displays or instruments.
Polarized lenses may also interfere with visibility through the cockpit's windscreen. You'll even see a blend of colors at certain angles (rainbow effect).
They can also diminish glare off an approaching aircraft's windscreen, which can reduce the time a pilot has to react in a "see and avoid" traffic situation.
If you want to choose the right pair of sunglasses for flying, avoid polarized lenses.
Watch this video to compare polarized vs non-polarized sunglasses when looking through cockpit windscreens
What color tint?
Modern sunglasses come in many shades of tint, but you should only choose the ones that optimize visual performance while minimizing color distortion.
And the one that distorts colors the least is grey, so it's the recommended choice. Grey is more neutral and natural to look through.
Also grey-green and brown offer high contrast and increase visual acuity.
Temples: Skull temple or bayonet temple?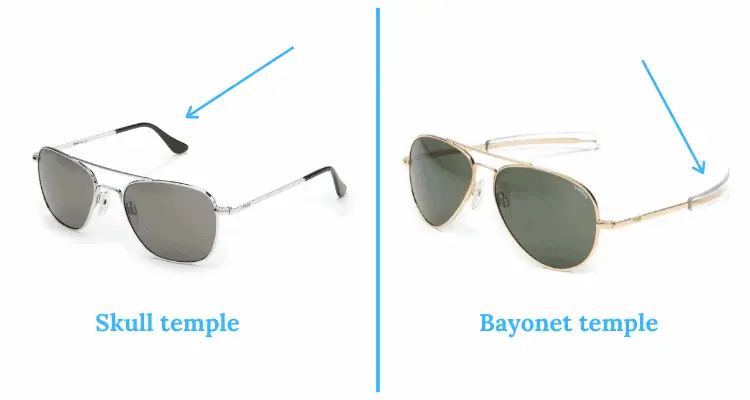 The design of an aviator's sunglasses should be comfortable and easy to put and remove while wearing headsets or a helmet.
Bayonet temple's arms are straight, allowing for quick and hassle-free placement and removal. This is the best choice if you are wearing a helmet or any kind of headgear.
Skull temple arms curve down over your ears, making them more difficult to remove if you are wearing a helmet or protective breathing equipment (PBE) but for some people, they fit better and they can prevent your sunglasses from being dislodged.
Why not photochromic?
Photochromic lenses react with UV radiation by darkening. As the cockpit windshield blocks out UV rays, these lenses will not work as effectively in the cockpit environment. The use of these sunglasses is therefore normally discouraged unless you use the Bigatmo or Serengeti photochromic sun lenses which are tested intensively for pilot use.
UV protection
Sunglasses are essential for people exposed to high levels of Ultraviolet (UV) light.  Definitely choose sunglasses that are clearly labeled as being able to filter 100% of UVA and UVB rays.
Last update on 2023-09-20 / Affiliate links / Images from Amazon Product Advertising API