One of the most stressful and most exciting things about becoming a new hire flight attendant is getting assigned to your first base.
At American Airlines the instructors hold a base assignment ceremony to make the moment extra special.
There are actually quite a few logistical factors that go into assigning flight attendants to their initial base or domicile.
So, if you're curious how this process works at AA read along.
Where are American Airlines Flight Attendant Bases?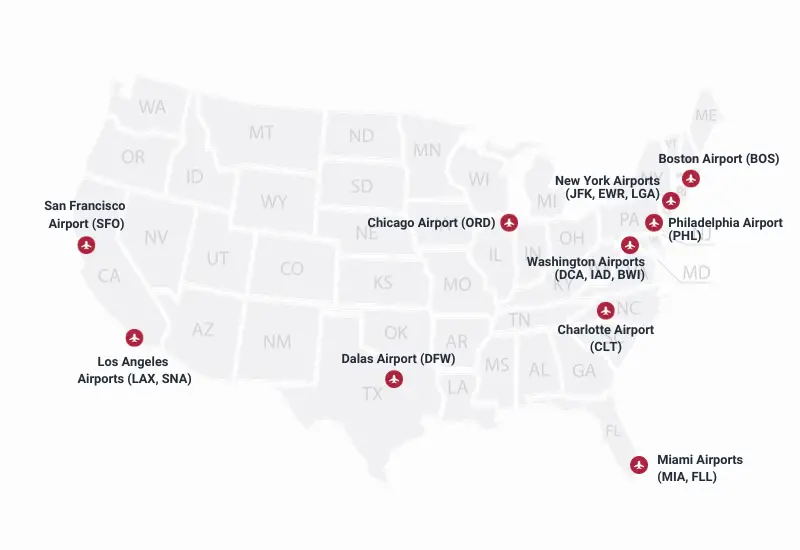 American Airlines currently has flight attendant domiciles in nine major cities across the US:
Boston, Massachusetts (BOS)
Charlotte, North Carolina (CLT)
Chicago, Illinois (ORD)
Dallas/Fort Worth, Texas (DFW)
Los Angeles, California (LAX, SNA)
Miami, Florida (MIA, FLL)
New York City, New York (JFK, EWR, LGA)
Philadelphia, Pennsylvania (PHL)
San Francisco, California (SFO)
Washington, DC (DCA, IAD, BWI)
Note: some of these bases actually serve multiple airports. So, if you are based in NYC, for example, you might have to fly out of JFK, LGA, and EWR (Newark).
There are two other bases I did not mention:
Raleigh-Durham, North Carolina (RDU)
Atlanta, Georgia (ATL)
These two airports are considered satellite bases.
Satellite bases tend to have fewer than 100 flight attendants "in-base," the rest are located at the larger base that feeds it.
Can You Pick Your Base as A Flight Attendant?
Short answer, yes! Long answer, it depends on which bases have vacancies while you are in training and whether or not you have a language qualification.
As a new hire, you will be assigned your first base during your initial qualification training (IQT).
The process usually begins during the third week of training when they will let you know which bases are currently available to new hires.
Historically these bases have been, ORD, CLT, DFW, BOS, DCA, MIA.
That's because these bases are large, growing, and/or comparatively junior.
During training, you will bid for your first base by ranking which bases you want in order from highest to lowest priority.
Will AA Give You the Base You Want?
To put it bluntly, it depends on your seniority.
During training you will be given a seniority ranking based upon your age relative to your other classmates.
The older you are, the more seniority you have, and the more likely you will be to get your first-choice base.
On the flip side, if you are one of the youngest in your class it is possible you will be assigned a base that was lower on your priority list.
Note, there is one very important caveat to this if you are a language speaker!
As a qualified language "speaker" you will be limited to bases that fly to your linguistic destination. You might even get assigned to a base that wasn't an option for your classmates. For example, in my class the Japanese speakers were assigned to LAX, even though it wasn't an option for anyone else.
Are All Bases Open to New Hires?
No. Unfortunately, not all bases will be open to new hires.
Satellite bases, for example, will never be open to new hires.
Only bases with vacancies at the time of your training class will be available to you as a new hire at American.
That means the available bases are constantly changing and your class might have different options from the classes before and/or after yours.
How to Get a Transfer and How Long Can It Take?
American Airlines does not "lock" its new hires into their initial base during probation.
So, if you didn't get initially get awarded your dream base, you are able to put in a transfer request as soon as you start flying. 
How long it takes for that request to be granted depends on staffing requirements at the base you want to get into.
American has two types of transfer options:
Vacancy transfer: granted when a vacancy opens up in your target base, due either to base growth, or flight attendant retirements, awarded in seniority order.
Mutual transfers: granted when two flight attendants mutually agree to swap bases.
Depending on the base it can take years to get your transfer award. This is especially true for satellite bases and SFO. Transfers between larger bases, on the other hand, can happen quite quickly.
What is Better a Smaller Base or a Bigger Base?
There are pros and cons to both, and it really depends on what you want from your flying and your career.
Here I'll briefly list the pros and cons of each based on my own perspective.
Big Bases
Big bases in the American Network include: DFW, NYC, CLT, MIA, ORD.
| | |
| --- | --- |
| Pros: | Cons: |
| More international flights | You (almost) never fly with the same people twice |
| More chances to commute | Crash pads are pricey! (Higher demand) |
| More junior | |
| You won't get used as much on reserve | |
| It's easier to pick up and trade trips | |
Small Bases
Small bases in the American Network include: RDU, ATL, SFO, LAX, DCA, BOS, PHL.
| | |
| --- | --- |
| Pros: | Cons: |
| You get to know the folks you fly with | It's harder to drop & trade trips |
| Better trip construction | Fewer interesting layover options |
| It's easier to fly high-time | Commuting can be harder |
| | You will be used on reserve |
What is the Best Base for a New AA Flight Attendant?
It's up to you to decide which base would be best for you, but personally, I'm biased towards ORD.
It was my first base, but I also love it for new hires because:
You are only responsible for one airport.
The management at ORD are so kind and so helpful.
The crews at ORD are also very kind and very helpful.
The commuting options are pretty good from anywhere in the country.
It's junior so you'll gain seniority faster.
It's almost always open to new hires.
The trips are well-constructed and there are international options.
 

Voir cette publication sur Instagram

 
Conclusion
No matter what base you are assigned to as an American Airlines new hire flight attendant you are guaranteed to work with a wonderful group of people.
At American, we treat our fAAmily well and we look forward to welcoming you to any one of our regional bases.
Similar Posts: