It's never fun to watch a plane you thought you were supposed to be on push back without you on board, but this is a pretty common experience if you ever travel standby.
Standby is a system airlines use to allow passengers onto planes with empty seats. 
For paying customers, choosing to fly standby gives you a chance to take an earlier flight, or potentially even change your flight itinerary entirely. For employees, flying standby is one of the perks of working for an airline because you can usually fly standby for free.
But it's a confusing and often stressful system and each airline runs its standby system differently.
In this short guide we will explain everything you need to know about flying standby on American Airlines. 
💡 Key Takeways

Standby Types: American Airlines offers three standby options: Missed Flight, Same Day Flight Changes, and Employee Standby.
Priority: Your priority on the standby list can be enhanced through early check-in.
Roll-over: If you miss a flight, you can roll over to the next flight's standby list.
Strategies: Checking flight loads, having alternative plans, and being patient can increase your chances of standby success.
Backup Plan: Consider purchasing flexible fares as they are fully refundable and can serve as a reliable backup option
Understanding American Airlines' Standby Policy
At American Airlines there are three reasons one might fly standby.
Missed Flight Standby
Same Day Flight Changes
Employee Standby
The people in these groups are assigned different "pass levels" that determines the order of priority they are given on the standby listing for a given flight.
People who are standing by for a flight they missed or people who have opted to do standby for same-day flight changes are considered "revenue standbys" because they are paying customers who are generating revenue for the airline.
Employee standby travelers are considered "non-revenue standbys" because they are flying for free and do not generate revenue for the airline.
Revenue standbys receive top priority on the standby listings for their flights.  
Missed Flight Standby
Missed flight standby is the most common type of revenue standby passenger at American Airlines. These are folks who missed the flight they were originally supposed to be on due to delays or cancellations (in other words, the passenger missed the flight through no fault of their own).
If the very next flight to their destination is fully booked the passengers will be placed on the standby list. If there ends up being open seats, the standbys who missed flights will fill them.
These passengers have top priority on the standby list.
Within this group priority is further determined by the following factors:
Airline status: people with elite status will be higher on the standby list. Concierge Keys and Executive Platinum passengers, for example, will have top priority.
Cabin Class: Of course passengers who booked first class over economy will have higher status.
Fare type: Passengers who bought discounted fares such as the Basic Economy or Super Saver fares, will have lowest priority on the revenue standby list.
Bonus note: If you missed a flight and it was your own fault you can still ask to be placed on the standby list, but you will be charged the $75 USD "same day flight changes fee," which actually puts you into the next category we will discuss.
Same Day Flight Changes
American Airlines offers same day flight changes to passengers who booked flexible fares, or for those who pay a $75 fee.
These types of revenue passengers will have slightly lower priority over those who missed their flights due to cancellations or delays but will still come before employee standbys.
To fly standby as a flight change you will to check in as a standby passenger. You can check-in for standby 24 hours prior to departure by calling, or you can do it when you arrive at the airport at one of the check-in kiosks, or by talking to a customer service agent at the ticket counter.
Note that the $75 change fee is waived for the following passenger groups: 
People who paid extra for the flexible economy class fare.
People with premium cabin tickets (business or first class).
Active US Military personnel on orders or traveling for personal reasons.
Active US Military dependents traveling on orders.
American Airlines AAdvantage Executive Platinum, Platinum, or Gold status members.
Oneworld Emerald, Sapphire or Ruby status holders.
Concierge Keys
If you are unable to get on the flight after listing yourself on standby American Airlines will refund the $75 fee and you will simply have to take your originally scheduled flight. 
Employee Standbys
The last type of standby passenger is the employee standbys. These are American Airlines employees, their dependents, and their buddy pass holders.
Employee standbys have the lowest priority on the standby list. Because they do not generate revenue for the airline, they will also be the last to receive empty seats on the plane.
That said, if the employee traveling has the ability to fly on empty jump seats (flight deck for pilots, cabin for flight attendants), it is possible for an employee to skip the entire standby list and still make it on the airplane.
Within the employee standby grouping, there are five different pass levels that determine where one falls on the standby list for a given flight. Here the groups in the order they fall on the standby list.
D1: This pass level can only be granted to the employee and their dependents (partner and children). Each employee/dependent receives six D1 passes per year.
D2: This pass level can only be granted to employees and their dependents. Each employee/dependent receives an unlimited number of D2 passes.
D2P: This pass level is only granted to the parents of employees. Each employee can designate two parents with the company to receive these benefits. Parents travel second to last on the priority list.
D3: This pass level is granted to "buddy pass" travelers. Each employee gets 16 buddy passes per year that they can gift to people. These people travel at a reduced fare but only on standby.
Before you ask your friend for a buddy pass though, be aware it can be quite hard to actually get on an airplane at this pass level. We always joke that we only give D3s to people we don't like, because flying on a D3 pass can be very frustrating.
ID90: The final non-revenue pass level is for employees of other airlines who use the ID90 agreement between airlines to fly standby on American.
Employees of American's subsidiary airlines (those that operate for American Eagle) also get to participate in the mainline's standby system and in some cases are even granted jump seating privileges.
The Standby Check-In Process
So you've decided to try to fly standby. Now what?
You will need to check into your flight. Time is of the essence. Your standing on the priority list will be partially determined by when you check-in. 
Within the pass levels and the various deciding factors, being the first to check in will give you an advantage.
For example: If you are a Concierge Key, flying as a same day flight change standby, if you are the first to call the day before your flight, you will be at the top of the revenue standby list, even if another Key decides to list standby for the same flight.
The same goes for employees who are able to sign in using an online portal. If you are the first to sign-in for your standby flight as a D1 you will be at the top of the non-revenue standby list.
Arriving at the Airport
If you have checked into fly standby, you will receive a boarding pass that allows you to go through airport security. Once you have arrived in the terminal go to your gate right away and check in with the agent working your flight. They will make a note that you are present and on the standby list.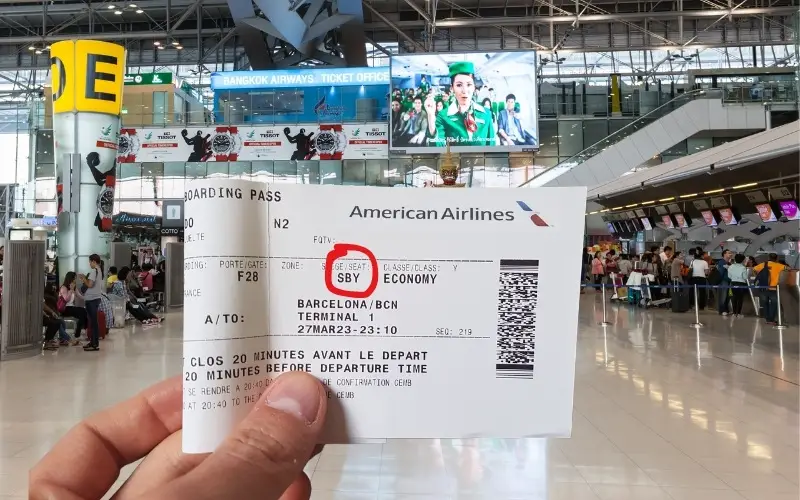 After that, stay in the boarding area for your flight. 
If you are lucky and get one of the open seats the agent will call you by name. If you miss your name being called, you will be skipped.
Sometimes you will get your seat assignment before boarding begins but most of the time you will be the last person to get on the plane and the agents will assign all of the standbys empty seats in one go at the end of boarding.
Roll-over flights
If you are flying standby and you miss the flight you wanted to get on, because there weren't any open seats, you will be rolled over to the standby list for the next flight to your destination. This is particularly pertinent to employees.
To get rolled over you have to tell the gate agent working the flight you missed that you want to be added to the standby list for the next flight. This acts as checking in for that flight.
If you decide you want to try a different route, or give up and fly somewhere else entirely, you will need to speak to one of the customer service agents inside the terminal to have your standby itinerary changed.
My Tips for Flying Standby on American Airlines
Flying standby is not for the faint of heart, but once you get the hang of it, it can really give you the ability to travel flexibly.
As a former American Airline's employee who still flies on my friends' benefits, I suppose I am somewhat of an expert, and I have developed a few strategies to be successful that I'll now share with you.
Learn how to check flight loads
As an employee, this is easy because the employee travel portal will show you how many seats are open on each flight for the day.
As a customer, you will have to use an online tool like Non-Rev Loads to see which flights have open seats.
Be flexible and plan ahead
If you are planning to fly standby, it helps to have several options and backup plans in place.
For example, if you are trying to fly from Charlotte, NC (CLT) to Chicago (ORD), and the flight loads for the day look full, you might have to be willing to fly weird routes.
One time I flew from CLT to Harrisburg, PA (MDT) just to catch the flight from MDT to Chicago.
Learn your airport codes
Being able to tell an agent to roll you over from the CLT-ORD flight that went out full without you, to a CLT-MDT flight so you can jump on the nearly empty MDT-ORD flight, is easier when you can speak to them using airport codes.
It makes it faster for them to type everything into the system and get your standby itinerary changed accordingly. It can also help you use flight planner apps for possible alternative routes.
Be patient and stay positive
It can be frustrating to fly standby, especially when the flights are full, and you miss flight after flight.
In this situation, it can be easy to want to take out your frustration on the gate agent denying you boarding, but you can't do this, or you will lose your rights to fly standby in the future.
It's best to approach standby flying with the understanding that you might not get where you're going very quickly and to just hang out and go with the flow.
Explore other backup options
One thing some people will do to give themselves a little more flexibility when choosing when and where to fly is to purchase flexible fares. These fares tend to be more expensive, but they are also usually fully refundable if you cancel your flight.
Purchasing a refundable ticket for a later flight is an option for standbys because if you get on the flight you wanted to fly standby on in the first place, you can just cancel the refundable ticket you bought for your backup flight.
This is a good strategy for employees who need to be somewhere for a family event but would rather fly standby than pay for a flight. You have a confirmed revenue ticket if you need it, but you can get refunded if you're lucky enough to fly standby on the earlier flight.
Conclusion
Flying standby on American Airlines is a great option if you need flexibility when traveling, but understanding their standby system and policies takes time.
As long as you are patient and flexible, you will be successful as a standby passenger, even if you don't get on the first flight you try for.
We hope this guide has helped you to understand the standby system at American Airlines a little better. Though I'm sure it probably still seems as clear as mud… The best way to really understand it is to experience it for yourself.
Similar Posts: