Most people have doubts about what food is allowed to be brought on a plane. If you fly frequently, you probably have asked yourself one of these questions:
Will they confiscate my food at the security checkpoint?
Is it allowed to take fresh foods on the plane?
Can I bring my own food on an airline that is selling food?
Are there any quantity restrictions?
Does it depend on the country you are flying to?
Is it allowed to take baby food?
What snacks can I take?
That's why most passengers end up purchasing their food after passing through security, at a shop near the gate, and of course, it makes it super expensive.
The other option is to wait to be on the plane,  but food options will be limited. Most of the airlines do not offer any food at all(in a short-haul flight), and others just give you a little snack or offer food for buying. But because purchasing food in the plane might be also expensive or sold out, your best solution, if you don't want to eat overpriced food that you don't even like, is to bring your own food.
Can I bring food on the plane?
Yes, absolutely. Airlines don't have any restrictions on what food or how much you are bringing.
You just need to make sure that it's properly packaged and that it's allowed through airport security.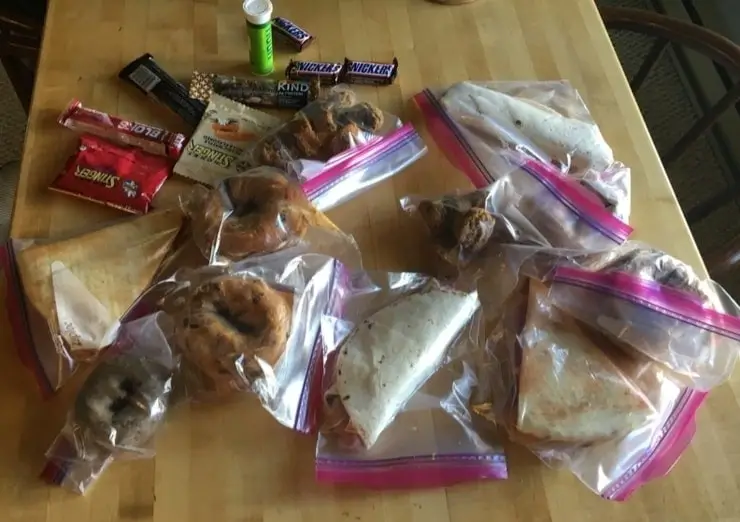 Apart from the local security rules, once you land, you will have to go through customs if it's an international flight. So in that case, you also need to check the regulations on what you can bring into the country you are flying to.
Will they confiscate my food at the security checkpoint?
Only if they don't comply with the 3-1-1 liquid rule (or 100ml), including drinks and also liquid or semi-liquid food, such as soups, or creamy and spreadable foods. So anything that can be spreadable, spillable, sprayable or pourable is not allowed in big quantities in your hand luggage.
For example creamy cheese, peanut butter, liquid chocolate, canned beans, honey …
If you are carrying only solid food it's OK.
An example of solid food: turkey, ham, a sandwich, chips, nuts, a cake…
But remember that if the solid food comes with a dressing, this has to be stored in a small container, to avoid problems.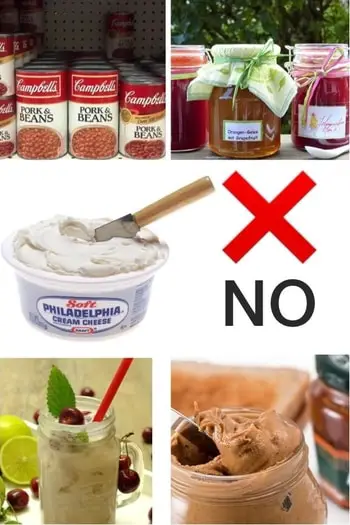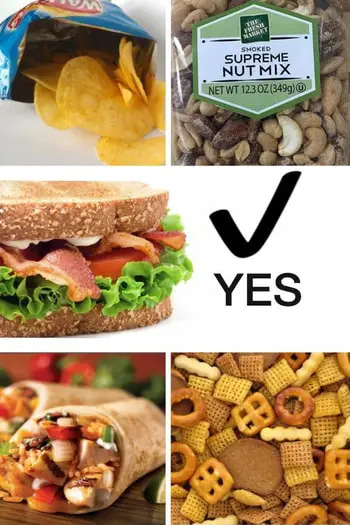 If the food you want to bring is not allowed in the cabin, I recommend you to place it in your checked baggage.
Can I bring my own food if I'm flying with an airline that sells food?
Of course. Most of the airlines welcome you to bring your own food and beverages onboard. So don't worry about the airline, the prohibitions are determined by the security officers at the origin airport and at your destination country by the customs agents.
Are there any quantity restrictions?
Yes. Especially if you are carrying liquids or creams or any kind of juicy food. It's limited to the 3-1-1 liquid rule in the US or the 100ml rule in the EU that I was talking about.
If it's solid food, there are no restrictions. So you can bring as many fruits or snacks as you want. Just be careful if you're flying internationally to check with Customs before entering the country.  Carrying meat, vegetables, fruits or any other animal products can be forbidden or limited to a certain quantity.
Does it depend on the country you are flying to?
Yes. What products you can bring depend on which country are you traveling from.
I'll give you an example to understand this:
If you are flying internationally from one European country to another, you can bring any fresh fruit, vegetables, dairy or meat through customs.
But if you are traveling from outside Europe, to any European country or vice versa there are strict rules about bringing any animal product or fresh vegetables. Fruits or vegetables from other countries can introduce a pest or a disease in the local plants. And all meat, dairy products, and potatoes are completely banned.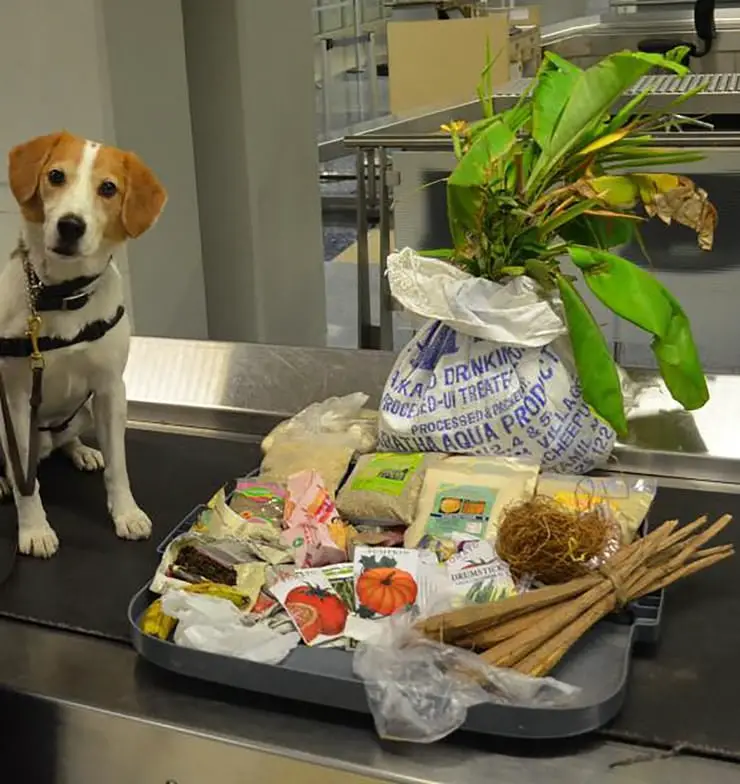 If you only want to bring a small amount of fruit to eat during the flight (an apple and some dairy foods, for example) it's OK, but make sure you finish them before crossing customs if it's not allowed.
Is it allowed to take baby food onboard?
Yes, if you are traveling with a baby up to 2 years old. You can carry baby's food in a reasonable amount: this includes formula and juices for babies or breastmilk in a bottle. So bring as much as you expect your baby to eat during the flight.  Baby food is excluded from the 3-1-1 (or 100ml) rule.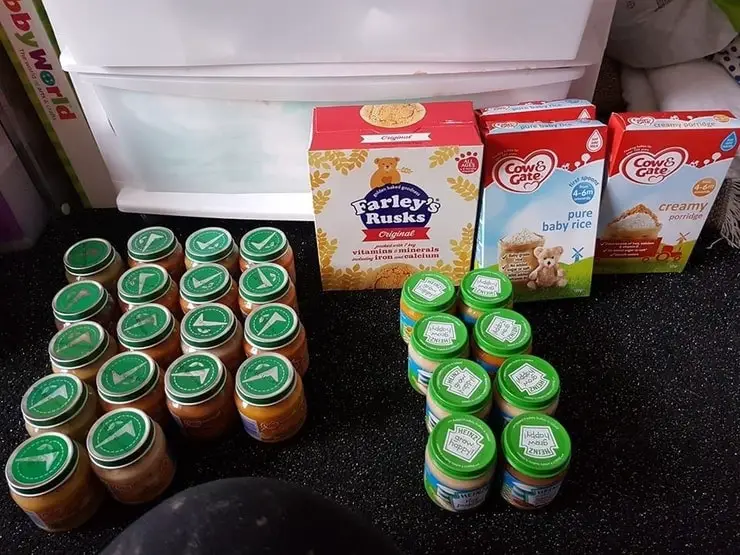 When you go through security screening, show the baby food to the agents and they might x-ray it, open it to check the content or sniff it. But that's all. Obviously, this is only allowed when you travel with a baby.
Can you take duty-free liquids through security?
Yes, even if they are bigger than 100ml or 3.4 oz. if you're flying on a direct flight and the liquids (wine, liquors, creamy cheese) are secured, placed in an untampered bag and you have the receipt.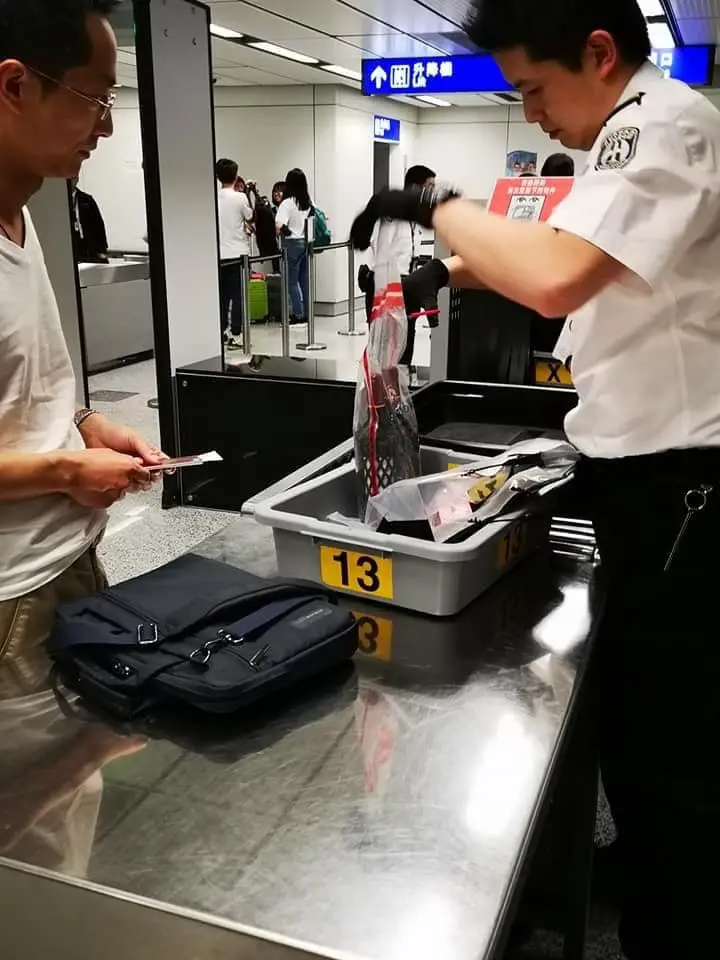 If you are having a connecting flight, be sure to not to open the sealed bag, especially if it's to another country and you need to go through security again, because as soon as you break the seal, all the contents will be subject to the standard liquid security check(3.4oz or 100ml rule)
Anyway, the safest is to check in your liquids. I know many people who had to throw their wine bottles away when they were having a connecting flight … so place it in your checked bag if you can or refrain from buying until you get to your destination.
What snacks can I take on a plane?
I made a list with some snacks ideas that you can easily take through security:
Healthy options
Sandwiches (smoked salmon, chicken & avocado, Club sandwich)
Wraps (Caprese cheese and tomato, goat cheese and arugulas)
Fruits (bananas, apples, pears, oranges)
Chips (veggie chips or kale chips)
Rice crackers
Non-liquid homemade food (quinoa with roasted vegetables, chicken with spinach)
Nuts or almonds
Celery or carrot sticks
Dried fruits
Turkey or Ham
Whole bread
Infusion bag or soluble coffee (you will just need to ask for a cup with hot water to drink it)
Not-so-healthy options
Non-liquid homemade food (crispy potato wedges, pepperoni pizza)
Bagels
Pretzels
Chips (potato chips, tortilla chips…)
Cheese crackers
Hamburger & french fries, or any fast food option
Beef sticks
Candies
Solid cheese
Chocolate cookies
Muffins
Any type of bread
Croissant or doughnut
Solid chocolate
Food/snacks not allowed on board
All kinds of sauces, jam, honey, salad dressing, yogurt, soups, syrups, or drinks.
If you want to bring a salad and the salad dressing apart, store the dressing in a small container that is less than 100ml and it should be OK.
When you pack food, always be sure to place it in a proper container; also use plastic wrap if needed.
Is it allowed to bring alcohol on the plane?
Alcoholic beverages are allowed to carry, but they will have to be mini bottles because they will be subject to the 3-1-1 rule (100ml). If the bottles you want to bring are bigger, you will have to place them in your checked-in luggage.
If you bought any alcohol at the airport to consume it during the flight, you should be discreet because the consumption of your own alcohol onboard is forbidden.
Yes, you've heard correctly. You can purchase a beer or a bottle of wine from the flight attendants and drink it, but it's illegal to drink your own.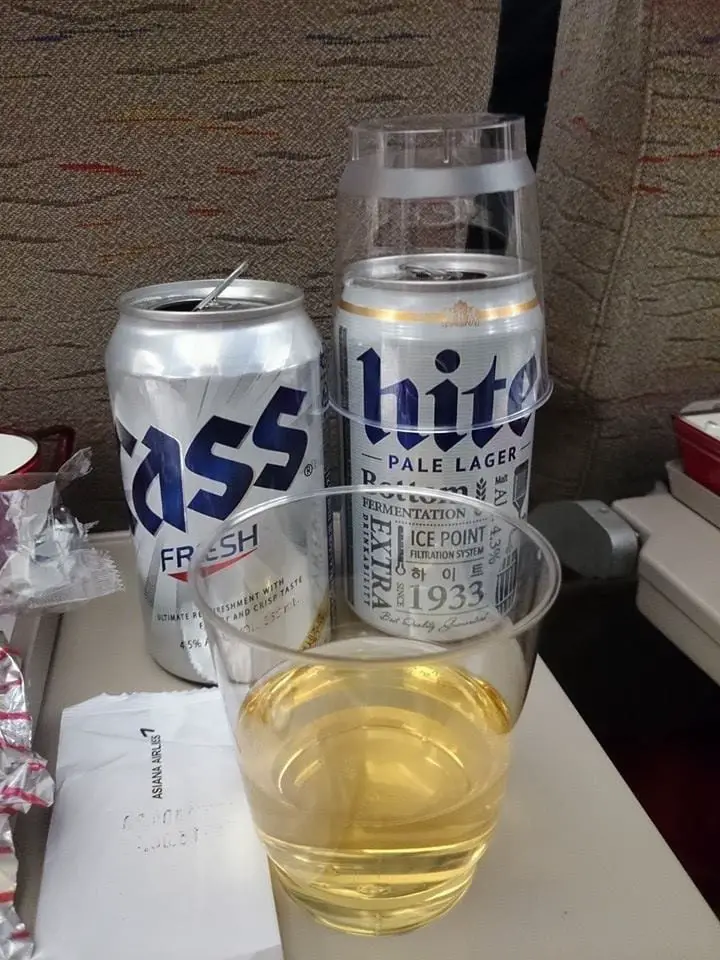 I know, it sounds unfair. But there's a reason for this and it's not for economic reasons. This is because the crew needs to control how much alcohol passengers are consuming, to be able to control them before they get drunk and act in a disruptive manner. Drunk people can be aggressive and can put the entire flight in danger. So it's crucial for the crew to detect this before it happens.
Here you can see a video of a drunk passenger who became aggressive on a Scoot flight from the Gold Coast to Singapore – the man had to be restrained by passengers and crew, unbelievable!
If alcohol is served on a plane, can drink as much as I want?
No. Flight attendants have the right to refuse serving more alcohol if they think that the passenger is too intoxicated and has had enough.
There's not really a maximum number of drinks per passenger set because your reaction to alcohol depends on many factors, but the truth is that flight attendants will stop serving you at the first sign of trouble.
My tips
Avoid bringing food that gives off strong smells. Remember that you'll be sitting for many hours in a small closed space with a lot of people. If you don't want your neighbors to hate you, and give you bad looks, please don't bring strong cheeses (like blue cheese), chorizo or any kind of fish, eggs or strongly spiced foods.
Pack your food properly. You can place it in a Tupperware container if it's a salad or wrap and use wax paper if it's a sandwich, and if you're carrying fruits you can put them in a zipped plastic bag. This will facilitate the screening process at the airport.

Super healthy airplane snacks! Credit: the_lunchbox_queen

Avoid drinking alcohol on the plane. Alcohol can reduce your body's ability to get oxygen and it can produce lightheadedness, just like when you're climbing at a high altitude. So you may feel the effects of alcohol sooner and more intensely than usual.
Another negative factor is that the air in the cabin is very dry. Even more than in a desert.  And adding alcohol will dehydrate you even more. Your eyes will feel parched, your nose, mouth, and skin, will feel tired, and in general, alcohol will leave you with a feeling of crumminess. So cut down on alcohol and you will feel better.
⁣If you still want to drink, remember you cannot buy it at the duty-free shop and drink it on board.
Avoid gassy food and carbonated drinks: Because your intestine gas will expand and you will feel bloated, heavy or become distended. So try to avoid food such as broccoli, cauliflower, any carbonated drinks, beans, lentils, onions, and fatty or fried snacks.
Make sure you take enough snacks with you. Especially if you're flying with kids, in case they get hungry before the meals are served. It's also a good way to keep them distracted. If you have any liquids or semi-liquid food don't forget to abide by the liquids rule.
If you're traveling internationally, you will probably have to throw away any leftover food when you arrive at customs. So inform yourself before traveling about the restrictions for your destination, because you may be able to bring it for your flight but not enter the country you are visiting with it.⁣
Some countries are very strict about what foods you arrive with. Just something as simple as an apple can cause you trouble, so check before arriving – or finish everything in the plane.

Sample of US Custom Declaration