An important part of being a flight attendant is the correct wearing of the uniform and tights are an integral part of that.
I've spent more than 11 years trying to figure out what is the best hosiery for flight attendants to wear, so today I'm going to talk to you about my favorites.
Gentlemen cabin crew can stop reading beyond this point if they have suddenly lost interest  😉
Do flight attendants have to wear tights?
Yes.
Most airlines, or at least the ones I know, require flight attendants to wear pantyhose.
This is because it looks more professional, it's smarter and it adds an element of decorum and modesty.
Your tights don't need to be any specific brand, but they will need to be a specific shade and sometimes even a specific thickness.
What are the rules for flight attendant hosiery?
This is an example of what United Airlines requires in their uniform standards for flight attendants:
Must be worn at all times with the uniform.
Acceptable shades include flesh tones and sheer black.
White, opaque, textured or patterned hosiery/tights are not permitted.
Plain black tights may be worn from October 15–April 15.
Solid black trouser socks may be worn instead of hosiery only when wearing the pants.
Extra hosiery is to be carried
This is an example of Qatar Airlines hosiery rules:
Hosiery (Stockings/ Tights) must be plain
Matt in skin tone  (neutral, beige or tan)
Constantly check for holes and ladders
Must be worn when in uniform
If stockings are worn, the garter belt must not be visible through the skirt
Knee-highs are permitted when using trousers
Ankle length socks are not permitted with trousers
Always carry a spare pair of hosiery
What tights do flight attendants wear?
These are the different types of tights that most flight attendants wear:
For summer
Hold up stockings or just regular sheer pantyhose in a matte, satin, glossy, or ultra glossy finish, it really depends on what your preference is.
If you are going for nude tights, try to get the closest color to your skin tone in a lighter denier.
For summer, 10 would be the perfect denier, but to prevent ladders and pulls, it's safer to choose 20-30 deniers*
*Denier is the thickness of the fabric in your hosiery. Usually, the thicker the material, the higher the denier. Denier is also a measurement of the opacity of the tights. Any denier that is 40 and higher is usually opaque and not see-through.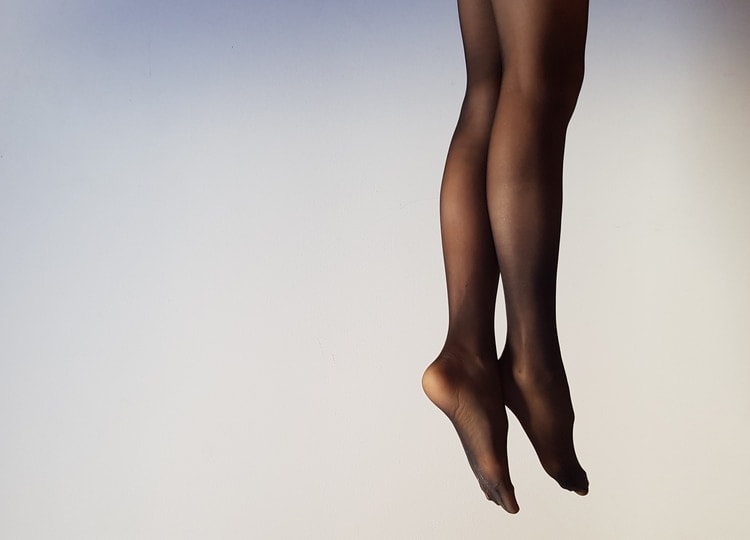 For winter
We'd use 40+ deniers tights because they are generally more resistant to tears and warm and cozy for the winter.
This is how it works for the opacity:
20 – 40 denier: sheer or semi-opaque. Skin visibility is possible.
40 – 70 denier: opaque. They have more coverage and less skin visibility.
70 – 100 denier: thick opaque. They provide more coverage and are the tights of choice in colder weather
Over 100 denier: super thick opaque. These are great alternatives for leggings during winter months.
Shaping tights
These have a somewhat magical ability to give you a smooth, shapely and beautiful figure by supporting your tummy, thigh and whatever else may not be staying where you'd like it to.
Actually, there is a bit of science behind this. Our bodies tend to expand in the lower cabin pressure of an airplane. So shaping tights are good to keep you in control in all the right places.
If you want the comfort and fit of tights but you need something with a little extra support, these are the tights for you.
Compression support tights
These are recommended for professions where you stand or sit the whole day, so they are ideal for us flight attendants.
So they are definitely a must-have for all flight attendants.
They are actually really popular among all cabin crew and they are used to prevent the swelling of veins, the possible clotting of blood, and help prevent aching and swelling legs.
How to choose the right stockings? Buying guide
Find your perfect size
Do you constantly need to pull up your tights?
You know where I'm going with this, right?
Yep. Pick the right size when buying your tights.
Now, a heads up here.
Despite promises that one size fits all, this isn't true. There isn't a single size for tights that fits everybody, it's just not possible.
So you do need to check that the size you are choosing is appropriate for your height and body size.
Because you'll need them for work, look for tights that are ladder-resistant. Compression tights are the best for this. The ones that have a higher denier will be more difficult to ladder.
Find the right thickness
Remember what we said about denier?
This is the thickness of the tights and is usually listed on the packaging.
The higher the denier, the more opaque and thick the tights. It's an easy thing to get your head around.
Generally, anything under 30 denier is sheer and light, between 40 and 70 denier is opaque and quite thick, and over 70 denier is super opaque and mega thick.
You decide what you want or need, it's your call.
Look for good quality tights
They will last longer, be more comfortable and look more beautiful.
You don't want to spend all your salary on hosiery because you need to constantly buy new ones after a couple of washings.
So after I have tried and tested a lot of different brands and spent many years deciding which ones are the best flight attendant tights I've made my own list.
I hope you can find one that works for you.
The best flight attendant tights
We will start with the Number 1 and most recommended tights :
1) Compression tights for women or men
Compression tights are worn by a wide range of professionals who have to stand and walk for long periods of time, people such as athletes, nurses, and, of course, us flight attendants.
These tights are designed to provide graduated compression, meaning that they are tight at the feet and gradually loosen as they travel up the leg.
To me, they are the best tights for flight attendants and these are the reasons why:
They will keep your legs from getting tired and aching after constant changes in air pressure. But it has to be said that they only can help relieve those symptoms to a degree. Once you're home or at the hotel, you should put your legs up against the wall for at least 20 minutes. That sounds a bit weird, I know, but it will help you a lot.
This style of tights can also ease swelling in your feet and ankles as well as prevent varicose veins.
They improve circulation
They are more durable than normal tights. Trust me I'm a noted destroyer of tights and I know this!
I have been wearing these sorts of tights for a few years now and there is no way back for me.
I honestly feel a big difference between these tights and the normal ones.
In the beginning, you may need to get used to them, but after a few days, you'll feel much better, comfortable, with your legs less tired.
I can be on my feet up to 12 hrs a flight and still feel ok. If I am this style of tights. Even though they are a bit more expensive, they last without a run and they always keep their shape.
What you need to know before buying compression tights
Compression level:
What compression level do you need? I have listed the various compression levels for you below.
So how tight should compression stockings be?
Compression tights should feel tight, otherwise, your circulation will not be affected at all. But, of course, not painfully tight. You should still remain comfortable standing and working on your feet.
These are the standard pressure levels for compression stockings:
15-20 mmHg: a great choice for everyday use to help with mild swelling and fatigued legs due to long periods of travel, sitting, or standing. Very light compression. These are the ones you find in department stores or drugstores.
20-30 mmHg (medical class 1): This the compression level that I use. It provides competent medium compression to your legs without being too strong and is recommended for long periods of standing and sitting. So, perfect for us flight attendants.
30-40 mmHg (medical class 2): Provides firm compression. This level is recommended for moderate to severe leg health problems, to help relieve edema, severe varicose veins, and lymphedema.
40-50 mmHg (medical class 3): Provides extra firm compression. These stockings should only be worn when prescribed by a doctor, to use if you suffer from serious leg or vein-related conditions.
When choosing a compression level, a lighter compression level may be more effective for you than a stronger level of compression.
Here's my list of favorite light and medium compression pantyhose and socks.
Best light compression pantyhose and stockings
PANTYHOSE:
STOCKINGS:
Best medium compression pantyhose and stockings:
PANTYHOSE:
STOCKINGS:
Best compression knee-highs or socks:
For men or women who prefer to wear pants for work.
Men:
Women:
2) Top control pantyhose
I'm a huge fan of opaque tights.
These are black and if you do have tattoos, marks, or hair on your legs that you need to cover up, these are perfect.
And these also provide a bit compressive from the belly button to the thigh, but just lightly.
3) Slimming pantyhose
Designed to flatten the stomach, firm the butt, and smooth the thighs.
4) Most comfortable non-control tights
Dancer tights have softer waistbands that don't dig into the skin, the fabric is thick enough for good coverage and it lets skin breathe.
5) Low waist pantyhose
If you want to get rid of that waistband that is squeezing you, try low waist pantyhose, they sit on your hip, so they'll be much more comfortable.
They are available in sheer and opaque versions.
6) Designer/Luxury Pantyhose
I wouldn't recommend less than 20 deniers for use on the plane as they will rip at any moment.
7) Microfibre pantyhose
The microfibre pantyhose are the softest things you'll ever touch. Smooth, comfortable and durable