Flying with makeup? It can feel like a puzzle. What can you pack? How to pack it? What if your favorites get confiscated at security? I get it, it's a bit nerve-racking.
As a flight attendant and a regular traveler, I understand these concerns firsthand. In this article, I'll share practical tips and clear guidelines to help you confidently pack your makeup for your next journey.
Let my experience guide you through the complexities of TSA regulations with ease.
Can You Pack Makeup in Your Carry-On Bag?
Yes and no, the TSA rules for carrying makeup in your carry-on bag differ depending on the type and quantity of makeup.
Here's the Transportation Security Administration (TSA) rule :
Makeup in a solid or powder form is allowed in carry-on and checked bags with no quantity or size limitations. However, when packed in carry-on bags, makeup in a liquid, lotion, gel, paste or creamy form, must be in containers that are 3.4 ounces or less.
Clear? Well, not so clear, right? It can be confusing to determine which ones are considered liquids. Therefore, we will examine them one by one.
First, here's a detailed infographic for you to see everything at a glance: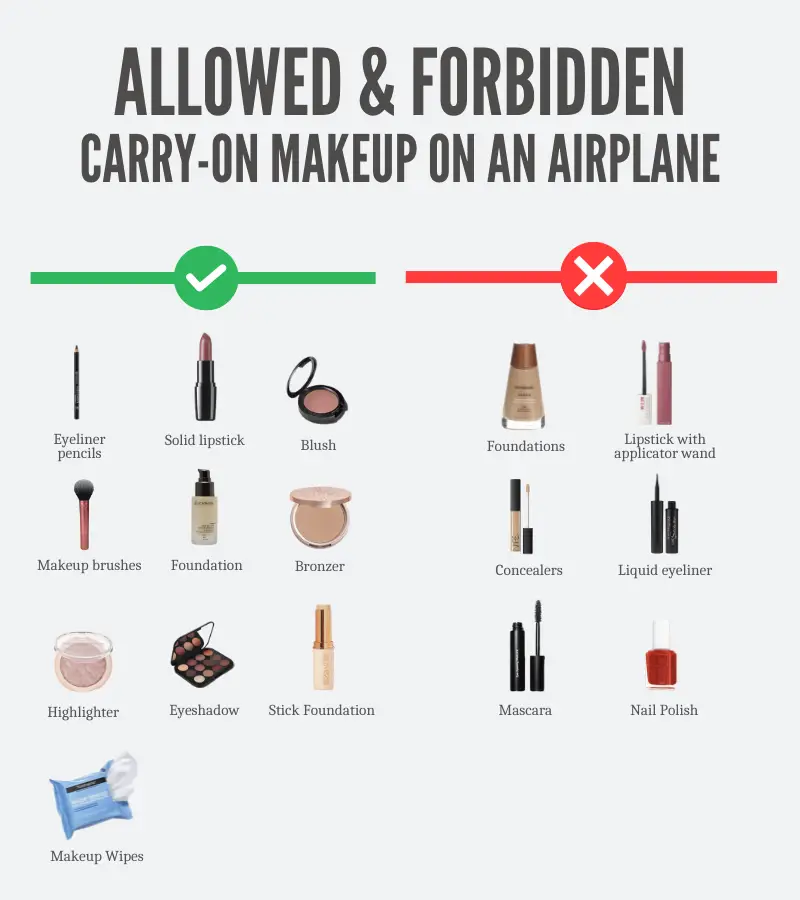 Now, let's break it down.
Liquid Makeup on a Plane
Which ones are liquid?
This is trickier than it seems.
Let's break down which makeups are considered liquids and what you need to know to pack them in your carry-on luggage.
❌ Not Acceptable/Restricted (needs to be in containers of 3.4 ounces/100 ml or less and in a clear zip-top bag):
Liquid makeup items with creamy, gel-like, or liquid consistency: They must be separated from other makeup items and placed in TSA-approved containers.
Foundations: Usually foundations have a liquid consistency and must adhere to the 3.4 ounces/100 ml limit per container.
Concealers: Most concealers have a creamy consistency, placing them under the liquid category for TSA regulations.
Liquid eyeliners: By nature, these are considered liquids and need to abide by the TSA restrictions.
Mascara: It is indeed classified as a liquid and must be placed in the liquids bag, complying with the TSA's liquid regulations.
Lipstick with applicator wand: If your lipstick comes with an applicator wand, it is considered a liquid and should be stored in your liquids bag according to TSA guidelines.
✅ Acceptable for Carry-on without Restrictions:
Eyeliner pencils: Pencil eyeliners are solid and not considered a liquid.
Makeup brushes: Brushes are not a liquid and are free to roam in your carry-on bag without restrictions.
Solid lipstick without applicator wand: If your lipstick is in a solid form and doesn't come with an applicator wand, it is not considered a liquid and does not need to be in the liquids bag.
Powder Makeup on a Plane
Can you bring your powders in your carry-on bag?
Yes, the TSA allows it with some considerations.
✅ Accepted powder makeup in your carry-on:
Foundation
Blush
Eyeshadow
Bronzer
Highlighter
⚠️ Important note to remember: if your powder makeup products individually exceed 12 ounces (350 milliliters), they may be subjected to additional screening.
So keep that in mind while packing your larger powder products.
Other Makeup Types
Delving into some specific scenarios, we have:
✅ Stick Foundation: A convenient choice for travelers. You can pack them in your regular makeup bag without any issues, free from separate container requirements or restrictions.
✅ Solid Makeup Quantities: There are no specific limits on carrying solid makeup quantities. You're free to bring as much as you want, including:

Bronzer
Highlighter
Blush

These items can be packed in your carry-on or checked bag without any concerns.
Can You Bring Perfume on a Plane?
✅ Yes, you can. However, it's important to note that the same restrictions apply to the size of perfume for carry-on luggage as with other liquids, which is a maximum of 3.4 ounces (100ml).
To play it safe, opt for smaller, travel-sized perfume bottles. This will ensure they comply with TSA regulations, preventing your favorite perfume from being taken away at security.
Can You Bring Makeup Wipes and Other Wet Wipes on a Plane?
✅ Yes! Makeup wipes, baby wipes, wet wipes, and disinfecting wipes are all acceptable to transport through TSA in your carry-on luggage.
Despite their wetness, these wipes do not need to be placed in your liquids bag, as they are not considered liquids according to TSA regulations.
Can You Bring Nail Polish and Nail Care Items on a Plane?
❌ No. Nail polish and nail polish remover are categorized as liquids, thus they need to be in containers of 3.4 ounces (100ml) or less.
These items should be placed in your clear zip-top bag in accordance with TSA regulations.
✅ Nail files, including metal ones, are allowed in your carry-on bag. However, they should be handled with caution as they may be subject to inspection by TSA officers. There is no requirement to remove them for screening.
Carrying Makeup in Checked-In Luggage
Travelers are fully permitted to stow all types of makeup products in their checked luggage.
Benefits of Packing Makeup in Checked Luggage
Flexibility: Carry larger quantities of liquid makeup without the 3.4-ounce (100ml) carry-on limit.
Space-saving: This frees up valuable room in your carry-on bag for other travel essentials.
Organization: Placing all makeup in one separate bag or pouch keeps your luggage neat and prevents mishaps.
Packing Guidelines and Restrictions for Makeup in Checked Luggage
Though there aren't typically specific rules or restrictions for packing cosmetics in your checked bags, it's recommended to separate these items in a distinct bag or pouch.
Securing Makeup in Checked Luggage
Ensuring your makeup survives the journey undamaged requires careful packing.
Here are some tips:
Opt for a sturdy case for your products. Preferably padded.
Cushion each item, wrapping them in clothing can help prevent damage during transit.
Pack everything tightly to avoid movement during your trip.
If packing liquids, use spill-proof or travel-sized containers. Sealing them in a plastic bag adds an extra layer of protection.
For the best protection, place your cosmetics bag in the center of your luggage and surround it with soft clothes or other items.
My Recommendations for Traveling With Makeup
Here are a few tips to make your journey with cosmetics as smooth and effortless as possible.
1) Familiarize Yourself with TSA Rules
Before your trip, take some time to familiarize yourself with the latest TSA laws and regulations concerning liquyids and beauty items.
Being informed will contribute to a more pleasant travel experience.
2) Check Restrictions for International Travel
If you're traveling internationally, make sure to check the rules and restrictions of your destination country.
Different nations may have varying regulations for the transportation of makeup products.
Preparation can help avoid any unexpected surprises.
3) Use a Clear Zip-Top Bag for Liquids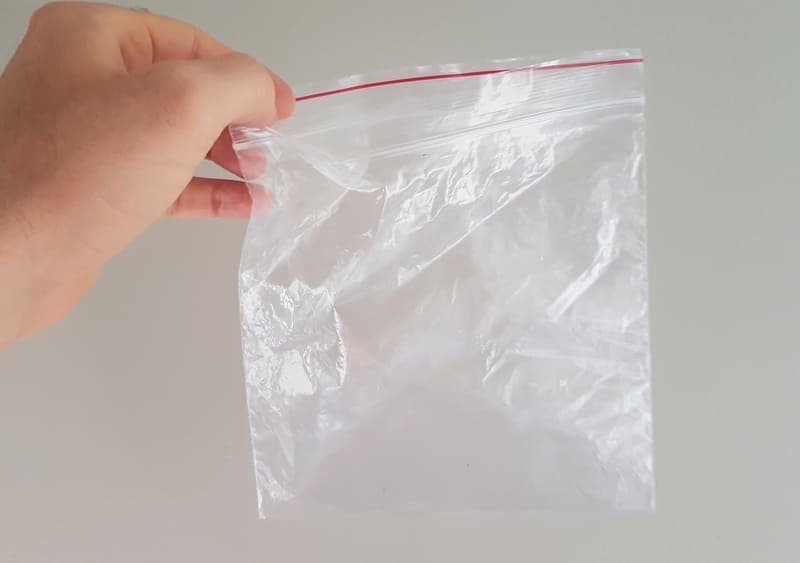 Always pack your liquid cosmetic items in a quart-sized, transparent zip-top bag.
This helps comply with the restrictions when carrying them in your hand luggage and facilitates the screening process.
4) Consider Travel-Sized or Solid Alternatives
To safeguard your makeup, don't hesitate to invest in travel-sized versions or solid substitutes of your favorite cosmetic products.
There are many TSA-compliant options available in the market that can make your travel more convenient and worry-free.
Conclusion
Navigating travel regulations for makeup and cosmetics need not be a hassle. With a clear understanding of the rules, you can confidently pack your beauty essentials in your luggage.
Remember, solid and powder makeup products are often the easiest to travel with, while liquid ones require a bit more attention regarding packaging and size.
Two key takeaways:
Adhere to the TSA guidelines.
Pack smartly.
This will ensure you arrive at your destination prepared to look your best. Safe travels, and may your makeup game always be strong!
Similar Posts: