After living in Beijing a few months, there's a moment when you've already done everything – at least the things that all the travel guide books suggest. You want to know more, but you don't know what else to do. That's when I started discovering lots of unusual activities and unique experiences that I want to share with you now.
This article is for those who are tired of doing what everybody usually does in Beijing and are searching for new original ideas. I've kept very good memories of my stay in Beijing, so this is a list of experiences I did while in China. I hope you also have a once-in-a-lifetime experience.
For those who want to learn something new
1) Sign Up for a Traditional Chinese Cuisine Course in the Hutong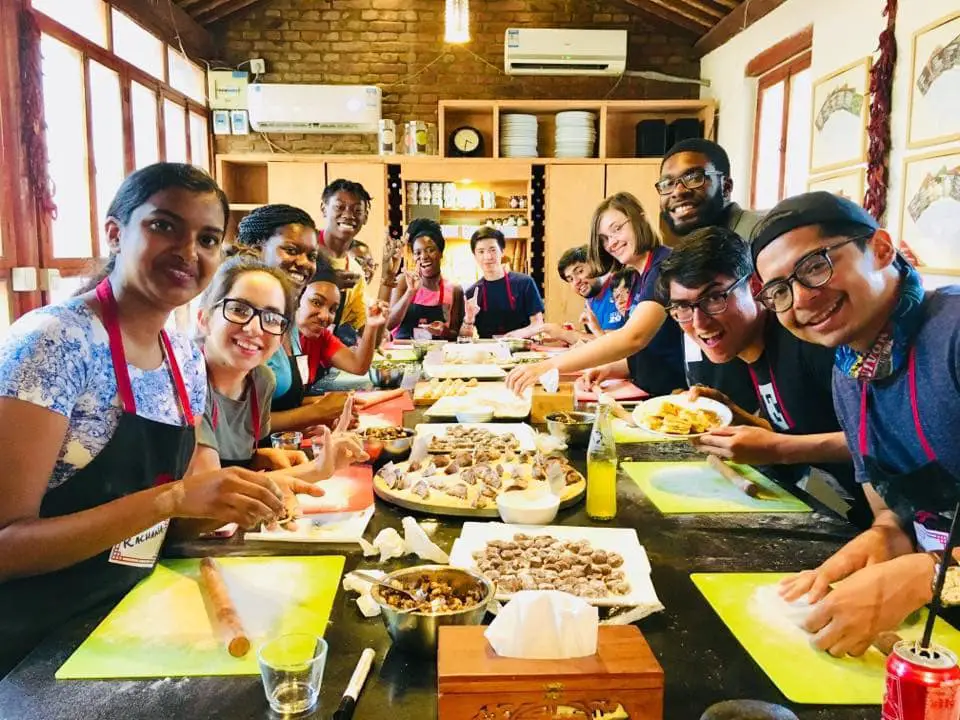 Do you love Chinese food but have no idea how to cook it? Well, why not learn how to prepare your favourite Chinese dish?
In "The Hutong" they give classes of global or regional Chinese food:  Sichuan-style, Yunnan-style, the famous Dim Sums, hand-pulled noodles, etc.
Hand Pulled Noodle making (拉面), served with a Xinjiang (新疆) inspired tomato sauce. Freshly made in one of our endless fun cooking classes!One bowl, just isn't enough! PC: @mjtkiwi ..#thehutong #chineseculture #chinesetradition #noodles #chinesefood #handpullednoodles #homemadenoodles #chinesefoodporn #homemadechinesefood #yum #sharingculturesharingknowledge #beijingcookingschool #beijingcookingclass #cookingclass #chinesecooking #cookinginBeijing.

Publiée par The Hutong sur Jeudi 13 septembre 2018
The classes are 2.5 hours long and cost Y300 ($45) – you can go alone or join a group, and they have flexible schedules and classes every day. And the best part is that at the end of the class you always enjoy eating everything your classmates and you have cooked. Yummy!
More information at: https://thehutong.com/beijing-cooking-classes-2/
2) Learn Chinese in the LTL Mandarin School of Beijing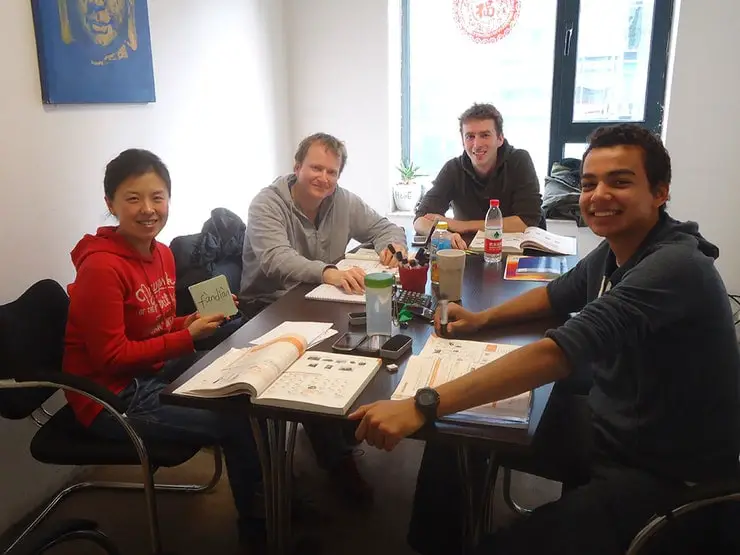 Did you know that Beijing is one of the best places to study Chinese? If you've always wanted to take a Chinese course or you simply want to take the opportunity to improve what you already know, sign up for a Mandarin course at the LTL Mandarin School of Beijing.
Beijing is the perfect place to learn and experience Chinese culture and be in the center of traditional and modern China – you will experience the city lifestyle as well as good-quality Chinese lessons.
In the LTL Mandarin school, they have group or individual classes, from one week's duration. And apart from this they also organize outings or activities twice a week that help you understand Chinese culture and make local and international friends.
They have a Wechat group (which is like Whatsapp) where they inform you of all activities, lunches or get-togethers. You will meet a lot of new people in your situation, and you can share your experiences.
If you need accommodation, they have different options: they can help you find an apartment or they invite you to stay with a Chinese family so that you experience full immersion, learn about Chinese society and practice what you learn in class.
More information at: https://ltl-school.com/
3) Learn Kungfu from World Class Master Teachers and Train in a Shaolin Temple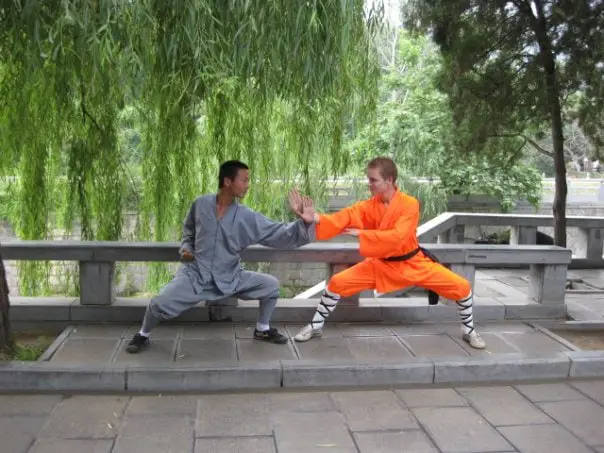 Would you like to learn Kungfu as a physical practice, as a philosophy and a way of life? The Milun School of Traditional Kungfu offers classes for all levels, from beginners to professionals.
You can begin at any time of the year and buy a package of 10 flexible classes, or pay for 3 months, or just take a drop-in class if you prefer to attend classes without booking a course in advance.
The package of 10 flexible classes is Y1,100 ($165).
3 months of unlimited classes are Y3,500 ($520).
The Drop-in Pass class is Y150 ($22).
They have different Kungfu and Taichi classes at different locations and times. If it's at the school, it's close to Wangfujin and the classes are on a patio of the Ming dynasty. If not at the school, they are held at Ritan park.
Another very attractive option for all of those who like Kungfu is to enjoy a weekend retreat practicing Kungfu, Qigong and self-defence at the legendary temple of Shaolin, the place where Kungfu was born, in the mountains of Henan. You leave on Friday night by train and come back on Monday morning.
For the sportiest and more adventurous
4) Climb at Ritan Park Climbing Wall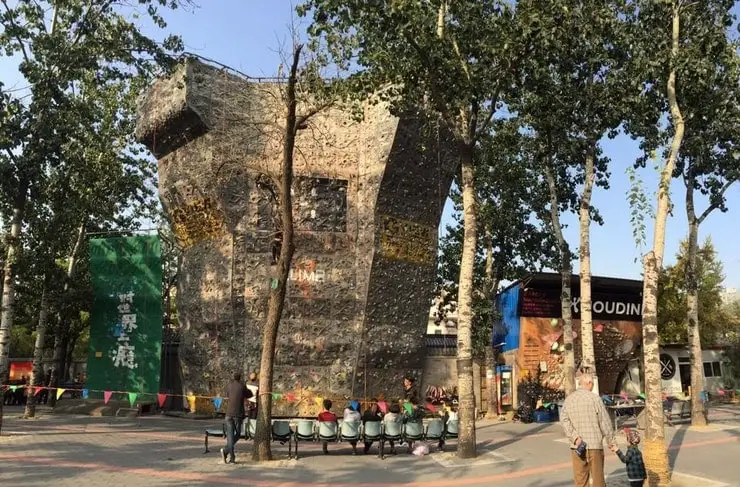 If you would like to train or try climbing outdoors, Ritan park is the best place for beginners and experts and to meet other local climbers.
It's open on the weekends from the end of January to November from 10 until 21:30 (more or less) and the price is Y10 ($1.50) per climb or Y30 ($4.50) per day.
5) Try a Via Ferrata in Yanshan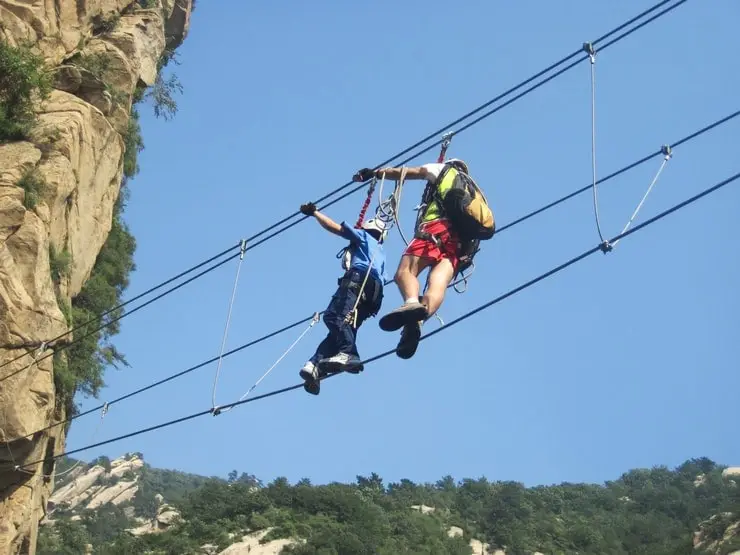 If you would like to get away from the pollution of Beijing, and do some outdoor activities, I recommend a Via Ferrata. A Via Ferrata is an established route, with stairs, bridges, footholds, handholds and steel cables fixed to the rock.
For those of you who are scared of heights or do not have the strength or ability to climb, this is the best option. It's made for anyone and although it may seem a little bit challenging or intimidating, it's totally safe and worth a try. The views are incredible and the experience is very fun.
If you do it once, you'll do it again!
More information at http://www.viaferratachina.com/
6) Rent a Bicycle and ride along the Tongzhou Canal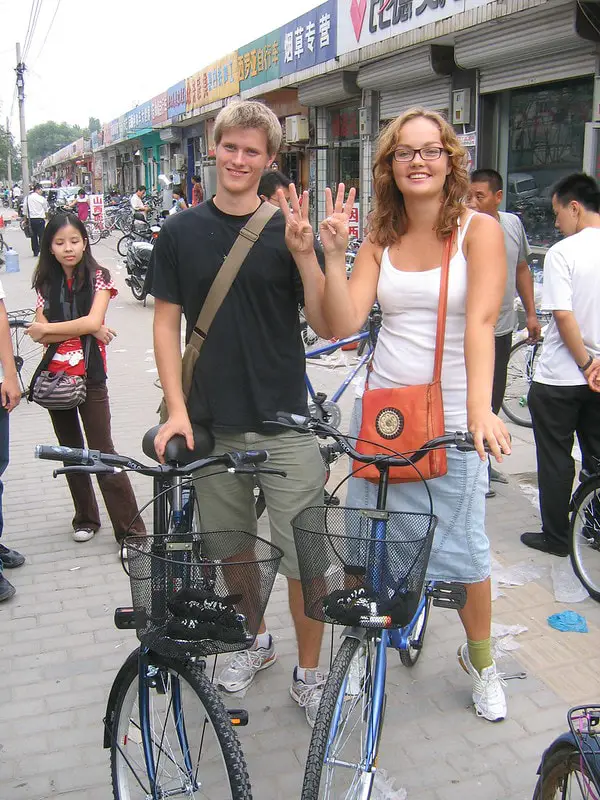 Rent a bicycle and ride along the Tongzhou Canal – this canal is surrounded by a forest park, a great ecological park perfect to spend a picnic day at.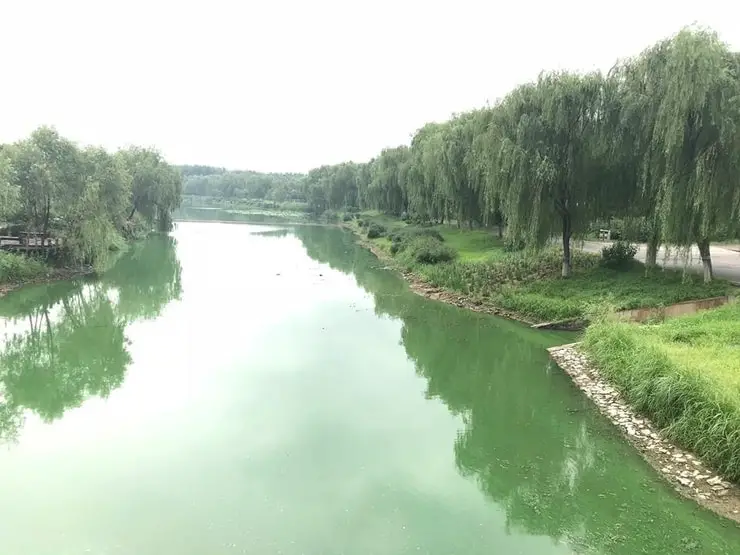 It's perfect to wander around, as there are many little hideaways to find. You will see different attractions or scenic places: a small pond with ducks, a traditional style gate, an old bridge, and even a tower, from where you can see the view over the river and the surroundings. The route is 20 km long but very easy, since it's all flat. 
7) Participate in the Great Wall Marathon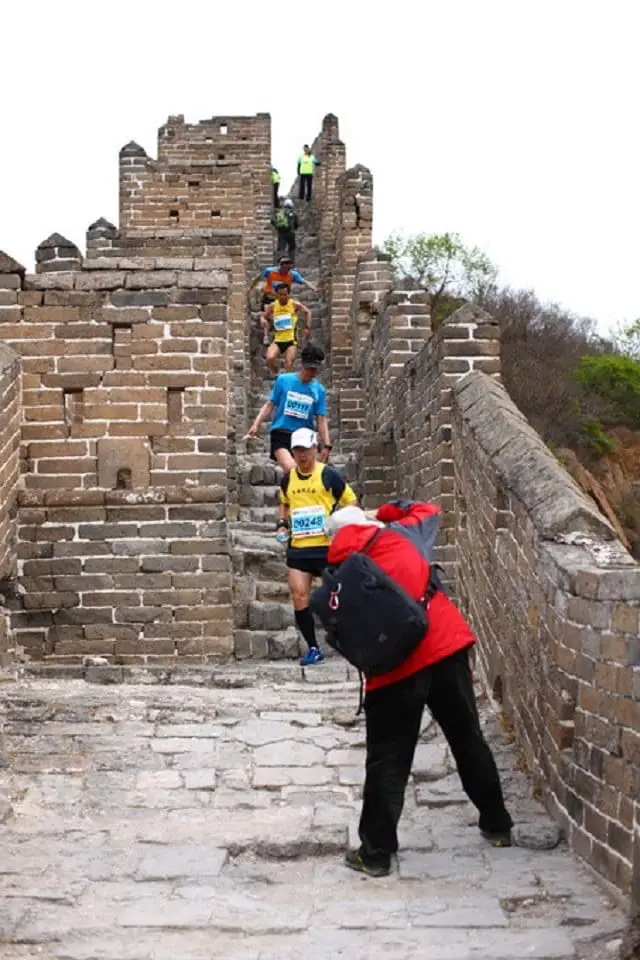 From its beginning in 1999, the Great Wall Marathon has been considered one of the most challenging in the world. 
It's listed on the Forbes list of the Top 10 Marathons Worth Traveling For and even if it's your first time traveling to a sporting event, this will be an unforgettable and inspiring journey. You'll meet people from every corner of the world, run together, motivate each other and cheer on the other runners across the finish line.
The highlights of the trip include the Great Wall run, of course, but also running through a local village with all the children and families cheering for you is definitely a very memorable experience.
It's celebrated every year and on the third weekend of May, and there are 3 distances: marathon, half-marathon and the fun run of 8.5 km.
Enjoy one of the biggest monuments of China and the impressive views whilst you run at a unique event with participants from 60 countries.
More information at: Great-wall-marathon.com
8) Experience a Monk's Life at Bailin Monastery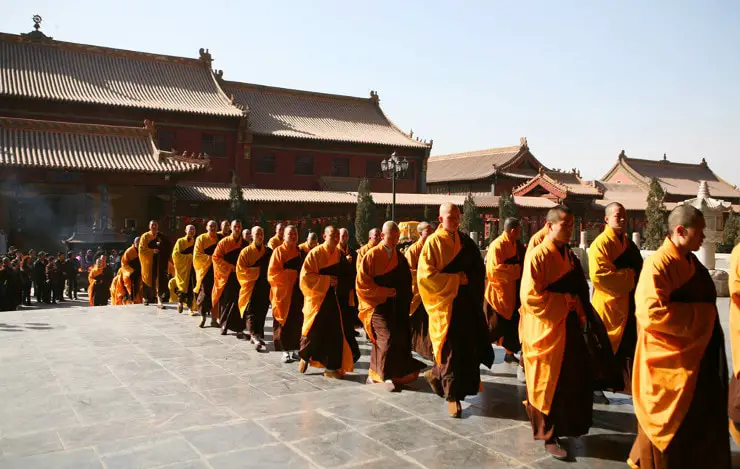 The China Cultural Center organizes a unique weekend experience: Visit one of the most remote villages in North China and learn to live like a monk in Bailin Temple, the only Zen Monastery in the north of China that allows foreign guests to stay.
You´ll learn about yourself and about "the art of life", eat with the other monks, sleep in the 1,800-year-old temple, participate in prayers and ceremonies, and speak and debate with the monks regarding life and religion.
If you want to experience something entirely different than the common tourist attractions, you should definitely check this tour out.
Price: Y3,100 ($460) for 2 people.
More information at china culture center or at [email protected]
For those who love to eat
9) Try Street Food – Bing Tanghulu: A Sweet Chinese Delicacy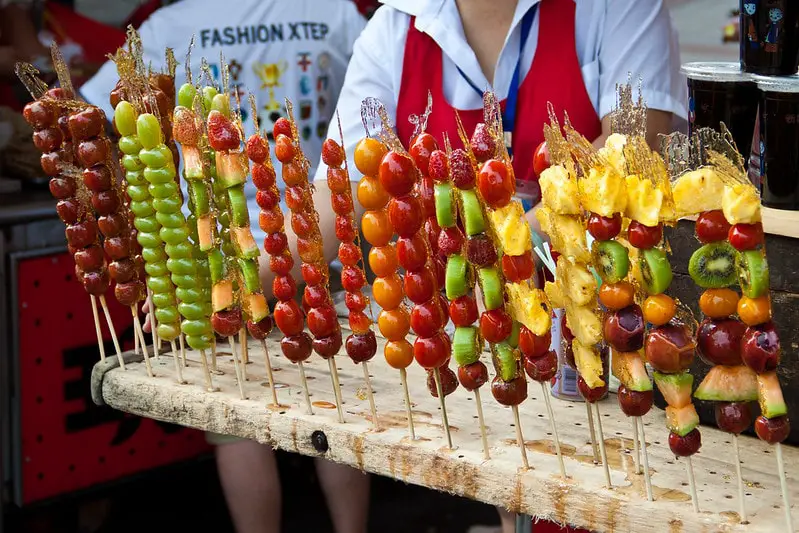 You'll find street food stalls in every corner of the city. Wherever you are you will be able to see some street vendors selling their specialties in trolleys. I would recommend you try them all, but my favorite is Bing Tanghulu – you should try it at least once.
What is Bing Tanghulu? It's a Chinese candied fruit on a stick, similar to candied apples, but in this case made from Hawthorn berries. There is something special in the sweet and sour of the fruit and the sugar coating. I love it!
10) Eat the Best Xiao Long Bao in Din Tai Fung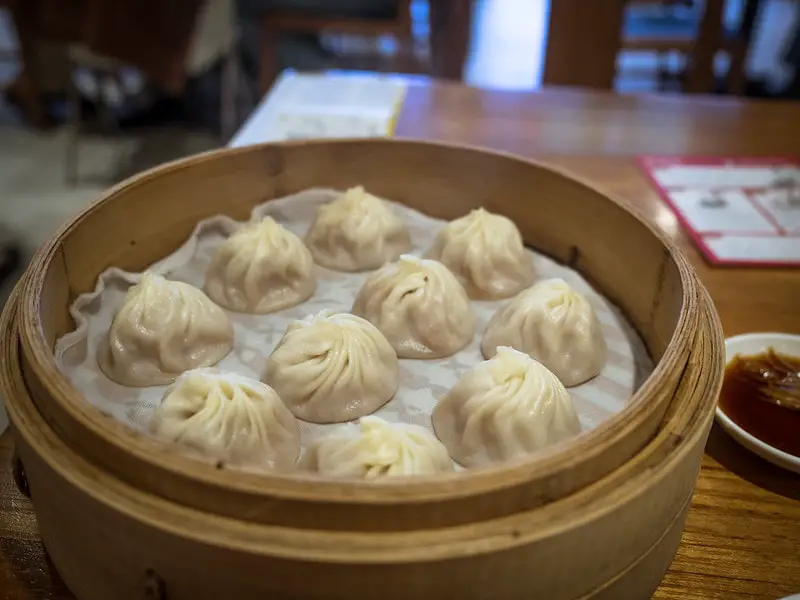 Din Tai Fung is a restaurant specializing in Xiao Long Bao (steamed dumpling with juice inside) and was voted by the New York Times as one of the best restaurants in the world.
It has many branches around the world (the Philippines, Taiwan, Hong Kong, the US) and the one in Hong Kong was awarded one Michelin Star.
If you go, don't miss the pork Xia Long Bao with truffle. I tried the vegetarian, the pork jiaozi, and the crab and pork soup Xiao Long Bao. There are 3 restaurants in Beijing. I went to the one in Wangfujing – it's located on Level 6F of the APM shopping center.
If you love dumplings, you will not be disappointed.
11) Eat Beijing Roast Duck in a Genuine Hutong Restaurant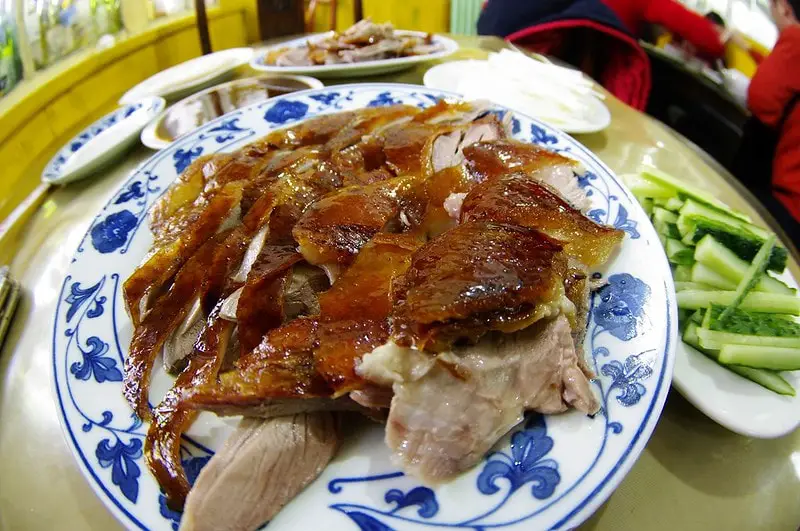 I know Quanjude is the most famous roast duck restaurant (it opened in 1864 and has many branches in Beijing. It's a fancy restaurant, where the chefs will come to your table and show you how to carve the duck and a waitress will help you prepare the duck sandwich with super thin pancakes, sauce and greens.) But if you are looking for a more authentic local experience, you should go to Liqun restaurant.
In 1991, Zhang Liqun, Quanjude's main chef, decided to open his own restaurant in his small courtyard in an old Beijing Hutong and from there came Liqun restaurant. The small eatery is in a traditional hutong, and it has not been remodeled or transformed – it looks as if it's from the 80s. Without a doubt, it's one of the best places to eat Beijing Duck, at an affordable price and in an authentic atmosphere.
12) If You Like Soups, Try the Beijing Mutton Hotpot at Jubaoyuan
Credits: yucassiesveta
The restaurant Jubaoyuan is a famous traditional hotpot restaurant in the Muslim area in Beijing that offers very good quality mutton from the interior of Mongolia. 
The menu options are limited, and they don't have pictures or menu cards in English. So if you don't speak Mandarin take a photo from TripAdvisor to show them what you would like to have.
Anyway, they mainly only serve their specialty star dish, which is the Hotpot. It's a broth simmered in a copper pot. When the broth is boiling you may add many ingredients in until cooked.
You can add mutton, veggies, tofu, seafood or noodles … anything you want. And everything is cooked at the table, so it's super fun and a social way to spend the night that never gets boring.
Jubaoyuan is always packed so a reservation is needed; if not, you'll have to wait around 45 minutes at least.
For those who look for relaxation and leisure
13) Treat Yourself to a Calm and Soothing Chinese Massage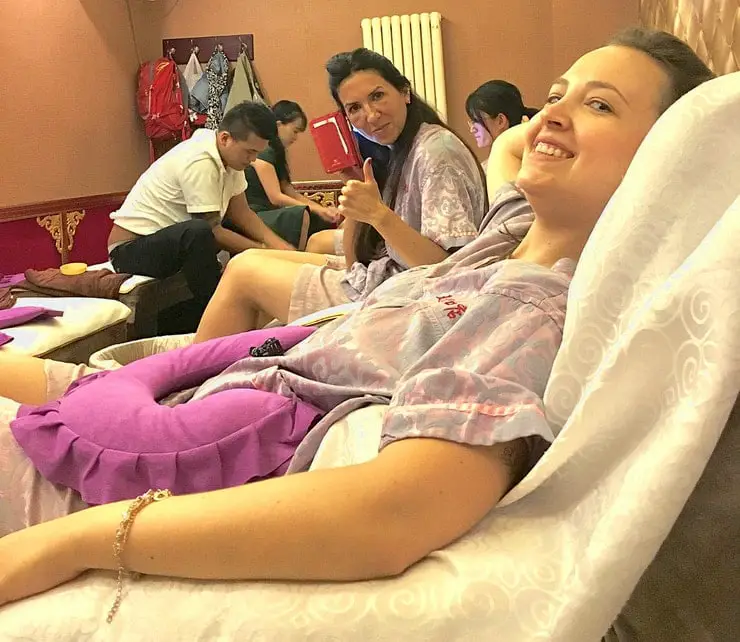 After walking around cities for days, biking, climbing all kinds of hills and dragging your suitcase from place to place, your body starts to feel tired.
What better way to relax your muscles and mind than with a traditional relaxing Chinese massage? You deserve to treat yourself to something nice and reinvigorating.
Aixin massage keep-fit center (爱心盲人推拿保健中心):
Chaoyan park branch:
Room 202, 2/F Bldg 1, Fulihuayuan 40, Maizidianjie
( 麦子店街40号富丽华园1号楼2层202室)
Sanyuanqiao, near the Sheraton Hotel
All the people working there are blind and they are known for their high standard of traditional Chinese medicine massages.
The skilled blind masseurs will examine your body, looking for your sore spots, and they will combine different techniques like cupping, acupressure, and tapping techniques to bring your body back into balance. They can also recommend living a healthier life depending on your diagnostics.
However, do not expect a soft and gentle massage but more an experience that's between pleasure and pain at the same time. They say that the Chinese massage hurts, but you will wake up next day pain-free as it loosens all your knots and tensions.
14) Go to a Shopping Mall
If you love to go shopping, Beijing is a paradise for you.
Solana is a shopping town with European-style buildings and elegant streets built around Chaoyang park and lake. It has more than 600 shops, major US and UK brands, a bar street and many restaurants. It has both outdoor and indoor sections and it's a great place to hang out at night.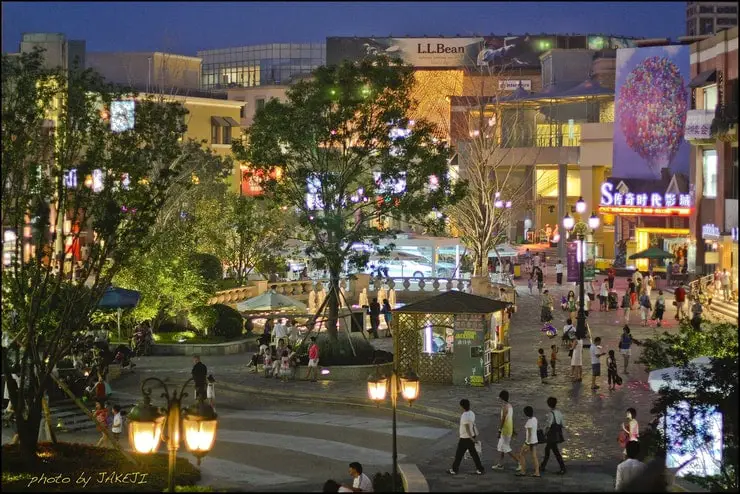 "The Place" shopping mall: One of the attractions of this shopping mall is the huge LED ceiling that shows quick shows and designs. It's actually the longest LED screen in Asia on the roof. Open-air bars, luxurious shops, and western and oriental restaurants are available – a good shopping area well worth a visit if you are in Beijing.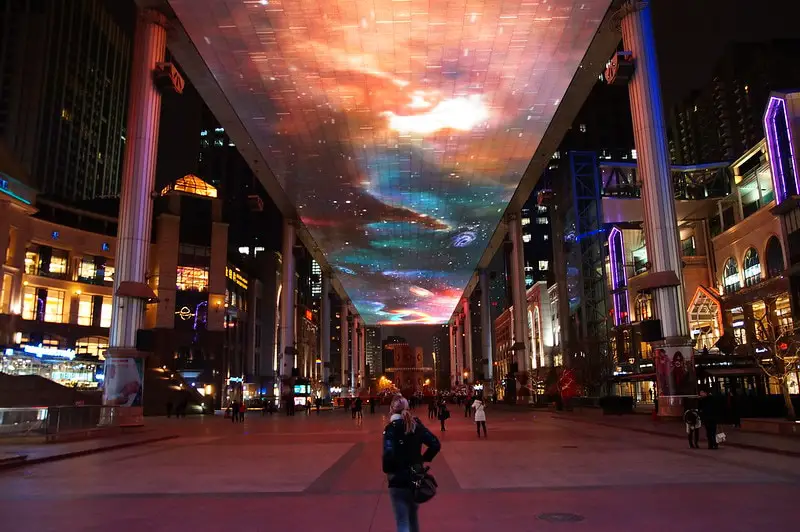 For those who want nightlife
15) Have a Drink at "Migas Mercado" in Chaoyang District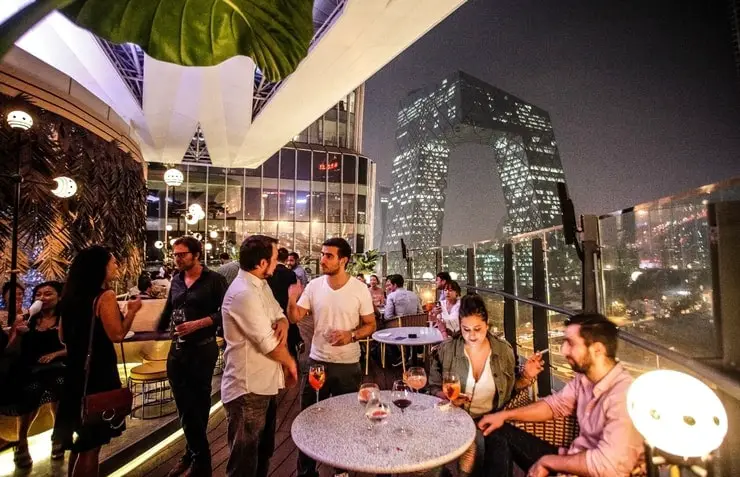 Make sure you go to the Migas rooftop for drinks and a nibble – this bar is the fanciest place with the best views of Beijing Chaoyang area. 
Apart from this, at night, you can breathe the coolest atmosphere, enjoy creative drinks and taste the best Spanish food.
Frequently visited by tourists and locals, it has a good environment. If you're in Beijing, do not miss its parties.
16) Have Fun at a Karaoke as the Locals Do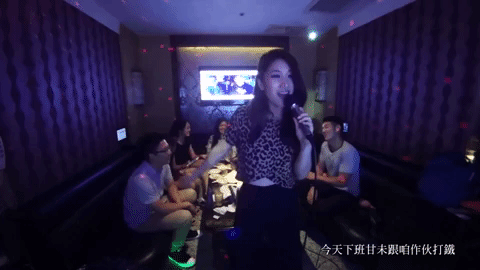 Forget the bars and the clubs, if you've never been to Asia you probably will be surprised, but the party is at the karaoke bars. 
KTV is what they call it there. 
It has nothing to do with the western karaoke bars, which is more of "a den" where the people sing on a stage after having five drinks. The KTV are private rooms where groups of friends or businessmen go to have fun, with a big TV screen, a table where they normally put food and drinks, and sofas.
You can sing, drink, smoke and flirt. So it's the equivalent to the western drink bars. It's a super popular thing to do within the Beijingers; there are songs in all languages: Chinese, English, Korean, Japanese … so you have no excuses!
You can go to Melody, a very popular karaoke bar in the Chaoyang district of Beijing. It's a good choice because it has a wide selection of songs in English, Japanese and Chinese and the food is free.
If you don't dare to go to one of these KTVs, the new karaoke trend that I also found very interesting when I was there was the micro KTV booths.
These are small karaoke kiosks to sing alone or with a partner, and they are usually installed inside shopping malls.
They are transparent cabins and work like arcade machines. They are equipped with a computer screen where you choose the songs, the language, headphones, a microphone and barstools for 2 people to participate.
It's a great idea for introverted singers! And you can even record your song and get a copy on your phone. It's super easy to use and pay (ApplePay, Visa, SamsungPay, Wechat, etc.).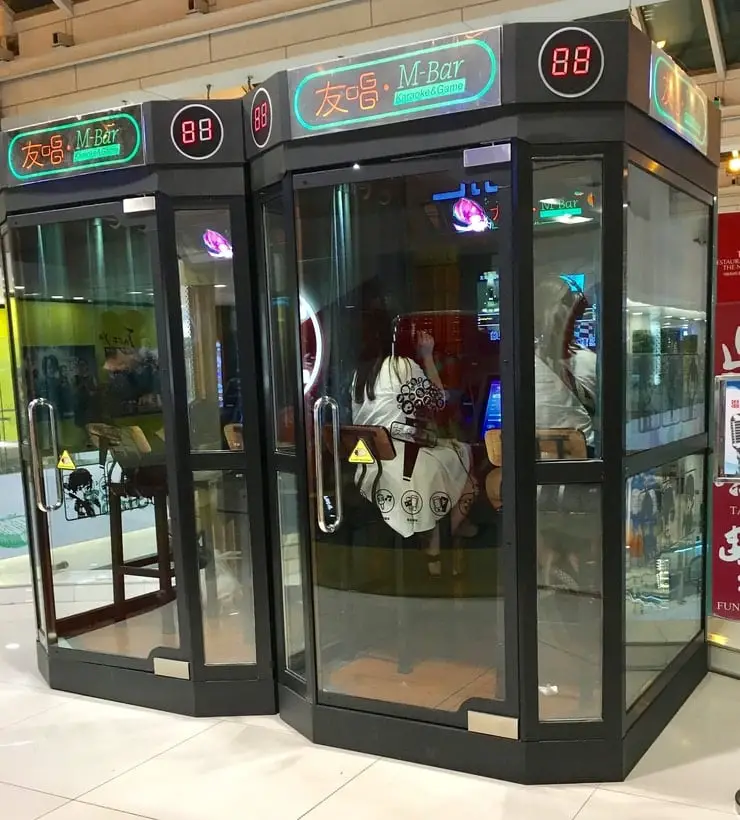 For Those Who Want to Continue Doing What the Tourists Do
17) Houhai, the Favorite Recreational Place for Local Beijingers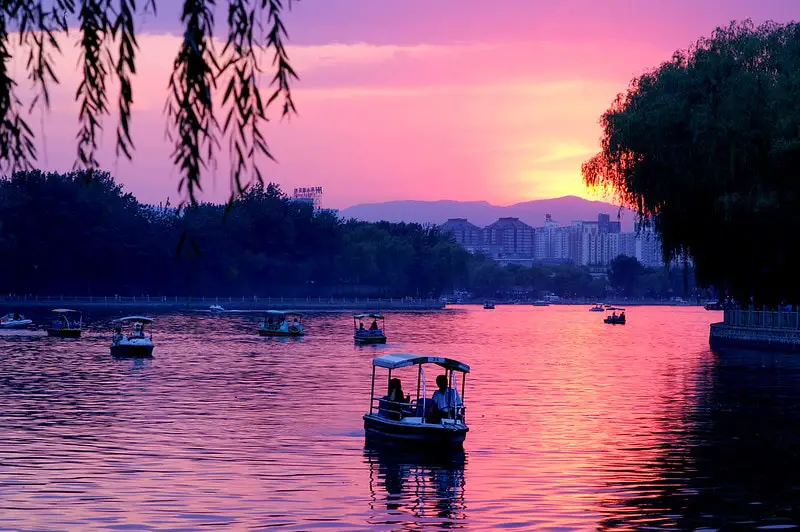 Whether you go in summer or in winter, there is something to do in Houhai.
Houhai is surrounded by a lake – it's a very romantic area. In summer you can walk through the stores and restaurants surrounding the lake and rent a pedal boat. Later, at sunset, you can sit on one of the rooftop terrace bars and enjoy a beautiful sunset. And at night you can find karaoke bars and restaurants with live music.
In winter, from December to February, the lake transforms into a natural ice skating rink. It's huge and very famous amongst the young and senior citizens, and it has a lively atmosphere.
18) Have Your Photo Taken in a Traditional Chinese Costume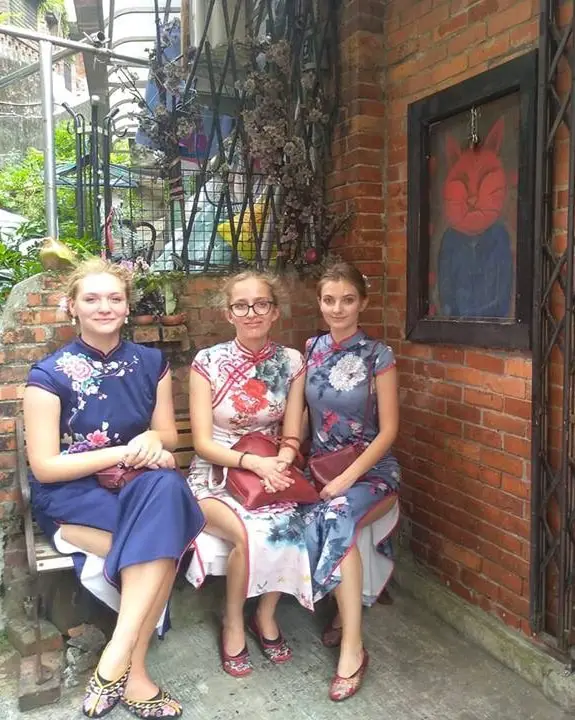 Some people say that the best souvenirs from trips are photos. If you are looking for a souvenir photo taken in a traditional Chinese costume, then you can take the best memory of Beijing at the Summer Palace.  
Inside the Summer Palace complex, there's a street called Shuzou St. where you'll find a store where you can dress in traditional antique Chinese clothing and have your photos taken.
You can choose the number of photos and different outfits. They have a catalog with different options, such as a King or Queen, Princesses of different regions, or a Chinese opera singer.
19) Explore Chinese Tea Culture at Lao She Teahouse
Lao She is a tea house in Qianmen, where you can have tea in all of its varieties and experience the cultural tea ceremony.
Lao She recreates the charm of old Beijing teahouses. It has daily Chinese shows such as Chinese opera, puppet shows, Chinese comedy, martial arts and other different performances, so it's a nice overview of the Chinese tradition.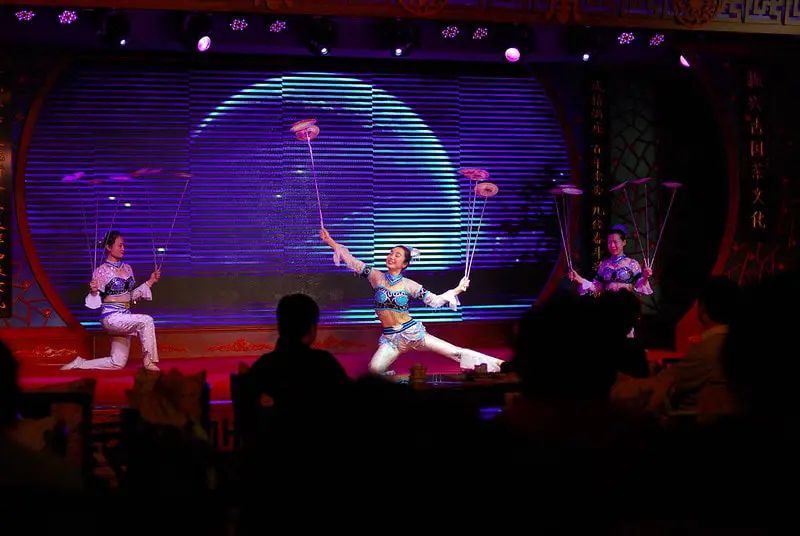 Don't forget to order some Qing Dynasty emperor-style snacks along with your tea.
Want more posts about Beijing? Be sure to check out my Beijing tourist guide: 12 things to do in Beijing.
Until next time!
Similar Posts: