In discussing your pilot's logbook and describing how to get the best out of it, we are going to talk about one of the most important tools you will ever have in your flying career.
Don't view your logbook as just a piece of mind-numbing bureaucracy, think of it as a diary of your flying achievements.
What is a Flight Logbook for?
In its simplest terms, a logbook is a book of record.
It is – and here is the crucial point – your record of the hours you have spent flying a plane, where and when, and under what conditions.
As well as a legal document, it is hugely important in the way people may judge you.
If you want to become a pilot, an instructor, or even to lease or rent a plane, nothing will happen for you unless you can produce a logbook that is neat, accurate and up to date. 
Paper or Digital App / Electronic Logbook?
The short answer is use both.
If you live in a world where computers never fail, software never crashes, and apps always act the way they should, then by all means, just use one of the digital app logbooks we'll be describing below.
But for the rest of us, it is way better to use a paper logbook as well as an electronic one, both.
This way, you'll always have a backup.
Or just use a notepad and then transfer it to the app.
If you are a student pilot, you should keep track of your hours in a paper logbook because you will need a lot of signatures from your instructors while in training, and this simply isn't as easy with a digital device.
Besides, it's always more convenient to bring your paper logbook with you to an interview or to show it to an examiner than having to print the pages from the app to whoever may need them as proof of your experience. 
And, as I said in the intro, the paper logbook can become a diary of your flying achievements.
Electronics are all well and good, but they are hardly inspiring mementos.
Tip: Some flying schools may not issue you with a logbook or discuss your need for one during your first few lessons.

Don't be frightened to ask them for one or to purchase one for yourself (see our recommandations below).
What are the best paper logbooks?
Here are two of the most popular paper logbooks on the market.
Both meet all required aviation regulations, and both are available on Amazon.
Standard Pilot Logbook
Sale
This is Amazon's number one bestseller in the Commercial Aviation books department.
It is the go-to pilot's logbook for many people and has been around for over 30 years.
At 8 inches long and a touch over 4 inches high, it's compact and easily carried, easily stored, and is perfect for the job it is designed to do.
ASA (the publishers) also do a comprehensive range of aviation books.
Jeppesen Pilot Logbook
Sale
The Jeppesen is larger at 12 x 9 inches, and it is a bit heavier.
The layout is straightforward and familiar (there are requirements for all logbooks to have a minimum amount of information) and has thirteen lines for flight data.
Jeppesen also has logbooks specifically designed for student pilots.
These two products are close enough in quality and design-for-purpose to perhaps make your selection a matter of personal preference. Just look for something small, easy to carry, and sturdy.
What is the best logbook App?
This app is a logbook replacement app that is considered one of the greatest logbooks for pilots.
Unfortunately, it is only designed for Apple platforms: iPhone, iPad, and Mac.
You can choose to format your logbook with name brand logbook formats like ASA or Jepps, select fully customizable options. It's quite easy to use, but if you need help, they provide many video tutorials to learn how to log, analyze, customize, and export your pages.
It has a handy Night Mode to protect your night vision, it syncs automatically via the Cloud with your other devices, and it's very straightforward to install.
Safe and useful.
Logbook App alternatives
This logbook is built-in to the ForeFlight app (Foreflight is a Boeing company) and is a handy addition to your mobile device.
It does all that is needed in a logbook without the distraction of too many bells and whistles. 
Log flights, track hours, review currency, record certificates, and ratings, receive electronic instructor endorsements (if the flight instructor has Forelight), and generate experience reports. 
Note: the app works only on iOS devices, so if you are not considering buying an iPad, you will only be able to use the website (on Windows or Mac).
FlyGo is and intuitive logbook app – It will let you organize your logs easily and import your flight records with just a swipe with its unique Time-Saving features. 
This logbook does more than a simple logbook. You can manage documents, use intelligent auto-fill function, which will remember your specifications and auto-fill them for you. You'll search faster in your history than in any other logbook.
Very good value option.
This is the pick of the bunch. It has been the best and most flexible electronic logbook on the market for over ten years. It works across all platforms and desktop systems. It is feature-rich and will let you archive 12 months of data to the Cloud. The Standard Edition is free for a lifetime.
Heads up September 2019: MCC pilotlog is still available under that name, but the company is recommending that customers migrate to CrewLounge PILOTLOG, their new product. CrewLounge has all of the features that MCC was providing, and it's much more user-friendly and modern than the original app.
FAQ
How to fill out a pilot logbook?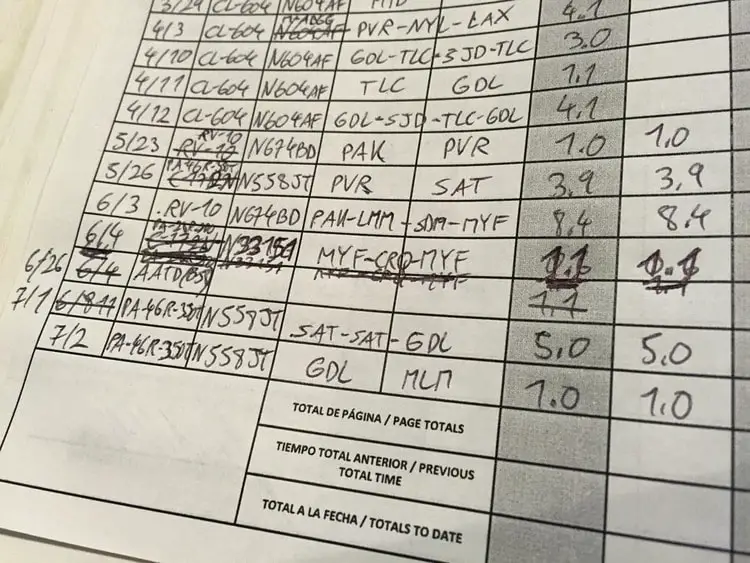 So let's look at how to fill out a manual pilot's logbook.
Frontpage: This is pretty self-explanatory, Enter your name and your pilot number if you have one.
Tip: It can't hurt to attach a small passport photo or something similar on this page. People might  not know your name, but they may recognize your picture if your logbook gets lost..

Also, put your name (on professional looking labels) on the front and back cover. If your logbook is amongst a pile of others, it's then easy for you or a potential employer to find it.
Date: This is the day you take off, not when you land. Departure is from when the plane starts rolling. Chocks away.
Place: Use the ICAO 4 letter airport code because some small airports don't have a 3 letter IATA code.
Make or type: don't forget the variant, e.g., don't just put Cessna, put Cessna 152
Pilot time: put a cross in here if you have been flying by yourself. If you are a member of a flight crew, put in your actual piloting, or 'stick time'.
Tip: Time in decimals or analogue? Up to you, but digital is a lot easier to add up and leaves less room for error.
PIC Pilot in Command: if you are a student, this is the instructor's name. If it's you with an instructor, you can put 'self', but the instructor will have to sign off on this. E.g., if you are on a check flight, you are obviously the PIC. 
Day or night: One hour before sunrise and one hour after sunset counts as a day flight. 
Takeoffs and landings: Pretty self-explanatory. But what about touch and gos? A touch and go counts as a landing. If you are doing circuit training, just put the bulk number of landings in and log it in the comments section.
Operational condition time: If you made a night flight or one under IFR, Instrument Flight Rules, put the time in the appropriate column.
Pilot function time: If flying solo, mark as Pilot In Command. If you are with an instructor, mark dual. 
Synthetic training: This has to be a registered FNPT device: Flight Navigation Procedure Trainer. Sorry, but computer simulators like Microsoft's are great fun and can be handy, but they just don't cut the mustard as a recognized certified trainer.
Comments: Your instructor may want to put something in here, but you can also use it for your own information, e.g. 'heavy crosswind, did go round'. 
Total hours: Add this column up very, very carefully. Use a calculator and double check your result. Read this paragraph again.
Can I log PIC time as a student flying solo?
Yes, this is a new change to the FARS, if the pilot is the sole manipulator of the controls of an aircraft in which he/she is rated.
How to correct or make any changes to an official flight Logbook?
Draw a neat line through the error and correct it, making sure that the original is still readable.
Some people don't like using white-out fluid; to delete an entry permanently, it makes it looks messy.
Instead, you can write your entries down on a piece of paper first, check that they are correct, then copy them into your logbook.
Logbook tips before applying for a pilot job
Always, always,

keep your logbook up to date

. Try to fill out each flight as soon after landing as possible. It's so easy to mutter, 'I'll do it later,' and then find in a few weeks that you have a lot of remembering and tidying up to do.

Make sure that your flight hours are entered accurately

. Remember that your logbook is essentially a part of your job resume, so an employer needs to see that it and your job application match up.

Sign each and every page

in the space provided at the bottom — each and every page.

Take your paper logbook to interviews, not the electronic one.

Apart from informing the employer about your training and experience, a neat, tidy, and well-managed logbook is a good advert for yourself as a pilot.

Have a backup logbook.

A bit excessive? Not at all. If an employer or any relevant authority wants to hold on to your logbook for any reason, then you can let them do so without any worries.
So there it is, a rundown on one of the most important tools you will ever use in your flying career. Your pilot's logbook is a friend, not a burden.