Not sure what to wear on a long plane flight? Worry no longer, we'll answer that question for you.
Read on to see our recommendations on what to wear and our incredibly easy outfit ideas culled from our expert flight attendants' views and experience.
Ideas for women
In Spring / Summer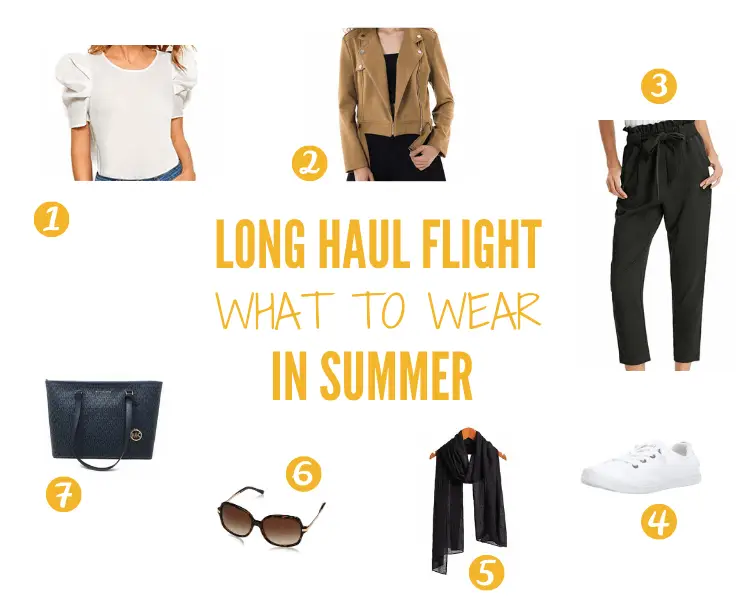 Products listed above:
❶ Short sleeve blouse
❷ Long sleeve coat
❸
Slim fit casual pants
❹ Sneaker shoe
❺ Scarf
❻ Sunglasses
❼ Shoulder bag
In Fall / Winter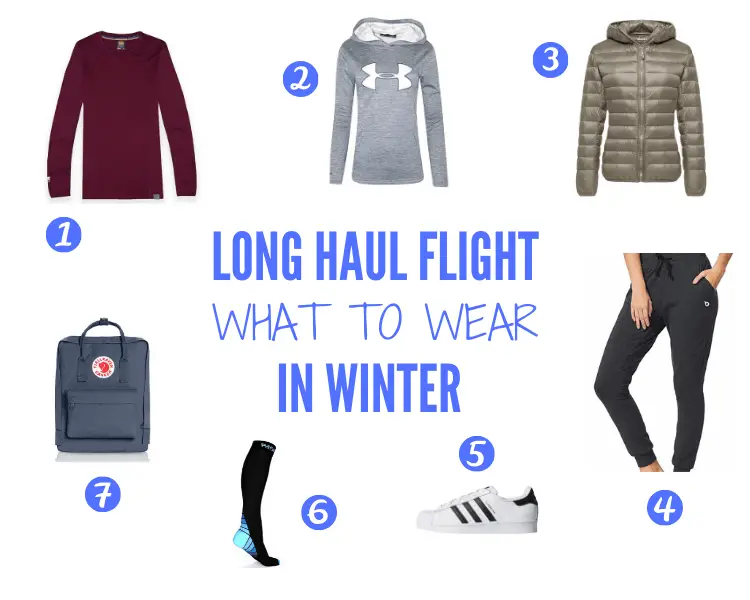 Products listed above:
❶ Long sleeve thermal shirt
❷ Hooded sweatshirt
❸ Coat
❹ Sweat pants
❺ Sneaker
❻ Compression socks
❼ Backpack
Ideas for men
In Spring / Summer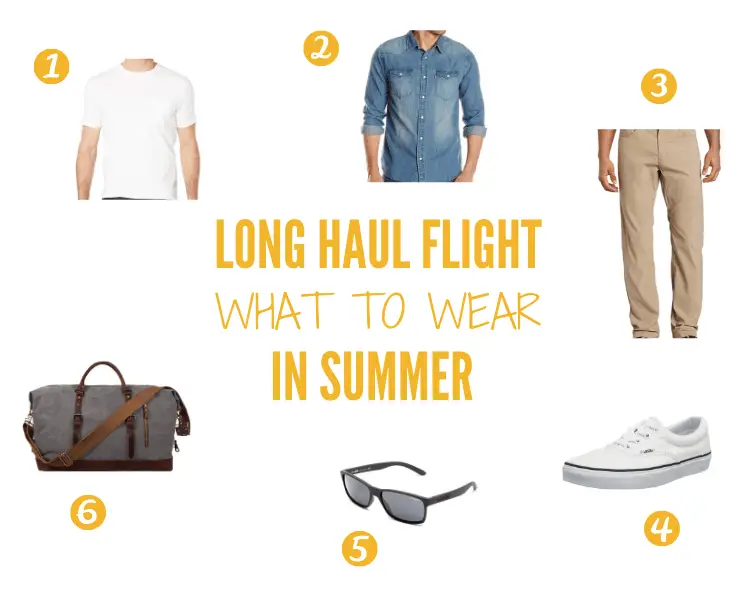 Products listed above:
❶ Short sleeve tshirt
❷ Denim shirt
❸ Stretch pants
❹ Vans
❺ Sunglasses
❻ Duffle bag
In Fall / Winter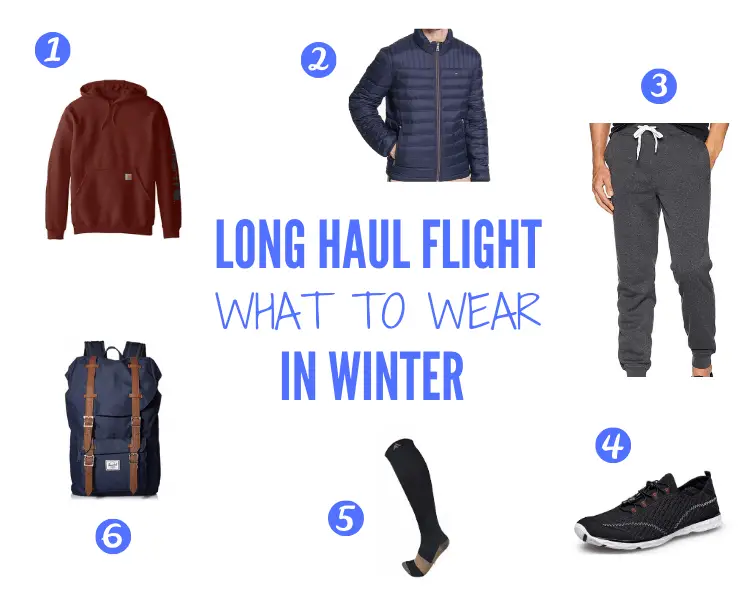 ❶ Hooded sweatshirt
❷ Puffer jacket
❸ Jogger pants
❹ Aqua beach shoes
❺ Compression socks
❻ Backpack
10 Tips on What to Wear on a Long Haul Flight
Tip #1: Wear comfortable clothes
The days of dressing up to fly are gone.
Being fashionable is lovely, but on a long haul flight, what is most important nowadays is to be comfortable.
So wear the sort of clothes that do that for you.
Your favorite jeans are something that you love wearing, you can pair them up with almost anything and they are like an old friend, but are they right for this situation?
Being constricted in any way on a plane flight is something to be avoided.
So if they are not as comfortable as you would like, choose something like joggers, khakis pants, or leggings.
Okay, they may not be the height of fashion, but we're being practical here, right?
And make sure that whatever you wear has stretch and give and doesn't hug your skin.
Tip #2: Pick natural fabrics
If possible, always use breathable fabrics like cotton, linen, and wool .
They will wick moisture away from your skin and will dry quicker than synthetics.
Tip #3: Don't forget a lightweight jacket
Don't forget to pack a lightweight jacket for the plane, even if it's summer and you are traveling to a hot weather destination.
There will be air conditioning in areas of the airport and inside the cabin of the plane, so it's sensible to have something available to put on.
If you can avoid a heavy coat, do so. They add an awful lot to your weight and they are space hoggers in your suitcase.
Tip #4: Layer up
A clever idea is to wear clothing that you can layer so that if you do find yourself too cold or too warm at the airport or on the plane, if you have a jacket, a t-shirt or a sweatshirt/cardigan, it's simply a matter of adding or removing an item of clothing.
Tip #5: Bring a scarf
Don't overlook this one, it's seriously a good tip.
As well as the obvious, you can use a scarf as a blanket to warm you up, as a travel pillow and you can use it to cover your mouth to protect your throat against cold/dry air during the flight.
Tip #6: Keep it simple
To get through airport security faster: wear something easy to remove (shoes with laces are not the best idea or complicated clothes to tie and untie).
Don't wear too many metal accessories (belt, jewelry: necklaces, bangles, earrings, metallic sweaters, umbrella….).
Keep it simple, that's the key to all of this.
Not only will you be saving time, but it's also more comfortable and you won't have to worry about forgetting to pick all the things you had to remove at the security checkpoint.
We already carry enough when we travel, so in this case, less really is better.
Tip #7: Easy to slip on and off shoes
It's best to wear ones that are flat and comfortable and that are easy to slip on and off: sneakers, loafers or TOMS slip-on shoes.
And don't forget that you may need to walk a lot at your destination airport and your feet may well be swollen after flying.
So high heels and tight shoes are not something you want to be even considering.
If you are tempted to wear sandals or flip-flops that's ok, but your feet might end up a lot colder than you'd like or thought that they would be.
And, at the risk of touching on the crude, going to the lavatory/washrooms, can be a gross experience if you have exposed feet.
That fluid on the floor is likely to be something a lot more unpleasant than just water.
Tip #8: Bring socks
They might be useful at the TSA screening when you remove your shoes and during the flight to feel warmer.
Compression socks are the best if you are going to be seated for a long period of time to avoid blood circulation problems.
Tip #9: Bring a backpack
A backpack or a big tote bag to keep all your travel essentials and technology gear.
The more compartments and pockets, the better.
I always prefer a big bag rather than a small mini purse that I can't fit very much of anything.
Below is my list of long haul travel essentials. Check it out, because it will make a big difference to your flying experience.
Deodorant
Sleeping kit: Travel pillow, eye mask, earplugs
Beauty products: Face mist,  8 hours skin protectant, hand cream, fresh fragrance, lip balm, face wipes.  Look for samples or travel sizes of your favorite products.
Toothbrush and toothpaste
Hair comb
Magazines, your favorite podcast, ebook or something to get distracted with
Glasses and contact lenses
Antibacterial wipes&hand sanitizer
Water
Electronics: Headphones, powerbank, Kindle
Snacks and water
Compressive Socks
A change of clothing
Medication
Pen: to fill out immigration forms
Tip #10: Dress appropriately
Please dress appropriately for the airport and for the country you are traveling to.
Many Muslim countries are tired of seeing tourists in skimpy outfits, and they are calling on visitors to respect their culture.
There's nothing wrong with dressing in lighter clothes to deal with hot weather, but it's important that you don't accidentally offend anyone with your choice of clothing, even when you are at the airport.
So check the local customs and dress code for your destination.
A good idea if you want to sleep your way through a long haul flight is to change clothes.
You can bring your sweatpants and a t-shirt in your carry-on and change just before boarding or in the restroom on board the plane.
You'll be dressed for sleep and this will help you have a good one.
If you fly Business or First class on certain long haul flights, with some airlines like American Airlines, British Airways, Lufthansa, Air France, Emirates, Etihad, and some Asian Airlines, you will be offered sleepwear or pyjamas. Take up the offer, you won't regret it.
How do I dress my kids when we're traveling by plane?
Simply follow the same rules that I outline above.
Dress them in something comfy.
Oh, and kids being kids,  stain-resistant, dark-colored clothes are a very good idea.
Don't forget a jacket or coat, socks, hat and gloves if needed.
If your children are infants, choose something that is easy for you to handle when changing a diaper in an airplane restroom: something with buttons for easy diaper-access.
Always bring a change of clothes in case there are any spills or other accidents.
And there are always spills and accidents with the little ones, aren't there?