Have you been thinking about ditching your current career to become a flight attendant? But you're worried it's too late?
Well, stop worrying because it is never too late to become a flight attendant, at least not if you are willing to work for airlines based in the US, UK, or Canada.
Due to laws against age-based discrimination, in these countries you can technically become a flight attendant at any age.
The sky is the limit, so let's explore how age may, or may not, affect your chances of starting a new career in aviation.
Am I Too Old to Become a Flight Attendant at 30/40/50?
The short answer is no.
When I was in training, I was delighted to see how much age diversity there was in my training class. I was in my early twenties at the time, but a number of my classmates were in their forties and fifties.
Many of my colleagues have had full professional careers prior to becoming flight attendants, some had been teachers, lawyers, college professors, nurses, one had even been a cardiovascular surgical technician before becoming a flight attendant, and let me tell you, it was great to have him around during an on-board medical emergency.
Airlines often view prior life experiences positively since they know it means you bring unique experiences and skills to the crews you will be a part of.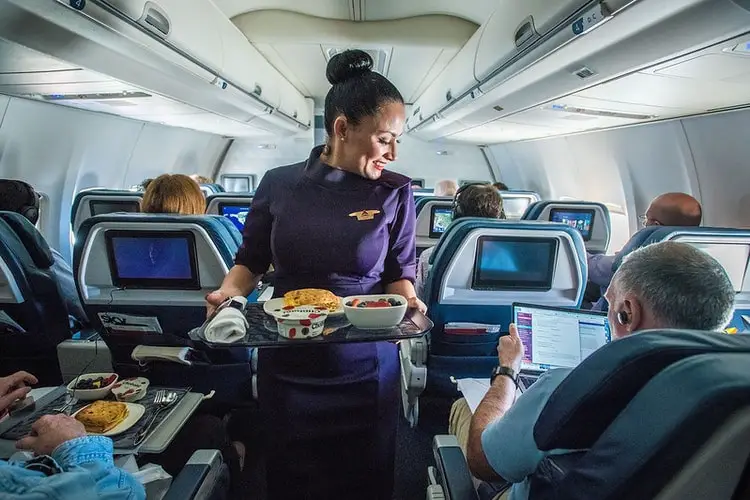 What is the Average Age to Become a Flight Attendant?
Most people become flight attendants in their early-to-mid-twenties.
That said the current median age of working flight attendants is 44.
So, if you are starting your career later in life, you certainly won't be without peers in your age group!
We also gathered the age of over 300 flight attendants working for a US airline, here's the data shown on a graph:
A Note on US Airlines and 9/11
After 9/11 there was a 10-15 year hiring freeze at most of the major airlines in the US.
This meant a whole generation of would-be flight attendants did not have the opportunity to pursue their dreams and instead had to settle for other careers or passions.
If you are a member of that generation and you're thinking about trying again. Go for it! No matter how old you are!
Recruiters will be especially sympathetic if you tell them your reasons for coming to the profession later in life.
What is the Maximum Age to Become a Flight Attendant?
There is no "maximum" age to become a flight attendant.
There are however a few age-based factors that could sway a recruiter's decision.
Physical Requirements
Physical discrimination on the basis of height and weight are illegal in the US, UK, and Canada.
But being a flight attendant is physically demanding and if you can't keep up with the demands it could put your safety, and the safety of others, into jeopardy.
Therefore, airlines are allowed to make hiring decisions based on your ability to satisfy a few physical requirements.
These include:
Being able to lift your own suitcase into the overhead bin.
Be able to push around the heavy beverage carts.
Be able to lift fully-stocked cart inserts (the little drawers full of cans and food that go into the carts).
Be able to stand for long periods of time.
Be able to open the airplane doors in an event of an emergency. *
* Most airplanes have an automatic pneumonic system that opens the main exit doors after you have operated the lever. The 737 does not. This means, in an emergency you need to be able to throw the door open. The door weights between 150-200 pounds (68-90 kg).
On other aircrafts you have to be able to lift the whole over-wing exit door into the aircraft and place it onto a row of seats, these doors weigh about 45 pounds (20 kg).
If you are in great shape, these requirements will not hold you back but if you have any age-related conditions like osteoporosis or arthritis, you may want to do some weight training exercises to help you satisfy these requirements, they will test you on these at training.
Family Planning
Discrimination based on family planning is also illegal in the US, but people will sometimes still act on these old-fashioned, sexist prejudices, especially for women applying in their 30s and 40s.
⚠️ Just keep in mind, even if you are visibly pregnant at your interview, recruiters cannot ask you how being a parent will affect your job performance. They simply aren't allowed, and you can politely decline or offer a diplomatic non-answer.
"I'm sorry that is a very personal question but suffice it to say that I believe my motherly instincts make me a great candidate because I will care for and protect my passengers with the strength of any excellent mother."
Why Are There Age Requirements for Flight Attendants?
Some countries do have age requirements for flight attendants.
Almost all countries require flight attendants to be at least 18-21.
And some countries will stop hiring between 28-32.
The reasons for these requirements vary, but image, physical ability, and company-longevity remain the most common reasons for age restriction in the airline industry.
Before anti-discrimination laws were put in place, US-based airlines would actually force young women to quit once they turned 26-30 because they expected women to put their careers on the back-burners in order to prioritize their families. Thankfully, the US has come a long way since then!
Is it Too Late to Become a Flight Attendant?
It's really never too late to become a flight attendant.
That said, it costs a lot to train flight attendants so airlines do tend to prefer candidates that will work for them for at least 10-20 years.
Generally speaking, if you are applying in your 30s or 40s, or even 50s, this won't be a huge problem since you can reasonably expect to work until you are in your mid-60s.
However, if you are applying in your 60s, recruiters may be a little more hesitant to hire you, simply because they probably won't receive a return on their investment before you are ready to retire.
We would still encourage you to give it a shot. You never know what could happen.
How to Prepare for a Flight Attendant Interview as an "Older" Applicant
If you are in your 30s/40s/50s and you are preparing for your flight attendant interview here are a few things, you can do to make sure you shine amongst the youngsters.
➡️ Emphasize your prior professional experiences and the interpersonal skills you have gained from working in your current industry. 
For example: My friend who worked as a paramedic emphasized the fact that she has experience dealing with people in emergency situations and has learned how to quickly establish personal connections with her patients to help comfort them. She also has plenty of practice managing high-stress situations. These would be great things to mention at an interview.
➡️ Casually mention the fact that you plan on working for the airline until you reach a ripe retirement age. 
For example:
"Before I answer your question, I want to thank you so much for the opportunity to apply I look forward to learning more about this amazing company that I hope to retire from…" (And then answer whatever question they asked you.)
➡️ Practice the physical tests they may run you through prior to arriving at the interview to make sure you can complete them with ease. 
For example: You can practice doing 25–50-pound deadlifts and overhead presses. You can also practice safe lifting strategies to help protect yourself from injuries when lifting things into the overhead bins.
Conclusion
It is never too late to become a flight attendant!
Many airlines in the US, UK, and Canada are willing to hire excellent candidates of any and all ages (over 21), as long as they can fulfill the physical requirements necessary to provide excellent service and safety on-board.
I hope this article has encouraged you to put aside your age-based reservations and pursue your dream of becoming a flight attendant!
Similar Posts: