Traveling is a beautiful and life-changing experience for anyone who wants to broaden their horizons and explore the world around them.
However, traveling also requires a bit of planning and coordinating.
From booking flights and hotels to navigating language barriers, and even finding travel companions, I will share with you my list of the top 29 essential apps for travelers will have you go to your next trip with confidence.
I'm a flight attendant, I travel a lot, and I've used all these apps!
This app helps users to find and book the best free tours and unbeatable experiences with local guides worldwide.
It shows users interesting historical and cultural sites that can be of interest while also highlighting local favorite spots.
You can meet both local and travelers and share guided walking tours, night tours, pub crawls, day trips, and even make suggestions for a variety of activities to do in the area.
This app is available in over 115+ countries, offered in English and Spanish, and both activities and tours are ranked by users for an honest experience.
What makes this app really useful is that users can pace their tours according to the way they want to travel. Often travel groups go either too fast or too slow for people traveling in the group. However, Freetour allows you to set the pace you want while learning about all the sites you're interested in seeing.
Nothing is worse than not knowing what you're allowed to pack. Or worse, thinking you know what to pack and getting busted for it by TSA.
The MyTSA app lets you easily search for items permitted through the checkpoint.
It also offers other useful information about how long wait times are at various airports based on things like general traffic, weather, or other delays.
This app is excellent for helping travelers navigating the airport, which, for some people, is a stressful part of traveling. What I like most about this app is that is was designed by the TSA to help get accurate information out there. There can be a lot of hearsay out there about what is and is not allowed at airports, and this clears everything up nicely.
With Skyscanner, you can book flights, hotels, and car rentals with the app.
I would highly recommend this app for booking flights. It has the lowest prices on the market, and it shows all the small local airlines or low-cost airlines.
What makes this app so user friendly is it allows for the ability to highlight and compare prices and save booking details so you don't need to commit to the purchase right away.
What I like about it: if you are not sure about where to go, just type "everywhere," and you will see the cheapest flights available from your location. It's great for inspiration when looking for budget traveling.
This app is outstanding at comparing multi-city flight options. It also comes with a "Price Alert" setting that notifies you when a search you've saved has changed in price.
Flight Radar is an app that shows real-time flights in the sky. It's actually quite impressive to see how many planes are flying at a given time.
It also allows users to track their plane location live.
It can let you know if your flight is delayed or has veered from its original course.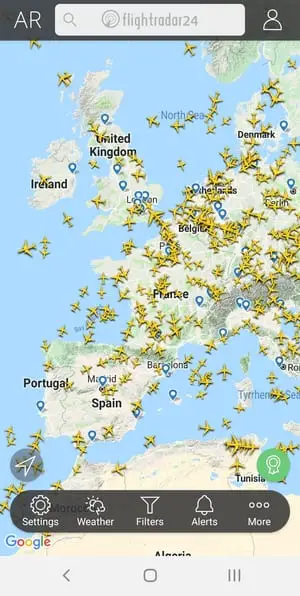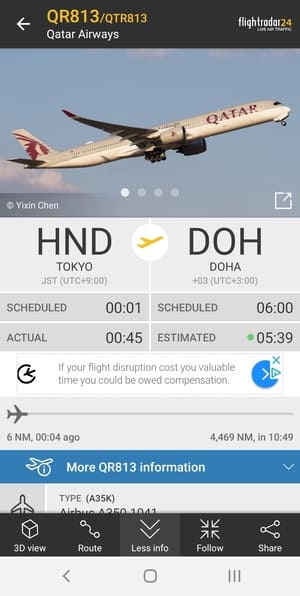 What I like about this app is that it includes other useful information like aircraft details, speed, altitude, registration, and things users might find helpful such as arrival terminal, gate, and baggage information.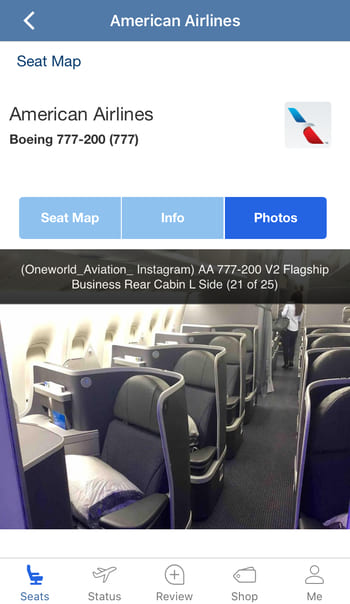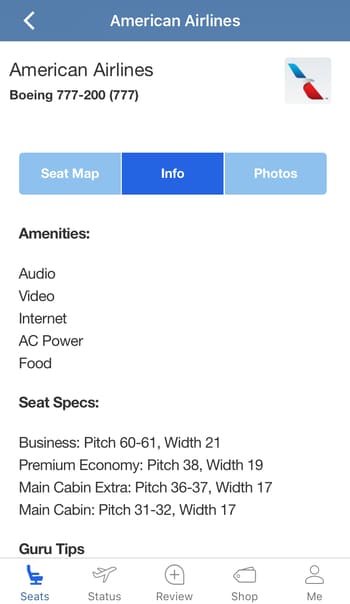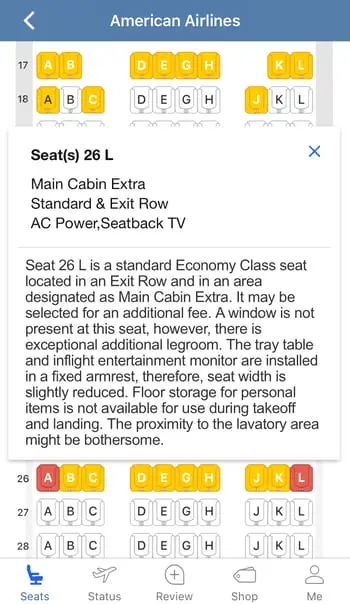 Seatguru is an app that allows users to easily pick their ideal seat and rate a seat on an aircraft.
If you bought a ticket and you want to make sure you choose the best seat for you, Seat guru will provide you the seat map, so you'll be able to see where's your seat located precisely, and it will give you details about every seat on the plane, showing good, standard, bad and poor seats and explaining why. Red means poor, green means ok seat and yellow be aware.
What I like about this app is that it is user-driven because the reviews let you know if certain seats have any uncomfortable features worth noting or, by contrast, are surprisingly great seats.
Booking is an easy-to-use app that allows users to search for and book hotels, motels, and vacation homes worldwide.
This app is excellent because the search feature is slick. You can filter and sort accommodations by distance to the city center, star rating, and price, review rating.
Besides, they have a price match guarantee. So if you find your reservation cheaper on another website, they will refund you the difference.
What I like about this app is that my credit card is saved there, so it takes only one pinch to confirm my reservations.
TripAdvisor is considered to be one of the most useful apps among travelers because it allows users to offer independent reviews for hotels, restaurants, activities, attractions, and more.
It does help when you are finding yourself in need of advice to explore and travel a new city.
My favorite thing is that you can book hotels, flights, attractions, and restaurants through their site. I really appreciate getting advice from other travelers before choosing a place.
Having a map when you're traveling is essential, and Google Maps is easily one of the best apps (if not the best) out there for maps.
It can easily be used as a GPS for your road trips.
Not only is it great for road directions, but it is also great for pedestrian walking directions and public transit directions as well.
Besides, it shows traffic congestions and re-route you to the fastest itinerary.
What I really like and makes Google Maps essential is that you can download the map before your trip. That way, you don't need to use WiFi or data to view the map – it'll be saved to your device, and you can even use the GPS with it. You'll not be able to see live traffic.
Omio is an app that allows users to book train, bus, and plane tickets in Europe.
It's very useful when you are finding trouble determining which websites to buy tickets from. It is available in a wide variety of languages making it more accessible to users.
This app is great because the tickets are paperless and allow you to create your travel plans while you're on the go.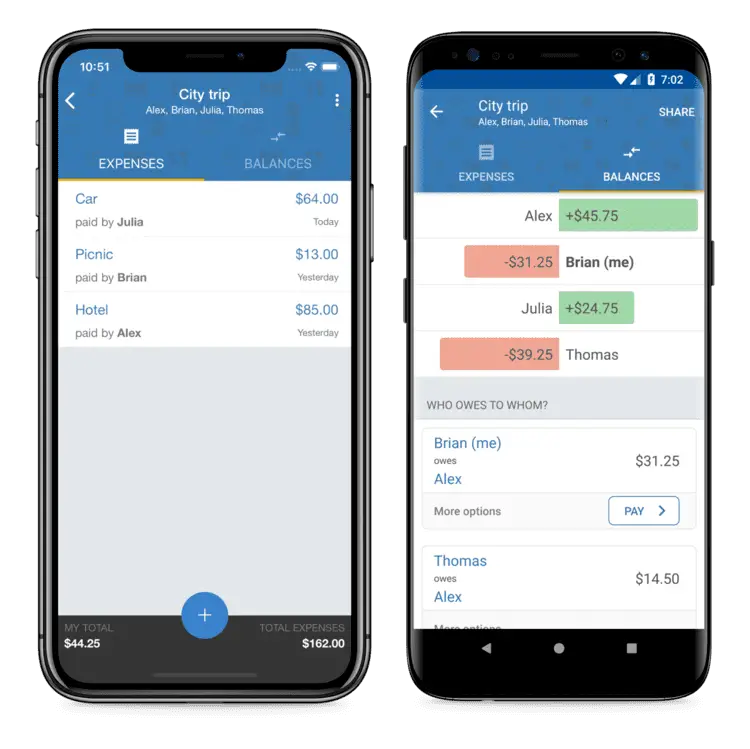 This app is ideal for people traveling in groups who are sharing and splitting expenses.
It allows you to track and manage expenses so money can be split fairly. What this app does so well, is take into consideration the factors that go into splitting expenses evenly.
Factors like a family traveling with kids in the group or someone who is contributing more money to the shared pool. However your group wants to divide the expenses can be managed.
And you can even pay all your debts through the app.
To me, this is the best bill-splitting app so far!
XE Currency Converter is essential for anyone traveling internationally. It allows users to convert with live exchange rates for all currencies easily and also works offline.
I think this app is really clever because it lets you save up to 10 different currencies on your device and track the exchange rate very easily.
For someone who isn't great with math, this is a must-have.
12) Trail Wallet
Trail Wallet is an app that lets you track, manage, and budget your expenses to help you stay within your budget.
The app divides the expenses by categories to help you better manage your money
What I like most about this app is that it's very visual. It helps users really see the breakdown of their money in a way that is clean and easy to understand. The best expense tracking app I've tried so far.
Download for iOS
13) Allsubway
This app allows users to navigate subway routes abroad easily. It highlights the route itself as well as departure and arrival times that people find useful when planning trips.
AllSubway is available in more countries than I had realized: think 216 available maps!
I love that this app is available almost anywhere you would need it. It's a lifesaver if you're stuck without WIFI in a foreign country because you can use it without an internet connection.
Download for iOS
Tripit is an app that helps users to organize their travel plans.
Users are able to coordinate their flights, hotel bookings, travel plans, and itineraries.
It also sends reminders and alerts users about any flight delays.
What makes Tripit worthwhile is that it really helps to streamline all your travel information in a way that keeps things secure and organized efficiently in one single place.
So now you know, next time, don't show up with a folder of printed confirmations or open multiple apps to check the address of your hotel, your flight arrival time, or your hotel booking reference. Just download Tripit, and make your life easier!
This is a non-negotiable must-have app for anyone traveling internationally.
Google Translate helps users to translate your language to another. It offers text-to-text translation, live photo translation, and verbal translation. It's amazing.
What I love most about Google Translate is that it is so easy to use and can be used offline. Language barriers can be complicated and difficult to navigate, but Google Translate reliably allows you to work around any language barriers you might come across in your travels.
Uber is an app that allows users to rideshare with other drivers in the area.
The drivers are all hired by Uber, and app users can easily locate, summon, ride with, and pay their drivers.
What I like most about this app is the reliability of it. The prices are often lower than normal taxis, and drivers are all great, well-rated, and easy to both locate and summon within the app. Also, because you pay your rides through the app, there's no cash exchange (therefore no prices or changes problems) between you and the driver. The best way to avoid taxi scams in a foreign country, definitely a must-have for travelers.
17) Wifi finder
The Wifi Finder App allows users to not only located local WiFi hotspots; it also securely logs you into their network. The app can provide the network's password credentials if it is secured and protected.
This app is useful because using data or roaming can get costly, especially when traveling. There are so many different hotels and restaurants that have secured WiFi networks that the ability to log into those networks securely is amazing.
Packpoint is an app that helps users decide what to bring and pack for their trip.
It's really detailed and well thought out.
You let the app know where you are going and what you'll be doing (hiking, sightseeing, swimming, upscale dining), then it populates a list of what to pack.
What I like most about this app is how intentional it is. It takes into consideration variables like the weather and your personal travel plans to create your packing list. Highly recommended!
Loungebuddy is an app that allows users to get access to airport lounges. You will be able to see what kind of amenities are offered in various airport lounges and determine if you want to book that lounge.
What I think is really clever about this app is that it helps you make the most of your time at the airport. Whether during a layover or before a long flight, use Loungebuddy to rest in an individual sleeping pod, freshen up with a shower or grab a drink or a bite to eat. Sounds like a good idea to me!
Download for iOS
AroundMe is an app that will examine the area you're located in and determine what is around you.
You will easily be able to see banks, restaurants, hotels, shopping, petrol stations, and more.
What I like most about this app is that it really helps you get a detailed sense of what is in your area. So if you are looking for a coffee or a bar close to you, this app will guide you from where you are to the place accurately. It also allows you to share what you've found with other users within the app, which can make traveling with friends easier.
Parkopedia allows users to find available parking spots near you.
It can tell you what spots are available and how much they cost to park there.
It also lets you know where to park if you're driving a larger vehicle and "compact only" parking won't do.
This is an app that I didn't know I needed until I had it. Driving in cities can be stressful not because of bad driving, but because of the hunt to find a free parking spot. Having an app help guide you to a free spot is a lifesaver.
22) Sitorsquat
Sitorsquat is an app that shows users where available restrooms are. Users are able to find public restrooms and see what kind of rating those restrooms have based on cleanliness and environment.
Very useful when you are visiting a place you don't know.
What I like most about this app is the ability to filter public restrooms by feature. You can sort your search by looking up features like access to handicap stalls, available changing table, or family room.
Meetup is an app that connects users to each other by common interests.
Users are able to find meetups for parenting groups, swimming groups, book clubs, support groups, running groups, and honestly, a meet up for any interest group you can think of.
What makes this app so nice for travelers is that you can connect with locals during your stay who share common interests. You can also connect with other people who may be traveling to that area as well. Meeting people abroad is one of the many reasons people travel, and Meetup can help you do that.
Couchsurfing connects travelers with locals. Locals in the area let it be known they have a space in their home that is available for travelers to stay in, and travelers have an opportunity to stay with them during their trip for free. Which means it's often crash on their… couch!
Unlike other home rental apps, the point of Couchsurfing is that the traveler and the homeowner have an opportunity to meet and truly share some time together.
A lot more is also possible on Couchsurfing: free tours organized by other member (s), meetups, language exchange(s), etc.
I love it because this is a great way to meet truly nice people (there's no money involved) and because you can get a better sense of the local life.
Tourlina is a travel app that is exclusive to women.
It connects women with other women to find a travel partner. For some women, traveling with another woman helps them to feel safer.
This app is great and highlights a real need that some women have to find another woman to travel with safety. This is a secure app that will connect women to another woman that has been verified by the app.
This augmented reality app is very innovative and fun to use!
Just scan the landscape with your smartphone, and you will see appearing on an overlay ATMs, restaurants, bars, bus stops, etc. You will not have to rely on maps.
I like about it that I don't get confused about where north, south, west or east is.
Opentable is a fantastic app that allows users to search for and book restaurants in the area. Restaurants can be sorted based on price, cuisine type, location, and other features like kid-friendly options or outdoor seating.
This is one of my favorite apps because deciding where to eat can get tricky sometimes, especially when people don't know what they are in the mood to eat. Finding a place to eat when traveling is even more complicated. Opentable lets you search for the food you are interested in and let you to know which restaurants are available for seating now. And it offers daily deals for high-quality restaurants.
Download OpenTable for Android | iOS
Download The Fork for Android | iOS
Worldpackers is a really clever app that allows users to connect with a host for a place to stay in exchange for work. This is often meant for people who are traveling for an extended period but could be used for shorter stays as well.
Hosts provide the traveler with a place to stay, and in return, the traveler can provide a service.
What I like about this app is that there is a mutual gain for each party, and the app securely verifies both the traveler and the host to ensure a safe relationship for all involved.
Withlocals is an app that connects users to locals in the area that offer valuable insider tips on what to do in the area. Locals will offer great reviews of places in the area and personal, non-touristy tours of their city.
What makes this app so great is that users get all the benefits of having a tour guide without the scripted tour experience. Locals can tell you first hand what being in this area is like and what they love about living in their city.