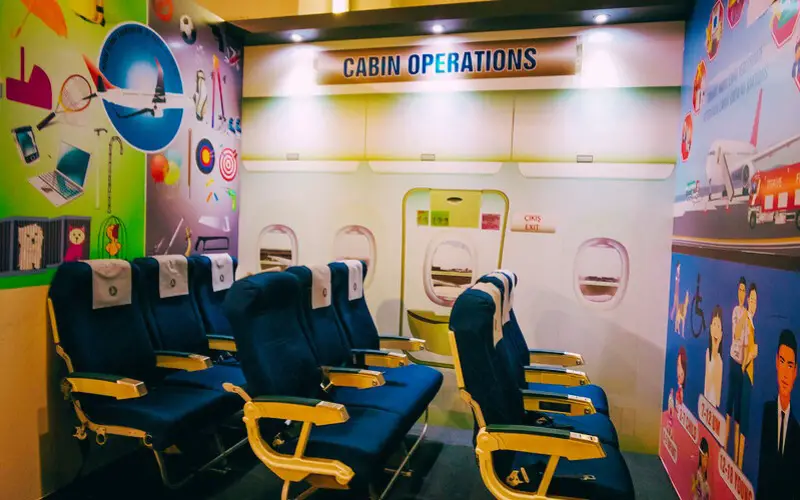 Do you dream of becoming a flight attendant in Australia? Do you think you have what it takes to get there? If the answer is yes, you may consider enrolling in an aviation school.
Australia has a variety of aviation schools, each with their own unique training, information and preparations to help you land and prepare for your dream job as a flight attendant in Australia.
It can be overwhelming to pick the 'right' aviation school, and that's why we've created a comprehensive guide to all of the aviation schools in Australia so that you have a better idea of what each one includes and how much it costs.
Let this guide be your head start into your career as a flight attendant. Let's dive right in!
🚨 First of all, why even enroll in an Aviation School? 
Aviation schools, also known as Cabin Crew Courses, equip you with the proper knowledge, skills and expertise to enter the world of aviation as a flight attendant.
While not mandatory, aviation schools better prepare you for the cabin crew assessment day and training, which in other words will give you the desired confidence to get the job and ultimately succeed in your job as a flight attendant.
The real question now is, which aviation school should you choose?
Here is your personal guide to the various options you have in Australia.
Active Aviation Training
Active Aviation Training delivers training to aspiring cabin crew. Airways Aviation Training in Australia is CASA (Civil Aviation Safety Authority) accredited, meaning it shapes its teachings in line with CASA requirements.
It's important to have plenty of support during your training, and Airways Aviation part-time and full-time training does not fall short of that.
The aviation school includes cabin crew initial training, cabin crew aircraft type training, cabin crew conversion training and cabin crew recurrent training.
Active Aviation Training also offer non-regulatory courses on customer service and first-class training.
The best thing about it is that they can either deliver relevant training based on what the hiring individual airline requires or deliver in full to cover all topics and areas.
🕒 Duration: dependent on what course or training you undertake. The duration could range from a few days to several weeks.
💰 Cost: to be discussed over the phone or in person with the administrator.
🗺️ Location: UK and Australia-wide
https://www.activeaviationtraining.com/
Aviation Australia
Aviation Australia is an extensive face-to-face course that claims it will introduce you to the aviation industry through First Aid training, Responsible Service of Alcohol, Service, Emergency Procedures and Emergency Equipment training. 
Aviation Australia is designed to give you the confidence and detailed knowledge you need to understand human factors in aviation.
Aviation Australia's training is CASA approved, meaning it gives you proper and highly accurate skills and knowledge to secure a position as cabin crew for an Australian airline.
Training runs from 7am to 4pm, Monday to Friday.
🕒 Duration: 3 Weeks (Full Time)
💰 Cost: $3,200
🗺️ Location: Brisbane
https://aviationaustralia.aero/
Reach For The Sky Aviation Services
Reach For The Sky Aviation Services has been running for 30 years (since 2003) and specializes in Flight Attendant Career and Interview preparation.
The training will give you the skills, knowledge and confidence to pass the stressful flight attendant interview (no matter what airline you choose to apply for) and help prepare you for your dream career ahead as a flight attendant.
Reach For The Sky Aviation Services gives you up-to-date interview questions and assessments whilst also giving you extensive advice on writing excellent resumes and cover letters to submit to your airline of choice.
Also included in the face-to-face training is comprehensive information on grooming, presentation, first impressions, Medical, listening techniques, resisting temptations, body language, drugs, personality and profile tests.
Additionally, the training will give you insight into airline recruitment criteria, history and statistics regarding airlines within Australia.
🕒 Duration: 3 hours
💰 Cost: $350
🗺️ Location: South Windsor, New South Wales
Flight Attendant (TAFE) Courses
Enrolling in a flight attendant course at TAFE in Australia is another excellent option.
The best thing about this industry-approved course is that you will get a certificate 111 in aviation – opening up the door to other jobs in the aviation industry as well (if you ever get tired of flying!)
Many companies hire graduates who successfully complete their certificate 111 in aviation, so if you wish to open the door completely up to your career in aviation, this is perhaps the course for you!
A qualification in aviation is exactly what you need to enter the aviation industry and better prepare yourself for the challenges along the way.
The course will equip you with practical training, as well as practical and theory-based assessments to help you succeed as a professional flight attendant in Australia.
The best part about it is that these courses are available nationwide.
🕒 Duration: 6 months (full-time)
💰 Cost: $4,000 – $5,000 including uniforms, excursions and equipment
🗺️ Location: Nationwide at various TAFES and academies
Which Cabin Crew Training is Best For You?
After reading about the various cabin crew courses in Australia you should have an idea about which one would suit you and your circumstances best.
Remember, there is no right or wrong course to take, and whatever course you do take will give you the confidence and expertise you need to land your dream job as a flight attendant in Australia.
Let this be your start into an amazing and fulfilling career that will take you beyond what you have ever dreamt about!
If you have any questions, please don't hesitate to ask in the comments.
Similar Posts: