If you're curious about how much flight attendants make at Qantas 🤑 just know that it depends on a number of factors, including how many hours you fly in a month, seniority within the company, the number of days you're away from home, and EBA (Enterprise Bargaining Agreement).
I'm a flight attendant at Qantas and I will break down for you our salaries.
This is How Much Qantas Flight Attendants Make Per Year
Flight attendants with Qantas Airlines, start out at AUD $40,000-60,000 per year before tax, and this includes meal allowances, flying hours, and layover allowances. As flight attendants become more experienced and thus more senior by the year, their pay goes up. The most senior flight attendants can make up to AUD $80,000 per annum or more.
Of course, a number of factors come into play when determining an accurate salary for a particular flight attendant as noted above.
Meal allowances, if applicable, can make a huge difference to your salary, so that means having more overnights equals having a bigger paycheck.
Flying hours also make a difference, especially if you're working international.
On top of that, there is overtime, layover allowances, and seniority.
Your Salary Depends on Your EBA (Enterprise Bargaining Agreement)
Overall, your base pay will depend on the EBA you're on.
Eastern cabin crew (those that have their base in Sydney and Melbourne) have a different EBA from Southern cabin crew (those based in Adelaide and Brisbane). In particular this applies to cabin crew working for Qantaslink (Qantas' regional carrier).
Every few years the EBA changes, making some agreements stay the same, and others exchanged for better (or for worse).
However, the same rule applies for determining the salary – the more you fly, and the more senior you are, the higher your pay is guaranteed to be.
Factors That Affect The Overall Salary
Seniority
Seniority is the number one determining factor when it comes to your base pay.
Now, that is only your base pay.
So let's say you are a junior flight attendant flying more and rostered with more layovers (aka overnight stays), you can potentially make more money than someone 5 years more senior than you.
That says, it will be more difficult to make as much or noticeably more as a junior flight attendant if your senior colleague has been in the company more than 15 years, as the salary raises every year that you're with the company.
In addition, you're more likely to take on the role as CSS (Cabin Senior Supervisor) or CM (Cabin Manager) and thus get a larger salary. Keep in mind that regional flight attendants – those working for Qantaslink don't have cabin supervisors so this only applies to domestic and international flight attendants.
Let me break down the base pay per annum based on seniority and the division you work in:
Sunstate (Southern) Regional Cabin Crew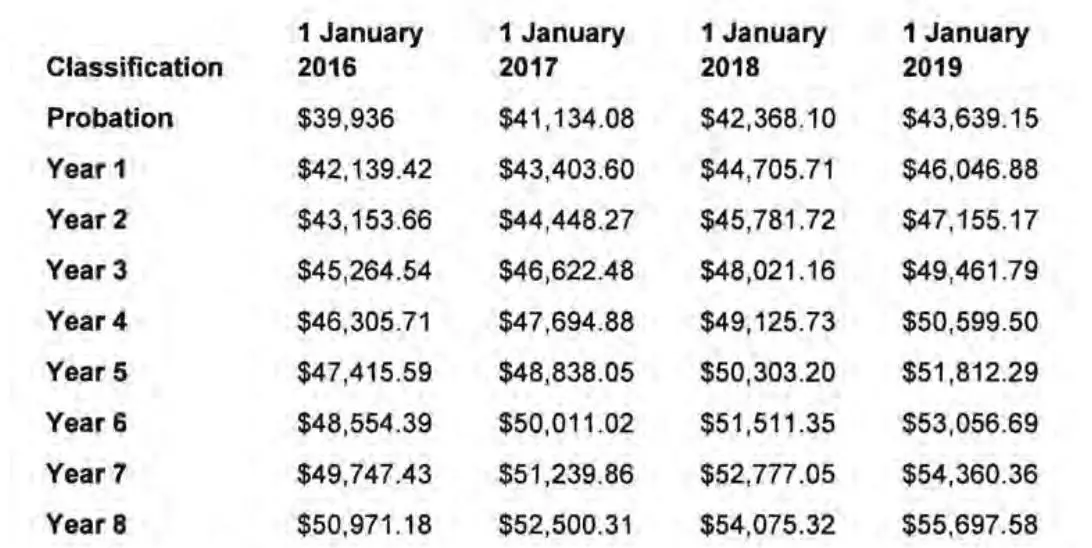 Eastern Regional Cabin Crew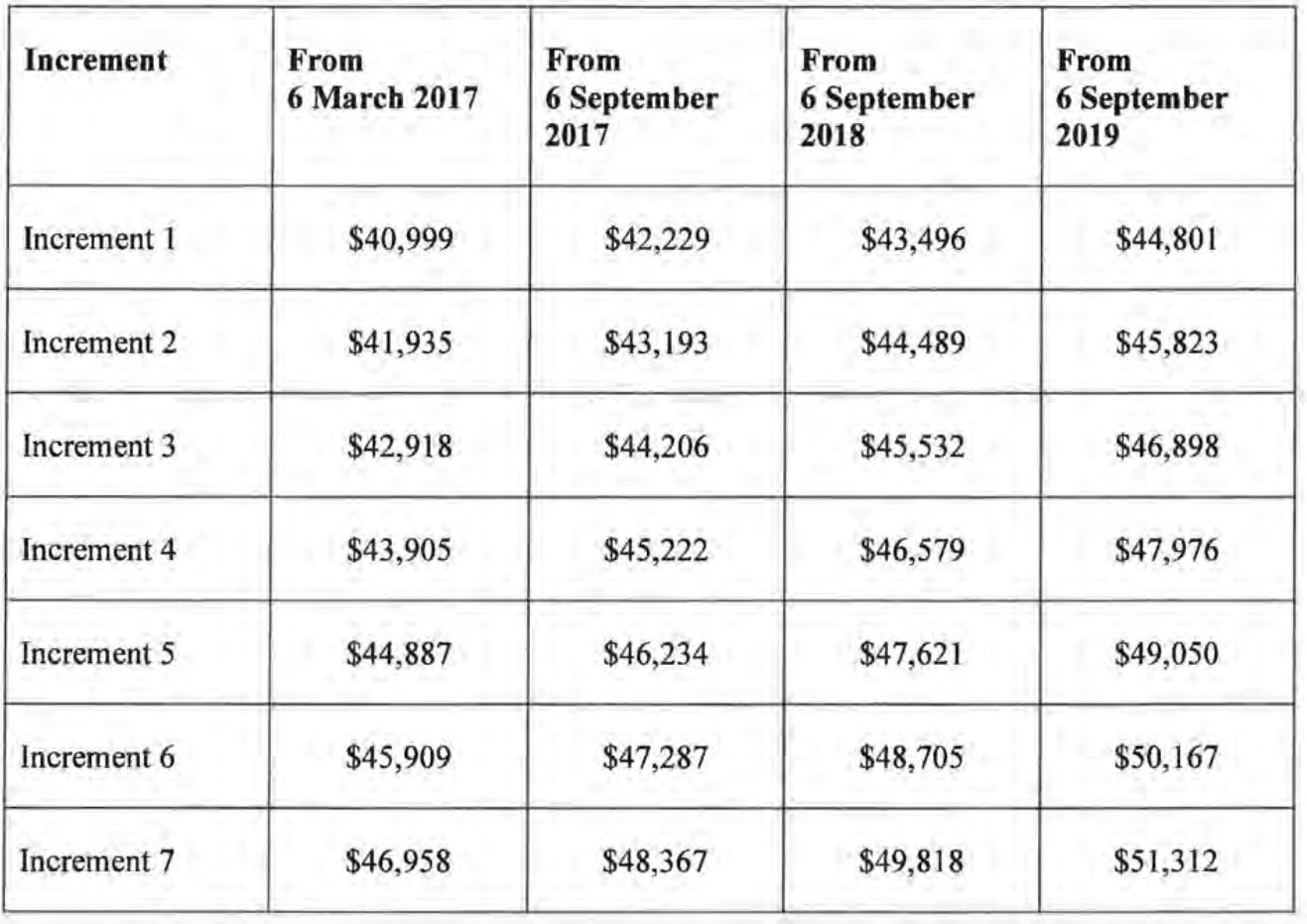 International Cabin Crew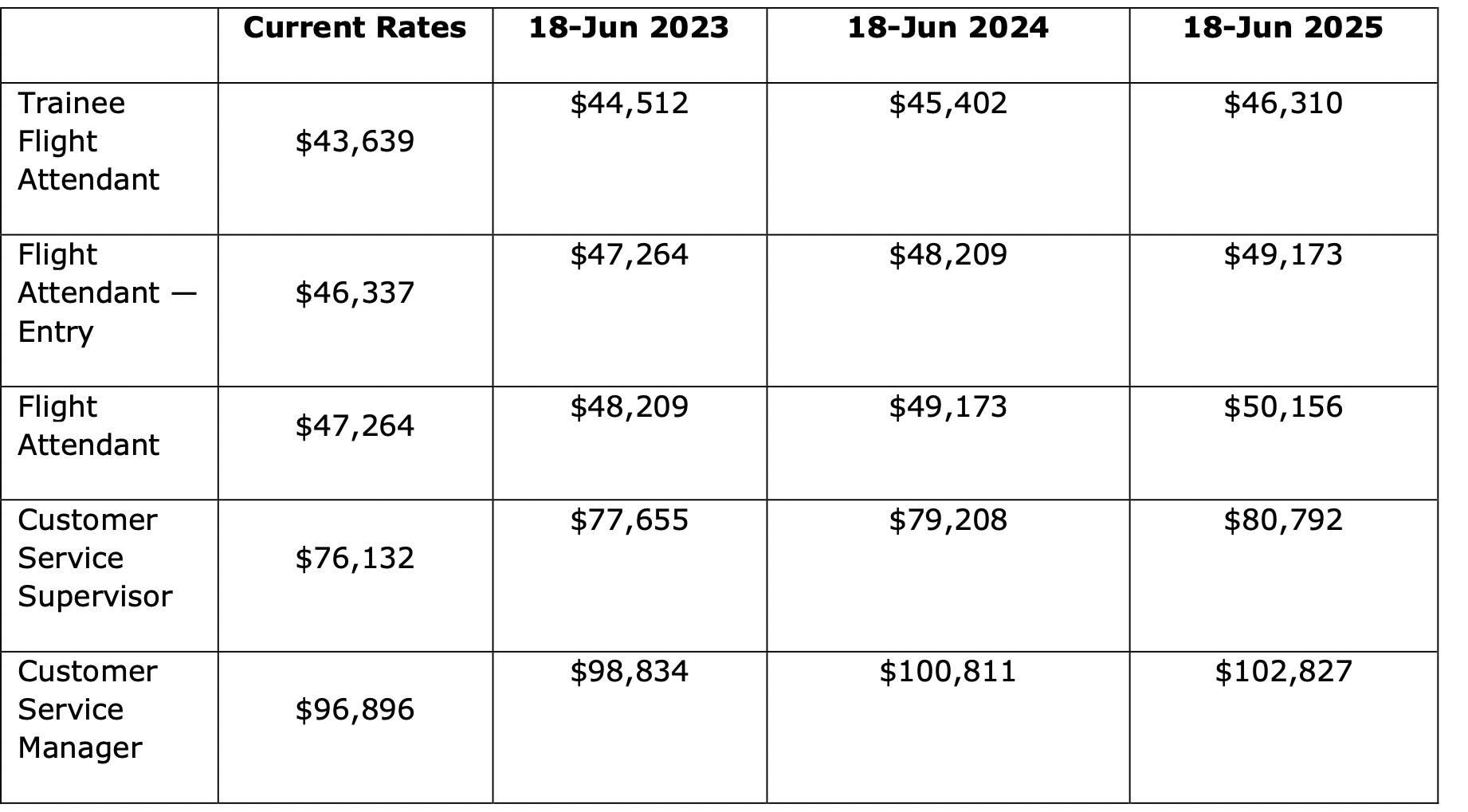 Domestic Cabin Crew

The good thing about your base pay is that it is fixed, no matter how many hours you fly, or how many days a week you work.
The only reason your pay will ever go below the base pay is if you take a sick day without pay (in other words, you have used up all of your sick leave and/or you don't submit a medical certificate when required).
Layovers
The next determining factor when it comes to your salary are layovers. 
As discussed before, the more layovers you get the higher your pay is guaranteed to be.
Layovers come with a mandatory overnight allowance as well as meal allowances for breakfast, lunch, and dinner.
It's not uncommon to make an extra AUD $300 a week with meal allowances just by spending a few (2-3) nights away a week!
As you can see, layovers, regardless of the country or destination, are amongst the top ways to boost your salary.
With layovers, you also get company-provided transport and accommodation free of charge.
If you elect to find your own accommodation (paid by you) the company will compensate you a sum of between AUD $50-$100.
Flight pay per hour
The flight pay per hour also comes into play when determining how much money you will get in your salary.
Eastern regional cabin crew are the only division that don't have their salary calculated pay rate per hour, instead this is already pre-determined in the salary.
👉 Flight pay per hour is paid from the moment the aircraft door closes for departure, to the moment the aircraft arrives at the gate and the door opens for passenger disembarkation.
This is a separate pay from the duty hour pay.
Duty Pay Per Hour
Duty hour pay applies to regional, domestic, and international crew and is determined from the moment a flight attendant signs on for duty to the moment the flight attendant signs off. Duty hour pay includes any time on ground as well as normal hours working.
The flight pay per hour, on the other hand, only applies to Sunstate regional cabin crew, domestic, and international cabin crew.
It's important to note, regardless of the flight pay per hour, the duty pay per hour and base salary stay the same and is based on the minimum amount of hours that are flown per month, and thus per year.
Sunstate regional cabin crew flight pay per hour: AUD $4.76
Domestic cabin crew flight pay rate per hour: AUD $1.10
Example:
If your flight hours total is 10 hours, you can make between AUD $11 and AUD $47.60 per duty – extra.
International cabin crew flight pay rate per hour: AUD $1-3 per hour, but international cabin crew are guaranteed an additional overseas daily allowance of $64.66.
If international cabin crew fly to a domestic port they are guaranteed an allowance of AUD $29.57 per day.
That means for a 3-day trip you could earn up to AUD $192 in extra pay just for being away, and that doesn't even factor into account meal allowances.
Swapping Your Flights with Other Cabin Crew
It's also an option if you wish to swap your flight or trip with another cabin crew.
The swap needs to be approved by the operations team, and then once approved it will be successfully processed.
Some cabin crew wish to do more trips, while some cabin crew wish to be home more, so swapping your duties can be a great way to boost your salary if you don't mind being away from home for a few days at a time.
Applicable EBA
Other determining factors again depend on the EBA applicable to you but may include any overtime payments, hard-lying allowances, plus more.
It really just depends on your EBA, which has a list of allowances you may claim in certain circumstances.
Because cabin crew are entitled to 6 weeks of annual leave per year, public holiday pay is not applicable. That means you will not get any extra pay for working on Christmas, Boxing Day, Easter, and other public holidays.
You will also not get paid for working on Sundays. All of this pay, instead, is calculated in the base salary already.
Overtime allowances are the most common form of extra allowances – a monthly salary exceeding the maximum amount of hours that can be rostered per month as per your EBA.
👉 E.g. if your EBA states you cannot work past 140 hours, and you do, due to delays and other factors, you will get paid overtime for every hour worked in excess of 140 hours. Another way to claim overtime is by working past the hours set in your EBA. E.g. if your EBA states you cannot work past 9 hours on Airport Reserve, and you do, you will be entitled to extra pay.
How Many Hours Per Month Do Qantas Flight Attendants Work?
The amount of hours you work per month is set by your EBA.
In general, flight attendants will not work above 130 hours per month.
The maximum amount of hours they can be rostered to work is 144 hours per month. 
Keep in mind that this refers strictly to duty hours, not flying hours.
Flying hours can range from 50-80 hours per month (again, it depends on your EBA).
Reserve days, where you are on call in case you are required for a flight, include a set number of duty hours e.g. 4 hours, regardless of whether you are called out or not.
If you are on airport reserve, you are paid for the time you are waiting on call at the airport.
For a duty in excess of these hours, for example, you are called out for a flight that exceeds your maximum airport reserve duty time, you are entitled to an overtime payment.
Do Qantas Flight Attendants Get Paid Weekly or Bi-weekly?
All Qantas cabin crew are paid twice a month on a fortnightly basis into their nominated bank account.
Payday falls on a Wednesday but depending on your bank, you may not receive your salary until later that evening.
👉 The fortnightly salary includes the base pay set by your EBA, meal allowances, grooming allowance, and any overtime payments that you may have accumulated.
Also included in your pay slip, is a sum of your pay dedicated to your chosen superannuation account.
Qantas Airlines Salary Samples
Example 1:
For a regional Qantas flight attendant on the Eastern EBA just starting their career, the fortnightly base pay will be a minimum of AUD $1,866 before tax.
After tax this equals to be around AUD $1,600.
If this same flight attendant has a few overnights then any extra pay is calculated by:
AUD $22 overnight allowance
AUD $57 dinner allowance
AUD $30 breakfast allowance
= AUD $109 total.
So, that would mean if they have one extra layover the fortnightly pay would be AUD $1,975.
But if they have 2 or 3 of these per fortnight, their salary could easily rise to AUD $2,000-2,100 after tax.
Also, Eastern flight attendants are entitled to meal allowances on flights if the hours expand over the meal hour, so if they work over lunch period the next day they will be entitled to an extra AUD $33.
Additionally, there is a fortnightly dry cleaning/grooming allowance of AUD $90.
Example 2:
For a regional Qantas flight attendant on the Sunstate EBA, and just beginning their career, the pay is a little different as meal allowances aren't applicable during flight hours (they are entitled to a meal onboard instead).
So, basically, Sunstate flight attendants rely on duty hours for determining their salary.
AUD $4.76 daily travel allowance = AUD $33.32 per day for an 8 hour shift
AUD $1,818 fortnightly base pay
AUD $100 grooming allowance
= AUD $2,084 if the flight attendant works 5 days a week for 8 hours at a time.
Keeping in mind, Qantaslink cabin crew cannot work for more than 6 consecutive days without a day off.
Example 3:
For international flight attendants, the salary is also determined by how many hours they fly, and how many days they are away from home.
AUD $1-3 per flying hour
AUD $1,818 fortnightly base pay
AUD $64.66 daily travel allowance
AUD $100 grooming allowance
= AUD $2,072 based on two 14-hour flights e.g. to LA for one layover that goes over two days and includes the flight back to base.
So if you're just starting out as an International flight attendant and you have two long-haul flights a fortnight, you could make up to AUD $2,100.
If you have any leave exceeding 4 weeks that you do not want, then you can get compensated in return for working instead.
The best way to determine how much you will make is to look at your EBA, and then decide how many hours you wish to work and how far you are willing to fly.
Deductions
Fortunately, for Qantas flight attendants, there aren't many deductions that affect the fortnightly salary.
The only fixed deduction is tax, which can be several hundred dollars a fortnight.
E.g. if you make AUD $2,700, you'll take home around AUD $2,400.
Other money that is taken out includes superannuation, which is for your future so can we call that a deduction?
Benefits
Lastly, the good part – the benefits!
Being a flight attendant for Qantas offers outstanding benefits for everyone, with a big one being heavy discounts on flights for yourself and nominated people in your family/friendship group, and smaller but significant discounts on hotels, car hire, and shopping.
You'll also get discounts in all airports at cafes, restaurants and shops, just by showing your ID or by presenting your staff number.
Wrap Up
So, as you now know, the Qantas salary for flight attendants is dependent on a number of factors with seniority being a major one across regional, domestic, and international flight attendants.
Your EBA, which changes every few years, determines your rate of pay, extra payments, and inclusions in the salary.
One thing is for certain across all groups though – the more you put in, the more you'll get out.
Happy flying!
Similar Posts: