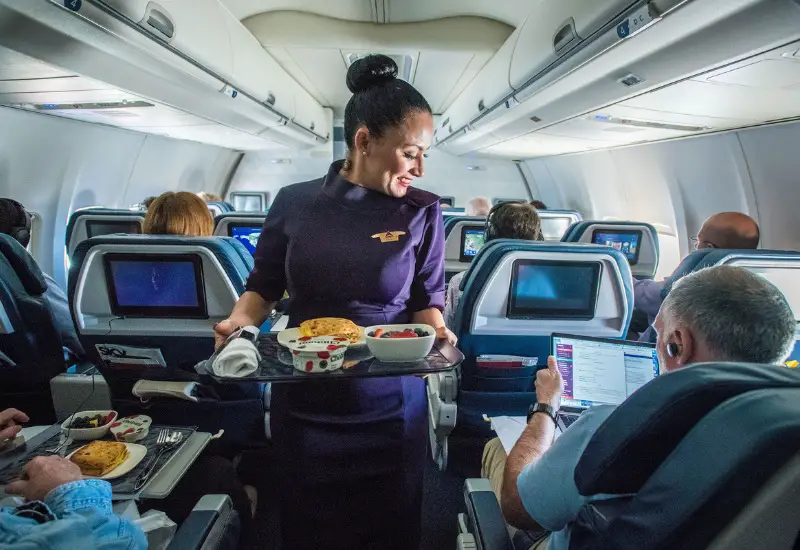 Delta Air Lines has a multi-step process for their hiring processes. These steps include: flight attendant application, talent assessment, virtual job try-out, on demand interview, in-person interview.
But before getting into this process, do you think you have what it takes to become a Delta Air Lines Flight Attendant?
Then read on to make sure you comply with Delta's requirements.
I've been a Delta Air Lines flight attendant for 7 years and have been through all the stages of the recruiting process.
👉 Here are the official requirements to become a flight attendant at Delta Air Lines that can be found on their website:
Applicants must have a high school diploma, GED, or high school equivalency
Applicants must have the ability to work within the United States
Must be able to speak, read and write English fluently
Be at least 21 years of age at the time of application submission
Be flexible and willing to fly both international and domestic routes
Be in possession of a valid US passport with at least 28 months validity
Be able to attend 7-8 week training in Atlanta, Georgia, and upon successful completion of training, relocating to city where you will be based
Be able to serve "on call" days and report for duty at said assigned base with short notice call
Now, I will go over all these requirements as well as requirements that are not mandatory but expected.
I will explain them one by one and give you my tips along the way.
High School Diploma/GED/College Degree
Very much like other airlines, Delta requires some form of completion either your diploma or GED to prove that you finished high school.
As a US based airline, this will be the minimum requirement to be able to be considered for the role.
While a college degree isn't a requirement, it is an extra advantage to have one. It is one way to set you apart from the applicants for the role!
There are also other areas where having completed certificates can help set you apart from other people:
Tourism
Hospitality
Nursing/Other Medical (Occupational Therapist/Physical Therapist/other patient facing Roles)
Education
These are not required, but they help give your application a competitive edge.
Take me for example, I was doing my undergraduate studies when I applied for this job and stopped just shy of completing my degree once I got hired.
After I finished training, I went back to college online and finished my degree about a year after I started flying.
I had a background in customer service, so transitioning to the flight attendant life was somewhat easy for me, but my eclectic background definitely put me in a great position to apply for the position.
Ability to work within the United States
Being a US citizen is a requirement to be a flight attendant at Delta. If you have a valid US Passport then you are able to work within the United States.
There are other ways to be able to work within the US with proper Visas and documents, so as long as you are able to provide proof of the ability to work within the US, you may be considered for the role.
👉 If you are unsure, you can check your status here.
Must be able to speak, read and write English fluently
Because Delta is a US based airline, all applicants must be able to read, write and speak English fluently.
Training is completed all in English, and upon successful completion of training, all announcements and PAs will be made in English.
With a global network spanning 325 destinations, Delta is also seeking bilingual (also known as language of destination) applicants who have fluency in English and one of the following languages: Czech, Danish, Dutch, French, Greek, German, Hebrew, Italian, Japanese, Korean and Swedish.
Being a fluent English speaker is the minimum requirement to be considered for the role. However, if applicants are bilingual there is always a need for Language of Destination flight attendants.
Delta has an impressive language program for flight attendants. By speaking another language, it can help give you an added advantage during the hiring process. Being bilingual is not a requirement, however it can be very helpful. 
Be at least 20 years of age at the time of application submission
There are rules and regulations set by the FAA on serving alcoholic beverages while in the air.
Due to this, it is required that applicants are 20 by the time they submit their application. You have to be 21 years old to work as a flight attendant.
This is a requirement for the application, and if you are not 21 by the time you attend training, you will not be considered for the role.
This means that you must be 20 by the time you submit your application, and 21 when you complete training. 
While there is a minimum requirement for the application, there is no maximum age requirement set by Delta Air Lines. All ages are encouraged to apply.
Flexibility and willingness to do both International and Domestic routes
Delta Air Lines is a large company with over 325 destinations all over the world.
When training is completed, you will be certified on all of the planes in Delta's fleet.
This means that you could be going to Birmingham, Alabama on one day and the next day be sent to Paris, France.
Being willing to go from one country to another, and everywhere in between is something that is vital to enjoying the flight attendant life.
From personal experience, I have learned to love domestic routes just as much as some of the international routes that I have flown.
Have a valid passport
Delta requires that all flight attendants have a passport that is valid for a minimum of 28 months when they report for training.
Delta is a United States based company with a large international presence.
Because of this, it is important to have a passport.
As a flight attendant you can be called at any time to head overseas or somewhere like Canada or Mexico.
Ability to attend training
Delta Air Lines is headquartered in Atlanta, Georgia. This means that you must be willing to attend training in Atlanta.
Delta's flight attendant training is anywhere from 6-8 weeks.
They provide room and board while you are in training. Delta has paid training for the time that you are there to help with food.
Training pay is a flat, hourly rate. Once training is completed, your pay will change once you are flying.
Read more: Delta Flight Attendant Training (Ultimate Guide)
Ability to relocate to assigned base
Upon successful completion of training, all flight attendants must be willing to relocate to their base city.
Delta will let you know what your new base city is during the first two weeks, which allows you time to try and find a place to live.
Commuting to and from base is something that is allowed, but due to a hectic schedule during your first few months of flying, I'd say it is easier to live within your base.
Ability to be On-Call and report with short notice
As a flight attendant, you will have reserve days.
Reserve days are "on-call" days where you have to be ready to get to the airport within two hours in case you are needed.
At Delta, reserve blocks are assigned in pairs of three days.
This means you will have 6 on-call days a month. 
Coming off of reserve days will depend on where you are based and seniority with the airline.
Other Requirements
These requirements might not be written anywhere, but they are things to be considered for sure to gain a competitive edge.
➡️ Complete and Pass a DOT Drug Test & Background Check
Due to the nature of being a flight attendant, Delta has some pre-employment tests that must be completed and passed in order to be considered for the role. These are a drug test and a background check.
These will be conducted on your face-to-face interview. Any issues that might arise during this process will be addressed by the company.
➡️ Physical Requirements
This is a physically demanding role. It requires frequent standing, bending, lifting, pulling, reaching, and more. 
During training you will learn how to arm and disarm all the aircraft doors as well as other emergency procedures. The aircraft doors can be heavy, so applicants must be willing to perform physical duties.
Day to day areas of the job are also physically demanding. As a flight attendant you spend many hours on your feet. This can be walking from plane to plane in the airport or while doing service in the air. Flight attendants also spend hours sitting on a jumpseat and it can be uncomfortable.
Other areas of the job also require being physical: like closing overhead bins.
Due to laws set by the government, there are no set height and weight restrictions for applications.
Any person can apply. However, it is important to be able to be willing to be okay with the physical demands of this job.
As these are the day to day functions of being a flight attendant.
➡️ Ability to deal with schedule change
While Delta flight attendants only have 6 days of on-call a month, the needs of the operation always come first.
There might be schedule changes that happen on trips to help the operation, and you must be willing to accept changes and go where you are needed.
➡️ Previous customer experience
This is not an official requirement.
However, Delta puts a big emphasis on flight attendants being the brand for the company.
Customers spend hours each day engaging with flight attendants, so previous experience with roles in customer service are always highly appreciated.
In my experience, there is not a large emphasis on teaching customer service during initial training, so by having customer service experience it can add an extra advantage for an application.
Conclusion
Delta is a great company to work for and has a large footprint across the globe. They offer great routes and the ability to see the world, which is something that is a blessing!
Delta's requirements for being a flight attendant are pretty much the same as other major US airlines.
I have been flying for nearly seven and a half years now, and it really goes by in the blink of an eye. I never saw myself becoming a flight attendant until my parents encouraged the idea.
I had been going to school, working retail nearly full time, and was tired of being home all the time. Once I saw the application window open, I applied.
Soon I found myself sitting in Atlanta doing my face to face interview, and six months later I was in training.
The hours can be long and daunting to some, but the ability to see and connect the world is something that I find to be such a great privilege.
There is a lot of information in this article, but I hope it was both informative and helpful!
If you have questions, please don't hesitate to drop them in the comments.
If you do choose to apply with Delta, I wish you the best of luck! See you in the skies.
Similar Posts :