If you are currently sitting in front of your closet wondering to yourself, "what in the world should I wear to my flight attendant interview?" Then this article is for you!
The key to dressing for a flight attendant interview is to strike the balance between professional and memorable.
You want the recruiters to be able to literally picture you as a flight attendant.
In general, you should shoot for something that reminds them of a cabin crew uniform. 
💡 Key Takeaways

Dress professionally for flight attendant interviews to fit the airline's brand image; the attire should resemble cabin crew uniforms.
Both online and in-person interviews require professional attire.
Women's attire should be conservative, with attention to undergarments, makeup, nails, and hairstyle.
Men should wear a well-tailored suit with professional shoes, and maintain good grooming.
The Importance of Dressing Appropriately for a Flight Attendant Interview
Yes! They might not advertise it, but how you look is part of your interview.
The airline you are applying to has an "image" to maintain and the recruiters who interview will be looking at your appearance to make sure you will fit their brand.
So, you really do need to consciously dress for the part.
Think of it like a casting event. (Some airlines even call their face-to-face interviews casting days.)
As a professional mentor once told me, "Dress for the role you want." I think this advice really applies when you are hoping to be hired by an airline.
Virtual Vs. In-Person Interview Attire: The Differences
Yes and no. Despite the fact that you might be doing this interview from the comfort of your living room, you should not treat it as an informal event. 
You will still want to dress professionally, but the recruiters will not see your whole body, so you can forgo the uncomfortable dress shoes.
But other than that, you should dress for an online interview the same way you would for the in-person interview.
👉🏻  Side story: A friend of mine did a stint as a recruiter for American Airlines, she told me several people opted not to wear bottoms during their online interview, and for whatever reason ended up standing up during their interview. Flashing your underwear to a recruiter is not recommended, so wear pants to your online interview. 
I can't believe I have to include that advice, but my friend insisted I write that down for you.
Dress Code Guidelines for Women
For the ladies, the key is to dress professionally.
This means you should stick to more conservative cuts and colors when selecting your outfit.
This will ensure you look classy and put-together.
I recommend researching a bit about the women's uniform pieces offered by the airline you are applying for.
If they do not offer a pant option in their women's collection, don't wear pants.
Some airlines will require their stewardesses to wear skirts or dresses, if this is the case you should confirm that for your interview as well.
Otherwise, the following combinations are generally well-received by airline recruiters.
2-piece pant suit with matching pants and blazer
2-piece skirt suit with matching skirt and blazer
Dress-suit with a blazer that matches the dress
In general, you should wear a blazer.
But if you happen to buy a matching set that comes with something other than a traditional blazer it should be fine.
The important thing is to make sure you have some kind of flattering outer-layer. You must wear that outer layer at all times.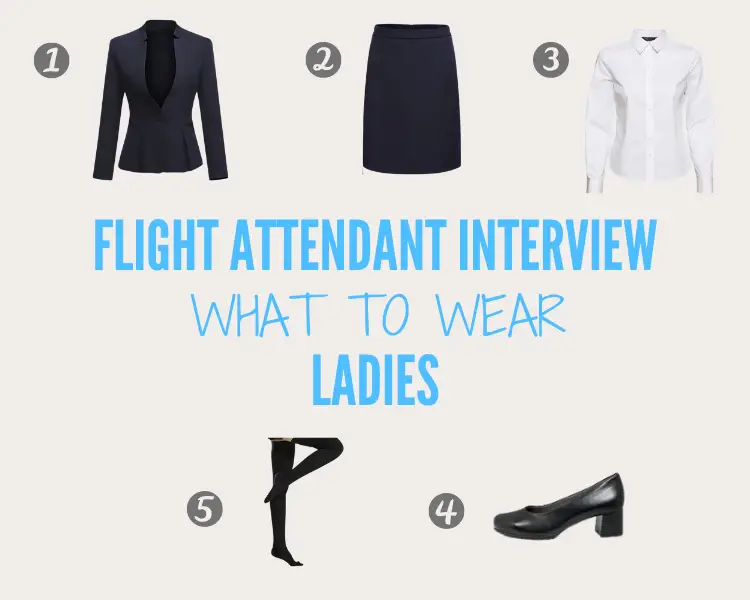 Shoes
It is also important to wear the right shoes to the in-person interview.
If your airline still requires their stewardesses to wear heels, you should wear heels.
If they are more "liberal" with their footwear you can opt for a professional flat.
Your shoes should always be made out of high-quality leather, either regular, patent, or vegan and should either compliment your outfit, or be black.
Still in doubt? Check our article Best Shoes for Flight Attendants.
Undergarments
It is also important to make sure you have high-quality undergarments to wear.
It is crucial that you wear stockings to the in-person interview.
I recommend sticking to a nude-tone that compliments your completion.
It is also highly recommended that, if you are going to wear a dress, you wear some kind of under layer like a slip.
I do not recommend wearing restrictive shapeware. It's not worth it to be uncomfortable all day.
Still in doubt? Check our article Best Flight Attendant Tights / Pantyhose.
Hair
For hairstyles, you should go for some sort of professional updo that suits your individual hair texture.
You can never go wrong with a classic bun.
When I went to my airline interview, I had a pixie cut, so I couldn't put it up.
So, if you have short hair, just make sure it looks put together and well-styled.
Make Up
When I started interviewing for airline jobs, such as at American Airlines, I was a total novice when it came to makeup.
So, before my interview, I went to a professional and had them help me develop a simple makeup look that was flattering, professional, and understated.
You want to make sure you don't overdo your makeup. 💄
Try to stick to natural tones for eyeshadows and eyeliner, you want your brows to match your hair color, and keep contouring to a minimum.
You're aiming for a "barely there" makeup look.
With the exception of the statement red lipstick, of course.
Nails
I did not get my nails done for any of my airline interviews. 💅
Therefore, I would say it is not necessary to get your nails done, but it is necessary to make sure your nails are well-groomed.
If you do opt to have your nails done for your interview I would recommend sticking to a classic color, like red, rose, etc. Avoid having a "statement" nail and keep your length short.
What kind of polish you get, gel, dip, lacquer, doesn't matter as long as you can keep it from chipping during your interview.
Accessories
Accessories are a great way to add a little touch of your personality to your interview outfit.
You can wear a scarf to the interview, but it can come across a little cliché if you don't do it well.
Another great statement accessory is an interesting necklace. I am a hobby painter and my mom got me a necklace with a pallet-shaped pendant. It was a conversation starter at my in-person interview, and I really think I got a job in-part, because my recruiter liked my necklace.
That said, keep it simple.
You don't want to overdo it with your jewelry.
As a rule, you should limit your jewelry to this:
One ring (or wedding ring set)
One bracelet (but never a charm bracelet)
A wristwatch
A simple necklace (gold, silver, or pearls)
Examples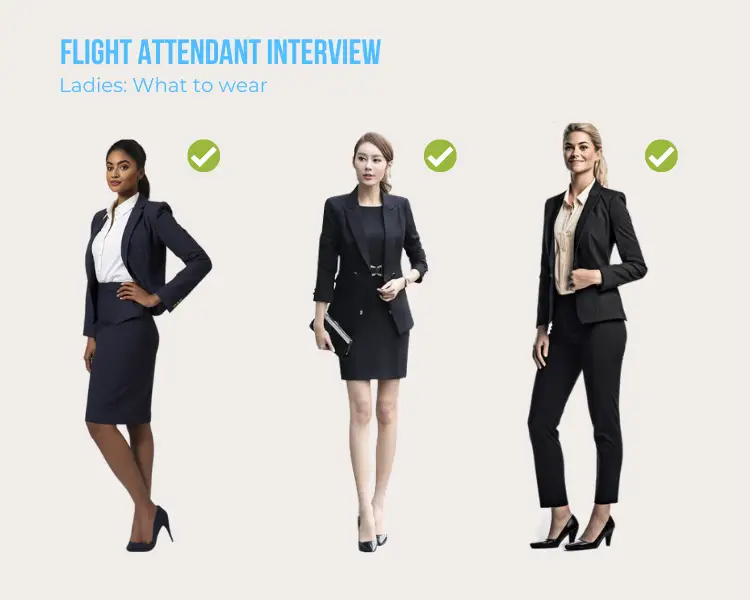 Dress Code Guidelines for Men
Alright, gentlemen let's jump into your interview look.
First of all, I can take away some of the guesswork for you.
You should absolutely wear a suit.
Two-piece is a must, three-piece is better.
You should make sure all the pieces match and are well tailored and that the fabric type does not wrinkle easily. (Ladies if you are still with me, this advice goes for you too…) 
Unless you are interviewing for Southwest or another kind of "family" airline, a tie is mandatory.
You should also opt for colors that suit your completion, eye color, hair color, etc., and avoid flashy colors.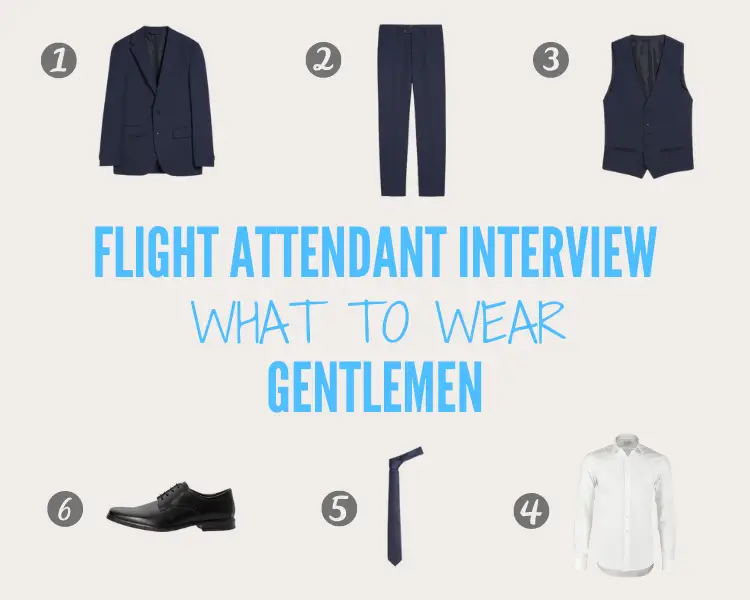 Shoes
Your shoes should be professional.
I recommend opting for a nice pair of dress shoes made out of leather, or vegan leather.
You should make sure they are well-maintained and free from scuffs.
Still in doubt? Check our article Best Shoes for Flight Attendants.
Socks
Socks should be professional, but don't be afraid to express yourself a little with your socks.
I have a friend who always wear socks with famous artworks on them. 🧦
These kinds of small details say a lot about your personality without being too unprofessional.
Hair and Grooming
You will want to make sure your hair is well-styled and suits your face.
If you have facial hair, make sure it is also well groomed and kept relatively short. I recommend getting a trim a few days before your interview.
If you get your nails done regularly, opt for a natural-looking manicure. Airlines are slowly starting to accept a wider range of gender expressions, but the interview is unfortunately not the place to test this.
Accessories
Similar to the advice I gave the ladies, accessories are a great way to express yourself at the interview.
They can help you make a great impression on the recruiters if done well.
Recommended accessories for men include:
Tie bar
A single ring
A wristwatch
Cuff links
Examples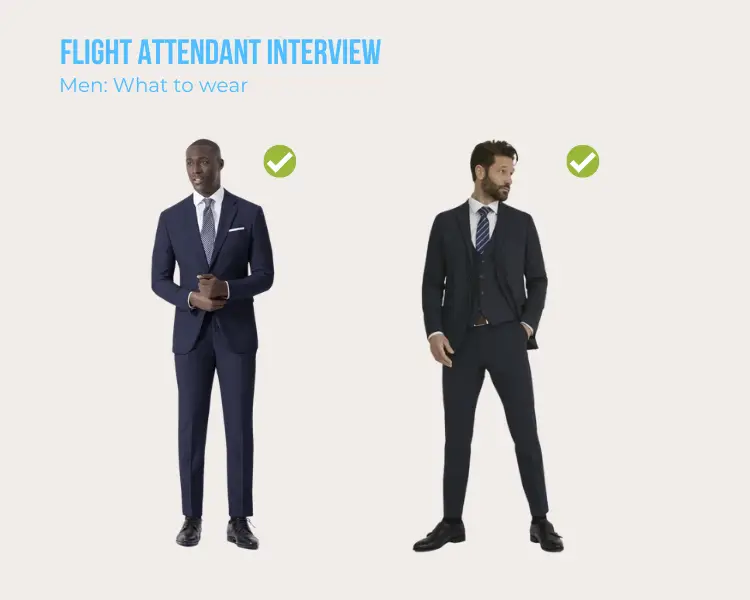 Additional Tips for Your Flight Attendant Interview Look
Now that we have covered the basic guidelines, I want to give you just a little more advice.
This is for the ladies and the gents.
Make sure you like what you have chosen to wear, especially when preparing for an interview at prestigious airlines such as United.
Take your interview outfit to a tailor, it makes a difference!
Be yourself!
If you follow those three rules you will feel confident in your interview fit and that confidence will be contagious!
Wrapping Up: The Art of Dressing for Success
Dressing appropriately can significantly boost your chances of getting the role you want, whether it be at Delta, America, United, or any other prestigious airline.
Always remember to portray yourself professionally, and you'll certainly go far!
Have fun picking out your interview outfits! And we wish you the best of luck at your online and you're in-person airline interviews!
Similar Posts: