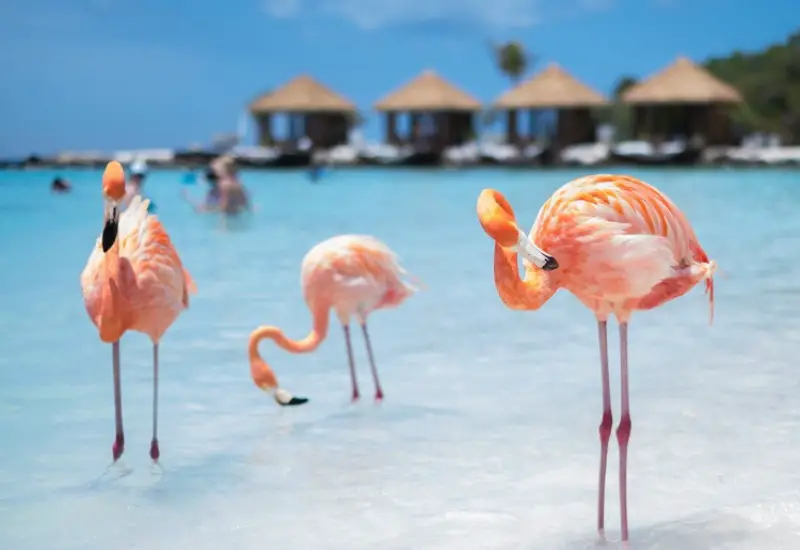 I'm super excited to be showing you this post because since I heard of Aruba I wanted to go to this place.
Aruba itself sounds super exotic to us Europeans because it's not a common destination and it's the Caribbean!
So when I typed what to do in Aruba and I saw so many stunning pictures of exotic flamingos on the beach, I immediately fell in love.
I found out that those flamingos were only in just one spot: Flamingo Beach. Therefore I decided to put this on my to-do list on Aruba.
Where is Flamingo Beach located?
Flamingo Beach is located on a 40-acre private island in Aruba, called Rennaissance Island, owned by a luxury hotel, the Renaissance Aruba Resort Hotel.
It's a 4-star sophisticated hotel located in the heart of the capital, Oranjestad.
They have an adult-exclusive building, the Renaissance Marina Hotel, or the Renaissance Ocean Suites for families.
How to get to the island?
1st option: Staying at the hotel
If you are a guest, you get free access to the island. You just need to bring your card to the pier, they will scan it and you can get onto the boat.
It's about a 15-minute boat ride, and the boat leaves every 15 minutes from 7 am.
The boat to come back from the island also comes every 15 minutes until 7 pm.
2nd option: Buying a ticket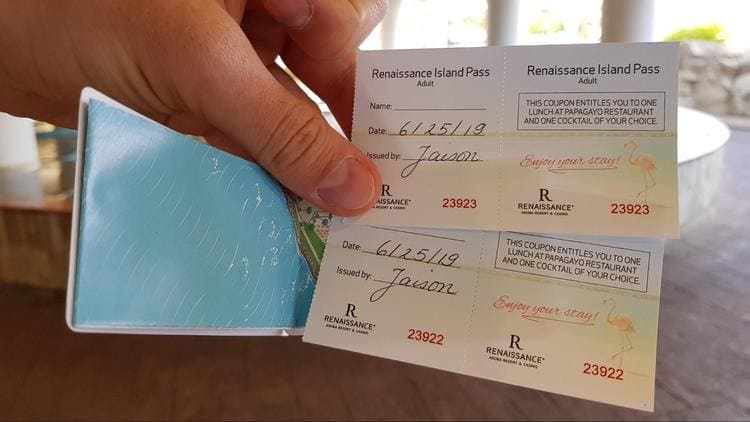 If you are not a guest of the hotel, you can still visit the island if you purchase a day pass. The day pass ticket costs $125 per person, and it includes the boat ride, lunch, and a drink or a cocktail on the island.
It's a bit pricey, but if you really want to see the flamingos it is worth it!
My tip:  check the price of a room in the hotel because it's sometimes cheaper than the tickets. In our case, we bought 2 tickets, so it was $250 for both – and a room for the night was $210.
How to make sure you can get the tickets?
We called the hotel the day before, and we asked if they were selling tickets to go to the island the next day. They said that they'd open the counter at 7 am, and they would sell "x" amount of tickets depending on the occupancy of the hotel.
I'm not sure how they calculate how many tickets they sell each day, but I heard that if the hotel is full or above 80% occupancy, they don't sell any tickets to non-guests.
So what you have to do is show up there before 7 am, generally, around 5:30 or 6 am(to be the first ones in the line). And if you are lucky you will be able to buy one of the 8, 15 or 20 tickets, depending on the occupancy, that they sell at 7 am.
I was dying to see this place after researching so much, reading reviews, and viewing people's pictures. So we decided to give it a try.
We woke up at 5 am to make sure we were one of the first ones to buy the tickets. And we drove all the way from Bubali to downtown Oranjestad. But there was already a quite long queue when we arrived there at 5.40 am
Yeah, even so early there were at least 15 or 20 people waiting – unbelievable! There were all nationalities and ages, families, couples, and friends.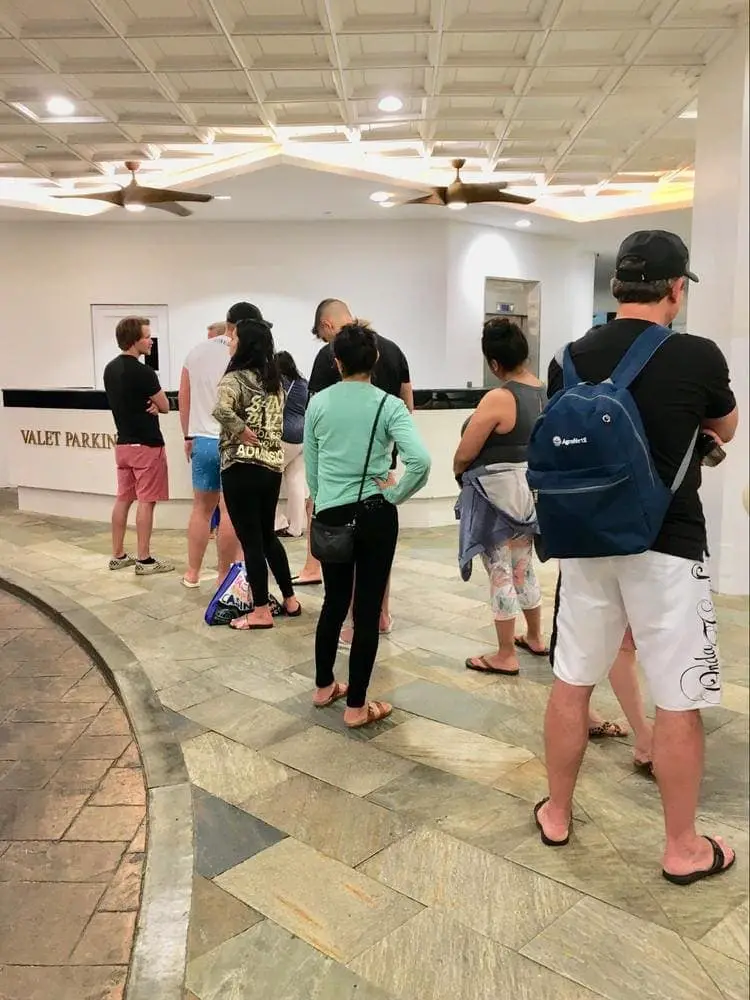 But maybe we could still have a chance!
So I got out of the car and waited in line while my boyfriend was looking for a spot to park the car. And luckily he found a place to park, next to the port, in the main road along the Renaissance Resort. He parked inside the white parking space, which was supposed to be paid – but the parking meters were not working.  They were installing parking meters all around the city center when we went(June 2019) and probably now people are paying to park there. But we were lucky this time. So, if I were you, I would carry coins for the parking meters because they only accept florins or dollar coins, not notes or cards.
Ok. So we patiently waited until 7.15, and finally, a man came saying that they were selling only 20 tickets that day.
I counted the people in front of me, and I wasn't sure we would get the tickets…
What a joke! After waiting for so long and waking up so early…
Ok, I was imagining the worst and in the end, we were okay. But not everybody got a ticket. And some of them arrived just a bit later than us, so many of them complained, of course.
Maybe that's why they have changed the system since.
Update: If you now want to get a ticket, you don't need to wake up early and queue – you just need to book the tickets online through this link https://renaissancearuba.idaypass.com/  the day before at 7:00 am and see if any are available.
It's much easier for them too, because they don't need to argue with the people that couldn't get a ticket!
But I'm not sure about the probabilities of being able to get a ticket this way. If 100 people try to buy a ticket at 7 AM at the same time, you might not get lucky…
So I'd recommend (again) to book a night in the hotel if you want to make sure.
OK, now how to get the boat?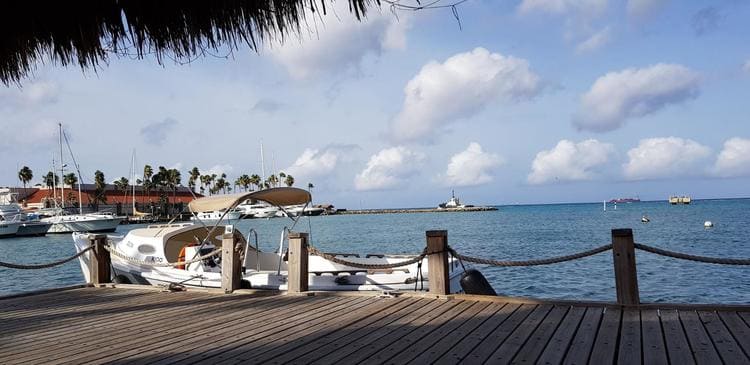 Note: The boats to Flamingo island don't leave from the hotel reception anymore. You need to cross the street and go to the little outside pier and you'll see the stop. It's easy to find, don't worry.
The boats start at 7 am and I'd recommend that you take an early one, before everyone arrives on the island – especially if you have kids.
Flamingo Beach is family-friendly from 9 to 10 am
You should know that you can bring your kids to the island, but Flamingo Beach is an adult-only beach and kids are only allowed on this beach from 9 to 10 am.
You can spend the rest of the day with the kids at the family-friendly Iguana Beach located two minutes away.
If the kids want to feed the flamingos, there are vending machines right before you enter the beach. The flamingo food costs 25c, and it's so incredibly cool to feed them.
Just make sure you (or the kids) don't chase after them because they'll run away from you.
What is the best time to go?
So again, to make sure it's not very crowded, get there before 8 am or stay until 7 pm because people start to leave at around 4 pm. It can be cool to see the sunset on this island.
Don't get me wrong when I say overcrowded – it's not overwhelming or anything.
There are not many people because they limit the number, but they are mostly all around the flamingos. That's what I mean.
Is it possible to take pictures with flamingos?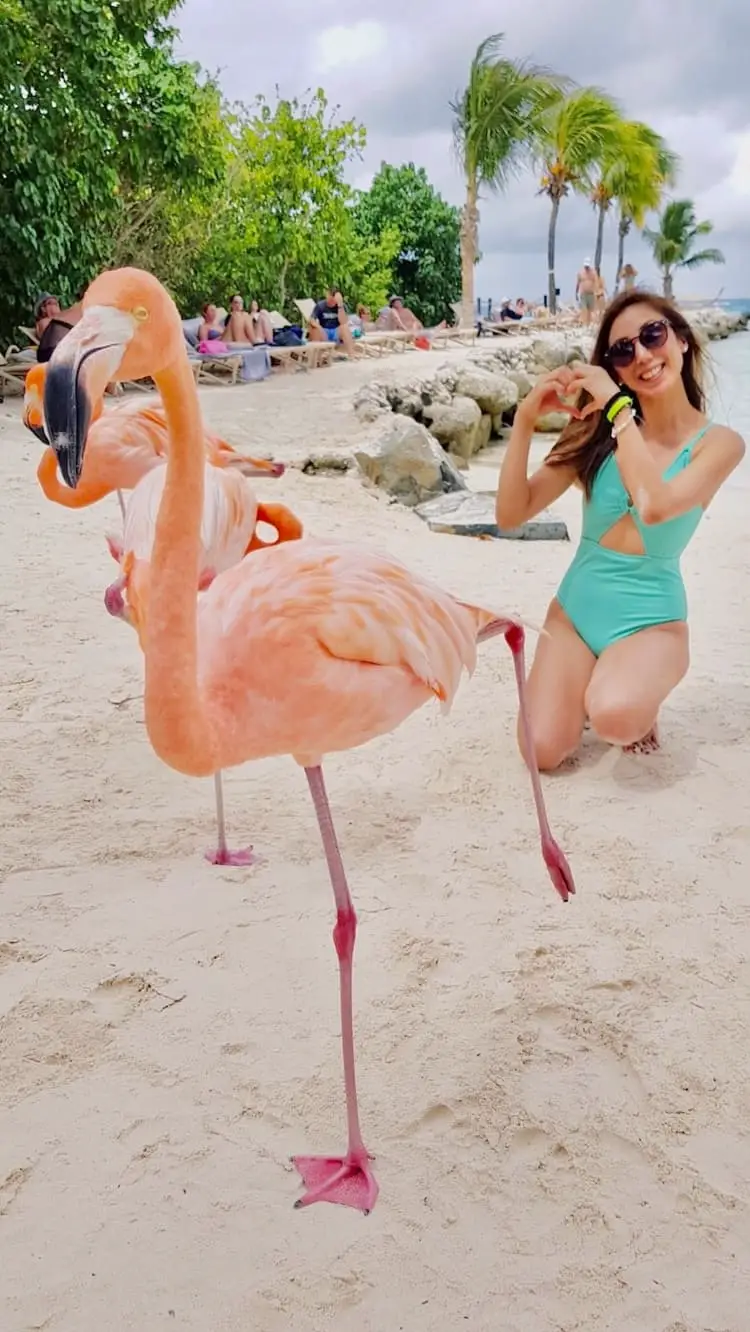 Of course!
If the flamingos are surrounded by people when you get there, just wait for a better moment to take pictures with them because you have the whole day.
If you want a picture with the flamingos, they will be more receptive if there are not so many people around. So be patient.
I noticed that they were always hiding their faces or running away when it was crowded. So wait for the perfect timing. They will come to you or walk next to you at some point during the day.
Flamingo Beach is not only about flamingos
You can also feed the fish or the birds next to the food vending machine on Flamingo Beach – they are all super cute and love food!
So they'll come to you, and the birds will even eat from your hand. It's such a unique experience.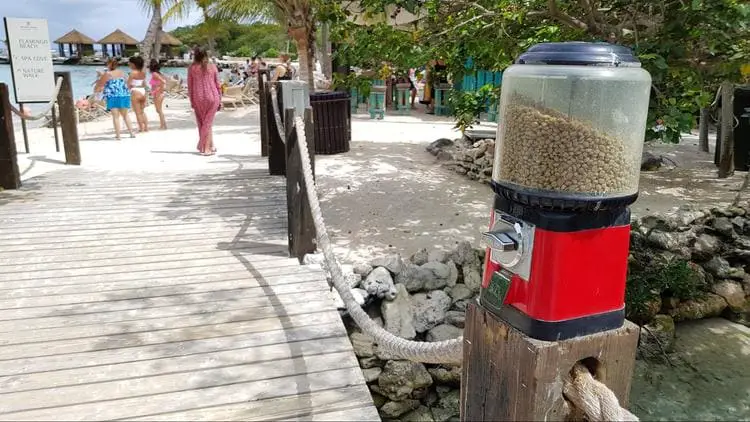 Apart from flamingos, fish, and birds, you can also find big and peaceful iguanas, chilling in the sun next to the beach.
And some of them are giant!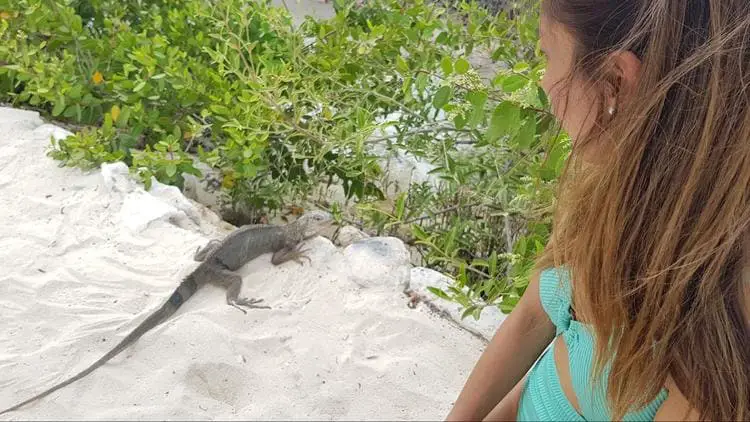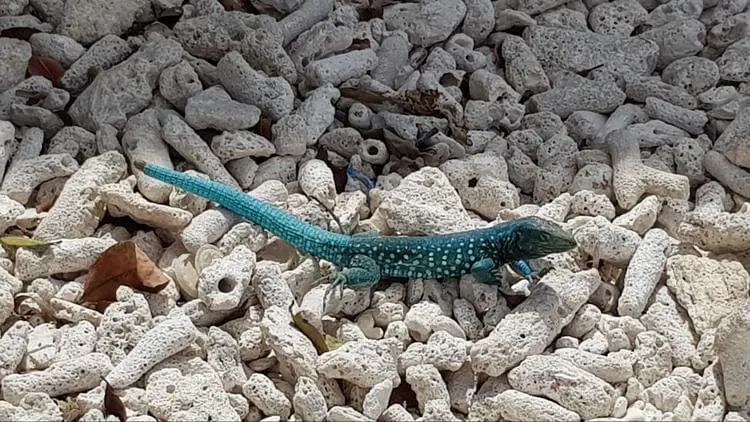 It was a super cool day – I had definitely never been this close with flamingos before in my life. They were so pretty and graceful. And those were especially pink!
Did you know that flamingos are actually not pink, they are born grey, and they gradually turn pinky or orangey depending on their diet?  Look at these ones that we found by chance on the other side of the island. Not as pink as the other ones.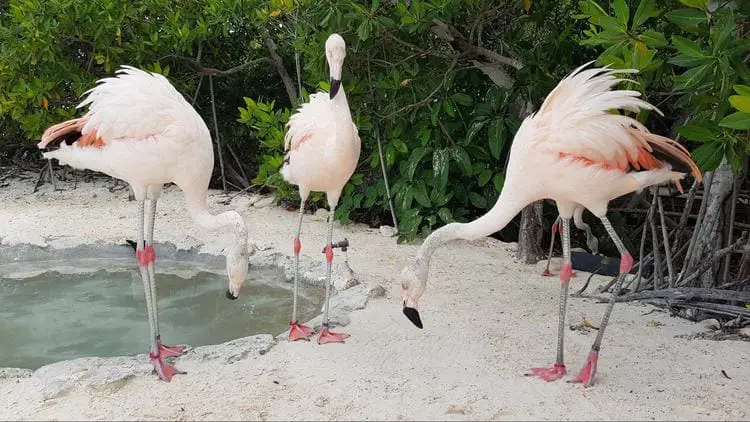 What else to do on Renaissance Island?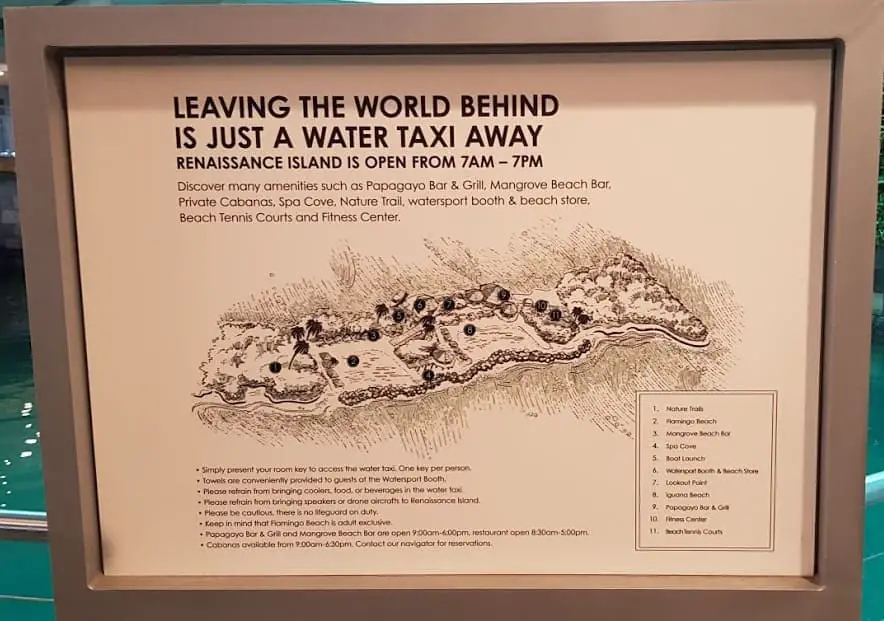 If you are not there to see the flamingos, or you are not too interested, there are many other things on the island to do:
Water sport activities such as snorkeling, scuba diving, or kayaking.
Relaxing at the Spa Cove or in one of the water hammocks.

Spa Cove

Hammocks over the water

Enjoying cocktails at the bar.
Playing beach tennis, or working out in the fitness center (yes there is one!).
Rent a private oceanfront cabana at Iguana or Flamingo Beach. These are private huts with sunbeds and over-the-water hammocks. And they come with amenities like VOSS water, wine, food and personalized butler service, snorkel masks and water floats. So fully equipped. But they are only available for hotel guests for a price starting at $300 per day, and you need to book in advance.

Cabanas to rent for the day

Walk to the end of Flamingo Beach – just next to the cabanas, and you will see the "nature trail," which is a pleasant walk through the mangroves that takes you to a secluded beach. If you want to do this, I highly recommend that you apply some mosquito repellent beforehand or the mosquitoes might kill you! You can borrow bug spray at the Mangrove bar, the one on Flamingo Beach.

Nature Trail

If you are in Aruba on a Wednesday, they offer the perfect romantic dinner under the stars, on the beach.  This unique dining experience is only $65 each and children between 5 and 12 dine for half the price. It's a unique experience starting with a welcome cocktail drink, a boat trip to the island, live music, and an exquisite dinner. And the most romantic setting for a fabulous night.
Food options on Renaissance Island
You can pick between a small bar in Flamingo Beach called Mangrove Beach Bar or Papagayo Bar & Grill Restaurant on Iguana Beach.
The Mangrove Beach Bar brings your drinks and food to your sunbed, but Papagayo Restaurant is bigger and has a wider selection on the menu.
So, as we are vegetarians, we picked Papagayo Restaurant, on Iguana beach, to have more options.
The food is delicious, the service is also great, and you get quite big portions.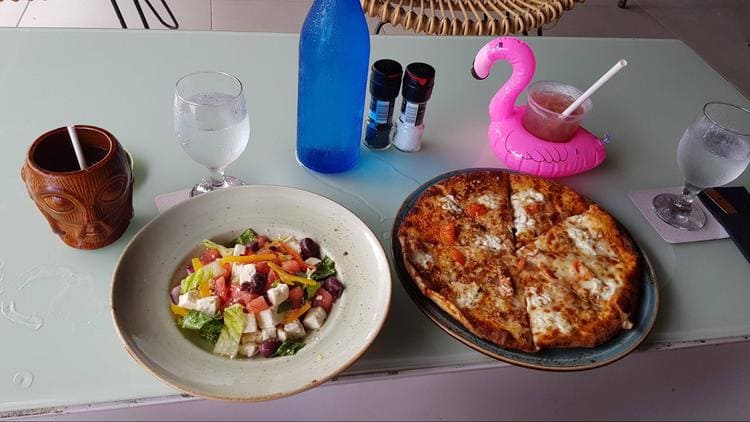 There's also a drink included in your ticket so that you can pick between any cocktail or soft drink.
The waiter said that everything on the menu was included, but just one dish. So basically you can pick one thing on the menu – not one of each, but one appetizer, one main dish, and sides.
But it was more than enough.
They have pizza, sandwiches, salads and a wide selection of cocktails with or without alcohol.
The place is amazingly beautiful – right on the beach but super clean, and there was even live music. Cool vibe!
It's been a few months, and I'm already missing Flamingo Beach. It's probably one of the most dreamy beaches on this planet (not to mention Baby Beach of course). I'd like to be there again. If you are thinking of going on holiday there, I'm sure you won't be disappointed.