Bon Bini!! Welcome to your Aruba Baby Beach guide!
As there are so many nice beaches in Aruba to choose from, such as Flamingo Beach, Eagle Beach, Boca Catalina or Arashi Beach, I've compiled a little guide, along with some useful info, to explain why Baby Beach is worth the trip and a right choice.
It's actually my top favorite beach on the island and here's why.
Baby Beach is a lovely sandy beach with shallow water. It's the perfect spot for swimmers, snorkel lovers and children.
It's located in the southern part of Aruba, close to the bottom, and because it's far from the other touristic things, it's the beach to go if you want to get away from the crowds of tourists.
We went there in the morning on our last day, and we almost decided not to go because it was a bit far and we had to return our rental car before heading to the airport, but we wanted to at least get some beautiful shots around the beach and do a bit of snorkeling before leaving that day.
And I'm so glad we did because it was so worthwhile! The scenery was breathtaking, it was very enjoyable to swim, and we were lucky enough to see lots of great fish and wildlife.
Plus we had the beach all to ourselves. I've heard that if you go there on the weekend, it can be crowded because it's frequented by locals on their days off. But we went on a weekday at 9, and it was like our private beach.
Baby Beach: a Bit of History
Baby Beach is a protected man-made lagoon that was part of a recreation area for the people from the Colony in the 1950s.
These people were mostly Americans that were there to work for one of the biggest oil refineries in the world (you will see it in the distance from the beach), and the Aruba ESSO Club was built as a leisure area for these residents next to Baby Beach.
The Club included a restaurant, a dance floor, and a baseball stadium.
By the lagoon (that's what they were calling the beach) there was a dock, and small shacks and people enjoyed their spare time sailing with little boats or teaching their kids how to swim.
Today, the club doesn't exist anymore, but it's where the Lago Colony restaurant and the dive shop are.
Facilities at Baby Beach
The facilities include sun tents and beach chairs to rent, lockers, restrooms (there will be a charge for using them), a snack bar on the beach called Baby Beach Snack and a restaurant by the name of Big Mama Grill on the east side of the beach.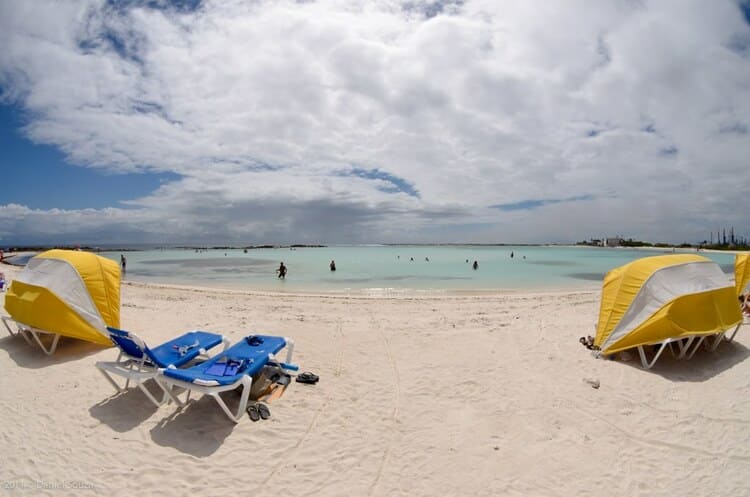 At the opposite side, if you walk towards the west, there is a tiny strip with a local dive shop Jads Dive Center and two open-air bars: Rum Reef Bar and Lago Colony Baby Beach restaurant.
But the best thing to do, if you come in the early morning, is to get one of the free public beach huts near the water. Besides, the beach will all be for you.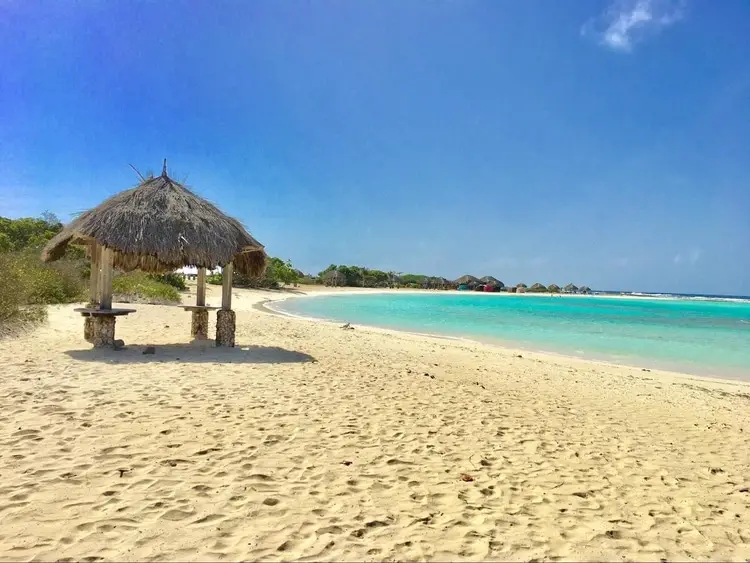 How to Get to Baby Beach?
By car
The easiest and smartest decision is to rent a car because it's a long ride by bus as well as a bit complicated.
But don't worry – I will explain later how you can travel there by bus.
If you decide to rent a car, my recommendation is SmartRental.
We rented a car from them, and we had a great experience.
They are more affordable than other companies, the car was excellent, and everything was fast and simple.
Plus, it was the only rental company in Aruba that allows you to rent a car without a credit card. We have debit cards, so we were lucky to find SmartRental.
You will have to leave a big deposit though, $500, in case something goes wrong while you have the car. But at least we could hire the car and we got our deposit back straight away after dropping off the car. No problems.
In our case, they picked us up at the airport and drove us to the offices 5 min nearby, but they can also bring the car to your resort – it' simply a matter of whatever is more convenient for you.
The staff was very nice, especially Jorge, and they speak English, Spanish, Dutch, and Papiamento.
We even got a special discount for saying that we were coming from Bubali Villas and Apartments, our very well-located hotel in Aruba (between Eagle Beach and Palm Beach and next to Super Food Plaza, a big grocery shopping mall).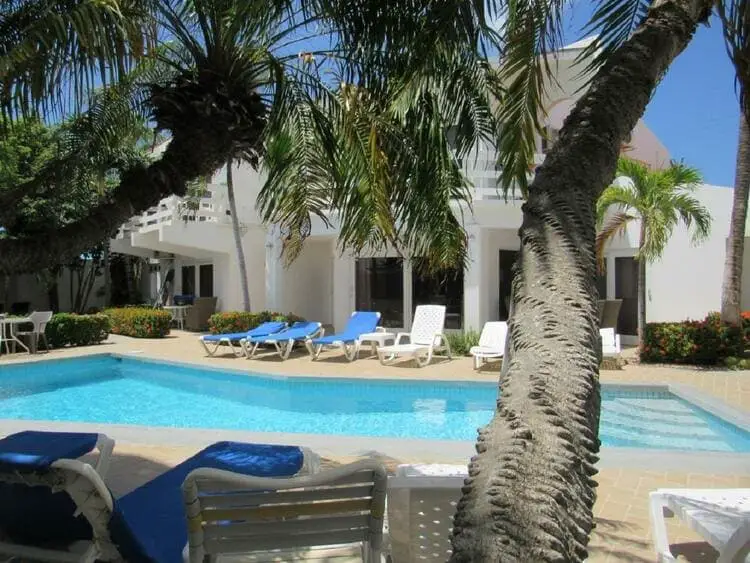 If you want an excellent place to stay and you don't want to spend a lot, check it out. It's basic but clean, and it's in a great and quiet location with outdoor parking and a swimming pool.
These are the instructions to get to Baby Beach from Eagle Beach, and it takes 40 minutes more or less.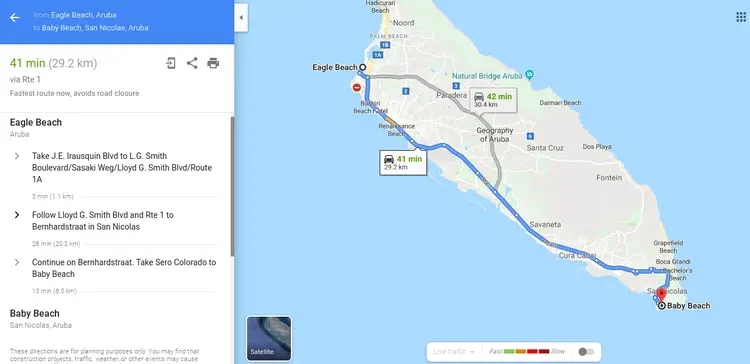 By bus
If you are staying at Oranjestad, you can take the bus (L1, L2, L2A, L3, L3A) to San Nicolas.
And from San Nicolas Bus Station there is another bus that takes you directly to Baby Beach.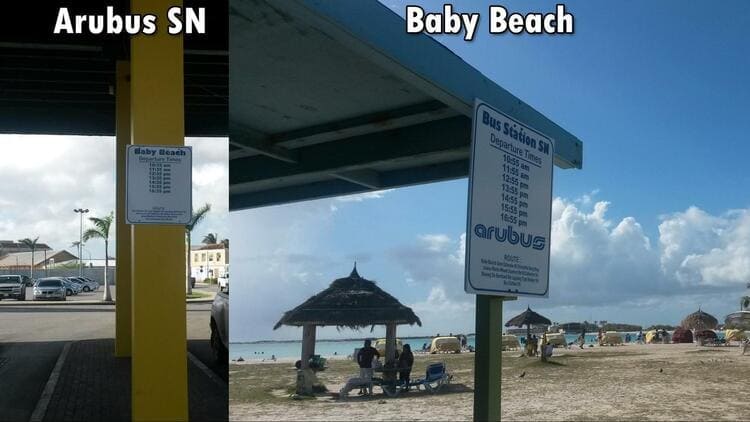 These are the schedules: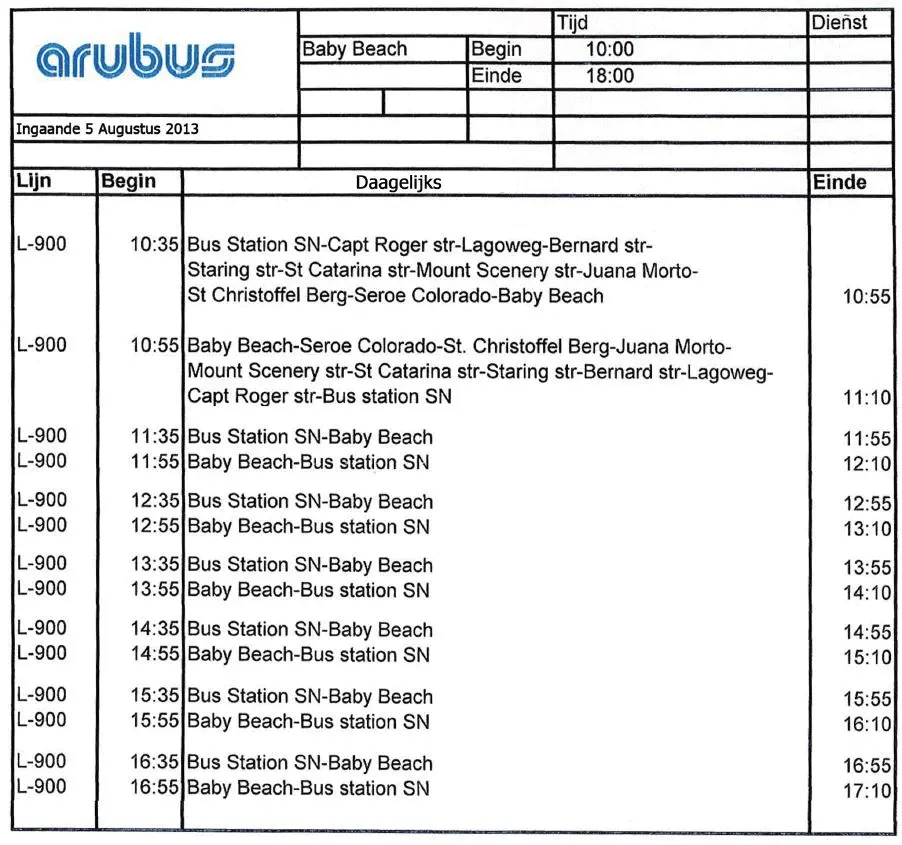 So the last bus departing from the beach is at 16:55. You can purchase a Baby Beach Smartcard at AWG14 for $8, and you can use it for a return trip from Oranjestad to Baby Beach or Rodgers Beach.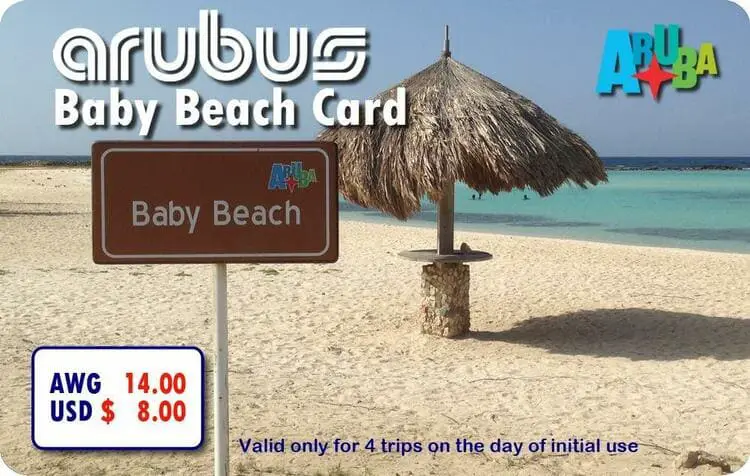 By taxi
I wouldn't really recommend taking a taxi, as they will charge you around $75 for a round-trip to go to Baby Beach from Palm Beach area. If you rent a car for the whole day, it will still be cheaper (from $35) than the taxi ride.
On a tour
Another easy way to get to Baby Beach is on a guided tour – they offer pick-up and drop-off from your hotel, so it really couldn't be better.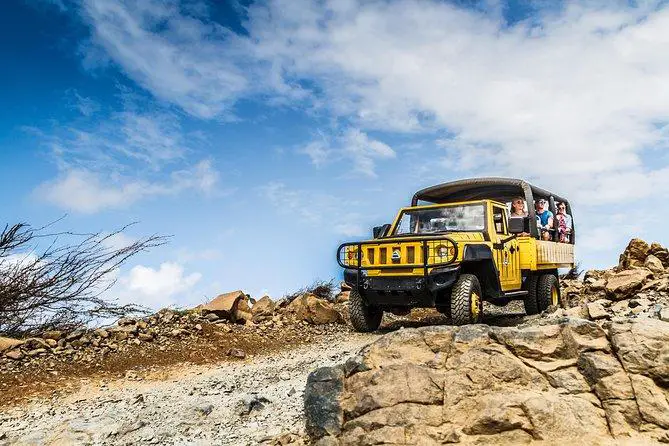 Why not take a ride in a 4-wheel-drive open-air jeep? A full-day excursion will take you to the most interesting landmarks in Aruba, finishing up your adventure at Baby Beach.
Tour highlights:
Take a dip in Aruba's Natural Pool
Explore the California Lighthouse, the Natural Bridge and the countryside of Aruba
Lounge in the sun or snorkel at Baby Beach.
It's the perfect adventure safari and super fun!
Drinks, snacks, lunch, hotel pick-up and drop-off, and snorkel equipment are included.
This is an excellent choice for families. You'll visit the island on an open-air school bus.
Tour highlights:
The California Lighthouse
Arashi Beach
Natural Bridge (the stone bridge has collapsed, but it's still interesting to visit)
The Guadarikiri Caves in the Arirok National Park
Baby Beach
This tour includes the guide, a nice home-made lunch at La Granja restaurant, the beverages on the bus, and the hotel pick-up and drop-off.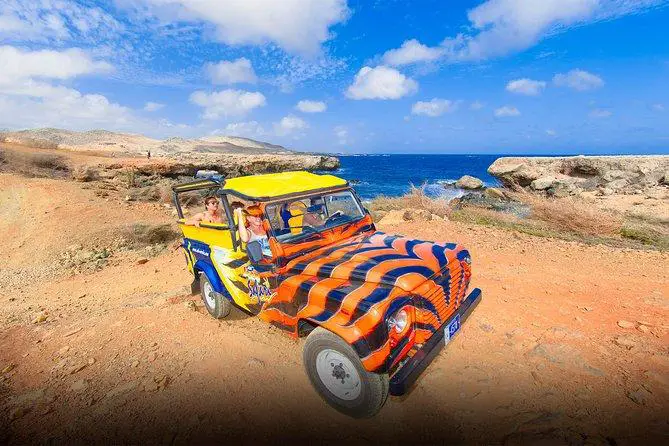 This is one of the best-sellers, a full-day, off-road 4WD tour to cover the island's top attractions.
Tour highlights:
Visit famous landmarks like the California Lighthouse, Bushiribana Gold Mill Ruins, and Natural Bridge
Snorkel and swim at the Natural Pool and Baby Beach
Dare to explore Aruba off the beaten path in an off-road vehicle!
BBQ lunch, drinks, and round-trip hotel transport are included.
What to Do at Baby Beach?
Snorkeling with colorful tropical fish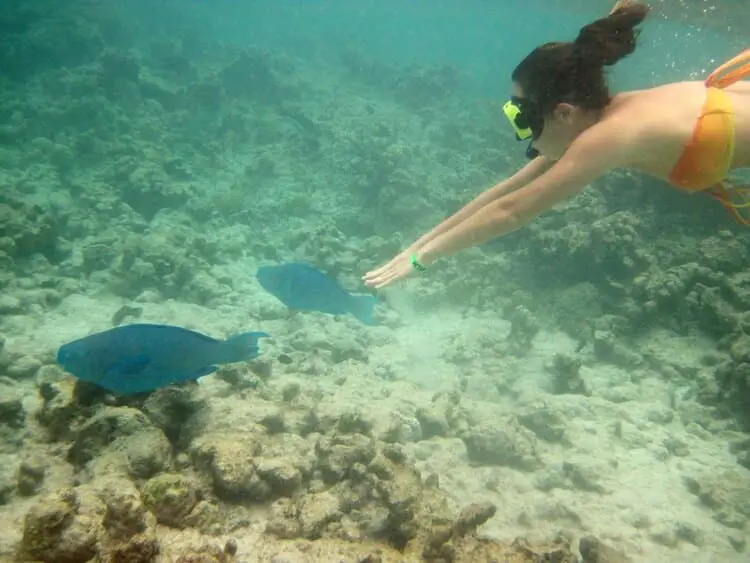 If you have snorkeling gear… bring it! It has the best snorkeling in Aruba!
If not, don't worry, you can always rent equipment at the hotel before leaving, or at the dive shop at the beach.
Sea turtles can be seen in the deeper seagrass area on the left side of the beach – it's the best snorkeling spot.
And there are tons of tropical fish: blue tang fish (the forgetful fish in Finding Nemo), parrotfish, barracuda and many others that I don't know the names of.
Don't forget to bring some bread crumbs or fish food to feed the fish
Just be careful and make sure you stay within the marked snorkel area.
Don't follow the fish and venture too far. And never go through the breakwater opening. There are very strong currents beyond this point, and it's dangerous; even strong swimmers have drowned here before. So better to stay safe, because there are no lifeguards here. I know it's hard to believe when you see the calm knee-deep water, but outside the protected area there have been numerous drownings over the years.
Dive and explore the beautiful waters of the Caribbean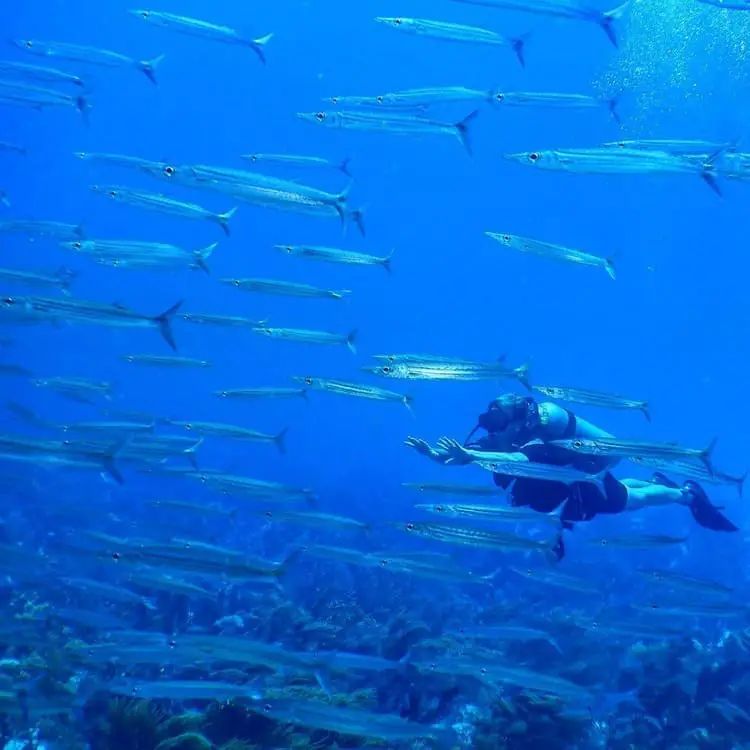 Jads Dive Center is a family-owned business that started as a small beach shop and that is now a fully equipped dive center.
They have a charter boat that takes you to the best local wrecks and reefs on the southern coastlines and includes 15 different locations.
They will pick you up from your hotel if you need them to.
Prices:
½ Day Discover Scuba Diving experience: 1 tank – $104.94/ 2 tanks – $196.10
2-tank morning boat/shore dive $99.64 (5 hours)
Rent a mask and fins – $10.60 per hour
Rent mask only – $10.60 (4 hours)
Eating and drinking

There are a few options right there at the beach:
Rum & Reef Bar and Grill
Grab a bite to eat or enjoy a nice cocktail at this bar. It's located right next to the dive shop, and it has the most amazing view and setting in Aruba. It has an infinity pool, and it's adults-only, so you need to be 18 and over to go.
Restaurant Big Mama Grill
A Flintstone-themed beach bar and restaurant that has plenty of outdoor seating in the shade and serves authentic creole Aruban food and the most refreshing drinks.
Baby Beach Snack Bar
It's located just next to Big Mama's, and it serves snacks (hamburgers, hot dogs, sandwiches and french fries or chicken tenders) and all type of drinks.
Lago Colony Baby Beach Restaurant
Lago Colony was the first Colony Club ever, inside the USA-based colony for the expats working at the refinery on the island. Enjoy lunch, dinner, or simply a few drinks. Located at the same location of JAD's divers, but it's the first bar when you arrive.

By Lago Colony Baby Beach Restaurant
If you are on a tight budget, I'd recommend you to bring your own food or eat at San Nicholas village.
There's a Wendy's and a Subway 15 minutes' drive from Baby Beach, on the RT1 and there's a Burger King next to the Arubus Stop Police San Nicholas, which is even closer.
Other things to do at Baby Beach
Teach your kids how to swim, watch the sunset, build a sandcastle with your kids, take the most incredible and memorable pictures, pet the donkeys that come to you on the road or take a nap, meditate or relax, you're on vacation after all.
What to Do Near Baby Beach?
Explore Rogers Beach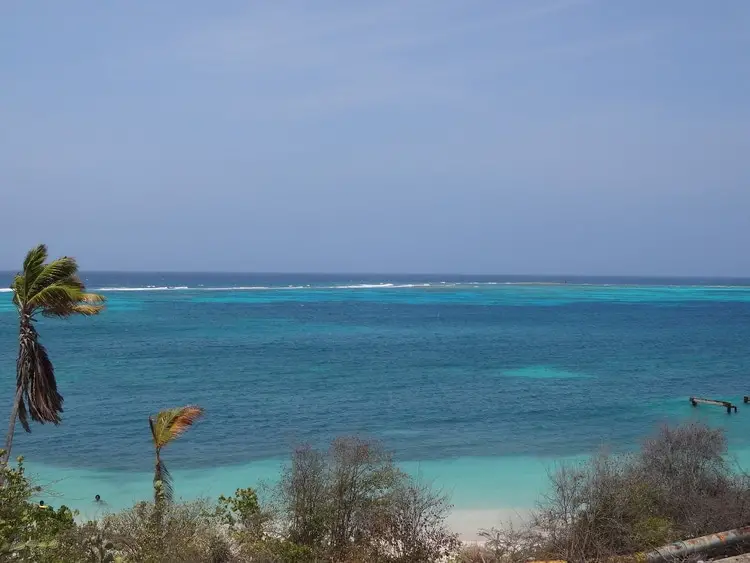 It's a small beach located immediately west of Baby Beach; very calm and peaceful, and never crowded.
So it's a good choice if you want to relax and be away from people.
The pelicans usually are around, and they hang out on the pillars in the water – so if you are lucky, you can even swim next to them and watch them dive for fish.
Walk to Seroe Colorado Lighthouse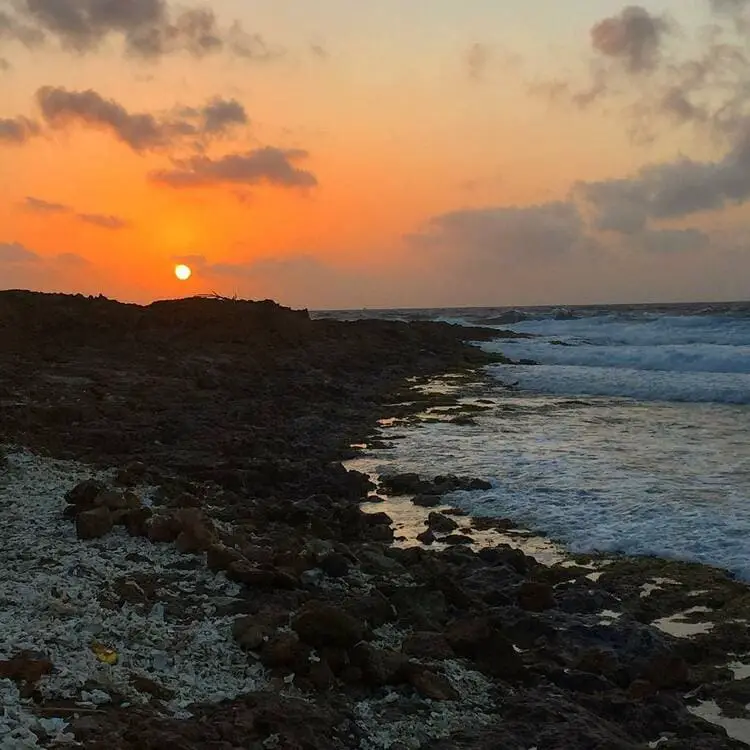 If you want to be adventurous and seek some less-traveled areas, go to the southern tip of the island, to Seroe Colorado.
If you want to walk from Baby Beach, you can follow a trail that brings you to the Seroe Colorado Lighthouse.
The views are spectacular – you can admire the beaches and the waves splashing against the rugged rock formations, with little natural pools everywhere, and all the different colors of cliffs and caves.
But don't expect a beautifully designed lighthouse like the California lighthouse, or you'll be disappointed.
This Lighthouse is a metal square structure that is not the best-looking. It's just functional and designed to prevent vandalism. But trust me, the surroundings and the hike are worth visiting.
Stroll around San Nicholas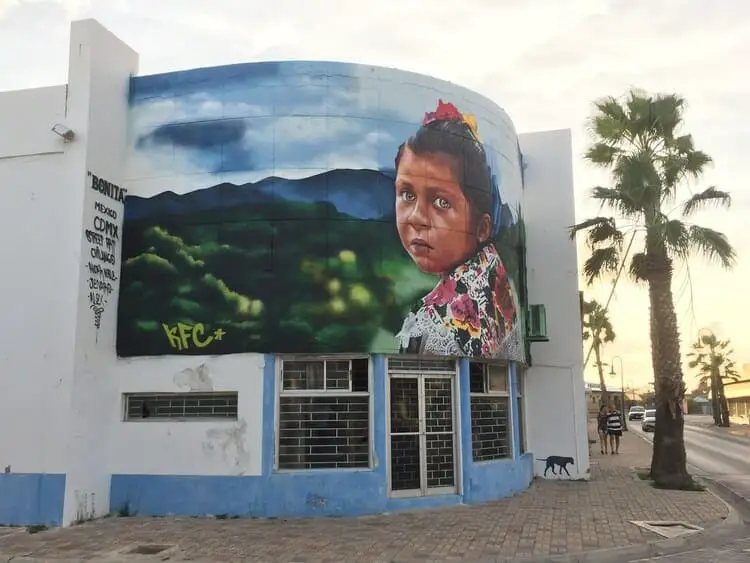 San Nicholas is the second-largest city in Aruba: Check out the art street in the main commercial area of town, near the police station.
You'll see lots of colorful murals and sculptures representing the history and culture of Aruba. If you like art, this is delightful!
Stop for a drink or eat a yummy local dish at Charlie's bar, a bar that got famous in the '40s for its eclectic and unbelievable decoration, from license plates from all over to antique items found by scuba divers underwater hanging from the ceiling and all over the walls.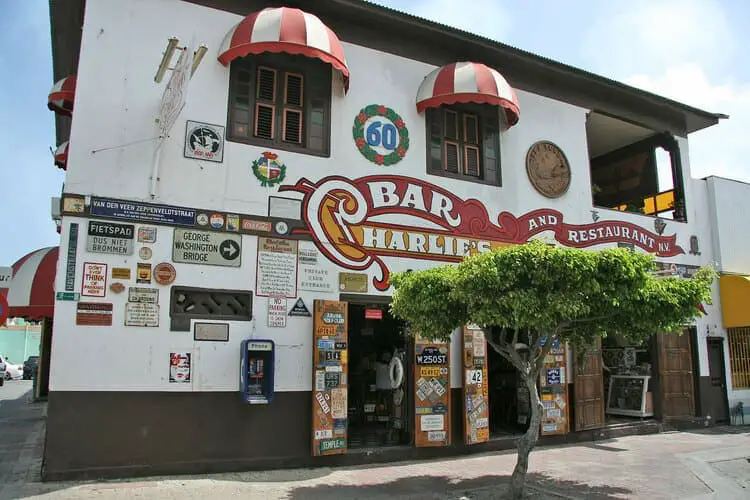 Visit the San Nicholas Community Museum, which tells the story of the people of San Nicholas before the development of tourism.
Shop and bring home some local delights from the local boutiques or outdoor markets.
Go Kitesurfing to Boca Grandi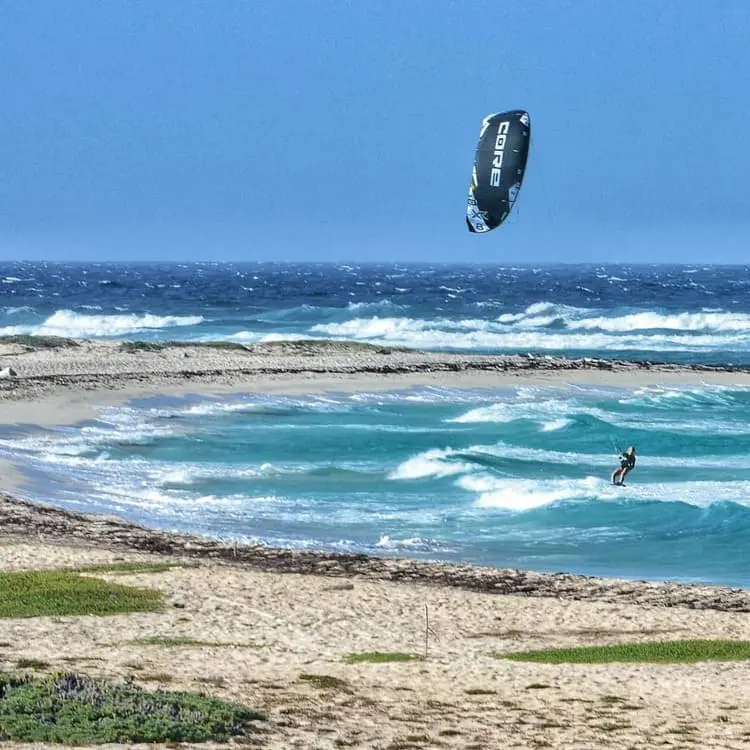 It's named Big Mouth (Boca Grandi) due to the half-circle shape of the beach.
Steady winds and big waves make Boca Grandi a perfect place for kitesurfers, but not for swimmers though.
It's just a 5-minute drive from San Nicholas. You can't miss it – you will see a big, red sea anchor at the entrance of the beach in tribute to all seamen.
Where to Stay Near Baby Beach?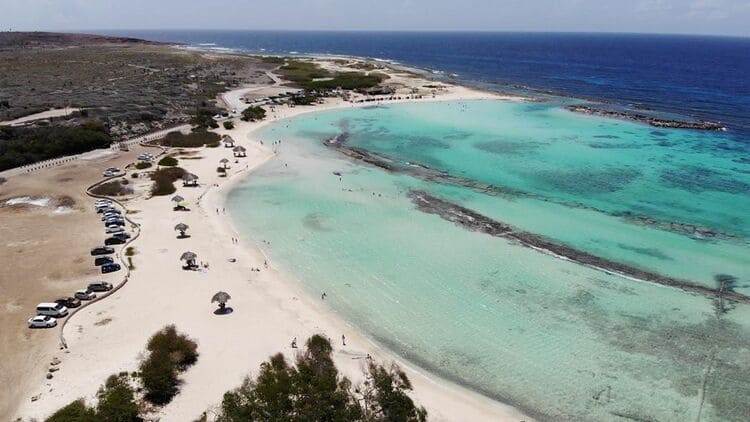 There are not many hotels or resorts in this part of the island, but if you are looking for a quiet coastal place to spend your holidays, this side of the island is definitely worth your while.
I can recommend to you:
It's available to rent on Airbnb, and it's a 3-bedroom 'Colony' house that's located in a quiet and friendly residential neighborhood, next to several beaches: Baby Beach, Rodgers Beach and Boca Grandi. It's just a two or 3-minute walk to any of these.
It's one of the few oceanfront row rental properties on Aruba, with incredible views of the Caribbean Sea and it has a big patio with a dining area, BBQ, and sunbeds.
They provide free WiFi, a TV with free access to Netflix, snorkeling equipment, towels, books, and toilet amenities.
So check it out if you are looking for a comfortable, quiet place to rest.
Pick this one if you are looking for a budget option.
It's a big bedroom with a queen-sized bed, located in a 2-unit rental residential vacation home.
You have a private bathroom and shared areas include kitchen, dining and living rooms as well as front and back yards.
It is located near beautiful beaches like Baby Beach and Rodgers Beach.
Just minutes away from Baby Beach, Rodgers Beach and Boca Grandi, it's a perfect location for kitesurfers looking for a place to rest, or nature lovers seeking to experience the authentic wild side of Aruba.
Good things about Baby Beach
No crowds, an excellent alternative to the busy shores of Eagle Beach and Palm Beach.
Clear blue, calm, and warm water.
No waves or wind, and a pretty flat and protected pool with shallow water for kids.
Soft, white sand beach.
Fun day trip, ideal for families with small kids.
Free beach huts placed throughout the beach.
Great for snorkeling, with a diversity of aquatic life close to the shore.
A lot of free parking spots available.
Bad things about Baby Beach
The oil refinery located at a distance could be an eyesore for some, but despite everything, I still believe it to be a beautiful place.
Not recommended if you are only spending one day in Aruba because it's far from the rest of the tourist spots. Cruise ships docks in Oranjestad, at Aruba Port ship pier. From there you can walk to the city center and shopping area, and if you want to visit a beach, you can take a taxi to Eagle Beach or Palm Beach.
If you are into luxury hotels, keep in mind that there's no big resorts or high-end hotels nearby.
You need to be careful if you choose to snorkel beyond the seawall. People tend to think that the best snorkeling is far outside, and it's easy to get swept away and forget about danger. Don't get me wrong, I'm not pretending to scare you, but you'd better stay within the confined area.
Why I like this beach
I know some people hate this beach and may not agree with what I'm saying.
They find it horrible, but it's mainly because of the oil refinery view in the distance.
What a shame! Because they can't see further than the typical beach surrounded by tourist shops, hotels and bars and they are really forgetting about the natural beauty of the place, the clear pristine water, the soft and white sand, and the relaxed and quiet atmosphere.
Anyway, go and form your own opinion by visiting Baby Beach. I hope you enjoy it!
Similar Posts: