If you're flying to Tokyo, you might be wondering which airport would be the better option for you, and that's where this guide comes in handy!
In today's guide, I'll help you pick the ideal choice for you by putting Haneda and Narita Airports in a direct comparison. Without further ado, let's dive right in!
Quick Comparison Table
Point of Comparison
Tokyo Haneda Airport (Tokyo International Airport)
Narita International Airport
Distance from City Center
The closest airport to downtown Tokyo (around 30 km or 18.6 miles south of the city)
Much further (around 80 km or 50 miles from the city center)
Average Number of Passengers
50.0 million in 2022 (up to 80 million in 2018)
15.41 million in 2022
Airlines Served
More domestic flights and fewer international airlines (35), but the number is continuously growing
More international airlines (78) and fewer domestic flights
Number of Terminals
3
3
Total Number of Destinations
Over 103 destinations
Over 116 destinations
Amenities and Shopping
Fewer amenities but still enough for a comfortable layover or transit
Larger variety of shops, restaurants, lounges, family areas, and more.
Transportation to Tokyo Station

Around 25 minutes by car or taxi
Around 40 by regular train and 30 minutes by Airport Express Trains (Tokyo Monorail and Keikyu Airport Line)
60 to 90 minutes by bus (multiple bus lines)

Around 50 to 70 minutes by car or taxi
Around 50 minutes by regular trains and 60 minutes by Airport Express Trains (Narita Express Narita Skyliner)
55 to 90 minutes by bus (multiple bus lines)

Suitable for

Travelers going on domestic, flights
Travelers who want to land as close as possible to the city center
Travelers who are short on time
Budget travelers looking for more affordable transportation to the city center

Travelers who want a wider range of flight options
Travelers from destinations only served by Narita Airport
Families looking for bigger and better kids' play areas
Travelers looking for more amenities and a convenient layover
Air Traffic
The air traffic in both Haneda Tokyo Airport and Narita International Airport is quite high, as both airports handle tens of thousands of passengers every single day.
However, when it comes to which one is busier, Haneda Airport is the easy winner here, as it can peak at around 80 million passengers per year, compared to around 15 to 30 million passengers for Narita.
Besides being the busiest in Japan, Tokyo Haneda Airport often ranks among the top 5 busiest airports in Asia.
The rush hours at Haneda Airport are usually between 6 – 9 AM and 5 – 7 PM when there are many flights arriving and departing. Checking in during that time takes longer and you should expect longer wait lines.
That being said, Narita Airport is also fairly busy, so you'll still need to factor in the heavy air traffic while planning your flight.
However, the traffic in Narita is rarely as much as in Haneda Tokyo Airport because it receives fewer passengers and also has 3 runways.
Destinations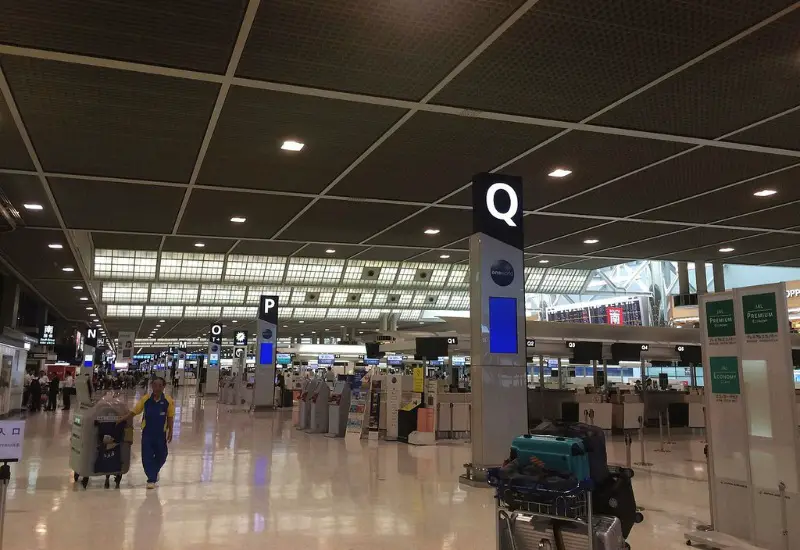 Although Tokyo Haneda is officially known as "Tokyo International Airport", it's the main hub for domestic flights inside Japan.
This means that the airport has flights to almost everywhere else in Japan, including major cities like Osaka, Sapporo, Fukuoka, and Kyoto.
Additionally, Tokyo Haneda has a decent number of international flight destinations around the world, including major US cities like Los Angeles, Chicago, New York, and Seattle as well as international cities like Hong Kong, Seoul, Singapore, and Taipei.
On the other hand, Narita offers a much larger coverage when it comes to long-haul international flights, especially within the US, as many American carriers are only flying through Narita.
In addition to the US, multiple major carriers are only offering flights to Narita, such as Turkish Airlines and Swiss Airlines. If you're flying nonstop via these carriers, your options will only be limited to Narita Airport.
For that reason, if you prefer an airport that gives you more flexibility while flying to and from Tokyo, you should opt for Narita.
Distance to Downtown
Based on flight availability alone, choosing Narita would be a no-brainer. However, the main reason why Tokyo Haneda Airport still receives much more traffic than Narita is its distance.
Technically speaking, both Haneda and Narita Airports are assigned to Tokyo. However, Narita Airport is extremely far out of the city, especially when compared to Haneda Airport.
Many people consider the Shibuya District as one of the main centers of Tokyo. The distance from Narita Airport to the Shibuya station is around 77.6 km (47.8 miles), so it can take around 50 to 70 minutes to reach by car.
Since taxis are quite pricey in Tokyo, you should expect this ride to cost you over 23,000 yen (around $160).
Taxis from Haneda aren't cheap, but they're usually under 12,000 yen (around $83) to Shibuya Station, as Haneda Airport is only a 30 to 40-minute drive for a distance of 21.8 km (13.5 miles).
The good news is that you can reach Tokyo's center through other means of transportation, including trains, and express airport trains, which are fairly faster and much cheaper.
For instance, Tokyo's monorail costs around 690 yen (around $4.78) while the Narita Express line's ticket would cost you around 3,250 yen (around $22.5).
You can also take buses and shuttle services, which cover many lines but are the slowest among public transportation methods.
All in all, the geographical advantage of Haneda Airport is one of the main reasons why many tourists pick it over Narita Airport.
The proximity doesn't only help you reach your accommodation quicker, but it also saves you more money whether you're taxing a taxi, train, or bus.
Facility Quality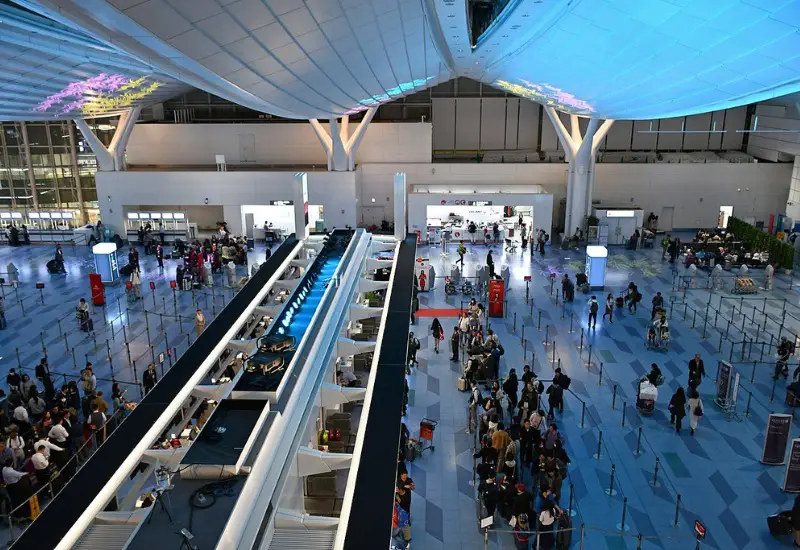 Although Haneda is older than Narita, the two airports aren't too far off each other in terms of overall facility quality.
However, Haneda Airport is a 5-star rated airport, which is a rare class received for outstanding overall performance, including facilities, passenger comfort level, security, and more.
Everything within the airport is very well organized, which makes it incredibly easy for anyone to get around.
The same goes for Narita Airport, which is a 4-star rated airport, but still has excellent standards when it comes to airport cleanliness and organization.
Boarding Efficiency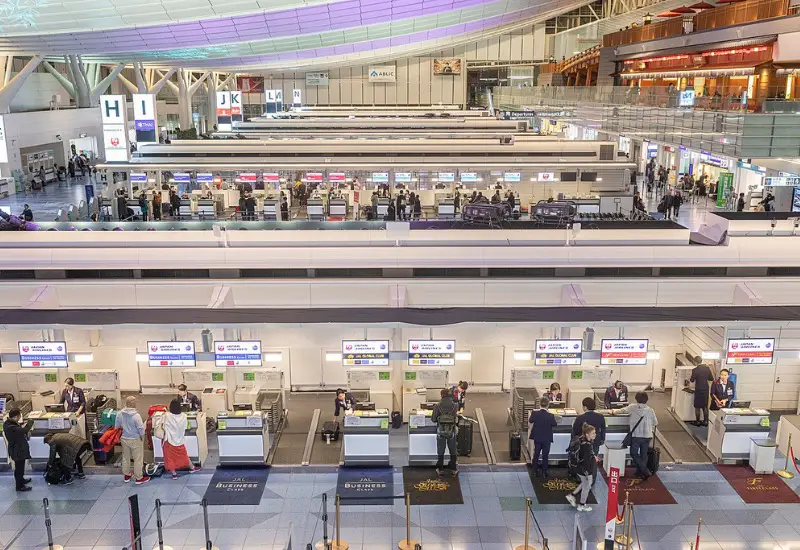 Another aspect where both airports perform similarly is boarding efficiency. Since both airports are well organized, boarding is typically smooth with little delays and average waiting lines.
With that being said, you should keep in mind that Narita Airport is typically less crowded than Haneda Airport, despite being the smaller one.
As a result, if you don't mind the extra distance between the airport and the city, Narita Airport can be an excellent option as well.
Amenities and Comfort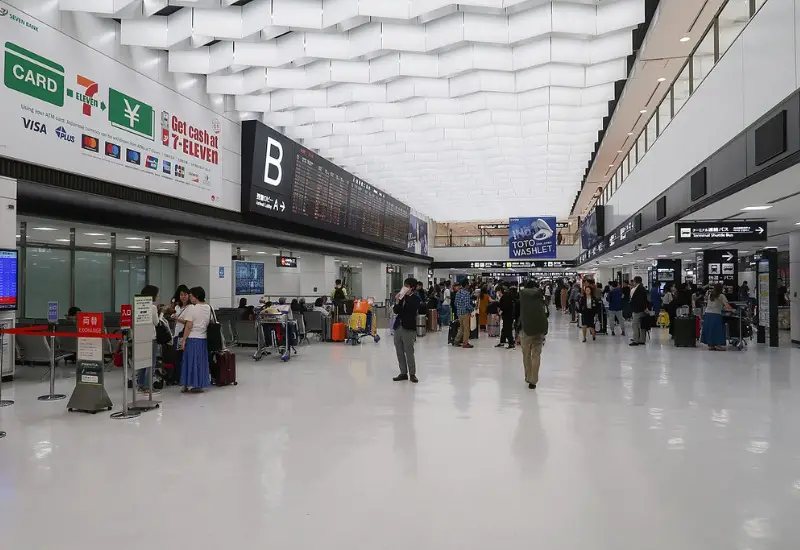 Since Tokyo Haneda Airport receives more passengers per year, it's only natural that most amenities and shops are available there.
Yet, while Narita Airport has fewer amenities, it offers an equally wide range. For instance, since it covers most international flights, it's home to several currency exchange desks and duty-free shops.
Besides stores, both Haneda and Narita offer a remarkable range of restaurants, lounges, and even spas and kids' areas.
This makes both of them suitable for family travelers as well as those looking for a more reliable layover.
Nearby Accommodation Options
You'll find a decent selection of options near the airports whether you're flying to Haneda or Narita.
For starters, if you're looking for budget-friendly accommodation near Tokyo Haneda Airport, you can find options like Plat Hostel Keikyu Haneda Home, which typically costs as little as 9,000 yen (around $62.3 per night).
For those who want to indulge in the ultimate luxury, there's the Royal Park Hotel Tokyo Haneda, which is located just a short walk from the airport terminals. The hotel offers its guests a variety of amenities, including a spa, a fitness center, and a swimming pool.
Since Narita Airport is quite far from the city, the accommodation options near the airport are quite limited in comparison to Tokyo Haneda.
However, you can still find several hotels in the area, ranging from affordable to mid-range, such as Hotel Nikko Narita, Richmond Hotel Narita, and Hilton Tokyo Narita Airport.
Final Verdict: Which One Is Better to Fly to?
This wraps it up for today's guide which walks you through a brief overview of both Tokyo Haneda and Narita Airport.
As you can see, both airports are among the busiest and most popular airports in Asia and the world.
If proximity to the city is your main concern, Tokyo Haneda would be a better pick for you.
However, if you prefer less crowded airports, especially if you're going on a long-haul flight, Narita might be a better option for you.
Articles similaires :