I'm often asked about the airline industry's requirements with regard to the height of flight attendants. This is often an overlooked aspect of our career, so it will be helpful if I cover it in some detail for you.
In this article, I'll explain what a height test involves and I'll also give you a few simple tips about the process. I have also provided a handy list of height requirements for most international airlines.
Height requirements for flight attendants differ slightly across airlines, but the average is a minimum of 159cm (5 feet 2 inches) without shoes. Some airlines do an arm-reach test in which an average reach of 212 cm (6 feet 9 inches) is required.
As I said, I've compiled a list where you'll find the main airlines' height requirements, but you can also find this information on the airline's job posting site.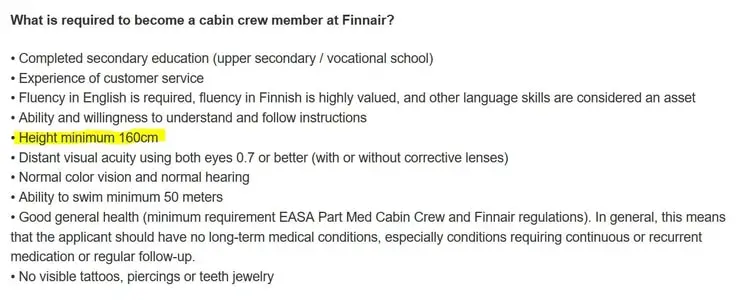 Why Is There a Minimum Height Requirement to Become a Flight Attendant?
The reason behind airlines requiring a certain height cabin crew is not only for the brand's image or appearance, something that could be seen as discriminatory, it's mainly for reasons of safety.
As always, remember that the most important function of flight attendants is that of looking after the safety of the plane's passengers.
So here are the practical reasons for the height requirements:
To be able to reach the emergency equipment located in overhead bins. Our safety and survival equipment – oxygen bottles, fire gloves, smoke hood, Emergency Medical kit – is stored in overhead bins, so obviously you must be able to get them when needed.
To be able to access all areas on the plane. For instance, in case you need to extinguish a fire in a cupboard above head height or in the overhead compartment.
To avoid spinal injuries. These can occur after years of exerting stress on the spine from lifting, pulling and pushing objects over your head. The twisting and contorting needed to lift luggage up and over also increase the chances of injury to your back and neck. Yes, you may be able to reach an overhead compartment standing on your tiptoes, but what carries the stress is when you do that is not your toes, but your spine.
So a minimum height requirement mitigates our vulnerability to spine-related injuries and gives us a natural advantage in carrying out our tasks as cabin crew.
This isn't safety-related, but in terms of customer service, it's about being able to assist passengers with their baggage and being able to close the overhead bins.
These reasons are why employers of cabin crew are usually very strict when it comes to height requirements.
Aviation is regarded as safe today because every time an accident or incident happens, everything is analyzed with a view to prevent a recurrence and to improve safety for the future.
So, the height requirements are there based on past experiences and difficulties.
How Accurately Do Airlines Measure Height?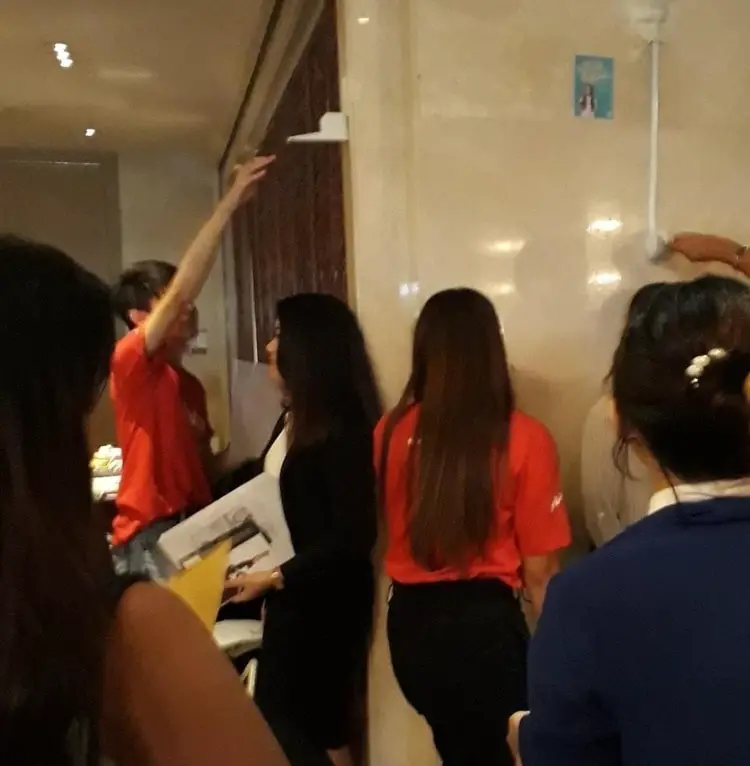 As I said, usually the height requirement is quite strict and it will be the very first thing that you have to pass on an assessment day.
Unfortunately, candidates that don't meet the requirement are sent home at this very first stage.
It's quite final and they won't even let you drop off your resume or participate in any other rounds.
It's tough, but it's something that you definitely need to be aware of.
But don't despair if you don't meet the average height I spoke about at the beginning of this article, read on and there may be hope.
Some airlines or recruiters can be a bit more flexible:
 If they measure you and you are just 1 or 2 cm (0.39 inch-0.78 inches) below the required height.
 Or, for example, if you are 5'0" instead of 5'1'' but can reach 210 cm or the arm-reach required for that airline.
 I also know of people that have been given a second opportunity after they failed, or nearly failed, their first attempt at the arm-reach test.
It also depends on the airline's needs. If they need to hire a lot of cabin crew at that time, or if you have something extra that they are looking for. You may speak a Scandinavian language or Japanese, for instance, and if there aren't many candidates that fulfill that specific requirement at the time, they may not be so strict.
So if you are below the height by not a huge amount, give your application a shot, it's worth a go.
What Is the Arm-Reach Test for a Flight Attendant?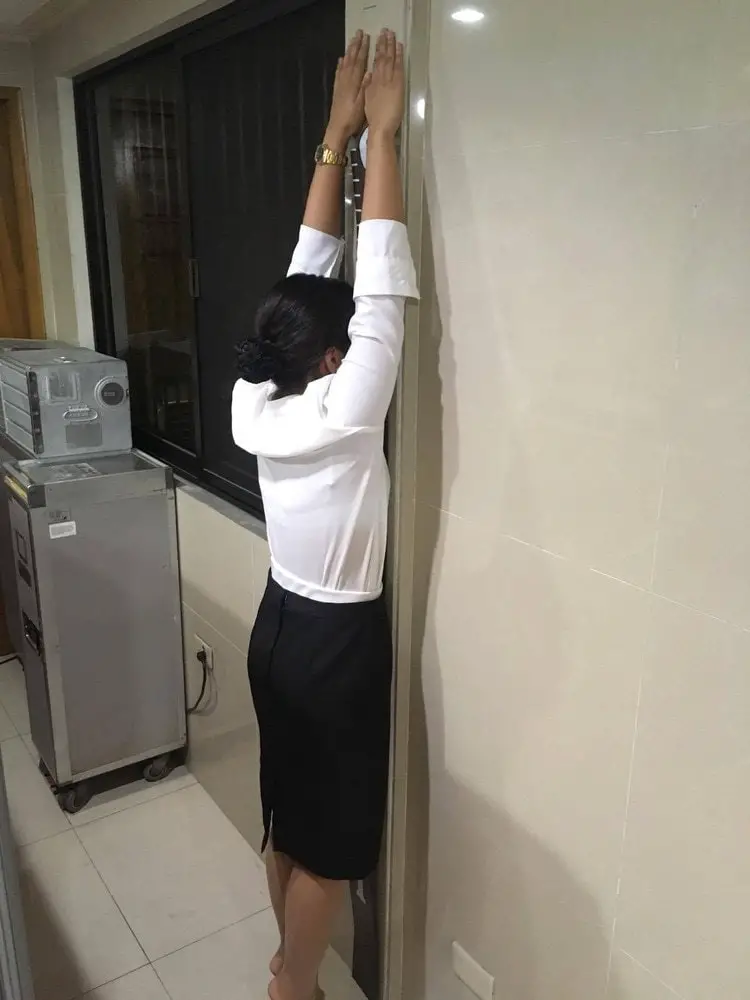 It's one of the first rounds performed at a cabin crew assessment day or interview, normally after the presentation.
At this first stage, they will confirm your height by measuring you, confirming your arm-reach, or both.
It's eliminatory, so candidates that cannot reach the minimum height are usually disqualified if they fail.
How is it done?
Here is the arm-reach test done by Qatar Airways:
The tests test will be slightly different between the airlines, but here's what to expect:
The required height will be marked on a wall with a sticker (e.g. 212cm), and applicants will be asked to come up to the wall to show that they can reach the line.
Recruiters will ask ladies to remove their shoes while male candidates can keep their shoes on, but they can't stand on tiptoe.
Next, you stretch your arm up (or both arms, in some companies) to the maximum, standing on your toes if applicable. Your palm should be flat against the wall and the tips of your fingers should reach over the line.
You can take off your jacket to be more comfortable and aid stretching.
Sadly, if you don't reach the requirements, you will be automatically disqualified.
Not all airlines do the reach test as part of their application process, although many of them have it as an alternative to the height test.
Doing the height measurement has been criticized by many. Mainly because if it's for safety reasons (in order to be able to reach the emergency equipment, etc.), it's argued that the reach test should be enough, no matter what the height of the applicant.
That's why many people have suggested that airlines having minimum height requirements is discriminative and that it seems more like a brand imaging than a safety consideration. If you are able to reach the emergency equipment, your height shouldn't matter. And some airlines actually have different height requirements for men and women, which does seem to be discriminatory.
How can I improve my chances of passing?
I know, it's a blow if you aren't tall enough to get your dream job, but if you are almost there, why not practice at home?
Exercise your legs and arms, make a mark on the wall and any spare time you have, try to reach it. A simple thing to do, but it may well help.
I can't make you any taller than you are, no matter how clever I may appear, but exercising and stretching can add a little to what you can achieve.
Our limbs tend to have more give in them than we use in our day-to-day activity, so we can work on this aspect.
Many candidates who have made the requirement have commented that stretching and balancing exercises actually can help you reach higher.
Don't forget it's not only your arms that need to stretch to the maximum, your toes and the rest of your body can be just as important.
Exercise to improve your arm reach
You can also practice a yoga technique that is helpful. It's called the Upward Salute. This isn't the place to describe it, but look it up and give it a go. What harm?
My advice for all aspiring cabin crew is to never give up, keep following your dream no matter what.
Perseverance is the key.
What Is Weight in Proportion to Height for a Cabin Crew? Calculating Your BMI
Don't worry, you don't have to be super slim or a model to be a flight attendant.
But you do need to have a healthy weight and to look healthy.
In most airlines, your weight won't be measured on an Assessment Day, but you probably will be measured during the medical tests.
To find out if your weight and height are in proportion, just look up a BMI chart below. This is what airlines use to calculate if your height is in proportion to your weight.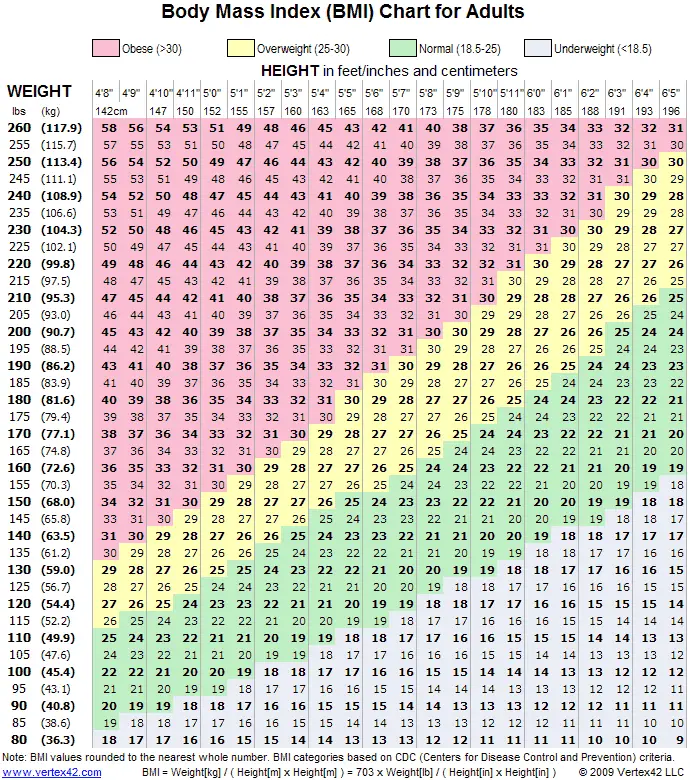 Body mass index, or BMI, is calculated by dividing your weight in kilograms by your height in meters squared. The result places you in a category of underweight, healthy weight, overweight or obese.
If your BMI is between 18.5 – 24.9, you are at an ideal weight for your height. Below that, you are underweight and over that, you would be overweight.
Check yourself out on the BMI chart below
Airlines are usually looking for people in the "healthy" zone.
It can be argued that this is an unfair requirement because many scientists believe that it's not the most accurate way to measure body weight.
But the airlines that do require a certain body weight claim that this is crucial in order to keep passengers safe because being overweight would prevent staff from carrying out their duties.
But not all airlines have this requirement.
In general, Middle East and Asian airlines attach a lot of importance to it, whereas Canadian and American airlines are more relaxed about it. For these airlines, as long as you can do the job, fit into the crew jumpseat without extensions and can pass other people in the aisle easily, you'll be fine.
Can I Be a Flight Attendant if I'm Short?
This is the 'don't give up hope' part of the article.
Absolutely.
If you are far from the required height, I would recommend that you look for airlines with slightly lower reach test requirements.
For example, those that require 210cm arm reach with no height requirement.
They are out there and they do need flight attendants – corporate aviation, charter companies, or smaller airlines, for example.
Or even big airlines that want to give equal opportunities to all candidates.
Look, if you aren't that far from the required height for the airline that you want to join, I'd encourage you to go there and try anyway.
You've got nothing to lose, and you might be the right person at the right time.
If you don't have a go, you'll never know if you could have made it.
But just a word of caution, think twice about it if you are going to travel from another country or city to attend an open day. This could cost a lot of money with nothing but disappointment as a result…
Is There a Maximum Height Requirement for Cabin Crew?
You should also be aware that some airlines might also have a maximum height requirement.
This is around 186 cm (6'1''), but it's not a common rule.
Why is there a maximum height requirement for flight attendants?
This is usually due to the size of some aircraft.
Some of them are quite small and don't have enough headroom for the taller among us.
And working long hours in such cramped cabin configurations can cause very tall flight attendants to bend a lot of the time and make it difficult for them to move or perform their duties throughout the cabin.
But, having said that, in general, being tall is almost always an advantage.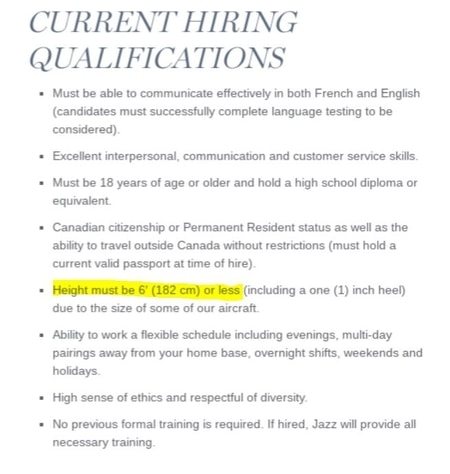 Jazz Aviation Airlines is Air Canada's largest regional partner, and you can see here in the job ad that their height requirement is 6' or 182 cm or less.
All these regional airlines use small capacity planes like Bombardier CRJ, Dash 8 or an ATR 72 and if you are taller than 182cm your head will touch the ceiling every time you stand up.
You may well feel claustrophobic in such a cramped space and wouldn't enjoy your working day at all.
Main Airlines Height Requirements
MIDDLE EAST AIRLINES:
Emirates: Arm reach of 212 cm while standing on tiptoes, minimum height 160 cm
Qatar: Minimum arm reach: 212 cm (on a flat foot with shoes on)
Etihad: Able to reach 212 cm without shoes
Oman Airlines: Female 157 cm, Male (only Omani) 165cm
Royal Jordanian: 158 cm
Air Arabia: Height: 160 cm (female)
Saudia: Arm-reach 212cm
USA & CANADA:
American Airlines: Height and weight must allow for safe operation of the aircraft and may not exceed specific aircraft dimensions (for example, must be able to sit in the jumpseat and fasten the harness, move throughout the cabin aisle, and operate emergency exits).
Air Canada: –
Air Canada Rouge: –
Jazz Airlines: 6′ (182 cm) or less (including a one-inch heel)
Mesa Airlines: Maximum height 6 feet, minimum height 4'11" without shoes
Delta Airlines: –
Contour Airlines: –
Air Wisconsin: Maximum height of 5'10" (without shoes)
Allegiant: –
American Airlines / Envoy Airlines: Height and weight must allow for safe operation of the aircraft and may not exceed specific aircraft dimensions (for example, must be able to sit in jump seat and fasten the harness, move throughout the cabin aisle, and operate emergency exits)
Jetselect: –
PSA: 5'2" without shoes
ACE Air Charter Express: 5'7"
SkyWest: 5.0" to 6.0"
Alaska Air: Vertical reach 80 inches (~5'2" in height)
Hawaiian Airlines: Vertical reach of 82 inches
United: –
Jetblue: Able to reach 6'3" without shoes
Frontier Airlines: Ability to reach into overhead compartments with a height of 67" and depth of 28"
Compass Airlines: 5'2″ (without shoes).
Commut Air:  5'0″ to 5'10"
National Airlines: –
SouthWest: –
GoJet: 152.5 to 176.5cm
Jetsuit: 5'0"-5'8" without shoes
Breeze Airways: –
CARIBBEAN, CENTRAL & SOUTH AMERICA:
Magnicharters: 1.65m (female) and 1.75m (male)
EasyFly: 160cm
JetSmart: –
Avianca: –
Interjet: –
Skyairline: –
GOL: –
Aeromexico: –
Caribbean Airlines: 5'3" to 6'2" without shoes
Copa Airlines: –
EUROPEAN AIRLINES:
SAS: 157cm to 200cm
KLM: 158cm to 190cm
KLM cityhopper: 158cm to 185cm
Corendon: 165-180cm (female) and 170-185cm (male)
Air Atlanta: 160cm
Xfly: 158cm to 180cm
Stobart Air: –
TAP: 160cm to 190cm
HiFly: Female: 1,60m Male 1,70 m
Air France: –
Corsair: –
Frenchbee: –
Virgin Atlantic: 210cm arm-reach
Eastern Airways: 4'8" to 5'8"
Neos Air: Female 160 cm Male 170cm / Arm-reach 212cm
Binter Canarias: 165cm
Aegean Airlines: –
Helvetic Airways: 157cm-185cm
TUIfly: Arm-reach 6'2" (187cm) without shoes
Norwegian Airlines: 160cm (or 5'3")
Finnair: 160cm
Swiss: 158cm
Air Europa: 165cm
Volotea: –
Lufthansa: minimum 158cm
Air Italy: 1.67 m for women, 1.72 m for men
Ryanair: between 5″2 (157 cm) and 6″2 (188 cm)
Easyjet: 5'3" to 6'3" without shoes
Aurigny airlines: 158cm
Iberia: 164cm
Iberia Express: 165cm
Air Nostrum: 165cm (maximum 180 cm)
WizzAir: 1.65m (females), 1.75m (males). Arm-reach 210cm on tiptoes.
British Airways: between 5'2" (1.57m) and 6'1" (1.85m) tall.
SmartLynx: 158cm
Jet2: 5.2"
Titan Airways: reach of 212cm.
Aer Lingus: between 5'2" and 6'2" tall and able to pass a reach test
AFRICA:
South African Airlines: 158cm
Ethiopian Airlines: 158cm
Air Mauritius: 157.7 cm, arm-reach 212 cm on tiptoes
AUSTRALIA & NEW ZEALAND:
Qantas:  163 – 183cm
QantasLink: 158cm – 183cm
Virgin Atlantic: none
New Zealand Airlines: pass a lift and reach test, which usually requires flight attendants to be between 160 and 185 cm tall, and able to lift heavy bags and emergency equipment
Jetstar: Be able to reach 210cm without shoes on
ASIA:
Singapore Airlines / Silk Air: 158cm females, 165 males
Japan Airlines: 5'1 arm-reach 210 cm without shoes
Cathay Pacific: A minimum arm-reach of 208cm on tiptoes
Philippine Airlines: Females 5'3" (160cm) Males 5'6" (170cm)
Citylink Indonesia: 160cm
Cebu Pacific: At least a height of 5'3 (160cm) for females and 5'7" (170cm) for males.
Eva Air: 160 cm. A minimum arm-reach of 208 cm while standing on tiptoes.
Air Asia: Female 157cm Male 173 cm
Air Macau: 206cm arm-reach
Vietjet: Female 160 to 170cm Male: 170 to 180cm
JAL: 158 cm arm reach 210cm on tiptoes
Thai: 160 cm
Vistara: Female 155 Male 170 cm
Indigo: 155 cm
AIr India: Female 160cm Male 172 cm
Jet Airlines: Female 157 cm Male 170 cm
SpiceJet: Female 155 cm Male 173 cm
Go Air: Female 160 cm Male 173 cm
Scoot: Females 158 cm Male 165 cm
PAL Express: Females 5'3"(160cm) Males 5'6"(167cm)
So there we are, a comprehensive explanation of the minimum height for flight attendants and lots of data regarding BMI and the height requirements of most of the world's major airlines.
Happy flying!
Similar Posts: