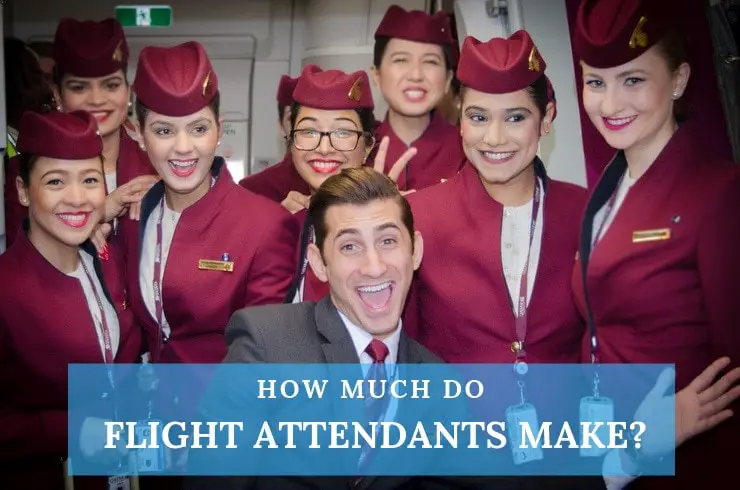 Updated January 3, 2020

Have you ever wondered how much flight attendants earn?
Whenever I speak to people and I talk about what I do for a living, they tend to think I have a glamorous life traveling the world and they assume the money is pretty good too.
But this is not always true. Today I'm revealing the real salaries of some cabin crew, which varies and depends on many things: type of airline, seniority, how many hours you work, etc.
What are the factors that determine how much a flight attendant is making?
The company you're working for: Because each airline has its own salary conditions. It changes a lot if it's a charter airline (an airline that operates flights that are not part of a regular airline routing), private jets, a major airline or a low-cost airline.
The type of contract that you have: Even inside the same company there are different salary bands depending on your seniority or experience level. Therefore a junior Iberia flight attendant could be earning €1700 monthly and at the same time, a senior one could be earning around €3500 based on the seniority level payment.  In this seniority-based payscale, the experience provides flight attendants higher base salaries and flying payments. So the base salary could be significantly lower for those who joined later, and that's making a big difference in the payroll.
There are also some other factors or bonuses that can increase your paycheck: 

Working night shifts (these flights are called red-eye flights because you'll end up with tired, dry and red eyes);
Speaking many languages (you'll earn a bonus for each foreign language you speak);
Layover allowances (this is paid whenever Flight attendants have to overnight at a destination. This allowance will cover meals because the hotel room is provided by the company);
Getting promoted to Cabin Manager (you'll get a higher base salary and flying payment);
Transportation allowance (you get a transportation allowance monthly, in my company it's €100 for example);
Your contract and salary conditions also change, even within the same airline, depending on the country you are based in: So the salary of a flight attendant in Norwegian Airlines based in Norway is higher than for someone that is based in Spain or Italy because they pay staff according to the cost of living in that region.
But the most important factor that determines how big your next payslip will be is the flying pay: You'll normally get paid a basic salary plus "the flying hours" pay. And this pay can vary according to your position e.g. economy class, flight purser…
Flying hours pay means that all the time we stay on ground we do not get paid for (the time we spend in the terminal prior to the flight, briefing, boarding, in between flights and even if the flight is delayed).
Our money clock starts when the doors are closed and the plane starts moving until you land and chocks on (a wedge that is put to the plane's wheel to prevent it from moving when it's parked).
Nowadays hiring through a third party is a trend, and this also happens in the aviation industry. There's nothing wrong with this, but normally the third party contractor is offering lower wages, conditions or benefits. So you could be earning less than your colleagues until you are hired directly by the company.
The commissions: Airlines also have commission schemes which can increase your salary. It could be 10 or 20% on all duty-free and catering sales(in some companies only), and the amount could vary from an extra €40 to €900 per month. In my company, it's a 10% cut of all onboard sales and that is divided by the operating crew. So everyone is getting a commission. In other airlines, only the commission is to those crew members that sell duty-free.
Other benefits/perks
As a flight attendant, you also get generous travel benefits: free flights or discounted airfares in pretty much all the airlines in the world, and sometimes for your friends and family too.
But this way of travel is called standby, meaning that you only get on the plane if there are empty seats.
It can be very stressful, there are no guarantees, and you can be stuck in an airport unable to get a flight home.
Imagine if you have to work the next day; that's why I always come back from holidays a few days before to leave a margin in case the flight is full.
But how much does a flight attendant make? Just to get an idea…
I know you want me to tell you a figure with the annual average salary of a flight attendant but there's no straight forward answer to this question, and I want to explain why. There are many variables.
A flight attendant can earn an average of €20000/$22440 (the newest ones) to €45000/$50490 (the more senior ones) annually. It can be very difficult to be any more specific.
There will be those that earn more (I know girls in executive jet aviation that are earning €64000 annually) and there will be those who are earning less than €12000/$13460 (in Poland for example).
Even when you have already started working for an airline, you'll only know how much you are earning month by month because it depends on the flights you do.
Now, let's see some cases in different airlines:
Case #1: Flight Attendant Salaries at British Airways Mixed Fleet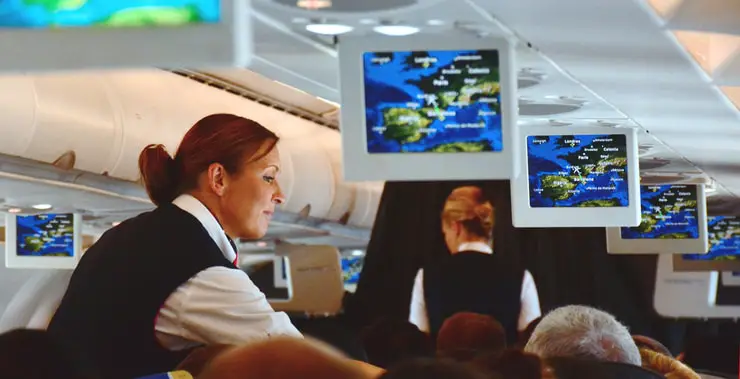 Mixed Fleet is a new fleet that British Airways set up at the end of 2010. Before, BA used to have "Worldwide Crew" for the long haul flights and "European Fleet" for the short-haul flights.
Now, with the creation of "Mixed Fleet", they are rostered a mixture of short and long-haul flying but their pay is significantly lower and the conditions are also not as good. They have shorter turnarounds, which means that the short-haul flights will consist of there-and-backs or tours within Europe from 2 to 3 days. And the long haul flights, that normally include a 24 to 72-hour layover.
There has been a lot of controversy over the salary for the Mixed Fleet because many cabin crews claim that they are not earning what BA promised when they joined. These new flight attendants have an annual base salary of £14262 ($17705).
And per hour (from the moment you check in to the moment you arrive at your base) £3.14 ($3.89).
That makes an average of £500-750 ($620-930) per month. It can really boost your paycheck if you fly a lot but if you are sick or you have your annual leave or you are rostered a lot of standbys then you'll get a crappy pay that month.
Commission: 20% on all duty-free and other onboard sales split between all the cabin crew onboard.
Bonus: £350 ($434) quarterly bonus based on performance (if you are never late, and you don't have sick days…)
To sum up all of the above, BA estimates that new cabin crew should earn from £23000 ($28550) to £28000 ($34750) But what the unions representing cabin crews said according to a survey is that many cabin crews make just £18000 ($22340), and they've taken second jobs to survive. 
After a few years, you can be promoted to World Class Cabin Crew, you would be earning a bit more, £25000 ($31029) to £29000 ($36000) annually with a £17614 ($21860) base salary. And if you have previous experience of at least 2 years flying as cabin crew and you are in possession of the EASA attestation, then you can enter this category directly.
Further down the road, you could be promoted to Customer Service Manager and your base salary would be around 27500£ ($34130) and your earnings an average of £35000 ($43440) per annum.
It seems that there's a lot of negotiations happening at the moment between BA and the unions, so everything can change, and things are still a bit up in the air.
The truth is that not all flight attendants are paid the same. New hire cabin crew would typically earn much less than the ones hired before 2010, earn a higher sector pay, base salary and allowances.
Anyway, as I said before, what you earn depends mainly on the flights you have, so when you get a lot of training, standbys or "short trips" you'll get a poor salary.
Of course, you can always swap your flights with other crew and there's a bidding system where you can request the flights that you're interested in, but there is no guarantee of getting them and it's never easy to swap or give away a trip that nobody wants.
Keep in mind that if you are interested in a particular trip (because they are great destinations, or have higher overnight travel allowances) there will probably be a thousand other flight attendants interested. So it's not that easy to get what you want, plus the most senior crews get their bids accepted first and newer crew have less chance to get what they bid for.
So you can imagine how nerve-wracking it is when the next roster comes out: You'll know what you're going to be doing next month, how many days off you'll have, how many hours you'll be working if you will have many early sign ons, many short turnarounds, or red-eye flights … it can be very satisfying or a total disappointment! It's not only the money, but all your social life is also depending on your schedule.
You'll miss your best friend's wedding or not?
You'll spend Christmas at home this year?
But this is how cabin crew life is like – sometimes fabulous sometimes crap! And this can apply to all the airlines, not only BA.
Case #2: Flight Attendant Salaries at Ryanair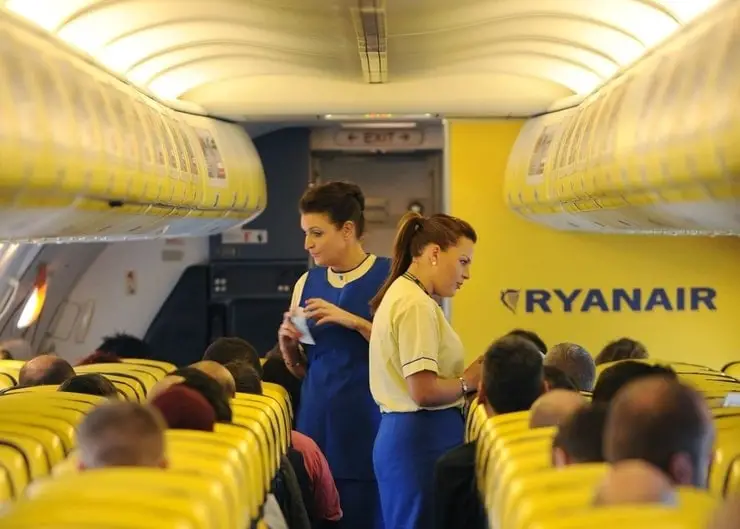 We'll now take a look at Europe's biggest low-cost company, with 450 aircraft and over 9000 cabin crew.
In Ryanair, there are even larger differences between contracts, remuneration and conditions within the cabin crew so it's difficult to know how much they earn.
I've asked many colleagues from Ryanair and they all have different salaries and conditions. You have people with permanent contracts, temporary contracts or even self-employed – some of them earning €2500 ($2800) and others €600 ($670) a month. 
I don't know if you heard of self-employed cabin crew before but "self-employed" means that crew members must open a single person limited company, and all taxes, social insurance, responsibility for damages, sick leave or maternity leave will become the sole responsibility/liability of the worker. Outrageous!
Temporary contracts are the most common contracts – you sign with an external agency, such as Crewlink, Workforce/Dalmac. And they make a total of 80% of the cabin crew.
As a junior temporary cabin crew, you'll get a one-year probationary contract, and after a few years, if everything goes well and they like you, you can be promoted to Cabin crew purser or number 1, and they may offer you a direct contract with them.  Obviously, the salaries are quite a lot better when you get a Ryanair contract.
But sadly, only 20% of the cabin crew have permanent contracts with Ryanair. These last years, thanks to the demands of the unions and depending on the country's laws they are increasing this number in some countries. In Belgium between April and May 2019, Ryanair will have to offer a direct contract to 50% of the cabin crew working in the country.
So yes, salaries and contracts also depend mainly on the country you are based in. And that is normally decided by Ryanair once you finish the training course. You can fill in a form to pick your base of preference, but they will just send you to wherever they need. You can ask for a transfer later but the wait can take a very long time (years) and they don't really care much. So this is really a problem.
Anyway, things are constantly changing, and now at least, since 2018 the 6-week training course is free. There was a big controversy over the training course payment. Before 2018 there was a €500 ($560) registration fee plus €2999 ($3360) course fee. You could pay it all upfront or choose the salary deduction method (which was a €300/$336 deduction per month) until you finished paying your full course cost.
The only expense that you'll have to pay now during your training is accommodation and food. And for that, there's a €28 ($31) allowance – but knowing that the location of the course can be random, maybe Germany, Italy or Ireland, it might not be enough.
After signing your contract, you will probably work and an average of 90 hours and always come back home to sleep. The roster is normally 5 days flying and 2 days off and 5 days flying and 3 days off but at some bases, it's 6 days flying and 2 off and 6 days flying and 3 off. So it depends on your base again. For the new joiners, there is a €750 ($841) allowance that will be deducted from your final paycheck if you leave before one year. And you will also be deducted €50-80 ($55-90)  for the airport ID.
Concerning the salaries:
In Poland, for example, they are self-employed so they don't have a basic salary, and they don't have a pension, sick or holiday pay. They are only paid flying hours and the 10% commission from onboard sales. So if they don't fly much they can be getting a salary as low as €600.
In Dublin, you'll get an average salary of €1700 to 1900 if you are subcontracted.
And in Spain, you would be getting €1200-1400 if you are subcontracted, and from €2000-2500 if you are hired directly. Once you are hired by Ryanair you reach between €25000 ($28000) to €40000 ($45000) annually.
Case #3: Flight Attendant Salaries at Emirates Airlines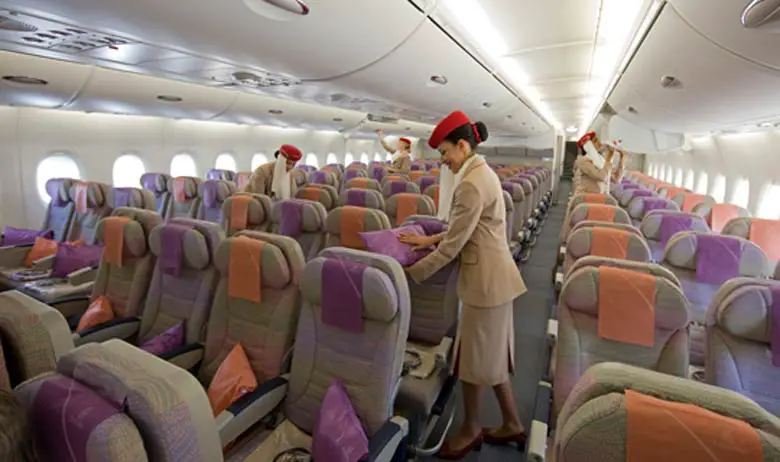 I know many of you are curious about Emirates. You heard many positive things and you want to know if the cabin crew salary and benefits are as good as you think.
But before talking about the salary, let's first take a look at Emirates' working conditions. As you know, your operating base would be in Dubai, which is a no-go for many candidates. So the first thing you should think about if you are interested in joining Emirates is if you want to relocate there.
Apart from this, working for the famous Emirates airlines is a dream for many reasons:
Free accommodation in a shared apartment with other flight attendants (tends to be two or three people)
Transport to work and from work included
Opportunity to travel the world.
It sounds amazing, right? That's not all:
Tax-free salary
Free training
Travel allowances
Housing bills included (water, electricity, TV, internet)
Even dry cleaning for your uniform is included
But don't get too excited.
There are also downsides of working for Emirates:
The most difficult part is that you'll be far away from home (family, friends…)
You'll need to adapt to the country and to be prepared to work in a multicultural environment and learn about cultural differences. And this is not only dealing with passengers from different nationalities but also between your colleagues as there can be 15 nationalities in the cabin crews on the same flight and this is not always easy.
You'll work hard (some flights are long and hard – you can get a 7-hour flight to London Heathrow with two services and work the whole flight like a dog, or you can have a 5-hour flight to Nairobi and back with a 1 or 2-hour turnaround = 12 hours nonstop).
There are no unions to protect you or to fight for your rights.
They don't offer pension schemes, just an "end of service gratuity" (which means that you could work your entire life for Emirates and you won't get any pension in the UAE or in your home country).
You have to pay for a part of your medical insurance(is not much though).
If you would like to have a guest visiting you in Dubai, first you have to fill in some paperwork to be authorized. And of course, you are not allowed to bring your boyfriend to your apartment if you are not married. But you can always say it's your cousin coming, so no worries.
Some of the apartments are located in the middle of nowhere or in the desert. So if you don't have a car it's a bit crap. They are mostly very nice and high-quality apartments but some are older, with broken equipment and need refurbishment. But you can always ask to change apartment if you are not happy.
Now, let's get to what interests us:
The money $$$!!!
Many people save up a lot of money while they work for Emirates because as I said before it's all tax-free and you don't pay for housing.
You normally get a 3-year contract that can be extended after expiration. And your salary consists of a basic salary and hourly pay per flight.
Depending on your category, you'll earn a different base salary and per flight pay.
You start as a Cabin crew grade II, and after a minimum of 1 to 3 years you will be Cabin crew grade I, and after another 1 to 3 years you can get promoted to Cabin crew grade I First class,  then to Cabin crew senior flight supervisor (SFS), and finally to Purser.
Cabin crew grade II (Economy class):

Base Salary AED 4260 ($1160)
Per flight hour AED 61.25 ($16.68)
Cabin crew grade I (Business class):
Base Salary AED 4360 ($1185)
Per flight hour AED 67 ($18)
Cabin crew grade I (First class):
Base Salary AED 4360 ($1185)
Per flight hour AED 72.5 ($20)
Cabin crew Senior Flight Supervisor (SFS):
Base Salary AED 4825 ($1310)
Per flight hour AED 84 ($22)
Purser (Cabin Manager): 
Base Salary AED 5515 ($1500)
Per flight hour AED 90 ($24)
Each year your base salary increases AED 200-300 ($55 – 80).
And you also have trip allowances for your food at each destination, plus the hotel and transport included.
E.g.: €88 ($98) meal allowance for 24 hours in Paris.
You'll have only an AED 334 ($90) deduction each month during the first 3 years of your contract for the expenses incurred if you leave before 3 years. But you'll get that money back once you finish the contract with them. Also, you'll also get another  AED 150 ($41) deduction approximately per month for medical insurance. 
So your approximate average monthly pay in grade II would be AED 9770 per month tax-free ($2660).
More or less you fly 85 to 100 hours a month – it can be 115 one month or 60 the next. So you work quite a lot in this company but you have a minimum of 9 days off a month and your 30 days of annual leave per year.
So, after talking to some friends that have been working for Emirates for 5 years I can tell you that Emirates is a great choice if you are dreaming of traveling the world and getting paid for it, but you need to be open-minded and ready for the change.
I hope I have helped you to understand a bit more about how much flight attendants earn, but if not you're always welcome to ask more down below in the comment section.