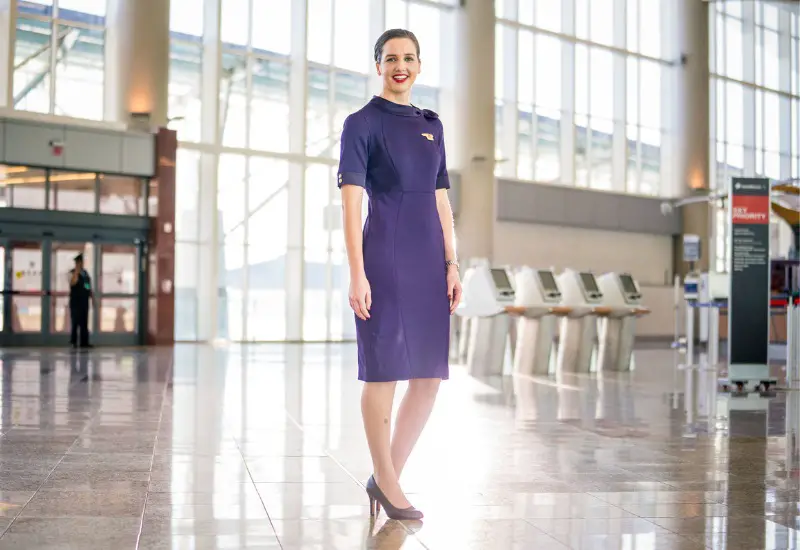 As one of the world's most award-winning airlines, Delta is also known for having some of the highest-paid flight attendants.
While flight hours make up the bulk of a Delta Flight Attendant's pay, there are several factors that affect their salary.
Delta flight attendants make anywhere between $33,000 to over $118,000. This salary includes everything: standard flight hour pay plus many other additional money compensations, such as per diem, international flights, cabin manager, holidays, language, and several other forms of payments.
Flight attendants in their first year usually make between $33,000 and $45,000 but as you stay with Delta longer you accrue seniority. As you accrue seniority, each year your pay rate per hour will go up quite considerably.
Senior flight attendants at Delta can make over $118,000.
It's quite difficult to determine exactly how much a Delta flight attendant will make because it depends on several factors including seniority, hourly pay, incentives and special positions.
Factors That Affect the Delta Flight Attendants' Salary
Seniority
Seniority matters when it comes to the pay and monthly schedules for flight attendants.
All airlines including Delta, operate on a seniority-based system where the flight attendant who has been the longest is in turn the most senior. In contrast, the most newly employed flight attendant is the most junior when it comes to seniority.
The most senior flight attendant at Delta has been employed for 56 years! Not only has she maxed out at the highest pay but she also undoubtedly gets the schedule she desires. 
Seniority is extremely important when it comes to your pay rate and your schedule. 
Below is a diagram of the pay scale for Delta flight attendants:
| Step | Hourly Rate (USD) |
| --- | --- |
| Start | 30.96 |
| After 1 year | 32.82 |
| After 2 years | 34.92 |
| After 3 years | 37.20 |
| After 4 years | 40.96 |
| After 5 years | 46.38 |
| After 6 years | 50.75 |
| After 7 years | 52.37 |
| After 8 years | 53.81 |
| After 9 years | 55.83 |
| After 10 years | 57.36 |
| After 11 years | 60.10 |
| After 12 years | 69.59 |
Flight hours
This is the most important factor.
The salary as a Delta flight attendant is based on your hourly pay per flight hour.
A flight attendant's hourly pay is calculated from the time the aircraft door closes until it's time to open the door at the gate.
Note: The time spent in the terminal, doing safety checks, and of course boarding and deplaning go all unpaid.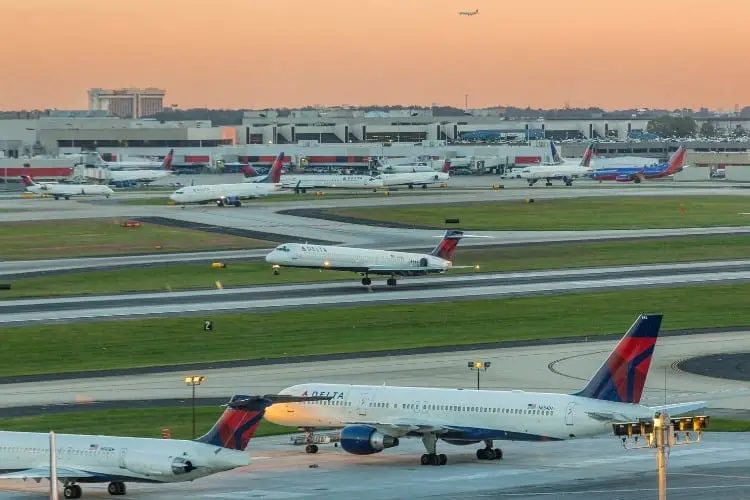 How much do Delta flight attendants get paid per flight hour?
As stated above, a new hire will begin with a pay rate of $30.96 per flight hour.
Hourly pay depends on the years worked as a Delta flight attendant.
A Delta flight attendant will max out in pay once they have been with the company for over 12 years.
Depending on seniority, your years served at Delta could make a huge difference in hourly pay per month.
How many hours do they fly per month?
Most flight attendants opt to work between 75-100 hours per month but again it's based on an individual's preference.
Some flight attendants will want to work 130 hours while others will work 60 hours.
You may work as little or as much as you like since there is no fixed number as to how many hours you must work. 
A Delta flight attendant can *drop or **pick up as many flights as they like too.
*Dropping flights means that you do not want a trip and therefore put it on a virtual LIVE board for others to pick up and add to their schedule.
**Picking up a flight means choosing a flight on the board and adding it to your schedule.
Example:
If in September you flew as a new hire 93 hours, 14 days your pay will be:
93 hours x $30.98=$2,879 (this is just for the flight hours)
You need to add per diem + incentives = Total: $3,690
Do they have a minimum paid guarantee no matter how many hours they fly?
No, there is no minimum guarantee pay for new hires, since Delta doesn't have straight reserve (on call/standby monthly schedules) anymore, like many other airlines.
What does straight reserve mean? Most new flight attendants in other airlines are placed on a reserve (standby/on call) schedule the whole month.
Which means they don't have flights scheduled until the very last minute and they cannot know how much they will fly or earn, so they get guaranteed a certain amount of minimum hours paid every month even if they don't fly much.
In Delta, there's no guarantee because they don't need to be on reserve (on call) the whole month.
A new hire in Delta will have days off, regular line trips,  and only six  "A" days(standby days) per month since the beginning.
"A" day is a nickname used in Delta meaning "available days", which are standby days or reserve days or on call days, whatever you want to call it.
When flight attendants have regular scheduled trips, they know when, where and how many days they will be flying.
When they have "A" days they will be " 24 hours on call". This means they don't know where or when they are flying until the day before or the day of.
How much do they get paid for their six "A" days?
These "A" days will be worth 28 hours or the actual hours you fly.
Example:
$30.96 pay per hour x 28 hours= $866.88
This is the minimum hours you'll get in those "A" days if you are not used on your "A" days.
If you are used during those days, and your trips are worth more than 28 hours, you will get higher flight hours instead.
Apart from these 6 "A days" the rest of your schedule will probably be 7-10 days of regular line trips. So to this number $866.88, you'll add the number of hours you fly plus the incentive pays.
Can they trade or pick up flights, or get rid of their reserve days?
As a new hire, you can try and get rid of your 6 reserve days but it all depends on if another flight attendant is interested in working your reserve days in exchange for your reserve days.
The same happens with your trips.
But it's sometimes difficult for most junior flight attendants to drop trips or give away their reserve days since everyone wants to drop not pick up.
And they hold the most unloved trips (very early sign in, short layover, many flights per day).
You cannot force anyone to take your trips or reserve days.
Other variables that increase the pay
Per diem
In addition to their hourly wages, flight attendants almost always get a per diem, which is a tax-free allowance that helps them cover expenses like food when they're away from their base.
The hourly per diem rate is calculated from the time the aircraft door closes in the origin city until the door is opened again when they return to that city.
So for example, in Delta per diem are paid at a rate of $2.20 per hour domestically and $2.70 internationally.
Example:
If you would have a short trip to Germany with a 24-hour layover, in the end adding all hours(flight time and layover) it will be around 48 hours.
So you would earn:
$2.70 x 48 hours= $129.6  per diem on top of your pay per flight
So imagine you have a few more trips that month, you can add $400-900 to your paycheck easily.
Incentive pay
There are a lot of scenarios that can provide you additional pay, such as Drafting pay (being used at another base), holiday pay, understaffing pay, "sky bucks"($90-$130 pay that you get if you have positive customer surveys) monthly shared rewards or profit-sharing…
And if you are a night owl and enjoy flying redeyes (a flight scheduled to depart at night and arrive the next morning), then you will be paid an additional $0.50 per hour.
All this extra money on top of your hourly rate.
Special positions
There are several special positions that flight attendants may apply for to gain experience and extra pay at Delta.
Some flight attendants work as a language of destination flight attendant, being the "lead" on a flight, a purser, or several other positions known as special assignments.
A language of destination (LOD) flight attendant is a common position for a bilingual or even trilingual flight attendant who speaks another language.
They are paid extra to speak another language during a flight but also are needed to attend to various situations on board that require a speaker of a particular language.
Since Delta operates flights to several different countries, they are always seeking applicants who are fluent in Czech, Danish, Dutch, French, Greek, German, Russian, Italian, Japanese, Korean, and others.
A Delta purser is responsible for the customer experience from the front to the aft of the aircraft. The purser is in charge of the cabin which includes overseeing the other flight attendants by making sure the passengers are safe and comfortable. The purser must complete detailed reports and verify all safety procedures are followed.
A purser at Delta makes on average $76,686 and well over 50% of Delta pursers have more than 20 years of experience as a flight attendant.
Delta consistently offers special assignments for flight attendants to get involved with in order to gain experience and make extra money.
There are recruiting positions, safety teams, team leads, charter flights, and even senior flight attendants who help new hires make the transition from training to flying.
There is flexibility in making your schedule and options to work different positions.
Delta Salary Examples
Delta first year flight attendant pay examples:
July, 102 hours, over 17 days worked= $3,940
August, 107 hours, over 18 days worked= $4,302
September, 91 hours, over 14 days worked= $3,601
First year income: around $33,000 to $45,000 (depending on worked hours).
Deductions
Deductions on your paycheck depend greatly on personal preference as well as where you are based and or live.
Every state imposes different types of taxes such as disability tax and family leave tax.
In general, social security, Medicare, and various forms of taxes are taken out of each paycheck.
Other deductions are voluntary for the most part but most flight attendants want to have certain deductions for themselves and their families.
Some of these deductions include healthcare, dental, vision, 401k, health savings account, short-term disability, long-term disability, stock purchases, and ROTH IRA deductions.
NOTE: You must work at least 540 hours a year in order to maintain your health insurance so be sure to work your minimum if you opt in for health insurance.
While the deductions certainly add up on each paycheck making your take-home even less, it's important to be strategic when bidding, setting your schedule, and even with your loyalty to Delta (seniority rules!).
Delta pays one of the highest hourly rates in the industry and it's important to remember that you will also receive incredible flight benefits!
When do Delta Flight Attendants Get Paid?
Delta flight attendants get paid biweekly, based off the previous two weeks flown.
Each paycheck includes half of their flight hours worked which helps make both paychecks similar.
Summary
Flight attendants at Delta start earning from $33,000-$45,000 per year, and in their late career, they earn an average of $118,000 per year.
Pay is based on hourly pay per flight hour. This pay per hour depends on seniority.
Delta starting rate per flight hour is one of the highest in the US: $30.96 and it will rise every year until year 13.
In addition to their hourly wages, flight attendants get other compensations:
– Per diem: a tax-free allowance for meals or other expenses during a layover
– Incentive: Profit sharing, monthly shared rewards…
– Special positions: LOD, Purser
Delta has the best schedule system for new hires in the industry.
Why?
Because, since the very first day you hold lines and you get only six "A" days.
In most other airlines, new hires don't have any flying on their schedules because they are "on call" the whole month.
Delta schedules come out about 2 weeks before the month starts, around the 16th you will receive a schedule with your trips and 6 "A" days.