Southwest flight attendant uniforms sure have come a long way since the '70s.
From the iconic bright orange "hot pants" to the  '80s-tastic polo and khaki shorts combo, there has been quite an evolution of Southwest uniform styles throughout the decades.
Today, the company offers a variety of options to conform to as many shapes, styles and preferences as possible.
I'm a flight attendant at Southwest, let me take you on a journey through our colorful uniform transformations and explore today's fashionable choices!
Let's start with the basics.
SouthWest Airlines Flight Attendant Uniform: What is it Like?
Men and women both have the options of charcoal gray pants or shorts.
Additionally, women can also rock the black signature dress, sporting accents in the Southwest company colors:
Bold blue 💙
Sunrise Yellow 💛
Warm Red ❤️
Yes, the same colors you see on the planes and logo!
There's also an alternative dress in charcoal gray with red trim.
A gray pencil skirt is also an option for a more polished, business-casual look.
As far as shirts go, there are a wide range of options for women:
Red or blue polo
Long or short-sleeve button-ups
Blue, long-sleeve crepe blouse
These tops can be mixed and matched interchangeably with the skirt, pants and shorts.
Which combos are my favorites? Whatever I don't have to iron, obviously. 💁🏽‍♀️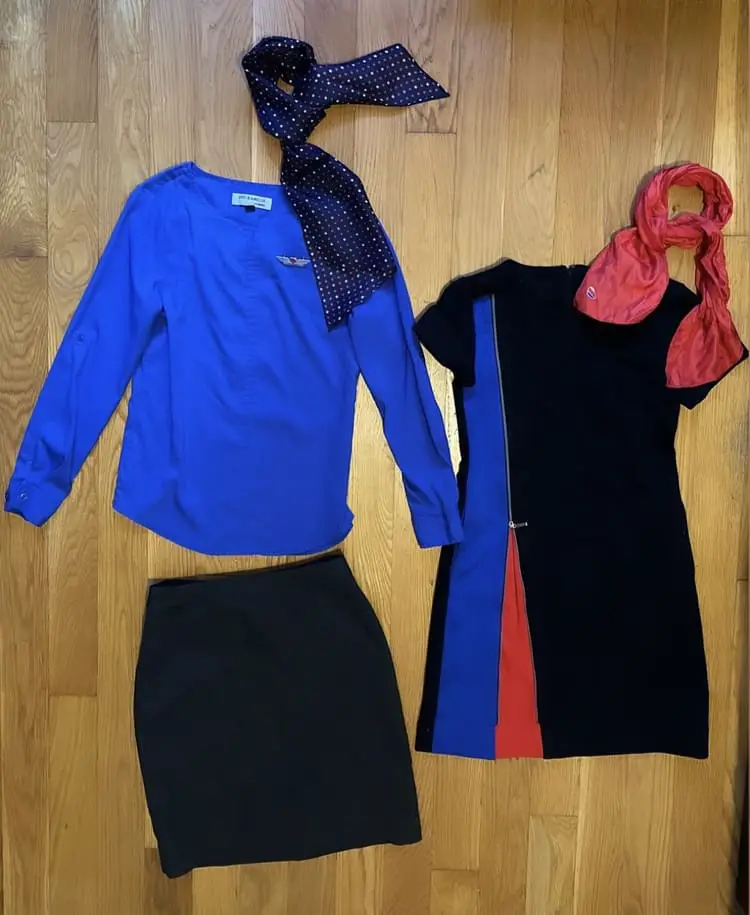 Women aren't the only ones who can customize to their personal style!
Men are also given a variety of options.
For starters, they have a choice of a long or short-sleeved gray chambray shirt. Or for a more relaxed look, men can choose between a blue or red polo.
Layering & Outerwear
Women can choose between the following:
Black cardigan with red accents
Red, lightweight jacket
Gray, midweight coat
Gray, wool peacoat with red accents
…or for those of us who have to suffer through the arctic tundra that is Chicago during the winter, I usually go with the toastiest option: A long, black winter coat with a hood and removable inner layer.
For cooler weather, men can choose between these options:
Vest
Soft-shell jacket
Cardigan
Black rebel jacket
Gray blazer
Black winter jacket
 

Ver esta publicación en Instagram

 
Accessories 🧣
Flight attendants love to accessorize, so it's fortunate that we have 2 scarf options (red with the southwest heart emblem and patriotic blue with stars), 2 belt options (black and reversible red), and a choice of long or short service aprons.
For some extra flair, the company does allow personalized and decorated aprons.
For our fashion-forward males, they can sport a red or patriotic blue tie and a belt.
Are Uniforms Free for Southwest Flight Attendants?
The answer is both yes and no. Initially, they are not.
A new hire flight attendant will have one uniform fitting day during their initial inflight training month, where they can choose their first set of uniform pieces.
$25 is then deducted from their semi-monthly paychecks until the balance from that first set is paid in full.
However, once the flight attendant is off probation, they will receive a $100 credit into their uniform allotment account.
From there, annual allotments are distributed by the company on each flight attendant's hire date anniversary as follows:
One year anniversary: $250.00
Second year anniversary: $275.00
Third and all following year anniversaries: $300.00
There's always the option to pay out of pocket if allotment runs out, but this is usually enough for the average flight attendant's uniform needs for the year.
So, all the above covers what is provided directly by the company.
What are we, as flight attendants, expected to provide?
 

Ver esta publicación en Instagram

 
Do Southwest Flight Attendants Get Luggage With Their Uniform?
No, SouthWest does not provide luggage.
This gives the flight attendants freedom to choose whatever brand they like, as long as they are solid black and meet size requirements.
Popular luggage brands among flight attendants include TravelPro and Samsonite, both of which offer lifetime warranties. This is particularly beneficial because our luggage goes through more wear and tear compared to the average traveler's.
Also, as a meal-packing pro, I carry a solid black lunch bag. While the company does provide per diem pay for meals and offers a 10-50% discount on hotel food, it still saves big to pack your own meal preps.
Additionally, most of us carry a smaller bag, such as a purse, messenger bag, or backpack.
Remember, flight attendants love to accessorize so thankfully, we can have these options in either black or even the Southwest warm red for a splash of color.
Are Shoes Provided for Southwest Flight Attendants? What Are the Requirements?
Shoes are also not provided by the company, but the option for different types of uniform-compliant shoes for females are a'plenty.
Pumps, mary janes, loafers, ankle booties, and knee-high boots are all some of the basic shoe options.
Heels must be either black or warm red, between 1-3 inches, and worn with the dress and skirt options.
Not that I'm doubting those 3-inch pumps are anything less than walking on clouds, but solid black athletic shoes can be worn with pants or shorts for a more comfort-focused style.
Men also get the option to pick black or charcoal gray dress/athletic shoes.
Holiday Accessories
The fun stuff!
This includes ties, aprons, nail art, scarves, socks, handbags, and hair pieces.
Accessories are allowed on and around 10 different holidays, including Southwest Airlines' own birthday, June 18th. (She'll be 53 next year! 🎂🥳)
Hawaii
As a Chicago-based flight attendant, I don't get the perks of this one, but the lucky west coast flyers get to let their tropical vibes shine.
Approved Hawaii accessories include a lei and various island pins.
 

Ver esta publicación en Instagram

 
Southwest Flight Attendant Uniform and Grooming Guidelines
The first thing the passengers see when they step onto the plane are our bright and cheery faces! So, it's no surprise that we need to maintain a professional general appearance.
This entails neat and groomed hair in natural colors.
Men are allowed to show off their beards, goatees, mustaches, and even the controversially loved/hated "man bun" as long as they are neatly displayed. And sorry, guys stuck in 1991, rat tails are not on the list.🙅🏽‍♀️
Makeup and jewelry are also allowed, as long as everything is professional and simple in style and color.
The same rule applies to fingernails. Can you tell we like to keep it classy around here? 💅🏼
Perfumes and colognes are allowed, but only lightly – it's important to be mindful that we're all sharing a small space in an enclosed metal tube. This should really apply to everyone on the plane. 😉
These days, it's edgier to not have a tattoo than it is to have one! As the times change, so does Southwest. Tattoos are now officially allowed to be shown on inflight crew members as long as they meet certain size requirements and of course, aren't offensive.
And now for our most important accessory (drumroll, please)…
Wings! We worked SO hard for these. They are meant to be worn intentionally, always on the left side of the outermost garment.
 

Ver esta publicación en Instagram

 
Wrap Up
There are a wide variety of pieces to include individual preferences and lots of creative ways to incorporate personal style and flair.
To keep up with the times, the uniforms do switch up every so often, and while I can't promise that the bright orange hot pants will be making a comeback anytime soon, we'll all be on the lookout for some exciting new changes to the Southwest uniform coming up in the near future!
Similar Posts :