Ever noticed how our suitcases seem to shrink when it's time to come home from a trip?
Yeah, those sneaky souvenirs! And let's not even talk about the rebellious suitcase that decides to break right when you need it most.
But fear not, Barcelona isn't just about Gaudí and tapas—it's also a suitcase haven.
If you haven't run into any luggage shops during your stay, here are my suggested stores to buy a suitcase in Barcelona – even at the last minute.
In a Glance:
Cheap Luggage Stores
Dive into stores that offer budget-friendly luggage solutions without breaking the bank.
1. PACOMARTINEZ
 

Ver esta publicación en Instagram

 

Another exquisite Spanish bag brand is PACOMARTINEZ. This brand has a variety of products at a wide price range.
Though PACOMARTINEZ is a popular local brand, their suitcases cost between €50 and €120 on average.
You don't need to go out of your way to find your nearest Paco Martinez. The store has six locations in Barcelona alone.
Addresses:
PACOMARTINEZ Diagonal Mar
PACOMARTINEZ Rogent
PACOMARTINEZ Westfield La Maquinista
PACOMARTINEZ Magic Badalona
PACOMARTINEZ Gran Via 2
PACOMARTINEZ Splau at Westfield Glòries
2. Maleting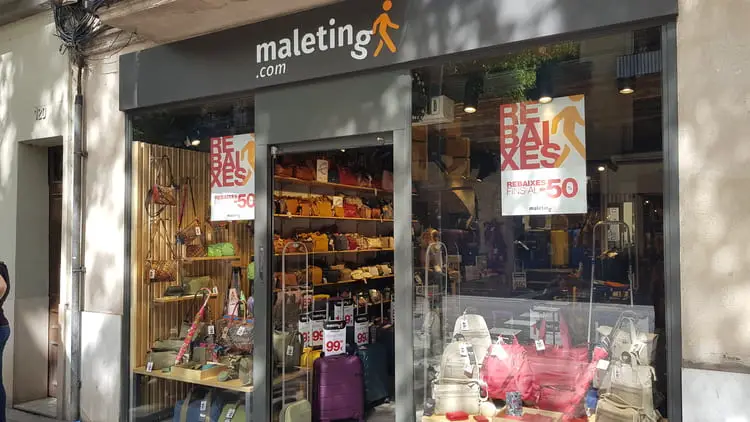 Maleting offers plenty of budget-friendly suitcases, bags, and travel accessories. So, if you're in a pinch, you can get an excellent suitcase without breaking the bank.
You might be apprehensive about trying a local Spanish brand, especially since their prices are significantly lower than other brand bags. However, Maleting has various superior-quality goods in different materials, models, and sizes.
The sales associates at Maleting are pretty friendly and communicative, even with foreigners. They can match you with affordable luggage no matter your needs.
Address:
Carrer de la Creu Coberta, 118
3. Misako
 

Ver esta publicación en Instagram

 

Misako is one of the most popular Spanish bag shops. Accordingly, they carry an assortment of travel bags, from sturdy, practical suitcases, to matching, printed luggage.
This is, by far, the most affordable yet fashionable, brand on the list. The most expensive suitcase at Misako is about €150.
You won't have to go out of your way to locate a Misako store. The brand is available almost everywhere you go, from tourist locations to shopping malls.
Addresses:
Portal DE L'angel, 14
Rda. de Sant Antoni, 44
Gran Via de les Corts Catalanes, 373, 385
C/ de Calvet, 38
C/ de Potosí
C/ Gran de Gràcia, 67
Pl. de Joaquim Folguera, 7
Av. Diagonal, 208, Local B-45
Av. Diagonal, 545-577, Local 345
Av. Diagonal, 3, Local 1500
Avinguda de la Granvia de l'Hospitalet, 75
Carrer de Sants, 20
4. L'Equip de Viatge – Maletas Barcelona
The largest luggage store in Barcelona has to be L'Equip de Viatge. After all, the store's name translates to The Travel Team.
You'll find all your travel needs at an excellent price at this store. The knowledgeable owners can recommend all sorts of suitcases, from Samsonite to Vogue. No matter your budget, you'll find the suitcase for you.
L'Equip de Viatge has an ideal location, right in the heart of L'Esquerra de l'Eixample.
Address:
5. Bags & Co
The best place you could go for a quick shopping experience, affordable and durable luggage is Bags and Co.
This shop is a little tucked away compared to other luggage stores in Barcelona. However, this comes with an advantage.
Bags and Co. is significantly cheaper than other stores marked for tourists. Yet, it offers similar, high-quality brands at almost half the price.
Address:
6. BAQS
BAQS has a great selection of high-quality luggage at a reasonable price. The store is especially helpful due to its location near all the tourist sites.
They have all your favorite bag brands, such as American Tourister and Gladiator. If you're lucky, you might catch one of their offers, with suitcases costing only €80.
Don't be worried if you only speak English, the hospitable staff at BAQS staff will still be able to provide exceptional service.
Addresses:
C/ Gran de Sant Andreu, 150
C/ de la Diputació, 348
Carrer del Consolat de Mar, 19
7. MAX HOME
Max Home is a large Chinese discount store where you can find a wide variety of items at low prices.
They offer products for the home, kitchen, DIY, bed and bath linens, electrical supplies, stationery, gifts, as well as a range of suitcases.
Prices start at around €40.
Address:
8. HOME+
Home+ stands out as a spacious Chinese discount store, offering a diverse range of products.
Among its many sections, the store boasts an extensive suitcase collection, with prices kicking off at a mere €40.
Address:
9. Tot Maletes
Tot Maletes might be a quaint shop, but it has great suitcases that are easy on the pockets.
The staff is attentive and professional. Even if you don't know all the different brands, they'll find the best suitcase for your needs.
Address:
10. Via 33
If you're running out of time and can't deal with crowded stores, check out Via 33. The friendly staff will assist you so that you're done in no time.
Via 33 might look modest, but the products you'll find there are one-of-a-kind. Even if you don't need luggage, you can get a small, authentic travel accessory as a souvenir.
Address:
11. Lucas Complements
 

Ver esta publicación en Instagram

 

Lucas Floridablanca might only carry one brand, but what it does have is unparalleled prices and amazing customer service.
There, you can find almost every Eastpak model you can think of at a discounted price. So, you shouldn't expect to pay over €200 for their reliable travel bags.
Address:
Carrer de Floridablanca, 4 (Outlet)
Pl. del Bonsuccés, 1
C/ d'Elisabets, 5
C/ dels Boters, 7
Mid-Range & Boutique Luggage Shops
Let's explore some luggage shops in Barcelona that offer a balance between quality and affordability.
1. Pilma Travel
 

Ver esta publicación en Instagram

 

If you don't want to be tied to one luggage brand, head over to Pilma Travel. While this isn't the best choice if you're on a budget, it's the place for people looking for artisanal, luxury suitcases.
The Spanish store is home to numerous designer suitcases, so you'll find what you're looking for. The luxury suitcases can cost up to €3,000.
Pilma also offers an exceptional online shopping experience, with fast and free shipping across Spain.
Address:
2. Cat Bag
 

Ver esta publicación en Instagram

 

Cat Bag is your one-stop shop for different types of suitcases, wallets, and backpacks. This store fits every budget, whether you want a quick solution or a forever suitcase.
You can get an affordable suitcase, costing as little as €100, or a high-end bag worth €600.
At Cat Bag, you'll find many familiar and reliable luggage brands, such as American Tourister, Fjallraven, Gladiator, Kipling, and Samsonite.
Addresses:
Av. de Gaudí, 31
C. de Cartagena, 319
3. Casa Antich
 

Ver esta publicación en Instagram

 

Casa Antich is another store carrying numerous luggage brands. Though it's a local shop, the staff will communicate perfectly with English speakers.
What sets this store apart is its competitive prices. You'd be surprised by the superb deals you'll be able to get on high-quality bags. Moreover, they carry plenty of affordable brands as well as high-end ones.
Even if you have a broken suitcase, there's no need to lose hope. The exceptional customer service at Casa Antich can make your suitcase as good as new.
Address:
Carrer del Consolat de Mar, 27
4. ANTCAL
 

Ver esta publicación en Instagram

 

Antcal is a local store that provides travel essentials, from suitcases to chests and accessories. The store has bag brands with various price points, from €100 to €500.
This store might help you repair your old bag, regardless of its brand. Still, their competitive prices and excellent service are enough to convince you to make a purchase.
 Address:
Carrer del Consolat de Mar, 17
5. Vall

Located in a major shopping district, you can't miss Vall. Chances are, you've probably come across this store before!
There, you'll find almost every suitcase brand, such as Samsonite Eastpak, and Gladiator.
Vall takes the cake when it comes to customer service. If you have time, they can fix any bags and leather goods you might've broken.
Address:
Carrer Gran de Garcia, 165
6. Keway Bags
 

Ver esta publicación en Instagram

 

If you're on a budget, you can still get luxury items. Keway Bags is a vintage store selling high-end brands such as Balenciaga, Chanel, and Louis Vuitton.
There, you can find barely-used suitcases worth as much as €3,000, or a second-hand luxury bag for only €800.
To make for an even better deal, the store might buy your second-hand designer bags, even if they're broken.
Address:
Brand Shops
From Samsonite to Tumi, luggage brand shops are scattered all over Barcelona with their premium-grade suitcases and fantastic service!
1. Samsonite
 

Ver esta publicación en Instagram

 

Samsonite is a familiar name for a reason.
This international brand offers high-quality, durable bags in every color, style, and material. Whether you want a simple carry-on or a spacious suitcase to fit all your belongings, you'll find a bag that fits your needs.
Not only will a Samsonite bag be the immediate answer to all your problems, but it'll also be your new, stable, and reliable travel bag.
The best part is that the Samsonite Barcelona store is incredibly friendly and helpful. If you already have a broken Samsonite bag, they might be able to repair it, free of charge!
Samsonite suitcases can cost anywhere from €150 to €600, depending on the size, range, and material.
Addresses:
Samsonite, Pg. de Gràcia, 21
Rda. de Sant Pere, 8 (Corte Inglés)
C/ de Sant Lluís, 83
2. Rimowa
 

Voir cette publication sur Instagram

 

Did your suitcase break while you were abroad? Naturally, you don't want to repeat this experience. For this reason, buying a Rimowa bag is worth it.
Rimowa luggage might be expensive, costing on average €1,000. Still, it'll last a lifetime, especially with its guarantee.
Furthermore, this isn't just a luggage brand. Instead, they offer exceptional customer service. Rimowa partners with concierges across the globe. So, if your case ever breaks, they'll get it fixed in no time.
Address:
3. TUMI
 

Ver esta publicación en Instagram

 

If you're looking for an all-rounder suitcase, Tumi would be the right option for you. Though the upscale brand isn't easy on the pockets, with prices ranging from 750 to  €4,000 the luggage is durable, versatile, and stylish.
Just because you're abroad doesn't mean you shouldn't experience luxury. At Tumi, you can get personalized luggage and even register your Tumi products, in case they get lost.
Tumi has a variety of superb products, from travel totes to briefcases and accessories. You might enter the store looking for only a suitcase but end up buying a lot more.
Address:
Department Store
El Corte Inglés
 

Voir cette publication sur Instagram

 
El Corte Inglés is Spain's largest department store chain. This upscale store boasts a vast selection of products, from fashion and electronics to groceries and luxury brands.
They offer a broad selection of medium to high-quality suitcases, featuring renowned brands like American Tourister, Delsey, Kipling, and Samsonite, with carry-on luggage prices starting at €60.
Addresses:
The department store is conveniently located in tourist parts of the city:
Av. Diagonal, 617, 619
Pl. de Catalunya, 14
Passeig d'Andreu Nin, 51
Similar Posts :