If you've come across this article, chances are you recognize how hard flight attendants work to make sure your flight is as enjoyable as possible. So, before we move onto the rest of the article, I just want to say, thank you for being here.
Sometimes being a flight attendant can feel like a thankless job, and passengers can be really awful to us sometimes, but it's folks like you that make us want to continue to deliver the highest standard of service we can. Not to mention, bringing us goodies can help you curry our favor *wink, wink*
Here I've laid out five of our favorite ideas for how to thank your flight crew.
1) Thank You Notes
Sometimes thanking your flight attendants can be as easy as scrawling a note on an extra piece of paper and handing it to us to let us know how we made your day, or something specific you appreciated during a flight.
I have actually cried tears at the kind words passengers have shared with me in thank you notes over the years.
Of course, you can also pre-write notes on thank you cards, it's pretty easy to get cute ones at the dollar store.
The message doesn't have to be long or complex.
Thank You Note Text Example:
Dear flight attendants of (your flight number),

Thank you for all you do, both seen and unseen, to get us safely to our destination and to take care of us in flight. We appreciate you!

Fly safe!
👌 Pro tip: If you give a thank you note (and/or a gift) to the flight attendants on your way onto the aircraft make sure to write your seat number on the note so we can come thank you!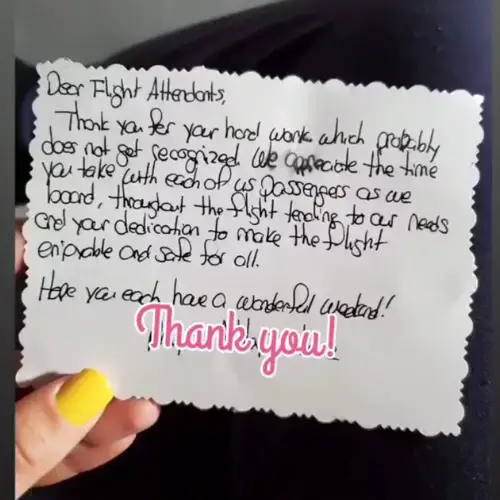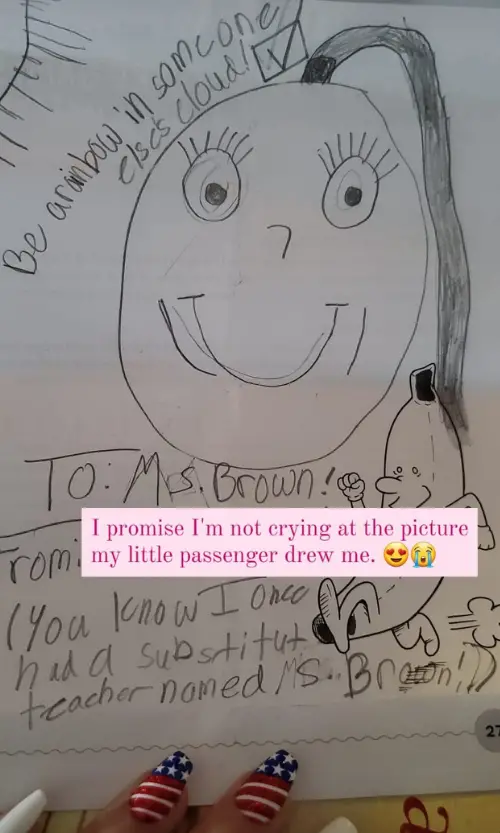 2) Bring Treats
Nine times out of ten, your flight attendants are hungry with a capital H!
Bringing us treats and snacks is a really easy way to let us know you are thankful for our presence.
Especially during the holidays, it can be nice to bring treats for the crew to share during the flight.
Please keep in mind, due to security reasons some airlines have explicit rules against accepting homemade treats, so please bring store-bought treats if you want to help feed us.
Best Treats to Bring Flight Attendants
Bonus points if you bring us local treats that are significant to you or your trip in some way!
And of course, you can also pick up something for us in the terminal and bring it to the plane, we always love getting a box of donuts from Dunkin.
👌 Pro tip: Although it isn't necessary, it helps to bring individually wrapped treats. Individually wrapped treats are easier for us to share among the crew, and potentially safe to enjoy later after we separate from the crew.
3) Gift Cards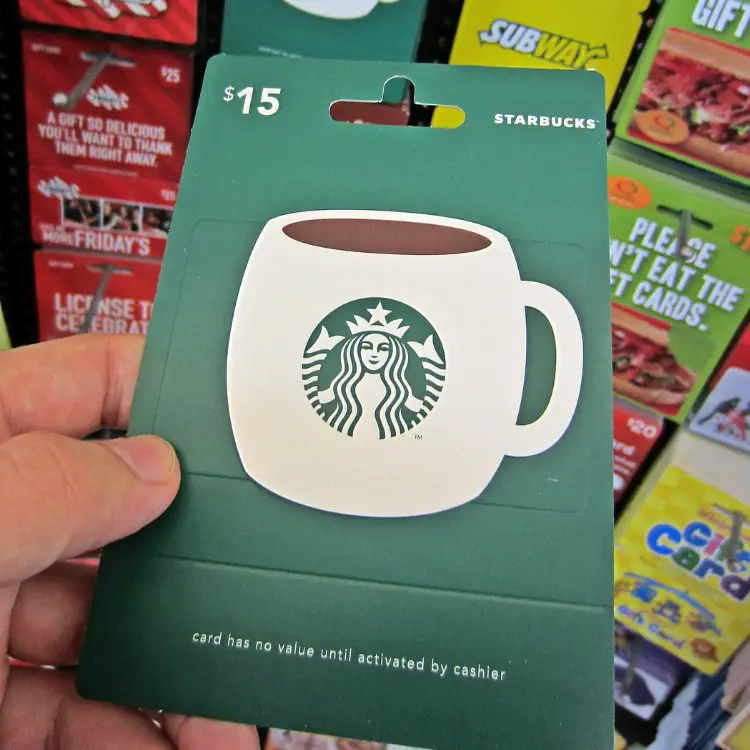 Flight attendants love receiving gift cards.
Most airlines technically forbid us from accepting cash tips, but we are allowed to accept gift cards.
So, they are a particularly good way to thank us, especially when the gift cards can be used at stores commonly found in airport terminals.
Gift cards go a long way to show us your appreciation because most airlines don't actually pay flight attendants for boarding or deplaning, so having that little extra cash earmarked for "treating ourselves" means the world to us.
Best Gift Cards for Flight Attendants
Starbucks
Dunkin Donuts
Amazon
Visa Gift Cards
4) Useful Gifts
A thoughtful gift that might help us on the job is another great way to show your appreciation.
Having coached my mom and dad to bring gifts to their flight crews when flying on my benefits, I have come up with a whole list of great little things you can give flight attendants that really help us out on a day-to-day basis.
Best Useful Gifts for Flight Attendants
👌 Pro Tip: To figure out how many gifts to bring with you, figure out which aircraft types you'll be flying on, generally you will be able to pull up diagrams of the airplanes that show the number of jump seats onboard. It is a safe bet that if you bring enough for each jump seat you will have enough for the whole crew.
Alternatively, you can bring 1-3 gifts and give them only to the flight attendants that worked directly with you.
5) Unique Gift Ideas
There are of course a bunch of other gifts you can bring flight attendants to thank them, that don't necessarily need to be useful within the context of our jobs.
These examples are based on things I have received from passengers over the years.
Unique Gift Ideas for Flight Attendants
Essential oils
Hand sewn face masks
Crafted jewelry
Art drawn by kids
👌 Pro tip: While homemade food is a no-go, homemade crafts are a wonderful gift idea for flight attendants, so if there is a small craft you are particularly good at, it might be a perfect way for you to thank your flight crew.
6) A Note on Tipping
As mentioned above, most airlines have rules against accepting tips. That said, there are workaround that we won't get in trouble for.
To give you an example, here is a quick personal story:
I once had a regular passenger in business class on the way to Frankfurt and he knew I was studying to get my bachelor's degree while flying. He used to "gift me tuition," (he'd give me a tip I was supposed to use to pay for school), as a thank you.
He was sneaky about it though because my airline had a rule against accepting tips. To get around this, he used to put cash into a sealed thank you card and hand it to me on his way out of the airplane. By the time I could check the envelope he'd be long gone, and I can't break FAA rules to run after him, so I would have "no choice" but to accept the cash. *hint, hint*
Conclusion
Thanking your flight attendants is a wonderful way to let us know you appreciate all the things we do for you and our other passengers. You don't have to go "all out" with your show of gratitude though, a sincere verbal thanks or a quick note will often make our day, if not our whole month.
Even now, almost two years since I retired from the industry, I still think of the sweet gestures some of my passengers made to show their appreciation.
Similar Posts: