Who said your traveling days are over once you have babies?
Honestly, babies are only as adaptable as you are, and if you're feeling adventurous, bring your little one to any number of baby-friendly destinations that are sure to be an enjoyable trip for both you and the newest traveler of the family.
Best places to travel with a baby in the USA
Hawaii
Hawaii has fantastic weather and beautiful beaches.
What makes Hawaii such a fantastic travel destination is that they accommodate everyone, including your little ones.
When packing, be sure to include baby-safe sunscreen and all the basic beach essentials.
Also, car seats are required here and in all US destinations.
Strollers or infant carriers are equally fine in Hawaii, so feel free to bring either.
The best months to visit Hawaii are December through April because the summer months can get really hot.
O'ahu is a fantastic family-friendly island in Hawaii that has wonderful resorts on the island.
Recommended accommodations with babies in Hawaii
Turtle Bay Resort
This is the only resort located on the North Shore, perfect for a laid back vacation in a fantastic secluded location. Remember the movie: Forgetting Sarah Marshall? This is the resort you've seen in the movie.
You can enjoy many activities nearby: snorkeling with turtles, Waimea Valley,  the Polynesian cultural center, and the Dole Plantation, where you can grab a dole pineapple whip.
The beach cottages are just a few feet from the ocean, so you can hear the sound of the waves all day long. You and your baby will love this!
If you want to get the true"Aloha Spirit," go to this Hawaiian style hotel.
Located in the heart of Waikiki beach, very close to the beach, shops, grocery stores, and restaurants.
They provide a free shuttle to Ala Moana shopping mall and Ala Moana Beach Park, a beautiful and calm park next to a beach, perfect for babies.
Reasonable price hotel for those who want to stay near the famous Waikiki beach.
Minneapolis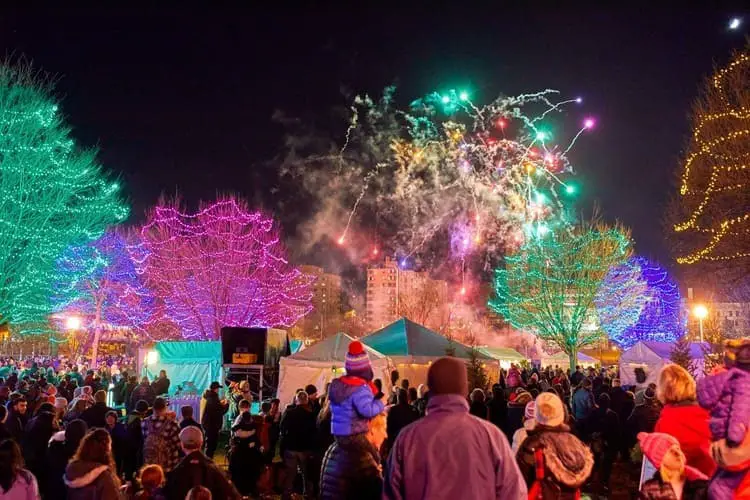 Minneapolis is a famously family-friendly city in the US and is known for being "Minnesota Nice" to all visitors.
Some tips for visiting Minneapolis (especially in the colder seasons) bring lots of layers. Minnesota isn't kidding around about the cold. Think coat, sweater, hat, scarf, mittens, boots, and even long underwear.
The best time of year to visit Minneapolis is honestly the wintertime. I know, it gets cold, but hear me out–Minnesota is known for making winter enjoyable. If you're going to do Minnesota, do it in the winter.
Minneapolis has a beautiful ice palace, a bright and sparkling holidazzle marketplace in the heart of downtown, and lots of opportunities for ice skating and building snowmen. It truly is a magical winter wonderland.
When going with little ones, Minneapolis is very stroller friendly, and some Minnesotans even have treads on their stroller wheels for navigating in the snowy sidewalks in the winter.
If you're not used to driving in the snow, we recommend using an uber with a driver who is local to the area or utilizing public transportation.
Recommended accommodation with babies in Minneapolis
Lovely hotel, originally built in the 1940s as a bank. It's located right in the heart of downtown, perfect for exploring the city. It's connected to the skyway so you can access most of the city indoors.
It features an indoor pool, a nice hot tub, and a spacious gym.
Great choice for travelers with toddlers or kids.
Seattle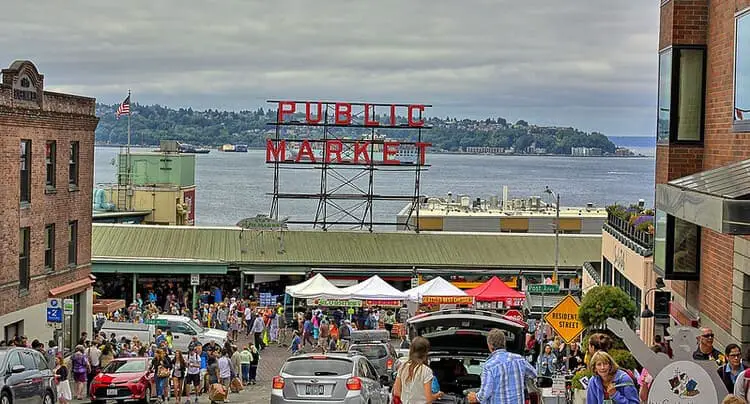 Known for its coffee and high tech hubs, Seattle is a fantastic city to visit with little ones.
Public transportation is easily accessible in Seattle, and your little one will love the bus ride.
Seattle is beautiful year-round with mild winters. June to September is considered the busiest time to be there; however, it's because the weather is so wonderful.
When packing, bring a stroller. The city is really stroller friendly, but there are lots of hills. It's a matter of if you'd rather climb a hill pushing a stroller or carrying a baby.
Some great things to do with your little one in Seattle include visiting the century-old Pike Place Market, or the Children's Museum, walking around Seward Park, riding the iconic Great Wheel, and reaching the top of the Space Needle to get the best views of Seattle.
Recommended accommodation with babies in Seattle
The elegant Fairmont Olimpic hotel is conveniently located in the center of downtown, close to the Great Wheel, Seattle waterfront, the famous Pike Place Market, and Space Needle.
They provide cribs, high chairs, infant or child-sized bathrobes, infant toiletry kits, and children's menus.
New York City
What makes New York City such a great travel spot is that there is so much to do, even with a baby.
When going to New York, know that, while busy, it's very accommodating for little ones. Strollers are fine in New York; we recommend public transportation, so you don't need to carry a car seat everywhere, and definitely bring your walking shoes.
The best time of year to visit New York in the fall because of the beautiful changing colors in the trees.
When in New York, especially in the fall, visit Central Park with your baby. There is so much to do just in the Park, including the Central Park Zoo, carousel, and 21 playgrounds.
You can also visit Manhattan Children's Museum or hop on a boat tour to see the Statue of Liberty from the water.
Recommended accommodation with babies in NYC
This is a five-star luxury hotel designed with an art deco style.
Located in Midtown East, near Central Park and Madison Avenue. It's one of the best kid-friendly hotels in New York. No additional charge for children under 18 years old who stay in the same guest room with parents.
Kids will get a welcome amenity with coloring books and crayons or toys. And there are children's toiletries and bathrobes, complimentary baby bottles, lotion, powder or strollers available.
Orlando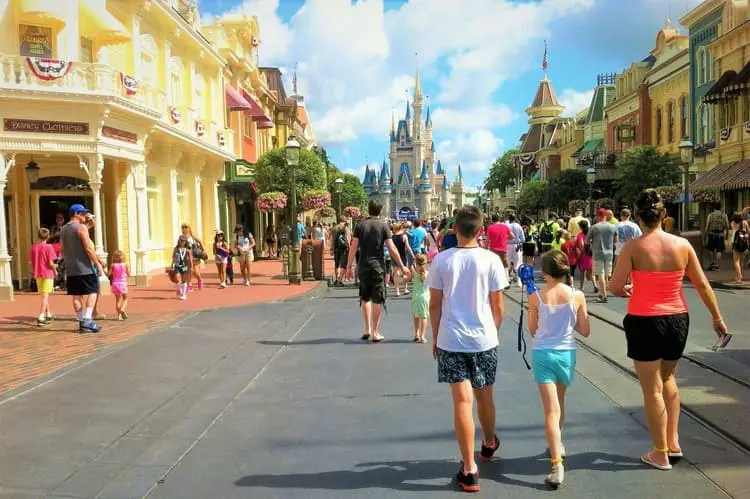 Orlando is a popular travel destination specifically for families with kids, including babies.
When traveling to Orlando, consider March-May because the weather is still nice, and it's not high tourist season. Families with school-aged kids tend to visit Orlando June-August, so capitalize on going with a little one who is not yet on an academic calendar schedule.
When packing for Orlando, especially if you're going to Disney World, Sea World, or really any popular resort, most things have rental options. This includes strollers and car seats. Yes, it costs money, but it is one less bulky thing to pack.
I also recommend going to one of the many family-friendly resorts in Orlando. This area is famous for catering to families with kids, so know that your needs will be met.
Recommended accommodations with babies in Orlando
Make your kid's dreams come true with this resort!
Within minutes of Walt Disney World, they have buses running hourly to all the parks.
They have a couple of pools connected by a 3-acre lazy river and water slides. You will love it!
If you are a Hilton honor member, you will get a free complimentary upgrade to a pool and fireworks view room.
This place has it all for infants, kids, and adults!
It has a private lake, an outdoor lagoon pool with water slides, magnificent gardens, beach, hammocks, and children's play area.
It's a very family-oriented resort. Younger kids will love Merlot, the parrot in the reception, and the splash pad.
Best places to travel with a baby outside the USA
Barbados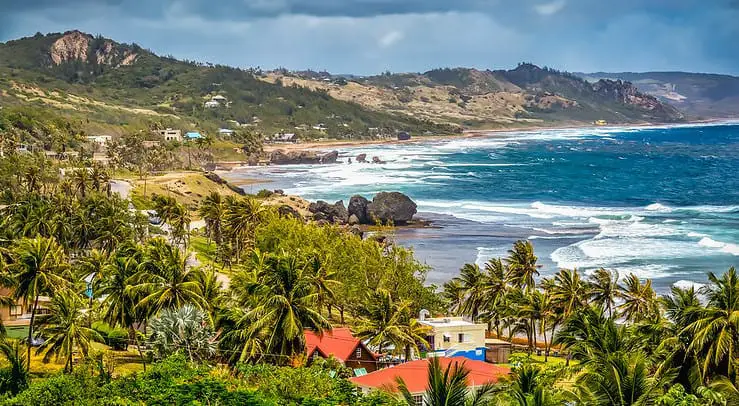 Barbados is a fantastic place to travel with kids of all ages; beaches and pleasant weather suit everyone.
What makes it so perfect for families with babies is that the island is small, safe and the locals are friendly. The people of Barbados are very kind to tourists and especially those with families.
When packing for your trip, be sure to include a child-appropriate car seat as seatbelt laws are enforced in Barbados.
You will also want to pack all the baby beach essentials like baby-friendly sunscreen, swim diapers, a beach towel, and beach toys.
Since beach weather is the main attraction for Barbados, it's recommended to travel between mid-December and April because the air is less humid and the temperatures warm but not oppressive (think 30 °C/86 °F).
Some of the best family-friendly beaches are in Holetown that is famous for its wonderful boardwalk.
Barbados really does have everything that a family would want for the perfect beach vacation.
Recommended accommodation with babies in Barbados
Located in the wonderful West coast, with easy access to many restaurants, a short taxi ride away.
An excellent choice for an enjoyable holiday with a baby! Housekeeping team provides a bottle steamer, gloves, bowls, detergent, and sponges to wash bottles.
Great facilities for kids of all ages, including the pools, the beach, and free watersports. Your kids will enjoy everything!
Mexico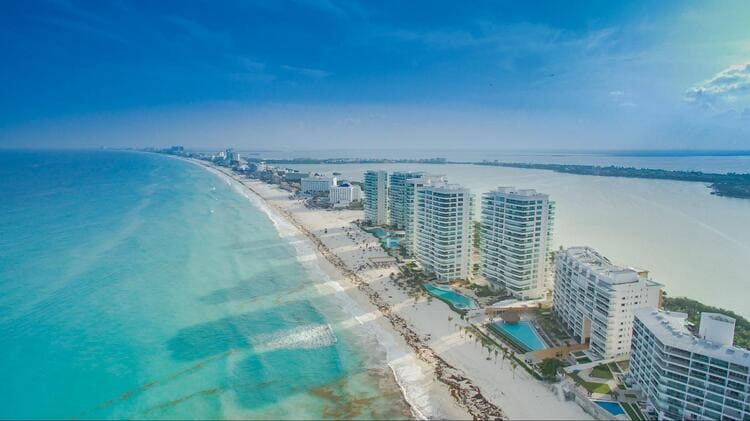 What makes Mexico such an ideal place to travel to with a baby, specifically if your goal is an international trip, is that it's not difficult to travel to. Getting to Mexico from the US is a relatively easy journey. You will just have to fly with your baby for around 4 hours from the USA. Just enough time to entertain your kid during the flight before getting bored and tired.
Mexicans are a really inviting people who love children and especially families with babies, so your little one is sure to get lots of smiles from the locals. Although, full disclosure, locals are likely going to want to interact with your baby (pet, play with, touch) and while it is coming from a good place, you might not be comfortable with it. Or maybe you will be. Either way, be prepared for how you want to respond to this.
Some important travel tips for traveling with a baby, specifically those with formula-fed babies, use bottled water when preparing your formula.
Also, car seat laws are not enforced so; technically, you don't need a car seat to get around by car.
The ideal season for traveling to Mexico is between November and March, especially if your goal is to hit the beaches. This time of year is well after hurricane season, so you won't have any dangerous weather, and the climate is more agreeable.
For fun places in Mexico to visit, I highly recommend Cancun/Mayan Riviera because it has lots of family-friendly beaches and all-inclusive family resorts.
Recommended accommodations with babies in Mexico
Grand Palladium is a huge hotel divided into Grand Palladium Kantenah, Grand Palladium Colonial, and Grand Palladium White Sand.
They are all five-star all-inclusive resorts, ideal for families.
There are water slides, baby pool, snorkel equipment, all sizes, play areas, x-box rooms, kids menu at the restaurants, and kids show in the theatre at nighttime, so plenty of activities for children.
And for the babies, we offer the baby club service that will take in little ones aged 1 to 3. Not many hotels give small children a dedicated service.
Aruba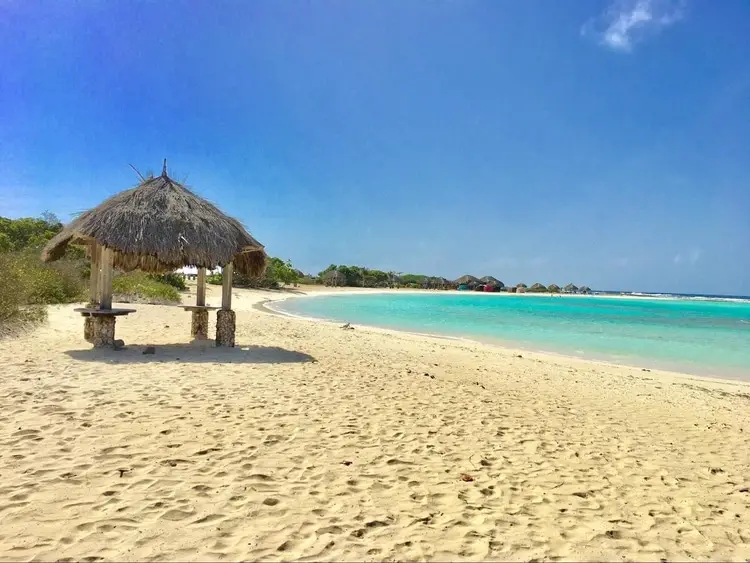 Aruba is one of those underrated travel destinations for families, but it is definitely worth your time.
There are family resorts, and more adult resorts for travelers, and this separation actually makes the experience more enjoyable for families because honeymooners are off in their own resort.
When packing for Aruba, know that car seats are not mandatory, but most car rental companies offer them so plan according to what works for your family.
January to March is seasonally the best time to visit Aruba; however, the prices tend to jump as well. So families looking to save some money can still travel between April to August, and the weather is still enjoyable because Aruba is outside of the hurricane belt.
If you're looking for a fun place to visit, there is a beach literally called Baby Beach in Aruba that is the perfect family-friendly beach. It's great because it is a man-made lagoon with shallow water for wading that keeps kids very safe. It's ideal for activities like snorkeling and feeding fish.
Recommended accommodation with babies in Aruba
I would recommend you to stay at the Renaissance Aruba Resort.
This hotel has two parts: the Marina resort, for adults only, and the Ocean Suites, for families. The Ocean Suites has a small beach and a nice pool area, perfect for children, and its own private boat dock.
From there, you will be able to get a free ride to the famous Flamingo Beach and spend the day watching the beautiful flamingos and enjoying a private beach day.
Cayman Islands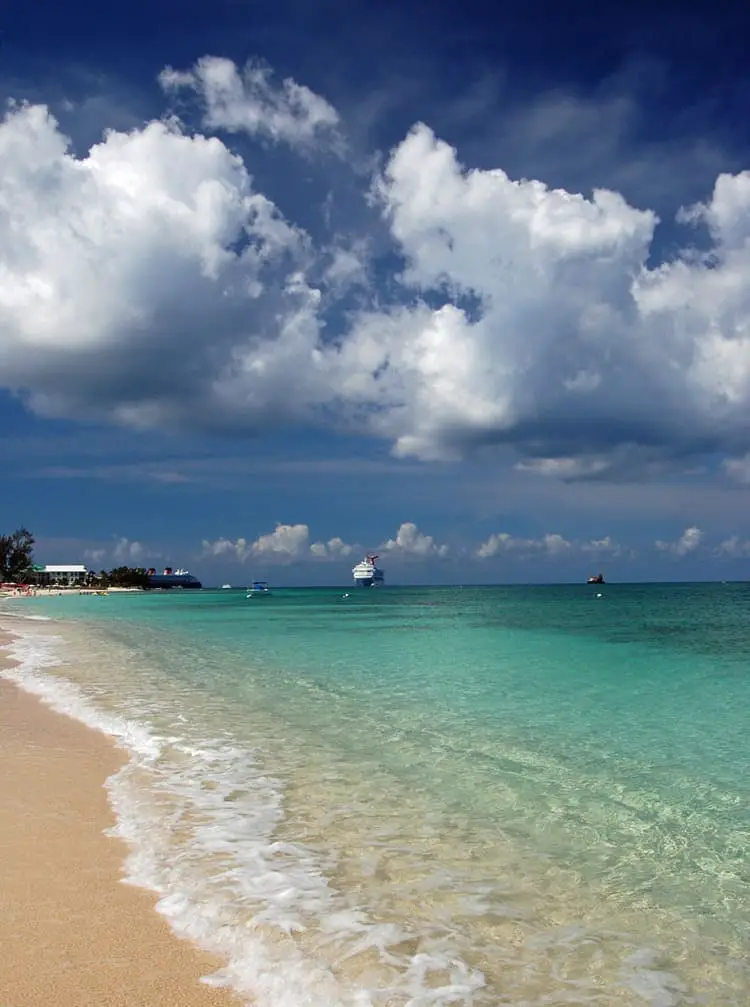 The Cayman Islands are beautiful, and the Grand Cayman Island is considered one of the safest in the Caribean.
People who travel to the Caymans say there are families with small children everywhere, so those with little ones are welcome and encouraged to visit.
It also has an excellent infrastructure meaning tap water is considered safe to drink, the roads are paved well, there are reliable hospitals should any kind of medical emergency come up. Car seats are required, so pack accordingly.
If you want to travel to the Cayman Islands as a family, go between March and June because the prices drop. Thankfully, the weather is pretty consistently warm and enjoyable year-round, so traveling when you can save some money is ideal.
Things to do: snorkel among corals, sponges, and hundreds of tropical fish, visit the turtle farm, where you will get the chance to hold and pet the turtles.
One of the best places to stay in the Cayman Islands is the 7 Miles Beach because it has a flawless view, it's a pristine clean beach, and importantly family-friendly.
Recommended accommodation with babies in the Cayman Islands
The Westin Grand Cayman Seven Mile Beach Resort Spa
The beach here is exceptional: beautiful, warm, and calm, perfect for younger children.
They will love the floating platforms and making sandcastles (you can even borrow beach toys for them).
There are many activities for adults and kids of all ages.  Live music, cooking classes, kids movie night on the beach, bonfire, bingo, a great entertainment program for everyone.
Italy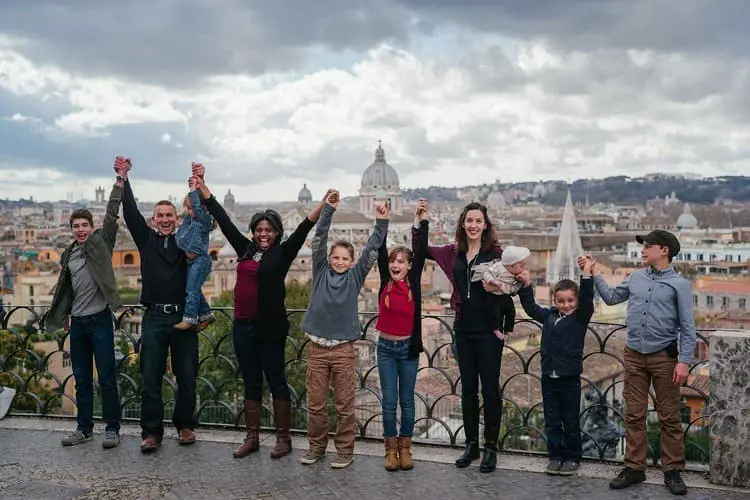 When traveling to Italy with a baby, you're sure to be welcomed by the Italians who love kids.
There is so much for babies to see in the hustle and bustle of cities like Rome. Stroll around Villa Borghese Gardens, throw a coin into the Trevi Fountain, or visit the Colosseum with your little ones.
When packing know that baby-wearing is the way to go here. Strollers are a personal choice, there are often lots of stairs, cobblestone walkways, and general crowdedness that make strollers a pain to bring, but it depends on your vacation plan and how active you want to be.
When traveling to Italy, consider visiting from April to June or the end of September to October because the weather is very not so hot as in summer but still very nice. And it's more affordable.
Also, if you travel in winter, around Christmas time, there are more festivals and the famous Christmas Markets to visit (especially in Rome) that would be perfect to do with little ones.
Recommended accommodations with babies in Rome, Italy
This hotel is located in the historical center, close to everything: restaurants, and many attractions, in the best part of the city but out of the hustle and bustle.
You can walk anywhere from here or take the metro at Barberini or Spagna metro station. So super convenient for families with babies.
They also have babysitting services. Don't miss out on a romantic dinner on the rooftop terrace!
Greece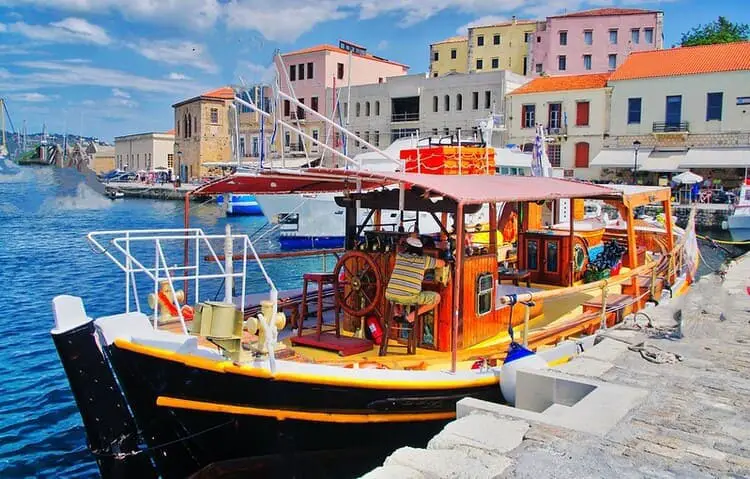 Greece is a great place to travel with babies because the resorts are family-oriented and there are so many activities for them to enjoy–especially in the Greek Islands.
I would recommend traveling only during the summer (June to September) when visiting the islands because the beaches will be at best as far as the weather is concerned.
When traveling, don't bother packing a stroller because it can be difficult to navigate the sidewalks. Car seats are encouraged and can be rented with most car rental spots in Greece.
The island of Crete is considered to be one of the best Greek Islands for families with young kids because there are more family-friendly beaches. Most notably, the Elafonisi beach of Crete has a famous pink color in the sand–so small children will love the color of such a unique beach.
Recommended accommodation with babies in Creta, Greece
Great family hotel located on the beach of Maleme.
There are lots of activities and facilities for big kids and toddlers, including supervised waterslides and pools, playgrounds, and water fountains, arcades, kids disco, and kids menu.
Once a week, they bring out popcorn and candy floss, and they have ice cream included many days.
A lovely all-inclusive resort for a perfect family holiday.
France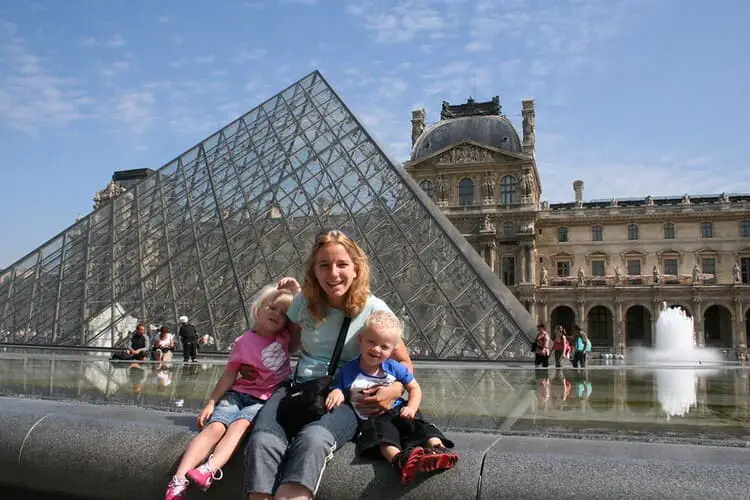 Going to France with a baby is wonderful.
There is so much for your little one to see and experience from arts and marketplaces to food and nature, France has a diverse range of activities for everyone, including your little one.
The public transportation system is extremely reliable, so I would recommend public transit to avoid lugging around the car seat.
April to June and September to early November are the most affordable times to visit France.
Since the weather in France varies so dramatically on when you visit and where in France you plan to visit, I recommend going based on price.
Paris is a classic and iconic travel spot in France, and that includes baby. Monuments like the Eiffel Tower and the Louvre Museum are considered child-friendly and worth your time. The Louvre Museum even offers baby carriers and strollers to rent for free. Just outside Paris, the Versailles Palace and its beautiful huge gardens are great for babies too.
Other places like the Loire Valley castles or the French Riviera are also totally baby-friendly.
On the other hand, visiting the infamous Mont Saint Michel (steep and narrow alleys) or Dune du Pilat (lots of sand!) with a stroller might not be recommendable.
Recommended accommodation with babies in Paris, France
This hotel has free baby beds (cot or wooden bed), which they install in your room on the day of your arrival.
You will also find all the necessary equipment for your stay (no extra fee): changing mat, bottle warmer, high chair for breakfast.
To avoid carrying your stroller in your room, you can leave it in the luggage room at any time.
Spain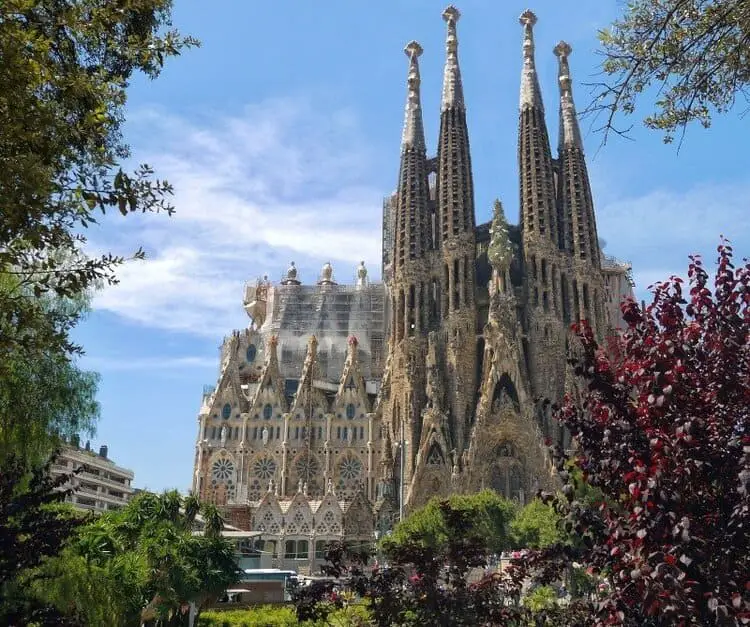 What people love about traveling to Spain is the wide variety of things to do: museums, football games, delicious food, flamenco music and dancing, fantastic beaches and lots of sunshine. All of these things can be enjoyed with a baby!
When traveling to Spain, utilize public transportation so that you can ditch the car seat. Renting a car can be a hassle because there is rarely ever any free parking in the cities. I'd recommend using the metro to travel. It's fast, cheap, easy, and convenient.
If you're looking to hit the beaches, going to Spain in June or September is ideal. July and August are very busy and expensive months. If you're looking for affordability, consider April, May, or October, the weather is not bad and it's cheaper than summer.
Personally, I think Barcelona is one of the best places to go with little ones because there is a lot to see and do: Sagrada Familia, Park Güell, Casa Batlló, Poble Espanyol, Montserrat Monastery (outside Barcelona) and the Montjuic Magic Fountain show.
If you are looking for a park, Parc de la Ciutadella is the biggest urban park and a popular place to walk, read or relax. You'll find wide pathways, a playground area, a lake, a big fountain, and the entrance to the zoo.
Recommended accommodation with babies in Barcelona, Spain
The location of this hotel is the best, right in the center of the tourist district.
If you are traveling with a toddler, it can be very convenient as you can enjoy many attractions within walking distance during the day and make it back for nap time.
They offer spacious and comfortable family suites, an outdoor dining terrace that is toddler-friendly, and a personalized welcome kit for the kids.
This is an excellent choice for families interested in city walks and sightseeing.
United Kingdom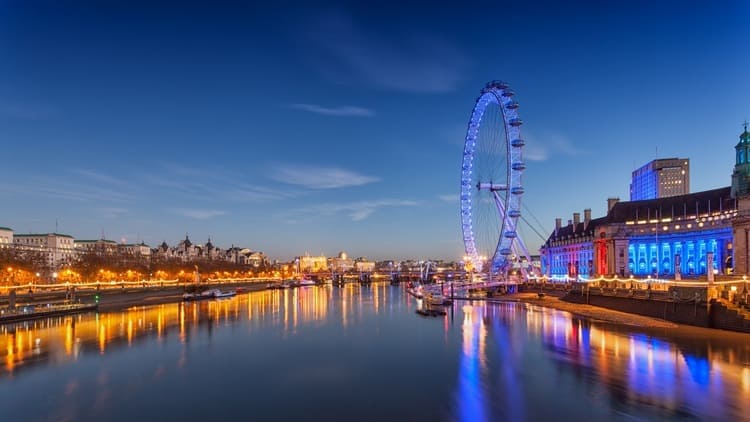 The United Kingdom is wonderful to travel to, and for any Americans considering this as a travel destination will appreciate that everyone speaks English. Having no language barriers to worry about can help ease any concerns for people traveling with little ones.
When traveling to the UK, know that there is plenty of public transportation, so no need for a car seat. Also, strollers can be used; however you may find it easier to travel without because of stairs and cobblestone roads. It really depends on what you plan to do.
London is a magnificent place to go with a baby. The London Transport Museum is great if your little one loves buses and trolleys or really anything that can go "vroom."
There are plenty of things to do with babies: Watch the changing the guard ceremony at Buckingham Palace, stroll around Hyde Park, the most famous park in London, visit the Camden market, enjoy the breathtaking views from one of London Eye's capsules, consider a Thames river cruise…
From June to September is usually the best season to go weatherwise.
Recommended accommodations with babies in London, UK
Situated in South Bank, very close to London's Eye and St James Park, this hotel is perfect to stay in London with your little ones.
Kids get a welcome bag with vouchers for chocolates or ice cream in the hotel bar, and they also have other amenities like kids bathrobes. And there are many family activities included in the family package.
There are many types of family rooms available: Junior Suite, Studio double, Penthouse family, Executive Family Studio. And they all come with a kitchenette which is really handy for toddlers.
Mediterranean Cruise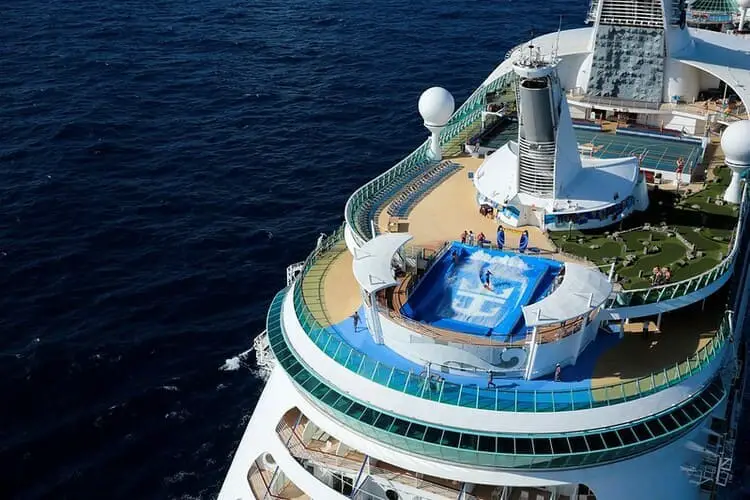 What is so wonderful about a cruise with a baby is that cruises are often all-inclusive.
The swaying of the boat can be soothing for a baby, and there is always background sound so the baby may even sleep better.
What I like best about doing a Mediterranean Cruise is that there is so much to see between the ocean and various port cities that you'll visit: experience la dolce vita in Italy, the ancient Greek or the French Riviera all in one trip.
The lower decks often have family-friendly pools, and there are activities and shows included on the boat.
Plus, as you travel between port cities, you will get to know the people on the cruise with you, and meeting new people is sometimes the best part of traveling.
Spring or Fall are the best times to do a Mediterranean Cruise because it's more affordable and less crowded.
The Royal Caribbean Mediterranean Cruise is the best family-friendly cruise line in the Mediterranean. However, some lines won't allow infants to travel who are under 6 months old.
7 days itinerary: Barcelona (Spain), Palma de Mallorca (Spain), Provence (France), Florence/Pisa (Italy), Rome (Italy), Naples/Capri (Italy), Barcelona (Spain)
Japan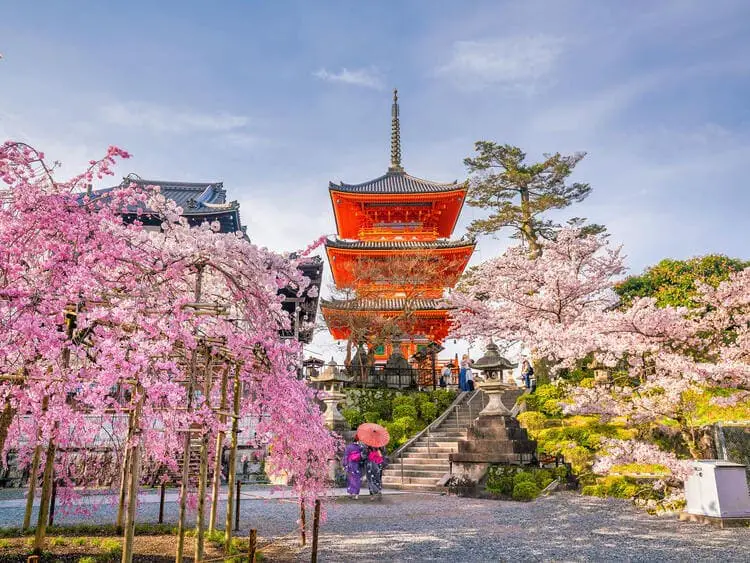 Few people realize how a place like Japan is to travel with little ones. The Japanese are very polite, welcoming, and the country is famously very, very safe.
There is also fantastic and reliable public transportation.
Strollers are widely used in Japan, so feel free to bring that as well.
Tokyo is a perfect place to visit because there are so many attractions that are toddler and kid-friendly: LEGOLand, the Tokyo Toy Museum, Sanrio Puroland (which is a Hello Kitty toddler-friendly amusement park), and of course Tokyo Disneyland.
Recommended accommodation with babies in Tokyo, Japan
Very conveniently located hotel in Shinjuku's business district. The bus stop to the airport stops in front of the hotel, and they offer free shuttle services to Disneyland
Also plenty of huge department stores with nice food options in the area.
They provide a welcome pack to the kids with a toothbrush, toothpaste, and kids' size slippers.
Definitely a good choice for a family stay in Tokyo.
Bali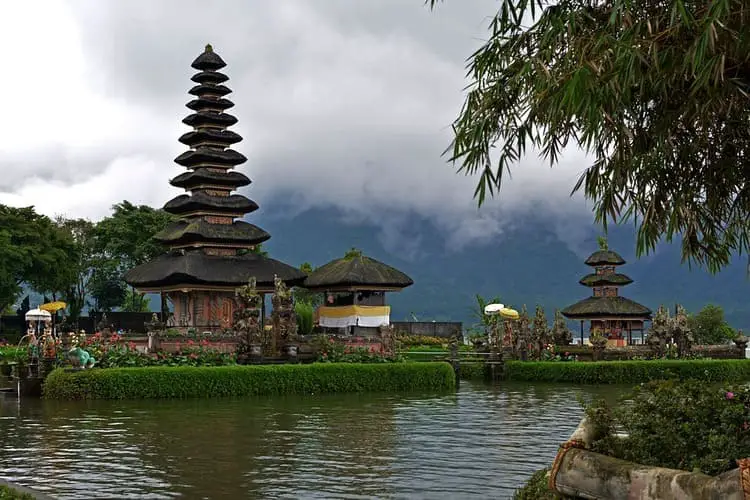 Bali is a fantastic place to travel to for just the weather alone.
April to October is considered the ideal time to travel to Bali because it's considered the dry season (less rain).
Car seats are not required in Bali but available in rental cars upon request (sometimes for an additional fee).
What makes Bali a great place to go with little ones is all the water, either on the beach or at various resorts in kid-friendly splash pads with kiddy pools. There are lots of opportunities for kids to splash around. The Splash Waterpark Canguu is a fantastic kid-friendly waterpark that is worth visiting.
There are also plenty of other activities like family-friendly resorts throughout Bali.
Another great thing in Bali is that they cater to their tourist population, so there are lots of affordable touristy things to do.
Recommended accommodation with babies in Bali
A beachfront five-star hotel in a lovely location with a beautiful garden. A great choice for families with little kids.
They have four pools, including a toddler pool with a mini slide for the little ones, water volleyball, and floaters.
The kids club is excellent, and they do a lot of activities: trampoline, ball pit, slide, and PS4, mainly orientated for kids under 8 yo.
A relaxing, clean, and family-friendly hotel.
Maldives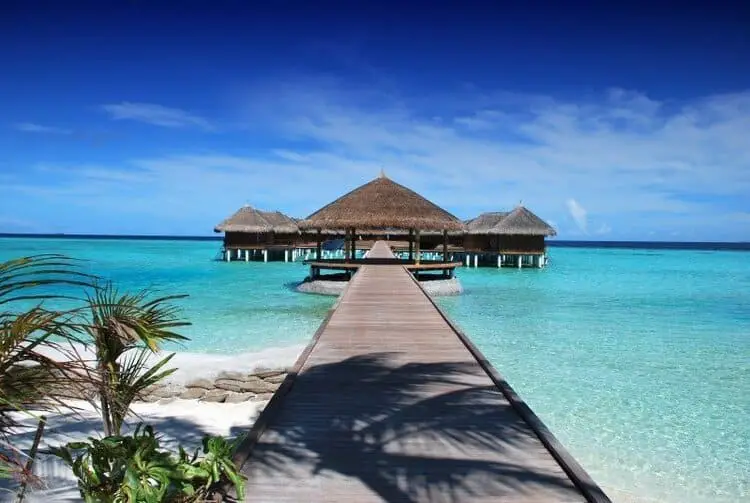 Most people dream of going to the Maldives, it's definitely a dream destination; So why don't you take your little ones with you?
The Maldives is a quiet and underrated place to visit, and that's exactly why it's perfect for people with babies.
Pack for all the beach essentials and also consider bringing a bug repellant you're comfortable using with your baby; depending on the season and where you are, the mosquitos can be hard for the little ones.
Everything is laid back, and the vibe is down to earth, it makes relaxing the reason for the vacation.
There are beautiful beaches that you can simply enjoy with your baby, and for some people, that's all you would ever need.
Admittedly there isn't a lot in the way of sightseeing, but that frees up your vacation to be simply the resort, beach, great weather, local food, and of course the baby. Sometimes not having the pressure to see everything makes the trip more enjoyable.
The Maldives is best between November and April and to avoid from May to October because that is their monsoon season.
Recommended accommodation with babies in the Maldives
Niyama Private Islands Maldives
Niyama Private Islands is a luxurious resort located 40 minutes from Male airport offering overwater villas and family beach pool villas with private pool.
The hotel is divided into two islands: "Chill" and "Play." So one is where all the fun takes place: kids club and water sports,  and the other is where the spa and over the water villas are.
The kids club is from 12 months to 12 yo, and it is extremely well organized. They always have plenty of activities to do including baby play areas.
Thailand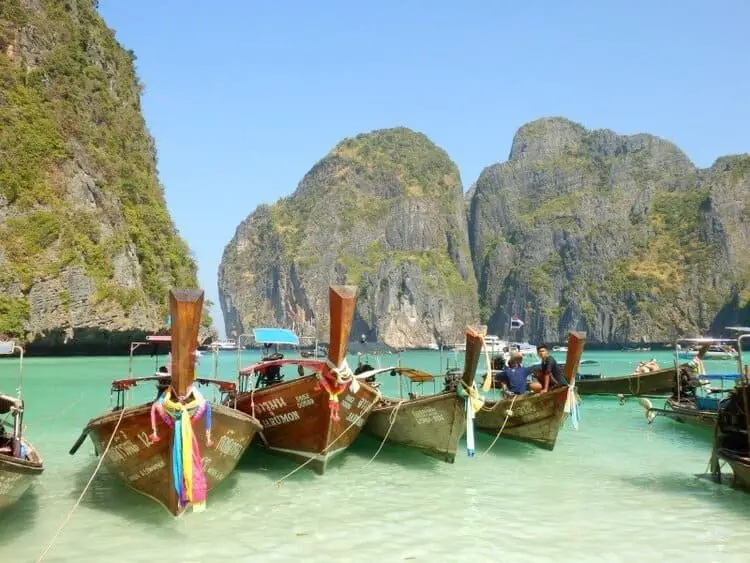 Thailand is a spectacular country with so many exotic foods to try and places to visit. It's also a very family-oriented country and welcoming to travelers with babies.
When packing, know there will be a lot of walking, and the country is hot, so babywearing might get your little one more overheated because of the shared body heat. I recommend a small umbrella stroller if the baby can sit upright in one; otherwise, a baby stroller is fine as well.
The cool/dry season is between November and April, which would be the best time of year to visit.
Some things to do while in Thailand include touring the Grand Palace and the Temple of Buddha.
Other unique experiences include taking a ride on an elephant.
With a baby, you can easily hit the beach. There are so many islands with beautiful beaches in Thailand that it's hard to only name a few, but Ko Samui, Ko Chang, Krabi or Phuket are places you want to look at when traveling with a baby. I would avoid Ko Phi Phi, which is overcrowded and overrated, according to me.
Recommended accommodation with babies in Koh Samui, Thailand
Anantara Bophut Koh Samui Resort
This wonderful 5-star hotel is very well located in a quiet beach area, a 15-minute drive from the airport, and a 10-minute drive from Chaweng.
If you are looking for a pleasant evening stroll with your baby, you can walk down the beach, and you will end up in Fishermen's Village, where you will find restaurants, shops, and a night market.
The kid's club offers activities for kids of 4 and over, but younger kids can use it with a private nanny.
A great resort to enjoy family time together.
Colombia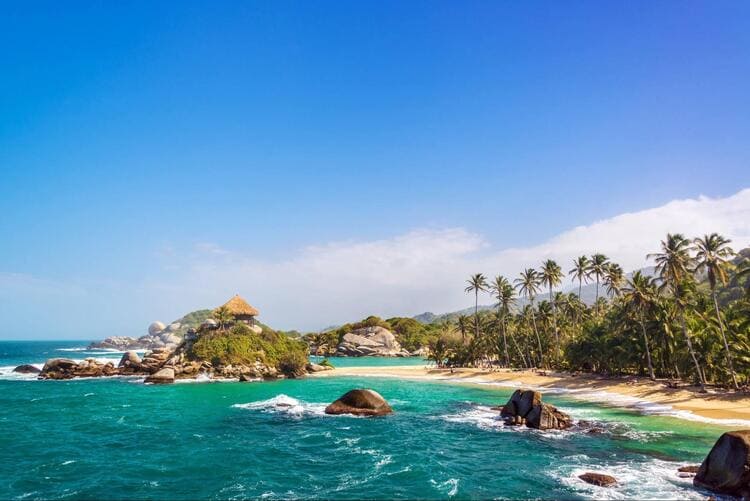 Columbia is a beautiful country, and Santa Marta is especially family-friendly. Santa Marta is an island with lots of great resorts that can accommodate you and your little one.
Car seats are not really used in Colombia, so pack at your own discretion.
The climate in Colombia has little variation, so really any time of year will get you some great weather. June, July, and December are high travel seasons, though, so avoid those months if you're looking to keep costs low.
Things to do in Santa Marta with little ones include visiting their aquarium Mundo Marino, spending a day at Crystal Beach, and eating out with the locals at Parque de Los Novios.
Recommended accommodations with babies in Santa Marta, Colombia
An excellent beachfront resort with great facilities and entertainment for the kids.
There is a mini pool with a slide for toddlers, all sorts of games available, including video games and a play area for kids. And both adults and kids can enjoy the awesome bowling alley.
Rodedero and Santa Marta are very easy to reach, cheap by taxi ($3 and $6 each way).
If you ever plan to visit Colombia, you should stay here.
Seychelles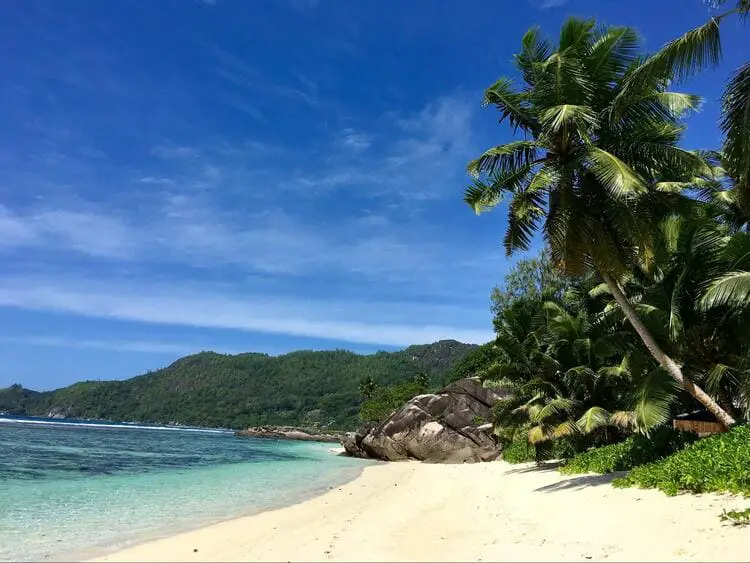 Traveling to Seychelles with little ones is phenomenal because they have outstanding white-sand beaches, luxury resorts, and crystal clear water.
With a baby, everything can still be enjoyed because everyone loves clean beaches.
When visiting Seychelles April and May or October and November are the best months for cooler and breezier weather, Seychelles can get really hot in the thick of the summer.
Pack for warm weather and beach gear; know that car seats are not required in Seychelles, but you may choose to bring them at your own discretion.
Some great things to do while in Seychelles include going to breathtaking beaches like Anse Forbans on Mahé Island (ideal for babies, there's no waves here), Anse Lazio on Praslin Island and Anse Cocos on La Digue Island.
Don't miss out on Curieuse. On this island, you'll find giant turtles in their habitat. There are many of them and are attracted by humans (well, food that humans hand to them). Surely a highlight for you and your baby!
Recommended accommodations with babies in Seychelles
I specifically recommend staying at the Constance Lemuria on Praslin Island.
It's an outstanding hotel and has its own private beach protected from the waves, as well as a tennis court and even golf.
There is something to do for everyone, watersports, snorkeling, kids club activities, hiking, bicycles free of use, etc. And they have everything you need for babies: Plenty of games, toys, a mini pool for babies and a playground, baby cot in the room, and high chairs, etc.
Mauritius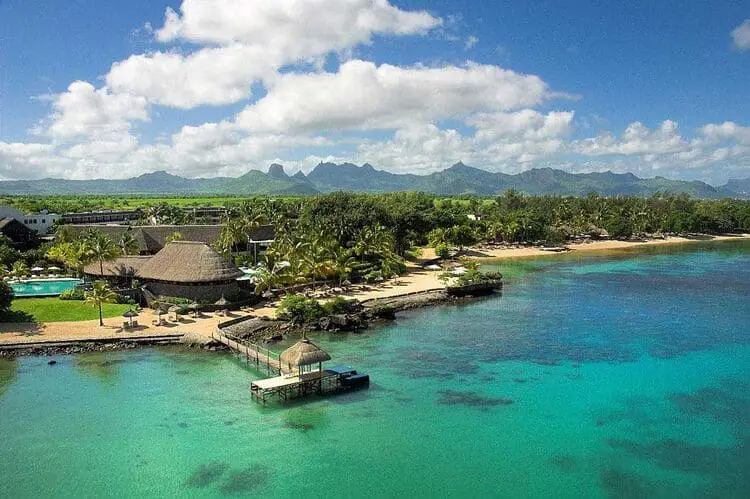 Mauritius is a quiet island that has many
luxury resorts and beaches
. It's a fantastic getaway that you can enjoy with a baby.
The best time to travel to Mauritius is from May to December because the weather is dry and sunny.
Beaches like Belle mare, Flic en Flac, or Morne Brabant are perfect for babies. Plus, there are no waves there because the beaches are protected by a coral barrier.
When packing also know that hiking in Mauritius is gorgeous so a baby carrier specifically geared for hiking adventures would be lots of fun for the little one.
Other fun things to do in Mauritius include boating excursions, touring plantation houses, and trips up into the mountains.
Recommended accommodations with babies in Mauritius
A kids-friendly 5-star hotel located on a stunning beach.
The kids club is for kids between the ages of 2 and 12, and they will organize age-appropriate activities and groups depending on their interests: movies on the beach, arts, and crafts, golf or stand up paddleboarding classes, educational excursions… It's open the whole day from 09.30 to 22.00