Paris is one of the largest cities in Europe, receiving millions of tourists and visitors all year long, so it's only natural for the City of Light to have multiple airports.
For that reason, there are several airports serving Paris, with the biggest ones being Charles de Gaulle (CDG) and Paris Orly (ORY), so which one of them is the better choice?
In today's article, I'll put Paris Charles de Gaulle vs Orly in a brief head-to-head comparison, so you can find out which one is better for you!
Quick Comparison Table
Point of Comparison
Paris Charles de Gaulle Airport
Paris Orly Airport
Overall Size
Covers 12.5 sq mi (32.4 sq km) – The largest airport in France and second largest in Europe
Covers 5.9 sq mi (15.3 sq km) – The second largest airport in France and 13th largest in Europe
Distance from Paris Downtown
Further from the city center (20 km north of Paris)
Closer to the city center (10 km south of Paris)
Average Number of Passengers
57.4 million in 2022
29.1 million in 2022
Airlines Served
Over 100 airlines, including all major international carriers
Over 70 airlines, including several low-cost carriers
Number of Terminals
3 terminals (2 for major carriers and 1 for low-cost carriers)
4 terminals (redivided from 2 terminals)
Total Number of Destinations
325 destinations in 114 countries
156 destinations in 47 countries
Amenities and Shopping
Has a wider array of shops, lounges, restaurants, and more.
Limited yet decent selection of shops, restaurants, and lounges.
Transportation to City Center

50 minutes by car or taxi via A1
25 to 40 minutes by RER B trains
55 to 90 minutes by bus (multiple bus lines)

30 to 40 minutes by car or taxi via A1
25 to 30 minutes by Orlyval, RER B, and RER C trains
25 to 60 minutes by bus (multiple bus lines)

Ideal for

Travelers who want a wider range of flight options
Travelers who prioritize comfort and amenity variety
Travelers who are staying North of Paris

Travelers who are flying short-haul
Travelers going on domestic, regional, or low-cost flights
Travelers who prefer less crowded airports
Air Traffic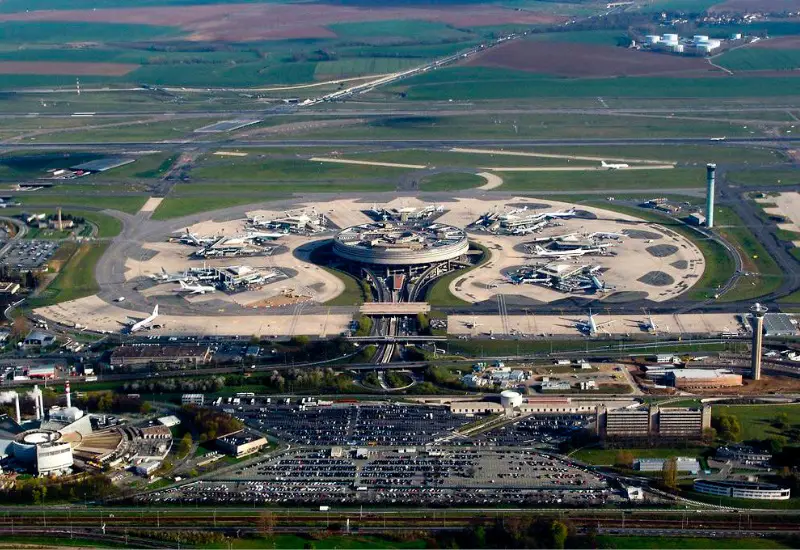 Both Charles de Gaulle and Orly are ranked among Europe's largest airports, hosting millions of passengers every year.
However, in terms of sheer size and business, it's easy to say that CDG is a lot busier, as it is the 10th busiest airport in the world!
CDG airport has 4 runways, with two of them dedicated only to landing, allowing the airport to receive over 120 movements per hour each day.
On the other hand, Orly has 3 runways, allowing it to receive around over 72 movements hourly.
Destinations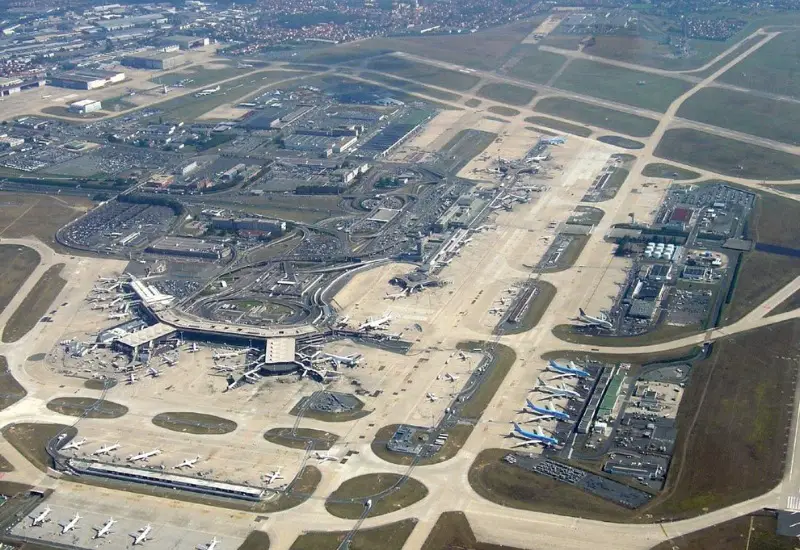 Both airports offer flights from and to almost all continents, although CDG airport is the further-reaching airport of the two in every continent, covering 325 destinations in 114 countries, compared to only 156 destinations in 47 countries for Orly.
For instance, CDG has a link to Oceania while Orly doesn't.
Also, CDG airport is connected to South America through 9 destinations while Orly is connected through only one.
This means that your options would be mostly limited to CDG if you're flying from these regions.
On the other hand, since 50% of Orly's destinations are located in Europe, it's a solid alternative to CDG if you're flying from another European country, especially if you prefer landing in a less crowded airport.
Distance to Downtown
Both CDG and Orly airports are very well-connected to the city, and you can reach them using a variety of transportation methods.
For instance, it takes around 50 minutes to reach the city center if you travel from CDG airport in a car via the A1 autoroute. A taxi or an Uber would cost you an average of 45 to 60 Euros.
You can also find multiple bus and train lines for different prices, including:
RER B Train: 30 to 40 minutes (around 11.45 Euros)
Roissybus Shuttle: (around 13.70 Euros)
AirFrance Bus: 60 to 75 minutes (around 8.5 to 21 Euros)
Noctilien Bus: around 55 minutes (2.10 and 9.50 Euros)
Bus 350: 60 to 80 minutes (around 1.90 Euros)
Bus 351: 70 to 90 minutes (around 1.90 Euros)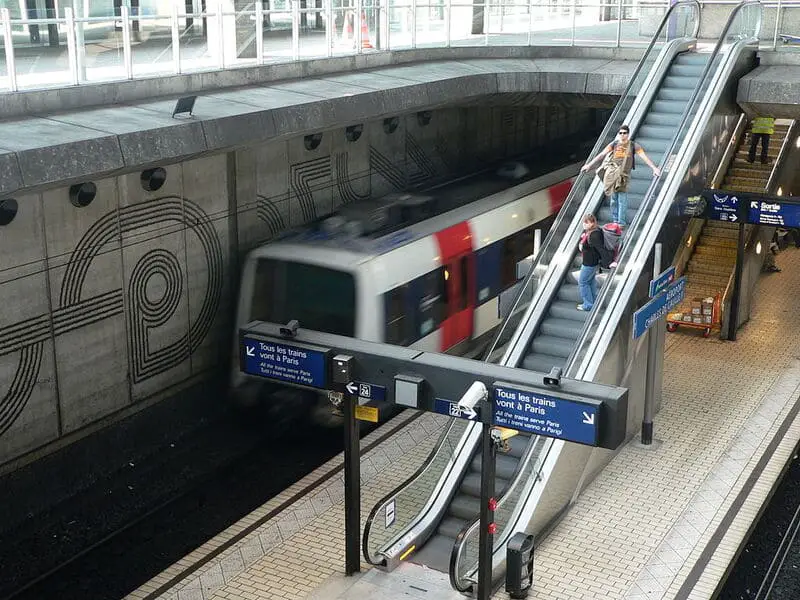 On the other hand, it takes around 30 to 40 minutes to reach downtown Paris from Orly Airport, as it's quite close. You can take multiple autoroutes too, including the A6 and the A10.
A taxi would typically cost you 20 to 40 Euros depending on where you're going. As for busses and trains, Orly Airport also has a nice variety of options with different average durations and prices, including:
Orlyval and then RER B Train: 25 to 30 minutes (around 11 Euros)
RER C Train: 30 to 40 minutes (around 6.50 Euros)
OrlyBus: 25 to 35 minutes (around 11.20 Euros)
AirFrance Bus: 45 to 60 minutes (around 7 to 12 Euros)
Tramway 7: 30 minutes to the south of Paris (around 2.10 Euros)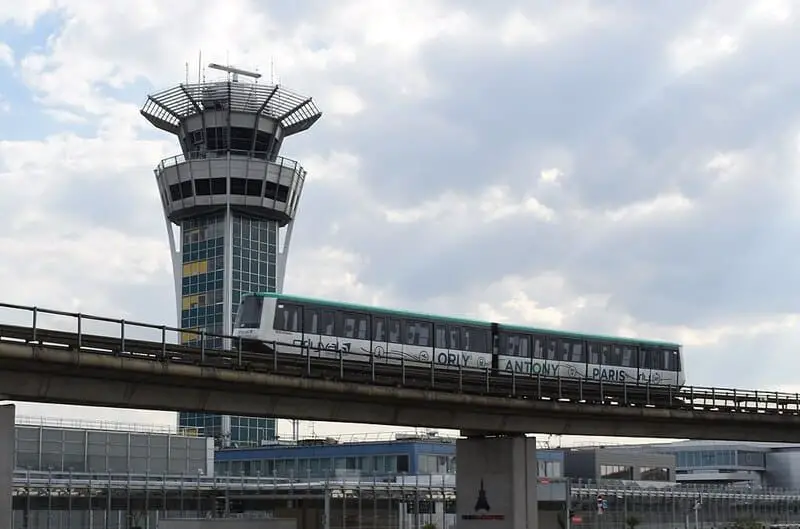 Facility Quality
According to a recent report by Skytrax, Charles de Gaulle Airport is a 4-star airport and among the world's top 5 airports.
Besides having a huge selection of transportation options available, the airport, its terminals, and boarding gates are well-maintained and cleaned regularly by the staff.
It also has multiple ramps and elevators for easy transportation.
Getting around the airport is fairly easy because of the clear signs around the airport, but you might still feel lost due to the sheer size of the airport.
On the other hand, finding your way out upon arrival is fairly easy at Orly Airport because it's more compact with less congestion around terminals.
Similar to CDG, Orly is also well-maintained and cleaned, so you don't have to worry about that in both airports.
Both airports also have various maps to help you get around easily, and you can navigate through the airport using their dedicated apps.
Boarding Efficiency
Since CDG is one of the busiest airports out there, waiting lines can be quite long, especially for long-haul terminals 1 and 2.
However, security checks are quite efficient and reliable. The staff is also helpful and can speak multiple languages, which is quite convenient.
Since Orly is not as busy as CDG, it's no surprise that the boarding process is fairly quicker and simpler there. Ideally, you should expect the boarding process to take 30 to 45 minutes before departure, depending on your flight.
On the flip side, checking in and boarding in CDG can take up to several hours, which makes Orly Airport the better option if you're looking for an overall simpler process.
Amenities and Comfort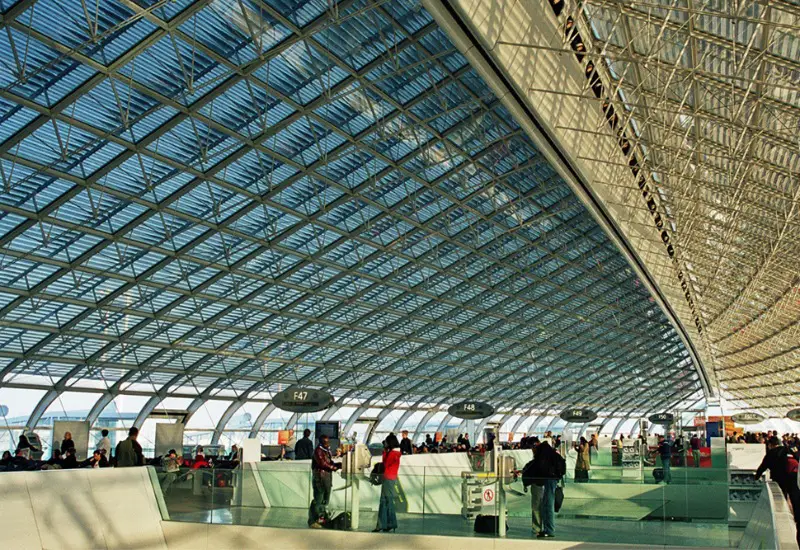 Both facilities offer an extensive range of amenities to make the passengers' lives easier while at the airport.
For instance, CDG Airport has around 50 different shops and several additional amenities, including casual brands as well as luxury ones.
Additionally, the airport houses 24 restaurants and coffee shops to suit all budgets, ranging from fast food to fine dining experiences.
Moreover, the airport has over six well-equipped play areas for children, making it an excellent choice for families. Not only that, but the airport also has a luxury Clarins spa and multiple ATM machines!
The airport also features other convenient stores and amenities, including several currency exchange offices and pharmacies to stock up on some essentials.
As for Orly, it also has decent options, including multiple shops selling all kinds of products and items. You can also find many restaurants and hangouts to make your waiting time more enjoyable.
However, the variety of shops isn't as extensive as in CDG airport. Orly has around 18 restaurants while CDG has over 24.
Both airports also have plenty of parking locations at fairly similar prices. Despite having less variety, Orly Airport still houses plenty of convenient amenities, including ATMs, pharmacies, playgrounds, exchange offices, and more.
Nearby Accommodation Options
Both CDG and Orly have various nearby hotels and other accommodation options to suit all kinds of budgets.
In fact, you can find some budget-friendly accommodations as close as 10 minutes from Charles de Gaulle Airport.
This includes the Première Classe Roissy, B&B Hotel Paris Nord, and others. You can also find several luxurious options near the terminal, such as Hilton Paris Charles de Gaulle Airport.
Similarly, Orly Airport also offers multiple accommodation options near its terminals, ranging from budget-friendly 2-star hotels like the Ibis budget Viry-Chatillon to luxury options like Hilton Garden Inn Paris Orly Airport.
Final Verdict: Which One Is Better to Fly to?
This marks the end of today's guide that walks you through a brief comparison between Paris Charles de Gaulle and Orly Airport.
As you can see, both airports make excellent choices while flying to Paris.
However, CDG is a much bigger airport and is connected to a larger variety of destinations. It also has much more amenities, making it a perfect choice for families and long-haul flights.
However, Orly can also be a great choice, especially if you're flying from Europe and prefer less crowded airports over a wider range of amenities.
Similar Posts :