I was on my first job as a flight attendant with a low-cost airline when I first heard about private jets having a need for the same sort of staff.
I was immediately fascinated – I didn't know that there were flight attendants flying all around the world on luxury jets! But after finding out that they were, I soon realized that I wanted to make the move to private aviation.
My name is Maya M. and I have been a corporate flight attendant in Dubai since 2015. Before that, I worked for 2 commercial airlines in Europe and Asia.
Now that I've been in both sides of the industry for quite a while, I'd like to explain to you the differences between commercial airline flight attendants and those working on jets in the private sector.
So let's break down the main characteristics.
Age
Commercial aviation companies usually hire flight attendants who are over 18 years old.
This is usually in a range of 18 to 35.
But some airlines, depending on the country or the applicant's experience, could even hire staff who are in their 50s.
In private corporate aviation, the starting age would be from 21 or even 25 in Europe.
This is because they prefer to hire flight attendants who have previous experience and are familiar with aviation life, dealing with passengers and delivering a high-quality service.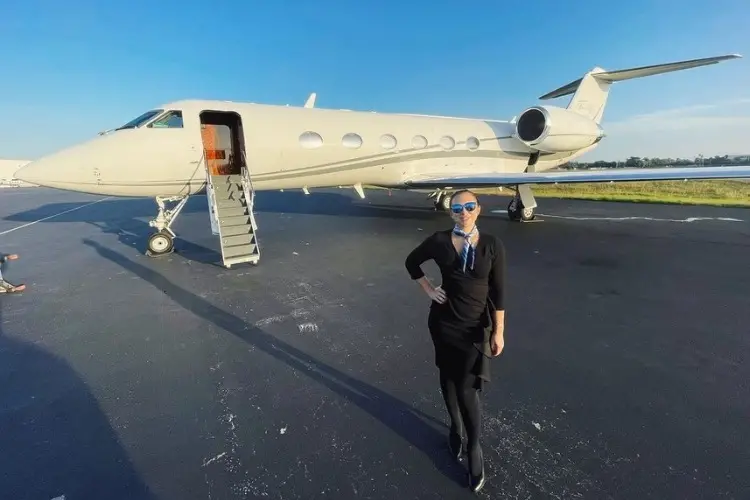 Competition
Make no mistake, competition in the corporate jet industry is very fierce.
You will often find hundreds of applicants hoping to get a position for each of the very few openings.
Partly that is, as you can guess because there are less private jets in aviation than commercial ones, there is a need for far less staff.
Big private jet companies like NetJets or VistaJets, whose networks are huge, do post their job openings and requirements online, but many other companies don't always advertise their vacancies to the general public.
This because word of mouth in this industry is very powerful and employee referrals often take the place of a need to advertise.
All this means it can be quite complicated to get into this aspect of the flight attendant's world.
It would be unusual to start your aviation career in the corporate or VIP sector – most airlines will normally require a few years of business class experience or corporate attendant experience as the bare minimum.
So it is obviously an advantage to have experience as a commercial flight attendant before applying to make the change, this will give you a distinct advantage over those applicants who haven't.
Requirements
Depending on the airline, requirements can be quite specific.
Some airlines will only hire females with an excellent personal appearance or aged between the ages 25 to 35.
And, believe it or not, some other airlines will only recruit males.
A knowledge of foreign languages is another requirement that can land you the job.
Having staff who speak French, Hindi, Russian, or Mandarin can be a big advantage for private airlines that often have clients who speak only these languages.
Having experience working in a specific part of the world is also an advantage.
For example, some companies hire people who have experience working in the Middle East or in Asia.
The reasoning behind this is that they can then ensure that their flight attendants are aware of the customs and culture of the particular region of the world that they are operating their jets in.
The other most in-demand skills are:
Polished and professional appearance
Extraordinary customer-oriented mindset
Discretion, flexibility and  strong organizational skills
Good at task management, and problem-solving
Culinary and food experience in a high-end restaurant or something similar
If you have developed any of these skills in your previous jobs, you will automatically have a head start on other competitors.
Apart from this, as in any other job, there are the owner's preferences, especially if we are talking about a privately owned jet.
Let's face it, if you were lucky enough to own a private jet (I wish!) you would probably choose your staff based simply on your personal likes, wouldn't you?
Responsibilities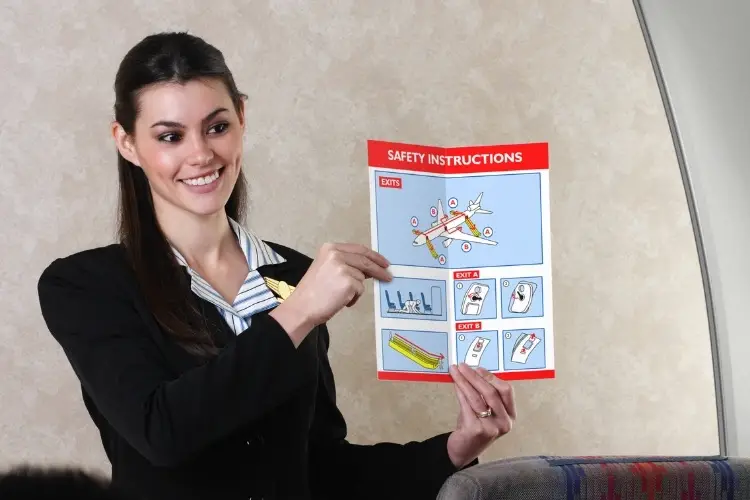 Responsibilities, as in a commercial airline, will include the safety and security of the aircraft and passengers.
And, of course, to look after the pilots and make sure that they have all they need to perform their duties;  meals, water, etc.
In addition to that, the flight attendant will also have to order the catering for the passengers and crew as well as prepare it and serve it.
The flight attendants on private jets have perhaps a bigger responsibility for the cleanliness, organization and standards of the interior than the staff on commercial airlines.
The overall appearance of the cabin is one of the main responsibilities of the stewardess/steward, it goes beyond what is required in the commercial sector.
They also have to launder the linen when needed, order flowers and amenities,  restock the aircraft so it doesn't run out of supplies and to purchase any other items that may be necessary.
Other tasks may include but are not limited to:
Coordinate and shop for interior items as per the client's request
Plan and print menus and weather cards
Provide games or entertainment appropriate to the age of the passengers
Manage expense accounts
Before the flight, clients will be given a form to fill in with their individual preferences, what they like and dislike, etc, to ensure that the service provided is as personalized as possible.
Attention to detail is the key when it comes to private aviation.
That's a lot to do and a lot to organize, but that's what makes the job so interesting and fascinating.
The job is not just to be a flight attendant, you will sometimes act as a personal assistant, chef, nanny or a secretary.
Especially when you work for sole private jet owners.
Training
Just like commercial flight attendants, corporate flight attendants also need to complete specific training.
Sometimes it will be optional, if you are intending to fly for a Middle East, Asian or European private airline, this may be the case.
And sometimes it will be required, as it is in the US.
In my case, I completed a private aviation training course with Corporateflighttraining.com before I got the job. Although I had business class experience, I wanted to get as much knowledge about the industry as possible and step into my new role with confidence. I realized only later that it wasn't really mandatory for the airline I work for in Dubai, but it definitely helped me to get the job!
In the US, you will have to find a good school in your area that offers General Emergency Safety training – that will need to be renewed every 2 years-, and First Aid and CPR/AED training. I can recommend you these 2: FlightSafety International or AircareFACTS.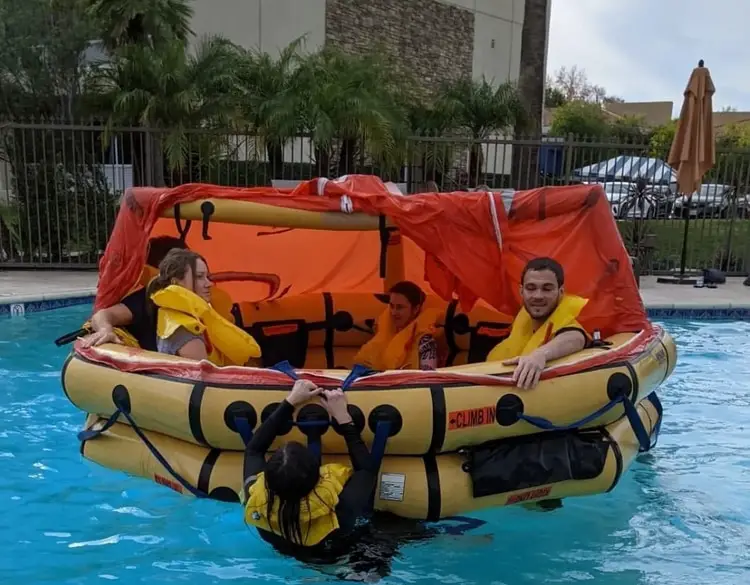 Freedom
Due to the nature of the job, private or business carriers require more flexibility from you.
Flights will often change time, date and even destination at the last minute.
Sometimes you will even be called to work with very short notice.
Imagine for example that you get called this morning for an urgent flight to New York. You have only 3 hours to spare and you need to order the catering and shop for whatever else you need for the customers and crew: water, chocolates, snacks, all the important little details according to the client's need, and on top of all that, pack your own suitcase.
Quite stressful.
Be aware that it's quite normal to have to change your daily plans in a second, even on your days off.
So you'll often miss family events unless you've previously requested holidays to attend them.
This is usually the case for a full-time corporate attendant hired by a company or private owner.
But there are also 'contract FA' in the US or 'freelance flight attendants' in Europe, and these Flight Attendants, instead of being employed by a company, deliver their services on a contract basis.
So they are able take trips when they want and basically work as much or little as they wish.
Schedule
Schedules for commercial aviation are released usually 10 days before the beginning of the next month and you'll get your flights for the whole of that period,  so you can more or less plan your private life in advance.
But corporate flight attendant's schedules vary from place to place.
There are some airlines that will offer a schedule on a rotation.
With a 'month ON, month OFF' schedule, for instance.
During your month ON you are expected to be either flying or on-call, meaning, reachable by phone and ready to get at the airport in 2 hours. This is called standby.
In your month OFF, you will be home and free.
Some other private carriers offer 15 days OFF and the rest of the days on call.
Which is unlike commercial aviation you get a fixed schedule with flights for a month period with little variation.
Aircrafts, Hotels and Destinations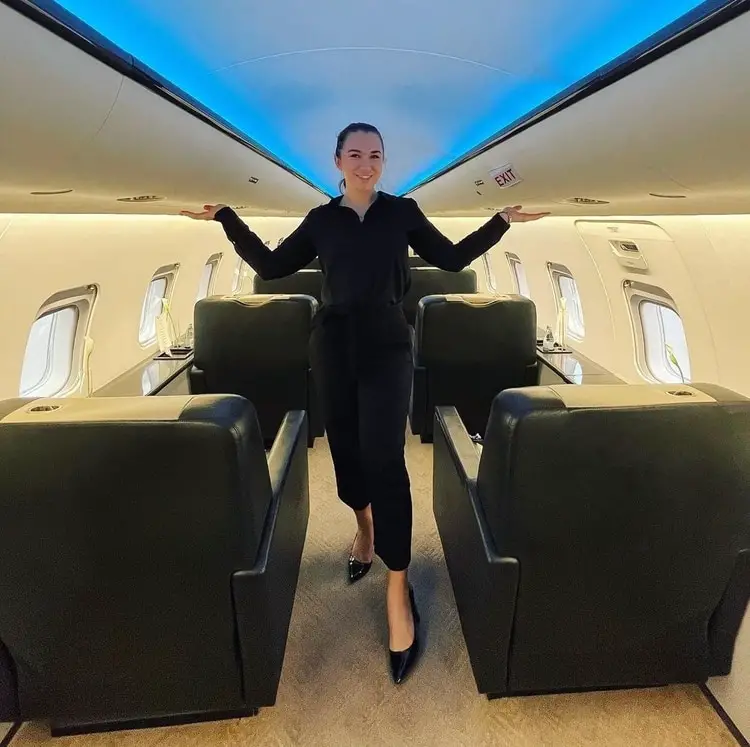 Private jets are usually smaller in size than those used for commercial operations.
Aircrafts like Gulfstreams and Global Express are used, which carry less than 20 passengers.
The size of these aircrafts makes the service much more personal and focused on the details.
There are some private airlines that use big aircraft like Airbus 330. But these planes have been modified to fulfill the needs of their owners and are like a house in the sky with bedrooms, showers even cinemas. One sole flight attendant can attend to all passengers in this circumstance. Which is a world away from commercial flights.
In a commercial airline, you find much bigger aircraft, a Boeing 777-900 with capacity for 340 passengers and 10 Flight Attendants, or even an Airbus A380, that carry 570 passengers and 21 cabin crew.
So obviously, on large planes such as these, there are many flight attendants catering to the passenger's needs and you are in the air with colleagues and friends, as opposed to being the only cabin crew member on a private jet.
Another great difference is that corporate flight attendants usually stay in luxury hotels! This isn't always the case in commercial aviation.
They also fly to a diversity of luxury destinations such as  Nice, Bali, Dubai or Maldives.
Salary
Another big difference between commercial and corporate cabin crew is the salary.
Because the service provided to the passengers and the responsibility and the flexibility that are required, salaries for flight attendants on private jets are higher.
The salary of a corporate flight attendant can be double that of a commercial flight attendant's.
For example, it could be from $35,000 to $45,000 per year for a commercial flight attendant, but from $45,000 to $80,000 for a private one.
Oh, and gifts and large tips are a welcome part of the package.
Commercial VS Corporate Flight Attendant: Who's the Winner?

Aviation is a complex and interesting world with not, as many people imagine, just one way of being a flight attendant.
You can find commercial airlines where the flight attendants have a stable schedule, and just need to show up at the airport at the report time to start working.
All the 'back room' work has already been done, the catering organization, the cleaning, the amenities, etc. The flight attendant just boards the plane and starts work.
With a private airline or on a private jet, the cabin crew are called at any time to fly anywhere in the world and are in charge of managing everything, from budgets to ordering the catering, the decorations, the ambiance, and every detail.
While both jobs are the same in many respects, that of a flight attendant on private planes has a higher demand in standards, personal skill and organization.
One is not better than the other, they are just different parts of the same wonderful world of aviation.
Similar Posts: