So you have decided to take the next step into your aviation career and you are thinking into transitioning into corporate flying?
Great decision!
Today my friend Maya M., a VIP flight attendant with 7 years experience in corporate aviation in Dubai, is going to give you her best tips on how to achieve your dream of moving into the fascinating world of private jets, exotic countries, and high expectations. If Maya could do it, why couldn't you?
All you need to do to take the first step out of your comfort zone is to know what first steps to make, which VIP training you need, how to improve your resume, and generally how to rise to the challenge.
Welcome aboard and let's find out how to do those things!
1) Do your research about the job
First things first.
Do some serious research about the job before you make your move.
You want to really understand what the job is about:
Learn about the duties and responsibilities, the skills and experience needed, and – importantly, very importantly – the employer's value.
Read between the lines of the postings and try to figure out if there are any clues in what they need that will give you an edge.
Check out private aviation companies and make a list of the companies that you are interested in working for and then research each one of them individually.
If you know anyone who is already in the industry, talk to them and ask for their advice and views.
Do as much as you can to gain knowledge information.
This will give you confidence and it can also help open doors when opportunities such as job openings actually arise, especially if they are not advertised.
2) Search for job openings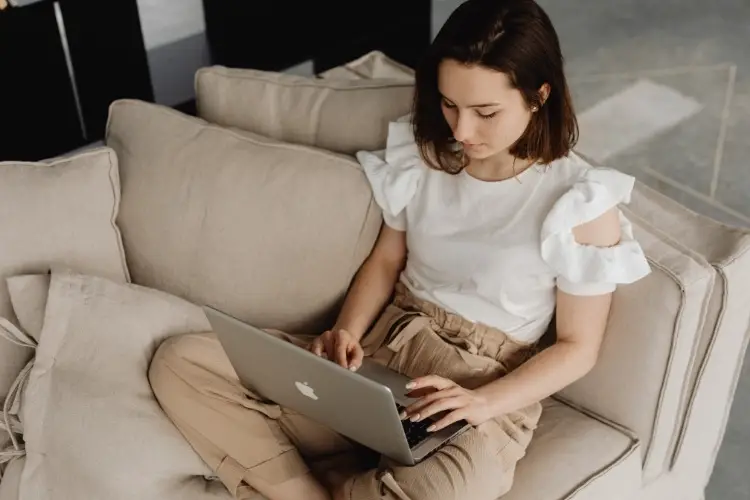 So how do I do this?
Simply go to Google, type in "corporate flight attendant job", or "VIP flight attendant job".
You'll also find many openings on LinkedIn, Indeed, or Glassdoor.
LinkedIn is also a good networking platform where you can participate in corporate aviation groups, upload your resume, and generally raise your profile within professional circles to help you be more visible to recruiters. You can even ask questions or talk to a recruiter directly.
There are also aviation staffing agencies like Aircare Crew Staffing or specialized aviation industries websites like Aviationjobsearch.com and Latestpilotjobs.com that can be very helpful.
Sign up to those websites for job alerts to get a notification email every time there is a new VIP flight attendant's position being advertised or talked about.
3) Study the requirements to be a corporate flight attendant
Job listings often include an introduction to the company and the requirements and qualities the employer is looking for in the ideal candidate.
Studying the job requirements can help you select what skills and experience to highlight in your resume and cover letter.
Here are the most common ones:
➡️ High School Diploma or equivalent, college (preferred)
➡️ Minimum of 2 years First Class / Business Class or VIP flying
It's not mandatory but if you have it, you are ahead of the queue.
When I decided I wanted to be a corporate flight attendant I was working for a low-cost airline with only economy class service. I realized I would have to take a middle step and work for a commercial carrier in first or business class to start with.
Years later I realized that this middle step was not essential. But anyway, I do recommend working in business and first-class before transitioning to the corporate world.
It's very helpful for the new job and to get hired and it makes the transition organic.
You face the job differently when you are experienced and not scared to face customers and situations.
➡️ Eligible passport and or visas
This is a no-brainer.
If you do not have a US passport or a valid authorization to work in the United States you will not get employed in the US.
The same applies to Europe and other parts of the world.
The visas are also a thing.
If the employer is looking to hire someone with a Russian or Chinese visa, this is non-negotiable in most cases.
One of the reasons for this is that if you are already a visa holder, the employer won't need to invest more time and money in providing you with one.
As I say, having these documents to hand is a no-brainer.
If you have them, make copies and keep them at the ready.
➡️ Good health and outstanding grooming
Good health and excellent grooming are essential.
It is common to undergo a medical check before getting employed in aviation.
Like any other customer service position, physical appearance is important because you will be facing the public or the owner's clients and friends.
➡️ Speaking and understanding a second language is beneficial
➡️ Other skills can usually be required
Attention to detail, excellent customer care, punctuality, interpersonal and social skills, problem-solving, task management, discretion, and flexibility.
4) Educate yourself
Many airlines require candidates with professional training certifications to ensure that they can perform the tasks on the job.
Not all of them have this requirement, but as a rule, it's preferable to have some sort of learning certification.
The question then is when is it mandatory to be certified to be a corporate Flight Attendant, or go through training before applying?
It depends.
Each country and company are different and have their own requirements.
In the US, the General Emergency Training Certification is required by the FAA if the crew member is to have safety-related duties. These courses cover FAR Part 135 – non-scheduled air charter carrier – and PART 91 – flights operated by individuals who use their own aircraft for personal use or business – and will provide you the knowledge and resources to efficiently manage any situation or emergency in the aircraft you will probably fly.
I recommend you to do the training in a reputable school in the US.
These 2 are the most renowned: flight safety international or AircareFACTS.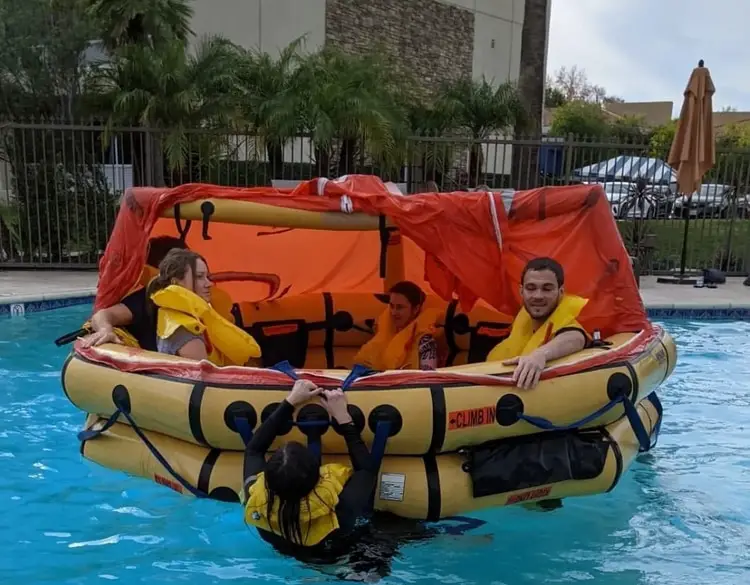 It is also necessary to obtain the Food Safety and Handling Certificate.
In other countries such as in Europe and the Middle East, if you are already a flight attendant with 2 years working experience in First class, and you are up to date with your Fire training and safety and emergency procedures, then that's enough to get hired.
You will usually be given training before commencing the actual work on board so that you can get familiar with the aircraft and the procedures.
This is also to make sure all the VIP flight attendants adhere to certain standards of safety and emergency standards, as well as those in security and service.
But, to maximize your chances of landing the job, you can also prepare yourself for the role by going over and above the minimum requirements.
In my case, before I got employed, I took a VIP flight attendant course with Corporateflighttraining in the UK.
The training gave me all the skills I needed in order to get a job in private aviation. I learnt about how to prepare my resume and covering letter, culinary skills, food preparation and presentation, paperwork, catering, protocol, silver service and all the other things important in gaining confidence as a VIP flight attendant.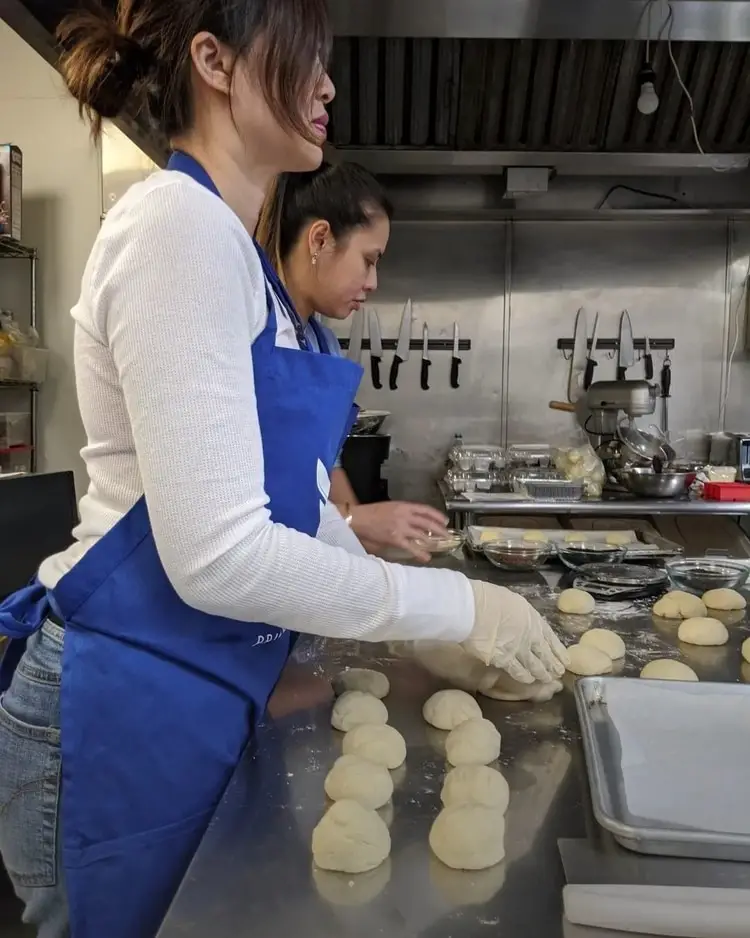 Other training that can be helpful are:
Inflight elite service: cooking classes, wine sommelier course, food plating classes, etiquette training.
You don't really need to know how to cook, but you do need to know how to make food presentable and inviting.
Or you can learn more about aircraft layouts, menus, catering, duties, and basically everything, by reading the book, "Want to be a VIP Flight Attendant" by Patricia Green. 
This guide will provide you with a good insight of what the corporate flight attendant's job looks like.
Remember: never stop educating yourself.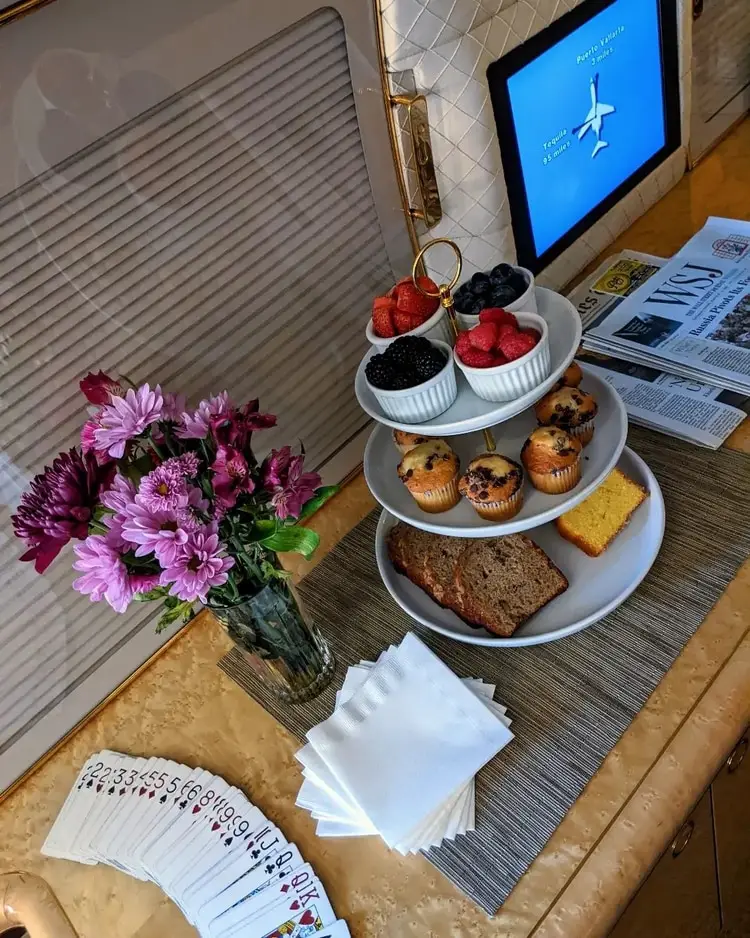 5) Polish up your resume and LinkedIn
Your resume will be the first thing the recruiter reads, so make sure it makes a positive impact and that it doesn't go unnoticed.
My recommendation is to use a CV professional template to make yours visually appealing.
It will also help you to organize all your relevant information and attract the attention of potential employers.
Here's the thing, most resumes look the same – deadly boring, old-fashioned, and with the same tired old format.
So if yours is modern, different and professional, it will stand out for sure.
But of course, you'll also need skimmable (remember these are busy people and they skim until they find something interesting or different to pull them into the details) and tailored content to really sell yourself.
It's important to create targeted resumes and cover letters that show at a glance that you've got the skills needed for the job.
Here's a guide on how to write your flight attendant resume.
It will serve as a starting point or base, you'll just need to personalize it with your own experience and qualities.
Remember to include all the must-have sections in a resume.
These are:
Contact details
Resume summary
Work experience
Education
Skills
And other additional sections that can be relevant are languages, courses or training, Certifications, Associations, Volunteer experience, scholarships, and international experiences (language exchange, academic year abroad, or internships abroad).
Remember, detailed, eye-catching, and skimmable.
Now, let's talk about the cover letter because if you really want to get that job, yours needs to be perfectly crafted.
The cover letter is a great opportunity to explain why you're such an amazing fit for the position or to tell your professional story in a more personal way than in the resume.
You could also cover such things as addressing a gap in your employment history or change in career path or showing that you've done your research.
Here's a format you could follow:
Introduce yourself in a professional but friendly manner.
Focus on your suitability for the job, explaining what differentiates you from the competition and how you fulfill all the requirements.
Cover your red flags: explain if you've been job hopping, why you want to change career, etc. Look for the flaws that the employer will be looking for and address them, don't leave them wondering and worrying.
Lastly, and very importantly, Thank the reader.
Here you'll find a detailed article on how to write a persuasive flight attendant cover letter, with an example cover letter to help inspire you.
6) Prepare and nail the interview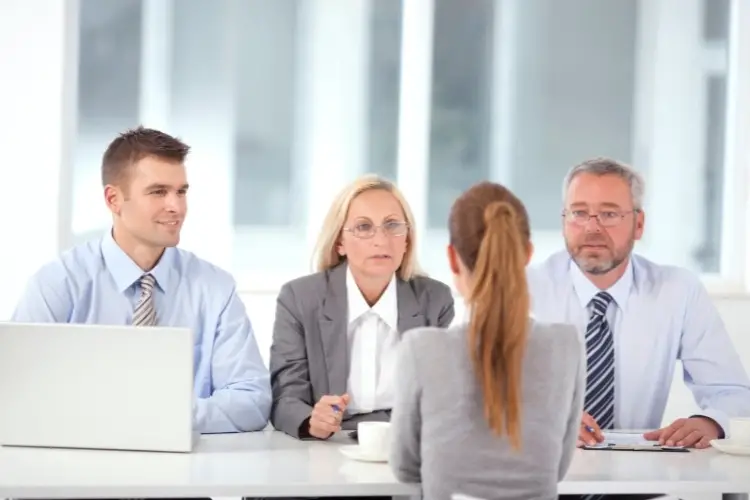 The last step is the interview:
Think about what you will wear, the perfect outfit is a key part of your presentation. You don't need to be overly trendy. But be immaculate and polished.
Prepare for the questions you will be and study your resume. Think about why you are the best person for the role, and what can make you stand out in the hiring process: motivation, your personality, your previous experience and prepare your best stories: when you gave excellent customer service when you overcame adversity, problems you have solved, teamwork situations you have led or been a contributing part of.
Practice your speech and body language: make eye contact, be attentive, and watch your tone of voice and the way you sit. A skilled interviewer will be paying as much attention to these things as to your verbal answers.
Listen and prepare good questions to ask the recruiter, it will show your interest and level of preparation, and you will find out some new insights. If there is anything that you are unsure of, you should definitely ask during the interview.
Now that you now know how to become a corporate flight attendant, including where to look for jobs and how to pass interviews, you just need to follow our tips. I'm sure recruiters will appreciate your effort. Good luck.
********
Thanks very much, Maya, that's very informative and important advice for anyone thinking about moving to the private aviation sector. If I can just back it up all by saying that there are three important things for getting a flight attendant's job, either in the commercial or corporate sector.
These are:
Preparation!
Preparation!
Preparation!!
Good luck with your change in career path!
Similar Posts: