Hundreds of thousands of candidates will submit their applications to Delta every year in order to become flight attendant.
Those very few candidates who pass every stage of the assessment process will then be asked to attend a six-week training at Delta's headquarters in Atlanta, Georgia.
The assessment process to become a flight attendant with Delta Airlines may take some time because there are several stages such as the online application, the video interview, the talent assessment, the live interview, and finally the face-to-face interview.
I am a flight attendant at Delta Airlines and I went through all these stages. I will explain in detail how the process works exactly.
Delta Requirements for Flight Attendants
High school degree or GED
Ability to work in the U.S.
Speak English fluently
Be at least 21 years of age
Must be fully vaccinated before training
Be willing to fly both international and domestic routes
Be flexible (Delta flights operate day and night, year-round).
Optional Requirements (to be ahead of the competition):
Fluency in English and one of the following languages: Dutch, French, German, Greek, Italian, Czech, Danish, Japanese and Hebrew.
At least one year of work experience in personalized customer service, patient care or similar role.
Experience in a role ensuring the safety and/or care of others.
Source: Delta News Hub
Stages of the Delta Assessment Process
1) Online application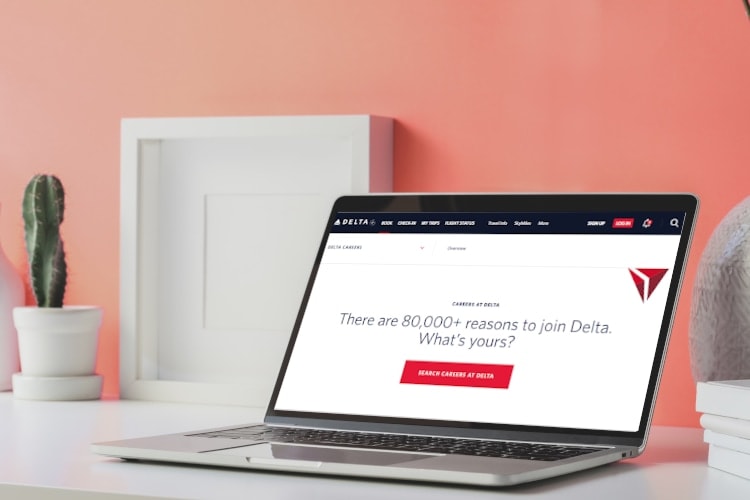 This is your very first step on becoming a flight attendant for Delta Airlines so you want to ensure that you make a great impression.
On Delta Career website, you'll be asked some basic questions pertaining to personal information.
Currently, Delta does not ask you to submit a resume or cover letter at this point of the application.
Instead, you will answer questions such as the following:
Are you willing to relocate?
Are you willing to work on shifting schedules? On holidays? On weekends?
If selected, you will have an opportunity to tell Delta more about yourself, your education, and your professional history in the video interview.
2) Pre-recorded Video Interview
Delta uses a video interviewing software called Hirevue to conduct their video interviews.
You will be asked about 5 different questions total and for each question, you will need to answer within a certain amount of time.
You will then submit your recorded response and move on to the next question.
Fortunately, you will be able to record each question as much as you like until you are happy with submitting it.
Examples of questions that you may be asked for your pre-recorded video interview:
Tell me about your customer service experience.
What are your core values?
Tell us when you had to deal with a challenging or difficult situation.
MY TIPS:
In order to be successful during your video interview, it's important to set yourself up for success.
Ensure that you are in a quiet place where you will not be interrupted as you record.
Have a nice background that is also not distracting.
Wear a professional suit and have your hair and makeup done naturally but professional still.
For ladies, a nice red lipstick will make a positive statement.
Smile and always answer the questions in the STAR format.
The STAR format consists of telling a story to answer that includes the Situation, the Task, the Action taken, and the Result.
Finally, pay attention to everything!
Read the questions 3 times, use keywords from the job description in your answers, and be yourself.
Remember to check your email each day (including the spam folder) for any updates from Delta!
3) Talent Assessment: TA
After completing the video interview, you will be invited to complete a talent assessment which is also completed online.
There will be a series of multiple-choice questions that determine your workplace strengths and weaknesses.
Do not overthink this talent assessment!
Delta is not looking for cookie-cutter perfect candidates.
Give each question a moment of thought, answer, and then move on to the next question.
Depending on the answers you give, Delta will be able to weigh your strengths as they pertain to what exactly Delta is looking for in their candidates.
4) Live Interview: LI
The live interview is done virtually by interacting with a Delta representative on a video call in real-time.
The video call is done through a platform similar to Skype, Facetime, or the Teams app.
The call will last approximately 25 min.
You should set up the live interview in a similar manner to the video interview.
Again, ensure you are in a quiet place, have a nice background, stable Wi-Fi connection, and be sure you are dressed for success!
And, be sure to answer each question in the STAR format.
Examples of questions that you may be asked in your video interview:
Tell us a time when you had to deal with a challenging situation.
Describe a stressful situation and how you handled it.
Describe a time when you were able to convince someone to see things your way at work.
5) Face-to-Face Interview
The final interview phase is the face-to-face interview held in Atlanta, Georgia.
Delta will fly you to Atlanta in the early morning and you back home that evening.
The F2F is your final chance to make a positive impression before you are offered a contingent job offer.
Dress for success again and remember that the Delta employees are always watching, even on your flight to Atlanta!
You will report to Delta headquarters for a group interview and meet with several human resources employees, flight attendants, and other leadership.
There will be several parts to the face-to-face interview and it may last a couple of hours.
While the F2F interview changes every year, you can expect to meet with anywhere from 30-50 other candidates.
There will be time to socialize and meet the Delta employees present, there is a question and answer session, a one-on-one interview with a flight attendant, a reach test and a jump seat test, and finally a group activity.
When you have time, try to socialize with each employee present.
During the group activity, demonstrate that you are able to work well in a team setting, are creative, a good listener, and can take the lead at times.
Interview Questions
While each phase of the face-to-face is important, the one-on-one interview is your time to shine individually.
Be prepared to answer questions in the STAR format again.
You may even have similar questions to the ones you answered virtually so be sure your answers match or give new examples.
Examples of interview questions:
Why Delta?
Tell me about yourself.
Tell me about a time when you had to deal with a difficult customer.
If you had a coworker that was not doing their assigned job how will you handle it?
Tell me about a time you delivered excellent customer service.
Tell me why you would be a great Flight Attendant.
From the video that we sent you, what did you find interesting, concerning, or exciting about the life of a flight attendant?
What will you do if you do not get the base of your choice? How are you prepared to deal with that
How to Ace the Delta Flight Attendant Interview?
You need to be prepared.
Duh!
Do everything you can to set yourself up for success.
Research Delta and learn about their history, their current economic state, their core values, or any recent and exciting news that they have announced.

The more you know about Delta, the more impressive and prepared you will sound.
Second, dress the part!
Google images of a Delta flight attendant and mimic their appearance standards for your video interview, live interview, and face-to-face interview.
Wear a professional suit with closed-toed black heels. Have your hair and makeup done naturally and professionally.
Finally, understand and learn the STAR format when you answer questions.
You can find dozens of common STAR format questions online that will allow you to practice and come up with several examples.
Be confident with your answers and always remember to smile and show your true personality.
What to Wear for a Delta Flight Attendant Interview?
Delta has a very strict and professional dress code for their flight attendants.
While Delta allows flight attendants to wear several different uniform options, ladies and gentlemen must still have their hair, shoes, makeup, nails, and other appearance styles in compliance.
Applicants should keep this in mind during their video interview and absolutely during their face-to-face interview.
For women, wear closed-toed black heels with no designs, a plain and professional suit, and a nice appropriate blouse.
For men, wear a professional suit with a tie and dress shirt. Hair and makeup should also be professional.
If you look your best, then you will absolutely feel your best and ace the Delta interview!
On the same topic: How to Dress For Your Flight Attendant Interview
How Long Does the Delta Assessment Process Take?
Since there are several stages to the Delta assessment process, it may take a minimum of 4 months to go through the process but for some, it may take 8 months.
It really depends on several factors such as the number of applicants, the amount of flight attendants needed at the time, the economy, and of course your individual performance.
If you are applying for a language of destination position, meaning you speak a second language, there are additional steps such as an online language assessment and a language test upon being offered a contingent job offer.
There are several stages to the Delta assessment process which makes it one of the longest hiring processes in the airline industry.
Below are two timeline samples of what the interview process with Delta may look like:
Timeline Example 1: NON-LOD (English speakers online)
Resume and application submission 8/25
Hirevue video interview invite 8/28 and completed 9/4
Talent Assessment invite 9/5 and completed 9/5
Live interview invite 9/19 and completed 9/28
Face-to-face invite 10/17 and completed 11/17
Timeline Example 2: Language of Destination (LOD)
Resume and application submission 7/30
Hirevue video interview invite 8/04 and completed 8/05 (some questions are in the second language)
Talent Assessment invite 9/6 and completed 9/6
Live interview invite 9/18 and completed 9/29
Face-to-face completed 10/30
Delta Flight Attendants Bases
Delta Airlines has 14 bases in the United States, including:
Atlanta
Boston
Cincinnati
Detroit
Fort Lauderdale/Miami
Honolulu
Los Angeles
Orlando
Minneapolis
New York
Portland
Seattle
San Francisco
Salt Lake City
Wrap Up
If you're interested in becoming a flight attendant for Delta Airlines and you're ready to put in the effort, here are some quick tips: network, tailor your resume to the position, and prepare for your interview.
And if you have any questions or comments, drop them in the comments below.
Good luck!
Similar Posts: