As many of you know, I have been working as an international flight attendant for the last 11 years and it's a career I'm very passionate and enthusiastic about.
That's why I created this blog, to help prospective flight attendants and current cabin crew to get their dream job.
Today I'm going to be talking about your resume, the beginning of and a vital part of, the cabin crew application process.
You don't necessarily need previous experience in aviation, but writing and presenting a good resume will give you a better chance of being invited for an interview with an airline, while a sloppy and careless one will mean that you will get no further in the process.
That's the harsh reality.
So, being aware of that,  let's look at my tips to make your CV stand out from the crowd.
ATS system (Applicant Tracking System)
Believe or not, recruiters don't read CVs anymore.
Most airlines use a software program called ATS.
This Applicant Tracking System, scans and filters resumes without any human involvement at all.
And because it does that, it saves recruiters time and effort, which, for an airline receiving thousands of applications every week,  is very important.
All airline companies are looking for specific qualities when recruiting new cabin crew and they program these ATS  robots to immediately detect the skills that match the company's values.
So if you are looking to become cabin crew, you need to make sure you include these specific qualities in your resume or application.
Nobody will call you to tell you that your resume was just too long, too wordy or to ask you for more details, your CV must stand on its own two feet.
So you need to make sure that it is effective, easily scannable, impactful, and free of errors.
You only get one shot to get past the filter of the ATS system.
So how do I write a good resume that is ATS friendly?
I don't have all the answers or a perfect format, so I'll tell you what has always worked for me wherever I applied.
Personalize and include keywords specific to the airline
The ATS system has been programmed to identify those keywords throughout your CV.
So you should make sure that you include these keywords in your description of your skills and achievements.
This will show that you are a 'culture fit' and that you are the right candidate for the position.
Those people whose CVs contain the skill sets, key experiences, and attitudes that reflect the company's corporate values, will be the ones to get selected.
If your CV is often not selected after applying online, then you should consider that the reason is that your CV not being optimized for the airline that you are applying to.
Basically, you need to ask the question – is my CV ATS friendly.
So it's important to take your time to look at the company's job description, analyze how they describe the roles being sought, and also to take a good look at the company's core values.
What you are doing is trying to get an idea of how they see themselves.
After you have taken your time and have been thorough doing that, then it's time to personalize your CV accordingly, using all the important keywords and phrases that you have noted.
Just a heads up here:  don't ignore phrases, modern keyword software is leaning more and more toward contextual searching.
Use an eye-catching and professional template
Templates are designed to help you with your format and layout and they really do make a difference for those who are computer novices or who need help creating a CV.
With no previous experience, it can really be a plus.
Most of us can do a really good job using a template, but if you find it difficult to see yourself objectively and to market yourself effectively, then it would be a smart idea to hire a resume specialist.
Here are 3 templates I custom made myself for cabin crew and that you can buy :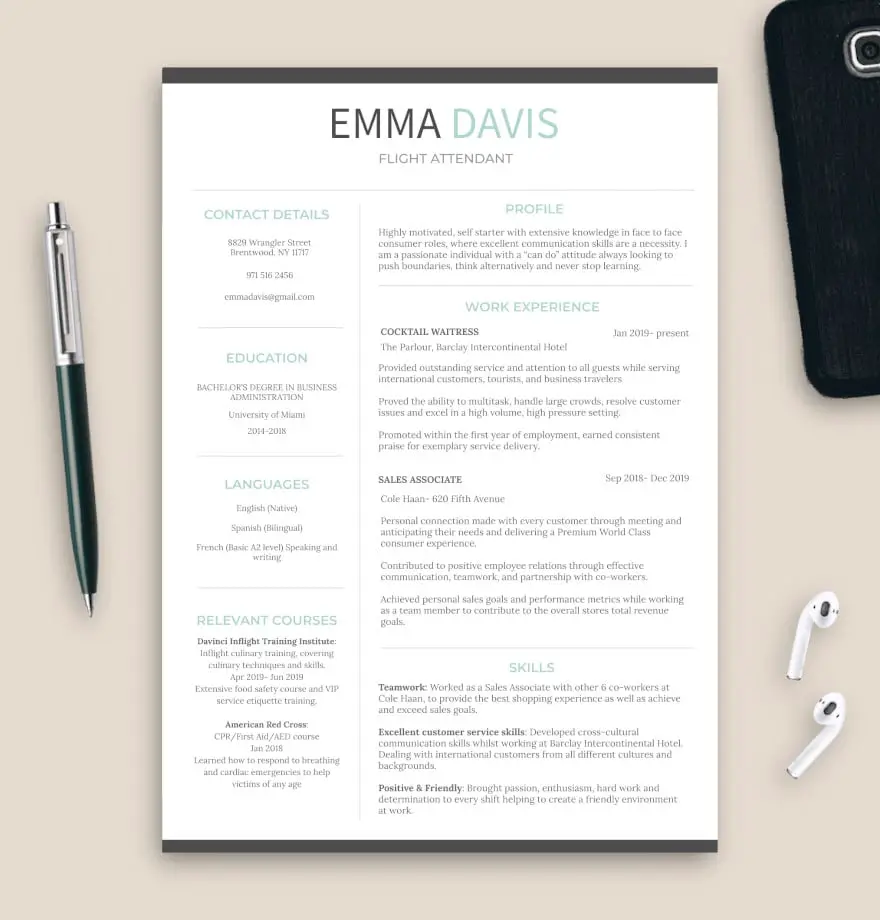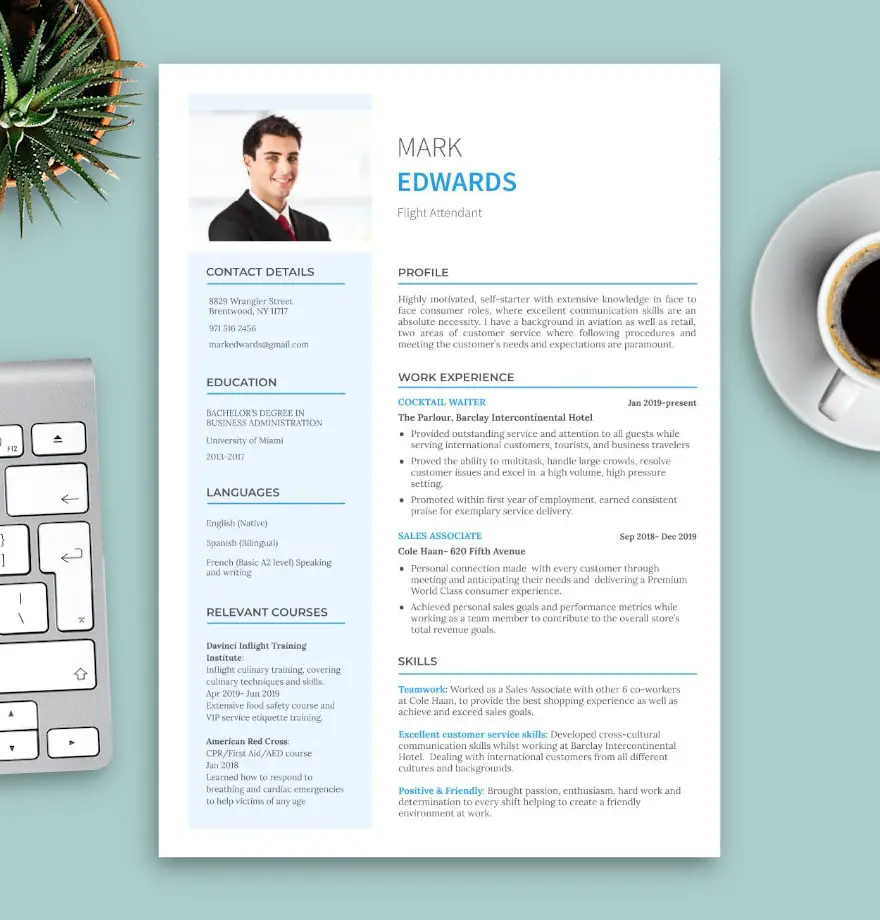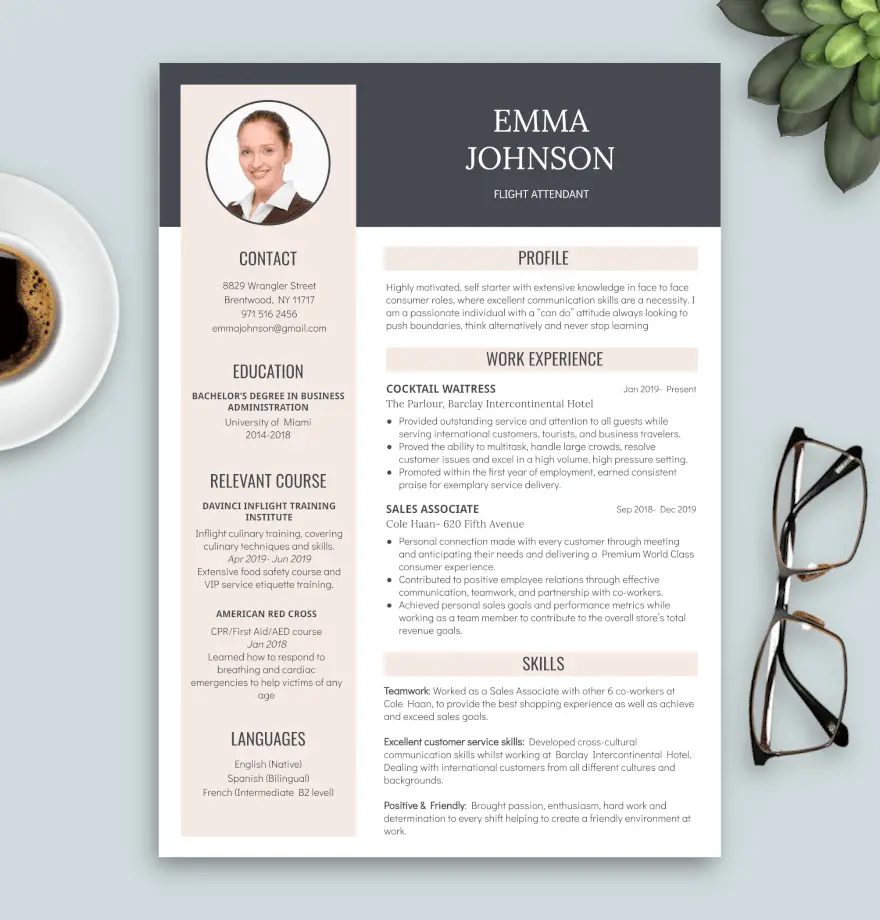 Top skills to include in your flight attendant resume
As we've seen, most recruiters and Applicant Tracking System are scanning resumes to see if you are a good fit for the company so that they can select the most suitable candidates in the shortest time possible.
That is why it is important to make sure your CV contains all the skills that match what the employers are seeking.
I can't stress this enough.
Tip: never use one resume for all the airlines
It's very important to use the right keywords for each airline.
In short, you need to personalize your application for each company.
If you're not prepared to do this, then there is little point in writing a CV at all.
Here is a summary of the qualities to highlight in your cabin crew application:
Customer service skills
Adaptable and flexible
Teamwork
Interpersonal skills
Friendly and positive
Ability to work under pressure
Good at problem-solving
Empathetic
Professional and responsible
Should I include a photo in my cabin crew CV?
This is a controversial one, especially in our industry.
It depends on the country you are applying for as well as the type of company.
In the US, Canada, and Australia:
Most recruiters prefer that resumes do not include a photo. This is to protect them from allegations of discrimination (race, age, weight, etc.). So do not add your photo to your resume unless you have been specifically asked to do so.
In most of the European countries (except the UK, Ireland and The Netherlands):
A photo is usually expected. This can be a way for the recruiters to remember you and see if you look suitable for the role.
While it might feel unnatural for some foreigners who are seeking to work in Europe to do this, there is no reason not to include your photo in your application. The same with your personal details such as age or height.
I don't mean it's mandatory in all the European countries, it's different in each country, you won't be automatically dismissed for not having a photo but it is very common here. Especially for this type of job. But it's your choice, it's absolutely optional,  but, in my opinion, you get more callbacks when adding a photo to your application.
In Asia, South America and Middle East airlines:
It's also generally required,  and they will ask for a full-length photograph. Below is a sample from QATAR airlines.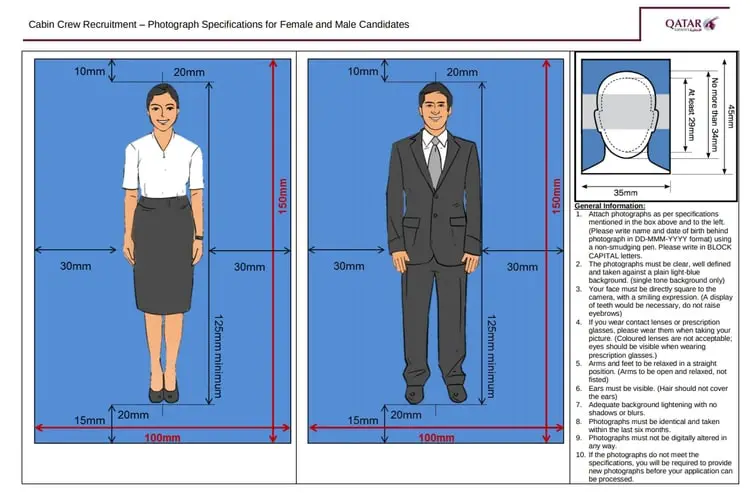 Corporate aviation companies and small private airlines:
These types of airlines will probably also ask you to submit a passport photo and a full-body photo along with your CV. Working for this type of company is all about image, presentation, and etiquette. So polish up your overall image and provide your best professionally taken photo to give yourself a chance.
What kind of photo?
If do you choose to add a photo, it's very important to use a professional passport photo, taken against a white or light-colored, neutral background.
And please try to look like a flight attendant: wear business attire, tie your hair back in a nice bun or ponytail, wear heels and full makeup and wear a smile.
Always remember that the airlines are looking for a conservative look and that trendy is not what they are after.
Don't crop any photos taken at your uncle's wedding,  this just screams lack of professionalism to the recruiters.
If you don't have a suitable picture, get someone to take one for you or hire a professional photographer.
But if you do hire one of these, remember to make sure that this is not a portrait photo with a soft lens focus and moody pouting, it's a picture designed to convey graphic information about who you are.
Be professional from the very beginning, and it follows that you will be professional in all the rest.
Which is exactly what the airlines are looking for.
What is the best style, font, and size for my resume?
Font
Perhaps you have never thought about this before, but it's vital to make your resume clear and easy to read.
So classic fonts are always the best options:
Times New Roman (maybe it's been overused, but it's still a safe option)
Arial
Cambria
Helvetica
Garamond
Don't pick anything like: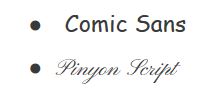 Don't try to be original with many font styles or go crazy with underlining, capitalizing and using bold or italics, that is a resume crying out to be thrown into the rubbish bin.
Just make sure that yours is readable.
You can make your section head a bit bigger to stand out, add bullet points to be concise and organized and use a maximum of two fonts, but that's pretty much it.
If you want to innovate, do it with the design of your CV, never the content.
Size
The perfect font size is between 10 to 12 points, but feel free to increase it to 14 if the font is difficult or too small to read.
Style / Design
The style should be simple, clear and elegant.
But remember that the market is competitive and saturated, so forget about the classic and boring Microsoft Word resume.
Old hat, been there, done that.
Choose a template or create a design that complements the content of your CV.
But remember that being conservative doesn't mean being bland.
By all means, add color, just make sure that it in keeping with everything that you are trying to achieve.
When choosing your design, ask yourself one simple question. Does it add or take away from that I am trying to say?
What information must a cabin crew CV include?
Ensure your resume is structured appropriately and contains the following information:
Contact details
Name; address; telephone numbers and email address.
My tips:
Never use funny or weird names for your email address, make sure the email address looks professional.
It should start with your name e.g. [email protected].
If you don't have an email with your name, set one up.
It's easy to do and is good to have for many other uses. It's a simple marketing tool for always having your name pop up and kept in the forefront.
Whilst it is not mandatory to include it, many other airlines will require you to include your date of birth, height, nationality, etc.
They have set criteria for selecting candidates and their process wouldn't be complete or valid if they weren't adhered to.
Age
Height
Weight
Nationality
Career Summary
A few sentences describing your professional work history e.g. I am an enthusiastic and loyal customer service representative with over 5 experiences in the hospitality industry.
My thoughts:
A career summary replaces the outdated objective statement.
Recruiters don't want to read about how much the candidate wants the job, that they already know that.
You are selling yourself, so make sure that the buyer gets to the relevant information as quickly as possible.
This is especially necessary for airline companies who are swamped with applications and queries every week.
Education
Details and dates of your education, training and/or study achievements.
My thoughts:
This where you sell your ability to learn.
Start from the most recent to the oldest.
There's no need to include your secondary/high school (unless that's your highest education Certificate).
You can also add additional courses and achievements that can be relevant for this job, such as cabin crew training, nursing school, survival skills course.
If you like, you could put these in a separate section. If you do, I would recommend doing this immediately after the Education section.
Example:
2001-2005 University of Miami
Bachelor's Degree in Business Administration
2000 Red Cross (Washington)
First Aid CPR Certification course
Employment History
Starting from your most recent position.
My thoughts:
This is where you sell your experience.
Duties: A few bullet points describing the duties you performed in that  role
For example:
Provided advice when booking domestic and/or international flights (e.g. seating options)
Provided general information to passengers, such as directions and flight information
Handled delayed baggage issues, ensuring a written report was completed
Emphasize everything related to customer service, tourism, languages or volunteering abroad if you don't have any aviation-related experience.
This is important.
Cabin crew provides the ultimate customer experience available on the planet, so the company badly wants to know what skills or experience you have in this area.
If you have it, flaunt it.
Keep it short and the same format for every job held.
Two, three or four responsibilities listed are enough.
Work history example #1 for those without  flight attendant experience
Cocktail waitress
(Jun 2009- Dec 2011)
The Parlour, Barclay Intercontinental Hotel
Provided outstanding service and attention to all guests while serving international customers, tourists, and business travelers
Proved the ability to multitask, handle large crowds, resolve customer issues and excel within a high-volume, high-pressure setting.
Consistently achieved high sales averages by up-selling orders and suggesting add-ons and meal extras.
Promoted within the first year of employment, earned consistent praise for exemplary service delivery
Analysis:
In the job experience sample above, you can see that I'm matching the qualities developed in the bartender's job to the ones expected for the flight attendant position:
Outstanding customer service to all types of international customers, ability to multitask and tolerate pressure, good problem-solving skills, professionalism, good seller.
I'm giving them the whole package.
And being promoted within the first year of employment demonstrates a reward for my competence and reliability.
You need to make sure you explain the job/s you've had before so that the recruiters understand that it is a valuable experience for your future cabin crew job.
Look, being a bank teller sounds like a world away from being a flight attendant, but think of the skills the two careers have in common and highlight those.
Dealing with a lot of different people on a daily basis, great communication and problem-solving skills, security training, rapid customer assessment, all of these things can be put down on your CV as selling points.
Again, think of what the airline wants and show them that you have that what they are looking to fulfill that need.
Work history example #2 with previous flight attendant work experience
If you already have had work experience as a flight attendant, you can focus more on your aviation job history, and just list the other non-aviation related job experiences you had.
Don't forget to write down all the companies that you have worked for previously, where you were based, type of aircraft you were flying, dates and years of experience and a small description of your duties (3 or 4 maximum).
Example:
British Airways
(Sept 2015-Nov 2016)
Cabin crew mixed fleet-B747, B777, A319, A320, A321
London Heathrow base
Duties:
Ensured the safety and comfort of passengers
Performed pre-flight safety checks ensuring the safety equipment was accessible in the correct location and working properly
Worked in a team environment to solve problems as they arise
Managed medical and aircraft emergency situations
Delivered friendly, discreet, and professional service, and serve food or beverages with attention to a high-quality presentation and food safety standards
Some other duties you can mention are:
Note: Don't include all of them, it would be way too much. Just 2 or 3 will be great.
Assisted passengers with the boarding process paying attention to those with special needs
Provided superior cabin service on different aircrafts
Performed all work activities in accordance with established standards, policies, laws, and regulations, including Federal Aviation Administration regulations
Provided medical assistance when needed (you can mention you have a nursing course)
IMPORTANT:

Don't trust the content that you'll find in other non-aviation related websites or CV template websites. They know about CV's but they don't know about the in-depth requirements of a flight attendant's job.

Most people tend to think that it's about smiling, greeting the passengers, showing passengers to their seats, looking fabulous and not much else.

Wrong!

The first priority of cabin crew is the safety of the passengers and the 6 weeks training we have is intensively focused on that.

Of course, high-quality service and maintaining a professional image are something all airline companies want, but safety comes first.

So please don't go for a generic 'one size fits all' CV,  create your own content.
Skills
This section is uber important.
Here is where you include the essential keywords that are relevant to the job.
It's essential to help you score well, whether it goes through ATS (Applicant Tracking System) or the recruiters' eyes.
Here is a list with some of the top skills to highlight in your resume:
Ability to work in a team: This is one of the most important qualities needed in a flight attendant. Cabin crew members work as a team in absolutely everything, so you will have to show your recruiters that you can work well with different colleagues. Show them that you understand that you can not only help to provide a great flying experience for passengers but that you can work well in a team that may have to deal with emergency situations.
Ability to adapt: This is also a crucial skill for cabin crew. In this job, you will encounter flight delays, cancellations, last-minute schedule changes, base changes, changes in procedures, crew member changes and any number of combinations of the above. A  cabin crew member needs to be able to adapt to absolutely anything.
Responsible/Professional: Cabin crew are prepared for any emergency that may occur. But not only that, they are responsible for the customers' comfort and well-being and that you can do that in a responsible and professional way. Does your airline mention that in its application information? Could they be keywords to include in your CV?
Exceptional customer service: Without a doubt in this job, customer service is a top priority (after safety, that is). As a flight attendant, you are dealing with your customers for an extended period of time.
In a shoe shop or hairdresser's, the customer leaves after a short time. In aviation, your customer can be with you for up to 14 hours in a confined space. This means that complaints, mishaps and oddities will inevitably occur.  You need to be able to demonstrate that you are equipped to deal with pretty much anything in the way of customer service. Anything. Having some examples ready for your interview is always an excellent idea.
There are other skills to be sure to keyword into your CV list:
Ability to work under pressure
Empathetic
Problem-solving skills
Attention to detail
Good time management
Discretion
Positive and friendly
Pick the ones that fit you and the airline best, and don't forget to give examples.
Hobbies, Interests, Achievements
You can also add another section with your hobbies and interests or achievements.
It's not really necessary and if you choose to do so, avoid mentioning silly or problematic things such as partying and make sure that whatever you put down brings something to your resume.
For example, you could mention that you have lived overseas, or that you love traveling, volunteering, learning languages. These are the sort of things that demonstrate commitment, learning ability, and extra skills.
Like I said, just put down the serious stuff, forget stamp collecting or quilt making…
Languages
If you speak more than one language, make sure to include it in your resume, it can increase your chances of being hired as a flight attendant.
Mention all the languages you know and don't forget to include your native language.
Try to specify if you can speak and write in that language and if you have any certificate or study details to prove it.
On the same topic: English for Cabin Crew: How to Improve It and Pass Your Interview
Example:
Spanish: Native (written and spoken)
English: Fluent (written and spoken) – First Certificate in English
French: Basic (written and spoken) – CEFR A1 Certificate
References
You can mention two work references.
Do I need a cover letter?
No, you don't need to send a cover letter if the job application doesn't specifically request one.
If a company wants you to send you such a thing, they will ask for it.
If you do have to send one, it should be short and it should complement the information in your resume.
The goal is to express your interest in the company and the job and includes the strongest features that make you a perfect candidate.
If you are sending a cover letter via email, you don't need to send it as an attachment, it can just be the body of your email. And always re-read it before sending it, to exclude unnecessary information and to correct the mistakes.
If you need help with that, check out my article on how to write a flight attendant cover letter.
My final tips for writing the best cabin crew resume
Now that we covered what to include in your CV, I'll give you some tips before starting to write your CV:
Keep it short, just 1 page, and maximum of 2 pages. Remove unnecessary information and don't repeat any information.
Check your spelling and grammar, if your resume has errors, recruiters will quickly come to the conclusion that you are unprofessional and lack attention to detail.
Check your English! If your English is not strong enough, get it checked by a native speaker who also understands grammar, not just conversational English.
Never use the same resume for all the airlines. Your resume should be adapted to making sure that you highlight those duties and skills that are also mentioned in the company's job description.
Include as many ATS keywords (skills that are found in the job description) as you can throughout your resume: in the summary section, skills section, work history. Don't do what's called keyword stuffing, just make sure that they are there and are in context.
Double-check that your contact details are right before sending it off.  You don't want to lose a job opportunity simply because your telephone number or email was wrong
Be honest, don't make up something that you didn't do, or a claim a skill that you don't have. You will be found out, airlines are nothing, if not thorough.
Don't leave too many gaps in your history, it will lead the recruiter to think that there's something you are not telling them
Send your resume in Word (.doc or docx) or PDF format, if you are sending it online. Not all ATS systems can read HTML, and JPG formats. Plus they can be troublesome to open and might be displayed differently or messy when opened on a PC, Ipad or MAC.
Choose an appropriate and clear resume filename.  Use your name and family name: John-Harrison.doc You don't want your resume to end up lost in the pile.
Follow carefully the instructions given. If they ask you to send a passport picture and a cover letter with your CV don't send a cropped holiday picture and leave the cover letter blank with an emoticon. It shows zero interest or effort and will go no further.
Final word
Without experience, you can get that job.
Without a good CV, you can't.
Be thorough, look at your CV through the eyes of an airline's needs, remember to use keywords so that you can be spotted by the ATS and please, please, tailor each of your applications to each of the airlines that you approach.
Good luck!