Hi there!
As many of you know, I have been working as an international flight attendant for the last 11 years and it is something I am very passionate about. That's why I created this blog, to help prospective flight attendants, current cabin crew and those wanting to know more about flight attendant life.
So today I'm going to be talking about resumes.
Writing a good resume will lead you to your dream job, and that's why I want to give you some tips to make your resume stand out from the crowd.
Believe it or not, you only have 7 seconds to get the recruiter's attention and impress with your resume. Yes, recruiters don't read resumes anymore; they scan hundreds of resumes and job applications every day just like you do when you scroll through Google's search results every day. So you need to make sure that you are presenting a professional resume with an attractive and clear design that reflects your potential and keep it short, impactful, and simple at the same time.
It can be a difficult task, but you won't have a second chance to convince them before making a decision.
So how do you write a good resume?
I'll tell you what I did; I kind of went outside of the box a little – but it always worked for me, wherever I applied.
Use a fully customizable Resume Template.
Templates are designed to help you with the format and layout, and it really makes a difference, especially for those who are novice computer users or need help writing a resume.
Some people recommend hiring a resume specialist, but I don't think that's necessary. You can invest in recruiting someone, but this can turn out better or worse than expected. Plus, you'll have spent money and time for something that can be done easily by yourself.
I'm sure you can build yourself a great resume!
So where to start? Let's begin with the basics – some writing tips, step by step:
What's the best format for my resume?
Formatting is about structuring the information in your resume. So take care of this, if it's not neat and well organized it will look unprofessional.
Depending on your professional situation and your job history, you may choose between these 3 formats: chronological, functional, or hybrid.
There is no one best resume format, but depending on your case, some will work better than others.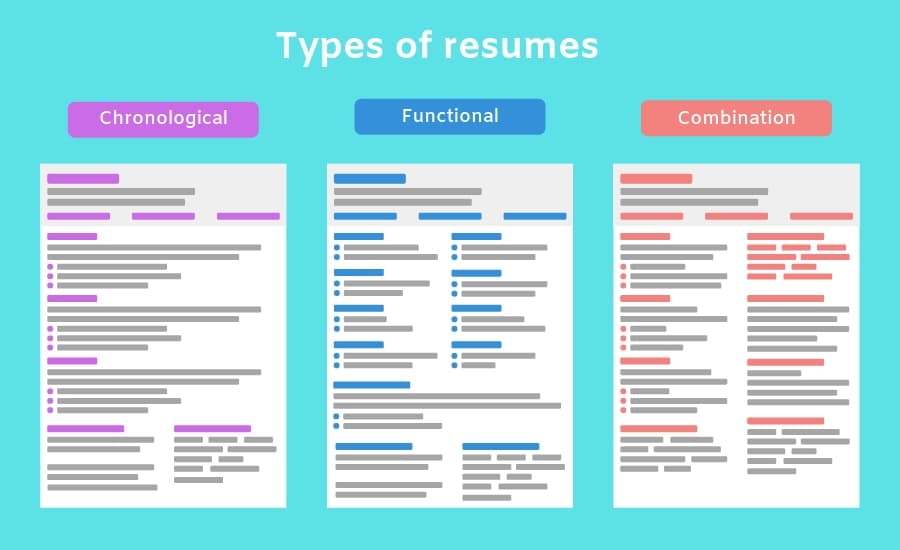 Chronological Resume
A chronological resume is usually the most popular style for most job seekers and recruiters.
In this type of resume, the candidate lists all of their previous roles from the most recent to the least recent. 
It's always a good option for all candidates, but you should use a chronological resume, especially if your career has a straightforward progression and you want to continue in that line.
Functional Resume
This format focuses on highlighting the candidate's skills and achievements in categories, rather than work experience.
It can be an interesting option for those who change their job very often or for those who have little or no experience or significant gaps in their job experience.
Combination (hybrid) Resume
A hybrid or combination resume combines the best characteristics of a chronological and functional resume, and it focuses on your skills while providing chronological work history to attract a recruiter's attention.
It's suitable for experienced applicants, especially those who are looking for a career change.
If you are unsure, then play it safe and just go with the chronological layout.
Should I include a photo in my cabin crew resume?
This is a controversial one, especially in our industry. It depends on the country you are applying for and the type of company.
It depends on the country you're applying for

In the US and Canada, most recruiters prefer resumes not to include a photo in order to protect them from allegations of discrimination (race, age, weight, etc.).
They will even reject your application if the resume has a profile photo, so don't add your photo to your CV (unless you have been asked for it).
But what's the take on that in Europe?
In most of European countries (except the UK, Ireland and The Netherlands) a photo is usually expected.
While it might feel unnatural for some foreigners seeking work in Europe, there is no reason not to include your photo, and the same applies to your personal details, like age or height.
I don't mean it's mandatory in all the European countries; it's different in each country, and you won't be automatically dismissed for not having a photo – but it's very common here.
But it's your choice. In my opinion, you get more callbacks when adding it – but it's absolutely optional.
For Asian, South American, and Middle Eastern airlines, it's generally recommended too, and they will even ask for a full-length photograph.
It depends on the type of company

As we said before, larger or national carriers in the US, Canada, and the UK do not accept CVs with photos, but there are some exceptions – corporate aviation companies and small private airlines.
These private airlines will probably ask you to submit a passport photo and a full-body photo along with your resume.
That's because, in these type of companies, it's all about image, presentation, and etiquette. So polish your overall image and add your best professional photo to get a chance.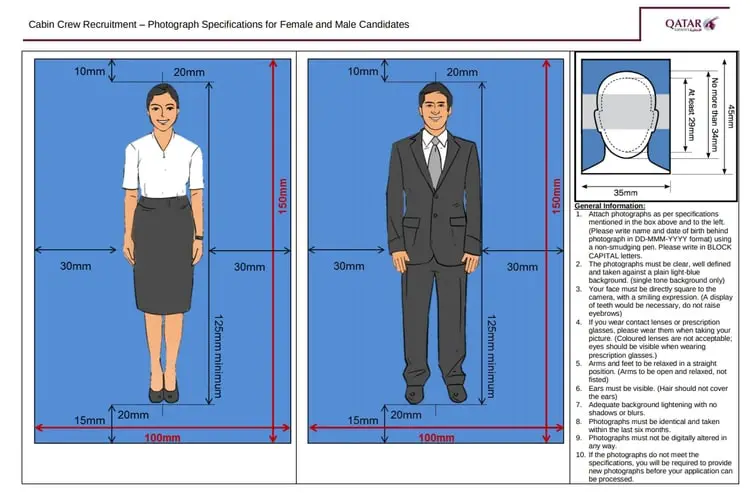 If you're still not sure.
If you are not sure about including or not your photo in your resumes, you can always consider other solutions:
You can include a link to your LinkedIn profile.
You can also include a QR code that connects with your Facebook or other personal pages. If you don't know how to do this, there are a lot of QR generator websites. Try this one: QR generator.
You can also choose to send a photo attached as a separate file rather than putting it on the resume. This is a discreet way to include it, and they can delete the file if they are not interested.
What photo to pick for your resume?
If you choose to add a photo, it's super important to use a professional passport photo, preferably with a white or light background.
Always use a PDF format, and make sure the file is not too large.
And if you are required to send a full-sized photo, dress professionally, in a suit or a skirt and a blazer, pay attention to your hair, and always keep a conservative look.
And please don't crop any photo you have at your uncle's wedding or put a picture at the beach. This is a big NO!
What's the best style, font, and size for your resume?
Maybe you never thought about this before, but it's vital to make your resume clear and easy to read.
So classic fonts are the best options:
Times New Roman

(maybe it's been overused, but it's still a safe option)

Arial

Cambria

Helvetica

Garamond
Don't pick anything like: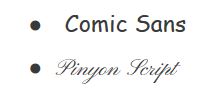 Don't try to be original with many font styles or go crazy underlining, capitalizing, and using bold or italics.
Just make sure it's readable.
You can make your head section a bit bigger to stand out, add bullet points to be concise and organized, and use a maximum of two fonts – not more. If you want to innovate, please do it with the design.
The perfect font size is between 10 to 12, but feel free to increase it to 14 if the font is difficult to read.
The style should be simple, clear and elegant, but you should bear in mind that the market is competitive and saturated, so forget about the classic Microsoft Word templates and spruce up your boring resume in black and white.
Consider a resume template
Don't be afraid to add a bit of color; it can help you stand out more and reflect your personal brand at the same time.
You can see many resume samples here and, believe me; they can really help and be efficient as they are expertly designed to highlight your top skills and accomplishments.
My pick #1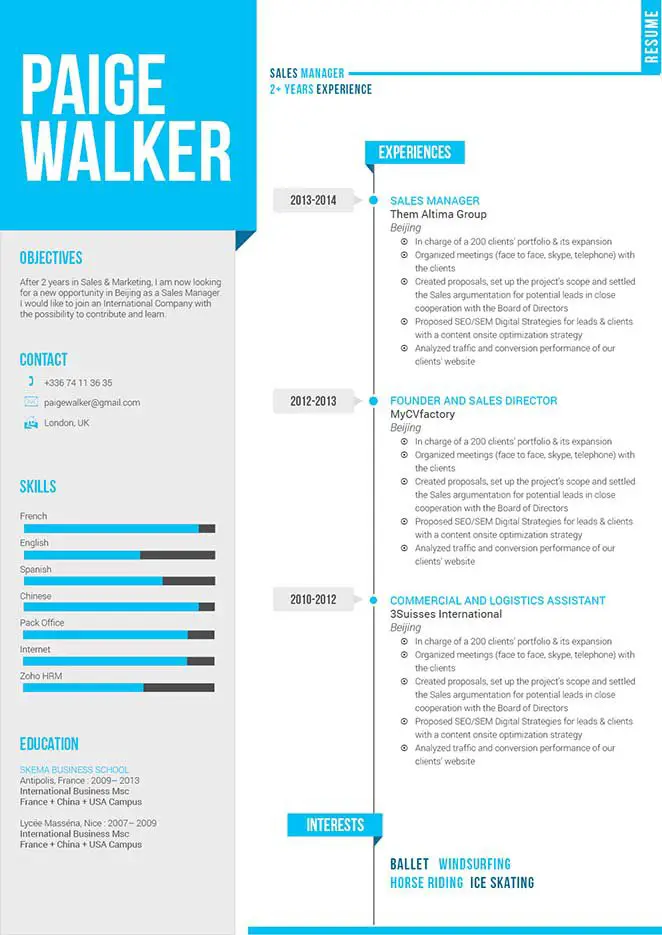 It's blue, grey and white and you can get this for $15.
It's 100% editable, it's compatible with PC and Mac, and you have a wide selection.
This resume perfectly presents all your past work experience in a clean and attractive timeline format.
The sidebar panel shows all your basic information, your contacts, and of course your skills for the job!
This layout is applicable to any job type, and employers will be able to look at your past job experiences with ease quickly, and your skills are excellently shown on the side.
At the bottom of the sidebar, you can add your educational background to emphasize your qualifications for the job.
Besides, you don't have to be a techie person to modify yourself your resume.
Check it out:
As you can see, it's very easy to modify.
My pick #2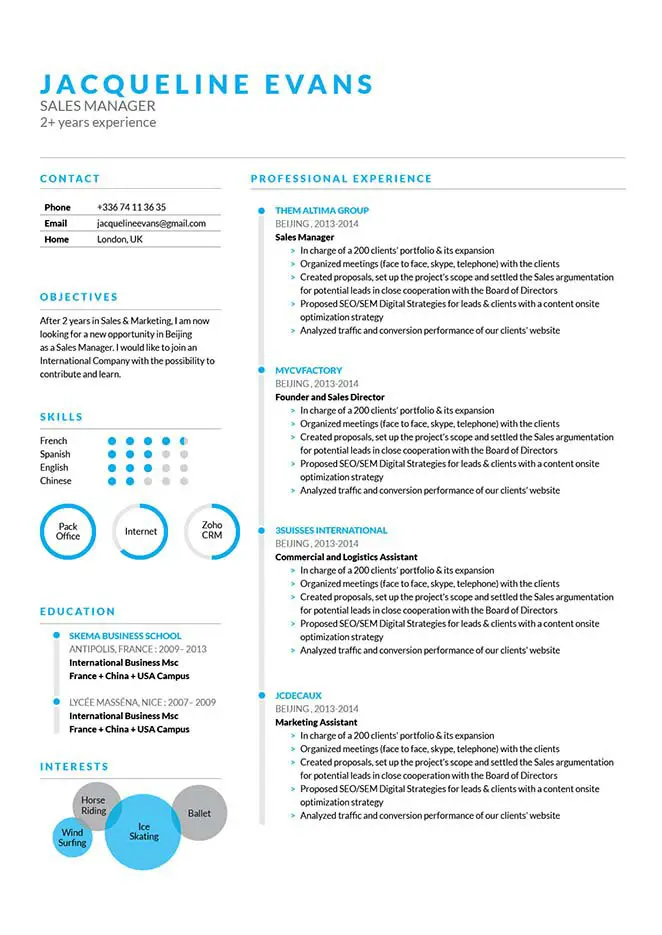 This template is a safe choice – it's also blue, grey, and white, and it's a perfect way to highlight your professional experience and skills.
It follows a chronological resume format that's applicable for almost everyone, but especially applicants with solid work history because it focuses in detail on each job.
What information must a cabin crew resume include?
Personal details
Name
Contact information: address, telephone, email (never use funny or weird names in the email address)
Country of residency
And if it's necessary:
Nationality
Age
Height
Weight
Professional experience
Emphasize everything related to customer service, tourism, languages, internships, or volunteering abroad if you don't have any aviation-related experience.
Remember: anything customer service-related can be relevant for the cabin crew job, even being a waitress. So don't forget to include it.
In the experience section, you should include the companies you've worked for, the dates, a job title, and a job description.
Keep it short and the same format for every job. 2,3 or 4 responsibilities is enough.
Example:
Goldcar Rent-a-car
(Sept 2014 – Apr 2016)
Rent-a-car Agent
Ensure excellent customer service experience in all customer contact situations
Advise customers according to their needs
Handle multiple phone lines to make reservations, answer questions and give quotes
Prepare the rental agreements and other administrative paperwork.
If you have already had work experience as a cabin crew, you can focus more on your aviation job history, and skip or list the other non-aviation related job experiences you've had.
Write down all the companies that you worked for previously, where you were based, the type of aircraft you were flying, the dates and years of experience and a small description of your duties (3 or 4 maximum).
Example:
British Airways (Sept 2015 – Nov 2016)
Cabin crew mixed fleet – B747, B777, A319, A320, A321
London Heathrow base.  Some of my duties were:
Ensure the safety and comfort of passengers and verify that they follow the safety procedures
Deliver friendly, discreet and professional service, and serve food or beverages with attention to a high-quality presentation
Comply with safety regulations and procedures as specified in the Code of Federal Aviation Administration and company regulations and procedures
Spanish interpreter when flying to Spanish-speaking countries
Don't copy the content that most general resume websites are putting as an example for a flight attendant resume. They are probably experts in the HR industry but not in the aviation industry and they don't know what to highlight in a flight attendant resume.
There is a big misconception when it comes to the job of a cabin crew. Most people tend to think that this job is about smiling, showing passengers to their seats, and touching up your make-up throughout the flight to look fabulous.
But the priority of a cabin crew is the safety of the passengers, and the majority of the training we have is intensively focused on that.
Of course, high quality of service is something every company wants, but safety comes first.
So please, I beg you, don't copy-paste standard cabin crew CV content.
Some of the duties you can mention are:
Perform pre-flight safety checks, ensuring the safety equipment is accessible in the correct location and working properly;
Assist passengers with the boarding process, paying attention to those with special needs;
Provide superior cabin service on different flights;
Perform all work activities in accordance with established standards, policies, laws, and regulations, including Federal Aviation Administration regulations;
Provide medical assistance if needed (you can mention you have a nursing course).
If you are thinking of applying for a corporate flight attendant job, it's a quite different job compared to a commercial flight attendant one.
So you'll need to write a different resume, paying attention to the following:
Send the two photos (head and full body in business attire). It's the standard – these companies want to hire good-looking corporate flight attendants.
Write your age, height, and weight. Sorry, but this is reality.
Mention if you have worked for any business or VIP-class company, even if it's not an airline. It can be in a luxury hotel or as a private yacht steward. Believe me; you will be preferred because you have experience already with the etiquette and service required.
It's also advised to list all the training certificates related to a corporate flight attendant.
Mention the types of aircraft you have been flying before – you might be selected because you are familiar with the type of aircraft already.
Also important is to describe the duties you had in your previous jobs, paying attention to those that are related to providing a 5-star service experience – always highlight your customer service skills.
Commercial cabin crew responsibilities are centered on safety, but corporate flight attendants take care of ordering and preparing all the amenities and food for an exquisite experience.
Do not forget to mention the languages, as you will be the only cabin crew most of the time – the more languages you can speak, the better.
You can mention all the visas you have – it can be useful if you already have the Chinese visa, the Indian visa, and the Russian visa.
And most important of all, describe your strengths and the reasons why they should hire you.
Education
Start from the most recent to the oldest, and there's no need to include your secondary or primary school.
You can also add additional courses and achievements that can be relevant for this job, such as cabin crew training, nursing school, survival skills courses…
Example:
2001 – 2005 University of Girona
Bachelor in Business Administration
2000 Red Cross (Washington)
First Aid & CPR Certification course
 Skills and abilities
You should include five skills or abilities that are always necessary to be a successful cabin crew.
Excellent communication skills: Don't just make a list, prove it. If you have had previous experiences working in an international environment, point it out.
Ability to work in a team: This is one of the most important qualities in a flight attendant. Cabin crew members work as a team for absolutely everything, so you will have to develop this skill in your training program and work with your colleagues to provide a fantastic flight experience for the passengers and be prepared to interact in emergencies.
Adaptability: This is also a crucial skill for a flight attendant.
In this job, you will encounter flight delays and cancellations, you can have irregular schedules, or you can have a big plan for the weekend and you may have changes in your schedule at the very last minute and might have to be ready to fly in an hour to the other side of the world.
You will encounter situations where you may have only 20 minutes to complete your ground duties, and you will not have the time to do your job properly.
Or even worse, they can transfer you to another location if they need to and you'll have to move to that place even if you don't want to.
Responsible: Cabin crew members ensure passenger safety by adhering to the Federal Aviation Administration and the company regulations.
They are prepared for any emergency that could occur, and they are responsible for everybody's safety, the flight on-time performance, the customers' satisfaction, and comfort.
It's a serious job.
Exceptional customer service: Without a doubt, in this job customer service is a top priority.
As a flight attendant, you are dealing with passenger needs and complaints every day, and you need to be able to handle any of these situations to be able to guarantee customer satisfaction.
Think of an example to give because you will probably be asked in the interview.
Other essential skills are the ability to work under pressure, empathy, problem-solving skills, attention to detail, good time management, discretion, languages, etc. Pick the ones that fit you best and don't forget to give examples.
If you also want to add another section with your hobbies and interests, obviously avoid mentioning things such as partying and drinking, and make sure they bring something to your resume.
For example, traveling, sightseeing, volunteering with elderly people, learning languages.
Languages
If you speak more than one language as a flight attendant, you can increase your chances of being hired.
So mention all the languages you know and your native language. Try to specify if you can speak and write in the language – and if you have any language certificate or studies, you can also add it.
Example:
Spanish: Native (written and spoken)
English: Fluent (written and spoken) – First Certificate in English
French: Basic (written and spoken) – CEFR A1 Certificate
References
Finish up by saying that references are available upon request, in case they need them for the interview.
Do I need a cover letter?
Usually not, but sometimes it can be requested.
This should be short and addressed to the hiring manager of the company.
A cover letter should complement the information in your resume, express your interest in the company and the job, and include your strongest features that make you a perfect candidate.
If you need help with that, check out my article on how to write a flight attendant cover letter.
If you are sending a cover letter via email, you don't need to send it as an attachment – it can just be the body of your email.
And always read it before sending it, to exclude unnecessary information and correct any mistakes.
My final tips for writing the best Flight Attendant resume
Now that we covered what to include in your resume, I'll give you some tips before starting to write your resume:
Keep it short, a maximum of two pages. Remove all the unnecessary information. Avoid putting Curriculum Vitae at the top of the page and don't repeat any information;
Check your spelling and grammar – if your resume has errors, recruiters will read between the lines that you are unprofessional and you lack attention to detail; Also check that all your information is correct. You don't want to lose a job opportunity because your telephone or contact details were wrong;
Don't forget to re-read your resume and cover letter just before sending them. You can also ask someone else to read it and get opinions.
Be honest, don't lie. You shouldn't put anything that you can't back up. something you didn't do – You'll get caught and it will only land you in trouble.
Do some research to know exactly what the company is looking for and base the content of your resume on that. Read the job description and highlight your relevant strengths according to the job offer.
Tailor your resume according to your research and your profile, and remember to keep it updated; Don't send a generic resume to all job ads and don't copy-paste other people's resumes.
Don't leave many gaps in your career; gaps are a red flag to employers and they might disregard your application straight away. So the most important thing to remember when dealing with a gap in your resume is to explain those gaps. You can do it in your cover letter or in your career history on your resume. But don't let anything open to interpretation.
Send your resume in PDF format if you are sending it online. Other formats like Word, Pages, JPEG can be troublesome and might be displayed differently or appear messy when opened on a PC, and iPad or Mac.
If you are about to write your flight attendant resume, I sincerely hope this post was helpful. If you have any doubts or questions, you can comment down below.
Best of luck!