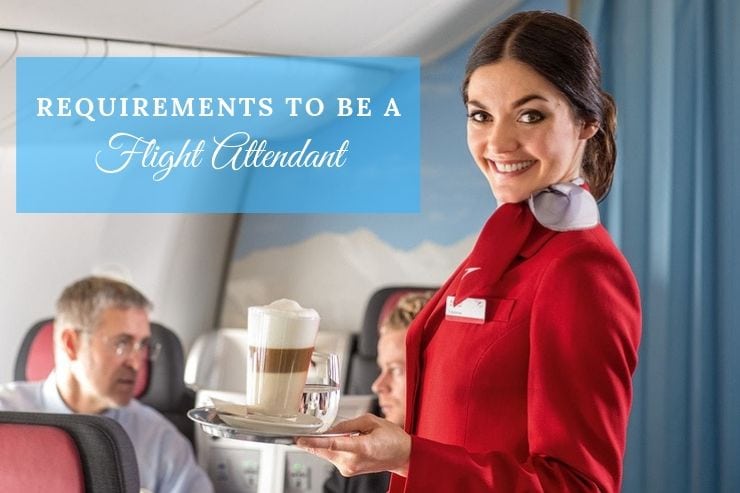 People often ask me about this when they find out I'm a flight attendant.
Being a flight attendant sounds glamorous and exciting: getting to travel far, meeting a lot of interesting people, working a few hours a day and getting well paid… Everybody wants to know more about how to become a flight attendant.
But the truth is that these stereotypes that we hear about flight attendants are mostly wrong.
We work an average of 10-12 hours a day sometimes, plus the hours we spend to commute to our base.
We normally get to the destination, sleep, and head back on the next flight in the morning.
We don't need to be super-hot and pretty models to be hired, and we don't have to quit when we grow older.
It's funny how stereotyped this job still is nowadays.
So if you want to know the truth about what airlines really want, I'll explain what  I know.
I've been a flight attendant for 12 years now, and even though the requirements vary between airlines and countries, there are some common ones that you'll need to meet to work as a flight attendant.
1) Nationality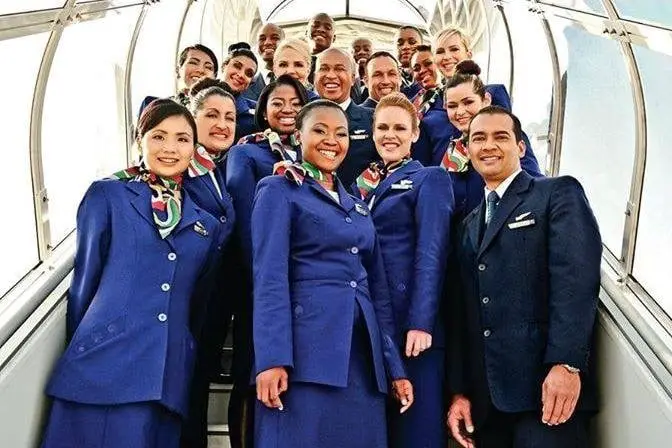 To work in any European airline you will need an EU passport or to be a citizen of an EU country and have no restrictions in your passport.
Most airlines will NOT provide visa sponsorships for flight attendants, and they will not even consider your application unless you can prove that you have the working permit in the country where they are based.
So if you are wondering if you can get a flight attendant job in a European airline as an American or vice versa, the answer is yes, regardless of nationality, it is possible. But you will need to be a legal resident in that country.
If you have an EU passport, generally you don't need a work permit to work anywhere in the EU. In fact, in almost all of the European airlines there are a lot of people working from all different nationalities, but especially from other European countries.
It's one of the jobs that has one of the most multicultural and diverse environments that you can find. In my company in Spain, I have colleagues and friends from Romania, France, Italy, Russia, Portugal, Switzerland, The Netherlands, Colombia, Brazil, etc. and I love it. I feel so lucky to work in this multilingual environment.
As far as I know, only a few private jet companies and the Middle East airlines will arrange a work visa for you, so if this is what you want, it may be worthwhile to try.
2) Age
All airlines have a minimum age requirement – normally for European airlines, it's 18 years old. But it can be 20 or 21 for some US airlines.
The maximum age limit to become a flight attendant is never usually mentioned, since it would be work discrimination based on age.
Most of the US airlines and a few EU airlines are very accepting of whatever age. But still today we see cases of age discrimination in the airline industry. Some companies hire only exclusively young women flight attendants.
Unfortunately still in many other cases, especially in Middle East airlines they do have a maximum age limit, even if it's not written anywhere. It's very unlikely you will join these airlines after you are 33-35 years of age, especially if you have no previous experience in this job.
From these airlines' point of view, an employee in their "twenties" can focus more on their career since they will have no family responsibilities. They will always be more flexible, complain less and better represent the company's public image.
Because of this, in the Middle East, companies like Emirates, Qatar, Etihad or Gulf Air normally hire people between 21 and 32 years of age and sometimes they even have specific requirements in regards to marital status, requiring the applicants to be single.
But don't worry, you can still try – I have 2 friends that joined Emirates at 33 years old so it is possible.
The same thing happens in Asian companies like Singapore Airlines, Korean Air, Air Asia or China Eastern – the maximum age is around 27-28 years. 
Oh God, I feel so old!
In Europe, as I said, the maximum age limit depends on each airline. In British Airways or Easyjet, there is no age limit and they even hire people over 50 years old. Also, Finnair, KLM, and all the American and Australian companies hire candidates of all ages.
I know, it seems like a joke – we are used to thinking that such things don't happen anymore in our time, but I will give you an example of what Qatar Airways Chief Executive, Akbar Al Bake, said at a business conference:
"By the way, the average age of my cabin crew is only 26 years, so there is no need for you to travel on these crap American carriers. You know you are always being served by grandmothers at American carriers."
Needless to say, after this, he had to apologize and wrote a letter to the AFA (Association of Flight Attendants), a union group of more than 50000 flight attendants from over 20 American airlines.
We should stop age discrimination against flight attendants!
3) Minimum height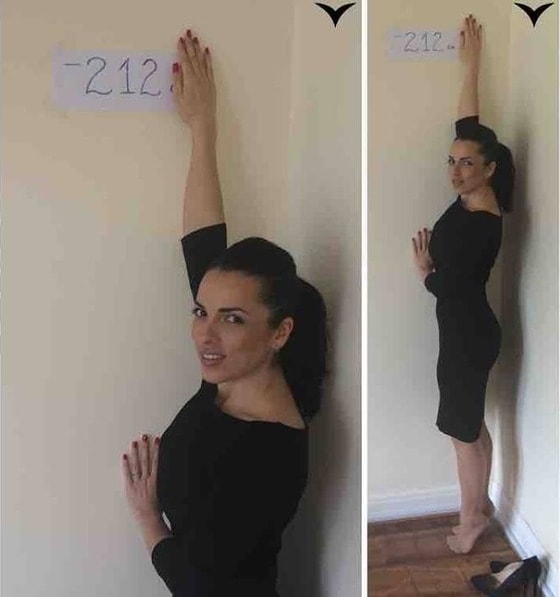 What is the height requirement to be cabin crew?
The height requirement is established by each company – you'll normally find this information on their application websites.
It depends on the airline, but it varies in general between 5 feet 2 inches (158cm) and 6 feet 1 inch (185cm)
The reason for the minimum height requirement is because a flight attendant must be able to reach the safety equipment placed in the overhead compartments in order to carry out emergency procedures.
So it's mainly for safety reasons, but also to help passengers during boarding to find space or make some space for their luggage.
The maximum height is not a problem, being tall is usually an advantage, but some airlines don't want their cabin crew too tall either(less than 6 feet 1 inch or 185cm) because their planes are smaller and they have less headroom.
I will give you some examples:
British Airways: from 5'2 (157.5cm) to 6'1 (185cm)
Aer Lingus: from 5'2 to 6'2
Iberia: minimum 164 cm women; 175cm men
Lufthansa: 158 cm
Swiss Air: 158 cm
Emirates: minimum height of 160cm+arm reach of 212cm
Oman airlines: 157 cm
Singapore Airlines: 158cm females; 165cm males
Air Asia: 157cm females; 173cm males
Philippines airlines: 5'3″ females; 5'6″ males
Mesa Airlines: 4'11"-6′
PSA: Minimum 5'2″
To check that the height you mentioned on your resume corresponds to your true height, they will ask you to remove your shoes and they will measure your height.
This is usually the first thing they do on the assessment day if you don't pass they will just send you home straight away and they are quite strict about this. It can be disheartening I know.
It's not fair but if it's only one or two centimeters you can reapply after a few months or try another airline that has no height requirement.
Some airlines don't have a minimum height requirement and they will not measure you. They will just ask you to do an arm-reach test. So again, you'll need to take off your shoes, and then raise your arm to maximum and while on tiptoes to reach a certain height.
This is also an elimination round, so you can try at home first.
Examples of arm reach tests:
In Etihad: Able to reach 212 cm without shoes.
In Jetblue: Able to reach 6'3" without shoes.
In Cathay Pacific: Able to reach 208 cm without shoes.
More about this topic: How Tall Do I Need to Be to Become a Flight Attendant?
Is it possible to be a flight attendant if you are short?
If you are worried because you are too short, or your height is below the height requirement, don't panic, you can still try if you are one or two centimeters below.
You may be rejected by some airlines, but try different airlines, sometimes if they don't have enough applicants they will waive their height requirement.
Or if they are in need of someone who speaks German because they are opening a base in Germany and you are fluent in this language, you will probably be hired anyway.
You can also apply to airlines that are asking only for the arm reach instead for a certain height.
Just keep trying, you'll get there eventually!
4) Education, languages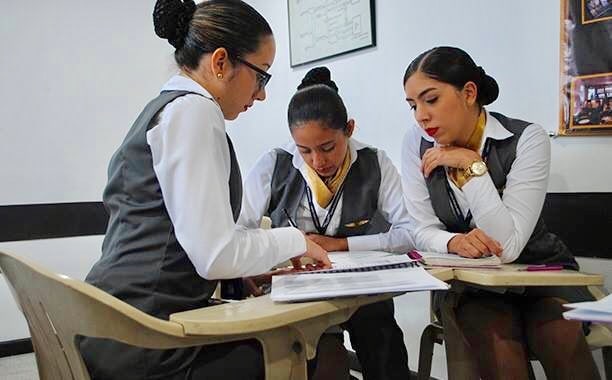 In most of the airlines, you need to have completed secondary education or High School.
Although it's better if you have higher education, most of my colleagues studied for a Bachelor's Degree in Tourism, English Philology or Translation.
But if you don't have a College or University education, don't worry; only some Asian airlines or private aviation companies ask for a university degree.
In terms of languages, English is fundamental in any airline in the world.
You'll need a high level both in speaking and writing.
And depending on the airline you will also need a second language. In Europe, for example, they normally require you to speak the language from where the airline is, and English. For example Air France will ask for French and English minimum; KLM, Dutch and English; Iberia, Spanish and English.
And of course if you speak a third language this will be highly valued.
Can I apply for a cabin crew job if I can't speak English?
Well, you don't need to speak English like a native but you'll have to use English almost every day at work and study many things in English for the training.
So it's better if you are fluent.
Also, remember that your English will be tested on the day of the interview. So it's always better to get your English polished up before you apply.
Go to some language exchange meetups, take some conversation classes, travel abroad to English-speaking countries, in the end, it all adds up.
5) Swimming skills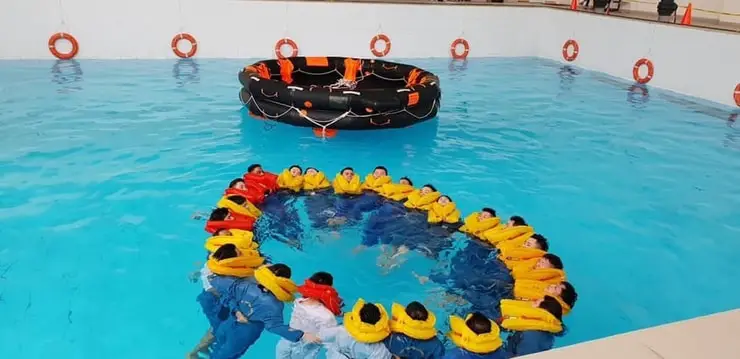 During the cabin crew licensing training course, you will have to pass a swimming test and show that you can swim. In Spain, for example, you must be able to swim 50 meters in less than 2 minutes and 30 seconds to pass.
In other countries, it's enough to be able to swim 50 meters unaided across a pool about 2 meters deep, with no timing – but in this case, the test is normally not done wearing a swimming suit; it's done in full clothing to simulate a plane-ditching situation.
In my airline, for example, they make you wear work overalls that are normally huge to do the swim test, so it gets really hard and tiring to swim. But in my previous airline, you could wear any kind of clothing. You could choose to wear shorts and a T-shirt. So, of course, it made it much easier.
Each airline will have different exercises, so if you ask me what the swimming tests are like in the training, I can only tell you from my experience.
First, you swim 50 meters.
You put your lifejacket on, jump in the water, inflate it and swim another 25 meters.
Drag someone from one end of the pool to the other with both of you wearing the lifejacket.
Tread water for about 1 to 2 minutes without the lifejacket.
Jump into the water, swim to the middle of the pool, climb the raft and help others to get into the raft.
8 meters of underwater swim.
And that's basically all.
I'm not a confident swimmer, can I still be cabin crew?
If you do not know how to swim or if you are not very confident in the water, that's okay; there is no need to be an amazing lifeguard, but maybe take swimming classes.
Or just go to the pool, practice and get confident, because the training program will have for sure a swimming test where you will have to prove your swimming skills.
In these videos, you can see some examples of the training that is done.
BAA Training: ditching and water survival
KLM training in water
And don't get too nervous – your classmates will be in your same position and people who are confident will help you, everyone is in it together and will be supportive. Don't worry.
6) Health requirements
Once you have passed the cabin crew training course, you will have to successfully pass an aeronautical medical examination. In Europe, for example, you need to pass the EASA class 2 aeromedical examination in order to allow you to fly. 
The tests are carried out by an aeromedical doctor and all-new cabin crew is required to take an initial medical exam that will be repeated every 5 years (up to the age of 40) or 2 years (between 40 and 50 years old).
Also if you have a medical condition or if you come back from a long illness then you may need to take this test again.
But don't worry, if you don't have any serious illness it's easy to pass.
What does a class 2 medical exam consist of?
Your medical history: questions about previous illness.
Weight and height: Weight should be proportionate to height.
Urine test: to detect drugs or diabetes. Remember that it is totally prohibited to consume drugs, and if during your career as a flight attendant they detect drugs in your test you will lose your job immediately.
Blood test: checking for abnormalities such as anemia, cholesterol or epilepsy.
Blood pressure: to detect hypertension.
Electrocardiogram: to test your heart rate and detect arrhythmias or heart disorders.
Hearing and sight test: if you wear glasses or lenses don't forget to take them. You will be OK with astigmatism not exceeding 2 dioptres and hypermetropia or myopia not exceeding 5 dioptres. Also, color vision testing is usually carried out using the Ishihara test.
Spirometry (in the initial test only): to detect abnormalities in the lung or respiratory function (asthma).
How much is the aeromedical test?
Some airlines will pay for this if you are hired. But if you need to pay it yourself, it can vary a lot – it depends on the medical center, the country, and province and if it's an initial examination or extension.
It can go from €150 an extension to €280 for an initial.
More or less, I've covered all the requirements that I can think of.
Now I will leave below some examples of flight attendant job ads to give you a better idea of what the airlines are looking for :
What are the weirdest demands made by some airlines?
Many airlines also require that your weight and height are in proportion.
But what does this mean?
The best way to determine this is by using the BMI (Body Mass Indicator) formula. This ratio of weight to height will estimate that people who are at an appropriate weight in relation to their height are between 18 and 25. Over 25 is considered overweight and over 30 is considered obese.
But some companies decide to calculate the ideal weight with their own BMI charts.
Ana is one of my colleagues, that was rejected in TAP Airlines for being overweight. They even asked her if she could lose some weight. It's unbelievable! She is 1,63cm(5.34ft) and 57kg(125lbs)!But they didn't even let her pass the first stage of the interview because of this. Ana told me this really dented her confidence, she felt super discouraged. She had to pay for her flight to Lisbon to attend the interview because she is living in London and they told her she was fat and didn't even interview her. At least they could put another excuse, and talk to her to see if she was fitting what they were looking for. So now you know, if you are applying to TAP, watch your weight!
In Aigle Azur, a French Airline, they determined that the ideal hip size for a cabin crew should not be above 100cm or 39 inches. And anyone above that was out of the selecting process.
In Air Nostrum, a Spanish regional company, they used to make all the applicants try the uniform skirt in the assessment day in a size EU40 – the biggest size (8 in USA or 12 in the UK) – and if it didn't fit, you were not eligible.
In China Southern Airlines they specify in their job ad that the legs of the candidates have to be straight or normally aligned, not bow-legged or knock-kneed. So just beautiful legs in this airline.
In Iberia, the main Spanish airline, they were requesting a pregnancy test by all the female applicants as part of their application process, until they got fined by the authorities.
In other airlines, especially in the Middle East and Asia, they only want single flight attendants and those without children; this is the case of Gulf Air or private airline companies of the UAE. In other cases, they only hire women flight attendants, like in the case of Go Air.
Incredible, right? The truth is that flight attendants are still suffering discrimination in many ways.
And even though it's not written anywhere, all the airlines, in the end, do what they want and hire who they want.
So let's see if we evolve in the future – after all, we are in the 21st century …
Other requirements to keep in mind
There are other most common requirements that I didn't mention here but you can also find:
Criminal record check certificate: If you're in the United Kingdom you will also be required to provide a 5-year checkable background. You'll have to give details about your employment and education history in the last 5 years without gaps.
Flexible in geographical relocation
Customer service experience
No tattoos, piercings, extreme hair colors, or hairstyles
I know what you are thinking – it seems more difficult than getting into NASA! But it's not, you just need to be a bit lucky and find out all about the recruitment process in the airline you want to work for and prepare yourself.
It's a long process – I'm not going to lie. It will probably take you a couple of months, and the training will be hard and intense sometimes, but you will meet a lot of lovely people and it will be also fun and most of all worth it, so don't worry.
Just make sure you always prepare for the interview: what to say to the typical questions, do some research about the airline and the routes and type of aircraft and operations they have, find out about the recruitment process … and if you do not know anyone in that airline, you can check on the Internet because there's a lot of information about the assessment days available.
I wish you the best of luck!