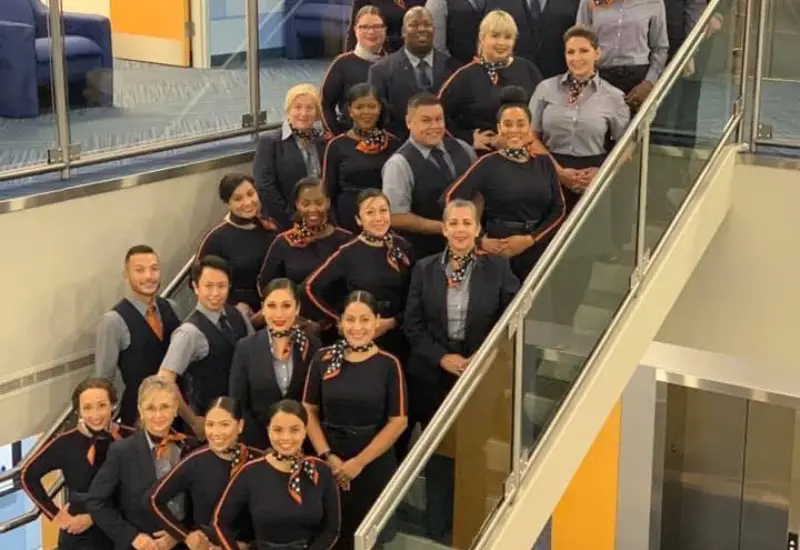 A flight attendant's primary job is to ensure the safety of passengers and the crew. JetBlue flight attendants are fully trained to respond to various emergencies that may occur under the direction of the Federal Aviation Administration.
While most passengers may only see the flight attendants providing beverage and snack service, the training that a JetBlue flight attendant must complete is quite intense and fast-paced.
Where is the JetBlue Airways Flight Attendant training held?
Every department at JetBlue must report to the Orlando Support Center (OSC) and JetBlue University (JBU) when they begin their careers with JetBlue.
OSC and JBU are both located within minutes of the Orlando airport and act as a training center for new hires as well as a headquarters for various departments at JetBlue.
Here is a photo album of Jetblue University:
How long is the training?
JetBlue flight attendants will spend approximately 4 weeks training at OSC and JBU.
Holidays or a pandemic, for example, may lengthen the training to 5 or 6 weeks if need be.
Training is typically 6 days a week but even with 1 day off you will be studying!
Depending on how large your flight attendant class is, there may be a morning class and an evening class. This means that you may train from either 6am-3pm or from 3pm-12am.
Either way, be prepared to train and study every day for 4 weeks!
Is the training paid? Are food and accommodation provided?
JetBlue flight attendants are paid for their time in training.
Food and accommodation are also provided during your time in training.
Receiving pay, food, and board during training makes the training process less stressful!
JetBlue flight attendants are paid about $38 each day they are in training.
They also receive a daily stipend that they may use at the restaurant for meals or snacks.
The restaurant is in the form of a cafeteria and offers a wide variety of food including a salad bar and a pizza oven.
Located next to OSC and JBU is The Lodge. Built in 2015, this new hotel is used exclusively for crewmembers who are completing their initial training or fulfilling their yearly training requalification.
The facility includes 196 guest rooms, plenty of meeting rooms, a restaurant and bar, a pool, a gym, several games like shuffleboard and pool, and a basketball court.
Luckily, each flight attendant that goes through training will receive their own room to stay in for the 4 weeks that they train.
What is the dress code? What to pack?
While attending training at JBU the dress code currently consists of a relaxed casual standard.
This includes clothing that is smart, stylish, clean, and intentionally not strict.
This does not mean that everything goes.
Attire should be well-groomed, smart, and appropriate.
Closed-toed shoes are required for simulators and hair must be compliant as well for simulators.
Business casual attire is always welcome and you should plan to pack some for nicer events.
Bring a comfortable and compliant pair of work heels, flats, and dress shoes to go with your uniform. Don't forget a swimsuit and gym clothes!
You will receive a welcome pack by email that will include important information that will include the dress code and more information on what to pack.
Each room is equipped with iron and soap products but bring the items you need to be comfortable for a month.
Finally, you will receive information in your welcome pack that you will need to study prior to arriving. Be sure to know all the airport codes!
What's an average schedule day at training?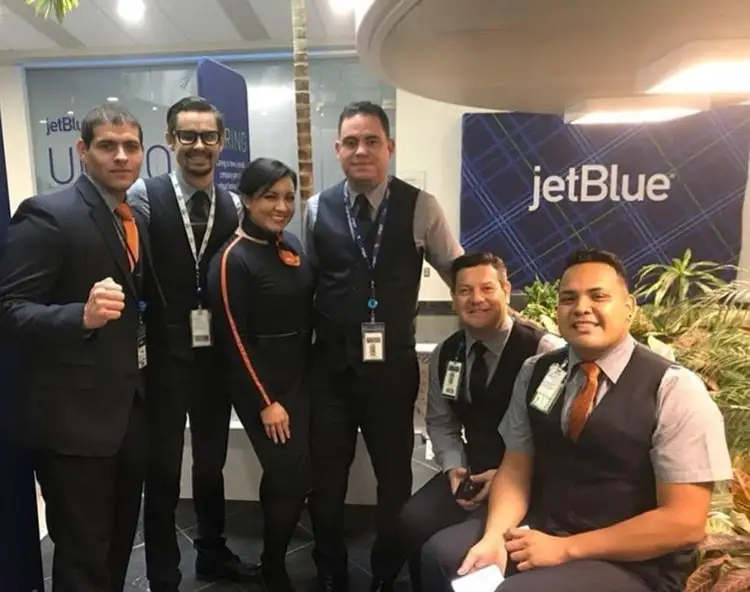 The daily schedule will be very long, so be prepared!
Depending on the class size, you may start at 6am or you may start at 2pm. If you are in a small class, you may start at 9am.
On average you will attend classes for about 9 hours a day, not including the study time afterwards.
Typically, you will be in the classroom learning a new topic through the use of PowerPoints, activities, other lesson plans.
You may have time to practice in a simulator.
Finally, you will have either a motor skill type test where you need to show that you understand the proper procedures or you will have a computer test consisting of mostly multiple-choice questions.
The motor skill test and the computer tests are crucial in passing training and earning those wings.
Each day will be different but you will receive a tentative calendar explaining what each day includes.
One sunny day you will need to wear your swimming suit for a ditching activity too!
Related topic: Do You Need to Be Able to Swim to Be a Flight Attendant?
How hard is training?
It's hard to say if training is difficult because for some, it will be easy and for some, it may be difficult.
It's best to simply come prepared, get rest, and do the best you can.
If you study best in groups then find a good study group. If you study best alone, there are plenty of meeting spaces, computer rooms, or there is even a desk in your hotel room.
The content will include several topics that cover mostly emergency procedures so it is imperative that you understand each topic discussed in order to pass the tests and be a prepared flight attendant.
The best way to prepare is to study the items included in the welcome pack which should include airport codes.
Come ready to learn and be distraction-free. Make sure your family and friends support you and understand that you will be very busy for a month in order to being a flight attendant.
There is no pre-training school and there is also no need to pay for any type of learning courses online prior.
You will learn everything you need to know in a well-planned one-month course at JBU.
Do I need to prepare before training?
The best thing you can do to prepare for training is to get rest and do everything you need to do beforehand so that way you are stress-free at training.
Close down your house, find a pet sitter, or pay your bills ahead of time.
Make sure you pack in advance so that way you are not scrambling the day before to pack everything you need.
Read your welcome pack 3 times to ensure you know exactly what's included.
Finally, make sure you study and memorize all the airport codes.
This is the first test you will take so it's best to come read to ace the first computer test!
When do you find out your assigned base?
JetBlue currently has 5 bases which include New York, Boston, Fort Lauderdale, Orlando, and Long Beach.
You will have the opportunity to bid for your base preference and you will be awarded based on seniority in your class (oldest to youngest).
You may not get your first choice of base preference right away which means you may need to commute to base in order to work or find housing at your new base.
Typically, new hires at JetBlue are assigned New York or Boston right out of training.
You are able to bid for a base transfer each month if you are not thrilled with your base assignment.
Base transfers are also awarded based on seniority (time at JetBlue and age) so you may be awarded your transfer but if not simply keep trying!
When do you start working after training?
On the very last day of training, you will receive your hard-earned wings!
This is also a very long day because before you are pinned, you will have to sit through a long lesson which will include very important information on starting work after training.
You will be given a reserve schedule within a day or two after training and be given a report date for your new base.
Usually, new hires are given at least 4-5 days after training before they have to report for a short training at your specific base and then begin working as a flight attendant.
How long is the probation period?
The very first day you begin training at JetBlue is also considered your first day working for JetBlue as a company.
This means that while you are in training at JBU, you are also starting your probation period already.
JetBlue flight attendants go through a 6-month probation period in which they are closely monitored in terms of attendance for the most part.
JetBlue uses a point system for flight attendants. You earn bad points for being late, for not showing up, or for not responding back in a timely manner.
While on probation it's crucial to not receive these bad points!
The best way to do this is to always be prepared and absolutely ensure that you have a loud phone ring.
You may be called in the wee hours of the morning and it's important that you do not miss phone calls from scheduling.
Scheduling is calling you to assign you a flight and if you do not answer in a timely manner you could earn bad points which affect the probation period.
If you rack up too many bad points, the probation period may be extended. Additionally, while on probation you may not travel on other airlines for leisure yet.
Be sure to have time management in order to get past the probation period!
Similar Posts: