Thousands of hopeful applicants with different work experiences apply to become a flight attendant every year but only a small percentage are selected.
Many airlines, including JetBlue, follow a traditional hiring process.
Airlines have enhanced their hiring process to include several stages such as a basic application, an assessment, a video interview, and a face to face interview in order to select the best candidates.
While it is not an easy job at times, it is a highly sought-after job that requires an extensive interview process.
How long is the JetBlue interview process?
Patience, patience, patience!
As with all airlines, the process may take one month, several months, or even years.
Persistence is key.
JetBlue receives thousands and thousands of applications so it takes time to go through the entire interview process.
Some people apply several times before they actually land the job.
On average, from the point in which you complete your initial application and begin training, it ranges from 6 months to 8 months.
Here's a real-life timeline example of an interview process:
Application: 02/01
Assessment: 02/15
Video interview 03/06
Blue review (= Face to face interview): 03/29
CJO: 04/01
Training: 05/25
Stages of the interview process
Online Application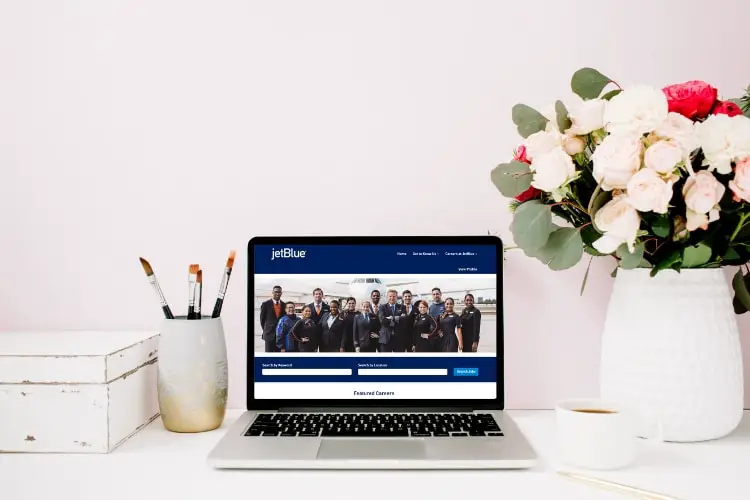 The online application is the first step you must take in order to secure a job as a JetBlue flight attendant. You can apply online here.
Ensure that you meet all the requirements:
You are at least 20 years old
You have a high school diploma or general education degree
You can reach 6'3" without shoes
You possess a current and valid passport
You have the legal right to work in the United States
You can complete a 10-year background check, and complete a drug test
You can lift 50 lbs
You are willing to work out of one of the bases
You are willing to work flexible hours to include weekends and holidays.
Stronger considerations will be given to those with a degree, customer service experience, or those who are bilingual.
To complete the initial application, go to https://careers.jetblue.com/ and search for the Inflight Crewmember position which is the JetBlue way of saying flight attendant.
You can follow JetBlue social media pages, check their website frequently, or speak to current Inflight Crewmembers to ensure you apply when the application window is open.
The application is self-explanatory.
It will ask you for your personal information, education, experience, and questions pertaining to being able to work as a flight attendant as stated above.
Attach your updated resume and a cover letter prior to submitting your application.
Your resume should be up to date and include important abilities that relate to safety, hospitality, and customer service.
Keep an eye open for the next step in either your email or the application account you created on the JetBlue website.
Online Assessment
The online assessment may come at the same time as the video interview or at a different time.
This is basically a pre-employment assessment to test for situational judgment such as hypothetical situations that may become real work scenarios.
You will answer to the best of your ability based on what you would do or how you feel about the situation.
"Describe a time when you mishandled a procedure at work? How did you correct it?"
There may also be questions about your personality, work style, strengths, weaknesses, teamwork approach, and motivations.
There may also be reasoning questions in which you will select the best answer of the four answers provided.
This part of the interview process is also fairly self-explanatory since you simply answer the questions to the best of your ability.
On the same topic: 70 Real-Life Flight Attendant Interview Questions
Video Interview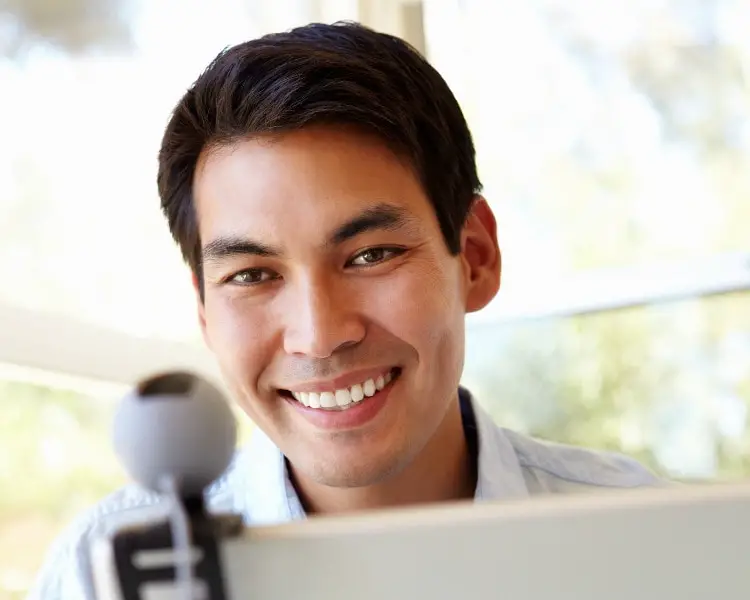 It's your time to shine!
The video interview is the step prior to receiving a face to face interview so you will want to do your very best.
This is not your standard video interview since you will not be speaking to an actual person but rather it's a pre-recorded video.
You will be recorded answering a series of questions in the STAR format.
The STAR format stands for Situation, Task, Action, Result:
Situation: An event or challenge is faced
Task: Your responsibilities and duties for the situation
Action: Steps to solve the situation
Result: Outcomes of actions taken.
Using this way of answering interview questions will help to prove that you have the skills for the role.
In order to have a successful video interview, you must ensure that you have a nice set up, rehearse, know the STAR questions, and dress the part.
Tips for the set up:

Triple check that your internet connection is working properly.
Enable a webcam device to your computer if it is not already built-in and ensure your audio is also loud and clear.
Make sure your computer is fully charged and or connected to the charging cable.
Confirm that you have adequate lighting available even if it means moving a lamp to a different location so that you're nice and bright in a video format.
Have a pleasant background that is also not distracting.
Finally, make sure the area that you set up is in a private and quiet location.
Rehearse, research, rehearse more, and research more!
You know that the video interview is coming up so use your resources and prepare to the best of your availability.
Tips for the video interview:

Glassdoor is a great website that provides numerous reviews from candidates that have already gone through the interview process.
Google, watch YouTube, and talk to other flight attendants to gain more knowledge.
Use your computer set up and record yourself answering questions in proper lighting and fully dressed.
Watch the videos of yourself and see what you can do to improve.
Ask your family and friends to run practice interview sessions too using the STAR questions.
Practice makes perfect!
STAR method
Most airlines want you to answer any questions using the STAR format so be prepared to do this while you rehearse.
Take your time listening to the question and think of an event or situation that relates to the question and answer it using the four parts.
For the situation part, provide a detailed description and background information pertaining to the story.
The task portion is a description of the problem and any challenges that arise.
For the action part explain what you did and how the situation was resolved.
Finally, state the benefits, rewards, or impact that resulted from the situation.
Below are 5 examples of possible STAR questions:
Give an example of a situation where you had to handle a disgruntled customer and the outcome that occurred.
Describe a conflict you had with a coworker. How did you resolve the conflict?
Describe a stressful situation in which you had to use your verbal communication skills to resolve the issue.
Reference a time when you witnessed an employee doing something against company policy. What did you do and what was the end result?
Tell me about a time you had to juggle multiple high-priority tasks. How did you handle it?
Dress to impress for your video interview
You should have your computer all set up by now, perfect lighting, a nice background, clear audio, and your research and rehearsals all done.
Dress in a professional suit with concentration on the waste up since that is all that will be seen in the video.
For ladies, wear a nice simple blouse with a suit jacket. A nice red lipstick will make a positive statement!
For men, wear a simple dress shirt with a matching tie and suit jacket.
Make sure that your hair is visibly appealing, your makeup is fresh and professional, and that you wear nice professional earrings if you like.
Blue Review (face to face interview)

At JetBlue, the face to face interview is known as the blue review.
Once you receive an invitation to the blue review, this is the final step before you receive a contingent job offer!
How is it?
Typically, the blue review will be held in a hotel meeting room near all of our base cities.
There may be between 50-100 candidates in total at your blue review so do your best to stand out from the crowd!
Dress for success!
Wear a conservative suit with professional shoes.
For ladies wear natural makeup and have your hair done as if you are already a flight attendant.
On this topic: How to Dress for Your Flight Attendant Interview
Tips
Be sure to arrive early!
If you are flying in, come the day before and stay at a hotel nearby.
If you are too early, grab a coffee or breakfast nearby but make sure that you are there with plenty of time to spare.
It is very important to triple check that you have all the necessary paperwork requested.
Bring several copies of your resume(3), your physical passport, driver's license, birth certificate, and any other documents that are requested. Place these documents neatly in a professional padfolio.
If you forget any of these documents you will be sent home.
Be sure to turn your phone off!
If you are early, socialize with other candidates.
Remember, the recruiters are always watching your every move!
What's happening at the Blue Review?
At the blue review, there will be:
a presentation about JetBlue
an opportunity to introduce yourself
a group activity
a one on one interview
a few activities such as reading a PA
a reach test
fingerprinting.
During the welcome presentation, be sure to pay attention and be interactive with the speakers.
When given the opportunity to introduce yourself in a large group, make sure to stand and face the group. Speak with a clear and loud voice.
For the group activity, ensure that you collaborate with your group by being a leader and an active listener.
Recruiters are looking for team players who embody their core values.
Incorporate JetBlue's 5 core values: safety, caring, integrity, fun, and passion during the blue review and you will stand out since you did your research.
The one on one interview will be similar to your video interview in the sense that you will be asked STAR questions again and expected to answer in the same format.
Do your research on the STAR questions as explained above in the video interview in order to be prepared.
When you read your PA (Passenger Announcement), take your time and speak with a clear voice.
Remember, you are being watched and listened to the entire time!
Smile, be professional and do the best you can.
This is your time to shine in person and ace your blue review!
Contingent Job Offer (CJO)
At this point, you have made it through all of the interview stages and await the contingent job offer (CJO).
Some candidates have received their CJO on the spot at the blue review but most candidates will receive either a phone call or email 2-10 days after they complete their blue review.
Be patient and remember that no news is good news!
Check your email every day and have your phone on loud.
Once you accept your contingent job offer, it's a waiting game till training starts!
Typically, training will begin within 2-3 months of receiving your CJO.
You will be sent information via email to ensure you are ready for training. Be sure to read the emails as asked. You will also be given study guides since the first test will be on day 1!
At JetBlue, you are considered a crewmember the very first day that you begin training.
Training is about 4 weeks long at the JetBlue University in Orlando, FL.
Once you complete training, you will be assigned a base and receive your hard-earned wings.
It may be a long process from the day you apply to the day you earn your wings but it's well worth the wait as you begin your career flying the friendly skies!
Similar Posts: