Flying with a bigger dog can be a challenge, but they're worth it!
Last year when I moved from the US to Germany with my dog, Obi Wan, I had to do a lot of research to figure out which airlines we could fly with. This article is designed to help you save time, since I already invested mine researching how to fly with a large dog.
For reference, Obi is a Belgian Malinois mix, he weighs about 55 pounds (25 kg), and is tallish with big ears. So, if you have a dog of a similar size, or larger, this article is for you!
Which Airlines Allow You to Fly with Large Dogs?
In general, most major airlines will allow you to fly with large dogs, on certain routes, flow by certain aircrafts.
For an airline to have the ability to transport a large dog, they have to operate a specific aircraft.
This means, even if an airline states on their website that they can accommodate a large dog, it might not be true for the routes they fly with a smaller aircraft, or aircrafts without the properly retrofitted cargo holds that can support the transport of live animals.
For this article, we gathered basic information about 10 airlines that will accept large dogs on certain routes.
These airlines include:
1) American Airlines
You must register your pet at least 48 hours before your flight and provide a health certificate issued no more than 10 days prior to your trip, proving your dog is healthy enough to travel in the cargo hold.
All kennels meet their set standards.
2) Alaska Airlines
All dogs must be 8 weeks of age or older.
A health certificate and record of vaccination must be provided to the airline at check in.
Your pet must be acclimatized to your destination. (It's Alaska after all, it gets VERY cold there.)
3) Air Canada
Dogs must be registered in advance and must be at least 12 weeks old, and fully weaned to travel.
4) Air France
Dogs traveling within the EU must have an EU pet passport issued by a certified veterinarian, or the proper import documentation.
Your dog must have an electronic ID chip and be up to date on all required vaccines.
5) Delta
Delta does transport large dogs, however as of October 2022 they have placed a seasonal embargo on the transport of large dogs.
6) Emirates
Emirates requires you to submit individual requests for quotes no later than one week before your scheduled flight.
Emirates can accept even larger dogs for separate transport as air freight.
7) ITA Airways
Requires all dogs to have the EU pet passport, or proper import documentation. A legible identification tattoo or microchip.
8) Japan Airlines (JAL)
JAL requires you to contact them as soon as possible to reserve a slot for your pet on your flight.
JAL does not permit dogs with preexisting health conditions to fly.
9) Lufthansa
All large dogs must be registered no later than 72 hours prior to your flight.
All dogs must travel with the proper health certifications, and meet the requirements for travel into Germany, the EU, and/or the US, depending on your destination.
10) Qantas
Qantas does not allow brachycephalic (snub-nosed/flat-faced) breeds to fly.
Crates must meet the IATA requirements, and all dogs must be registered prior to travel.
Note: Australia observes international and interstate quarantines for traveling dogs, you will need to provide proof of permit to travel with your dog across borders.
One-Look Comparison (Table)
In this table we put together the basic information you need to know about each airline's large dog policies.
This table lists both maximum weight and maximum kennel size.
The reason for this is because a dog might come in under the maximum accepted weight but be too large to fit into the maximum crate size, so you have to take both of these factors into account.
Note: The exact dimensions of a 46-inch kennel are 46 in long, by 30 inches wide, by 33 inches high.
| | | | | |
| --- | --- | --- | --- | --- |
| Airline | Max. Weight (with kennel) | Max. Kennel Size | Airfare Fee | International |
| American Airlines | 100 lbs. / 45 kg | 46 inches / 1.16 m | Up to $790 | Yes |
| Alaska Airlines | 150 lbs. / 68 kg | 53 inches / 1.34 m | Up to $105 | Canada Only |
| Air Canada | 100 lbs. / 45 kg | 45 inches / 1.14 m | Up to $318 | Yes |
| Air France | 165 lbs. / 74 kg | 45 inches / 1.14 m | Up to $400 | Yes |
| Delta | 100 lbs. / 45 kg | 32 inches / 0.81m | Up to $200 | Yes |
| Emirates | 70 lbs. / 31 kg | 46 inches / 1.16 m | Up to $800 | Yes |
| ITA Airways | 165 lbs. / 74 kg | Contact ITA | Up to $235 | Yes |
| Japan Airlines | 70 lbs. / 31 kg | 45 inches / 1.14 m | Contact JAL | Yes |
| Lufthansa | 100 lbs. / 45 kg | 49 inches / 1.24 m | Up to $440 | Yes |
| Qantas | 92 lbs. / 41 kg | 45 inches / 1.14 m | Up to $385 | Yes |
Are Large Dogs Allowed to Fly in the Passenger Cabin?
Only large service dogs are allowed to fly in the passenger cabin.
Otherwise, all cabin pets must be able to fit into a carrier small enough to slide underneath the seat in front of you.
Please keep in mind, regulations have changed recently, and most airlines no longer allow for emotional support dogs to be transported in the aircraft cabin.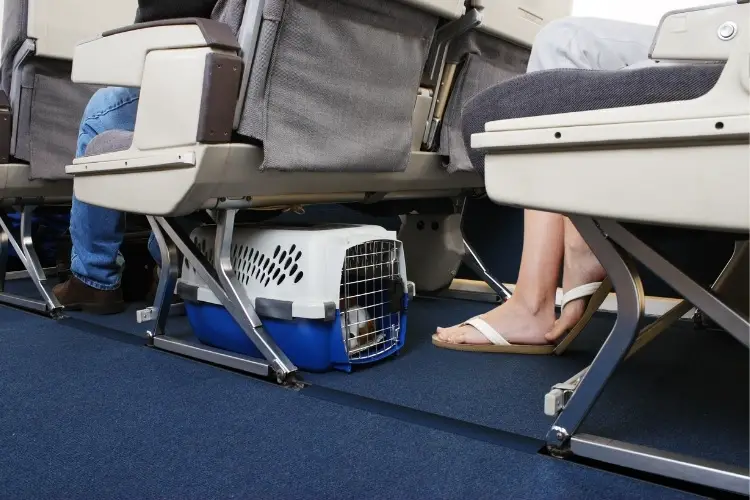 How to Choose the Best Airline to Fly with a Large Dog
Choosing the best airline to fly with a large dog, is a matter of doing your research, and making sure that you find the right combination of safety standards, ability to accommodate your dog, and affordability.
There are a few things you should look out for while doing your research.
Separate Pet Shipping Agreements.
It is extremely important to do your research because some major airlines list that they are able to transport large dogs, but in actuality, they work with a partner company. British Airways and Aer Lingus, for example work with IGA Cargo to transport pets.  These airlines will force to you to fly separate from your dog, so if that is something you are unwilling to do, be sure to keep an eye out for these types of agreements and situations.
Breed restrictions.
It is also important to make sure your dog's breed isn't on the list of breeds restricted from transport by the airline you plan to book with. Air France, for example will not transport Boxers.
Seasonal Embargos.
Due to extreme temperature fluctuations, many airlines will embargo the transport of large dogs in the cargo holds to protect them.
International Trans.
Conclusion
Flying with a large dog is a logistical challenge.
And while the airlines we researched are not an exhaustive list of airlines that will accept dogs, we hope this article has helped at least figure out how to start planning a trip with a large dog.
Please also be sure to follow up with airlines, even the ones listed here, for up-to-date information about their pet carriage policies. After all, things can change overnight.
Similar Posts: