Not a pleasing thought, is it?
But generally, if your pet is over around 11 inches long and weighs over 15 pounds, then you're looking at them having to travel in the cargo hold.
There really is no other choice. Plus many airlines simply don't allow pets in the passenger cabin.
But don't despair,  all is not woe and separation anxiety. Firstly, pets aren't just thrown into the hold on top of suitcases and other bits and pieces. They have their own area in the hold compartment separate from the luggage and they are loaded last and the first to come off the plane.
Here are some important and helpful steps you can take to minimize the stress on your dog when they have to fly this way.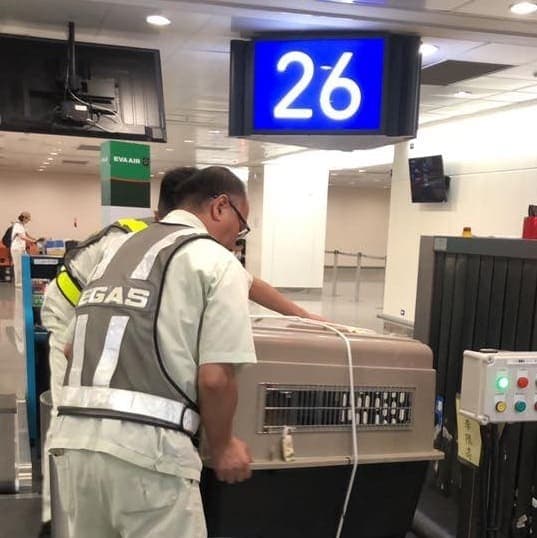 Put an ID Tag Around Your Dog's Neck
Make sure your contact information is visible in case something happens and they need to contact you.
Fly Direct
One of the most important things to do is to see if you can get a direct flight to your destination.
Changing planes is stressful enough for us humans, let alone for our poor animals.
You can reduce their worry and confusion by taking a flight with no transfer stops so that there is no changing from plane to plane and from cargo hold to cargo hold.
Pick Your Season
Airlines won't transport pets when the temperature gets above 85 degrees outside ground-level air temperature.
This is for the safety of the animals. The danger isn't during the flight itself, but during loading and storing, when the pet's crate may have to sit outside for a long period of time.
So if it's at all possible, try to travel during the fall or early winter.
Avoid holidays and high traffic times
Choose Your Crate With Thought
Make sure that you pick one with adequate ventilation, a waterproof bottom, and a spring-locked door. If it has wheels, disable them. Handles are only permitted on small pet crates.
Your pet has to be able to stand up fully and turn around in a complete circle.
Get them a crate where they can easily do this, as well as stretch out as far as they want.
Things are going to be bad enough without you around to offer them comfort, so get them the most spacious crate that you can.
Tip: Make sure the crater you are buying is IATA (International Air Transport Association) compliant and that it meets all the airline criteria. On some airlines pet carriers must have removable wheels for example.
I recommend these ones :
1) IATA approved SportPet travel dog crate 
Sale
2) IATA approved Petmate sky kennel 
Sale
Petmate Sky Kennel Pet Carrier, 40 Inch
Extra Security: 4 way vault door provides extra security for the travel dog crate by preventing sliding and shifting (available on 36 inch size and up)
Durable, Heavy Duty Construction: Durable plastic shell, non corrodible wing nuts, extra strong steel wire, and interlocking door provide heavy duty protection
360 Degree Ventilation: Ventilation openings surrounding the travel kennel give pets fresh air and visibility from all sides
Travel Necessities Included: Portable dog kennel includes 2 Live Animal stickers, clip on bowls and ID stickers for easy modification for travel. Top Handle available on 21 inch and 28 inch sizes
Airline Adaptable: The Petmate Sky Kennel meets most airline cargo specifications for easy and safe travel, but pet owners should always check with individual airlines
Related post: 10 IATA Airline Approved Dog Crates Reviewed
Water and Food
Do not, under any circumstances, forget to provide your pet with adequate water. This includes cats.
The air in a plane is very dry (as I'm sure you've experienced), so not having water available for your pet is far more than just an issue of discomfort.
It can be fatal.
Don't rely on the ground crew to spot your oversight and fix it for you.
You will need to invest in a water bowl that can be attached to the crate in a way that means that it won't spill.
Pet crate bowls cost very little and are the simplest solution for this.
You'll also need to attach enough food to the crate.
At least for a 24-hour period, in case your pet is lost or taking longer than expected.
You can also put some extra dry food taped to the top of the carrier for the airline staff to provide food to your pet if needed. Make sure it can be accessed from the outside.
Tip: Try freezing some water and placing it a second bowl – drip free, licking moisture for your pet.
If traveling from the US, the Department of Agriculture you will be asked to sign a form at check-in that certifies your pet has been given food and water within 4 hours of check-in.
You will also have to provide feeding and watering instructions for 24 hours.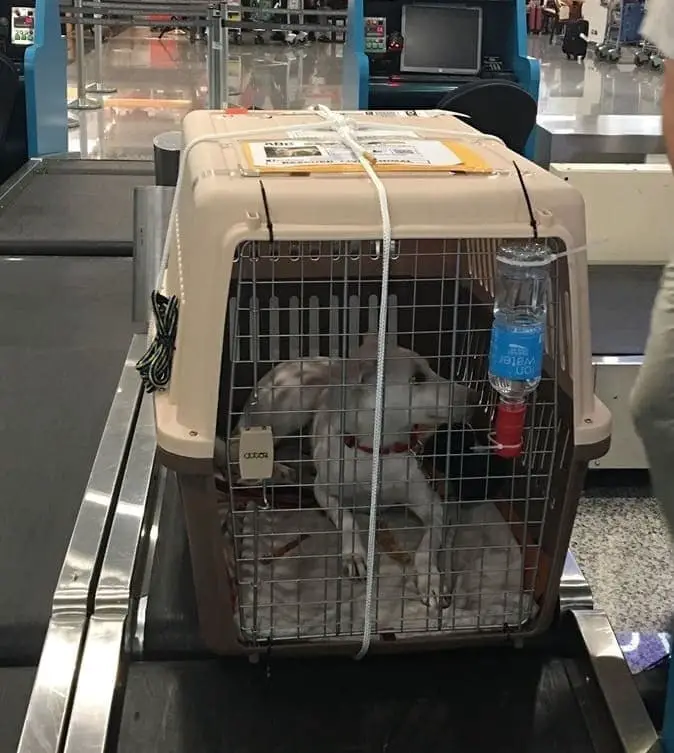 Leave Something To Distract Your Friend During the Flight
Your pet's favorite toys or something he likes to play with, you may also want to put his usual bedding and chew to help him remain calm.
Tip: Make sure the toy is safe and it's not a choking hazard.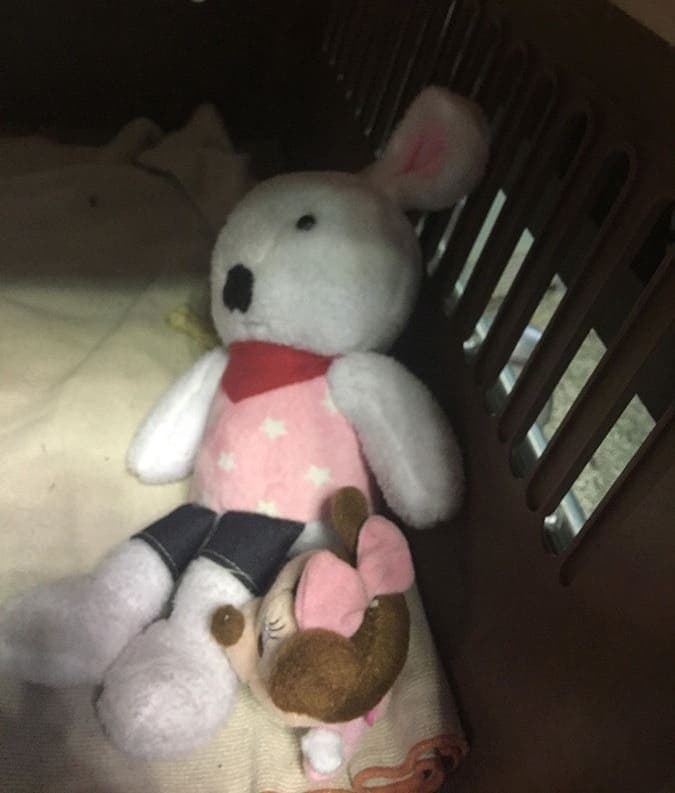 Should I Tranquilize / Sedate My Dog?
My personal view on this is no. Definitely not.
Breathing problems are a common side effect of tranquilizers and in some cases can lead to death.
Many airlines refuse to take tranquilized animals.
But if you've got any concerns, check with your vet and they'll be able to give you recommendations that will help.
A low-dose sedative/relaxant might be of use.
Check, Check, Check
Find out from airline agents at the gate if they can check to see if your pet has been safely boarded and stowed.
When you get on board the plane, ask one of the cabin crew if they wouldn't mind (they won't) informing the flight crew that there is a live animal in the hold.
You won't be considered overprotective or paranoid, but responsible and caring.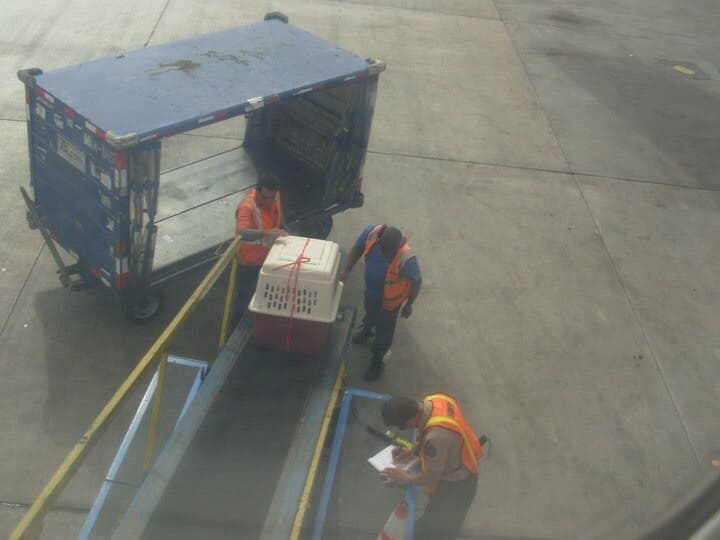 International Pet Travel – A Totally Different Ball Game
It's important to understand that international flights have to comply with the rules of their destination and transit countries. Don't forget to research your destination beforehand.
Every country has its own set of rules and regulations regarding pet immigration. Here is a helpful list of each country's rules.
Take a look at just some of the entry requirements for international pet travel to Italy:
Cats and dogs can travel from the United States to Italy as long as they meet the following requirements:
Your pet must be over three months old.
Be sure to get a Health Certificate. This can be obtained from your local veterinarian.
A valid rabies vaccine. If the rabies vaccination was the animal's first vaccine then it must wait for 21 days before entering the country. There is no time delay with booster injections; providing there is proof that the booster was administered before the last vaccine had expired.
Your pet must be microchipped.
Make sure your cage is labeled with your name and contact information for where you are staying in Italy.
Once in Italy, an Italian vet can issue an EU Pet Passport if you plan to travel within Europe.
If you are in a position where you have to take your dog overseas the United States Department of Agriculture has a very good section on its website about the requirements of all countries.
Similar Posts:
Last update on 2022-09-18 / Affiliate links / Images from Amazon Product Advertising API