Flying with your dog is not easy, for you or your pet. Naturally, we want to keep them close during our travels, which is why some people opt to travel with their dogs in the passenger cabin. Known within the industry as "cabin pets."
Unfortunately, flying with your dog is not as easy as showing up to the airport and getting on an airplane together. This post will help walk you through everything you need to know before you fly with your dog in the cabin.
Before Flying With Your Dog in the Cabin
Before you set off on your journey with your dog, there are a number of things you will need to do to prepare for the flight.
Here I will briefly go over the major considerations you need to keep in mind when traveling with your dog.
Do Your Research
Not all airlines will accept dogs in the cabin, not all dogs are allowed to fly in the cabin, so the best place to start is to find out which airlines will transport you and your pet.
The best way to do this is to check with each airline for the rules they have regarding pets on flights.
To make that easier, we've linked you directly to the pertinent web pages of some major airlines, right here:
There are a few commonalities among these airlines, which I'll highlight for you here. 
Your dog must be at least 10 weeks old for domestic travel (16 for international travel).
Your dog must be small enough to fit into a kennel that can go under the seat in front of you.
You must pay a fee to transport your pet as a carry-on. (Usually between $50 and $300).
There are limitations on where you can sit on the aircraft while traveling with your dog.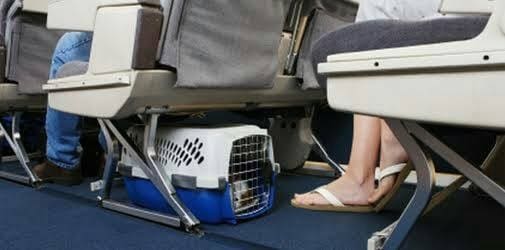 ⚠️ Some airlines do not allow for the transport of dogs in the cabin at all, Emirates and Qantas, for example, only allow pets to be transported in cargo.
➡️ If you need to travel with your pet in Cargo for any reason, I recommend checking out our past article: Everything You Need to Know to Fly With a Dog in Cargo.
Make Sure Your Pet is Cleared to Fly
You will need to make sure your pet has all the necessary vaccines and documentation to fly.
These requirements will vary based on your destination, especially if you are traveling internationally.
If you are traveling from the US, the US State Department website has a lot of information about exporting your pet. The US Department of Agriculture also has an online tool that can help you find out the import requirements of your destination country.
The basic things you will need before flying with your dog include:
Proof of rabies vaccination
Records of all other required immunizations
Records of heartworm treatments
Microchip data
Verification from a vet that your dog is healthy enough to fly
📝 Note: If your dog does not have a microchip yet, you will likely need to get them chipped and then vaccinate (or re-vaccinate) them against rabies.
A Note on Brachycephalic Dogs
Some dogs cannot fly safely, brachycephalic dog breeds including Boxers, French Bull Dogs, and others, are not able to fly safely due to the way their respiratory systems are built.
Some airlines will even prohibit you from flying with a brachycephalic dog.
And as much as it might suck to not be able to bring your beloved dog along with you on vacation, it is not worth the risk.
Several dogs have had to be rescued in flight due to respiratory complications, but the truth is, flight crews are technically not allowed to provide dogs with supplemental oxygen.
Some flight attendants will buck the rules to save a helpless puppy, others will stick to procedure, and you will never know which kind of flight attendants will be on your specific flight, so it is better not to put your dog's life at risk.
Book Your Pet's Airfare in Advance
As mentioned above, Fido does not get to fly for free and it is important to give the airline advanced notice when you plan on flying with your dog in the cabin.
This is because only a certain number of dogs will be allowed onto each flight and booking pet travel is first-come-first-serve.
To book your pet's airfare you will first need to book your own ticket. After that, you will need to contact the airline's customer service hotline and let them know you will be bringing your dog.
In some cases, you will need to pay their fee upfront, and in other cases, you will not pay until you check-in at the airport. Most of the airlines listed above charge $125 (each way) to transport your pet in the cabin.
The following airlines vary the cost based on your specific itinerary so be sure to contact their customer service if you need to know this before booking:
Lufthansa
Etihad
Delta
ITA
JAL
Buying the Right Carrier
Getting the right carrier for your dog can be a matter of trial and error.
Luckily it is easier when flying with smaller dogs, because pet stores often have a large stock of possible carriers.
There are two different kinds of carriers for cabin pets:
Soft side carriers
Soft side carriers are lightweight and easier to store when they're not in use. (i.e., once you reach your final destination).
Your pet may also find soft side carriers easier to adjust to, and a little less intimidating.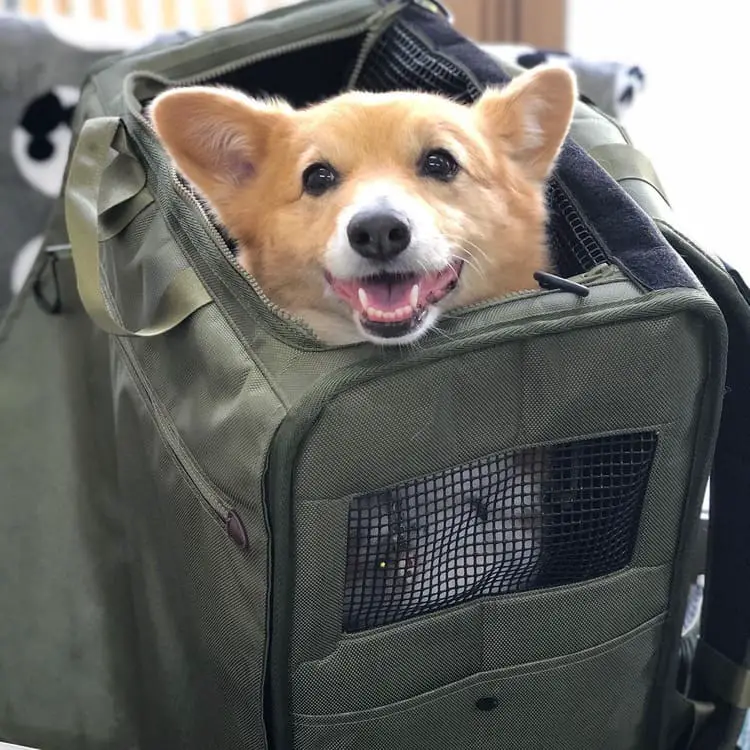 Hard side carriers
Hard-side carriers are sturdier and can provide your pet a little more stability while being carried inside.
They will also help shield your pet from intruding feet, or turbulence while stowed under the seat in front of you.
Some dogs will find them claustrophobic, however.
➡️ Related read: 10 Best IATA Airline Approved Dog Crates Reviewed
All carriers must meet the following requirements though:
They must have a waterproof base
They must have sufficient ventilation
They must fit underneath the seat in front of you
Some airlines will also have specific requirements so it is always a good idea to check their websites to make sure the kennel you are thinking about will live up to their standards.
Southwest actually sells its own kennel.
Schedule a Visit With Your Veterinarian
As mentioned above you will need to supply veterinary records before flying with your pet, and some designations will require you to have your pet screened by a certified veterinarian a certain number of days prior to your trip.
Typically, there will be multiple vet visits involved if you are planning to travel internationally including:
Updated vaccines given 30 days prior to travel.
A general check-up conducted 10 days prior to travel to fill out the required health certificates.
A required de-worming regimen 3 days prior to travel.
When I was preparing to fly to Germany with my dog, I found having a timeline of his required vet visits drawn out helped me keep track of what I needed to do and when.
But it is also a good idea to have your pet receive a general health check-up before flying, so you can rest assured flying will not cause your dog any negative health side effects.
Pet Travel Check List
Here we have laid out a visual list of everything you will need to have with you to comfortably travel with your dog in the cabin.
Traveling with a pet is a little like traveling with a child, you will need to remember their needs while packing for your trip as well.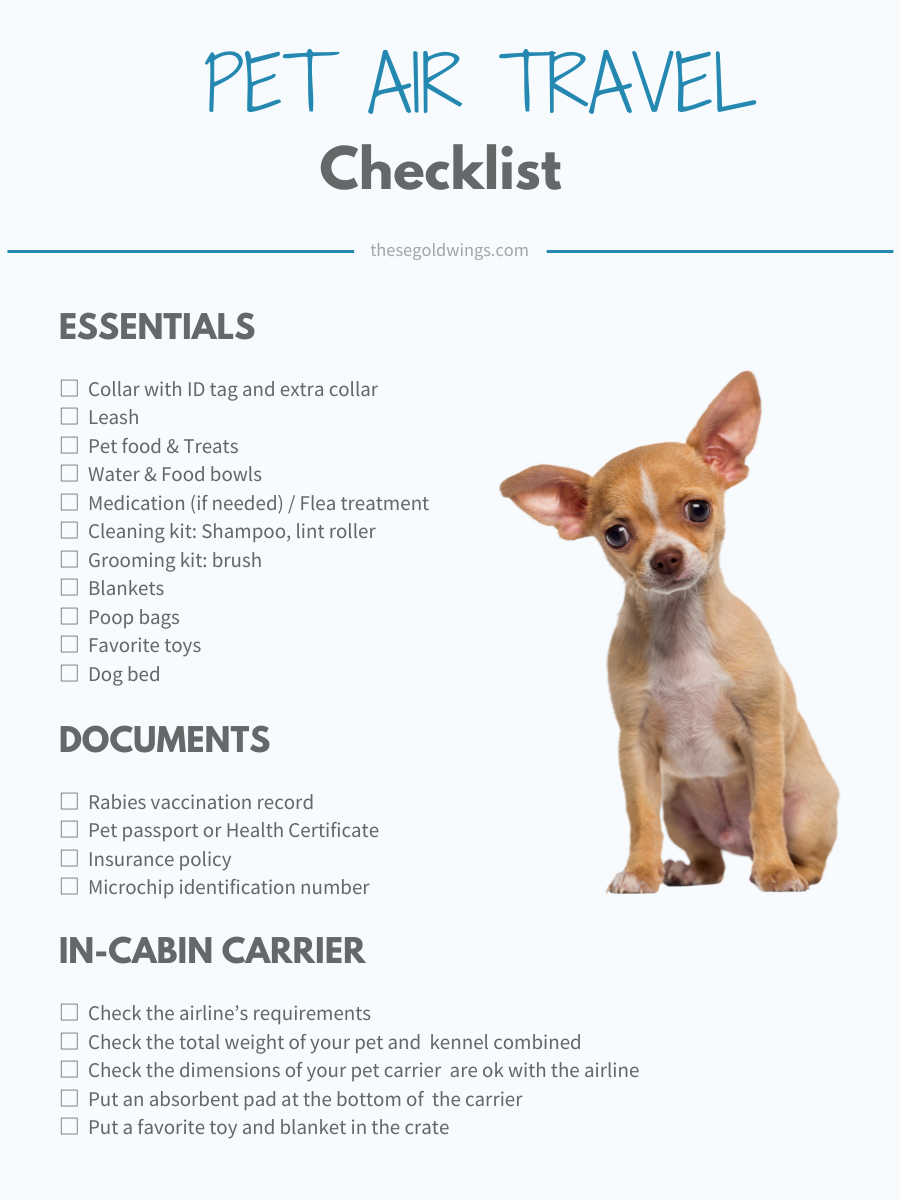 Getting Ready for The Flight
Once your flight is booked it is time to help get your pet ready for the flight. Here we briefly discuss how you can help make flying less stressful for your pup.
Introduce Them to the Carrier
Getting your dog used to the carrier prior to the flight is extremely important. Unless you regularly kennel your dog, getting into the carrier will be a strange experience for your dog, and one that may make them nervous.
Starting to get them used to being inside the carrier for a few hours at a time can help make flying less scary.
I started kennel training my dog about two months prior to our transatlantic trip.
Make the Carrier Comfy
Adding a few plush items to the carrier will help make it more comfortable to be in for longer periods of time.
Bonus points if you add a blanket or stuffed animal that smells like you so that your dog can feel close to you, even if they are right at your feet.
Bring Everything Your Dog Needs
As depicted in the graphic above, you will need to pack a few things to make the trip comfortable for your dog. It is important not to forget to bring their favorite toys, treats, and food.
Alternatively, make sure your dog will be well provided for at your destination.
When I moved abroad with my dog, I actually flew over to Germany without him so that I could set up my apartment and make sure he had a bed, food bowls, and everything else he usually needs in Germany before he even left the US.
At the Airport
On the day of your flight, these are the things you will need to keep in mind to have a safe and stress-free trip with your dog.
Do Not Feed Your Dog Right Before Flying
Flying can be an unsettling experience for your dog, and they will likely get upset tummies during flight, therefore it is a good idea to fly them on a relatively empty stomach to prevent your pup from suffering flight sickness.
Furthermore, the opportunities for your dog to use the toilet will be few and far between. So, make sure you don't feed them or water them too much to prevent accidents.
Allow Extra Time at Check In and for Security
Getting to the airport at the last minute is not recommended when flying with a dog.
You want to make sure you have plenty of time to check in with the customer service representatives of your airline and give yourself plenty of time to make it through security, since your dog will need to be screened as well.
When going through security you will need to walk through the scanner with your dog and place their kennel on the luggage belt like any other carry-on item.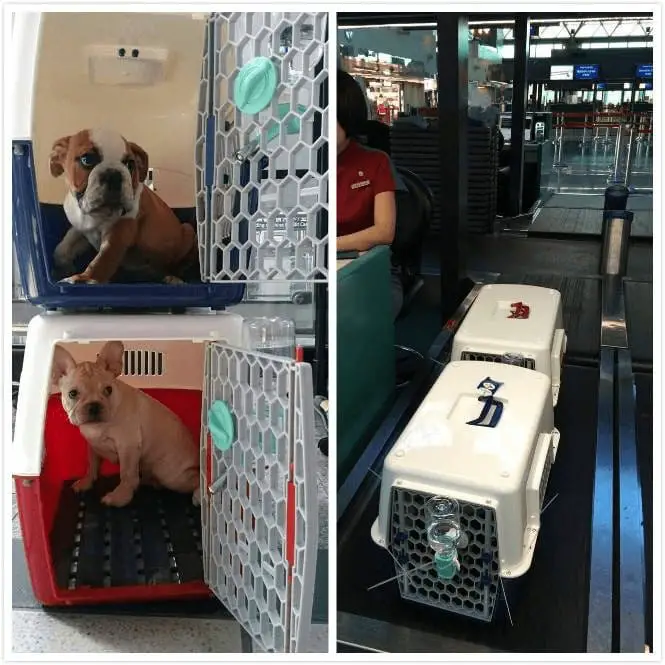 Visit the Pet Relief Areas
Most airports will have pet relief areas spread throughout the terminal.
It is a very good idea to visit one of these with your dog after clearing security to make sure they don't have to go to the potty while you are in flight.
Stressful situations can also cause a dog to feel the need to potty more often than usual, so even if your dog relieved itself before entering the airport, it's a good idea to give them some extra opportunities.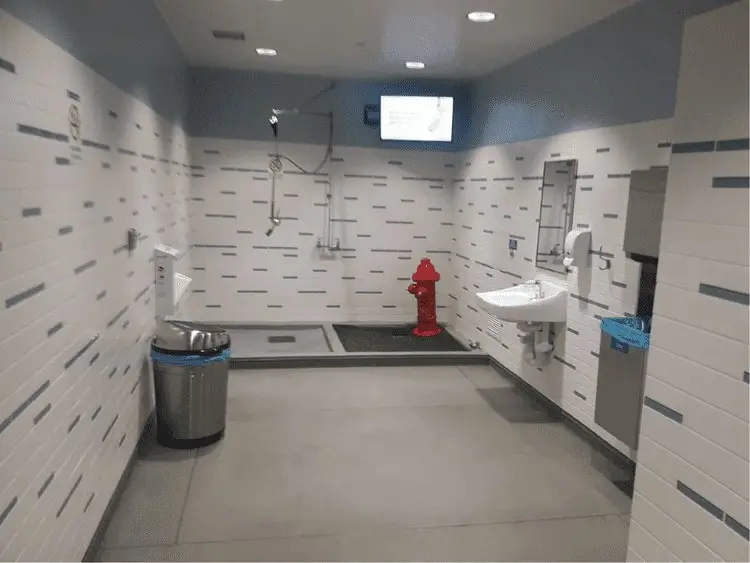 Exercise Your Dog
Taking your dog for a long walk before your flight is a great way to help them work out extra energy before being couped up in their carriers for hours.
Most of the time your dog can be outside of its carrier while in the terminal, so take them for a spin before boarding.
During the Flight
Once you board the aircraft you will have to keep your pet in its carrier and under the seat in front of you.
Do not under any circumstances put your pet into the overhead bin. 
There was an incident where a flight attendant asked a passenger to do this because they were seated in a bulkhead row and the dog passed away. That flight attendant was brand new and sadly made a grave mistake based on lack of knowledge.
Generally, I would advocate always listening to your flight attendant's instructions, but in this case, the dog mom in me encourages you to defend your dog. They never go into the overhead bins.
Do Not Give Tranquilizers to Your Dog
It is unsafe to drug your dog for a flight because it can interfere with their breathing and heart rate.
Instead, opt for calming supplements. I can highly recommend these ones. The melatonin in them will make your dog sleepy, but unlike tranquilizers, it will not impact their blood pressure, heart rate, or respiration rate.
What if Your Dog Needs to Potty In Flight
The best thing you can do is purchase pee-pads and place them into the kennel.
Airlines do not allow you to take your dog into the lavatory to relieve itself.
This is why a leakproof kennel is so important.
That said most well-trained dogs will hold it, even way longer than they normally would because they do not want to dirty the area, they have to lay in.
To put it in perspective, my dog, who is usually let out every 4-6 hours, went 14 without peeing during our flight to Germany.
After Flight
Once you reach your destination it is important to give your dog extra special attention to help them recover from the flight.
Attend to their Needs
Go for a walk outside the airport right away, giving them a chance to go potty and stretch their legs.
It is also a good idea to make sure they get food and water right after the flight.
Airplanes are dehydrating and that applies to your dog too.
Love on Them
Giving your pet a little extra love, praise, and attention after a flight can help them come down from the stressful state, they will most likely be in and remind them that even though you just put them through once of the most stressful experiences of their lives, you still love them.
Conclusion
Flying with a dog requires a lot of upfront planning and preparation, but when you do it right, you will be rewarded with a relatively stress-free travel experience with your fur baby.
Flying with a dog is expensive but it is absolutely worth it!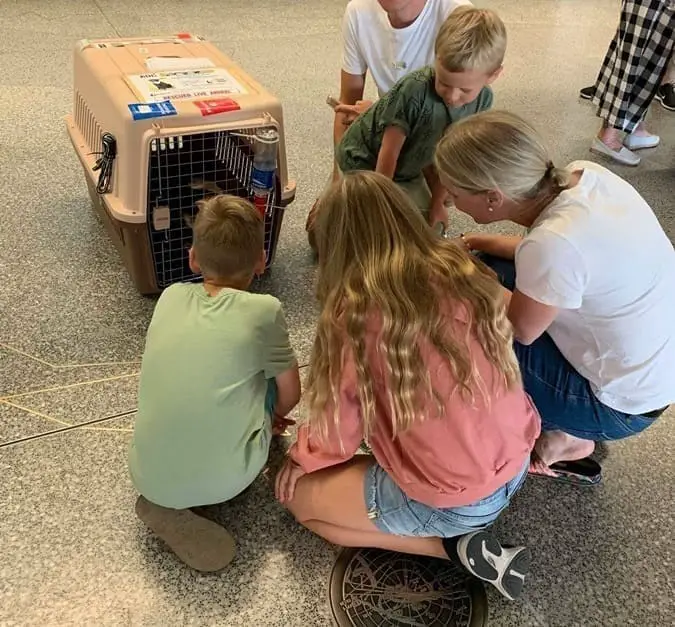 Similar Posts: